Top 5 Must-Visit Snooker and Pool Halls in Dublin
You'll never run out of things to do in Dublin—not when it's Ireland's largest city that houses several tourist spots.
But just in case you want to take a downtime and enjoy activities that don't require a lot of walking around, the city has some leisure pastimes to indulge in—like perhaps visiting a snooker and pool hall!
Rates From the Top Snooker and Pool Halls in Dublin
This table shows the latest rates of 5 of the most popular snooker and pool halls in the city (per hour). They might change without prior notice though:
SNOOKER & POOL HALLS
AVERAGE COST PER HOUR
The Hideout
Sunday to Thursday: €15/hour

Friday and Saturday: €20/hour

Ken Doherty Snooker Academy
€14/hour
Cross Guns Snooker Club
€10/hour
The Break Room
€15/hour
D15 Cuesports Academy
€10/hour
Stop Snooker and Pool Halls in Dublin
We are evaluating snooker and pool halls based on the following criteria:
1. The Hideout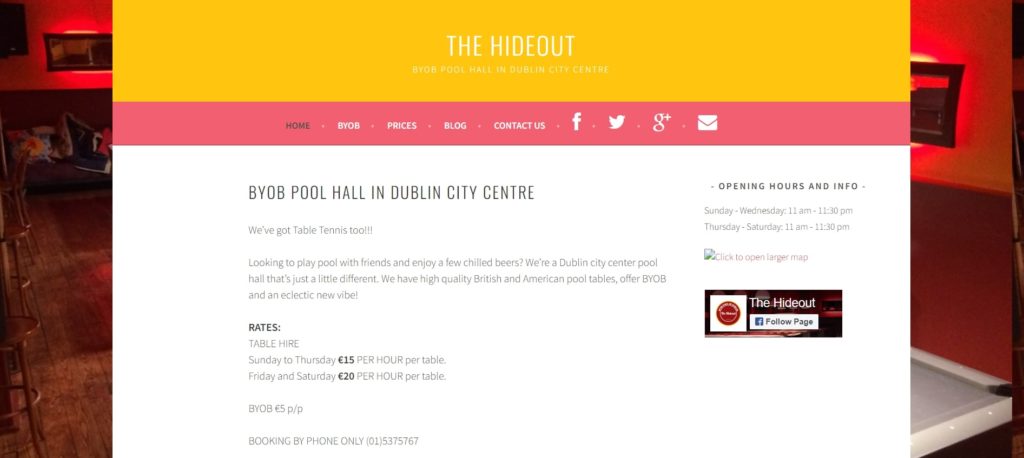 Test
Info
WEBSITE
http://thehideout.ie/
ADDRESS
49 William St S, Dublin, D02 FP49, Ireland
CONTACT DETAILS
+353 1 537 5767
OPERATING HOURS
Monday - Thursday: 11:00 AM - 11:30 PM

Friday - Saturday: 11:00 AM - 12:00 AM

Sunday: 12:00 PM - 11:30 PM
| | |
| --- | --- |
| Accessibility | ★★★★★ (5/5) |
| Rates (Higher score = better value) | ★★★★☆ (4/5) |
| Equipment and facilities | ★★★★★ (5/5) |
| Functionality | ★★★★★ (5/5) |
| Cleanliness | ★★★★★ (5/5) |
| Service | ★★★★☆ (4/5) |
| Recommendations | ★★★★☆ (4/5) |
The Hideout is another BYOB snooker and pool hall in Dublin, which its regular patrons told us they loved most about it. They can bring any beer of their choice and spare themselves from having to order every now and then, disrupting their game.
We love that there are mini fridges everywhere to store your beer. And just in case you forget to bring your own beer, there's food and other types of drinks available for your consumption!
In terms of facilities, we appreciate that The Hideout seems to make sure all of its tables, cues, and other facilities are well maintained and clean all the time—this means the pool hall caters to the convenience of its customers.
In addition to this, the snooker hall has both American and British tables available for all. So whatever type of pool you and your friends want to play, there's a table that suits your activities.
We also love the unique and friendly vibe of The Hideout. Despite being a place good for large groups, the atmosphere is quite serene with interesting lighting and decorations.
One of the things we're a little disappointed about is the booking system. You can only make bookings through a phone call, and the phone's rather occupied all the time—we wish there were other alternatives.
Another thing—the rates are quite pricier per table. While we think it's worth booking one for you and your friends, some might not be willing to spend such for an hour of playing only.
Good for groups
Offers beer and wine
Offers snacks
Has American and British pool tables
Prime location
Well-maintained facilities
Have fridges everywhere
Unique and friendly vibe
Cues and tables are in good condition
Pricey rates per table
Small bookings only via phone
Customer Reviews
Convenient location–right at the city centre
I've passed the front of this venue many times. Never venturing in. Well took up the courage and the adventure spirit to have a look. So glad I did. My pool game might be way off but the venue and craic was great. It's a BYOB place and a nice surprise is they have mini fridges everywhere. Good selection of tables across three floors, and the atmosphere is friendly. Location just is inside one of Dublin's busy areas which is great, if you are wanting to kill some time while in the city — Kieran H, Yelp
BYOB with a quiet warm vibe
So fun! Bring your own beverage – they have fridges – especially beer. The American pool is in the basement. Reasonable rate $0.25 per minute I think. Sticks were in great condition (or bring your own). There's also a room with foosball and one arcade machine off the first floor. They can make pizza or coffee if you need a snack. Clean, quiet, and we met nice people. Thank you! — Laura R, Yelp
2. Ken Doherty Snooker Academy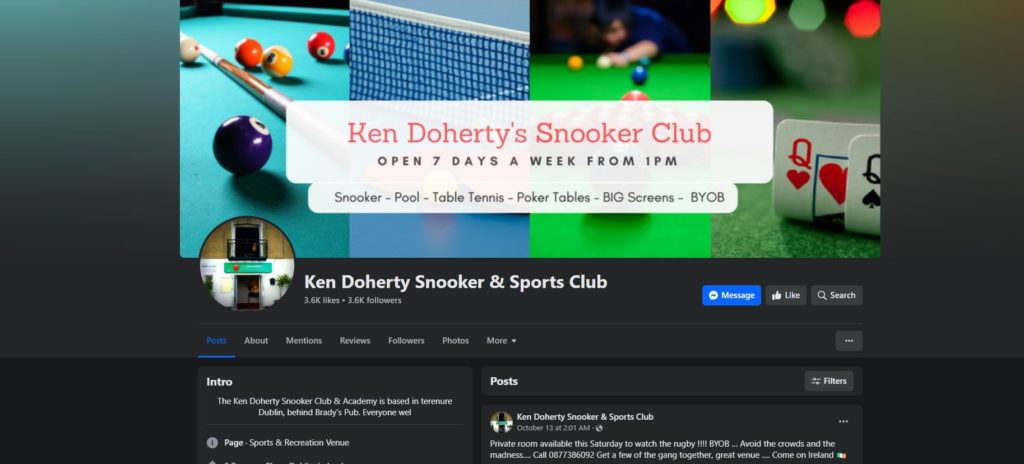 | | |
| --- | --- |
| Accessibility | ★★★★☆ (4/5) |
| Rates (Higher score = better value) | ★★★★☆ (4/5) |
| Equipment and facilities | ★★★★★ (5/5) |
| Functionality | ★★★★★ (5/5) |
| Cleanliness | ★★★★★ (5/5) |
| Service | ★★★★☆ (4/5) |
| Recommendations | ★★★★★ (5/5) |
What we appreciate the most about Ken Doherty Snooker Academy is that it has a lot of available snooker and pool tables for everyone. So even if the pool hall gets busy, there's a space for people to play.
In addition to this, we love that Ken Doherty also has other available activities such as darts and table tennis. According to some locals we talked to, when it's really busy and no snooker or pool table is available, they can always enjoy doing other activities.
The facilities and the equipment are also obviously well-maintained, most especially the available tables. We love that customers can enjoy a good game without being inconvenienced.
The place is quite large as well, which makes it perfect for parties. We think you'll be interested to know that you can book it for certain functions at a reasonable price.
We also think you'll like the chill and cosy atmosphere. The pool hall has friendly staff and accommodating owners who make you feel welcome and try to cater to the requests you have—it's good customer service!
We think it's also worth noting that a lot of senior snooker players go here to play. This kind of tells us about the reputation of the snooker hall.
The only thing we don't like about the place is that it opens really late sometimes without prior notice. In addition to this, phones are rarely answered, so possible patrons can't get the information they need.
Accommodating owners
Friendly staff
Has other activities available (table tennis, darts)
Has tables for both snooker and pool
Chill and cosy place
All tables are in excellent condition
Can be booked for parties
Has a lot of senior snooker players patronising the place
Opens really late at times without notice
Phone calls are rarely answered for inquiries
Customer Reviews
Fair rates with accommodating staff
Really nice place. Pool is really good fun. Guy at the front desk was really nice and generous. Price of the place was very reasonable. €14 for 4 people for 1 hour seems more than fair — Robin Hill, Google Reviews
Various well-maintained pool tables available
Great spot for snooker or pool. There are 2 regular reds and yellows tables and one American pool table. Upstairs there are five or six full size snooker tables in excellent condition. You can also rent the venue for parties. Very friendly atmosphere. — Brian Fortune, Google Reviews
3. Cross Guns Snooker Club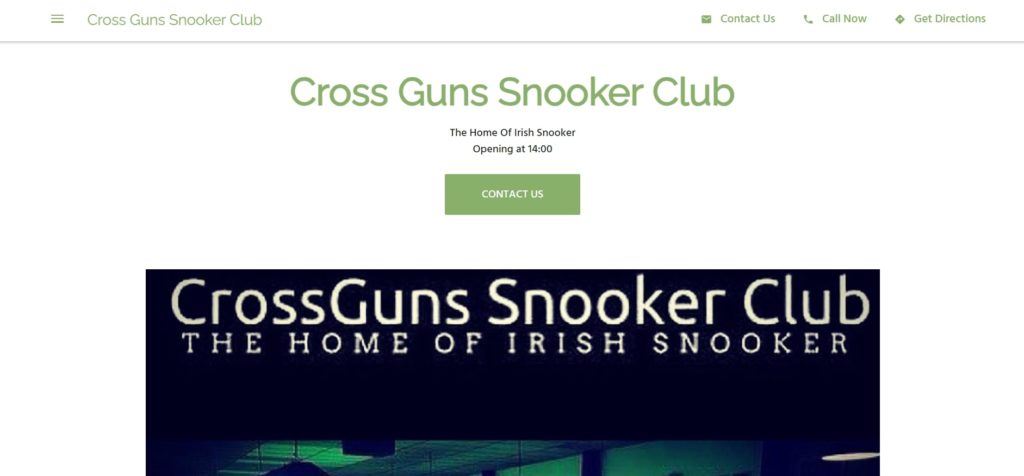 Test
Info
WEBSITE
https://crossgunssnookerclub.business.site/
ADDRESS
7 Royal Canal Bank, Phibsborough, Dublin, D07 A06F, Ireland
CONTACT DETAILS
+353 86 819 6760
OPERATING HOURS
Monday - Friday: 6:00 PM - 11:00 PM

Saturday - Sunday: 2:00 PM - 11:00 PM
| | |
| --- | --- |
| Accessibility | ★★★★☆ (4/5) |
| Rates (Higher score = better value) | ★★★★★ (5/5) |
| Equipment and facilities | ★★★★★ (5/5) |
| Functionality | ★★★★☆ (4/5) |
| Cleanliness | ★★★★★ (5/5) |
| Service | ★★★★★ (5/5) |
| Recommendations | ★★★★☆ (4/5) |
What we love the most about Cross Guns Snooker Club is that despite having the cheapest rate per table, it has top-notch facilities that patrons can enjoy. We love it when we get quality service at a reasonable price—it's always worth going back to!
The €10 per table per hour is a really good deal! And the patrons we talked to told us the snooker and pool hall even has discounts for students, which means the rates can get even cheaper.
We also love that there's a variety of tables in the club. You can enjoy a traditional snooker game or a 9-ball game!
We also want to show our appreciation to the staff at Cross Guns. Other than being welcoming, they give great advice with regards to strategies and techniques in playing snooker or pool.
In case you get hungry, snacks are available at the counter. And the best thing—there's complimentary tea or coffee!
Location-wise, Cross Guns isn't very difficult to access. It's also in a nice place with a nice view, which pretty much adds to the experience.
Probably the only problems we see are related to the colder months. Some tables gather moisture, which of course affects the game; and the place takes a long time to get warm because it's an old building.
Complimentary tea or coffee
Variety of options for tables (9-ball & traditional snooker)
Snacks are available at the counter
Top-notch facilities
Cheap rates
Staff give great advice regarding strategies and techniques
Welcoming atmosphere
Has a good view outside
Tables gather moisture on cold-weather days
Place takes longer to heat during cold months
Customer Reviews
A proper snooker club with helpful staff
Very nice tables in here and it's a good proper snooker club. Lads are sound too and very helpful. John helped me out with a cue as I mentioned I was looking for a good cue. — Robbie 'O Malley, Google Reviews
Good rates with an old-school cosy atmosphere
Great club with an old school atmosphere, good rates too. I have been here a few times now and have had a couple of lessons from Fin which have been highly beneficial to my game. The review of our lessons were very detailed and the practice routines are just what I need. Can't recommend Fin and his club highly enough.— Josh Maher, Google Reviews
4. The Break Room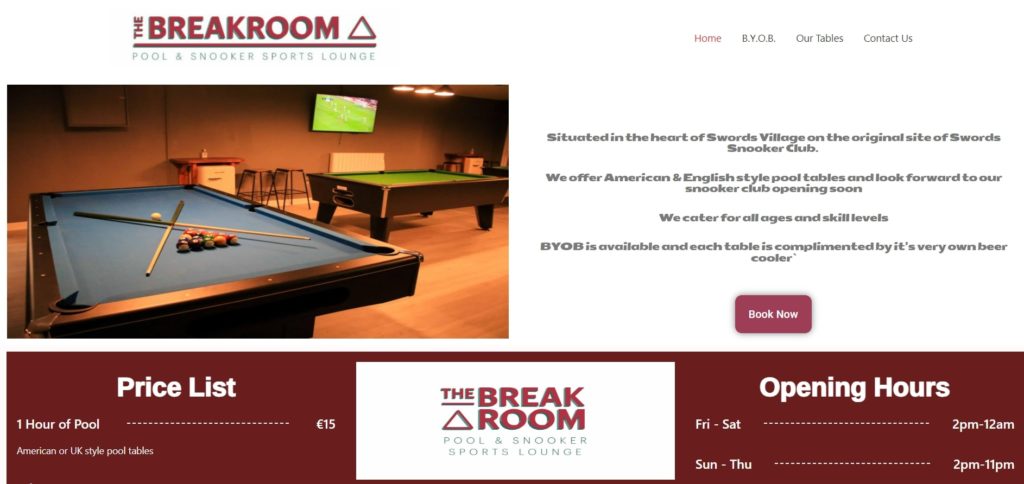 Test
Info
WEBSITE
https://thebreakroom.ie/
ADDRESS
17 Main St, Townparks, Swords, Co. Dublin, K67 H3K4, Ireland
CONTACT DETAILS
+353 1 538 3954
OPERATING HOURS
Sunday - Thursday: 2:00 PM - 11:00 PM

Friday - Saturday: 2:00 PM - 12:00 AM
| | |
| --- | --- |
| Accessibility | ★★★★☆ (4/5) |
| Rates (Higher score = better value) | ★★★★☆ (4/5) |
| Equipment and facilities | ★★★★★ (5/5) |
| Functionality | ★★★★★ (5/5) |
| Cleanliness | ★★★★★ (5/5) |
| Service | ★★★★☆ (4/5) |
| Recommendations | ★★★★☆ (4/5) |
What makes The Break Room unique as a snooker hall—it has a Bring Your Own Beer, which some patrons love to take advantage of. They love that they don't need to spend much on beer when playing, plus each table has its own mini fridge!
Now of course we don't go to a snooker hall to drink beer. But most locals love to have a good drink while enjoying a good game with friends, and we love that The Break Room gives an option without breaking the pocket.
The place serves good food as well with reasonable prices! If you find yourself getting hungry in between games, then you can just order—the staff are very attentive and prompt in addressing the customers' concerns.
Speaking of rates, the price per table per hour isn't exactly cheap, but to us it's not that expensive either, especially if the bill is split between friends. €15 per table per hour with all the conveniences is pretty much worth it.
We also love that this snooker and pool hall in Dublin has clean and well-maintained facilities (all toilets are clean!). In fact, some customers told us they admire that all cues and tables are in good condition.
We also appreciate the layout of the place. There's plenty of spaces between tables, so everything looks organised and convenient for all.
Just a little warning though—it can get a little noisy. The snooker and pool hall is located beside a pub, so some of the pub's patrons go there to unwind after, which leads to a noisier atmosphere.
Has a fridge for beers per table
Plenty of space between tables
Cues and tables are in good condition
Clean toilets
Organised setup
Serves good food
Great atmosphere
Well-maintained facilities
Can get a little noisy
Expensive per hour
Customer Reviews
Great for a night out with a group
Excellent spot. Affordable. BYOB, with a fiver cover charge. Nice tables. Cues in great condition. Fridges for your beers. Great for a night out. — Kevin Cassidy, Google Reviews
Clean with convenient facilities
Just had my first visit here, very impressed. BYO small fridge under table at each pool table, very friendly staff. Place itself is on the first floor just up a flight of stairs. Toilets clean. Plenty of space between tables, Couldn't ask for more. — Padraig Boylan, Google Reviews
5. D15 Cuesports Academy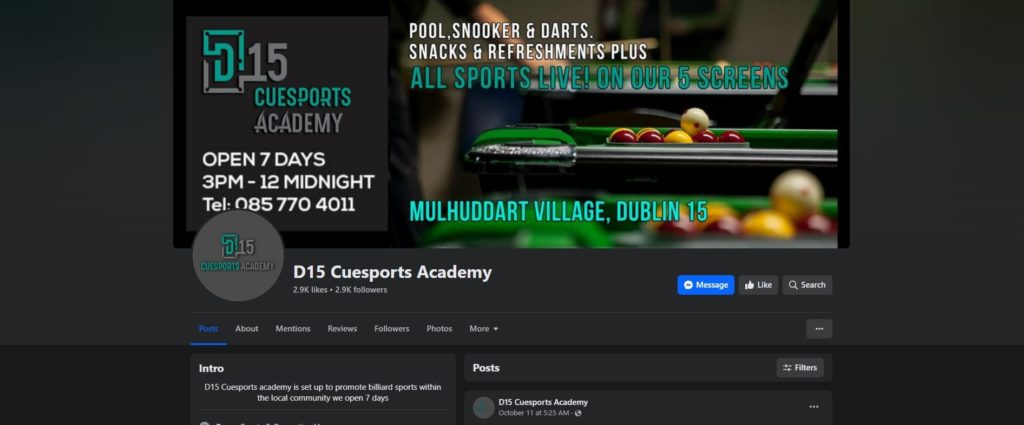 | Test | Info |
| --- | --- |
| WEBSITE | https://www.facebook.com/D15CuesportsAcademy/ |
| ADDRESS | Parkside, D15 Cuesports Academy Parkside 1, Navan Rd, Dublin 15, D15 T9EP, Ireland |
| CONTACT DETAILS | +353 85 770 4011 |
| OPERATING HOURS | Monday - Sunday: 2:00 PM - 11:00 PM |
| | |
| --- | --- |
| Accessibility | ★★★★☆ (4/5) |
| Rates (Higher score = better value) | ★★★★★ (5/5) |
| Equipment and facilities | ★★★★★ (5/5) |
| Functionality | ★★★★★ (5/5) |
| Cleanliness | ★★★★★ (5/5) |
| Service | ★★★★☆ (4/5) |
| Recommendations | ★★★★☆ (4/5) |
What makes D15 Cuesports Academy stand out to us is its top-notch equipment and facilities. A good game of snooker doesn't only require skills of the players—it also needs quality tools for the full experience.
According to the regular patrons of the snooker hall, they loved going to D15 because of its well-maintained tables. A good snooker table greatly affects the game, and this is one of the biggest considerations when choosing a place to go to.
We also appreciate the cleanliness of the place as well as its facilities and equipment. We're still recovering from the effects of the pandemic, and sanitation and cleanliness are important most especially for a public place.
Another thing that we appreciate is the layout. The tables are arranged properly in a way that even if the place is crowded, there won't be any inconvenience for the players.
The staff is cool and friendly as well. What we appreciate the most is that they're not only welcoming—they also give advice to beginner players who need guidance on how to play snooker.
We also like that the rates per table are reasonable! So whether or not you're there to just try one game or you have plans on making it a regular thing, it won't be too much of a bother in your pockets.
The only complaints we have are related to the operating hours. Most customers we talked to complained that sometimes, the snooker hall opens late and then it also closes earlier than what's advertised.
Tables are in good condition
Good layout
Friendly atmosphere
Helpful and welcoming staff
Top-class equipment
Clean facilities
Reasonable rates
Organised tournaments
Closes earlier than advertised
Opens late at times
Customer Reviews
Best place for pool, snooker, and darts
D15 pool academy is by far the best place to play pool or snooker any night. They even have a darts tournament on Friday night — James Macabre, Google Reviews
Well-maintained tables
Went there this weekend for a competition which was run perfectly. Tables were kept in great condition for the competition. All a good bunch on lads as well running the place — Dean Washington, Facebook, Reviews
FAQs About Snooker and Pool Hall in Dublin
---
Playing a game of snooker or pool is one of the Irish's ways to pass time. You can also try other Non-Touristy Things to Do in Ireland if you're looking for more ways to enjoy the country.