The Top 5 Short Term Rentals in Dublin
Looking for a place for a short stay for vacation, work, or quick getaway? Maybe you have a lot of options right now and yet still can't choose where to stay?
Fret not, we're here to help you look for the best short-term rentals in Dublin in this article! Our review today will provide you with pros and cons for you to get the best space.
How much do short term rentals cost in Dublin?
The cost of renting always varies depending on the type of unit or apartment you're staying in, the number of people renting, and the length of stay. Usually, it would cost you around €500-€1,500 for a week.
See the table below of the estimated rental fees in Dublin.
| Services | Estimated Average Price |
| --- | --- |
| Studio Unit | €300 - €600 per week |
| One-bedroom Unit | €500 – €850 per week |
| Two-Bedroom Unit | €800 – €1,200 per week |
| Three-Bedroom Unit | €1,000 – €1,500 per week |
The Top Short Term Rentals in Dublin
Getting your ideal temporary home requires a lot of thinking to make sure that you've made the right choice. That said, here's the criteria we used for our selection:
1. Dublin Vacation Rentals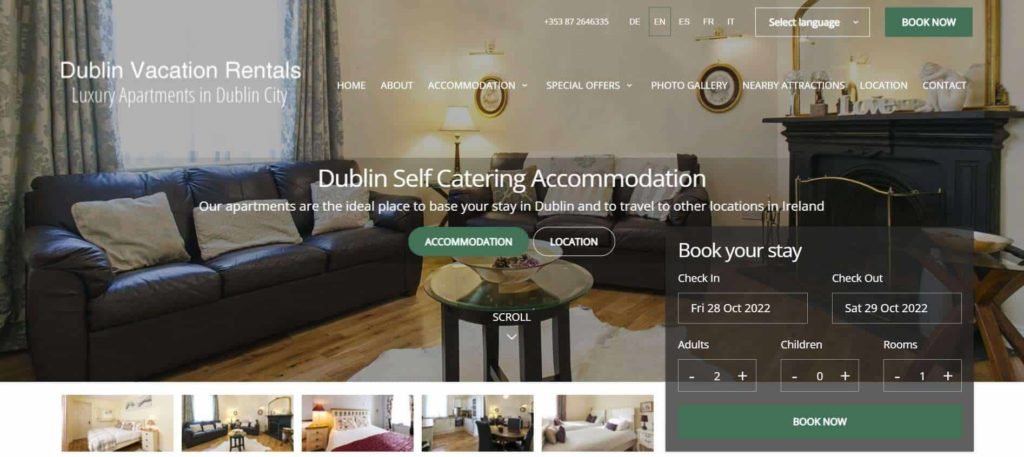 | | |
| --- | --- |
| ACCESSIBILITY | ★★★★★ (5/5) |
| AFFORDABILITY AND VALUE | ★★★★☆ (4/5) |
| AMENITIES | ★★★★☆ (4/5) |
| DESIGN | ★★★★☆ (4/5) |
| SERVICE | ★★★★☆ (4/5) |
| TIDINESS | ★★★★★ (5/5) |
If you're looking for a comfortable quick stay in an accessible place, renting at Dublin Vacation Rentals can be a good move. Located along Tyrconnell Road, you can easily go to food hubs, churches, grocery stores, and even parks.
When you're an explorer, the bus stop and the city center are nearby. You'll also be able to visit attractions like the Phoenix Park and the War Memorial Gardens.
We chose this place because of the broad set of amenities for communication, entertainment, security, and comfort for your daily needs. You can even cook, bake, and host a small dinner with its complete dining tools!
We'd love to check in again in the Michael Collins and the Padraig Pearse units because it has large TVs and wardrobes. This is on top of the already available kitchen, dining, ensuite shower, and washing rooms.

However, one downside you might encounter is the absence of a refund when your stay gets canceled for one reason or the other. You may also encounter unresponsive staff online at select times, but the staff are attentive to your needs on-site.
It's also a good place to stay for families because of the spacious units that boast of two large beds per unit bedroom. Because it's a luxury apartment, you'll get to stay in a quiet and friendly neighborhood.
Not to mention, the units are clean and well-maintained as well as guarded by security personnel all-day round.
Quiet neighborhood
Complete shower and kitchen amenities
Accessible to major attractions
Close to bus stop
No refund
Unresponsive to queries and concerns online
Customer Reviews
Comfortable unit and nice hosts
"Recently stayed here while in Dublin on business. Found the apartment to be very comfortable, clean and a great location. The hosts were very nice to deal with. Look forward to staying here again in a future visit and I'd highly recommend [it] to anyone thinking of staying. Great to have the free parking and free WiFi." – Bethan Travers
Close to Dublin city center
"Had a lovely stay here last week with my boyfriend. Very close to Dublin city center, and easily accessible to all major attractions in the city! Would definitely recommend [it] and we would love to stay again!" – Tommie Maher
Ideal location
"Lovely apartment that was warm, comfortable and clean. It is in an ideal location really close to shops and public transport. Couldn't ask for more, would highly recommend!" – Cathal O'Driscoll
2. Pembroke Townhouse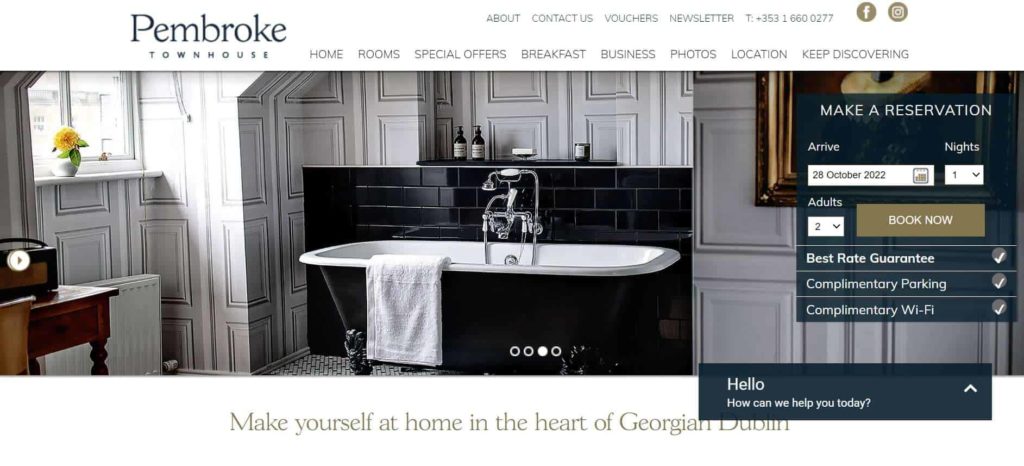 Test
Info
SERVICES

Townhouses

One-Bedroom Units

Two-Bedrooms Units

Loft Units, Breakfast

WEBSITE
https://www.pembroketownhouse.ie/
ADDRESS

68 Tyrconnell Road, Inchicore, Dublin 8, Ireland D08 EFP2

CONTACT DETAILS
+353 1 6600277,

[email protected]

OPERATING HOURS

24/7
| | |
| --- | --- |
| ACCESSIBILITY | ★★★★★ (5/5) |
| AFFORDABILITY AND VALUE | ★★★★☆ (4/5) |
| AMENITIES | ★★★★☆ (4/5) |
| DESIGN | ★★★★★ (5/5) |
| SERVICE | ★★★★☆ (4/5) |
| TIDINESS | ★★★★★ (5/5) |
The Pembroke Townhouse, once included in the Top 100 Places to Stay in Ireland, is a good rental space located on Pembroke Road for the comfort it offers to guests.
If you want to stay in an elegant place, this place is for you. Its four beautiful rooms are designed using 19th Century Georgian style while utilizing modern comfort technology.
In our opinion, the greatest deal here is The Regency unit that is designed intricately with all corners having their own Georgian feature. What we love the most here is its freestanding bathtub placed nicely facing the sofa sets.
Another favorite here is The Loft that has high ceilings with large windows welcoming natural light to help you relax further during your stay.
The good thing about choosing this place is all the rooms are charming, designed in luxury, and are well-maintained. To add, it's also close to other shopping stalls and food stores if you want to go around the area.
We also like that it provides options where to spend your stay other than in your room. You can just check its website and try the local attractions featured like trekking with alpacas, kayaking in Dalkey, and a treetop adventure.
However, noise can be heard from outside your window on some days, especially when there's heavy traffic.
Still, it remains a travelers' favorite with many awards received from travel organizations and magazines because of the appealing interiors.
Travelers' favorite
Excellent furnitures
Spacious and beautiful bathrooms
Elegant units
Parking setup is first come, first served 
Noisy nearby streets
Customer Reviews
Many places nearby
"Location is far away from [the] city center. But it is perfect for depending on what you're planning to do. Staff [are] lovely, don't forget to book breakfast. Doesn't have restaurant. But there [are] plenty of places nearby. I would stay here again 100%." – Zet Bep
Comfortable rooms
"An ideal location for anyone needing to stay in this part of the city. A very pleasant staff and a well thought out common space. The room is in need of some refreshing with threadbare carpet evident. Otherwise, the room was comfortable and a good sleep was had. I would stay here again." – Martin Purcell
Great breakfast
"This is a little gem in Dublin, had [a] great 1 night stay. Extra large comfy bed, very clean room. Breakfast was beautiful [with] plenty of selection and the home-made bread/cakes were delicious." – Elizabeth Thompson
3. StayCity Aparthotel – City Center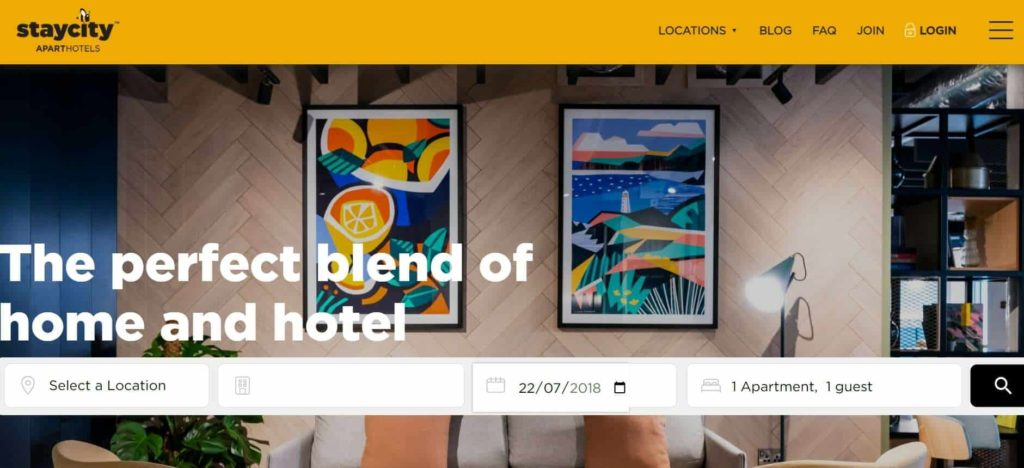 | | |
| --- | --- |
| ACCESSIBILITY | ★★★★★ (5/5) |
| AFFORDABILITY AND VALUE | ★★★★☆ (4/5) |
| AMENITIES | ★★★★☆ (4/5) |
| DESIGN | ★★★★☆ (4/5) |
| SERVICE | ★★★★☆ (4/5) |
| TIDINESS | ★★★★★ (5/5) |
What makes Staycity Aparthotel – City Center among the best is its very accessible location that's in the heart of Dublin. In a short walk, you can already get to local parks, bars, and other food establishments!
If you want to experience being the first guests of a known hotel, this building is ready to welcome you. Opened in September 2022, this branch of StayCity in Dublin offers new rooms, barely used beds, and equipment.
You can also choose between their twin-bed and king-sized bedrooms that all have a small kitchen for basic cooking. Cleaning materials are also provided and other equipment can be requested but may be charged.
Additionally, the building uses modern architectural design showing high ceilings for each lobby and glass walls per room. As might be expected, the new facility has spotlessly clean units for your short-term stay.
If you're staying for over seven nights, the apartment staff can even do a full cleaning service every fourth day of your stay.
Moreover, staying here won't be boring. When you feel like going out, you can drop by the National Leprechaun Museum that is 350 meters away and to Dublin Castle a little further out at around 750 meters.
Since this is a new apartment, the staff are not yet highly trained and may need a little patience from your side. Cash transactions are also unavailable according to some guests.
There's a high demand for the rooms on some days, so book early to secure a place for your vacation. Don't worry, Staycity has a quick process for checking in.
New establishment
Located at the heart of the city
Modern interiors
Quick check in process
Staff needs more training
Does not use cash
Customer Reviews
Clean rooms in perfect location
"We were the first guests to stay in our room and what a stay it was. Hotel facilities were great with a clean and tidy room and a modern interior to match. In a perfect location, right on the doorstep of the city and no need to get a taxi to the popular attractions. Hotel staff were very friendly and answered any questions that We had..." – Joe Forrest
Friendly staff
"My friend and I were the second guests to come after it's opening! Therefore, we were the first to stay in the room we were provided. We booked a stay of 8 nights and were mostly very happy. The staff were very friendly and always willing to help. The location was great and within walking distance of most major tourist spots. The only constructive feedback I have is with their housekeeping process…" – Nicole Chung
4. Beckett Locke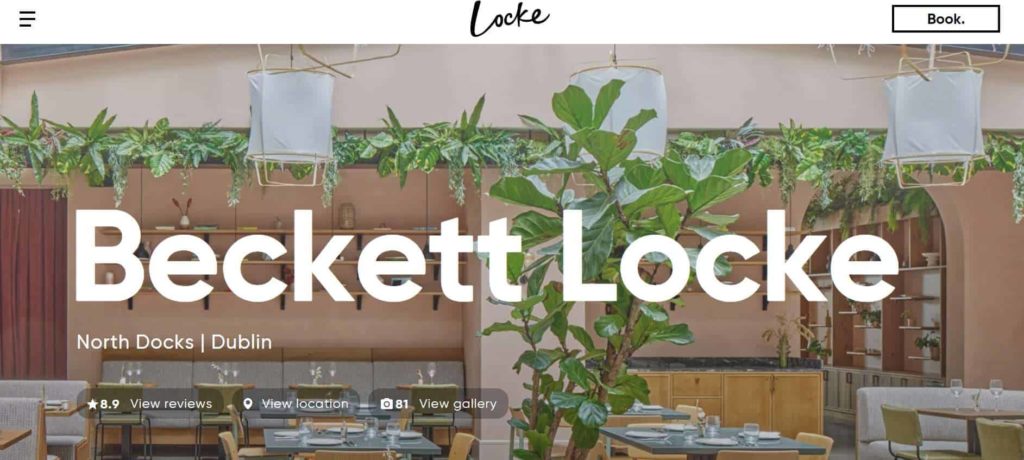 Test
Info
SERVICES

Aparthotel

One-Bedroom Units

Two-Bedroom Units

Restaurant

Gym

Co-Working Space

WEBSITE
https://www.lockeliving.com/en/dublin/beckett-locke
ADDRESS

Northwall Avenue, Dublin, Ireland D01 E5C7

CONTACT DETAILS
+353 1 436 3705
OPERATING HOURS

24/7
| | |
| --- | --- |
| ACCESSIBILITY | ★★★★☆ (4/5) |
| AFFORDABILITY AND VALUE | ★★★★☆ (4/5) |
| AMENITIES | ★★★★☆ (4/5) |
| DESIGN | ★★★★★ (5/5) |
| SERVICE | ★★★★☆ (4/5) |
| TIDINESS | ★★★★☆ (4/5) |
Beckett Locke is a popular apartment-hotel for Dublin visitors and staycations for its cozy and attractive units, as well as other amenities included for sports and leisure activities.
This place offers studio and one-bedroom apartments for two people and two-bedroom units for up to four persons. The Two-Bedroom Beckett Suite is the best deal if you're a group because of the bigger space that holds even bigger dining tables and beds.
The aparthotel is a good choice for those wanting a comfortable stay while working, studying, or having a break. It has an all-day restaurant downstairs, a bright and spacious co-working space, and a clean fitness studio.
In case you're not in the mood to go out, everything you need is provided by the hotel. This includes a complete kitchen set together with a comfortable living area with a cozy sofa and working chairs.
An equipped washing area is also part of the units. This can help you tidy your space because cleaning is not regularly conducted by the staff.
Beckett's reception operates 24/7, so there's no need to hurry to check in before the standard check in time of 4:00 p.m. Location-wise, this place is close to schools, shopping centers, and leisure spots like Dublin's 3Arena indoor amphitheater.
Overall, this is close to an all-in-one short rental space where almost all you need are in front of you. You may just have to pay for the parking as the facility has no parking of its own.
Specializes in comfort living
Has other branch in Dublin 
Features all-day restaurant
Gym and co-working space are free
Doesn't have own parking
Cleaning is not done regularly
Customer Reviews
Well-equipped rooms
"Beckett Locke is a beautiful hotel and lies very central with the tram to the city center in front of the hotel. We stayed in a 2-bedroom suite. The people at the hotel are friendly and the hotel is well equipped. Room for improvement is in a couple of things: the suite is pretty expensive and does not have a bath, is not cleaned regularly and wasn't totally clean and if you book a room with breakfast…" – Bob Offereins
Responsive reception
"The location along with the friendly staff makes this a wonderful place to stay . The rooms are well equipped with the necessary appliances and are elegantly designed.You can ping the reception anytime through there WhatsApp number and get your problem or requirement addressed." – Samay Nanda
5. Highfield House Dublin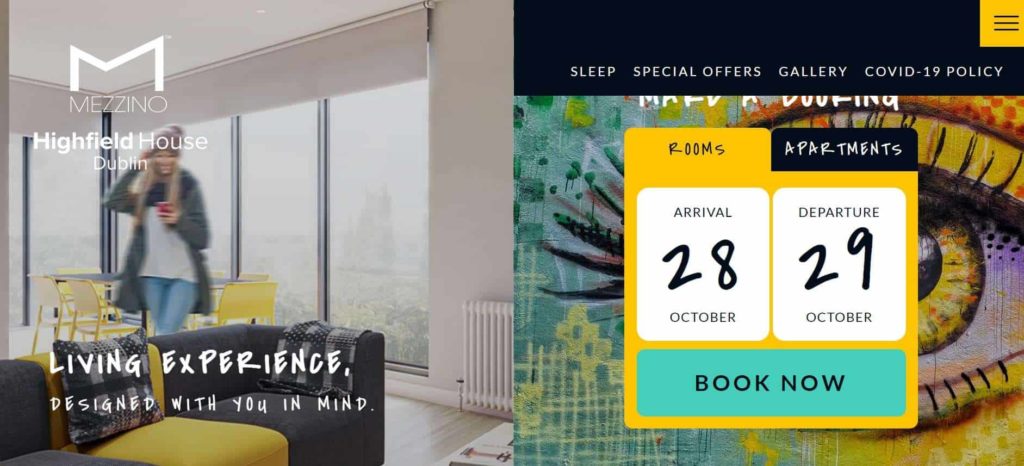 Test
Info
SERVICES

Hotel

Apartment

Double-Bedroom Units

Deluxe Bedrooms

Student Accommodation

WEBSITE
https://www.highfieldhouse.ie/
ADDRESS

Marne Villas, Dublin, Ireland D07 PC95

CONTACT DETAILS
+353 1 524 0111,

[email protected]

OPERATING HOURS

24/7
| | |
| --- | --- |
| ACCESSIBILITY | ★★★★☆ (4/5) |
| AFFORDABILITY AND VALUE | ★★★★★ (5/5) |
| AMENITIES | ★★★★☆ (4/5) |
| DESIGN | ★★★★★ (5/5) |
| SERVICE | ★★★★☆ (4/5) |
| TIDINESS | ★★★★★ (5/5) |
Whether you're a student, an office worker, or a wanderer seeking relaxation, Highfield House in Dublin is your perfect home away from home.
Highfield offers double and deluxe bedrooms. But if you're with a larger group, we recommend getting the apartment unit which has spacious four to eight bedrooms per unit with built-in sizable storage spaces.
What we love here are the large floor-to-ceiling windows that allow natural lighting during the day. This is in line with the facility's sustainable measures to conserve energy, along with its usage of wind energy on some occasions.
As for the design, we consider the modern and comfortable setup using clean and stylish sheets really welcoming. The units are also bright and airy which make it ideal for relaxation.
We also like the big dining tables, complete modern sofa sets, and study tables provided to help students and other guests to focus on their tasks in a hassle-free manner. To add, the area is calm and quiet because of the soundproof windows.
For groups who want to prepare their own meals, the Apartment units have their own functional kitchen. However, the double and deluxe rooms only have shared access to the facility's kitchen.
Highfield House is a popular preference for student and short-term holiday accommodation because of its amenities that includes gym, full-time security, and a cinema room.
You may only need some time to navigate its website because it's not very user-friendly, with details scattered all over the place. However, you can contact the hotel if you have concerns you cannot find at its website.
Great for students
Good for families
Environment-friendly (uses wind energy, latest eating tech
Secure rooms, building
Only apartment units have own kitchen 
Messy website
Customer Reviews
Stylish bedrooms
"Stylish en suite bedrooms in student accommodation with adjoining kitchen area. Bring your own food. No car parking. City tramway very close." – Paul Arbuckle
Many common areas
"Good accommodation, with many common areas, laundry, gym, play areas… on all floors there is a common area with a kitchen, television, terrace, etc. and the rooms are great and have a private bathroom." – Anais López
FAQs about the top short-term rentals in Dublin
---
Short-term renting is always an option for holiday travelers, work events attendees, and tourists. In Dublin, there are hundreds of accommodation establishments that can meet your staycation needs.
If you want to explore other accommodation establishments, click on the Five Best Apartments in Dublin and read on!