5 of the Best Restaurants to Check Out in Cork
Cork is Ireland's foodie capital, and it makes sense that it has some of the country's best restaurants to visit.
For this review, we're listing down restaurants that serve local favourites. And while we're at it, we'll try to list down places that are affordable for most!
The Average Daily Budget for Food in Cork
The cost of food per person varies depending on the restaurant, but on average, each person spends at least €30 for food every day in Cork. Prices are flexible, so if you can make an allowance, please do so.
According to Budget Your Trip:
| | ESTIMATED COST PER PERSON |
| --- | --- |
| Breakfast | €8-10 |
| Lunch | €12 |
| Dinner | €12 |
Top Restaurants in Cork
We are listing down the best restaurants in Cork Ireland based on the following factors:
1. Market Lane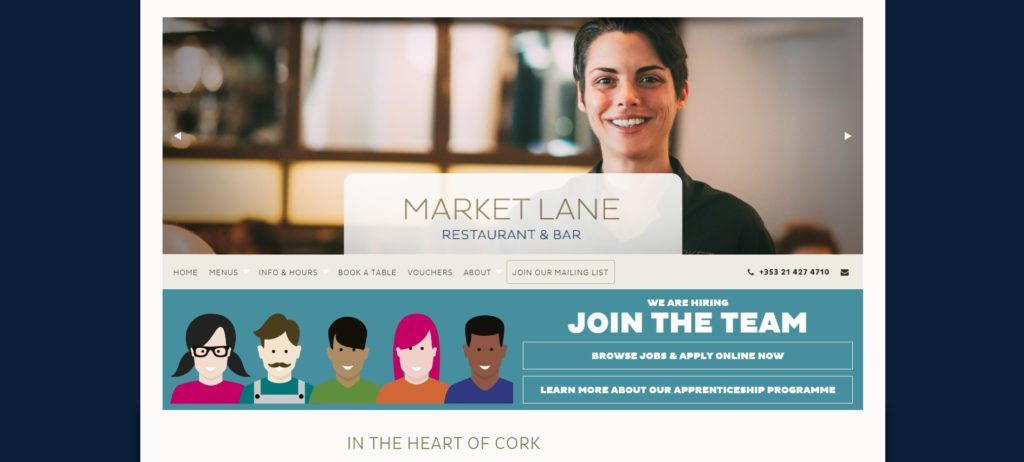 Test
Info
CUISINE
European and Modern Irish Cuisines
WEBSITE
https://www.marketlane.ie/
ADDRESS
5-6 Oliver Plunkett St, Centre, Cork, T12 T959, Ireland
CONTACT DETAILS
+353 21 427 4710
OPERATING HOURS
Sunday - Wednesday: 12:00 PM - 9:30 PM

Thursday, 12:00 PM - 10:00 PM

Friday - Saturday: 12:00 PM - 10:30 PM
| | |
| --- | --- |
| Location | ★★★★☆ (4/5) |
| Ambience | ★★★★☆ (4/5) |
| Accessibility | ★★★★☆ (4/5) |
| Variety | ★★★★★ (5/5) |
| Cost (Higher score = better value) | ★★★★☆ (4/5) |
| Food | ★★★★★ (5/5) |
| Taste |  ★★★★★ (5/5) |
| Servings | ★★★★★ (5/5) |
| Presentation | ★★★★★ (5/5) |
| Local Reputation | ★★★★☆ (4/5) |
What we love about Market Lane is that it has something for everybody. Whether or not you're a picky eater, this restaurant in Cork will have food for you!
We love that it has such an extensive list of food so you don't need to worry about not being able to choose anything to your liking! And the best thing about it is that you'll know what goes into your food—the menu has the list of ingredients for each dish.
We were able to chat with regular customers who often eat at Market Lane and they said that more than the quality of the food, they loved the huge servings as well. This shows value for money for whatever it is you order at the restaurant!
We think you're going to love this as well—the best thing about Market Lane is its desserts! So if you have a sweet tooth, this is the food place for you!
Market Lane also serves local cuisine so it's perfect for tourists as well if they want to experience what the locals eat. We love that the restaurant also has a variety of drinks to pair with every type of food it serves!
The staff are amazing as well, so customer service is good. We want to commend them for the fast and excellent service—they don't like to keep customers waiting.
Speaking of waiting—the only thing that we're not too fond of is the long wait for reservations over the phone and the long line when you're a walk-in. We understand that it gets  busy, but as customers, we prefer it if we don't have to wait long. 
Has the best desserts
Varied menu
Welcoming staff
Comprehensive description of food in the menu
Huge servings
Fast service
Long wait for reservations over the phone
Long wait for tables (for walk-ins)
Customer Reviews
Welcoming staff and varied food
One of the best spots in Cork, always had a great experience anytime I've been here. Staff are welcoming and there is plenty of seating upstairs and downstairs, and if you're looking for a more quiet experience would recommend booking a table upstairs as there is a little less seating. Food is delicious and the menu is quite varied with plenty of options. — Patrick Olden, Google Reviews
Excellent food
We had an absolutely gorgeous 3 course meal here and it was one of the best we've had in a good while. Beautifully cooked, tasty food with excellent service alongside Irish gin and great Elbow lager brewed locally. Highly recommended. — Sarah R, Trip Advisor
2. Silver Key Bar and Restaurant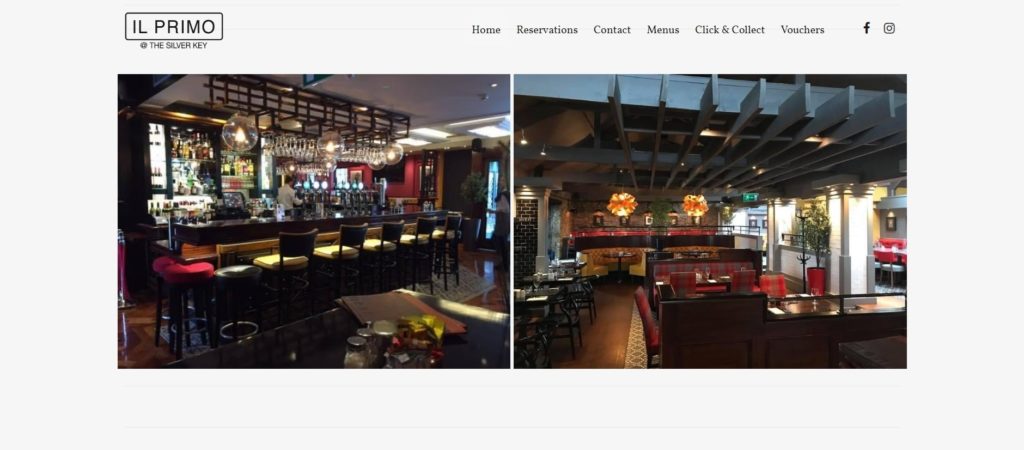 Test
Info
CUISINE
Local Irish Cuisine
WEBSITE
http://silverkey.co/
ADDRESS
Churchyard Ln, Ballinlough, Cork, Ireland
CONTACT DETAILS
+353 21 429 5655
OPERATING HOURS
Monday - Friday: 9:00 AM - 10:30 PM

Saturday - Sunday: 10:00 AM - 10:30 PM
| | |
| --- | --- |
| Location | ★★★★★ (5/5) |
| Ambience | ★★★★☆ (4/5) |
| Accessibility | ★★★★★ (5/5) |
| Variety | ★★★★★ (5/5) |
| Cost (Higher score = better value) | ★★★★★ (5/5) |
| Food | ★★★★★ (5/5) |
| Taste | ★★★★★ (5/5) |
| Servings | ★★★★★ (5/5) |
| Presentation | ★★★★☆ (4/5) |
| Local Reputation | ★★★★☆ (4/5) |
If you ask us what makes Silver Key Bar and Restaurant one of our restaurant choices in Cork, we'll tell you it's more than just the food that it serves. There are a lot of other things offered by the restaurant that make it worth visiting!
First of all, we appreciate that it's very PWD-friendly. The restaurant prioritises people with disabilities over reservations and places them and their companions in an accessible area—even the bathroom is easy for them to use!
Second, we love that the restaurant is spacious. It's perfect for family gatherings or even a meet-up with a huge group of friends.
Third—there's a variety of dishes to choose from and with such large servings as well—and they're all delicious! We love that any customer will get the value of his or her money when they eat here.
Fourth, the orders are taken fast so the food is also served fast as well! We love that there's no need to wait a long time for your food—they're served freshly cooked and as quickly as possible!
Lastly, there's easy parking. So if you're bringing a car, you don't need to worry if there's a space for it.
The only thing that might send other customers away is the noise–customers can watch football matches on the television sets so it tends to get a little loud. However, the second-floor area is quieter as well as the outdoors so customers can have options.
PWD-friendly
Spacious, perfect for a large group or family event
Easy parking
Variety of dishes to choose from
Excellent value for food
Friendly and accommodating staff
Food is served fast
Hefty servings
Can get a little noisy
Customers tend to get charged differently for the same order
Customer Reviews
Delicious food and lovely set-up
The food is absolutely gorgeous, from steaks to seafood! The setting is lovely and caters for all ages, the restaurant itself is always kept to an extremely high standard!
Such care and consideration to every little detail! The staff are all so friendly and accommodating, in particular JP who is consistently checking that everyone is looked after and everything is running smoothly. — lol Stack, Google Reviews
Fantastic Food
The Silver Key is a really large place. It's great for large groups as there is an upstairs and downstairs. Every time we go the place is packed but we always manage to find a table. We have been there three times and haven't had a bad meal. In fact the food is really good and not what we would expect from a pub. The Tyme, Lemon and Garlic chicken with mash is amazing! It's also a great place to watch all the matches but there is a quieter area upstairs if you prefer no TV's. They also have a nice outdoor area as well. — Wendy G, Trip Advisor
3. Jacques Restaurant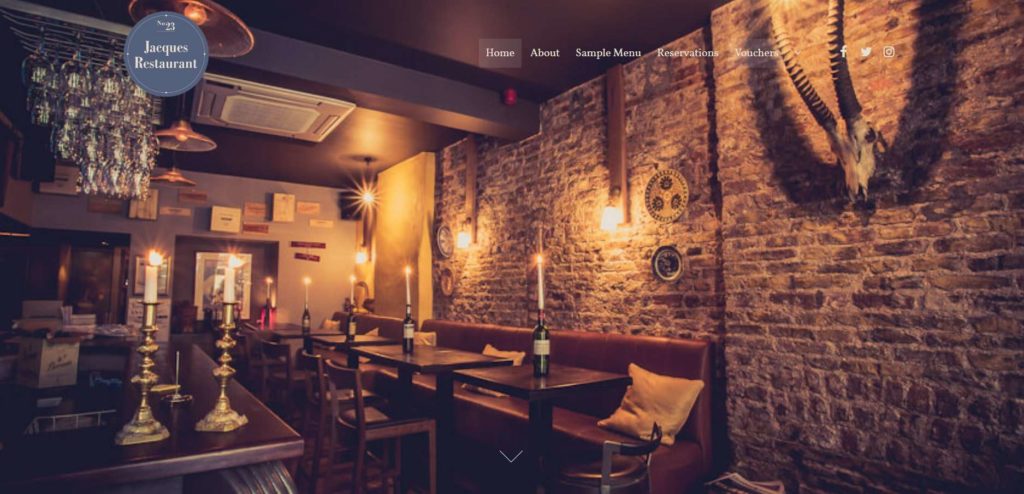 | Test | Info |
| --- | --- |
| CUISINE | Local Irish Cuisine |
| WEBSITE | https://www.jacquesrestaurant.ie/ |
| ADDRESS | 23 Oliver Plunkett St, Centre, Cork, T12 A5D7, Ireland |
| CONTACT DETAILS | +353 21 427 7387 |
| OPERATING HOURS | Tuesday - Saturday: 5:00 PM - 9:30 PM |
| | |
| --- | --- |
| Location | ★★★★☆ (4/5) |
| Ambience | ★★★☆☆ (3/5) |
| Accessibility | ★★★★★ (5/5) |
| Variety | ★★★★☆ (4/5) |
| Cost (Higher score = better value) | ★★★★☆ (4/5) |
| Food | ★★★★★ (5/5) |
| Taste | ★★★★★ (5/5) |
| Servings | ★★★★★ (5/5) |
| Presentation | ★★★★★ (5/5) |
| Local Reputation | ★★★★☆ (4/5) |
Jacques Restaurant made it into our list because of one thing—the restaurant serves all local cuisine from Cork, but with twists! Local dishes are revamped—not too much as to lose its original identity—just right to give each dish an accent!
Food is extremely delicious—we asked the locals and they all agreed! Irish food is originally already flavourful, and Jacques Restaurant just elevates it to another level.
We think vegan foodies will love this fact though—the restaurant has vegan options, and they taste as good as the regular ones on the menu. So if you're in it for experience, you can do so without compromising your diet!
Another thing we love is that customers can also enjoy an extensive list of cocktails and wine they can pair with the good food. This makes the experience more fantastic!
We also think that it's very obvious that the restaurant uses only fresh ingredients. From the way the food being served smells good and looks good, it can only be made from locally sourced ingredients.
Customer service is top-grade as well! The staff are very attentive and considerate to the customers—they even have spare reading glasses for those who forgot to bring them so they can read the menu without having a hard time.
Just a little warning—it's located in a busy street so it can get really noisy and crowded. Most of the time you can't choose where to sit because there are a lot of customers–this can be a little bothersome and can take away some of the good experience.
Menu has plenty of choices
Pleasant staff
Offers reading glasses for those who forgot theirs
Uses fresh ingredients
Extensive list of cocktails and wine
Vegan options on the menu
Limited operating hours
Located in a busy street
Can get a little crowded
Customer Reviews
Excellent food and service
Very pleasantly surprised with the excellent food. Super menu with plenty of choice. The flavours were just divine, really good food. 4 of us opted for all different plates, equally as nice. Duck starter & crab luigini to die for. Highly recommend Tiramisu most homemade I've had in a restaurant. Definitely compliments to the staff. So pleasant & efficient. — Eileen F, Trip Advisor
Nice and relaxing atmosphere
First meal out in Cork, decided upon after a brisk walk around the main centre of town. Was in the sept heatwave and so there were a couple of great looking tables outside in the street. Sat in opposite the bar and received great service, even offering a variety of reading glasses when I'd forgotten mine. Nice, relaxed atmosphere with attentive but not overwhelming service. Great bottle of red, shared plate for starters and ribeye for mains. All cooked just right. My only criticism would be that on the shared plate for 2 they was odd numbers for some of the items. Might be ok for couples but as brothers we wanted an equal share!! Wine is always an expense but the food was great value. If I visit Cork again I'll eat here again — Jason Farrar, Google Reviews
4. The Glass Curtain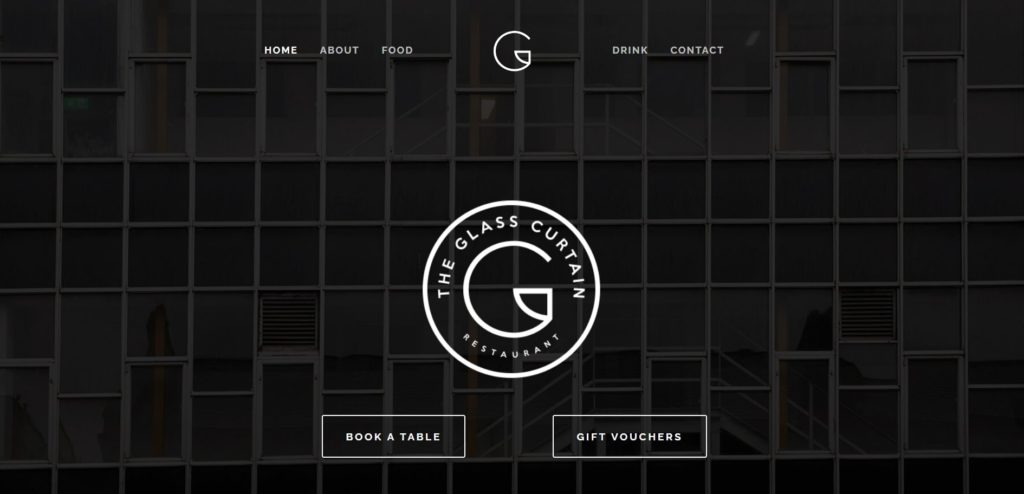 Test
Info
CUISINE
Local and Seasonal Irish Cuisine
WEBSITE
https://www.theglasscurtain.ie/
ADDRESS
Thompson House, MacCurtain Street, Victorian Quarter, Cork, Ireland
CONTACT DETAILS
+353 21 451 8659
OPERATING HOURS
Tuesday - Thursday: 5:30 PM - 9:30 PM

Friday - Saturday: 5:00 PM - 10:00 PM
| | |
| --- | --- |
| Location | ★★★★★ (5/5) |
| Ambience | ★★★★★ (5/5) |
| Accessibility | ★★★★★ (5/5) |
| Variety | ★★★★☆ (4/5) |
| Cost (Higher score = better value) | ★★★★☆ (4/5) |
| Food | ★★★★☆ (4/5) |
| Taste | ★★★★★ (5/5) |
| Servings | ★★★☆☆ (3/5) |
| Presentation | ★★★★★ (5/5) |
| Local Reputation | ★★★★★ (5/5) |
What locals love about The Glass Curtain as what we heard from them is that it's quite a romantic place. While anyone can eat here, it's perfect for dates or more intimate gatherings with a small group of friends or family.
First—it has a chill and cosy atmosphere. We love that it's a little more formal than some restaurants in Cork, but not too much that you need to get super dressed up for it.
Second, we love that The Glass Curtain's staff are all knowledgeable about the courses that the restaurant serves. So if customers have questions or inquiries about the food, anyone from the staff can easily explain things to them.
Third—if you're a steak lover, this place is perfect for you! Some customers we've chatted with boasted about how good the steak is at The Glass Curtain—just don't expect huge servings.
Fourth—we also love that the restaurant has such a nice selection of wine and beverages. The Glass Curtain has flavourful food, so it's a good thing it offers a variety of drinks to match it.
Lastly, we appreciate that the restaurant accommodates customer preferences. If you have certain food allergies or prefer not to have a certain ingredient in your dish, The Glass Curtain will make sure to cater to it.
We just want to let you know though that The Glass Curtain doesn't have an extensive menu. But rest assured that the quality of food will more than make up for the limited choices.
Good selection of alcohol
Cosy atmosphere
Professional staff
Best for steak-lovers
Staff is knowledgeable about the courses
Good atmosphere
Accommodates customer preferences or allergies
Servings aren't huge
Not a lot of choices
Customer Reviews
Good value for food
Staying in Cork for a few days we decided to try here, great decision, the taster menu with wine is such good value given the quality of food and service on offer, From start to finish we were delighted with the presentation and depths of flavours from each plate, matched perfectly by the pre selected wines. Delightful and excellent value for this quality . Highly recommended. — The 3rd Earl, Trip Advisor
Cosy atmosphere, good selection of alcoholic beverage
Great atmosphere, friendly service. excellent food. We had appetisers and porterhouse steak. The staff is friendly and knowledgeable. The selection of whiskey is excellent. It was a great culinary experience. it is definitely worth booking a table — Howard R, Google Reviews
5. 51 Cornmarket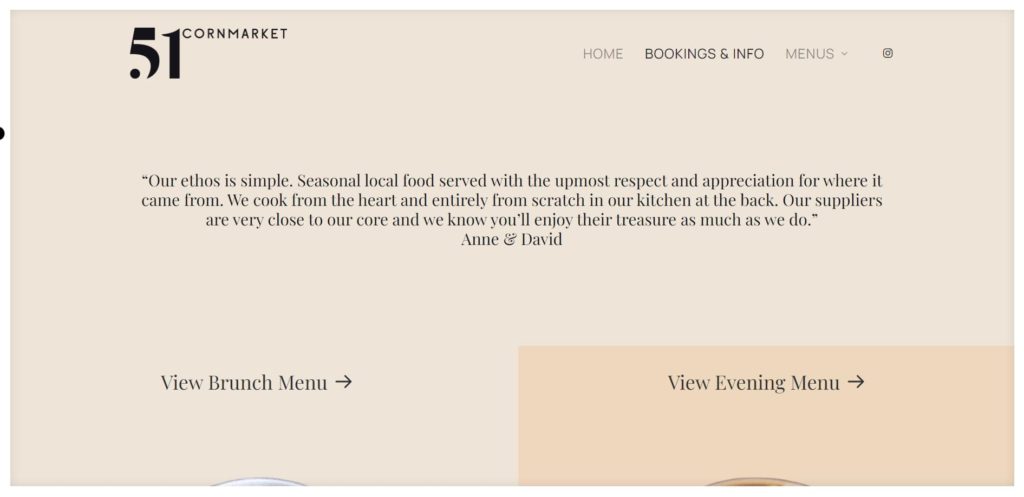 Test
Info
CUISINE
Local and Seasonal Irish Cuisine
WEBSITE
https://51cornmarket.ie/
ADDRESS
51 Cornmarket St, Centre, Cork, T12 VK88, Ireland
CONTACT DETAILS
+353 83 010 2321
OPERATING HOURS
Thursday - Friday: 5:00 PM - 10:00 PM

Saturday: 11:00 AM - 3:00 PM & 5:00 - 10:00 PM

Sunday: 11:00 AM - 3:00 PM
| | |
| --- | --- |
| Location | ★★★★☆ (5/5) |
| Ambience |  ★★★★★ (5/5) |
| Accessibility | ★★★★★ (5/5) |
| Variety | ★★★★★ (5/5) |
| Cost (Higher score = better value) | ★★★★☆ (4/5) |
| Food | ★★★★☆ (4/5) |
| Taste |  ★★★★★ (5/5) |
| Servings | ★★★★☆ (4/5) |
| Presentation |  ★★★★☆ (4/5) |
| Local Reputation | ★★★★☆ (4/5) |
What we love about 51 Cornmarket is that this restaurant in Cork uses only natural ingredients for its food. This assures you that the food is always fresh and healthy regardless of the style of cooking.
We love that the restaurant has a lot of choices for those with varied preferences as well. It means everyone will get to eat something no matter how picky he or she is!
In addition to this, some customers told us that 51 Cornmarket can actually accommodate customers' requests in terms of food. Let's say you want your eggs cooked in a certain way, just let the staff know so he or she can tell the cook!
We think you'll be happy to know as well that 51 Cornmarket has an extensive menu for vegetarians. This makes us appreciate the restaurant more because it really considers the preferences of its customers.
Good news for coffee lovers just like us—the restaurant serves good coffee! What's better than to have a good cuppa as you eat your dessert, right?
One thing that might turn some customers off though is the price of the food. For us, the quality of the food is worth paying the price for, but still not all customers will spend a lot for one sitting.
The restaurant is quite small too, so it can't always accommodate a lot of people. We recommend booking in advance or coming in early.
Great atmosphere
Super customer service
Wide range of choices in the menu
Extensive options for vegetarians
Good coffee
Food is always freshly cooked
Restaurant is a little small
Pricier
Can get a little busy
Customer Reviews
Reasonable price
A really interesting, varied menu with top quality food & service in a beautiful setting. All at a reasonable price. What more could you ask for? The French toast & the crab cakes are outrageously good 👌🏻 — Marina M, Trip Advisor
Great atmosphere and good food
You know when you follow a restaurant on instagram because everything they post looks amazing? Well this place really is that good!  A delightful Saturday night experience in this small buzzy restaurant.  Great atmosphere, super service, an interesting wine list and food, really good food, which is obviously cooked with understanding, care and passion.  The best in Cork City for sure! — Julia Zagar, Google Reviews
FAQs about Restaurants in Cork
---
And that's it for our review! We hope you get to try each of these restaurants when you visit Cork. If you prefer a more organic, locally sourced, and cruelty-free food, check out Vegan Restaurants in Cork.