The 7 Best Places for Swimming Lessons in Dublin
Regardless of age, learning how to swim is an important life skill that can save you from tricky situations. As a matter of fact, learning how to swim independently once will teach you how to swim for life.
You'll never feel like you're stuck in uncharted waters again by getting formal swimming lessons. And to help you out, we've listed the best places for swimming lessons in Dublin, along with rates and courses!
We also understand that the cost for lessons can be a concern for some. So without further ado, let's discuss that first!
How Much Do Swimming Lessons Cost in Dublin?
Normally, swimming lessons are charged by the hour. However, some swimming centres also have their respective packages, which can be relatively more affordable.
For the purposes of this table, we used one-hour swimming lessons as a baseline for prices, unless stated otherwise.
| | |
| --- | --- |
| SWIMMING CENTRE | PRICE RANGE |
| Turner Swim Dublin | €79 to €85 |
| Splashtastic Swimming Lessons | €79 |
| Turtle Tots | €190 (10-week term) |
| Clondalkin Leisure Centre | €68 to €88 (8-week term) |
| iSwim Academy | €35 to €40 |
| Portmarnock Sports and Leisure | Contact for more information |
The Best Places for Swimming Lessons in Dublin
Now that we've laid out the costs for you, it's time to check our top picks of the best places for swimming lessons in Dublin.
1. Turner Swim Dublin
Best for Athletes and Private Lessons for Adults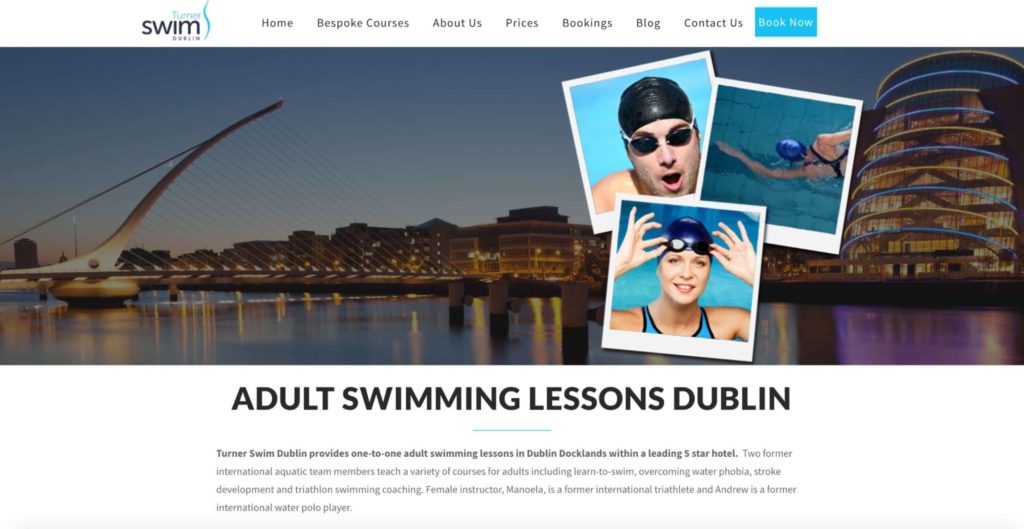 COURSES
Water confidence (aquaphobia), learning to swim, head up breaststroke into front crawl, stroke improver, triathlon swimming coaching, international style breaststroke, swimming fitness, triathlon winter swimming training, individual master class
WEBSITE
https://www.turnerswimdublin.ie/
ADDRESS
The Marker Hotel Grand Canal Square Docklands Dublin 2
CONTACT DETAILS
01 695 0016


[email protected]

OPERATING HOURS
Monday and Thursday
10:00 am to 12:00 pm (telephone calls only)

Tuesday
5:00 pm to 8:00 pm

Wednesday
7:30 am to 1:00 pm

Thursday
5:00 pm to 9:15 pm

Friday
7:30 am to 10:30 am
We're kicking things off with Turner Swim Dublin—a centre that specialises in adult swimming lessons. It's in a 5-star hotel along Dublin Docklands.
What sets them apart from our other entries is that they only offer lessons on a one-to-one basis for adults, giving students their undivided attention and maximising the time allotted just for them. This set-up is also ideal for individuals who'd prefer a more personalised approach to their lessons.
Furthermore, Turner Swim's run by former international aquatic athletes Andrew and Manoela, who have specific courses meant to improve speed and strokes. So, if you're a triathlon athlete looking to train off-season, this centre is perfect for you.
Perhaps the only drawback we're seeing is their limited time frame in responding to enquiries. Despite this, you can book and keep track of their availability on their website, which is regularly updated every 4 weeks.
If you're unsure which course to get, Turner Swim suggests booking a one-hour lesson instead, which can be modified and tailored to suit your needs.
One-to-one swimming lessons
Lessons conducted in a 5-star hotel
Wide variety of courses available
Online booking portal available
Flexible classes depending on your level
Limited availability due to high demand
Limited teaching hours
Limited enquiry response
Relatively expensive
Customer Reviews
Check out some reviews by previous clients of Turner Swim:
"Have just finished a course of 10 lessons in Dublin and am really happy with the result. I don't often write reviews, but in this instance I think it's important – being able to swim is a skill worth having for multiple reasons!! And I feel ready to go to the pool by myself to practice what I have learnt and aim to become a more competent swimmer. My instructor was Rachel – she was excellent – friendly, encouraging, able to critique every aspect in a very constructive manner and luckily for me never tired of reiterating instructions in a thoughtful way. Definitely recommend the lessons. And as an added bonus, they take place in the Marker Hotel swimming pool which is a beautiful pool." —Deirdre Harding, Google Reviews
"I started lessons with Andrew after having tried a couple of different ways of improving my swimming. 7 lessons ago I was barely able to swim one length of the pool without feeling that I may never breathe again. Now I am completing 400m's and feeling great doing it!! Andrews style is really relaxed and although he does push you I have never felt under pressure or uncomfortable. A few weeks ago I silently hoped one day I may complete a sprint triathlon and with Andrew's coaching I actually think it may happen sooner than I thought!" —Maria Hayes, Google Reviews
2. Splashtastic
Best for Kids above 3 Years Old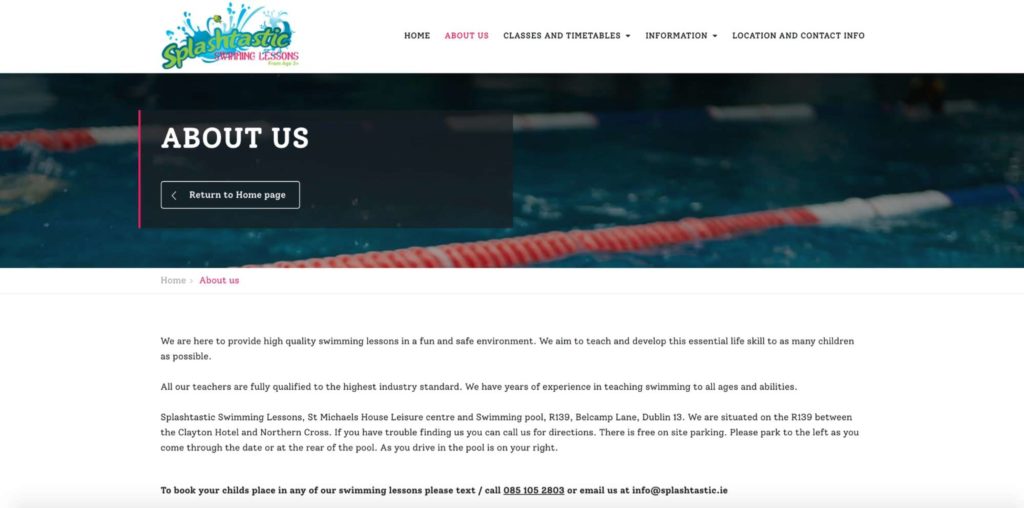 COURSES
Beginners, intermediate, advanced, deep water swimming, one on one lessons, rookie lifeguard
WEBSITE
https://splashtastic.ie/
ADDRESS
Splashtastics, St Michaels House Leisure Centre, Belcamp Lane, Dublin
CONTACT DETAILS
085 105 2803


[email protected]

OPERATING HOURS
Monday and Friday
5:00 pm to 7:00 pm

Tuesday
9:00 am to 5:00 pm
Now, if you want to give your kids the opportunity to learn how to swim, rest assured Splashtastic can help you with that.
They are certified by Water Safety Ireland and the Swimming Teachers' Association, which is an international award-winning charity that ensures the highest standards of teaching qualifications in swimming.
Their courses can accommodate children above 3 years old who have different levels, from total beginners to advanced swimmers. Each class has a maximum of 10 kids, which is ideal if you also want to improve your child's social skills.
But for kids who require additional support in the pool, you can choose their Dolphin course, which has a smaller class size of 4 kids maximum. Parents and guardians can also accompany their child in this course.
As of writing, Splashtastic is still closed due to COVID-19 but they're getting ready for reopening. You can watch out for updates on their Facebook page or you can contact them via phone or email.
Wide range of courses for different levels
One-to-one lessons available
Flexible options in class size
Free parking on-site
Closed as of writing
No online booking portal
Not suitable for kids below 3 years old
Customer Reviews
Here's what Splashtastic's previous students have to say about their services:
"Brilliant place. Great dedicated staff with a friendly approach. My son loves his swimming lessons. Thank you guys!" —Monika Mak, Google Reviews
"My daughter started her swimming lessons with Splashtastic and absolutely loves it. She counts down the days to swimming every week. The staff and swimming teachers are so friendly and reassuring." —Ciara Nolan, Google Reviews
"Lovely warm pool, nice clean changing rooms and super friendly, patient coaches! My boys absolutely love Splashtastic and in the space of a year have become very happy confident swimmers! Highly recommended!" —Aisling Hogan, Facebook
3. Turtle Tots
Best for Babies and Toddlers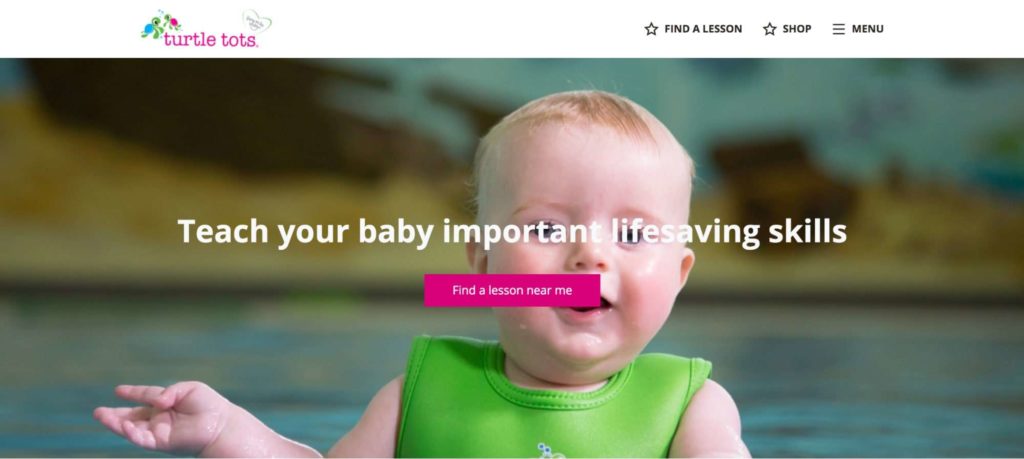 COURSES
Baby swimming lessons for 0-14 months, 14 months to 3 years old, 3 to 4 years old
WEBSITE
https://www.turtletots.ie/
ADDRESS
18 Pembroke Cottages, Dundrum, Dublin
CONTACT DETAILS
085 875 9790


[email protected]

OPERATING HOURS
Monday to Saturday
8:00 am to 5:00 pm

Sunday
8:00 am to 3:00 pm
For babies and toddlers, Turtle Tots is your top choice. They're an award-winning swimming centre that specialises in lessons for children 5 years old and below.
Not only do teachers hold a Swimming Teachers' Association qualification and other rescue certifications, but they're also trained to understand babies' early brain development. With them, you can be sure that your baby is in safe hands.
Currently, there are 3 courses to choose from, which cater to different age groups. Each class is 30 minutes long and is spread out over 10 weeks.
Furthermore, classes are small in size, with one adult allowed to accompany the baby in the pool. There are very specific guidelines in terms of swimming attire and items to bring, which they'll inform you about prior to your scheduled lesson.
Take note that while there are changing rooms, there are no shower and hair drying facilities available. No other spectators are also allowed in the area apart from the accompanying adult in the pool.
Turtle Tots also has multiple branches across Dublin and all over Ireland, so you have several options to choose from in case classes are fully booked in a certain branch.
Award-winning swimming centre
Small class sizes only
Multiple locations available
Open on weekends
Online shop available
No spectators allowed
No shower and hair drying facilities
Limited availability due to high demand
Customer Reviews
We've picked out some reviews written by Turtle Tot's previous clients:
"Two kids (baby and toddler) doing Turtle Tots – Elaine and Tony are fabulous instructors! The program is fun and I put my kids' love of water and swimming down to taking part. Everyone we've interacted with has been helpful and accommodating. It's really well run and I'd highly recommend it!" —Regina O Keefe
"My son and I are loving the classes at Applewood Gym Plus with Joanne. The teaching style is a lovely and gentle baby-led approach, the pool is warm and modern. My 11 month old laughs and smiles all the way through, it's the highlight of our week. I highly recommend Turtle Tots!" —Krystle Pavier, Google Reviews
4. Clondalkin Leisure Centre
Best for Families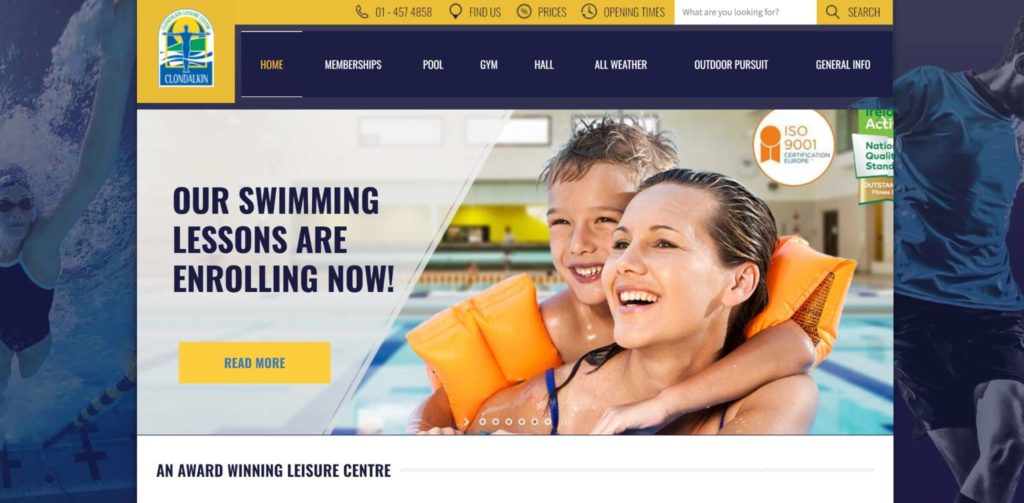 COURSES
Lessons for 3 1/2 years of age upwards, beginners, improvers, swimmers, advanced swimmers and junior lifesaving, adult lessons, children swim lessons, adult and baby classes
WEBSITE
https://www.clondalkinleisure.com/
ADDRESS
Nangor Road, Clondalkin, Dublin 22
CONTACT DETAILS
01 457 4858


[email protected]

OPERATING HOURS
Monday to Wednesday, Friday
7:00 am to 8:00 pm

Thursday
9:00 am to 8:00 pm

Saturday
10:00 am to 4:00 pm

Sunday, Bank Holidays
10:00 am to 1:00 pm
Next on our list is Clondalkin Leisure Centre, which has the widest variety of swimming courses on our list for all ages and different levels. This is the option to go for if you want to bring your entire family with you for swimming lessons.
They have courses available for kids, adults, and even babies as young as 4 months. All of their courses are carried out in 45 minutes once a week spanning over 8 weeks, which may not be for you if you can't commit to a fixed schedule.
While hair dryers are unavailable on site, you can continue to dry off in the poolside sauna and steam rooms—also a unique feature that's absent in our other entries.
And because the pools are located in a wide-ranging leisure centre, you can also participate in other activities in the vicinity such as gym classes and sporting activities.
Moreover, there is a coffee shop, a playground, and even a beauty salon in the area, proving that there's really something for everyone.
Wide range of courses for different ages and levels
Affordable class prices
Multiple recreational activities available in the area
Sauna and steam rooms available
Open on weekends
Limited availability due to high demand
One-time classes unavailable
Customer Reviews
Take a look at what Clondalkin Leisure Centre's past students have to say about them:
"Staff are friendly and the pool is always clean. The swimming lessons, throughout all grades, are great. Playground is fun although geared towards smaller children. Cafe is great and cheap. Staff are wonderful. I recommend a tropical capri-sun and a sausage roll, while looking over at the swimming pool." —SmokeySabre, Google Reviews
"A good place for leisure. My son is doing swimming lessons over there." —Corneliu Malu, Google Reviews
5. iSwim Academy
Best for Children with Special Needs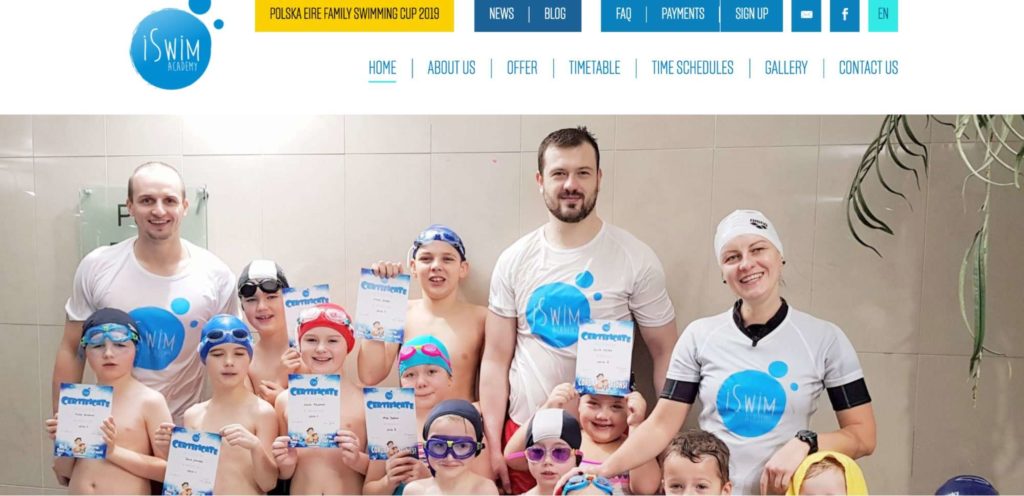 COURSES
Halliwick group swimming lessons, classes for 4 year olds, classes for 5 year olds, lane coaching, individual lessons, adult classes, intensive swimming lessons, offer for schools
WEBSITE
https://iswim.ie/en/
ADDRESS
Club Vitae, Whitestown Way, Tallaght, Dublin
CONTACT DETAILS
085 212 0382


[email protected]

OPERATING HOURS
Monday to Thursday
10:00 am to 5:00 pm

Friday
10:00 am to 3:00 pm
For children with special needs, go with iSwim. They specialise in water therapy conducted through the Halliwick method, which includes a series of activities and games meant to strengthen water confidence and balance.
Halliwick swimming group lessons have a maximum of 5 child-parent pairs, who are then supervised by a qualified swimming teacher and a Halliwick instructor. Each class lasts about 40 minutes.
Despite this specialisation, iSwim also offers swimming lessons for children above 4 years old and even adults with different levels. While group lessons are generally small in size, you can also choose to partake in individual lessons for a minimal price.
They have 3 branches to choose from across Dublin and important to note that lessons in ALSAA and West Wood Gym Clontarf swimming pools are conducted in Polish. For English speakers, you're encouraged to visit Club Vitae instead.
Wide range of courses for different ages and levels
Affordable class prices
Polish-speaking classes available
Small class sizes only
Limited availability due to high demand
Closed on weekends
Customer Reviews
Check out some comments about iSwim's lessons here:
"Highly recommended iSwim Academy. Our daughter is delighted to be your student. I am more than happy to see how big progress she is making during your classes. Teachers are amazing and highly professional. Recommend to everyone who is looking for swimming lessons for their kids!" —Magdalena Łoś, Google Reviews
"My little girl loves the classes. The teachers are excellent and really help all the boys and girls to overcome any fears. Very well organised and you can see each class improving every week. Have already told friends to look up iSwim for their kids. Highly recommended." —Susan Duffy, Google Reviews
6. Portmarnock Sports and Leisure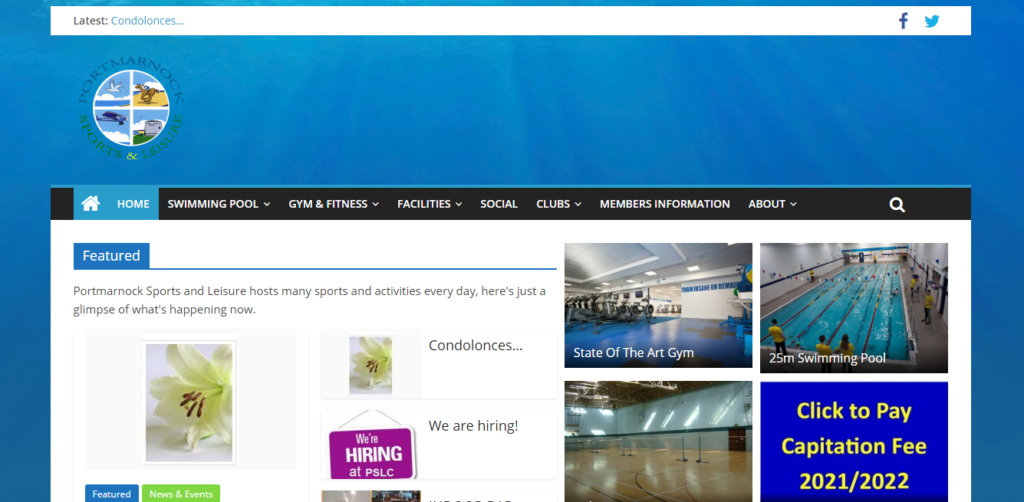 COURSES
Swim lessons, Sports activity hosting
WEBSITE
https://pslc.ie/
ADDRESS
Blackwood Ln, Portmarnock, Co. Dublin, Ireland
CONTACT DETAILS
Tel. +353 1 846-2122
Fax +353 1 846-1258
Email

[email protected]

OPERATING HOURS
Monday: 6:00 AM – 11:30 PM
Tuesday: 6:00 AM – 11:30 PM
Wednesday: 6:00 AM – 11:30 PM
Thursday: 6:00 AM – 11:30 PM
Friday: 6:00 AM – 12:30 AM
Saturday: 9:00 AM – 12:30 AM
Sunday: 9:00 AM – 11:00 PM
Portmarnock Sports and Leisure is a club that hosts sports and activity events daily with updates on its website and timetable seen there as well. They offer services such as swimming lessons, aquafit, fitness classes, and spin classes since they have facilities such as a 25m pool, and bar and function rooms.
It is also home to various sports clubs such as Portmarnock Athletic, Portmarnock Bowls, Portmarnock Padel, Portmarnock Sub-Aqua, Portmarnock Swim Team, Portmarnock Triathlon, and PSLC Badminton to name a few.
The PSLC is also located in a resort that accommodates not only clients' fitness needs but also their relaxation and play needs. They offer a variety of packages for all age groups who wish to avail of their services and facilities which can also be seen on their website.
Furthermore, the PSLC offers membership packages to get exclusive offers and perks on their services and facilities and was greatly commended by its clients to have an overall pleasant visit.
Several options for age group packages
Offers membership
Adequate facilities for the services
Customer Reviews
Here are some reviews from their clients:
"Had my boys communion party there yesterday and have to say it was fab. The food was lovely, The room was fab and Ann was great making sure everyone was looked after. Would recommend P.S.L.C." – Suzanne O Duffy
"Huge improvement, great food and staff, definitely worth a visit. Thanks guys." – Nicole Purdy
7. Dolphin Swim School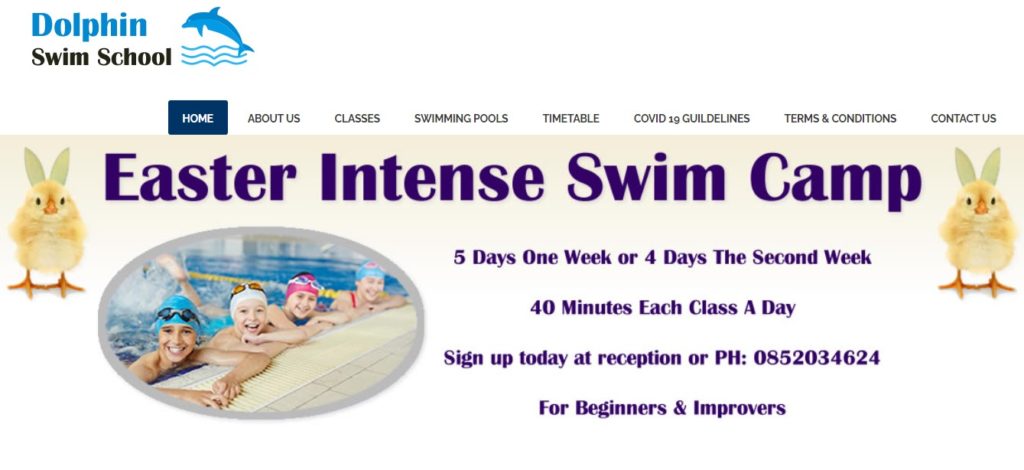 COURSES
Swimming Lessons
WEBSITE
https://www.dolphinswimschool.ie/
ADDRESS
St. Augustine's Pool
Carysfort Avenue Blackrock County Dublin

St John of Gods
Menni Services Island Bridge Kilmainham Dublin 8

Tullyvale Leisure Centre
Cabinteely Dublin 18

Mespil Apartments
Sussex Road Dublin 4
CONTACT DETAILS
T: 01 283 3528
M: 087 9306466
E:

[email protected]

OPERATING HOURS
By Appointment
Believe us when we tell you that Dolphin Swim School was set up by a former national champion swimmer. Similar to other schools, they offer swimming classes to both adults and children.
No matter what your age is, you will definitely be welcomed!
What's great about them is the number of swimming pool locations they have. Since they have 4 pool areas, there are fewer chances of being taught in a crowded pool.
If you prefer individual lessons, do not fret as they also offer this. The only catch here is that you will need to contact them first before in order to find out what is included in this service.
Unlike the other ones on this list, if you are learning how to swim because you want to be a lifeguard, they can teach you. They are one of the few schools that offer this service, so maybe this is now the time to consider them.
But what made us really recommend them is their swimming session for children with dyspraxia. This shows how dedicated they are to teach children how to swim as much as possible.
Has 4 pools they can conduct their lessons
Caters to students with Dyspraxia
Offers Rookie Lifeguard Classes and Master Sessions
Some rates are unavailable on their website
FAQs about Swimming Lessons
---
And there you have it! If you've tried any of the best places to get swimming lessons in Dublin, let us know your experience by sending us a message.
Likewise, if you think there are other places that deserve to be on our list, drop us a line and we'll check them out ASAP.
We've also written about the best private schools in Dublin for your child to enroll in.