5 Best Burger Restaurants in Ireland
Take a break from those same old burgers at the same fast food chains. Let's go on an adventure to explore the best burger restaurants in Ireland!
You can't go wrong with Irish burgers as they're among the world's best burgers, having granted culinary accolades for their taste and quality!
We know you can't wait to try these delightful burgers, so let's not waste any more time. Browse through our list of the top burger restaurants in Ireland!
How much do burgers cost in Ireland?
It depends on the type of establishment.
There are a lot of factors that might affect menu pricing. Among these are direct costs such as the ingredients and indirect costs like electricity and labour.
However, pricing is also heavily influenced by the establishment's size, attractiveness, and location. For example, burgers sold at fast food outlets may cost between €2 and €11, whilst those at gourmet restaurants may cost between €10 and €14.
Check out the table below for estimated costs of a burger on its own grouped by the type of establishment.
| Establishment | Estimated Costs |
| --- | --- |
| Hotel | €13 to €16 |
| Pub | €10 to €15 |
| National fast-food chain | €2 to €11 |
| Independent fast-food chain | €8 to €11 |
Top Burger Restaurants in Ireland
To rate the top burger restaurants in Ireland, we used the following criteria.
1. Flipside – Sligo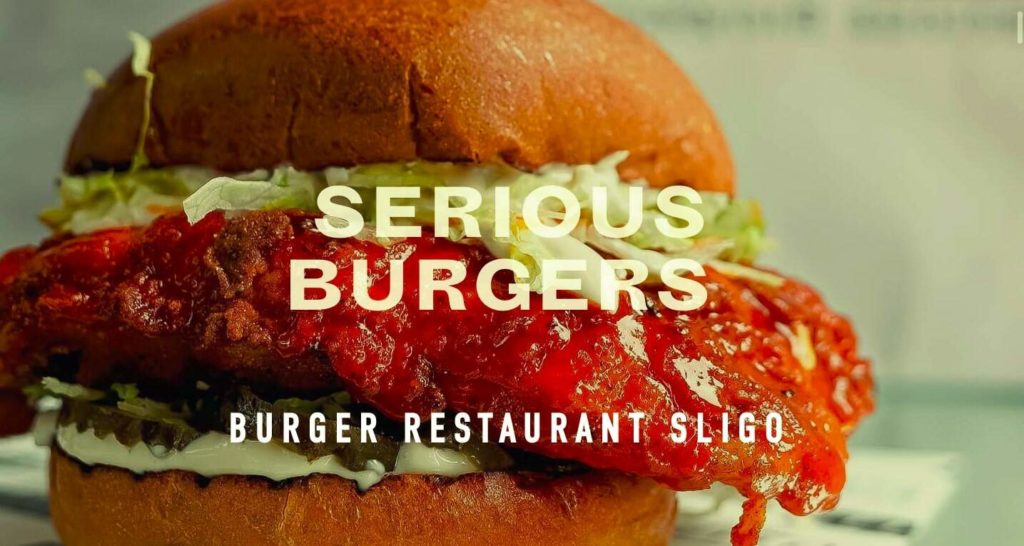 Test
Info
MENU
Beef Burgers, Chicken Burgers, Vegan Burgers, Flip Sides (Jalapeño Poppers, Chicken Wings, Chicken Tenders), Salads, Fries, Kiddie Meals, Dessert, Drinks (Beer, Wine, Coke)
PRICING
Burgers start from €10 to €12.50
WEBSITE
https://www.flipside.ie/
ADDRESS
Unit 2, Embankment, Rockwood Parade, Sligo
CONTACT DETAILS
071 9326928
OPERATING HOURS
Wed–Fri: 5:00 PM–9:00 PM

Sat–Sun: 3:00 PM–9:00 PM
| | |
| --- | --- |
| MENU VARIETY | ★★★★★ (5/5) |
| QUALITY | ★★★★☆ (4/5) |
| VALUE | ★★★☆☆ (3/5) |
| REPUTATION | ★★★★☆ (4/5) |
| CUSTOMER SERVICE | ★★★☆☆ (3/5) |
As the recipient of the Best Burger in Ireland Award in 2021, Flipside should be in your food bucket list. Located in Sligo Town, this independently owned restaurant has an open space and lively atmosphere that can surely entice you to grab a bite.
What we like most about Flipside is that they offer a variety of burgers. You have five flavourful choices for their chicken burgers and five as well for their 100% Irish Angus beef burgers.
In addition to the standard beef and chicken options, Flipside has a treat for the veggie lovers out there with "The Gamechanger" vegan burger. What's more awesome is that you're allowed to use the vegan patty (black bean and brown rice) in any Flipside burger of your choice if you're a vegan or a vegetarian.
There are also a lot of sides to choose from! These include fries(from the classic salted to the chili and cheesy), chicken wings, and salad bowls.
The restaurant likes to play music, keeping up with its lively ambiance brand. However, the music usually gets awfully loud.
With their huge waiting area where people have cocktails, distracting noise easily fills the place to the point you couldn't have a chat with your friends or have a relaxing dinner with your family.
When it comes to portions, Flipside's burgers and other meals are smaller compared with other burger restaurants. Nonetheless, they're averagely priced.
Flipside discontinued their takeaway and delivery services, so if you want to experience the best burger in Ireland, you have to dine in at their restaurant. They only take reservations for large groups (six or more), so, avoid their busy times to get seated as quickly as possible.
Various burger choices
Lots of sides
Customisable vegan burger
Huge open restaurant space
Average price and small portions
Loud, party music
Long waiting time
No takeout and delivery
Customer Reviews
The best burger I've ever had
"Popped in here not knowing exactly what to expect on our first night in Sligo. But it was unreal! May well have been the best burger ('the conqueror') that I've ever had. Had Korean sauce chicken wings, halloumi poppers and with cheese fries and gravy fries, and everything tasted so good. Cool vibes in the building, staff were lovely and good fun. Very fairly priced for the quality of food we got!" —Stephen Griffin, TripAdvisor
Staff were friendly and attentive
"Absolutely amazing food and service! The 'gamechanger' vegan burger is so tasty 🙌🙌🙌 service was quick even though the place was very busy! Can't fault it. Staff were friendly and attentive ✌100% recommend and will be back 😁" —Stephanie Gogarty, Google Reviews
2. Handsome Burger – Galway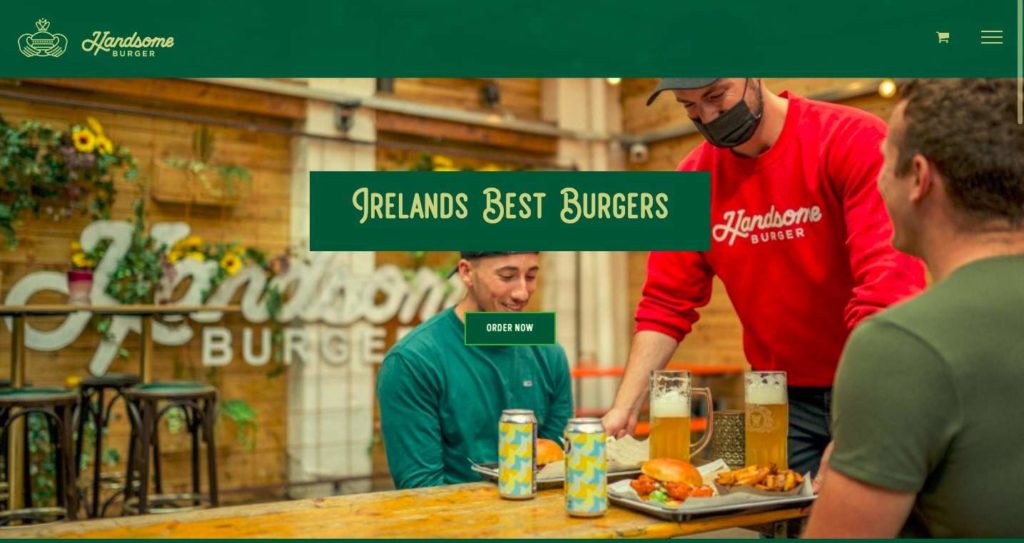 Test
Info
MENU
Beef Burgers, Chicken Burgers, Vegan Burgers, Fries, Chicken Tenders, Additional Sauces, Soft Drinks, Ice Cream Shakes, Cocktails, DIY Burger Kit
PRICING
Burger meals start from €9.5 to €14.50
WEBSITE
https://handsomeburger.com/
ADDRESS
49 Dominick Street, Galway
CONTACT DETAILS
091 533992
OPERATING HOURS
Mon–Tues: 5:00 PM–9:30 PM

Wed–Thu: 12:30 PM–9:30PM

Fri–Sat: 12:30 PM–10:00 PM

Sun: 12:30 PM–9:00 PM
| | |
| --- | --- |
| MENU VARIETY | ★★★★★ (5/5) |
| QUALITY | ★★★★☆ (4/5) |
| VALUE | ★★★★☆ (4/5) |
| REPUTATION | ★★★★☆ (4/5) |
| CUSTOMER SERVICE | ★★★★☆ (4/5) |
Another award-winning burger restaurant in Ireland is Handsome Burger, which came in at number 35 in the Top 50 Best Burgers in the World in 2019.

With only the finest, locally sourced Galway ingredients, Handsome Burger boasts gorgeous burgers, including 100% Irish hand-rolled beef, chicken, and vegan varieties.
We think one of the coolest things about Handsome Burger is their monthly specials because they create a feeling of excitement. Isn't it a lovely surprise when you step in at their restaurant and you might just find the burger you've been craving for?
Their burger meals come with a side of fries, which saves some money, but it's also a bummer that you can't order a burger à la carte. For the sides, there are also only four types of fries and the standard chicken tenders to choose from.
Handsome Burger's lack of sides is balanced out by their array of sauces. If you want to spice up your meals with some extra garlic aioli, sriracha mayo, or blue cheese, they'll bring it to you!
One more cool thing about Handsome Burger is their Handsome at Home kit, which allows customers to prepare their mouth-watering burgers at home. Now, this is innovative, don't you agree?
While they serve big portions, there are times that Handsome Burger's burgers are not so handsome. When it's not your lucky day, you might get a burger patty with lumps of fat.
The restaurant has takeout and delivery services (catering, too!), so you might want to take advantage of these as the restaurant is quite small. Handsome Burger's busiest days are on Friday and Saturday nights.
Various burger choices
Big portions
Monthly specials
DIY burger kit
Accommodating staff
Takeout, delivery, and catering
Can't order burgers à la carte
Limited options for sides
Patties sometimes on the fattier side
Small place
Customer Reviews
BBQ at home
"My son loved this restaurant in Galway and told us about this service of home delivery to our house, met the delivery guy who was lovely and pleasant. OMG what a feast in the box [Handsome at Home] for cooking, we agreed it's the BEST burger in the world, 5 stars for these guys!!!!!" —Fergus Lally, TripAdvisor
Portions are large
"Amazing burgers. Make sure you are hungry as portions are large. Staff [were] very friendly and checked in regularly with us, attentive to needs." —Melissa F., Google Reviews
3. Bunsen – Dublin, Cork, and Belfast
Test
Info
MENU
Beef Burgers, Fries, Soda, Milkshake
PRICING
Burgers start from €7.85 to €10.65
WEBSITE
https://www.bunsen.ie/
ADDRESS
Check out their complete list of locations here
CONTACT DETAILS

[email protected]

OPERATING HOURS
SOUTH ANNE ST, WEXFORD ST, DAME ST, TEMPLE BAR, BAGGOT ST, RANELAGH, BELFAST

Mon–Tue: 12:00 PM–9:00 PM

Wed–Thu: 12:00 PM–9:30 PM

Fri: 12:00 PM–10:30 PM

Sat: 12:00 PM–10:00 PM

Sun: 1:00 PM–9:30 PM


CORK

Mon–Wed, Sun: 12:00 PM–9:00 PM

Thurs–Sat: 12:00 PM–10:00 PM


BLANCHARDSTOWN

Mon–Wed: 12:00 PM–9:30 PM

Thurs–Sat: 12:00 PM–10:30 PM

Sun: 1:00 PM–9:30 PM
| | |
| --- | --- |
| MENU VARIETY | ★★★☆☆ (3/5) |
| QUALITY | ★★★★★ (5/5) |
| VALUE | ★★★★★ (5/5) |
| REPUTATION | ★★★☆☆ (3/5) |
| CUSTOMER SERVICE | ★★★★☆ (4/5) |

For instant satisfied cravings, we recommend Bunsen, a burger restaurant that's also included in the 2019 list of the World's 50 Best Burgers. Known for their business card-sized menus, Bunsen wants to get straight to the point and serve you a gratifying meal on the double.
They currently have branches all over Dublin, Cork, and Belfast. So if you're in it for western flavours, don't miss out on this homegrown burger restaurant and be amazed with how they perfected the squishy and gooey American bun and cheese.
From the size of their menus, you'll know that Bunsen has really limited choices. Their burgers are composed of only four varieties, the classic hamburger and cheeseburger, and the other two are just options for a double patty.
Although they don't have a standard veggie burger, they offer a grilled cheese sandwich for vegetarians.
With such simple selections, there's nothing too special about Bunsen. That being so, it's a bummer that customers still receive wrong or incomplete orders at times.
Nonetheless, they have been praised for their simple menu. Bunsen's burgers are also reasonably sized and way affordable in contrast to the other restaurants on this list.
Bunsen offers both takeout and delivery. Their larger establishments accept reservations for big groups, so you should phone the specific branch directly.
Budget-friendly
Decent portions
Quick service
Takeout and delivery
Limited burger varieties and sides
No veggie options
Customer Reviews
Exceptional American burger
"Exceptional. Been coming to Ireland for 24 years and this is the first true American burger I have ever found. EXCEPTIONAL." —Global traveler 0505, TripAdvisor
Simple isn't bad, it's great
"Best burger in Dublin. When you specialise in something, don't try to diversify, just focus on the core offering. Simple isn't bad, it's great. A menu the size of a business card, 4 burger choices, 4 chip choices and a range of drinks. Quick and efficient service." —John Cronin, Google Reviews
4. BuJo – Sandymount and Castleknock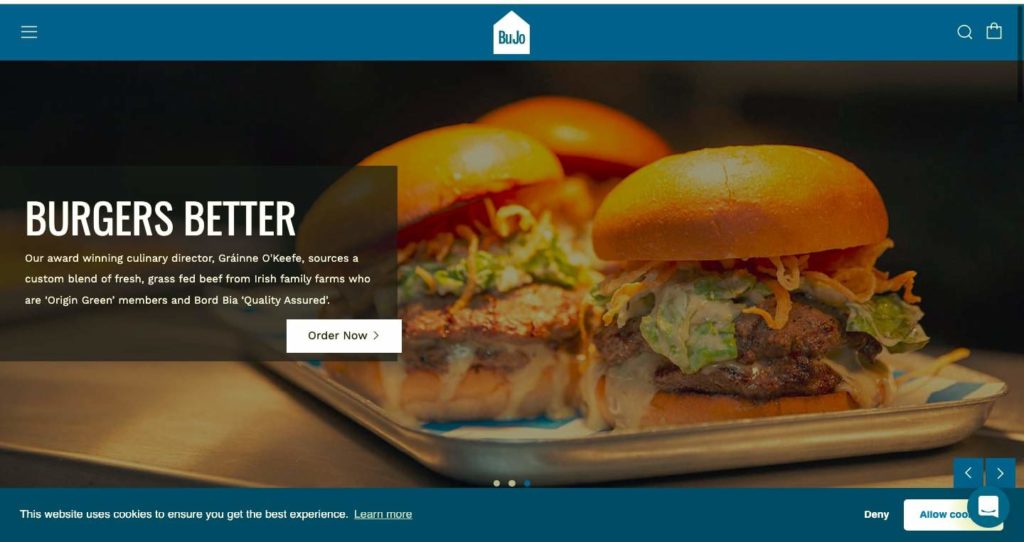 Test
Info
MENU
Beef Burgers, Chicken Sandwiches, Veggie and Vegan Burgers, Limited Edition Burgers, Chicken Strips, Sides (Fries, Onion Rings, Pickles), Additional Sauces/Dips, Kiddie Meals, Soft Drinks, Handspun and Vegan Shakes, DIY Burger Kit
PRICING
Burgers start from €9.75 to €11
WEBSITE
https://shop.bujo.ie/
ADDRESS
SANDYMOUNT

6A Sandymount Green, Dublin 4




CASTLEKNOCK

Junction 6, 15 River Rd, Castleknock, Co. Dublin

CONTACT DETAILS
SANDYMOUNT


CASTLEKNOCK

OPERATING HOURS
SANDYMOUNT

Mon–Tue: 4:00 PM–9:00 PM

Wed–Thu: 12:00 PM–9:30 PM

Fri–Sat: 12:00 PM–10:00 PM

Sun: 12:00 PM–9:00 PM


CASTLEKNOCK

Wed: 4:00 PM–9:00P M

Thurs: 12:00 PM–9:30 PM

Fri–Sat: 12:00 PM–10:00 PM

Sun: 12:00 PM–9:00 PM
| | |
| --- | --- |
| MENU VARIETY | ★★★★☆ (4/5) |
| QUALITY | ★★★★☆ (4/5) |
| VALUE | ★★★★★ (5/5) |
| REPUTATION | ★★★☆☆ (3/5) |
| CUSTOMER SERVICE | ★★★★☆ (4/5) |
What's unique about BuJo is their value for community. For their products, they only use ingredients from Bord Bia "Quality Assured" Irish family farms.
The BuJo Burger is the only standard beef burger in their menu. They have chicken sandwiches and vegetarian and vegan burgers as well.
While they're low on the day-to-day burgers, inviting limited-edition meals are up for grabs. As of writing, you can get your hands on an extra special beef burger with Wicklow Bán brie cheese or a "Farmers to Market" free-range chicken burger.
BuJo is the only burger restaurant in Ireland to get a 3-star designation from the Sustainable Restaurant Association for their use of renewable energy, and biodegradable, recyclable, and reusable packaging. Their sustainable efforts include serving beer, wine, and cider on draft only and soft drinks in reusable cups.
Aside from their limited-edition burgers and eco-friendly initiatives, BuJo does not stand out as being particularly exceptional.
Despite having fresh and quality ingredients, BuJo falls a bit short on seasoning as customers have commented that their meat tastes a bit bland. Perhaps, they can try adding more than a pinch of salt and pepper to the beef they use.
BuJo's is situated near a park and the Sandymount beach. The calming views just make you want to have a cute picnic and enjoy a BuJo Burger.
Limited edition burgers
Sustainability
Takeaway and delivery services
Location near a park and beach
Only one beef burger on the menu
Some comments on bland seasoning
Customer Reviews
Burger is so soft and melds beautifully with the bread
"So thrilled that I found BuJo. Let's face it, this is just a burger joint – or is it? Well seating is very informal a few notches above a normal fast-food restaurant. But this is fast food at its absolute best. I had the BuJo Burger with fries and they sell a draft Lager, called Wicklow Wolf. Deliciously refreshing and flavoursome. It's difficult to describe the burger, it comes in a brioche bun, and the burger is so soft and melds beautifully with the bread. Delicious. They slice up jalapeños and other peppers, which you can serve yourself with as a complimentary side. Sauces (ketchup, mayo etc.) are served from large communal pump dispensers. LOVE THAT. Very eco-friendly." —Bryno, TripAdvisor
Smells and tastes so fresh
"Insanely good burgers. The Amaezinger, unfortunately limited edition was honestly the nicest burger I've ever eaten. The beef used smells and tastes so fresh and the onion rings are to die for. Favourite spot in the area." —Eoin Lynch, Google Reviews
5. Box Burger – Wicklow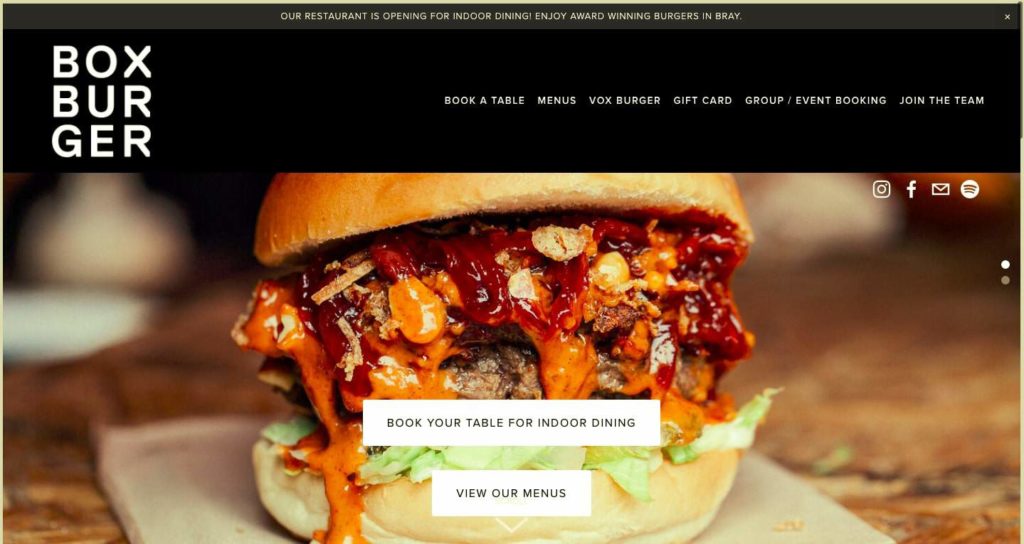 Test
Info
MENU
Beef Burgers, Chicken Burgers, Veggie and Vegan Burgers (Full Vegan Menu Available), Chicken Wings, Salads, Nachos, Sides (Fries, Coleslaw, Onion Rings, Pickles), Additional Dips/Sauces, Kiddie Meals, Desserts (Ice Cream, Brownie, Sorbet), Milkshakes, Tea, Coffee, Soft Drinks, Cocktails, Beer, Wine, Spirits
PRICING
Burgers start from €10.50 to €14.00
WEBSITE
https://www.boxburger.ie
ADDRESS
7 Strand Road, Bray, Co. Wicklow
CONTACT DETAILS
01 538 1000
OPERATING HOURS
Wed–Thu: 3:00PM–9:00PM

Fri–Sat: 12:00PM–10:00PM

Sun: 12:00PM–9:00PM
| | |
| --- | --- |
| MENU VARIETY | ★★★★★ (5/5) |
| QUALITY | ★★★★☆ (4/5) |
| VALUE | ★★★☆☆ (3/5) |
| REPUTATION | ★★★★☆ (4/5) |
| CUSTOMER SERVICE | ★★★★☆ (4/5) |
Your appetite will go crazy with the menu at Box Burger. So if you usually get the train to Bray, you definitely have to try this burger joint as it's only 1 minute away!
Box Burger offers 10 varieties of beef burgers and six varieties of chicken burgers. Their burgers go toward the pricey side, but are portioned generously.
For their veggie and vegan options, they have not one, not two, but a whole different menu. You heard that right: Box Burger created a full separate vegan menu and they call it Vox Burger.
Want a vegan "beef" burger? Vegan nachos? Vegan ice cream? You name it, Vox Burger has it.
While this vegan menu is exciting, they haven't quite perfected all of the items. Their meat is inconsistent and feels rubbery on occasions.
Box Burger also has many kinds of starters: wings, fries, pickle bites, salads, and more. Their range of milkshakes also goes superbly with your savoury burgers.
Box Burger can go easy on the sauces they use if you ask us. They overpower the meals and too much of everything isn't good.
It's great that they take bookings for individuals and small groups (eight people or less) though. Just fill out the online form at their website to ensure your seats.
It's a let-down that they currently don't have takeaway and delivery services, so you better book your table in advance.
Did we forget to mention that at the 2020 Irish Restaurant Awards, Box Burger brought home the bacon and won the award for Best Casual Dining in Wicklow? Yep, they did!
Full vegan menu
Lots of burger choices and sides
Generous portions
Bookings for individuals and small groups
Pricey
Quality is inconsistent for vegan options
Meals swamped with sauces
No takeout and delivery
Customer Reviews
Wonderful range of vegan food
"Burger was just great and so fantastic to have such a wonderful range of vegan food which was beyond belief. Staff were lovely and so helpful and can't wait to go back." —Nicky S., TripAdvisor
Delicious and extremely fresh ingredients
"Amazing place, came in on a whim and the atmosphere was great! The waitresses were really helpful and enthusiastic! I initially thought that the burgers were a little pricey but they are worth. every. penny! Delicious and extremely fresh ingredients. We even got little hand wipes with our meals. Boyfriend loved the Malt shake and I think we have been converted to Box Burger. I was equally impressed by their extensive vegan menu and alcohol selection, and think the pet rock style takeaway box is adorable!" —Elaine Geaney, Google Reviews
FAQs About Burger Restaurants in Ireland
---
Are you ready to munch on some Irish burgers? Let us know if you have a favourite burger restaurant that didn't make our cut and we'll check them out!
To the couples out there, you may want to do something fun after grabbing a bite. Read our article on unique date ideas to try in Ireland.