5 of the Best Spa Hotels in Ireland
Ireland is known for its rather picturesque sceneries, interesting folklore, and majestic ancient castles. It's not exactly a surprise that it houses some of the best and most relaxing spa hotels here in Europe.
Read along and see which spa hotels made it to our list. We're listing down every factor you might find useful for that ultimate staycation experience!
The Average Cost of Spa Hotels in Ireland
The price per night of each hotel usually depends on the location, services, and facilities. The table below shows the estimated price per night of spa hotels in Ireland's 4 largest cities. The rates exclude spa services pricing as they vary greatly.
Please note that the average costs are subject to change because they're heavily affected by several factors such as the season. According to Trip:
| CITY | ESTIMATED PRICE PER NIGHT |
| --- | --- |
| Dublin | €300 |
| Belfast | €239 |
| Cork | €220 |
| Derry | €175 |
Top Spa Hotels in Ireland
We reviewed spa hotels in Ireland based on the following criteria:
1. Lough Eske Castle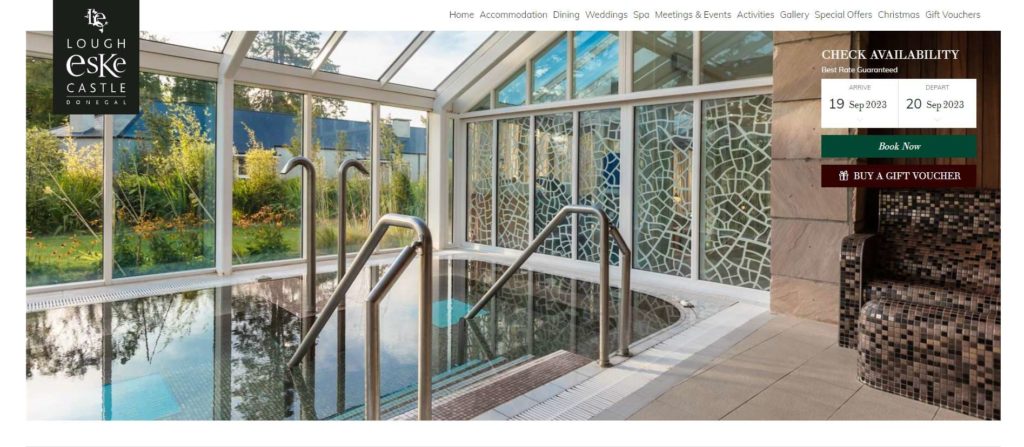 Test
Info
SPA SERVICES
Spa Rituals, ESPA Holistic Massage Therapy, ESPA Specialised Massage Therapy

ESPA Facial Collection, ESPA Body Treatments, ESPA Prenatal Relax & Restore

WEBSITE
https://www.lougheskecastlehotel.com/luxury-spa-ireland
ADDRESS
Lough Eske Castle Hotel, Lough Eske, Co. Donegal, F94 HX59, Ireland
CONTACT DETAILS
+353 7497 25100
| | |
| --- | --- |
| Accessibility and location | ★★★★☆ (4/5) |
| Spa and wellness facilities | ★★★★★ (5/5) |
| Indoor and outdoor facilities | ★★★★★ (5/5) |
| Cleanliness | ★★★★★ (5/5) |
| Cost (Higher score = better value) | ★★★★☆ (4/5) |
| Classes and other wellness activities | ★★★★★ (5/5) |
| Communication | ★★★★☆ (4/5) |
If you're into majestic views and a lover of peace and quiet, we recommend Lough Eske Castle. The spa hotel's situated in a remote location where the view is something you'll want to wake up to everyday—plus, it's not too difficult to get here!
We're able to talk to some of the guests, and they were all praises about the breathtaking view that served as their welcome committee the moment they drove towards the entrance. They loved that it instantly gave them that welcoming feeling!
We love that the guests have the privilege to stroll along the palace grounds. The castle's surrounded by a lake and a lush wood, so guests can just enjoy the nature surrounding them.
The highlight for us though is Cara Organic Beauty Spa, Lough Eske Castle's in-house spa with top-notch amenities. Spa hotels are known for their wellness facilities, and this hotel has some of the best ones in Ireland!
The Spa has a heated swimming pool and several treatment rooms that every guest can use. In addition to that, the guests also get to enjoy several treatments and the thermal suite.
We love the massage service the most! We swear the therapists have magic hands—they know which part of your body needs the most attention and proceed to target just that.
We think you'll also love that Lough Eske Castle offers discounts and packages for your spa experience. Just make sure you check all the details because sometimes they can be misleading.
If you're arriving on a weekend, we suggest booking the spa services in advance as well. It tends to get crowded during Saturdays and Sundays, and if you don't reserve in advance, you might not be able to enjoy the spa services.
Overall, we think Lough Eske Castle lives up to its name of being a 5-star luxurious spa hotel. Amenities, customer service, view, and location—it has all you want for a relaxing weekend getaway whether you're a solo traveller or travelling with someone.
Gives discount and special offers
Top-notch spa facilities
Friendly staff
A few minutes away from city proper
Amazing massage service
Spa's fully booked on weekends
Spa package pricing is sometimes misleading
Customer Reviews
Clean and beautiful spa
The spa area is also beautiful and perfectly clean. A large pool with top of the range changing facilities, a beautiful relaxation room with water and tea facilities, a large jacuzzi and various other facilities. Here too, the staff are super helpful and it seems that every wish is anticipated.The whole hotel with its staff is simply brilliant. It is also very dog friendly, a bed and bowls were provided in the room and the surrounding area offers wonderful walking opportunities. We were all very sad when we had to leave so we will definitely be back!" — Valeska Hofmann, Google Reviews
Reasonable and quality stay
Stayed here in lieu of Ashford Castle and found it a very reasonable stay for the experience and quality of service. Loved the spa area with thermal sauna/steam rooms and hot tub and the beds and rooms were immensely comfortable. — Samantha Fien-Helfman, Google Reviews
2. Hayfield Manor Hotel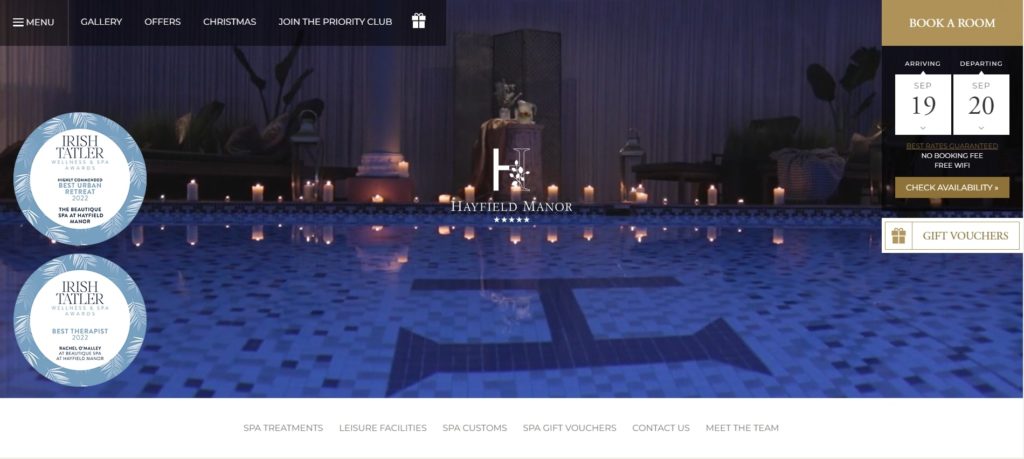 Test
Info
SPA SERVICES
Spa Treatments, Leisure Facilities, Elemis Face Therapy, Elemis Body Therapy

Maternity Spa Therapy, Various Spa Packages

WEBSITE
https://www.hayfieldmanor.ie/the-beautique-spa-cork
ADDRESS
Perrott Ave, College Rd, Centre, Cork, T12 HT97, Ireland
CONTACT DETAILS
+353 21 484 5900
| | |
| --- | --- |
| Accessibility and location | ★★★★☆ (4/5) |
| Spa and wellness facilities | ★★★★★ (5/5) |
| Indoor and outdoor facilities | ★★★★☆ (4/5) |
| Cleanliness | ★★★★★ (5/5) |
| Cost (Higher score = better value) | ★★★★☆ (4/5) |
| Classes and other wellness activities | ★★★★☆ (4/5) |
| Communication | ★★★★☆ (4/5) |
What makes Hayfield Manor Hotel stand out to us is that while it focuses on overall female wellness, especially on pregnancy and menopause rituals, it's a gender-friendly spa hotel. It offers personalised treatments for all guests via its spa therapists!
Hayfield Manor Hotel has complete facilities for its guests' overall wellness such as the heated pool, the treatment rooms, and therapy amenities. Some facilities might need upgrading, but they're still functional and work well.
We also love that it's very important for the hotel to give personalised treatments to its guests—it's very strict about that. The therapists are trained to give treatments specifically to those with compromised health—all guests are in good hands!
In fact, a few of Hayfield Manor's guests told us that whenever they felt the need to rejuvenate, they checked in at the hotel. They didn't only get pampered, but received specific massages and treatments that helped restore their energy.
Another thing—we appreciate that the spa hotel takes care of its guests. You don't need to ask for anything because guests are provided with everything they need for a particular service like towels, robes, and slippers without the guests asking for them.
When it comes to its other hotel services—we think guests receive their full value for money. Hayfield Manor itself is a beautiful luxurious place to stay and has good food as well as overall good customer service!
The only problem we see is that sometimes staff aren't available during certain hours to attend to spa inquiries. Guests will appreciate it if there's always someone manning the desk at all times to answer questions about the spa services.
Helpful spa attendants
Relaxing ambience
Knowledgeable therapists
Several options for relaxation at the spa
Towels, robes, slippers are provided
Complete spa facilities
Gender-friendly spa
Staff are sometimes not available during certain hours
Some facilities need upgrade
Customer Reviews
Lovely amenities
The establishment itself was of high quality with lovely amenities(The ones that were in place.) The Spa was absolutely amazing and we received the service one would expect, Leaving feeling refreshed and relaxed. Having the pool area after the spa which consists of a hot tub, sauna, steam room and pool, allowed us to further indulge in the ambiance of relaxation. To conclude I would say that if you would like to use the spa then this a good recommendation, aside from this I will leave my thoughts with you to decide if you would like to give them a try. — Conor Cassidy, Google Reviews
Knowledgeable therapists and wonderful service
The service and treatment at the Spa at Hayfield Manor Hotel was a wonderful experience. Sarah the receptionist was superb, courteous and extremely helpful. The therapist was excellent. She was very knowledgeable and delivered the treatment with just the right amount of friendliness and professionalism. I would highly recommend the Spa at Hayfield Manor. — Carmela ND, Trip Advisor
3. The g Hotel & Spa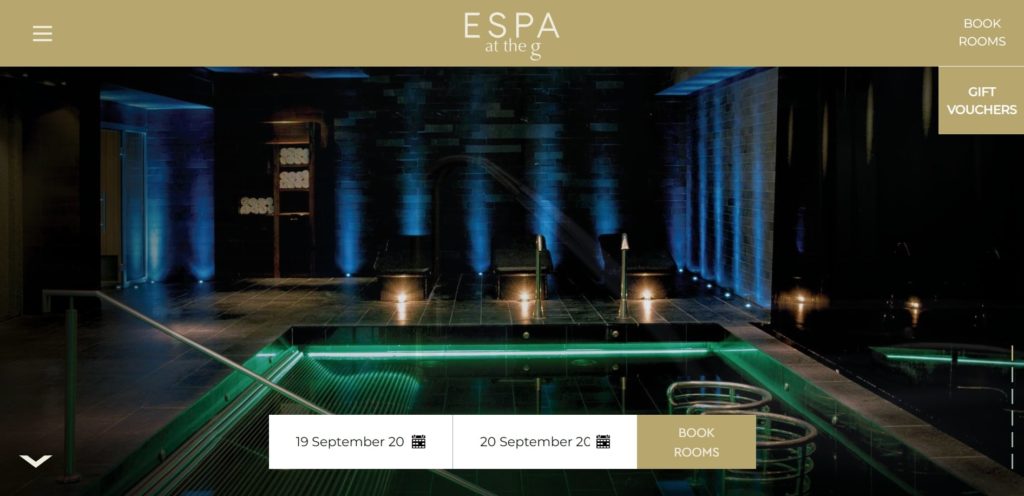 Test
Info
SPA SERVICES
Pamper Me Package, ESPA Ultimate Relaxation, Spa Treatments with Afternoon Tea and Dinner

Thermal Suite, ESPA Massage, ESPA Body Wrap

WEBSITE
https://www.theghotel.ie/spa/
ADDRESS
Wellpark, The, Old Dublin Rd, Galway, H91 V0HR, Ireland
CONTACT DETAILS
+353 91 865 200
| | |
| --- | --- |
| Accessibility and location | ★★★★★ (5/5) |
| Spa and wellness facilities | ★★★★★ (5/5) |
| Indoor and outdoor facilities | ★★★★★ (5/5) |
| Cleanliness | ★★★★★ (5/5) |
| Cost (Higher score = better value) | ★★★★★ (5/5) |
| Classes and other wellness activities | ★★★★☆ (4/5) |
| Communication | ★★★★★ (5/5) |
When we asked previous guests of The g Hotel & Spa, they couldn't help but tell us about the spa services. While they enjoyed their overall stay, the reason why they'd be back would be the hotel's spa.
Beautiful, clean, spacious, and with a nice ambience—that's how the guests described the spa hotel. We think guests should try the thermal suite—it has a jacuzzi with massage jets, a heated pool, steam rooms, sauna, and even heated lounges!
We also recommend availing the massages. The massage therapists are so good you'll find your muscles recovering from whatever they had gone through in the past—good pain riddance if you ask us!
We also love that there are several spa packages guests can choose from. And they come with freebies such as a free breakfast–though some say the breakfast food is just average, but hey, it's still free!
The rooms look stunning as well with complete paraphernalia for its guests. And just in case you need more, you can call and a staff member will immediately bring what you need—that's good customer service to us!
We think guests will appreciate the car service as well which can easily take them to town. However, it gets booked easily, so we recommend booking the moment you arrive.
We only have something to say about the booking system—sometimes there are mixups which cause delays in check-in. But other than this, in terms of overall service, The g Hotel & Spa is worth checking out for anyone in the area!
Beautiful, clean, and spacious spa
Attentive and helpful spa staff
Provides complete paraphernalia (slippers, towels, and bath essentials)
Freebies such as free breakfast included in spa packages
Excellent massage therapists
Spacious spa
Stunning rooms
Has a car service
Mixups in booking
Average breakfast food
Customer Reviews
Relaxing stay
Stayed with my husband for 1 night. A fabulous hotel that pays such attention to detail. The spa and thermal suite are beautiful and so relaxing. Beds were extremely comfortable. All staff were so friendly and helpful. Would definitely return. — Clodagh15 Ireland, Trip Advisor
Best place to relax and disconnect
My experience was really nice. I booked the spa and I got the result that I was looking for. The staff are really sympathetic and they are with a big smile and nice.
The Spa is good but enough for rest and disconnect. They provided towels, slippers and gel for the shower. After that, we were in a relaxing room that was incredíble experience. Good recommendation — Viajando Solo, Google Reviews
4. Muckross Park Hotel & Spa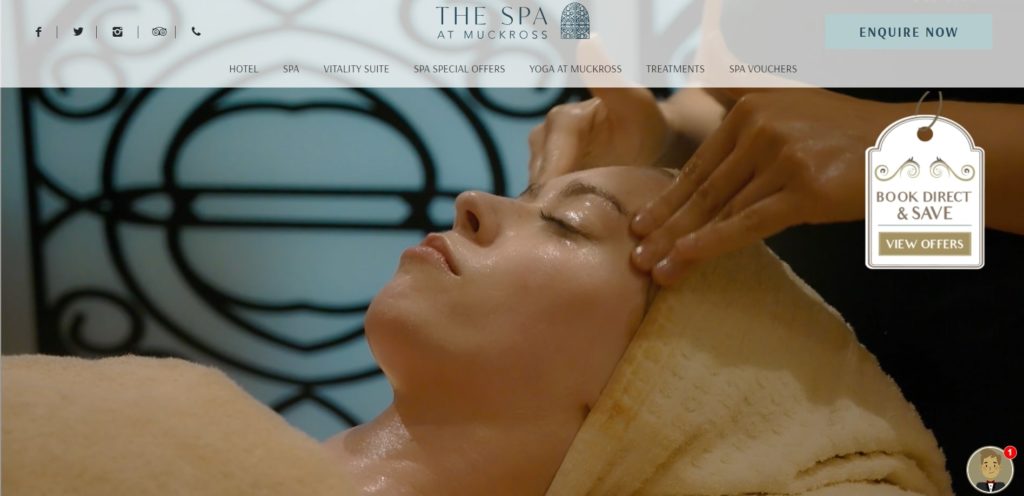 | Test | Info |
| --- | --- |
| SPA SERVICES | Vitality Suite, Spa Treatments, Yoga Classes |
| WEBSITE | https://www.muckrosspark.com/spa/ |
| ADDRESS | Muckross Park Hotel, Dromyrourk, Killarney, Co. Kerry, V93 NH5W, Ireland |
| CONTACT DETAILS | +353 64 662 3400 |
| | |
| --- | --- |
| Accessibility and location | ★★★★★ (5/5) |
| Spa and wellness facilities | ★★★★★ (5/5) |
| Indoor and outdoor facilities | ★★★★★ (5/5) |
| Cleanliness | ★★★★★ (5/5) |
| Cost (Higher score = better value) | ★★★★★ (5/5) |
| Classes and other wellness activities | ★★★★★ (5/5) |
| Communication | ★★★★☆ (4/5) |
Muckross Park Hotel & Spa is known for its world-class hotel services, which is one of the main reasons why it's in our list. However, adding to that is its gothic-inspired spa which can also be considered as one of the best in Ireland!
First—let's talk about the location and the view. Muckross Park Hotel is situated in a national park, so bike rides and strolls are often a good idea. The surrounding nature will really take any guest's breath away as well as relax them.
We appreciate that the spa hotel's staff add to that feeling of relaxation as well. They welcome the guests with warmth and assist them in everything they need.
The spa hotel's interior and rooms are stunning as well. And we also appreciate that Muckross Park Hotel's cleanliness standard is over the top.
Second, let's talk about The Spa at Muckross, which looks like a contemporary monastery. The aesthetic already gives the guests a relaxing, luxurious vibe, but then they can also experience the extensive list of treatments the spa offers.
We love that the hotel has several options for spa treatments and wellness such as yoga classes, the vitality suite, thermal area, sauna, steam room and an outdoor hot tub! Who wouldn't love receiving treatments while having such a great view?
We also want to commend the spa therapists while we're at it! They're very attentive to the guests and are well-trained in administering all types of treatment.
There are just a few problems we think you might encounter like the need to book in advance to use the spa facilities or some facilities needing an upgrade. But these are minor conveniences, and the quality of service overall still overpower these issues.
World-class spa facilities
Relaxing ambience
Beautiful rooms
Expert spa attendants
High-standard cleanliness
Offers yoga classes
Stunning outdoor views
Needs advance booking to use spa facilities and get treatments
Some facilities need an upgrade
Customer Reviews
Amazing spa treatments
We used the spa where as always it was the most stunning facilities, always cleaned to the highest standard. It is timeless, with its dimmed lighting throughout, the steam room, sauna, vitality suite and even the treatment rooms were all gorgeous. Barbara gave me the most amazing lymphatic facial? I struggled to walk after she put me into such a state of extreme relaxation. — Coffee Cake, Trip Advisor
A clean and beautiful hotel and spa
Muckross is a very nice hotel and spa. The spa is clean and pretty and available to all guests. The rooms are large and pleasant. The service is outstanding with kind and careful staff. The facility is a bit dated and needs to be modernised — Howard R, Google Reviews
5. Park Hotel Kenmare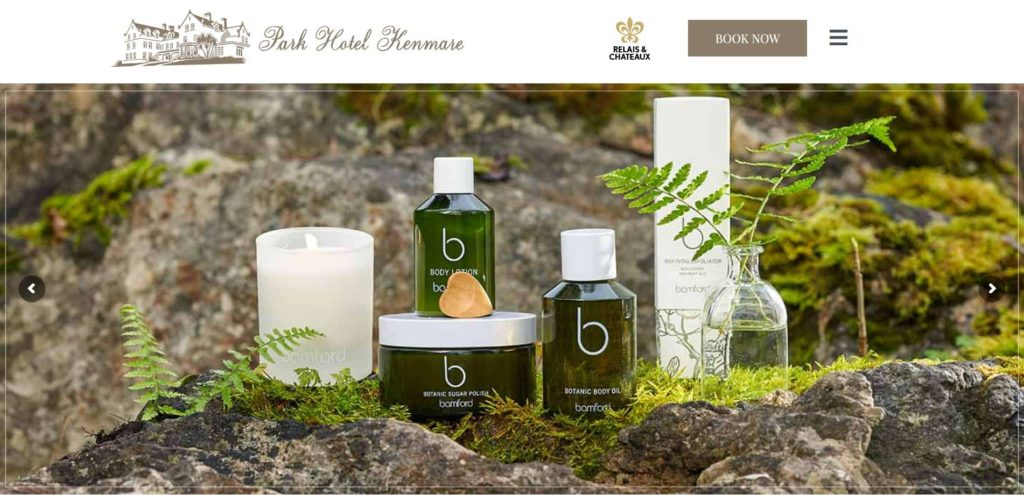 Test
Info
SPA SERVICES
SAMAS Treatment, SAMAS Organic Products, Day Spa, Lap Pool & Fitness Suite

SÁMAS Mother to Be Treatment, Complimentary Classes & Activities

WEBSITE
https://www.parkkenmare.com/samas-spa/
ADDRESS
Kenmare, Co. Kerry, V93 X3XY, Ireland
CONTACT DETAILS
+353 64 664 1200 (Outside Ireland), 064 664 1402 (Within Ireland)
OPERATING HOURS
Monday - Friday: 8:00 AM - 11:00 PM

Saturday - Sunday: 9:00 AM - 5:00 PM
| | |
| --- | --- |
| Accessibility and location | ★★★★☆ (4/5) |
| Spa and wellness facilities | ★★★★★ (5/5) |
| Indoor and outdoor facilities | ★★★★★ (5/5) |
| Cleanliness | ★★★★☆ (4/5) |
| Cost (Higher score = better value) | ★★★★☆ (4/5) |
| Classes and other wellness activities | ★★★★★ (5/5) |
| Communication | ★★★★★ (5/5) |
When it comes to ambience, Park Hotel Kenmare will never let its guests down–it's surrounded by nature so the aesthetics alone will make you feel instantly rejuvenated. But, we assure you that the spa hotel has so much more to offer in terms of services.
First—we love that the spa hotel offers several activities related to wellness and being of its guests. It offers complimentary classes and activities like morning yoga, cardio, candlelight meditation, and a chi-flow class!
Second—the spa facilities. Park Hotel Kenmare's known for its clean and world-class spa amenities that make the experience the best for all its guests!
According to some patrons who we were able to have a chat with, they loved that they got to experience different therapies and treatments on their stay. They also appreciated that the spa hotel used organic products for a full-blown connection with nature.
Third—the hotel's services are top-notch as well. The rooms are beautiful and clean, the main areas and function halls are stunning and spacious, and the food is great!
The hotel's staff are amazing as well. The customer service is second to none, and you'll find yourself being assisted by professional yet friendly staff wherever part of the hotel you are or whatever service it is you're availing.
Just a little warning though—the spa hotel is difficult to book most especially during peak seasons. Guests should book months in advance most especially if you think you'll be coming on a holiday or a busy season.
Friendly and professional staff
Offers several wellness classes
Helpful and encouraging wellness instructors
Clean and top-notch facilities
Superb massage therapy sessions
Relaxing views
Treatments are very personalised
Difficult to book the hotel most especially during peak seasons
Reservations and inquiries through email sometimes go unanswered
Customer Reviews
Consistent customer service
We, Pat and Rose count ourselves very fortunate to have "found" The Park Hotel Kenmare and have sampled the luxury delights many times. Whatever the time of year or time of day it is consistent in the great welcome, the friendly and professional staff. Every guest is treated as a "special guest" from the young at heart to the very young. Everyone is calm going about their work and this creates a relaxing atmosphere which sets the scene for a delightful stay. The Samas Spa is not to be missed. With experts on hand to advise on treatments and classes. Beginners -do not be shy in sampling heavenly massages and classes , just ask and all will be made easy. The table service breakfast with a wide range of choices is very welcome as again there is no hustle and bustle, just sit down and enjoy.The hardest part of the stay is leaving the beautiful rooms and stately house that becomes home from home – We wish! — Corirl, Trip Advisor
Lovely hotel and excellent spa
Lovely hotel in beautiful Kenmare. Staff are exceptional: friendly, professional and so helpful. They really go all out for their guests. Rooms are large, spacious & comfortable.
SAMAS Spa is excellent. Variety of complimentary classes every day. The swimming pool & sauna were so enjoyable. Food was very good at all times. Rounded off the night with a cocktail – Robert is a genius! — Ger Murphy, Google Reviews
FAQs about Spa Hotels in Ireland 
---
Hope our review helps you decide which spa hotel is perfect for your stay! If you want to check out more wellness-related places where you can relax for a few hours, see The Best Spas in Dublin.