Top 5 Recruitment Agencies in Galway
For many of us, job hunting can be a hit or miss. Even with adequate preparations, luck may still not be on our side.
To ensure better chances, we picked the top recruitment agencies in Galway for you! For even more options, you may also check out the best recruitment agencies in Ireland.
But before you proceed to search for a suitable recruiter in Galway, take a look at how much they charge first.
How Much Do Recruiters in Galway Cost
Most recruitment agencies in Galway don't charge job seekers a placement fee. The employers they partner with, however, pay recruiters a finder's fee.
But, no worries! This doesn't necessarily mean they take a part of your salary to pay the agency.
For this, they just use a successful candidate's salary as a baseline. This usually ranges from 10% to 25% of the compensation.

See the table below for better visualisation:
Type of Contract
Agency's Estimated Fees from Employers

Example: Salary of €50,000 per annum

Permanent
Around 17.5% to 25% (Example: €8,750 to €12,500) of the first year's salary
Temporary
Around 10% to 20% (Example: €5,000 to €10,000) of the first year's salary
Top Recruitment Agencies in Galway
We assessed the best recruitment agencies in Galway based on the following criteria:
1. Sigmar Recruitment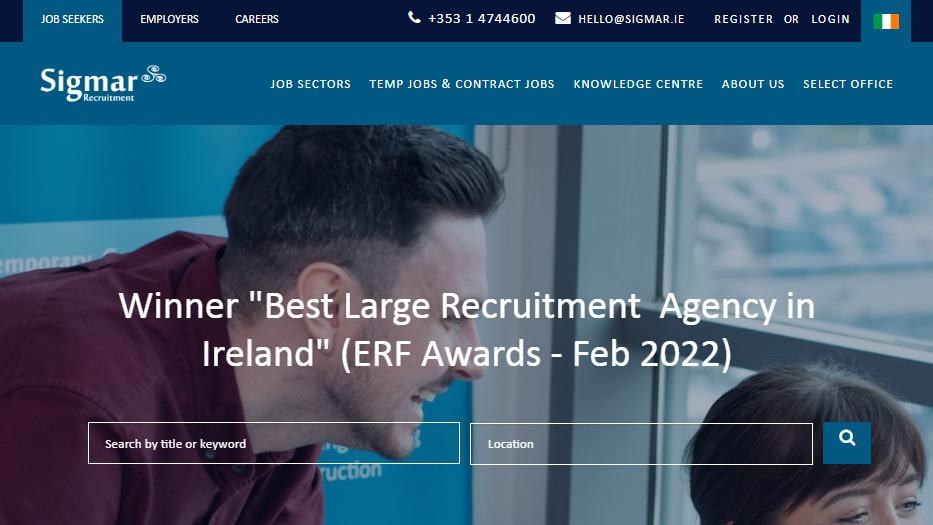 | Test | Info |
| --- | --- |
| SERVICES | Recruitment for Industries such as Accountancy, Aviation, Banking & Financial Services, Construction & Property Services, Engineering & Manufacturing, HR, Insurance, IT, Legal, Marketing, Multilingual, Office Support, Pharmaceutical & Life Sciences, Public Sector, Sales, and Supply Chain |
| WEBSITE | https://www.sigmarrecruitment.com/ |
| ADDRESS | Dockgate, 4th Floor, Dock Rd, The Docks, Galway, H91 PC04, Ireland |
| CONTACT DETAILS | +353 91 563 868 |
| OPERATING HOURS | Monday - Friday: 9:00 AM - 5:30 PM |
| | |
| --- | --- |
| CREDENTIALS | ★★★★★ (5/5) |
| RESPONSIVENESS | ★★★★★ (5/5) |
| JOB MATCHING | ★★★★★ (5/5) |
| VALUE | ★★★★★ (5/5) |
If you want professionalism and excellent service during and even after the job-hunting process, Sigmar Recruitment is for you!
For us, personable and well-informed staff like them are the best people to help job seekers. Because of them, we didn't feel anxious opening up about our competencies at all!
As job interviews can be daunting, it felt great how helpful they were when practising the questions with us. They aided in editing our CVs to look more appealing to employers too!
It's great to get constructive feedback from them as well. Through this, useful tips unique to our needs can be obtained.
They also did a good job in matching skillsets with the most fitting roles. This means a lot for fresh graduates, other young candidates, and job seekers who wanted to shift careers.
Although some may take longer to get hired, they take the time to get to know job seekers through phone calls and video conferencing. This helps ensure the assessments are thorough and accurate.
Several other candidates told us can vouch for the quality jobs they landed with. Whether it is remote work, great pay, or good culture, they can provide what you're looking for.
For us, it's just too bad they aren't open on Saturdays and Sundays too. Some job hunters, who are still employed, could only make time on the weekends.
Nevertheless, you'll get value from what you paid for because they're usually quick to respond to any enquiry as much as possible.
Overall, you should try out Sigmar Recruitment Agency in Galway for their amazing work – from making the first contact to signing the final contract and beyond!
Provides job opportunities for many industries
Award-winning and recognised internationally
Professional and well-informed
Approachable and responsive
Offers constructive feedback and tips
Not open on weekends
New graduates may take a while to match
Customer Reviews
So professional
"I had a fantastic experience working with Louisa Poinboeuf, she was so professional throughout the recruitment process and I was never left waiting on the next steps. I'd highly recommend her especially if it's been a while since you changed roles.. she will give you all the tips you need." – Edel Kinsella
Highly recommended
"Fantastic experience with this Company. Special thanks to Emma, Emma was so professional at all times and offered candidate support before and after the interview and even follow up after job placement. Highly recommended." – Steph Togher
2. Hirehood Recruitment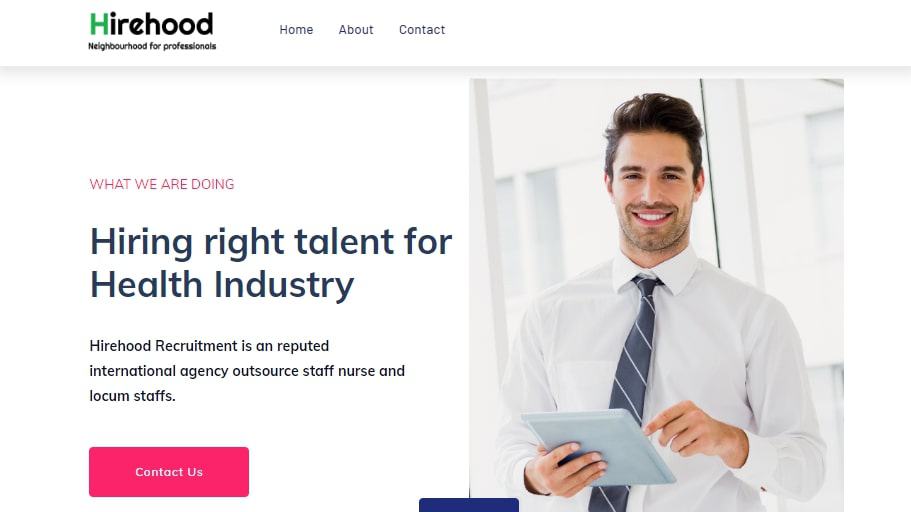 Test
Info
SERVICES
Healthcare Recruitment – Nursing Jobs
WEBSITE
https://hirehood.com/
ADDRESS
Kilkerrin Park 1 Liosban Industrial Estate, Office 1, Galway, Ireland
CONTACT DETAILS
+353 89 209 0802
OPERATING HOURS
Monday - Thursday: 9:00 AM - 5:00 PM

Friday: 9:00 AM - 4:00 PM
| | |
| --- | --- |
| CREDENTIALS | ★★★★☆ (4/5) |
| RESPONSIVENESS | ★★★★★ (5/5) |
| JOB MATCHING | ★★★★★ (5/5) |
| VALUE | ★★★★★ (5/5) |
There are difficulties when it comes to changing jobs, especially shifting to the health industry. Lucky for us, Hirehood Recruitment vows to ease everything up.
For outsourcing nurses and local staff, this recruiter is commendable for helping us get all the complicated paperwork done in no time.
Their friendly tone and approachability are also appreciated, as well as their efficiency with the hiring processes.
With the changing times, getting guidance and training for the Occupational English Test (OET) examination, for example, is very much needed. Their content is reliable, relevant, and informative for our consumption too.
We need all the help we can get for nurses who need to advance their careers or plan to move overseas with ease.
They also make it look easy to clarify matters in detail regarding job opportunities, migration processes, and the like.
They were open to lots of queries and responded with valuable information too. Because of this recruiter, we realised moving up careers shouldn't be that worrisome.
But for beginners, this recruitment agency could still update their website with more details. Some candidates we've spoken to research a lot before contacting a recruiter, so this would mean a lot for them too.
All in all, if you're a nurse or healthcare staff wanting a leg up in your career, Hirehood Recruitment will get you there!
Reputable international agency
Approachable and efficient
Helpful with job opportunities and migration processes
Informative and detail-oriented
Provides jobs only for healthcare
Not a lot of info on their website
Progress updates may take a while sometimes
Customer Reviews
Made it so easy
"Absolutely brilliant support for all candidates. I changed my workplace recently and the process was a bit complicated. Hirehood made me feel it easy and every single paperwork is done on time. I got the permit without any issues. I 100 % recommend Hirehood." – Benjamin George
Helpful in every way
"I really enjoyed working with Hirehood. They exhibit utmost professionalism when dealing with all sorts of clients. Really nice team to work with. Highly approachable and helpful in every single way. Sree has got answers to all queries which helped me in my career so much." – Chinthu Prakash
3. Collins McNicholas Recruitment & HR Services Group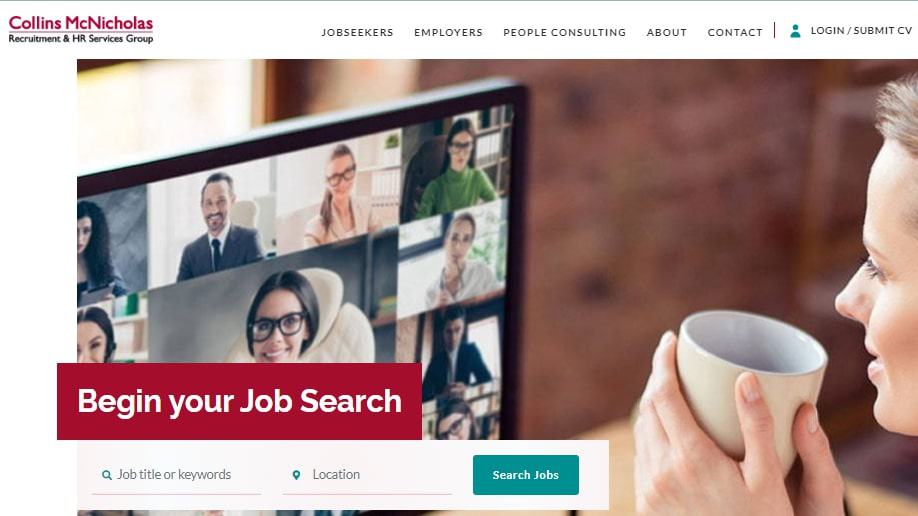 Test
Info
SERVICES
Sources Talents for Engineering, Science & Pharmaceutical, Medical Devices, Supply Chain & Logistics, Accounting & Finance, Office Support, Customer Service & Languages, HR & Training, IT, Manufacturing & Operations, Sales & Marketing, Management & Executive
WEBSITE
https://www.collinsmcnicholas.ie/
ADDRESS
Unit 27, Briarhill Business Park, Galway, H91 KE01, Ireland
CONTACT DETAILS
+353 91 706 706
OPERATING HOURS
Monday - Thursday: 9:00 AM - 5:30 PM

Friday: 9:00 AM - 4:30 PM
| | |
| --- | --- |
| CREDENTIALS | ★★★★☆ (4/5) |
| RESPONSIVENESS | ★★★★☆ (4/5) |
| JOB MATCHING | ★★★★★ (5/5) |
| VALUE | ★★★★★ (5/5) |
We're aware that many job seekers experience a painstakingly long process in terms of getting matched with a suitable opportunity.
Fortunately for this, we believe Collins McNicholas Recruitment & HR Services Group is more than capable of getting you a job soon!
Their comprehensive assessment includes ability and skills, competency, personality profiling, internal development, and the like. Because of this, candidates are sure to get the most accurate job match possible.
It's also commendable how they kept us updated throughout the whole process. They made us feel they have our back as we practised for the job interviews.
Of course, some hurdles can be experienced in waiting to match for a job. But, it felt nice to be guided with so much enthusiasm and constant encouragement to keep it moving.
Even the matters that seem uncomfortable for us to ask about finding a job were met with the most pleasant attitude. They also guaranteed us utmost confidentiality with our discussions.
Most of all, their staff's incredible knowledge in our field is commendable. We value their generosity with the information they gathered and how this aided us to acquire the perfect roles.
For those who want a recruiter in Galway who goes above and beyond, you should get in touch with Collins McNicholas Recruitment & HR Services Group today!
Awarded Deloitte Best Managed Companies Award in 2021
Comprehensive assessments
Big on offering flexible workforce solutions
May take a while to respond at times
May take some time to match for a job
Customer Reviews
Very grateful
"Noeleen Stewart got me a good job in less than a week, it was brilliant. She kept me updated throughout the whole process and was very supportive in preparing me for interviews. I'm very grateful to have gotten this chance and can highly recommend her." – Cillian Groll
Goes above and beyond
"I can't recommend Deirdre Moran enough. She was so incredibly knowledgeable about my field and helped me find the perfect role for me. She goes above and beyond and will be sure to help you find the right career path." – E. Marie
4. HERO Recruitment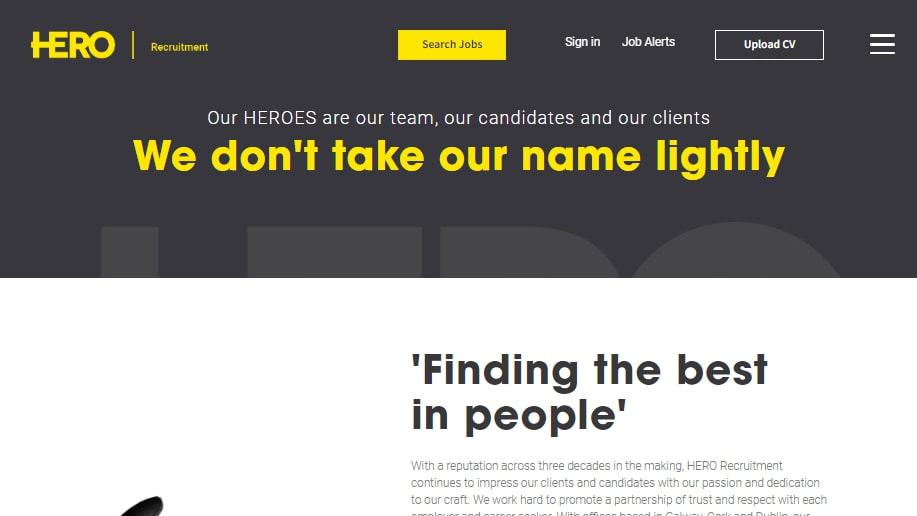 | Test | Info |
| --- | --- |
| SERVICES | Recruitment for Tech Engineering, Science, Pharma, and Other Sectors |
| WEBSITE | https://www.hero.ie/ |
| ADDRESS | Unit 39D, Briarhill Business Park, Ballybrit, Galway, H91 V593, Ireland |
| CONTACT DETAILS | +353 91 730 022 |
| OPERATING HOURS | Monday - Friday: 8:00 AM - 6:00 PM |
| | |
| --- | --- |
| CREDENTIALS | ★★★★☆ (4/5) |
| RESPONSIVENESS | ★★★★☆ (4/5) |
| JOB MATCHING | ★★★★★ (5/5) |
| VALUE | ★★★★☆ (4/5) |
For us, a good recruiter can both be your mentor and friend. That's why if you want your career to be genuinely cared for, pick HERO Recruitment Agency in Galway!
We appreciate this recruiter because they made our experience enjoyable. They were proactive and supportive from the moment they were in contact.
Their in-depth knowledge of the industry provided us with confidence, especially for jobs in various sectors like Engineering, Information Technology, and the like.
Some candidates also pointed out how this recruiter has been extremely hands-on and inspirational with their coaching sessions.
It's fortunate to work with a recruitment agency like them that never leaves us behind amid all the complicated processes and paperwork!
When we heard of their insights into the jobs available locally, we were in awe as well. This is because many of these are not publicly advertised too!
It feels lucky to have all this insider information. They especially highlighted key technical jobs that fit our experience and skillsets.
In the end, it was a delight for us to have a seamless experience even beginners can enjoy and learn from in the long run.
If you want an excellent job provided by excellent staff, you should contact HERO Recruitment Agency soon!
Award-winning
Responsive
Genuinely cares through coaching
Good for beginners
Most jobs are only available for engineering and IT
Takes a while to respond to emails at times
Customer Reviews
10 out of 10
"Highly recommend if you're looking for a new job. True professionals to work with and genuinely care about your career needs. Can't rate them highly enough. 10/10 Recruitment Agency." – Johanne Kennedy
Very friendly and professional
"I have recently had experience dealing with the HERO recruitment group, one employee, in particular, Emma Griffin. She made the whole process so much easier and took away as much stress as possible from me because we all know the job hunt is very stressful. She was very friendly and professional and she knew how to answer any questions I had. Would definitely recommend using them!" – Dejana Calic
5. Pale Blue Dot® Recruitment Limited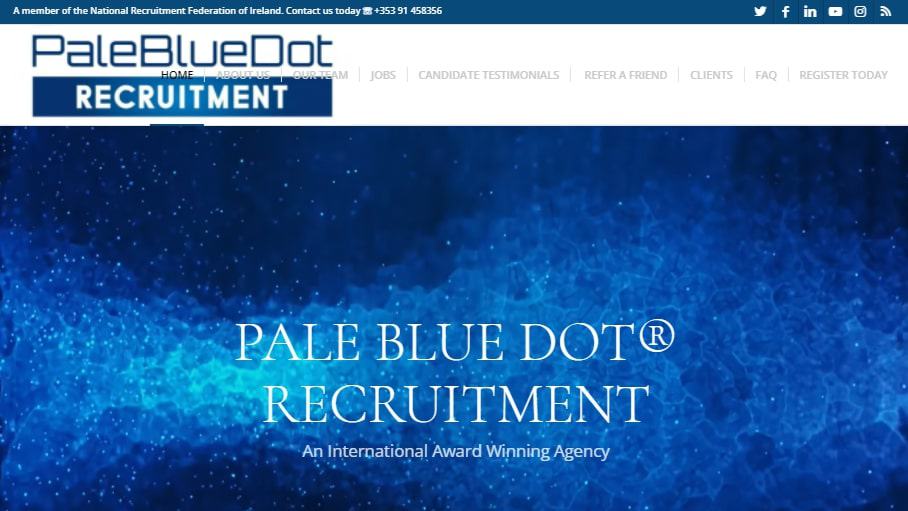 Test
Info
SERVICES
Recruitment for the Medtech Industry
WEBSITE
https://pbdrecruit.ie/
ADDRESS
32 Prospect Hill, Galway, H91 K2K0, Ireland
CONTACT DETAILS
+353 91 458 356
OPERATING HOURS
Monday - Thursday: 8:30 AM - 5:30 PM

Friday: 8:30 AM - 4:30 PM
| | |
| --- | --- |
| CREDENTIALS | ★★★★★ (5/5) |
| RESPONSIVENESS | ★★★★☆ (4/5) |
| JOB MATCHING | ★★★★★ (5/5) |
| VALUE | ★★★★★ (5/5) |
For efficient and no-nonsense assistance for Medtech job hunters, Pale Blue Dot Recruitment Limited's recruitment services in Galway should be on your list!
For busy candidates, it's tough to balance current responsibilities with job hunting. That's why we believe in recruiters like them to put our careers back on track.
They really tried to understand the specifics of our experience to figure out which roles would suit us best.
Several job seekers told us that this agency values fair remuneration and a good work-life balance too. This became their basis for finding great job opportunities, even for interns.
The frequency of their replies was also commendable. We felt free to keep in touch with them anytime there were queries.
It was also brilliant that the follow-up conversations were very structured. They were flexible and made sure that everything was suitable for our timetable.
They were also willing to listen so all our discussions are aligned. Many recognise their constructive feedback, alongside their friendly yet professional approach.
This is why many candidates here usually end up with the most ideal roles – two-way communication is shared between the agency and the candidate!
For us, it would be better if the available jobs on their website are also sorted into categories for everyone's easier reference.
But all together, Pale Blue Dot Recruitment Limited brings the brightest of the Medtech talent to the industry forward. You should try them out too!
Award-winning
Friendly and professional
Detail-oriented
Values work-life balance
Available only for the Medtech industry
Jobs on their website are not sorted into categories
Customer Reviews
Big thank you
"I am currently 2 months into my new position that I absolutely love. I cannot express with words how delighted I am with Pale Blue Dot Recruitment's services. They came to me with a position and prepared me for interviews, helping me every step of the way. I have to say a big thank you to Olivia Kennedy and all the team for calling me and telling me about this incredible position. Professionalism and responsiveness are far beyond any other recruitment agency I've worked within Ireland." – Alan Nugent
Fast and professional
"Pale Blue Dot is a great recruitment agency. It was a pleasure dealing with Anthony – fast, professional, no-nonsense." – Vincent Naughton
FAQs About Recruitment Agency in Galway
---
If you want to find more recruitment-related services, start with our reviews below to learn more!
More Resources for Recruitment Agency in Galway