8 of the Best Photographers in Galway
A photo can serve many purposes. It can be a gateway into a different time and it can also be a medium of expression, making its viewers feel different emotions.
In this article, we take a look at the best photographers in Galway, comparing and contrasting the different services they have to offer.
How much do photography services cost?
As photography services grow more unique and innovative, pricing is less consistent among them.
Prices are dependent on a number of factors including the duration, format and dimensions of the photograph. The equipment used and labor of the photographer is also important to take note of.
To help you gain a better understanding of your potential costs, we've listed the common average estimated prices in the table below.
| Test or Procedure | Average Estimated Price |
| --- | --- |
| Portrait Sittings | €60 |
| Location/Outdoor Shoots | €95 |
| Wedding Photographer | € 2000 to € 4000 |
| Individual Prints | € 17 to € 55 |
| Framed Pictures | € 60 to € 220 |
| Package Photoshoots | € 125 to € 500 |
| Wallet Prints *for 4 pictures | €25 |
Top photographers in Galway
We assessed the photography services based on the following criteria:
1. Nicholas Grundy Photography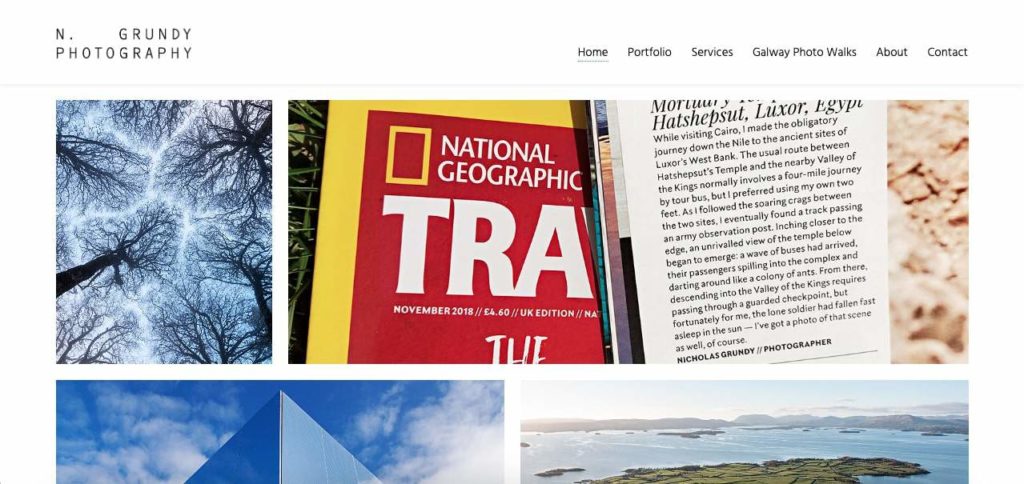 | Test | Info |
| --- | --- |
| SERVICES | Photographer, Drone Inspection, Commercial Photographer, Aerial Photographer, Video and Timelapse, Industrial and Construction, Real Estate Photographer, Travel Photography, Wedding Photography, Fine Art Prints, Portrait Photography, Galway Photo Walks |
| WEBSITE | https://www.nicholasgrundy.com/ |
| ADDRESS | Carraig Palmer, 5 Quincentennial Dr, Salthill, Co. Galway |
| CONTACT DETAILS | +353 83 178 0887 |
| OPERATING HOURS | Monday to Saturday: 9:00 AM to 6:00 PM |
| | |
| --- | --- |
| Background | ★★★★★(5/5) |
| Photography process | ★★★★★(5/5) |
| Efficiency | ★★★★★(5/5) |
| Depth | ★★★★★(5/5) |
| Range of services | ★★★★★(5/5) |
| Customer feedback | ★★★★★(5/5) |
| Approach | ★★★★★(5/5) |
| Availability | ★★★★☆(4/5) |
For those looking for a clean yet dynamic photography style, Nicholas Grundy's photography will certainly satisfy. He began his journey around ten years ago and since then his work has been featured in Forbes magazine and the cover of Tasmania 40 South magazine.
His multidisciplinary perspective really shines through in his photos and we were especially impressed with his scenic work. If you are looking for someone who produces crisp travel and aerial photography, you may want to check him out.
Aside from this, he also has substantial experience working for different organizations and real estate companies. We like how he is able to blend both the environment and featured property, to come up with very cohesive output.
Truly, his vast experience makes him versatile for most projects out there, from more creative to more professional photography
We really appreciate that he also offers additional services that complement his photography. For example, he provides web development services such as SEO, translation, and copywriting.

Therefore, we think he's a great option to check out if you're looking for an all-in-one package.
Another service of his that is unique to other photographers, lies in Galway Photo Walks, where he is able to mentor students through workshops and one-on-one classes. We do advise that interested participants contact him first for more details.
High quality drone and aerial shots
Has worked with different organizations and real estate companies
Additional services are complementary to photography
Mentors students in photography
Not available on Sundays
Need to contact first for prices
Customer Reviews
Professional, Easy to Work with and Flexible
I can't recommend Nick highly enough. My company has used Nick's photography & videography services quite regularly over the past 3 years for both outdoor landscape and product photography/video. We are delighted with his work and find him very professional, easy to work with and very flexible. He always really understands our vision and does a great job of bringing it to life. Thanks Nick.-Aisling Fox
Highly Recommended Drone Photographer
Nicholas took a drone photo of my house in Galway and it turned out spectacular! He planned everything to perfection and visited at the best time to catch the light and clear skies. If you ever need a drone or commercial photographer in Galway I can highly recommend him and his team. -Andrea Ridge
2. Maya Noonan Photography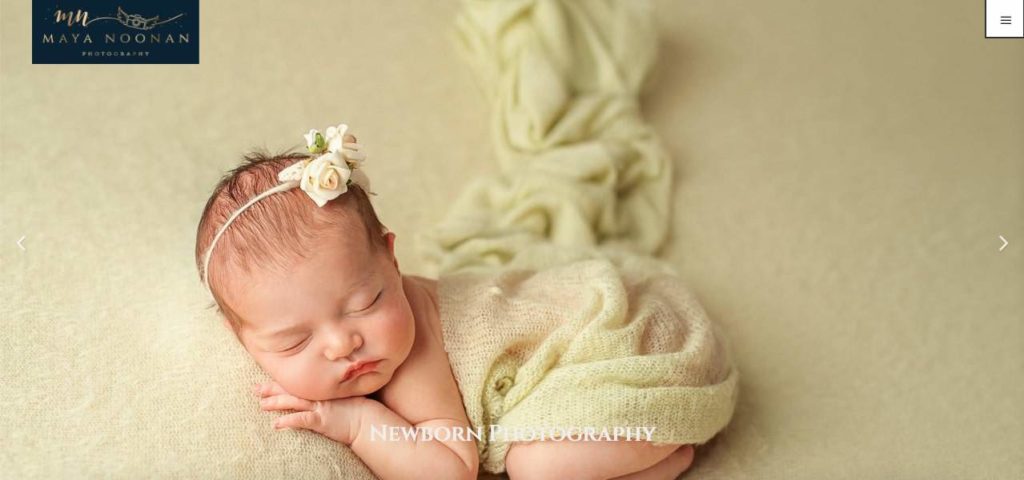 Test
Info
SERVICES
Newborn Sessions, Kids Sessions, Maternity Session, Smash Cake Session, Fine Art Session, Prints, Wedding Photography, Family Photography
WEBSITE
http://www.noonanphotography.com/
ADDRESS
Liosban Industrial Estate, Unit 4 Tuam Rd, Galway
CONTACT DETAILS
087 6830642
OPERATING HOURS
Weekdays: 9:00 AM to 5:30 PM

Saturday: 8:00 AM to 4:00 PM
| | |
| --- | --- |
| Background | ★★★★★(5/5) |
| Photography process | ★★★★★(5/5) |
| Efficiency | ★★★★★(5/5) |
| Depth | ★★★★★(5/5) |
| Range of services | ★★★★☆(4/5) |
| Customer feedback | ★★★★★(5/5) |
| Approach | ★★★★★(5/5) |
| Availability | ★★★★★(5/5) |
Maya Noonan is a great option when it comes to photographing children, newborns and families. She is also known for work in weddings and has garnered some AFNS awards for her stunning works in toddler photos.
What we also like about her portfolio is that, no matter the subject's age, she is able to bring out a comforting atmosphere and the individual's personality. We were especially impressed by her use of colors – her photos stand out in bold yet cohesive statements.
Her newborn photography portfolio is probably one of the standouts to look forward to because she uses props in a way that looks cute, yet sophisticated. So, if you are searching for a studio that will bring out your baby's "adorable" factor, we highly recommend this one.
Numerous customer feedback also compliments her handling of newborns so you can be assured that your baby is in good hands throughout the experience.
We also would like to note that you'll have a great amount of options per photography type. She can offer different packages with various tier features, like longer session durations and rented outfits.
Take note however, that her style and strength focuses on more retouched photos so you may want to examine her excellent portfolio before heading in.
Excellent use of color in photos
Offers children, family, wedding and maternity photography
High quality newborn photos
Has different session packages with different features
Focuses on more retouched and filtered photos
Closes early on Saturdays
Customer Reviews
Made Us Feel at Ease
Maya was so welcoming to us from the moment we arrived and made us feel at ease.
I was very happy with my photos, excellent quality. Maya is so funny and bubbly and professional. You can tell she loves her job. I'd highly recommend her for photos. -Denise Mc Hugh
Excellent Newborn Photographer
Maya is a very special person as well as an excellent photographer. She will handle your newborn in a safe, caring, kind and gentle manner and will ensure that you have a wonderful family experience during the shoot. The photos you will be sent afterwards will be amazing and timeless! As for Christmas, it will be Maya's Christmas photos on your mantlepiece marking your child's development, smile and personality each year! I couldn't recommend Maya enough! -Saoirse Murphy
3. Sita O'Driscoll Photography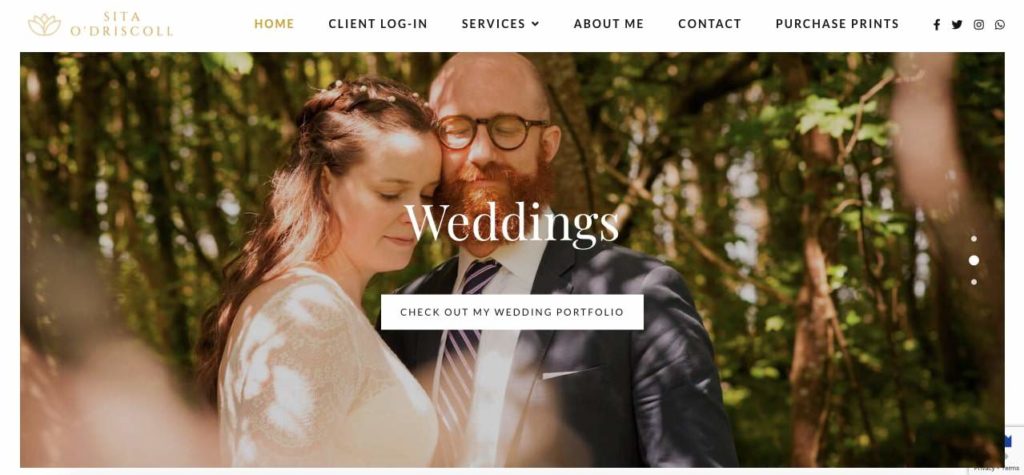 | Test | Info |
| --- | --- |
| SERVICES | Weddings, Commercials, Events, Portraits and Lifestyle, Press and PR, Prints, Art |
| WEBSITE | https://sitaodriscoll.com/ |
| ADDRESS | Galway, Ireland |
| CONTACT DETAILS | + 353 85 1485201 |
| OPERATING HOURS | Open 24 Hours |
| | |
| --- | --- |
| Background | ★★★★★(5/5) |
| Photography process | ★★★★★(5/5) |
| Efficiency | ★★★★★(5/5) |
| Depth | ★★★★★(5/5) |
| Range of services | ★★★★★(5/5) |
| Customer feedback | ★★★★★(5/5) |
| Approach | ★★★★★(5/5) |
| Availability | ★★★★★(5/5) |
Customers will certainly be impressed by Sita O'Driscoll's broad range of services as well as the wide scope of organizations she has worked with.
From a very young age, she said has always wanted to pick up a camera! This is evident in her current portfolio how this early passion grew steadily and expanded into more areas.
What we like about her photography is that her style takes a naturalistic and effortless approach, which can be seen mostly in her portraits and wedding shots. Her photos make excellent use of natural light and she is able to capture candid moments with ease.
For those looking to have their weddings or events outdoors with natural sunlight, we highly recommend Sita's services.
She has also worked with a variety of organizations and events like Diabetes Ireland and the Galway International Arts Festival. On top of this, she provides commercial photography services, wherein she can provide food, product and scenic shots.
Additionally, she also has a shop on her website featuring her prints of events and landscapes. We find them to be great purchases especially for fans of her photography style.
Open 24 hours
Excellent use of natural light
Has worked with a variety of organizations and events
Unobtrusive and naturalistic photography style
Additional information requires further contact
Quotation needed for pricing
Customer Reviews
Our Photos are Exactly what we Wanted
Sita helped me with personal family portraits which were absolutely amazing. She is extremely professional and was very clear at giving us instructions. Our photos are exactly what we wanted and we were all astounded at how her lighting made us look so much better than we are! -Sinead Kennedy
Went Above and Beyond
We had the pleasure of having Sita as our wedding photographer. She is a wonderful person who went above and beyond to help capture all special moments of our day. She is extremely obliging and flexible and her pictures are top notch. Am Happy to recommend. -Van Cole
4. Lisa Hynes Photography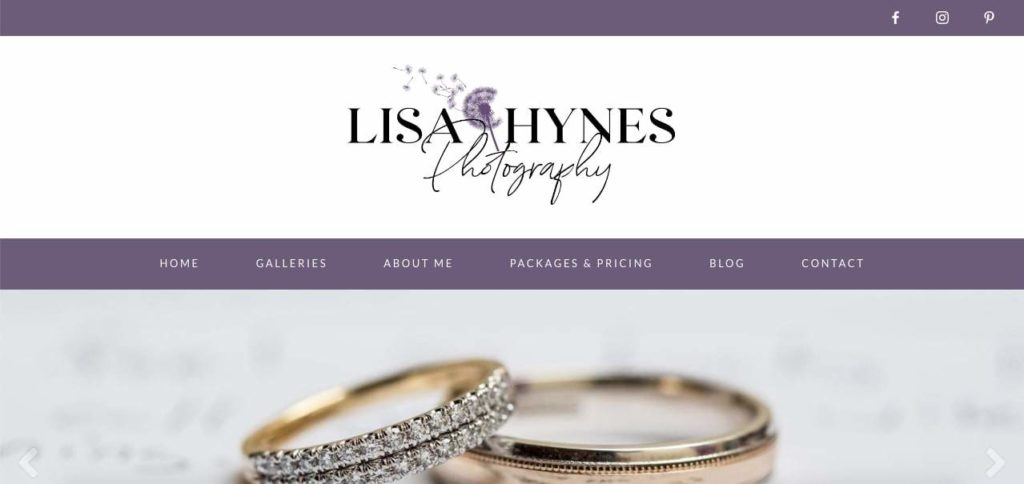 | Test | Info |
| --- | --- |
| SERVICES | Wedding Packages, Engagement Photography, Family Photography |
| WEBSITE | https://www.lisahynesphotography.com/ |
| ADDRESS | Homefarm, Co. Galway |
| CONTACT DETAILS | 087 2903976 |
| OPERATING HOURS | Weekdays: 10:00 AM to 6:00 PM |
| | |
| --- | --- |
| Background | ★★★★★(5/5) |
| Photography process | ★★★★★(5/5) |
| Efficiency | ★★★★★(5/5) |
| Depth | ★★★★☆(4/5) |
| Range of services | ★★★★☆(4/5) |
| Customer feedback | ★★★★★(5/5) |
| Approach | ★★★★★(5/5) |
| Availability | ★★★★★(5/5) |
Lisa Hynes is a photographer based in Galway with particular focuses on wedding and portrait photography. In terms of her wedding photography, she makes sure that she is not interrupting any moment asking for calculated poses.
We like that she emphasizes natural moments in her work. We were also especially impressed with her wedding photography portfolio showcasing dynamic framing and uniquely quirky shots.
Additionally, most customer feedback praises her attitude during the wedding day. This assures us that she provides an efficient yet warm and friendly approach when taking photos.
We also like the relatively good pricing of her wedding packages, which range from € 1400 to € 2200. Customers can enjoy extended coverage with the all inclusive package and each one comes with different types of photo formats.
Aside from weddings, Lisa also offers engagement and family photos. We like that these three services are quite closely related so that customers can have an easier time finding all the photography services they need in one place.
We do however, wish that there was slightly more depth in variation between her wedding packages because they mostly differ in photo mediums.

Nevertheless, Lisa Hynes is a great choice if you're looking for wedding photos that are both fun yet sentimental!
Takes a discreet approach in her wedding photography
Brings out an individual's personality in her photos
Good pricing for her wedding packages
Offer engagement and family photography
There could be more features to her wedding packages
Closed on weekends
Customer Reviews
Organized, Professional, Relatable
There is so much we could say about Lisa as a person and photographer but in small description she is absolutely exceptional! Lisa got the most beautiful shots on our day inside and outside capturing candid and posed photos that we will cherish forever. Lisa is kind, organized, professional, relatable and just truly amazing at what she does! I could not recommend a photographer more for your special day!! -Shannon Hernon
We were Completely at Ease with Lisa
We would highly recommend Lisa for wedding photography. Our wedding took place in August 2021. The weather that day wasn't great but Lisa made sure that all of the photos we wanted were taken when the weather allowed. We were completely at ease with Lisa and all of our family commented that was so nice to them and unobtrusive. We hardly knew she was there at times but yet she captured all the key moments. We were absolutely delighted with our photos. -Aisling Dillon
5. Kelvin Gillmor Photography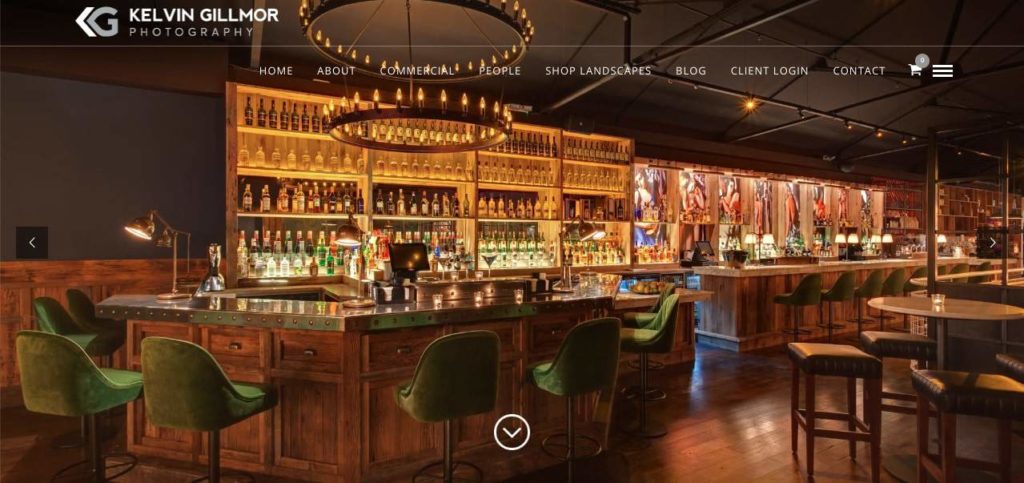 | Test | Info |
| --- | --- |
| SERVICES | Commercial Photography, Landscape Photography, Architectural Photography, Property Photography, Portrait Photography |
| WEBSITE | https://kelvingillmor.com/ |
| ADDRESS | No 9, Fort-Eyre House, Maunsells Rd, Galway |
| CONTACT DETAILS | 00 353 87 2817 625 |
| OPERATING HOURS | Weekdays: 8:30 AM to 6:00 PM |
| | |
| --- | --- |
| Background | ★★★★★(5/5) |
| Photography process | ★★★★★(5/5) |
| Efficiency | ★★★★★(5/5) |
| Depth | ★★★★★(5/5) |
| Range of services | ★★★★★(5/5) |
| Customer feedback | ★★★★★(5/5) |
| Approach | ★★★★★(5/5) |
| Availability | ★★★★★(5/5) |
Initially, what stood out to us about Kelvin Gillmor was the high quality and polished nature of his photos. Kelvin is decorated with different awards due to his work, including the BOI Commercial Photographer in 2016.
Other accolades include his works for landscape and architectural photography. This just goes to show how versatile and knowledgeable he is with different types of subjects.
We were also very impressed with his post production of the photos. In his commercial work, we like how he brings out different details and lines to create very dynamic and creative images.
We highly recommend checking out his commercial portfolio, because in our opinion, the quality of photos are fantastic!
Kelvin Gillmor also offers portrait photography and what we like about it is that they can range from dramatic to casual. Some of his photos showcase singers in a concert, artists posing for photoshoots, as well as simpler and more casual headshots.
So whether you are an artist looking for performance images or you're considering your next close-up shot for a job, Kelvin Gillmor has you covered. We really like the range he shows in his portrait photography.
Earned awards for landscape, commercial and architectural photography
High quality post production
His portrait photography can range from dramatic to casual
Has a shop for his landscape photography prints
Closed on weekends
Need to contact for more details and pricing information
Customer Reviews
Incredibly Professional with Fantastic Results
Brilliant! Kelvin is amazing. First, he is a pleasure to work with. I needed a head shot and he came to me with a truckload of equipment. He took his time, was incredibly professional, and the results are fantastic. Not only that, he had an all-around great energy. I was impressed that he had been featured in National Geographic, now I'm impressed overall. Fantastic. -Ron R. Browning
High Quality
Excellent professional highest quality. Very friendly in his approach and his work is superb -Aidan Coughlan
6. Julia Dunin Photography
| | |
| --- | --- |
| Background | ★★★★★(5/5) |
| Photography process | ★★★★★(5/5) |
| Efficiency | ★★★★★(5/5) |
| Depth | ★★★★★(5/5) |
| Range of services | ★★★★☆(4/5) |
| Customer feedback | ★★★★★(5/5) |
| Approach | ★★★★★(5/5) |
| Availability | ★★★★★(5/5) |
Julia Dunin is a professional photographer known for her creative approach in portrait, editorial, and commercial photography. She primarily focuses on her female portraiture photography, empowering her subjects with her timeless images celebrating womanhood, style and elegance.
Aside from her female portraiture photography, she also specializes in food & drink photography. We like how she can take candid shots of different types of food from luxurious 5 star hotels and Michelin Star restaurants to Irish artisan and small-batch producers.
Checking her gallery, we noticed that her portraiture sessions are almost always done in eye level shots which insinuates her focus on the sense of equality and neutrality since high-angle shots are meant to take power away while low-angle shots mean that the person being shot is a powerful figure.
Heading to her food gallery page, she is great at making the food look more appetizing by using camera tricks such as putting a rack focus so that only one subject is able to be seen clearly while others remain static.
Experienced and professional photographer
Great customer communication
Pink Lady Food Photographer of the Year Finalist, UK 2020
Customer Reviews
I highly recommend Julia. She's a gem, and an extremely gifted photographer.
"Julia's work is exceptional! She is – without doubt – one of the most talented photographers in her genre, and we were really impressed with her attention to detail, professionalism, expertise and creative insights during the publication of our book 'Rekindling the Fire: Food & The Journey of Life', published by Austin Macauley in 2022. I highly recommend Julia. She's a gem, and an extremely gifted photographer. Anna King" – Anna King
Julia's photography is absolutely beautiful
"Julia's photography is absolutely beautiful and always perfectly captures the essence of each project we've had in common. In putting together my artist portfolio, I have been so very fortunate to be able to turn to Julia to source a collection of remarkable images from different projects over the past few years. Julia has a gift for expressing magic and spontaneity in the moments she captures and I'm so thankful to her for capturing those moments for me. Be sure to follow her on Instagram, her work is always such a visual treat to have pop up on your feed." – Conor Kennedy Burke
7. Vany Fila
SERVICES
Events & Photo Sessions
Family
Engagement
Pre-wedding
Maternity
Christening
Confirmation
Graduation
Proposal
Corporate and Business
WEBSITE
https://vanyfila.com/
ADDRESS
The Claddagh, Galway, Ireland
CONTACT DETAILS
[email protected]
(+353) 083 406 8277
OPERATING HOURS
Monday – Sunday, 9:00 AM – 5 PM
| | |
| --- | --- |
| Background | ★★★★★(5/5) |
| Photography process | ★★★★★(5/5) |
| Efficiency | ★★★★★(5/5) |
| Depth | ★★★★☆(4/5) |
| Range of services | ★★★★☆(4/5) |
| Customer feedback | ★★★★★(5/5) |
| Approach | ★★★★★(5/5) |
| Availability | ★★★★★(5/5) |
Vany is one of the most creative lifestyle photographers in Galway. She is dedicated to providing a unique and fun experience in order to capture the best moments of your life.
She offers a variety of services to areas throughout Ireland Including events & photo sessions, engagement, pre-weddings, confirmation, graduation, and proposals.
Checking her gallery, she mostly works outdoors wherein she uses nature to her advantage. She also has great expertise in using angled shots such as how she uses high-angled shots to capture the subjects along the beach while using low angled shots to show beauty of the meadows.
We like how she gets more creative on her family photography sessions. This is exemplified in her shots where she tries to capture everyone in the picture by including a small set of shoes to imply that the subject is expecting.
We highly recommend her services if you want to capture important moments in your life that will be enjoyed and passed down for generations to come.
Creative-approached services
Provides a variety of services
Years of experience
Rates are not available online
8. Yamila Fashion Photographer
SERVICES
Professional Photography services:Fashion & personal branding
WEBSITE
https://www.yamilapephotography.com/
ADDRESS
Spanish Arch, Galway, Ireland
CONTACT DETAILS
[email protected]
OPERATING HOURS
Monday -Thursday, 9:00 AM – 7 PM
Friday, 10:00 AM – 6 PM
Saturday, 12:00 NN – 5 PM
| | |
| --- | --- |
| Background | ★★★★★(5/5) |
| Photography process | ★★★★★(5/5) |
| Efficiency | ★★★★★(5/5) |
| Depth | ★★★★☆(4/5) |
| Range of services | ★★★★☆(4/5) |
| Customer feedback | ★★★★★(5/5) |
| Approach | ★★★★★(5/5) |
| Availability | ★★★★★(5/5) |
Yamila Fashion Photographer has been one of the go-to places for fashion and branding photography. They have published countless photography pieces in magazines such as Vogue Italy, Solstice Mag, Sticks and Stones Agency, Yoko Mag, Shuba Magazine, Jute Magazine, Kaltblut Magazine, Haute Punch, Scorpio Magazine, Chicle Mag, Editado 360, Tocksick Magazine, Galway NOW, and many more. 
Yamila, their founder and owner, has been photographing fashion events, fashion campaigns, fashion editorials, social media material, portraits, and films of all kinds for the past ten years. She has devoted her life to photography and filmmaking, and her ambition is to travel the world with her craft.
We like how she carries her fashion sense that comes with photographing models over to her personal branding photography. She is flexible and can work either indoors and outdoors, capable of producing great shots no matter what pose you take. 
High-end and well-maintained equipment
Experienced photographer
Affordable rates
Customer Reviews
She was a true professional, kind, and upbeat.
"Yam took our engagement photos in Galway this past weekend. She was a true professional, kind, and upbeat. I was sure that my fiancé would consider taking these photos a chore but both of us had so much fun, mostly because Yam truly made it a very pleasant experience. The time passed quickly and we even went about 20 minutes over our 2 hour session because we were having so much fun! Highly recommend booking with her if you are engaged or for anything else for that matter. You'll have fun and her work is beautiful. Another plus is that she responds quickly to emails or other forms of contact and is flexible!" – Alexis Hruby
Her talent and kindness is beyond words and I couldn't recommend her enough!
"Yamila shot some product photography for my brand launch and she was an absolute dream to work with! As a beginner in the industry she gave me some great advice and encouragement. The final photos were also stunning and beyond my expectations. Her talent and kindness is beyond words and I couldn't recommend her enough!" – Gemma Louise
FAQs about Photographers
---
There are many options out there when choosing which photographer to go for, but we do hope our list helped narrow it down and provide some clarity. If you would like to read more, we also have an article on the best videographers in Dublin.