The 5 Best Waxing Salons in Dublin
Waxing is a popular way to regularly remove hair from the underarms, arms, legs, bikini line, and the like. Yet, not many people can perform this safely and efficiently on their own.
This is why many turn to professional therapists for waxing in Dublin. Though based on your preferences and budget, looking for the best clinics for laser hair removal in Dublin or nearby cities is also a good alternative.
But before you go to your chosen waxing salon, it's wise to consider the costs first.
How Much Do Waxing Services in Dublin Cost
The prices of the services for waxing in Dublin vary. This usually differs for female and male clients, which body parts to be waxed, and the kind of wax used for each skin type.
Kindly note that not all waxing salons offer all services mentioned below. Here are just some estimates for your initial reference:
| Waxing Services | Estimated Costs |
| --- | --- |
| Bikini Line | €15.00 to €24.00 |
| Brazilian | €40.00 to €50.00 |
| Californian | €25.00 to €30.00 |
| Full Arms | €18.00 to €30.00 |
| Half Arms | €15.00 to 20.00 |
| Full Legs | €35.00 to €45.00 |
| Half Legs | €20.00 to €25.00 |
| Bum Cheeks | €13.00 to €15.00 |
| Hands | €8.00 |
| Hollywood (Totally Bare) | €45.00 to €60.00 |
| Toes | €8.00 |
| Underarms | €12.00 to €20.00 |
| Chest | €31.00 to €35.00 |
| Nipples | €10.00 |
| Abdomen | €7.00 to €10.00 |
| Shoulder | €15.00 |
| Back | €10.00 to €35.00 |
| Brow | €10.00 to €15.00 |
| Nose | €8.00 to €15.00 |
| Chin | €8.00 to €15.00 |
| Ears | €10.00 |
| Lip | €8.00 to €12.00 |
| Side of Face | €12.00 to €20.00 |
The Best Waxing Salons in Dublin
We assessed the salons offering hair removal via waxing in Dublin based on the following criteria:
1. Hive Salon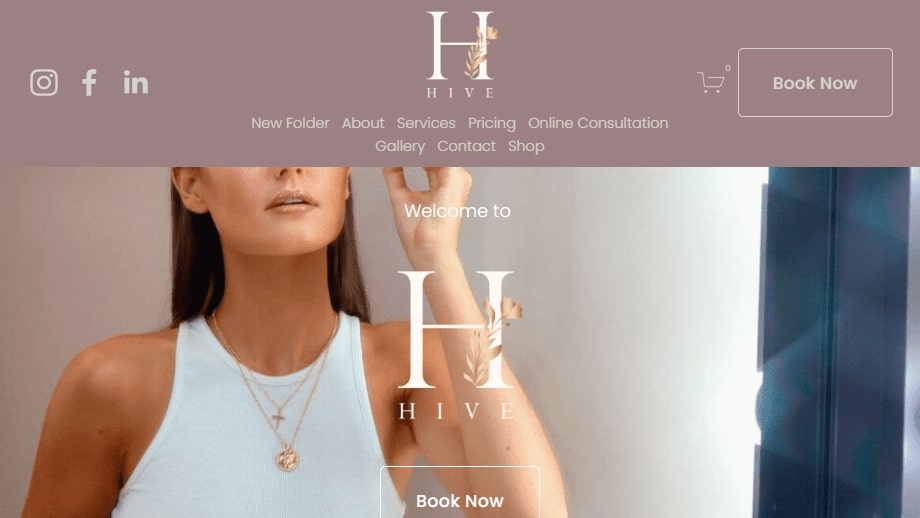 Test
Info
SERVICES
Waxing, Brows, Skin, Lashes, Nails, Pedi, Spray Tan, Men's Grooming
WEBSITE
https://www.hivesalon.ie/
ADDRESS
Junction 6, River Rd, Castleknock, Co. Dublin, D15 EA43, Ireland
CONTACT DETAILS
+353 1 861 5000
OPERATING HOURS
Monday - Wednesday: 10:00 AM - 6:00 PM

Thursday - Friday: 10:00 AM - 9:00 PM

Saturday: 10:00 AM - 6:00 PM
| | |
| --- | --- |
| COST | ★★★★★ (5/5) |
| CLIENT SATISFACTION | ★★★★★ (5/5) |
| SERVICES | ★★★★★ (5/5) |
| ⮕ VARIETY | ★★★★★ (5/5) |
| ⮕ QUALITY | ★★★★★ (5/5) |
| CUSTOMER SERVICE | ★★★★★ (5/5) |
| ⮕ AVAILABILITY | ★★★★☆ (4/5) |
| ⮕ FRIENDLINESS | ★★★★★ (5/5) |
For smooth and sleek hair removal that also feels like a skincare treatment, Hive Salon is among our top picks for waxing in Dublin.
When we entered the salon, it was clean and organised. It also had a lovely and relaxing atmosphere.
We were glad this salon offers a wide range of waxing services too. It felt convenient to be able to choose among many body parts for facial or body waxing and threading.
The staff was also professional and easy to talk to! They were incredibly skilled and looked after our needs throughout.
We also felt reassured as they explained the whole process step by step. They knew exactly what we wanted and provided the services that best fit us.
Hive's premium wax also felt relatively less painful than other cheaper ones on the market. Not only was their wax good for hair removal, but it also smelled nice.
But even if their wax was of high quality, the price range for their services was still quite reasonable. Compared to other waxing salons in Dublin, their pricing is among the more affordable ones.
However, due to clients picking favourites, your preferred waxer could easily get booked fast! To avoid this, it's best to book them early.
Overall, we were delighted with their service and the quality of the results. Check out Hive Salon and see for yourself!
Wide range of services
Reasonable pricing
Knowledgeable and accommodating staff
Relaxing environment
Premium and less painful wax
Preferred waxers may easily get booked
Closed on Sundays
No email displayed
Customer Reviews
Lovely
"Had my first brow lamination with Alex, who was so lovely and professional, she explained the whole process as she was doing it. Delighted with my results, thank you 😊" – Amy Cunningham
Highly recommended
"Alex is a queen at brows. I have been going to Alex for a while now and she got to know my brows and exactly what they need. We moved from Elite Tint and Sculpt to HD Brows based on Alex's recommendation, which made such a difference. Have so much trust in Alex, highly recommend!" – Eimear O Callaghan
2. Waxapeel Dundrum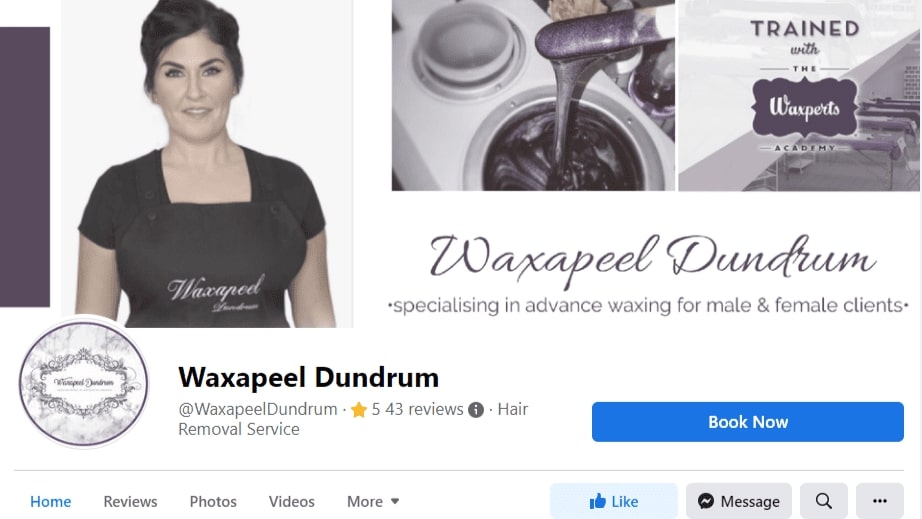 Test
Info
SERVICES
Specialized Waxing for Men & Women
WEBSITE
https://waxapeeldundrum.com/
ADDRESS
Block 2 Stokes Court Rear of No, 7 Main St, Dundrum, Dublin, D14 A1K9, Ireland
CONTACT DETAILS
+353 83 815 1976
OPERATING HOURS

Tuesday: 10:00 AM - 6:00 PM

Wednesday - Thursday: 10:00 AM - 9:00 PM

Friday - Saturday: 10:00 AM - 5:00 PM
| | |
| --- | --- |
| COST | ★★★★★ (5/5) |
| CLIENT SATISFACTION | ★★★★★ (5/5) |
| SERVICES | ★★★★★ (5/5) |
| ⮕ VARIETY | ★★★★☆ (4/5) |
| ⮕ QUALITY | ★★★★★ (5/5) |
| CUSTOMER SERVICE | ★★★★★ (5/5) |
| ⮕ AVAILABILITY | ★★★★☆ (4/5) |
| ⮕ FRIENDLINESS | ★★★★★ (5/5) |
When it comes to both female and male clients, Waxapeel Dundrum provides a good selection of affordable services for waxing in Dublin.
What we liked most about them is their 'No Double Dipping' policy.
For those unaware, double-dipping means dipping a spatula in a wax pot, applying the scooped wax on the skin, and re-dipping the same spatula in the same wax pot multiple times.
They vow not to do this practice, so each client is guaranteed a hygienic wax every time. This, alone, eased our worries and fears of having an unsafe wax.
From the start, their salon was also spotless! We were welcomed with warm and friendly smiles from the staff as well.
The waxer who dealt with us was among the most considerate ones we've seen. They were careful and made sure we felt the least amount of pain possible.
Several clients also shared that this salon is excellent, especially for waxing the most delicate body parts. This is perfect for beginners or those who are scared to try waxing.
Nevertheless, it seems like they usually only have Emma as their waxing therapist. Lots of clients go here so they usually get booked up so far (even months) in advance!
For now, they only accept clients who made an appointment. So if you're in need to be waxed soon, make sure to get a slot early on.
But for consistent and hygienic services, we recommend Emma at Waxapeel Dundrum for a soothing waxing experience!
Affordable services
Hygienic (no double-dipping)
Spotless and well-maintained salon
Careful and considerate staff
Almost pain-free waxing
By appointment only
May need to book far in advance
Closed on Sundays and Mondays
Customer Reviews
One of the best
"One of the best waxing businesses I've been to. I love the quality of work and consistency Emma provides. Not only is her work amazing but she is one of the nicest people I know. Thank you 💜." – Audrey Byrne
Fantastic
"Emma is fantastic at what she does. Never disappointed leaving her fab salon. Wouldn't dream of trusting anyone else. Highly recommend Waxapeel Dundrum. Emma honestly is the best around by far 👌💯" – Kate Jennings
3. The Pearl Room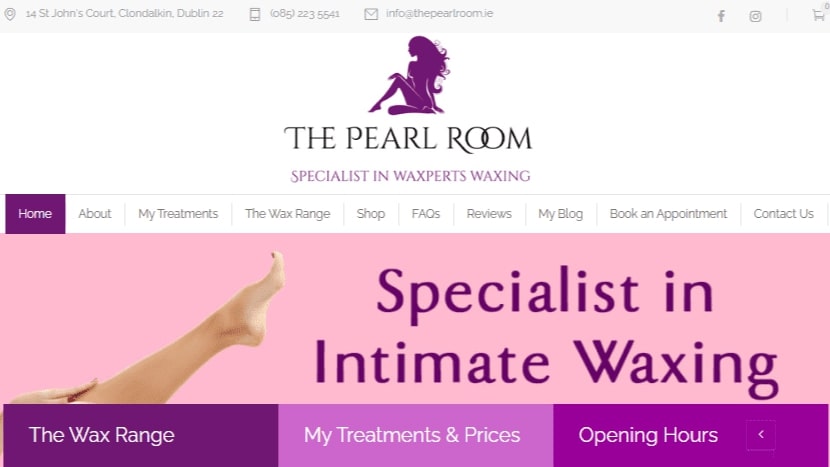 Test
Info
SERVICES
Advanced Intimate Waxing, Full Body Waxing for Male and Female Clients
WEBSITE
https://www.thepearlroom.ie/
ADDRESS
14 St John's Ct, Commons, Dublin 22, D22 P6W2, Ireland
CONTACT DETAILS
+353 85 223 5541
OPERATING HOURS
Tuesday: 10:00 AM - 5:30 PM

Wednesday - Friday: 10:00 AM - 6:00 PM

Saturday: 11:00 AM - 3:00 PM
| | |
| --- | --- |
| COST | ★★★★★ (5/5) |
| CLIENT SATISFACTION | ★★★★★ (5/5) |
| SERVICES | ★★★★★ (5/5) |
| ⮕ VARIETY | ★★★★★ (5/5) |
| ⮕ QUALITY | ★★★★★ (5/5) |
| CUSTOMER SERVICE | ★★★★★ (5/5) |
| ⮕ AVAILABILITY | ★★★★☆ (4/5) |
| ⮕ FRIENDLINESS | ★★★★★ (5/5) |
Some clients don't believe waxing in Dublin could be a relaxing experience. Luckily for them, The Pearl Room is a pro in this scene.
Aside from basic body waxing services for underarms, arms, and legs, they also wax the not-so-common areas like the nose, nipples, bum cheeks, and the like.
We also took advantage of their special offers. They have combos and deals for their Hollywood, Brazilian, and Summer Smoothie packages.
For those who are hesitant due to the fear of getting allergic reactions, this waxing salon also provides a 5-minute patch test, free of charge!
Of course, they offer a wide range of waxes too. Clients may choose from their hot and strip wax collections, which were both flexible enough for our needs.
Make sure to ask a lot of questions and provide enough information too. This is so the kind of wax you'll get would be suitable for your skin type and toughness of body hair.
In addition, their waxers had a friendly and welcoming demeanour. They were thorough and efficient during our sessions as well.
Most clients enjoy being chatty with their wax therapists to distract them from the pain. However, others may not be as comfortable if they are introverted or shy.
For this, it helps to be honest with the waxers so they can adjust to your needs or preferences accordingly.
All in all, The Pearl Room's services were professional, clean, and safe. Make your next experience for waxing in Dublin an amazing one when you reach them!
Offers a wide variety of services
Provides special deals
Free patch test
Lots of waxes to choose from
Relaxing environment
Waxers may get too chatty (for pain distraction)
Closed on Sundays and Mondays
Customer Reviews
Most painless wax
"Wouldn't go anywhere else, the most painless wax I have ever got done, couldn't recommend the pearl room enough!!" – Joy Heffernan
Amazing
"Great to see Frances again, her friendly personality just shines and you don't even realise you are getting waxed. She is an absolute perfectionist and every part of her business shows this from the actual treatment to her amazing new salon and products.❤️❤️" – Jebwendy
4. Skin First Beauty Clinic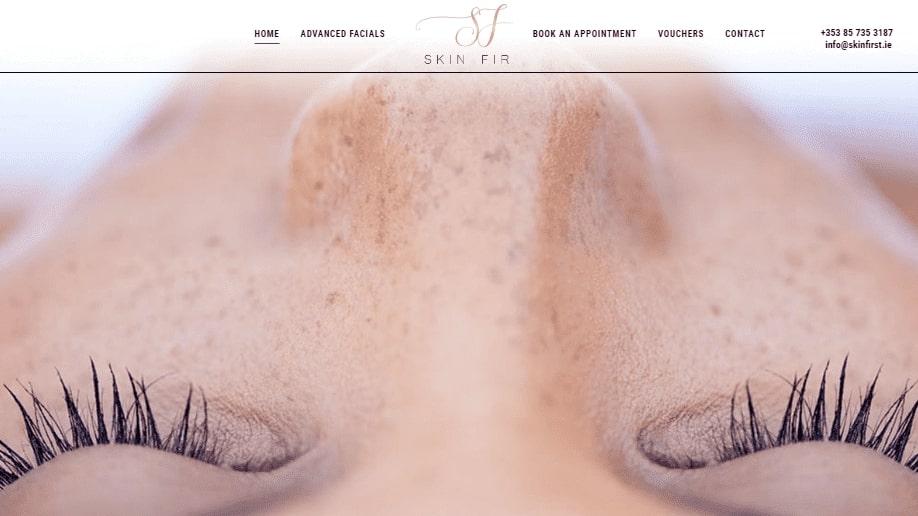 Test
Info
SERVICES
Waxing Salon, Eyebrows & Lashes, Beauty Salon
WEBSITE
https://skinfirst.ie/
ADDRESS
93A Morehampton Rd, Ranelagh, Donnybrook, Co. Dublin, D04 Y1X7, Ireland
CONTACT DETAILS
+353 85 735 3187
OPERATING HOURS
Monday: 10:00 AM - 5:00 PM

Tuesday - Friday: 10:00 AM - 8:00 PM

Saturday: 10:00 AM - 5:00 PM
| | |
| --- | --- |
| COST | ★★★★★ (5/5) |
| CLIENT SATISFACTION | ★★★★★ (5/5) |
| SERVICES | ★★★★★ (5/5) |
| ⮕ VARIETY | ★★★★☆ (4/5) |
| ⮕ QUALITY | ★★★★★ (5/5) |
| CUSTOMER SERVICE | ★★★★★ (5/5) |
| ⮕ AVAILABILITY | ★★★★☆ (4/5) |
| ⮕ FRIENDLINESS | ★★★★★ (5/5) |
Skin First Beauty Clinic is mainly known for their facial treatments like LED Light Therapy and Microneedling. But, they're also experts at full body waxing in Dublin.
For starters, their waxing services were gentle and quick! It was pleasantly surprising how their sessions were more manageable than we expected.
We were also happy with their recommendations upon discussing our skin type. They made it easy for us to get comfortable during our first session.
It was also great that they have a booking app for their customers. This makes it more hassle-free to reach them at our earliest convenience.
Moreover, they offer vouchers and memberships to loyal clients too! For the vouchers, we could decide whether it's a treat for ourselves or if we want to print or email them as gifts to loved ones.
Unlike other salons that get booked easily, Skin First is more accommodating to walk-ins as well! Some clients shared that despite not having an appointment, they found it easy to avail of their services.
Nevertheless, they seem a bit lacking in terms of male waxing. They only offer chest and back wax for men, unlike other salons that offer a lot more.
Still, Skin First Beauty Clinic provided us with satisfying, natural-looking results for their available services. Visit their salon and see for yourself!
Known for facial and waxing treatments
Gentle and quick services
Accommodating to walk-ins
Natural-looking results
Few waxing services for men
Closed on Sundays
Customer Reviews
Quick and painless
"Without a doubt the most pain-free Hollywood wax I've ever had! I've just moved to Dublin from London and found Iryna by chance on a google search (and I'm so glad I did!). The wax was quick and painless and Iryna took the care to tweeze out those couple of stubborn hairs at the end. Will be a regular now for sure! 😊" – Chloe Hampton
Great attention to detail
"Got my eyebrows done here. Iryna was quick and painless and best of all, was very gentle and paid great attention to detail. Couldn't recommend more!" – Emilija Gostautaite
5. 5th Avenue Boutique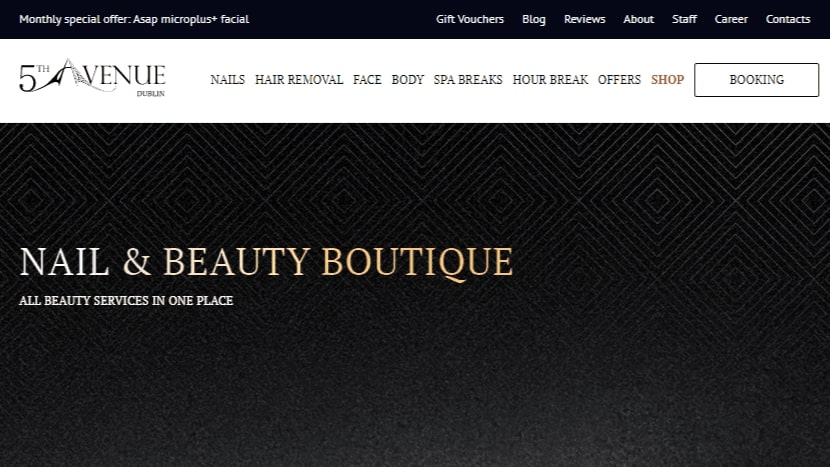 Test
Info
SERVICES
Waxing, Threading, Nails Treatments, Hot Stone Therapy
WEBSITE
https://5thavenue.ie/
ADDRESS
24A Wicklow St, Dublin, D02 YV18, Ireland
CONTACT DETAILS
+353 1 679 8783
OPERATING HOURS
Monday - Saturday: 9:30 AM - 7:00 PM or 8:00 PM

Sunday: 11:00 AM - 6:00 PM
| | |
| --- | --- |
| COST | ★★★★☆ (4/5) |
| CLIENT SATISFACTION | ★★★★☆ (4/5) |
| SERVICES | ★★★★☆ (4/5) |
| ⮕ VARIETY | ★★★★☆ (4/5) |
| ⮕ QUALITY | ★★★★☆ (4/5) |
| CUSTOMER SERVICE | ★★★★☆ (4/5) |
| ⮕ AVAILABILITY | ★★★★☆ (4/5) |
| ⮕ FRIENDLINESS | ★★★★☆ (4/5) |
With their soothing beauty treatments, it's not surprising that many return to 5th Avenue Boutique for their nail treatments and regular waxing in Dublin.
Firstly, we were pleased to have booked an appointment on such short notice. We immediately got a slot for the next day!
They also offer a bunch of waxing options for women, including their famous Hollywood Bikini Wax + PINKINI intimate wash.
We appreciate that they have this treatment that cares for the delicate bikini zone, to protect its natural acid balance. They also helped us in minimising pigmentation buildup that can occur with harsh cleansers.
Not only that, but they also curated wax treatments for men. With their gentleman's waxing option, clients can pick among chest, back, abdomen, shoulder, neck, shoulder, or combo services.
Their threading options can also be divided into at least 7 options! It was incredible that they have something for different types and needs of clients.
Their staff were friendly and sweet too. Many clients say that they felt pampered, as though they went in for a spa treatment instead of a wax.
But as waxing could be intimidating for first-timers, a client told us she appreciates this salon's patience. She was indecisive at the beginning but ended up happy with great results.
Just make sure to come to your bookings on time. As this place gets easily full, your slot may likely be given to someone else if you're late.
It was noticeable that their pricing is a little higher than other waxing salons, too.
But all together, we had an enjoyable experience throughout because of 5th Avenue Boutique's professionalism and decent services.
Lots of waxing options for men and women
Offers PINKINI intimate wash to care for delicates
Friendly and pampering staff
Provides special offers and packages
Higher pricing than some salons
Slot may be taken if client arrived late
Closed on Sundays
Customer Reviews
Relaxing and pleasant
"Most relaxing eyebrow shaping appointment ever. I don't know how someone can make eyebrow waxing a pleasant experience but they did. I felt very pampered and can't wist to go back." – Mairead Sheridan
Always a pleasure
"I've been coming here for years to Ari for waxing. Always a pleasure to visit." –
Chris Williams
FAQs About Waxing in Dublin
---
There you go! We hope you liked our review of the best salons offering waxing in Dublin. May you find the best one for a pleasant experience.
If you want to find more skin care-related services, start with our review of the best dermatologists in Dublin to learn more!