5 of the Best Life Coaches in Ireland
Day-to-day life can be chaotic, stressful, tiring and even overwhelming with the amount of tasks we have to accomplish. When we want to break our bad habits, sometimes we need the help of an expert.

This is where a life coach comes in!
In this article we take a look at some of the best life coaches in Ireland who can help you get back on track. So if you're ready to start your journey, read on!
How much do life coach services cost?
Life coaches can approach a problem with different techniques and styles. What's more is that their background and experience usually vary greatly from person to person.
Below is a table of estimated life coaching fees we found.
| Life Coaching Service | Price per Session |
| --- | --- |
| Student Coaching | € 90 to 180 |
| Divorce Coaching | € 90 to 250 |
| Career Coaching | € 75 to 395 |
| Holistic Life Coaching (by River Holistic) | € 90 to 140 |
| Wellness Coaching | € 50 to € 190 |
Top Life Coaches in Ireland
We assessed the life coaches based on the following criteria:
1. Pat Divilly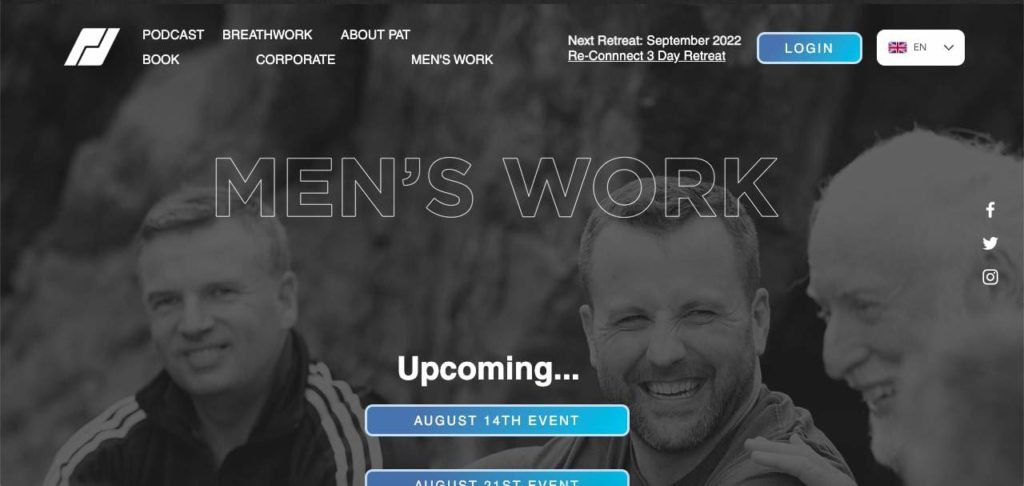 | | |
| --- | --- |
| Services offered | ★★★★★(5/5) |
| Range | ★★★★★(5/5) |
| Depth | ★★★★★(5/5) |
| Background | ★★★★★(5/5) |
| Accessibility and availability | ★★★★☆(4/5) |
| Customer feedback | ★★★★★(5/5) |
| Helpfulness | ★★★★★(5/5) |
| Approach and attitude | ★★★★★(5/5) |
Pat Divilly has an extensive and impressive background in the wellness realm, producing helpful resources along the way.
He attributes all of this to his start in the fitness industry. He is now a certified trauma release facilitator and has completed clinical trauma specialist training as well.
He even has a podcast where he talks about practical exercises, communication and wellness. Pat also has a book entitled Fit Mind which discusses an eight-week program for mental and emotional fitness.
Pat also offers Men's Work wherein he provides a safe space to exercise and hone in on growth and transformation. We especially like how this program has a lot of depth in exploring emotions, trauma, and release all while exploring nature.
He also has a service for breathwork which focuses on the release stage of his process. Through breathwork, clients can enjoy short programs that develop their mindfulness regarding stress and tension in their lives.
We like that he provides alternative formats with similarly clear goals in mind.
For corporate teams out there, Pat can also help you develop your practices for wellbeing, productivity and stress management. However, we do advise you to contact him in advance as schedules for these programs and retreats vary from time to time.
Extensive background
Numerous resources from his podcast to his book
Offers corporate training
Good depth for men's work and breathwork
Schedule highly variable based on events
Need quotation for corporate programs
Customer Reviews
Positive Employee Experience
Pat facilitated a virtual wellbeing and resilience seminar series for the entire site team in Alkermes, Athlone and Dublin offices during July and August 2020. This came from the idea to identify ways to support the wellbeing of all our employees both those working at our locations in Ireland and those working remotely.
The feedback from these sessions was overwhelmingly positive from our employees who appreciated the insights, tools and perspectives that Pat shared in coping with uncertainty, change and self awareness that we are all experiencing by living through this pandemic. I would strongly recommend Pat to work with your organization if you want to provide a valuable and insightful resource to your teams in a virtual setting that connects with your companies well being initiative at this challenging time. – Kevin Brady
Speaks from Wisdom and Experience
I attended Pat's 'Fiit Mind' tour. It was incredibly enjoyable and I would highly recommend to anyone. Pat spoke such wisdom from his own experience which was an invaluable experience. Pat was exceptionally witty and made the attendees engage in practical exercises too, which made the evening fly by. His tour would be beneficial to absolutely everyone. Thank you Pat for a fabulous evening in Belfast. – Mary O Donnell
2. Ronan Kennedy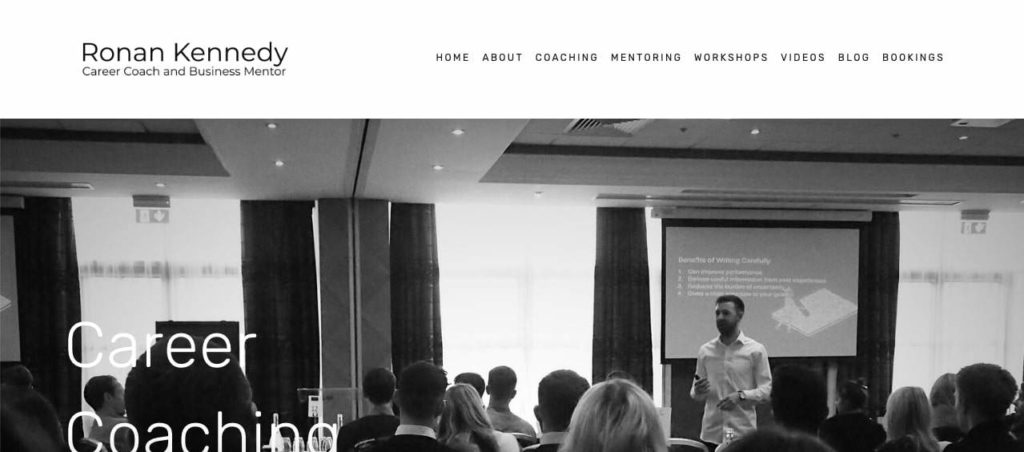 | Test | Info |
| --- | --- |
| SERVICES | Business Plan, Career Counseling, Coaching Courses, Business Mentoring, Consultancy |
| WEBSITE | https://www.ronankennedy.ie/ |
| ADDRESS | 20 Harcourt St, Saint Kevin's, Dublin |
| CONTACT DETAILS | [email protected] |
| OPERATING HOURS | Weekdays: 8:00 AM to 5:00 PM |
| | |
| --- | --- |
| Services offered | ★★★★★(5/5) |
| Range | ★★★★★(5/5) |
| Depth | ★★★★★(5/5) |
| Background | ★★★★★(5/5) |
| Accessibility and availability | ★★★★☆(4/5) |
| Customer feedback | ★★★★★(5/5) |
| Helpfulness | ★★★★★(5/5) |
| Approach and attitude | ★★★★★(5/5) |
Ronan Kennedy specializes in various aspects essential to business, such as employment and interview preparation. What stood out for us the most, was that his services were excellently laid out in terms of steps and guidance.
He has a background in international business, psychotherapy, neuro-linguistic programming, and emotional intelligence. He has since worked with over thousands of professionals at different levels of their careers, so his programs can apply to many types of career situations.
We greatly appreciate how his process leads you to produce concrete applications. After identifying your needs he will guide you to producing outputs such as CV's and cover letters.
His business mentorship involves a similar process of identifying needs but this time assists the client in business plans, goals, and key performance indicators. We think that those looking to start a business or are new in the industry, would appreciate how well spaced his processes are.
For those looking to develop more specific skills, he does have workshops in business writing, career development and changing jobs.
Another aspect we appreciate is that he has packages prepared for customers at different stages in their career such as those looking to change jobs or prepare for interviews.
Some of these packages can be quite pricey so make sure to check the prices and content in advance.
Distinct and clear steps for each program
Offers career counseling, coaching courses and business consultancy
Solid background and experience
Offers different packages and booking
Operating hours limited to weekdays
Packages can be pricey
Customer Reviews
Went the Extra Mile
Ronan was incredible during my phase of job search. He so easily 'made me figure out' what I needed to focus on and what needed change. He was brilliant in making me understand the nuances of an interview conversation and gave me the much needed confidence. He went the extra mile in noting down the conversations for later reference. He is very intuitive, thoughtful and knows just the tone and message you need to hear while guiding you on your journey. -Indira Priyadarshini Gopalan Nair
Very Helpful for Interview Preparation
Ronan was very helpful and patient in preparing me for my job interview. He was conscious of our time and wrote up notes of our sessions afterwards which was really helpful when preparing for interview on my own. I got the job I applied for so he was definitely successful! – Jean Doyle
3. Mark Fennell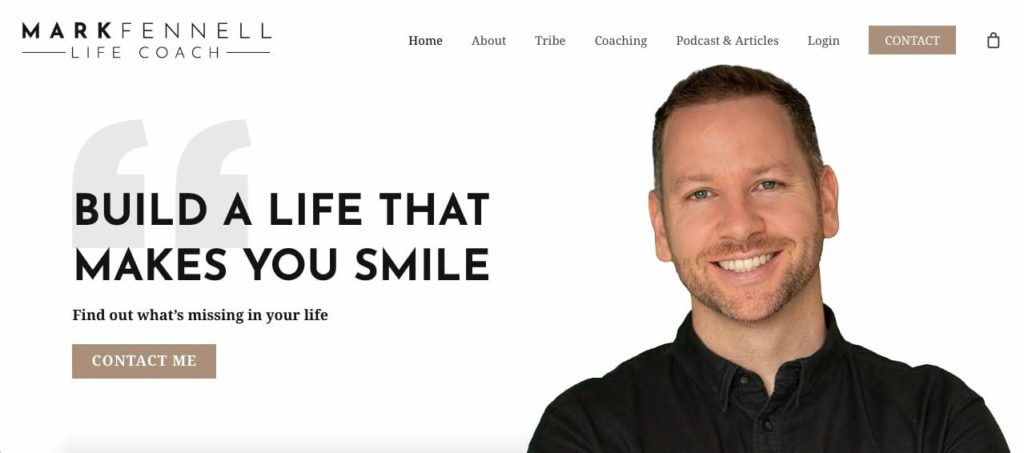 Test
Info
SERVICES
Group Mentoring, Online Courses, One to One Coaching, Corporate and Business Coaching
WEBSITE
https://markfennell.ie/
ADDRESS
Dublin
CONTACT DETAILS

[email protected]

OPERATING HOURS
Monday to Thursday: 8:00 AM to 9:30 PM

Friday: 8:00 AM to 10:00 PM

Saturday to Sunday: 10:00 AM to 4:00 PM
| | |
| --- | --- |
| Services offered | ★★★★★(5/5) |
| Range | ★★★★★(5/5) |
| Depth | ★★★★★(5/5) |
| Background | ★★★★★(5/5) |
| Accessibility and availability | ★★★☆☆(3/5) |
| Customer feedback | ★★★★★(5/5) |
| Helpfulness | ★★★★★(5/5) |
| Approach and attitude | ★★★★★(5/5) |
Mark Fennell's background includes working with big namesakes in radio and media such as FM 104, Ireland: AM, Virgin Media, and newstalk to list a few.
His journey as a life coach began when he was facing anxiety running a business but now he is able to provide people with resources targeting the very same problems he faced.
He also runs a podcast and writes articles talking about topics like emotions, phobias, habits and anxieties. We like that he is able to provide these resources for customers who want to discuss or learn more.
One of his primary services is coaching, including one-on-one coaching and business coaching. For individual coaching, he has options for different durations of subscription, from one session to a year-long program.
He will work with you in identifying your hurdles and setting a corresponding strategy. His business and corporate coaching services address leadership, entrepreneurship, team building and productivity.
We like that he also has a "tribe" program which is a more affordable approach to develop the same goals through a more social environment. It gives clients an opportunity to choose a more individual or socially focused setting.
We did notice however that some of his classes do become fully booked and sold out, so make sure to check his website for the availability of his programs.
Offers different formats for one to one coaching
Has online courses tackling different subject matters
Customer reception and response praises the experience
Provides a tribe program as a cheaper alternative
Mastery Course can be quite costly
Some of his courses are sold out or fully booked
Customer Reviews
Value in Every Session
I literally cannot recommend Mark enough !! we've just finished a 4 week run of classes with him for my salon team , every single session there was such value to be gotten . Mark literally gives you real tools to process thoughts and feelings and he explains the human condition so well . It also helps that he is funny and great craic . Sign up to some sessions and I guarantee you will thank yourself afterwards – Lisa Sheppard
Excellent Tribe Group Coaching
I joined Mark's Tribe which is a monthly group coaching and I can't recommend it enough. Overcoming limiting beliefs about myself and the world, Mark is a positive force for good keeping things realistic and achievable. Highly recommend Mark's coaching and joining Tribe. -K
4. iMindCoach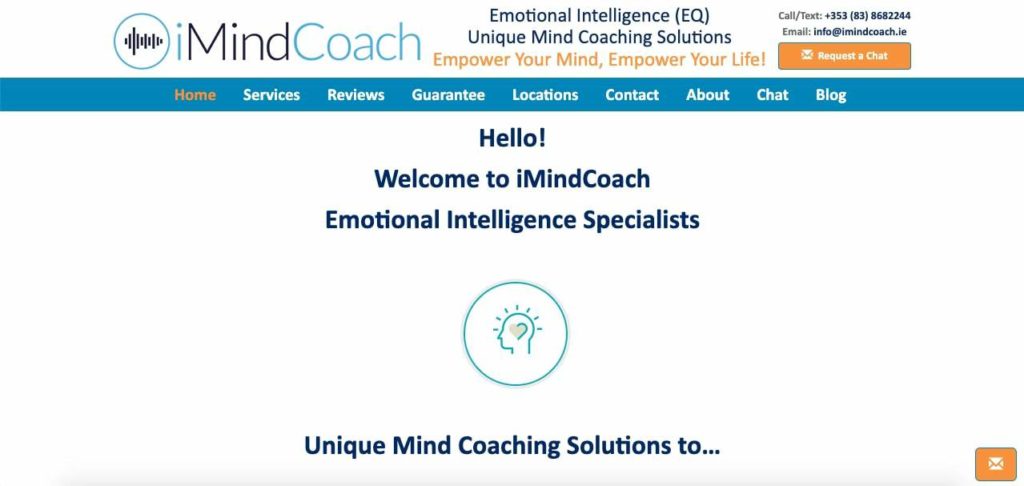 Test
Info
SERVICES
Mental-Emotional, Personal Development
WEBSITE
https://imindcoach.ie/
ADDRESS
Suite 5, Stokes Court, Rear of, 7 Main St, Dundrum, Dublin 14
CONTACT DETAILS
+353 (83) 8682244,

[email protected]

OPERATING HOURS
Monday, Tuesday, Thursday: 9:30 AM to 8:30 PM

Wednesday, Friday: 9:30 AM to 5:30 PM
| | |
| --- | --- |
| Services offered | ★★★★★(5/5) |
| Range | ★★★★★(5/5) |
| Depth | ★★★★☆(4/5) |
| Background | ★★★★☆(4/5) |
| Accessibility and availability | ★★★★★(5/5) |
| Customer feedback | ★★★★★(5/5) |
| Helpfulness | ★★★★☆(4/5) |
| Approach and attitude | ★★★★★(5/5) |
iMindCoach helps provide people with practices and habits to face several problems such as relationships, anger, anxiety, public speaking, and communication.
Their emotional intelligence specialists particularly target inner worriers, inner critics, and negative social environments to help clients in both personal and interpersonal areas.
We were impressed by the range of issues that iMindCoach covers. For mental-emotional areas, they can help clients face different situations such as grief, obsessive-compulsive disorders, low-moods and stress management.
On the other end of the spectrum, they also cover personal development areas. These include parenting, communication, relationships, developing leadership, public speaking, just to name a few.
We like that with their range in services, numerous clients can tackle different areas of issues and improvement as there is rarely only one in a single person.
For more issues that they don't have listed, they are flexible to discuss if their services are still applicable. We especially like that compared to other coaching services they have multiple channels of contact.
If this seems a little overwhelming, fret not! They offer a courtesy phone consultation to help clients figure out where to start.
Wide range of issues covered
Provide numerous channels for contact
Free phone consultation
Closes at 5:30 PM on certain weekdays
Should be supplemented with more professional help
Customer Reviews
Techniques that were Helpful
I could not recommend Mark more. I was suffering from severe anxiety & depression. From the very first session his coaching techniques have helped me to deal with my worst moments, with almost ease. Over the six sessions, being able to shake off those shackles, has helped me to turn my life around. In every aspect; social, health and career.
If you need help at all you're doing yourself a disservice to not least take the consultation. You won't regret it. Thank you again Mark. -Neil Coakley
Powerful and Effective
Can highly recommend Mark, his mind coaching techniques are powerful and effective. The simple daily practices have made such a huge difference to my daughter. Thank you Mark for your help and guidance, it means so much to see our daughter back to her happy self! – Rachel Hennessy
5. Orla Dempsey Coaching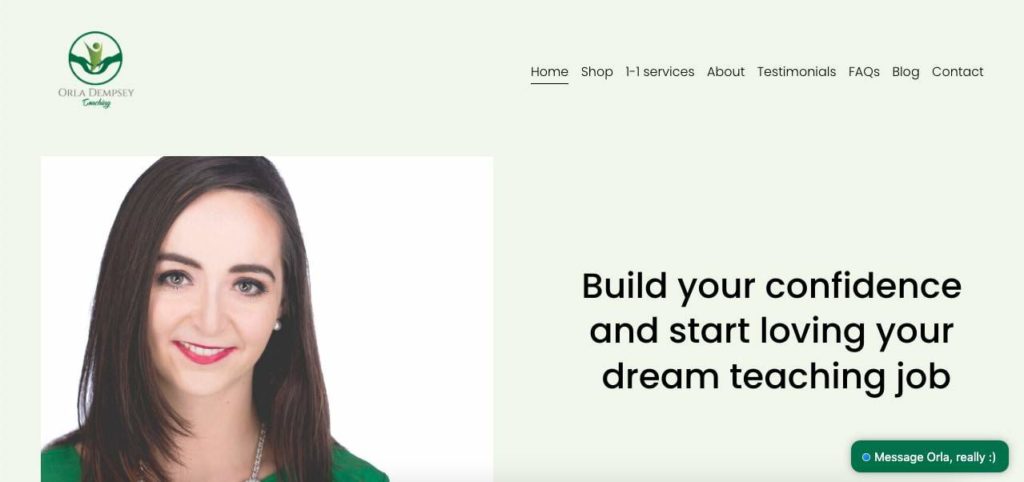 | Test | Info |
| --- | --- |
| SERVICES | Newly Qualified Teachers Resources: Interviews, Job Applications; Leadership Interview Coaching, CV and SAf Preparation, I'm Thinking of Leaving Teaching Package, Courses and Memberships |
| WEBSITE | https://www.orladempseycoaching.ie/ |
| ADDRESS | Peppermint Health Centre, Maynooth Rd, Celbridge, Co. Kildare |
| CONTACT DETAILS | https://orladempseycoaching.squarespace.com/contact |
| OPERATING HOURS | Monday to Thursday: 12:00 PM to 6:00 PM |
| | |
| --- | --- |
| Services offered | ★★★★☆(4/5) |
| Range | ★★★★☆(4/5) |
| Depth | ★★★★☆(4/5) |
| Background | ★★★★★(5/5) |
| Accessibility and availability | ★★★★☆(4/5) |
| Customer feedback | ★★★★★(5/5) |
| Helpfulness | ★★★★★(5/5) |
| Approach and attitude | ★★★★★(5/5) |
Orla Dempsey is a great choice as a career and life coach for all types of teachers out there. She is a primary school teacher that can help you think through your career and interview scenarios.
She has purchasable PDF guides on her site that can help readers form strategies to face certain job situations. These include a guide to succeeding at interviews as well as a guide for job applications.
Customer feedback on these guides have been quite positive, especially with helping people come up with concrete action plans and steps with regards to their career.
The Teacher's Promotion Club is a great alternative she offers for those looking for more monthly tips and tricks discussing similar topics of leadership, techniques, and job applications.
Orla Dempsey also has programs for mock interviews such as leadership interviews as well as newly qualified teachers interviews. These practices usually last an hour to 90 minutes and we appreciate how she provides clients with specific strategies to frame interview responses.
Additionally, she has CV and SAF preparation service which is especially helpful for individuals seeking feedback on document specifics. Alongside this, she can help clients thinking of leaving the teaching position, making the process less overwhelming.
We do advise however to take note of her schedule as she is only available from Monday to Thursday from noon until 6:00 PM.
Has PDF resources available for interview guides
Provides programs for mock interviews
Good background in education and career development
Offers help with CV and SAF preparation
Modes of contact limited to website 
Operating hours limited to Monday to Thursday from 12:00 PM to 6:00 PM 
Customer Reviews
Helpful PDF Guides
I feel so much more confident in my interview preparation after reading & using it. What a brilliant interview guide for teachers! I particularly liked the strategies suggested for framing interview answers, as well as the extensive sample questions and the included interview marking criteria. It gave me a great insight into the whole interview process and it also helped me to develop my confidence further. I loved that the guide is written from Orla's vast experience in this area and her invaluable expertise really comes through in the guide. – Sandra
A Program that Helped Me with Techniques
I recently completed Orla's 'Knock Their Socks Off – Interview Confidence Skills For Teachers' and I learned so much from it! Orla really simplified everything in the course and didn't give any unnecessary information she just kept it to the point which I found amazing! I loved how she went through the STAR technique and how to use it in an interview. I always found the 'tell me about yourself' question in an interview tricky but with Orla's help and her idea of the PAWS technique, I feel so much more comfortable. Thank you so much Orla, I really feel I have a structure for interviews now and I can't wait to try out the new techniques – Ciara Finn
FAQs about life coaches
---
We hope this article helped you explore your options for different life coaches available in Ireland. If you would like to know more about a specific location, we also have an article on the best life coaches in Dublin.