Top 5 Glamping Spots in Cork Ireland
If you get the chance to bunk off a few days just to relax and have fun, communing with nature's the best thing to do. Camping might not be your style, but camping WITH style could just be your cup of tea.
And if you think you're going to love glamping in Cork—you're bang on!
Rate Per Night of the Top Glamping Spots in Cork
Here are Cork's best glamping places and their rates per night for a dome or a pod. Please do note that the rates may change any time:
| GLAMPING PLACE | ESTIMATED PRICE |
| --- | --- |
| Mountain Forge Escape | Starts at €100 |
| Top of the Rock Pod Páirc and Walking Centre | Starts at €39 |
| Mount Hillary Holiday Pods | Starts at €87 |
| Eyeries Glamping Pods | Starts at €115 |
| Ballyvolane House | Starts at €315 (for two nights) |
The Best Glamping Places in Cork
We're reviewing glamping spots in Cork based on the following factors:
1. Mountain Forge Escape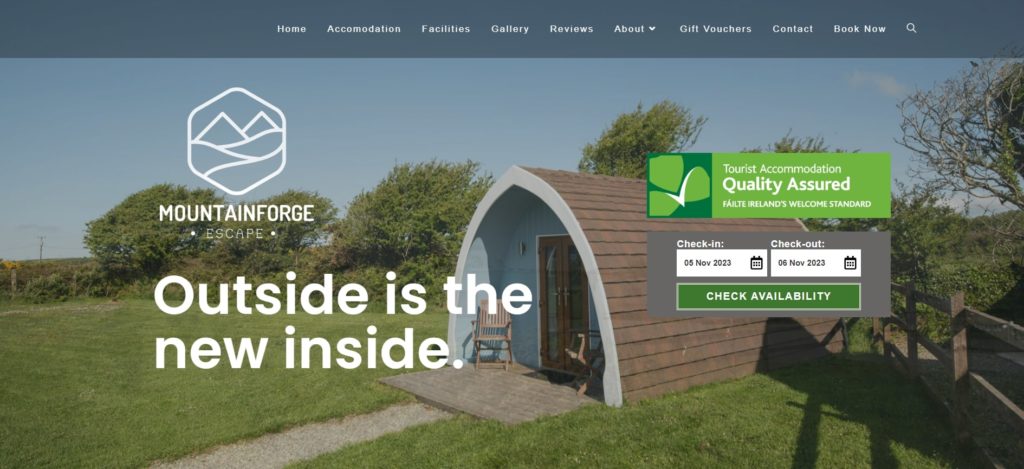 | Test | Info |
| --- | --- |
| WEBSITE | https://www.mountainescape.ie/ |
| ADDRESS | Mountain Common, Ardfield, Co. Cork, P85 XK19, Ireland |
| CONTACT DETAILS | +353 86 063 6702 |
| OPERATING HOURS | Monday - Friday: 3:00 PM - 11:00 PM |
| | |
| --- | --- |
| Camp layout | ★★★★★ (5/5) |
| Theme and ambience | ★★★★☆ (4/5) |
| Access to amenities | ★★★★★ (5/5) |
| Location | ★★★★☆ (4/5) |
| Activities | ★★★★☆ (4/5) |
| Accommodation | ★★★★★ (5/5) |
| Facilities | ★★★★☆ (4/5) |
| Variety | ★★★★★ (5/5) |
| Cleanliness | ★★★★★ (5/5) |
| Local reputation | ★★★★☆ (4/5) |
Mountain Forge Escape offers various glamping accommodations which we really love because you can choose which type suits you or your group best. There are tents, caravans, pods, or domes—and even campervan spaces with access to water!
According to some locals we talked to, Mountain Forge Escape is a favourite spot not only for tourists but also among locals. The amazing beach view and green scenery are perfect for anyone who loves a short getaway to relax.
Glamping is all about the amenities, which make it different from traditional camping. We appreciate the well-maintained facilities, especially the most used areas like the kitchen and the bathroom.
The layout is amazing as well—everything is accessible from the glamping area! There are walking trails for guests to enjoy the view as well as playgrounds for kids and pets.
Another plus for us is the friendliness of the owners—they welcome you warmly and attend to your every need. They even give you recommendations about food and other activities to do so you'll make the most of your stay.
Another feature we love is the coffee dock called The Haggart where you can get coffee and pastries. What's better than waking up to an amazing view while sipping a cup of coffee?
One problem we see though is that there are no proper paths for cars, so you have to be careful in driving around. Also, we recommend bringing your own waste bag because one small waste bag costs around €5. 
Various spacious accommodations
Comfy beds
Complete and clean facilities
Friendly owners
Pet-friendly
Near other tourist attractions
Amazing view
Coffee dock
Playground and walking trails
Friendly and safe ambience
€5 for a small waste bag
No proper paths for cars
Customer Reviews
Clean facilities and spacious accommodations
Superb facilities. I stayed in the Bell tent with my two children and they provided extra beds so I could make a double bed for each of my children. The beds were comfy and the tent was very spacious. Gorgeous lights in the tent too. Very clean facilities and the marquee with the coffee doc was fabulous. Super area to toast marshmallows too. Gorgeous scones and coffee and beautiful bunting decor. Super friendly owners. We all had a ball and will definitely be back.— Aileen O'Connor, Google Reviews
Complete amenities with an amazing view
Mountain Forge Escape is simply a beautiful place for rest and relaxation in the heart of West Cork. Ber and Connor are both warm and welcoming hosts providing a fantastic location with all the facilities you could need. Clean and comfortable, definitely worth a visit. J&J — Samantha John Allman, Google Reviews
2. Top of the Rock Pod Páirc and Walking Centre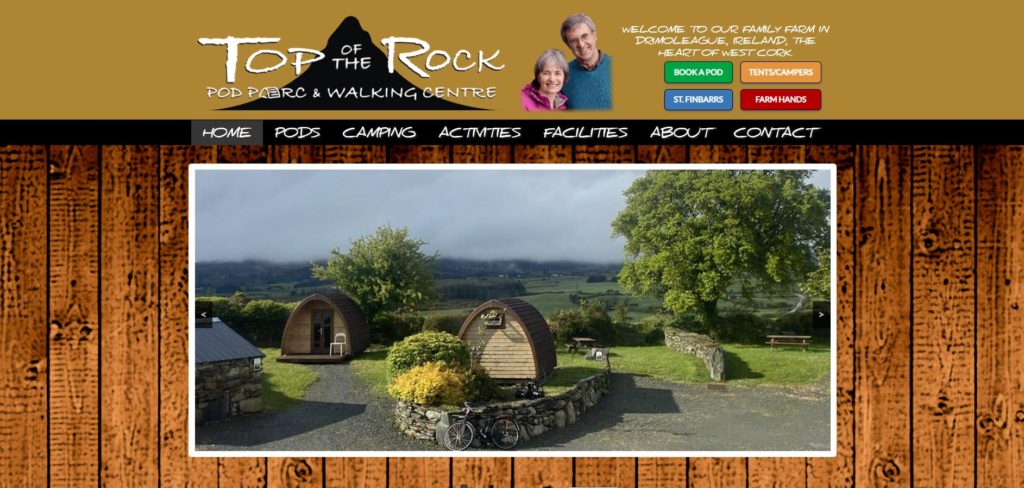 Test
Info
WEBSITE
https://www.topoftherock.ie/
ADDRESS
Dromdaleague, Cork, Ireland
CONTACT DETAILS
+353 86 173 5134
OPERATING HOURS
Monday - Saturday: 9:00 AM - 9:00 PM

Sunday - 3:00 PM - 9:00 PM
| | |
| --- | --- |
| Camp layout | ★★★★★ (5/5) |
| Theme and ambience | ★★★★☆ (4/5) |
| Access to amenities | ★★★★★ (5/5) |
| Location | ★★★★☆ (4/5) |
| Activities | ★★★★☆ (4/5) |
| Accommodation | ★★★★☆ (4/5) |
| Facilities | ★★★★☆ (4/5) |
| Variety | ★★★★★ (5/5) |
| Cleanliness | ★★★★☆ (4/5) |
| Local reputation | ★★★★☆ (4/5) |
What makes Top of the Rock Pod Páirc and Walking Centre stand out to us is the theme. It's a family-owned farm that houses several animals ready to be fed by the guests and the atmosphere that really feels welcoming from the get-go!
According to some of its guests we're able to chat with, they needed a place that's kid-friendly. And seeing the reviews about the child-friendly activities and the kindest owners pushed them to book the place—and they were glad they did!
Top of the Rock really has several activities for kids. There are farming lessons from the owner themselves, there are walking and cycling trails, and the guests can also feed the farm animals in the area!
The atmosphere is so peaceful as well! The view is stunning and the air is really fresh—definitely the perfect spot for relaxation.
We also love the availability of various types of accommodations. Whether you're a solo traveller or with a small or big group, Top of the Rock has the perfect pod for you!
Speaking of pods—we love how comfy the accommodations are. The pods are clean and they smell fresh, and the beds are really comfy, with fresh linen and all.
If you have questions around the area, don't hesitate to ask help from the hosts. They provide a lot of information including places to visit, food, and other activities you can enjoy.
The only thing that might turn you off is the muddy parking area—your vehicle will need a good washing after your vacation. Also, the animals can get a little loud at night, which might not be ideal for those who want total silence.
Kid-friendly
With animals that can be fed
Good layout
Welcoming host
Comfy and clean beds
Perfect for solo travellers
Various types of pods
Serene atmosphere
Good for walking and cycling
Farming lessons from owners
Muddy parking area
Animals can get a little noisy at night
Customer Reviews
Perfect for solo travellers
Spent a wonderful solo getaway here. The serene natural setting provided ultimate relaxation. Comfy, clean beds, delicious food, and the horse riding was a blast. Planning a return for sure. Diverse accommodations available, even for campers. A rural paradise. Kudos to David, the gracious host! Highly recommend!— Jean-Pierre Novak, Google Reviews
Family-friendly with a lot of activities for kids
Massive Thanks to David and Elizabeth for making this short visit very enjoyable.This is the place that feels like home. Words can't describe the atmosphere there. You can see and feel how loving and hardworking these people are. Thanks again and hopefully see You soon. Rooms: Very nice and cosy. Nearby activities: Plenty to do for kids. — Kalina Misiak, Google Reviews
3. Mount Hillary Holiday Pods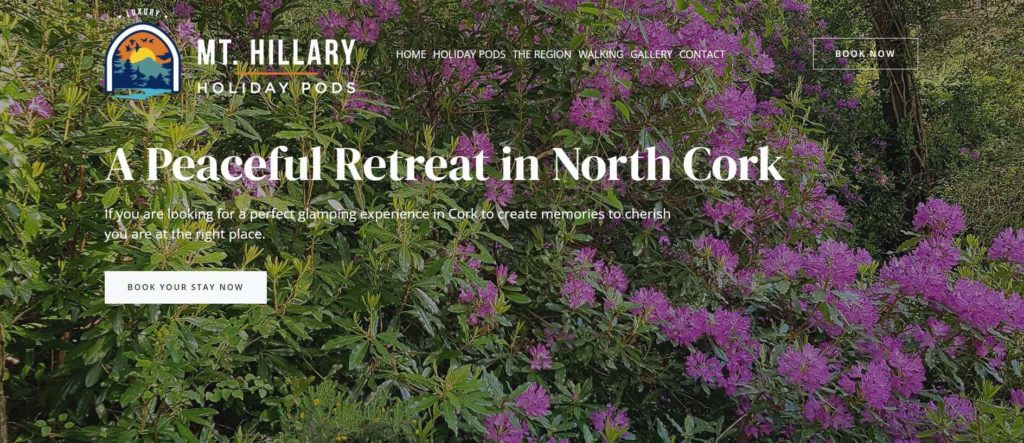 | | |
| --- | --- |
| Camp layout | ★★★★★ (5/5) |
| Theme and ambience | ★★★★★ (5/5) |
| Access to amenities | ★★★★★ (5/5) |
| Location | ★★★★☆ (4/5) |
| Activities | ★★★★☆ (4/5) |
| Accommodation | ★★★★☆ (4/5) |
| Facilities | ★★★★☆ (4/5) |
| Variety | ★★★★☆ (4/5) |
| Cleanliness | ★★★★☆ (4/5) |
| Local reputation | ★★★★★ (5/5) |
Mount Hillary Holiday Pods is conveniently located near Mt. Hillary, which explains the serene vibe of the glamping spot. We love that you can have a peaceful retreat with the beautiful scenery as your backdrop—it's really a haven for recuperation!
One thing we appreciate is that you can enjoy the walking trails. It's really the perfect spot for walking around and just communing with nature since you're surrounded by lush grounds and forest, and you can do so without the typical large crowds.
In fact, according to the guests, the privacy and the quiet atmosphere are the reasons why they booked a glamping pod. If you want a place for disconnecting and total relaxation, Mount Hillary is the perfect place for you.
We absolutely adore the sitting area at the back of the pods. You can just sit there and enjoy the view and fresh air while nursing a cup of coffee or tea, or just plain relaxing.
We also love that Mount Hillary Holiday Pods is perfect for large groups so it's family-friendly. The pod is spacious and cosy and has a fully equipped kitchen so you don't need to go out and order food—you can just cook in there!
In fact, if you're up to a barbecue, the owners will even provide you with charcoal. But just in case you want to order out, there's still a way—there's a taxi service available who can bring you to places you want to go or even get takeout for you!
Just a warning from us—you need to book months in advance if you want to experience this Mount Hillary accommodation. It tends to get fully booked whatever the season is, and advanced reservation is a must.
Peaceful and quiet ambience near Mt. Hillary
Spacious and cosy glamping pods
Fully equipped kitchen
Perfect for large groups
Accommodating hosts
Taxi service available 
Has a sitting area at the back with a lovely view
Clean pods
Walking trails around
Very private
Pods need a little bit more scrubbing
Immediately gets fully booked
Customer Reviews
Ideal for a peaceful retreat with nature
A peaceful, rural retreat, ideal for walking, touring or relaxation. At the foot of Mullach Allaire (Mount Hillary), these are spacious and comfortable glamping pods. There is also a separate fully equipped kitchen which could be very useful for a larger group. The hosts were friendly and helpful and I can fully recommend a break here.— Rhisiart H, Trip Advisor
Beautiful place to relax and disconnect
Beautiful surroundings. Ecopods are spotless, well equipped and cosy.
Kitchen has everything you could need with a lovely seating area and barbecue. Wine and toasted marshmallows around the fire pit with a starry sky above us. Surrounded by nature. Ran by a lovely couple who were so accommodating. Will definitely be back. — Mairead O'Neill, Google Reviews
4. Eyeries Glamping Pods
| | |
| --- | --- |
| Camp layout | ★★★★★ (5/5) |
| Theme and ambience | ★★★★☆ (4/5) |
| Access to amenities | ★★★★☆ (4/5) |
| Location | ★★★★★ (5/5) |
| Activities | ★★★★★ (5/5) |
| Accommodation | ★★★★☆ (4/5) |
| Facilities | ★★★★☆ (4/5) |
| Variety | ★★★★☆ (4/5) |
| Cleanliness | ★★★★★ (5/5) |
| Local reputation | ★★★★★ (5/5) |
If you ask us what makes Eyeries Glamping Pods a special glamping spot in Cork, we'll tell you this: the stunning views! The area is surrounded by scenic views such as mountains and a beach—what can get better than that?
One of the reasons why it's a favourite spot for both locals and tourists alike is the convenience of the location. Other than the stunning backdrops of nature's wonders, it's located near a village—so you can enjoy the local food as well as local activities.
In fact, there are several hiking trails and swimming spots around the area. If you find yourself exploring the village, you can enjoy other activities you can't find inside the glamping area.
Speaking of the glamping area—we love how well-maintained and charming the pods at Eyeries are. They're very clean and cosy, and also fully equipped so everything you need is within your reach—there might even be little treats inside from the host!
Speaking of the host, you'll be met with a friendly and warm host, which makes the stay even better. You can also ask her for recommendations regarding what you can do inside the glamping area or even outside of it.
The ambience is amazing—very serene and quiet. There are also animals around which gives it that typical cosy atmosphere of a farm.
The only thing we feel you might not appreciate is the limited time for hot showers, which won't be a good thing during winters. In contrast to this though, pods can get a little too warm, which isn't ideal for summers. 
Cosy and clean
Fully equipped pods
Scenic views
Close to a village
Near hiking and swimming spots
Welcoming hosts who give good recommendations
Peaceful ambience
Animals around
Limited hot-water shower (only 3 minutes)
Pods can get a little warm
Customer Reviews
Close to a village
This place is the perfect escape, such a beautiful and peaceful setting. The pods are spotless and so close to the beautiful village of Eyeries. We had a wonderful time swimming locally and hiking. The hosts were very welcoming and provided lots of recommendations to eat out, historical sites, hiking and swimming spots. We just needed to get away for a little break and this was just the ticket. Only advice is to stay more than a day or 2. — Sullivan Berre, Trip Advisor
Friendly host that gives good recommendations
We really enjoyed our stay. The host Julie was super friendly and gave us loads of helpful tips and recommendations. The pod is absolutely beautiful. It has really everything you need and is very clean. — Anne Lena Holz, Google Reviews
5. Ballyvolane House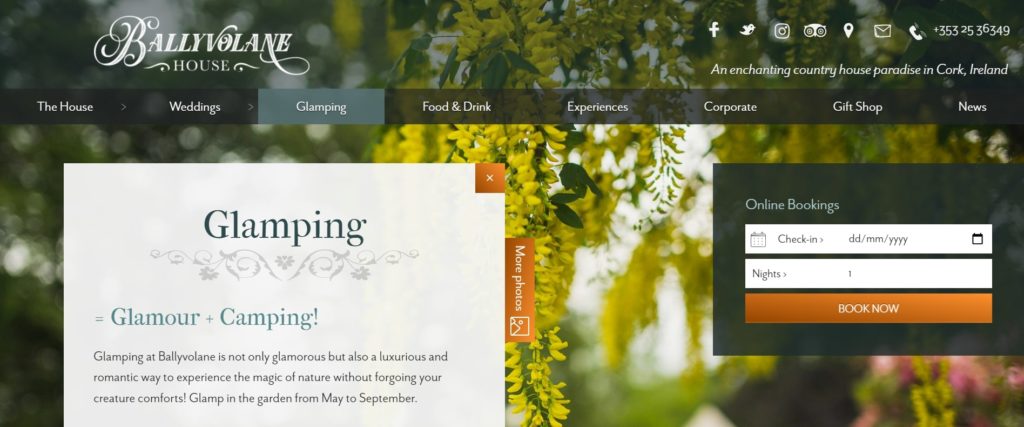 | | |
| --- | --- |
| Camp layout | ★★★★★ (5/5) |
| Theme and ambience | ★★★★☆ (4/5) |
| Access to amenities | ★★★★★ (5/5) |
| Location | ★★★★☆ (4/5) |
| Activities | ★★★★★ (5/5) |
| Accommodation | ★★★★★ (5/5) |
| Facilities | ★★★★☆ (4/5) |
| Variety | ★★★★★ (5/5) |
| Cleanliness | ★★★★★ (5/5) |
| Local reputation | ★★★★☆ (4/5) |
We need to say this—Ballyvolane House isn't very cheap, but it's definitely worth spending your first glamping experience at. In terms of luxury camping, we think the place provides some really good features for guests to enjoy.
For one, the place looks amazing! It's rustic-themed, so you can already imagine how the accommodations are—in fact, you'll even be welcomed with a Glamping Box in your unit, which is an apple crate containing bottles of water and juice, maps, and popcorn!
In addition to this, there are several types of accommodations you can choose from—tents, pods, or arks. And they have all the supplies you need.
We also appreciate that there are several activities to enjoy like badminton, table tennis, croquet ball, cycling, jogging, strolling, board games, and even clay pigeon shooting. But if you want to just relax, you can stay at the rustic barn.
It's kid–friendly as well! In fact, a babysitter is also available by advanced request just in case you need help in taking care of your kids.
We also appreciate the layout of the place. The bathrooms are close to the glamping area so even if you find yourself wanting to go in the middle of the night, you won't be inconvenienced.
The staff are very attentive and helpful as well. We appreciate that you can ask them for anything and they'll do their best to cater to them.
Just a little warning though—there are no cooking facilities in the glamping area, which is a little disappointing since that's one part of camping you might want to experience. Food is only cooked in the main house and is served there.
Fully equipped
Spacious rustic barn for relaxation
Child-friendly
Bathrooms are close to the glamping area
Wide array of glamping accommodations
Attentive and helpful staff
Glamping Box in every unit
Babysitter is available upon prior notice
No cooking facilities
Needs more gluten-free options for food
Expensive
Customer Reviews
Kid-friendly glamping spot
Really enjoyed a couple of nights glamping at Ballyvolane midweek with kids who really loved it. Nice sheltered setting for the Glampsite and the nearby showers/bathrooms are in an excellent outhouse/shed conversion. Good base for exploring with Cork City, Lismore etc relatively close by. Staff very friendly & helpful especially with boisterous toddler. In short, really nice place with really nice people. — Michael D, Trip Advisor
Amazing food and lovely surroundings
Went for an overnight break with my sister and will go back again for total relaxation and peaceful surroundings. Had a great cup of tea and delicious lemon drizzle cake when we arrived. Lovely walk in the gardens. Genuine and no nonsense hearty dinner. Slept like a log in comfy bed (with an electric blanket) Next morning, what a selection of food at breakfast (love breakfasts!!!!!) Top notch!!!!!. It was a treat, Ballyvolane House. Well done — Laura Jeffery, Google Reviews
FAQs About Glamping in Cork
---
Glamping is the best alternative for those who love the outdoors but aren't too fond of the inconveniences. For more glamping spots in other cities in Ireland, try the Top 5 Glamping Places With a Hot Tub!