The Top 5 Fitness Equipment Shops in Ireland
As a proven way to get into shape, gyms are slowly becoming more and more popular of late. With the amount of fitness equipment flooding the market night and day, how do you figure out which one's the best for you?
We have listed the shops in Ireland that can offer you everything you need for your exercise regimen – from basic weights like dumbbells and kettlebells to the equipment you miss at the gym.
How much would the standard gym equipment cost?
Setting up your gym may cost quite a bit for those who wish to take their fitness objectives to the next level. While weights are generally affordable, the equipment can cost a fair amount of money.

Here are some of the prices to look out for on your journey to set up your home gym:
| Equipment | Average Price |
| --- | --- |
| Dumbell Set | €350.00 |
| Disk Set | €300 - €600 |
| Indoor Bikes | €900 - €3000 |
| Treadmills | €4,000.00 |
| Rowing Machine | €1,200 |
Best Fitness Equipment Shops in Ireland
Equipment quality is one thing and shop reliability is another. Here are the criteria that helped us choose the shops on this list:
1. Gym Equipment Ireland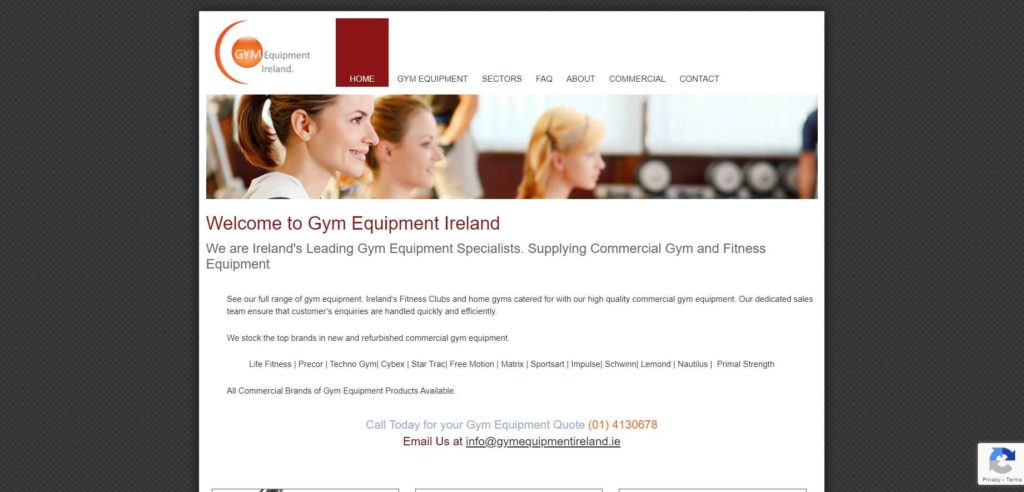 Test
Info
SERVICES & EQUIPMENT
Bikes, Cross Trainers, Resistance Equipment, Rowers, Spinning Bikes, Steppers, Treadmills, Upper Body Bikes, Weights, Power Cages, Benches, Racks, Strength Equipment, Plate Loaded
WEBSITE
https://www.gymequipmentireland.ie/
ADDRESS
Unit 42 Third Ave, Cookstown Industrial Estate, Dublin 12, D24 R2RP, Ireland
CONTACT DETAILS
Tel: (01) 4130678

Phone: +353 1 413 0678

Email: [email protected] | [email protected]

OPERATING HOURS
Mondays to Sundays

9:00 AM to 5:00 PM
| | |
| --- | --- |
| Selection | ★★★★☆ |
| Service | ★★★★☆ |
| Perks | ★★★★☆ |
| Value for money | ★★★★★ |
Gym Equipment Ireland is an expert in maximizing your budget to provide you with the most compatible equipment for your workout needs.
We love how they offer clients a free consultation to assess what kind of equipment they need for their home gym right off the bat. From there, they'll curate a list of items you need and even offer you a deal to cut costs!
Gym Equipment Ireland gets their stocks from reputable brands such as Life Fitness Equipment, Cybex Gym Equipment, Technogym, Stairmaster, Precor Fitness, Nautilus, HAMMER, Star Trac, and Matrix Equipment.
Their products come with manufacturer warranties and even offer extended warranties should you need them. Their short delivery lead time of 5 to 20 days earns them plus points from us too!
However, unlike other equipment shops, Gym Equipment Ireland is limited to just the equipment. They don't have other gym building services like floor installations and gym designs, which would have been great to have.
But if you're looking for just the equipment or additional pieces to complete your home gym, then definitely check Gym Equipment Ireland out!
Short delivery time
Partnered with known and quality brands
Affordable equipment
No Sunday operations
Limited to equipment only
Customer Reviews
Supplies only the highest quality equipment
"I have worked with Graham on a number of projects and have found him to have an in-depth knowledge of the Leisure Industry in Ireland. Any products/machines he has supplied me with are of the highest quality. Graham is reliable and trustworthy, and I would gladly recommend him." – Paul Condron
Expert craft
"Graham has delivered and assembled a heavy power rack for me this week. It was an added difficulty as it was a folding, more complex design with a pulley attachment. He has done a fantastic job and was a pleasure to deal with. You can immediately tell he's done it hundreds of times before – considering the manual that came with the rack was more of a guide with confusing drawings. I can 100% recommend Graham's company services for any job, big or small." – Adam, Google Reviews
2. Fitness Equipment Ireland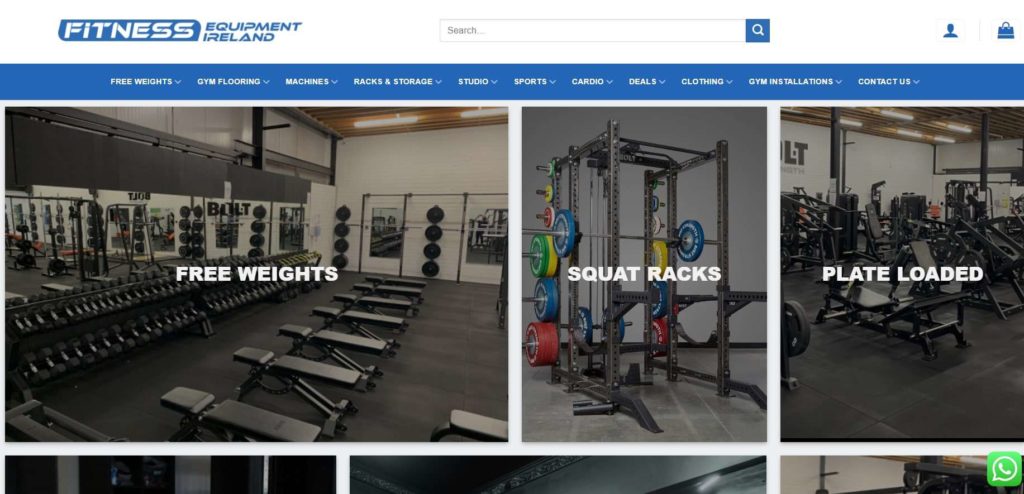 Test
Info
SERVICES & EQUIPMENT
Dumbbells, Weight Sets, Kettlebells, Rubber Gym Flooring, AstroTurf, Weight Lifting Platforms, Weight Stack Machines, Plate Loaded Machines, Dual Adjustable Pulley, Bodyweight Machines, Cable Attachments, Modular Racks, Crossfit Rig Attachments, Squat Stands, Gym Storage, Treadmills, Spin Bikes, Exercise Bikes
WEBSITE
https://www.fitnessequipmentireland.ie/
ADDRESS
Unit 1, Kylemore Park West, Dublin 10 D10WC62, Ireland
CONTACT DETAILS
Tel: (01) 8167510

Sales Team Email: [email protected]

Customer Services Email: [email protected]

OPERATING HOURS
Mondays to Fridays

9:00 AM to 5:00 PM

Saturdays

10:00 AM to 2:00 PM
| | |
| --- | --- |
| Selection | ★★★★★ |
| Service | ★★★★★ |
| Perks | ★★★★★ |
| Value for money | ★★★★☆ |
Fitness Equipment Ireland, despite being new to the industry, is one of the biggest fitness equipment providers in the country.
What we love about them is that they have a great scope of gym equipment for your home, which include exercise bikes, rowing machines, and treadmills. Because of this, they've become one of the go-to suppliers of both commercial and home gym owners.
Adding to the trust of their clientele are their long-time warranty services. That's 5 years post-sales for cardio equipment and 1 year for general equipment.
Looking for something different? Aside from their broad range of notable brands offered, Fitness Equipment Ireland is the only retailer of Bolt Strength and Bolt Cardio in both Ireland and the UK.
Admittedly, it would have been great had they put up more deals on their website. Currently, they offer promos for weights and similar items which would be helpful for beginners, but not so much for veterans.
Overall, Fitness Equipment Ireland would be an easy pick for anyone looking to build a gym from scratch or someone who wants to do an overhaul. The one-stop-shop nature of their business is one of the factors that piqued our interest after all!
One-stop shop for gym building
Offers 5-year warranty for cardio equipment
Has a broad range of services
Deliveries have a 4-7 day lead time
No operations on Sundays
Has been in the industry for a short time
Customer Reviews
Buy with confidence
"Great prices, quick delivery, customer service was excellent! My bench arrived faultily but they were quick to replace it. When the replacement arrived slightly damaged they replaced that too, promptly and without issue. Buy with confidence." – Eoin Mc D
Amazing team
"From start to finish everything has been so simple, Joe & his team are brilliant to deal with, listened to what I was looking for and helped me design my own gym with the measurements I gave them and layout. I couldn't be happier and will continue to deal with them and the quality on offer." – Sean Mulhall
3. McSport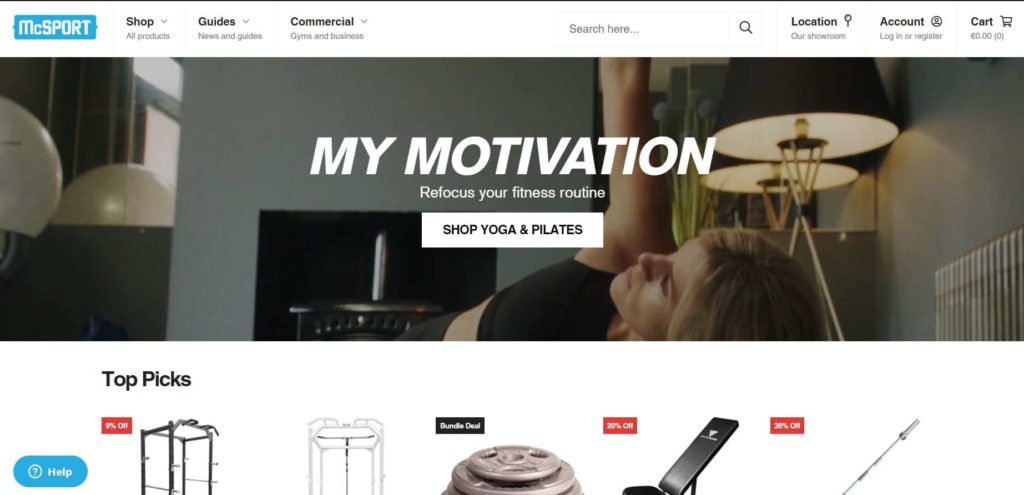 Test
Info
SERVICES & EQUIPMENT
Weights Equipment, Benches & Racks, Cardio Equipment, Performance & Functional Equipment, Yoga & Fitness, Boxing Equipment, Tennis Equipment, Basketball Equipment
WEBSITE
https://www.mcsport.ie/
ADDRESS
Robinhood Industrial Estate, Unit 4, Robinhood Rd, Dublin 22, D22 A4P8, Ireland
CONTACT DETAILS
Tel: +353 (01) 293 0005

Email: [email protected]

OPERATING HOURS

Mondays to Thursdays

9:00 AM to 6:00 PM

Fridays to Saturdays

9:00 AM to 5:00 PM

Sundays

10:00 AM to 4:00 PM
| | |
| --- | --- |
| Selection | ★★★★★ |
| Service | ★★★☆☆ |
| Perks | ★★★★★ |
| Value for money | ★★★★☆ |
Established in 1980, McSport is one of the longest-running fitness equipment retailers trusted by veterans to provide standard equipment.
Their accessible online shop offers clients choices from weights to sports equipment. We love how you can go to their showroom in person and get whatever you need from them through their website!
Other than their expansive choices of standard equipment, McSport is most known for its gym installations. They provide customized gyms to anyone who can afford them and are always willing to go the extra mile to be able to keep up with their prestigious clients' wishes.
McSport takes great pride in installing state-of-the-art equipment within some of Ireland's most renowned sporting complexes, along with companies and hotels, as well as universities – even Google, Microsoft, and GAA headquarters!
However, based on multiple reviews, their delivery services aren't the best out there. When ordering from their shop, you might have to go through a follow-up or two to avoid long delays.
If a time-tested service is your priority when seeking out a fitness equipment retailer, contact McSport. They even have consultation services that you can avail of to make sure that your gym fits your needs to a tee!
Serviced Ireland for over 40 years
Past clientele include major brands like Google and Microsoft
Long delivery lead time
Customer service isn't the best
Customer Reviews
Knowledgeable staff
"We bought a treadmill and boxing bag from Abbey, who was amazing. She was upfront and told us everything we needed to know about our products. The place itself has a lot of equipment displayed, Definitely will be back. Thank you." – Ciaran Murrihy
Responsive and hands-on
"Delighted with a recent order for cardio & strength kit from McSport to upgrade my home gym. In uncertain times salesman David Hynes was responsive, informed, and prioritized requirements with excellent communication – will definitely recommend and be a regular customer." – Dean Sherry
4. Expert Leisure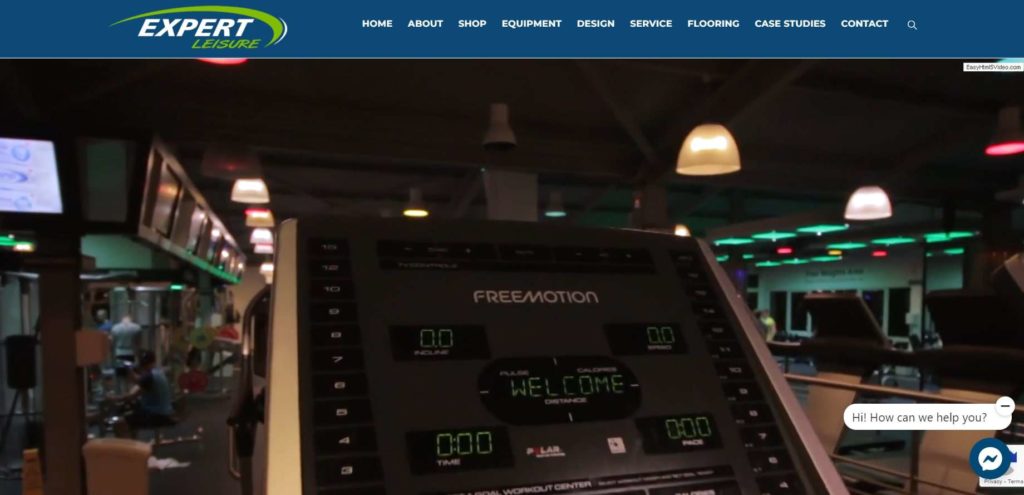 Test
Info
SERVICES & EQUIPMENT
Cardio, Strength, Freeweight, performance & Functional, Studio & Accessories, Boxing, Accessible & Rehab, Design, Flooring
WEBSITE
https://www.expertleisure.ie/
ADDRESS
Expert Leisure, Unit J1/J2 Greenogue Business Park, Rathcoole, Co. Dublin, D24 XT26
CONTACT DETAILS
Tel: (01) 401 9774

Email: [email protected]

OPERATING HOURS
Mondays to Fridays

9:00 AM to 5:00 PM
| | |
| --- | --- |
| Selection | ★★★★☆ |
| Service | ★★★★★ |
| Perks | ★★★★☆ |
| Value for money | ★★★★☆ |
Expert Leisure is one of the few award-winning providers of fitness equipment to businesses and homes.
So, if you're currently looking for a reliable partner for commercial and residential gym equipment, gym flooring, and more, then they are an excellent choice!
As a 5-time Ireland Active 'Fitness Equipment Supplier of the Year' awardee, Expert Leisure provides its clients with high-end equipment – all thanks to their established excellent relationships with renowned brands such as Freemotion, SportsArt, Keiser, Octane, Stairmaster, and Brewer & RealRyder!
A lot of people might find planning and designing boring, but we love how dedicated these guys are to making sure you're set with all the gym equipment and tools you need under one roof.
What sets them apart from others is their 24/7 support hotline. If a technical problem is complicated, customers can rest easy knowing that the team will do their best to resolve it without having to wait for days on end.
If we had to nitpick something about them, it would be the limited mention of warranties on their website. This information could greatly help clients decide on the maintenance of any equipment on hand.
24/7 support hotline
5-time Ireland Active 'Fitness Equipment Supplier of the Year' awardee
No office operations on weekends
No mention of warranties
Customer Reviews
Efficient and helpful
"I bought a Keiser M3i bike from Expert Leisure and I found this company extremely efficient and helpful. I had a very bad experience with a company Prima Fitness Ltd based in Londonderry ordered the Keiser bike in January and never arrived. So this time I went ahead and visited Expert Fitness in Rathcoole to check out their bikes. Once I paid for the bike, extremely prompt delivery and the courier service they used was excellent and the bike was perfect." – Audrey Burkley
Top Class in all respects
"Just brought a new Keiser spin bike from EL. All my dealings were by email with Tracey who was top class in all respects. I wanted certain changes/upgrades that she handled highly efficiently and delivered on everything she said she would do. I purchased it yesterday and it was delivered today! 5 stars all the way." – Keith Lowe
5. FITTR Life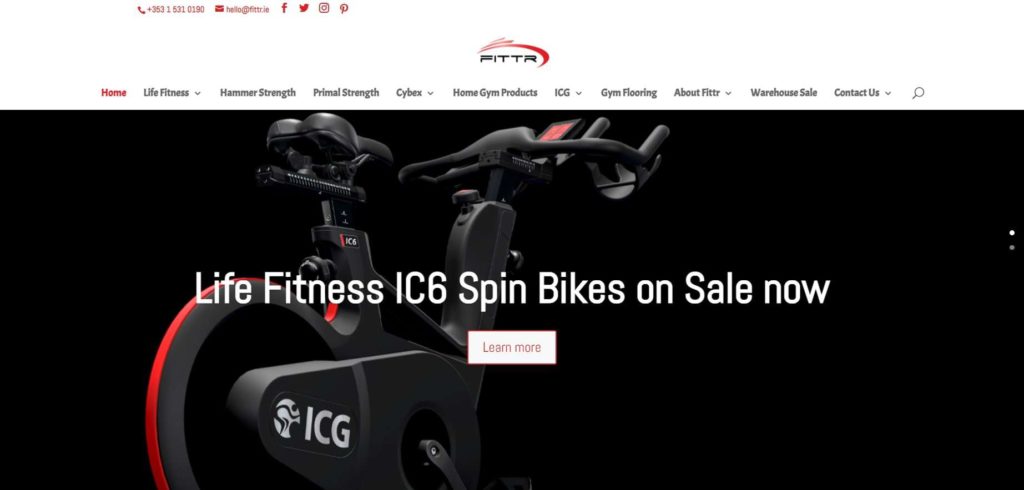 Test
Info
SERVICES & EQUIPMENT
Guinness, Vodka, Scotch, Gin, Whiskey, Brandy, Wine, Single Malts, Pot Stills
WEBSITE
https://kehoesdublin.ie/
ADDRESS
Fittr Life Ltd, Universal Innovations Building, Creowen Road, Kilcoole Industrial Estate, Kilcoole, Co. Wicklow, Ireland, A63 DX27
CONTACT DETAILS
Tel: +353 1 531 0190

Email: [email protected]

OPERATING HOURS
Mondays to Fridays

9:00 AM to 5:00 PM
| | |
| --- | --- |
| Selection | ★★★★★ |
| Service | ★★★★☆ |
| Perks | ★★★★☆ |
| Value for money | ★★★★☆ |
FITTR Life is an Ireland-borne fitness equipment provider focused on helping their customers get into shape by providing them with the latest in fitness technology.
What we love the most about FITTR Life is their dedication to improving their range of equipment selection. In fact, FITTR Life has formed strong partnerships with top-of-the-line and well renowned brands in the global fitness, leisure, and health markets, including: Life Fitness, Hammer Strength, Cybex, ICG among others.
To make sure that you get the most out of your gym, FITTR Life is offering a range of valuable extras including a free equipment consultation quote. From the initial design of your facility to the placement of its equipment, they've got your back!
Worried about the longevity of your equipment? Not to worry because FITTR Life offers service contracts as a preventive measure against the great costs of having your equipment breaking down all of a sudden.
They offer 3 levels of contracts that lasts for a year and includes regular check up call-outs to make sure that your equipment is good to use!
Be that as it may, we would have loved to have seen the product warranty they offer their clients as this could be the deciding point for their service contracts.
Offers free quotation for gym design and equipment
Prioritizes equipment health
In-depth equipment descriptions provided on their pages
No weekend operations
No warranty information on their website
Customer Reviews
Helpful in picking the right equipment
"Purchased a DKN XC 160i elliptical from Fittr Life last month. Gordon and Robert were very helpful from advice on choosing the right piece of equipment through ordering and finally shipment. If your looking for good quality home fitness equipment competitively priced than look no further than Fittr Life." – Brian Woods
Helpful and very prompt
"Delighted to see Fittr are exclusive suppliers of Primal Strength gear. Had the pleasure of doing business with Fittr recently, very helpful, courteous, and kept up to date with a very prompt delivery. I shall be revisiting." – Ed Doyle
FAQs about Fitness Equipment
---