The 8 Best Tattoo Studios in Dublin
Whether it's a small piece on your wrist or a full sleeve down the length of your arm, tattoos can be a great way to express yourself. That is, of course, when it's quality ink that's not botched!
Getting a tattoo can be intimidating. It requires a lot of trust between client and artist.
To help save you the misery of a bad ink job, we put together a list of the best tattoo studios in Dublin and checked them out for you.
Tattoo Costs
A quality tattoo can be expensive, but with proper preparation and canvassing you should be able to find something for you.
To help you plan your budget and have a better understanding of pricing, we've made a table of the minimum prices for small and simple tattoos at each of these studios.
| Tattoo Studio | Minimum Price |
| --- | --- |
| Skin City | €80 |
| Reinkarnated | €80.00 |
| The Ink Factory | €70 |
| Dublin Ink | €80 |
| Colour Works | €60-€80 |
Top Tattoo Parlors in Dublin
Getting a tattoo can be intimidating because they'll be on your skin forever. To make sure you get only the best, we evaluated these tattoo shops based on the following criteria:
1. Skin City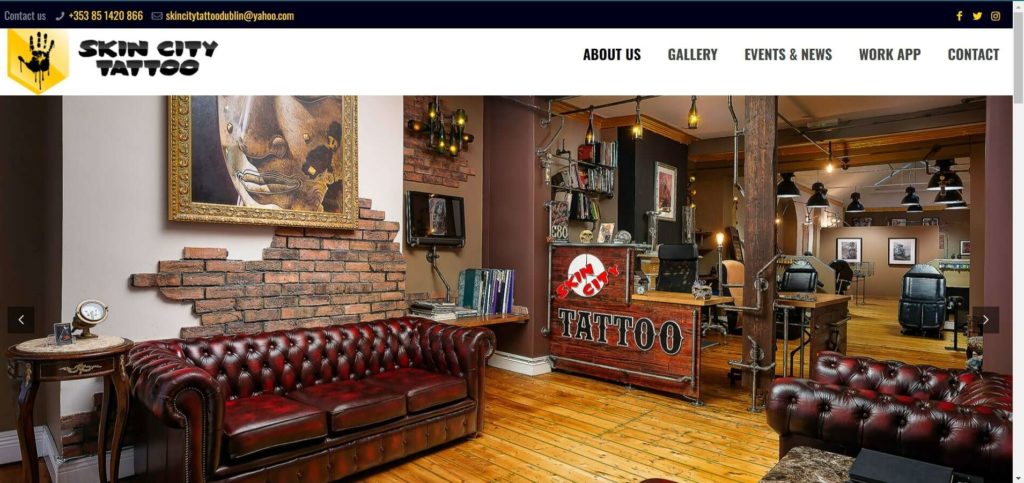 | Test | Info |
| --- | --- |
| SERVICES | Custom tattoos, tattoo laser removal, piercing |
| WEBSITE | https://skincitytattoodublin.ie/ |
| ADDRESS | 4 Ormond Quay Lower, North City, Dublin 1, Ireland |
| CONTACT INFORMATION | +353 85 1420 866 |
| OPERATING HOURS | Tuesday-Saturday 12-7PM |
| | |
| --- | --- |
| Studio | ★★★★★ (5/5) |
| Artists | ★★★★★ (5/5) |
| Customer Service | ★★★★☆ (4/5) |
| Price | ★★★★☆ (4/5) |
| Customer Satisfaction | ★★★★★ (5/5) |
Skin City Tattoo has been winning awards at local and international tattoo conventions since 2003. That's a pretty good indication of just how good they are at what they do, we think.
Anyway, they specialize in custom tattoo design, custom drawing, and tattoo laser removal. They also offer piercing and replacement services.
They do not charge extra for custom design, as consultations are already included in the price. You pay only for the time it takes to tattoo you, which we think is great, so clients don't get any surprises when it's time to pay up.
They have nine artists who specialize in a wide range of styles, including fine line, experimental, abstract, realism, surrealism, and watercolor, among others. We loved having a variety of options!
Their talented artists have their portfolios up on their website for viewing. We love this because it makes it easier for interested clients to choose an artist with a style that matches their personal aesthetic.
Prices vary according to size, placing, and artist, with the minimum charge for a tattoo at Skin City being €80. We find this to be standard pricing in Dublin.
One thing we should note about Skin City is that they only accept cash and do not accept payment via debit or credit card. We think this may be a little outdated in an ever-growing cashless society.
The interior of Skin City Tattoo is absolutely gorgeous and pristine, so you never have to worry about hygiene. They also had strict protocols for COVID-19, which we believe tells a lot about their policies on cleanliness and safety.
Their artists are all very professional and friendly, with clients praising them for the attention and care they give clients about how they envision their custom design.
Although they do accept walk-ins whenever possible, it's best to set an appointment with them so you have ample time to discuss your design. You can contact them via phone, email, or on their website.
Wide range of styles
Strict safety practices
No extra charge for custom design
Offers tattoo laser removal
Customer Reviews
The experience I had here was prefect! The artist called Taker that I thanks a lot made a beautiful tattoo and we discuss the whole time ! I really enjoyed the place and recommend it for the people that want to have a tattoo and a great souvenir from Dublin😎 On top of that the location's style is really good and well made (I found the decoration very nice, old industrial), the mood of the place will make you forget the time you spend in it 🤟🏼Thanks again to Skin City Tattoo, you guys are so nice ! -Jan Hublart
Skin City is a professional, friendly and clean tattoo parlour that delivers high quality tattoos. My friends and I were able to get walk-in tattoos the same day by an artist that was attentive, efficient and highly talented! For two of my friends it was their first tattoo, and they found it quick, easy and painless! Thank you Skin City:) -Saa Bee
2. Reinkarnated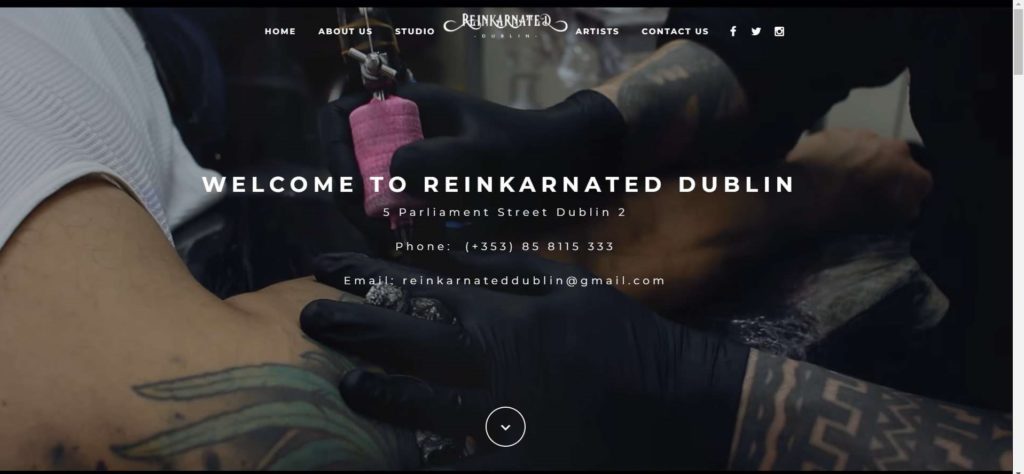 | Test | Info |
| --- | --- |
| SERVICES | Custom tattoos, ready-made tattoos |
| WEBSITE | http://reinkarnateddublin.com/ |
| ADDRESS | 5 Parliament St, Temple Bar, Dublin 2, D02 K029, Ireland |
| CONTACT INFORMATION | (+353) 85 8115 333 |
| OPERATING HOURS | Mon-Sat 11-7pm, Sun, 12-6pm |
| | |
| --- | --- |
| Studio | ★★★★★ (5/5) |
| Artists | ★★★★☆ (4/5) |
| Customer Service | ★★★★★ (5/5) |
| Price | ★★★★☆ (4/5) |
| Customer Satisfaction | ★★★★★ (5/5) |
Since 2011, Reinkarnated has been offering high quality ink work at affordable prices.
Their artists offer a variety of styles: tribal, black & grey, old school, new school, biomechanical, lettering, portraits, realism, Asian, and cartoon.
This gives potential clients a range of styles to choose from for their personal tastes. Their website has links to each artist's Instagram page, where you can see a portfolio of their work.
Their studio is also stunning and very well-maintained, which we believe is one of the most important factors to take into consideration.
What we love most about Reinkarnated is how welcoming, friendly, and professional the environment is. Clients have raved about their consultations where the artist was incredibly encouraging about the design and patient about any anxiety.
Their mission is to be "the friendliest, most professional and hygienic tattoo studio you could imagine." We applaud their efforts because it seems to have paid off.
Customer satisfaction with Reinkarnated is through the roof, with plenty of clients returning for following tattoo sessions. Tattoo work requires a lot of trust, and Reinkarnated delivers.
However, we should note that there are no women resident artists. We would prefer more diversity, especially for women clients who may not be comfortable being tattooed by a man.
You can book an appointment via phone, email, or on their website. They are located on Temple Bar, which makes the studio easy to locate and hassle-free.
Wide range of styles
Encouraging artists
Easy to navigate to
Customer Reviews
Quite frankly an astounding service. Went in for a consult, the tattoo artist Sean was very encouraging to my tattoo idea and the front of house Mary was exceptional. Had to change tattoo date, no issues at all. On tattoo day (full day) were extremely nice and the final result is nothing short of breath-taking. Cannot say enough good things about them.If you want the tattoo you've always wanted but never had the gusto to get; go here. -Gavin Folens
I have had 4 tattoos done here over the past 4 months and am blown away by how good these guys are. From the minute you walk in the front door to the minute you leave you are treated professionally and friendly every step of the way. Would recommend these guys all day long for first timers or experienced people alike. -Adrian O'Dea
3. The Ink Factory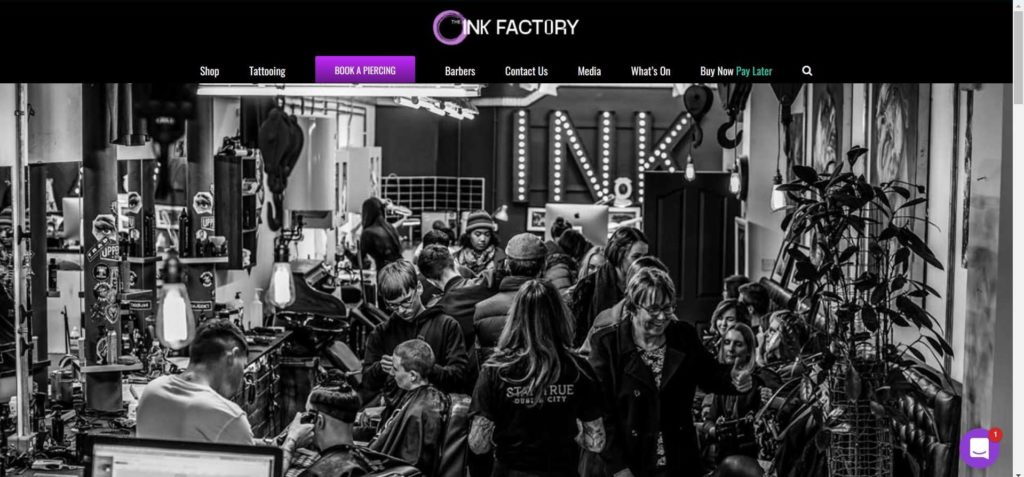 | Test | Info |
| --- | --- |
| SERVICES | Custom tattoos, piercings, barbers |
| WEBSITE | https://www.theinkfactory.ie/ |
| ADDRESS | 15 Wellington Quay, Dublin 2 / 19 Parliament Street, Dublin 2 |
| CONTACT INFORMATION | +353 16708641 |
| OPERATING HOURS | Daily 11AM-7PM |
| | |
| --- | --- |
| Studio | ★★★★★ (5/5) |
| Artists | ★★★★★ (5/5) |
| Customer Service | ★★★★★ (5/5) |
| Price | ★★★★☆ (4/5) |
| Customer Satisfaction | ★★★★★ (5/5) |
The Ink Factory in Dublin is another well-known and well-loved tattoo parlor in the heart of Dublin.
Their range of styles include geometric, traditional, neo-traditional, dot work, Japanese, fine line, and single needle tattoos. They specialize in custom design work, so don't hesitate to let them know what you need.
They have a large team of resident artists, each with something unique to offer. We would like to commend them for having four women artists on the team, which could potentially be more comfortable for some women clients.
We also love that some of their artists are vegan and offer fully vegan set-ups. All you need to do is request it as you book your appointment.
The tattoo salve they give for aftercare is also 100% natural and vegan-friendly. We love their attention to detail when it comes to their clients' comfort and personal ethics.
They do take walk-ins for smaller pieces, but if you have a larger piece in mind we recommend booking an appointment as these are usually quite time-consuming.
Minimum charge at The Ink Factory is €80, but we should note that prices will vary according to size, style, and placement.
They charge per piece and not with an hourly rate, which we think is appropriate as some tattoos and consultations may last longer for various reasons such as anxiety and pain thresholds.
Their mission statement is rooted in kindness and compassion, which we believe is shown quite clearly in the way they treat their clients with utmost care and understanding.
The Ink Factory's website is also full of important information about their work. We recommend checking out to book your appointment.
Large team of artists
Diverse team
Offers vegan-friendly options
One of the more expensive studios in the city
Customer Reviews
My wife and I came to Ireland on honeymoon and stopped into The Ink Factory to schedule appointments for tattoos since the ratings were so high. Let us tell you, the high ratings are deserved. Everyone there was so friendly. We were able to make appointments for tattoos when it fit our schedule. Our tattoo artist, Sham, took my wife's raw sketch of our tattoos and turned them into exactly what we envisioned. He was so professional, so friendly, so talented and so clean! We love our tattoos and the service we received and would highly recommend him and this shop to anyone!! -Ryan Brown
Such a friendly in-store experience. Tattoo session was easy breezy and a lot of fun. Sham is a total sweetheart with tonnes of experience and artistry. He did two small tattoos for me and one for my sister, and we already can't wait for more. Thanks Ink Factory! 🙂 -Brefni Holahan
4. Dublin Ink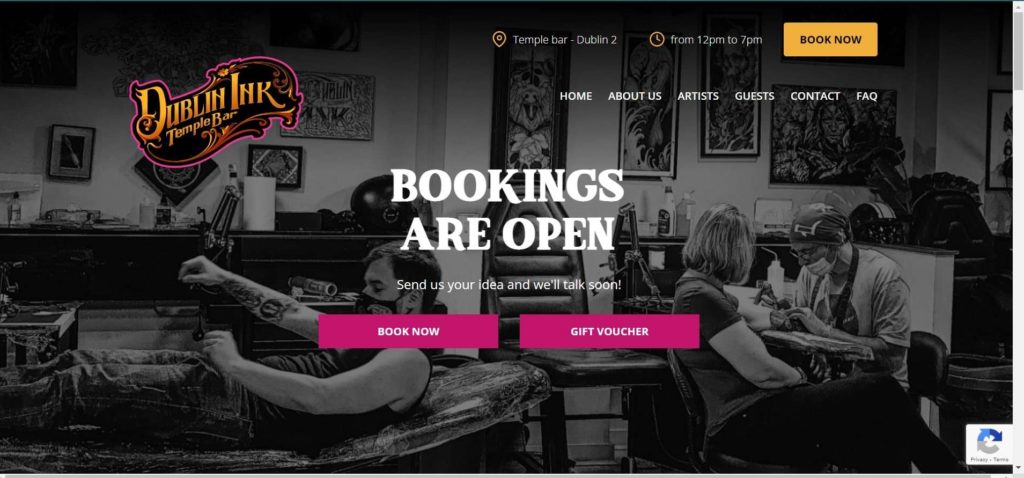 | Test | Info |
| --- | --- |
| SERVICES | Custom tattoo |
| WEBSITE | https://www.dublininktattoo.com/ |
| ADDRESS | Cows Lane, Temple Bar, Dublin 2, Ireland |
| CONTACT INFORMATION | 353 1 6718888 |
| OPERATING HOURS | Daily 12-7PM |
| | |
| --- | --- |
| Studio | ★★★★★ (5/5) |
| Artists | ★★★★★ (5/5) |
| Customer Service | ★★★★☆ (4/5) |
| Price | ★★★★☆ (4/5) |
| Customer Satisfaction | ★★★★★ (5/5) |
Dublin Ink opened in 2009 with the goal of giving their clients a fully personalized experience.
They are an entirely custom studio, which means they do not provide ready-made pieces for their clients. They would like each tattoo to be unique and include the voice of the client in their work.
Although a consultation isn't necessary for smaller pieces, we recommend going for one if your desired tattoo is big or intricate. You can visit their studio for a consultation and booking, or you can send them an email.
They have ten resident artists, four of which are women. We love the diversity, and the fact that this gives women the option to choose a fellow woman to work on their body if that would make them more comfortable.
Their team is composed of professional, kind, and welcoming artists who do all they can to make sure you are comfortable and happy throughout the experience.
Because they are a custom studio, they charge by design. Prices start at €80, and their day rates range between €700 to €900, which we do find a little expensive.
However, we should note that they do not accept payment via credit or debit card. We think this may be troublesome for some people who often go cashless.
Dublin Ink is also a very busy studio. We recommend booking an appointment well ahead of time to secure your time slot.
They are also right in the heart of Dublin on Temple Bar, which makes it a very convenient location for almost anyone.
Easy-to-find location
Diverse team
Cash only
One of the more expensive studios in the city
Customer Reviews
I have to say that Rob Kanys did an amazing Job with my tattoo, It was better than my own expectations. I would recommend Rob and Dublin Ink as a whole as all their staff are friendly and so polite. The after care when dressing the tattoo is high standard. Thank you! -Levon Shields
I came here during the culture night, it was my first time in a tattoo parlour, the space was neat the vibe was excellent free drinks and food flowing, a long queue of guest, 2 clients getting their tattoos done and were nice enough to let us watch 😊. The staff were so friendly, nice and patient showing us how to make tattoos on bananas I thought it was pretty awesome, they had kids tattoos too that day and the energy was on point.
I love my time here and thank you for being part of culture night -Aisha Ngada
5. Colour Works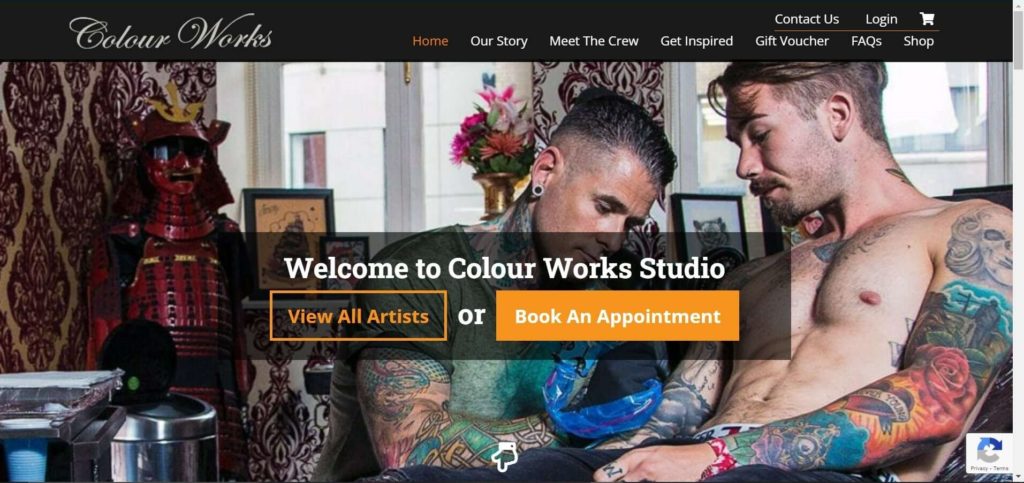 | Test | Info |
| --- | --- |
| SERVICES | Custom tattoo |
| WEBSITE | https://colourworks.ie/ |
| ADDRESS | 30 Ormond Quay Lower, North City, Dublin 1, D01 VK22, Ireland |
| CONTACT INFORMATION | +353 1 872 7589 |
| OPERATING HOURS | Tuesday-Saturday 12-6PM |
| | |
| --- | --- |
| Studio | ★★★★★ (5/5) |
| Artists | ★★★★☆ (4/5) |
| Customer Service | ★★★★★ (5/5) |
| Price | ★★★★☆ (4/5) |
| Customer Satisfaction | ★★★★★ (5/5) |
Colour Works is a fully custom studio in Dublin that has been inking since 2004.
They have eight resident tattoo artists who specialize in a range of styles: Japanese, black & grey, realistic, traditional, pop culture, neo traditional, dot work, ornamental, fine line, and single needle.
On the fairly large team, there are 5 female artists. One is Rachael who is the manager of the studio and 4 regular guest artists namely Daria, Becca, Yvonne and Rebekah.
The studio's minimum charge is between €60-€80, which is a little cheaper than other studios. Full day sessions are charged at €120 per hour, although some artists prefer to charge by piece.
We prefer those that charge by piece, because a number of external factors can affect the duration it takes to get a tattoo. We should note that in this list, Colour Works is the only studio that charges by the hour.
The studio itself is beautiful and very clean, which is crucial for clients' safety and hygiene. They try to accommodate walk-in customers, but it is best to book an appointment to ensure you have a time slot.
The team of artists are friendly and professional, in our experience. Other clients agreed, stating they also found that the artists try to keep you happy and at ease all throughout your session.
They're also very easy to contact, which is another plus for them in our book. You can book an appointment with them fairly quickly through their phone, email, or website.
Offers cheaper minimum charge for the city
Large team of artists
Customer Reviews
Over the moon with how these beautiful flowers by Evan Byrne turned out. It's an incredibly sentimental tattoo and means to much to me so I'm so happy that it turned out so well. The shop is great as well. Everyone is so friendly and easy to talk to and do a great job at making you feel welcome and comfortable at all times. Can't wait for my next visit. -Aaron Murtagh
Came here to ask how long it usually takes to get an appointment for a small tattoo and Evan immediately found time for me. It was my first tattoo so he was really nice, explained what he was doing and took his time to place it perfectly. The result was just great and I am absolutely in love with it. -Tamara Urach
6. Wildcat Ink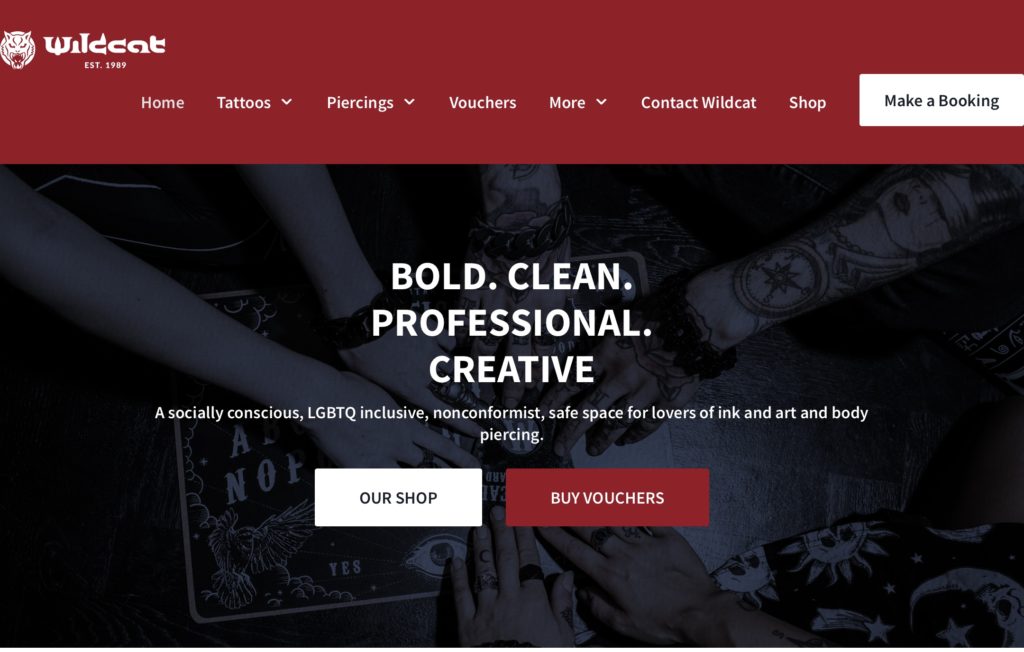 Test
Info
SERVICES
Custom tattoos and piercings
WEBSITE
https://wildcat.ie/
ADDRESS

Temple Bar Studio - Eustace Street




Jervis Street Studio




South William Street Studio

CONTACT INFORMATION
+35314784273
OPERATING HOURS
By appointment basis
| | |
| --- | --- |
| Studio | ★★★★★ (5/5) |
| Artists | ★★★★☆ (4/5) |
| Customer Service | ★★★★☆ (4/5) |
| Price | ★★★★☆ (4/5) |
| Customer Satisfaction | ★★★★★ (5/5) |
Our experience at Wildcat Ink left us feeling inkredible from start to finish.
This place is a plethora of creative talent, offering everything from traditional designs that make you swoon, to mind-bending geometric masterpieces that'll leave your friends in awe.
They have a magical touch when it comes to portrait tattoos, immortalizing your designs on your body without the awkward conversations at family reunions.
Convenience is the name of the game. Wildcat Ink is like a tattoo oasis in the desert of your busy life, which blew us away.
We love that they have flexible appointments and a cozy atmosphere. They make it as easy to get that fabulous ink you've been dreaming about.
Plus, they're conveniently located near all the hippest coffee shops, so you can sip a coffee while pondering your design.
Their artists are also a talented bunch, boasting a combined experience that would make even Van Gogh blush. The studio buzzes with positive vibes, and you can tell they care about their craft, which thoroughly impressed us.
Moreover, Wildcat Ink has found the holy grail of affordable tattoos without sacrificing quality. They offer fair prices that won't leave you with an empty wallet.
Stellar reputation
Expert tattoo artists
Budget-friendly tattoo options
7. Live Fast Tattoo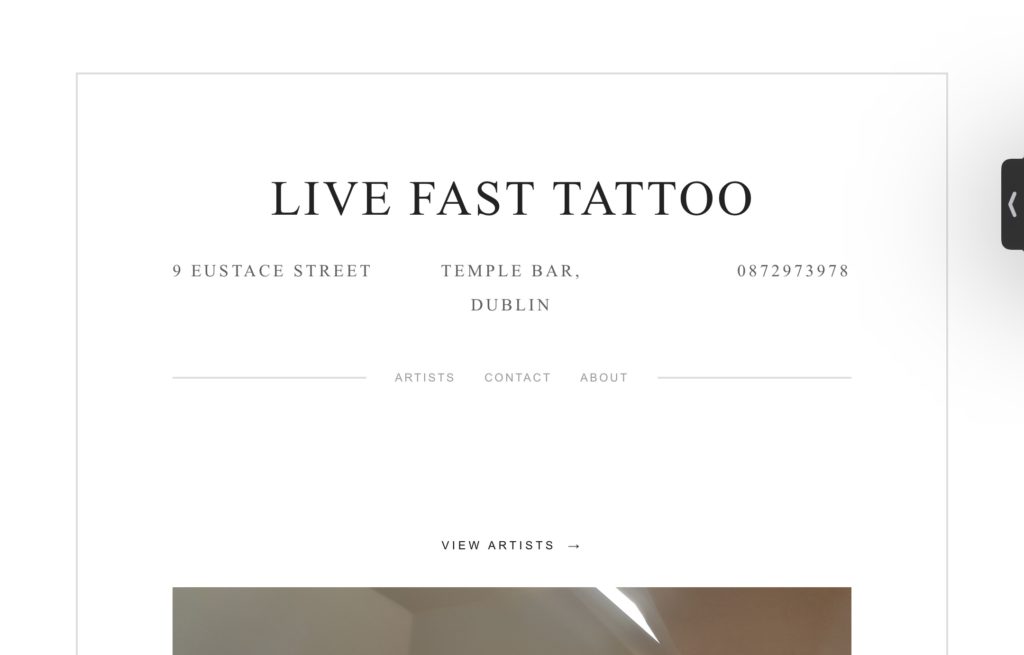 | Test | Info |
| --- | --- |
| SERVICES | Custom Tattoo and Tattoo Removal |
| WEBSITE | https://www.livefasttattoo.com/ |
| ADDRESS | 9 Eustace Street Temple Bar, Dublin |
| CONTACT INFORMATION | 0872973978 |
| OPERATING HOURS | Monday-Friday 9 PM – 5 PM |
| | |
| --- | --- |
| Studio | ★★★★★ (5/5) |
| Artists | ★★★★☆ (4/5) |
| Customer Service | ★★★★☆ (4/5) |
| Price | ★★★★☆ (4/5) |
| Customer Satisfaction | ★★★★★ (5/5) |
Our experience with Live Fast Tattoo left a lasting mark, and we're eager to share our thoughts on their exceptional services.
From the moment we stepped in, their professional artists made us feel like the canvas was our personal story waiting to be told.
Convenience is a cornerstone here. With a strategically placed studio in the heart of the city, reaching them was a breeze.
No more trekking through the urban jungle to find quality ink.
Their reputation precedes them—and rightfully so.
We joined their growing list of satisfied clients who have experienced impeccable craftsmanship.
Clean lines, vibrant colors, and intricate details—they master it all.
As for cost, quality and affordability are two sides of the same coin at Live Fast Tattoo.
We appreciate a studio that doesn't gouge the wallet while delivering art that stands the test of time.
Our ink is a testament to this perfect balance.
However, they don't offer promos at the present. We suggest checking their website for other affordable deals.
Intricate and vibrant designs that redefine tattoo craftsmanship
Strategically situated in the heart of the city for easy accessibility
A trailblazing studio known for its top-tier artists and exceptional work
8. Thirteen Ink Studio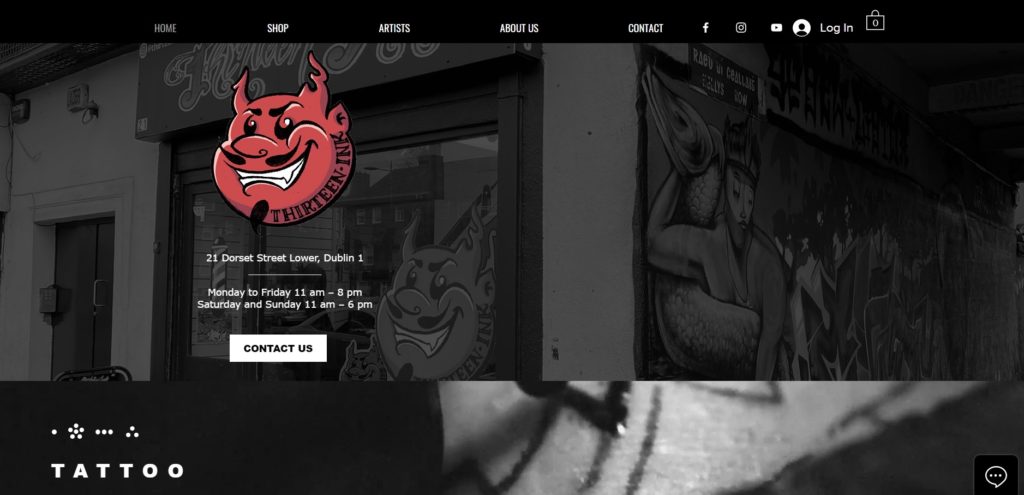 Test
Info
SERVICES OFFERED
Custom Tattoos
WEBSITE
https://www.thirteenink.com/
ADDRESS
21 Dorset Street Lower, Dublin 1
CONTACT DETAILS
+353 83 405 9213
OPERATING HOURS
Monday to Friday 11 am – 8 pm

Saturday and Sunday 11 am – 6 pm
| | |
| --- | --- |
| Studio | ★★★★★ (5/5) |
| Artists | ★★★★★ (5/5) |
| Customer Service | ★★★★☆ (4/5) |
| Price | ★★★★☆ (4/5) |
| Customer Satisfaction | ★★★★★ (5/5) |
Thirteen Ink Studio is a shop that offers a wide range of tattoos and piercing options that clients can avail of along with quality clothes and accessories to go with it and complete one's style.
We like that they are sponsored by interrelated organizations such as Dermalize and Ikier Aftercare to ensure that clients get sanitized and quality products that can last them for long periods.
Furthermore, their team is highly experienced at handling a wide variety of tattoo and piercing jobs and possesses adequate skills and techniques when it comes to providing individualized services to their clients.
Clients may have to pick their own tattoo designs since there are limited options readily on their website to further have an accurate quotation on its costs as well.
Nonetheless, with their exceptional customer service, top-notch equipment and supplies, and fully-sanitized studio, we highly recommend them to clients in the area looking for a tattoo shop to get their desired inkwork.
Accurate quotations
Proactive customer service
Customized options
Limited pre-designed tattoos
Customer Reviews
Here are some reviews from their clients:
"Professional and extremely talented people 🌚☝🏻 Highly recommending"
"Best place in town to get some ink. Thiago Moreira is a monster. He understood everything I wanted. Staff is very friendly and the space is cozy and warm. Strongly recommended. Thanks guys. É nois!"
FAQs about Tattoos
---
Want to consult a doctor about how tattoos will take on your skin? Here's our list of the best dermatologists in Dublin.