The 5 Best Pubs in Galway
Galway is regarded as Ireland's cultural capital and is the home of the country's lively music scene. Aside from getting a drink, pubs are a great way to immerse yourself in this entertainment culture.
But with the dozens (if not hundreds) of pubs in the city, which one should you go and visit? Worry not because we've listed the top pubs in Galway that's worth a try!
How much does drinking at pubs cost?
Getting your drink on in Ireland can be rather complicated, as there are a lot of options to choose from! To help you pick what best suits you, we've narrowed down the common drinks served and how much they typically go for.
| Beverage | Average Estimated Price |
| --- | --- |
| Vodka | €7.00 |
| Whiskey Blends | €6.50 |
| Guinness | €5.70 |
| Scotch | €9.50 |
Best Pubs in Galway
There are so many pubs in Galway that serve great drinks, but how do you pick which one is best for you? That's what we're going to help you do by listing some of the things relevant when making this decision:
1. An Púcán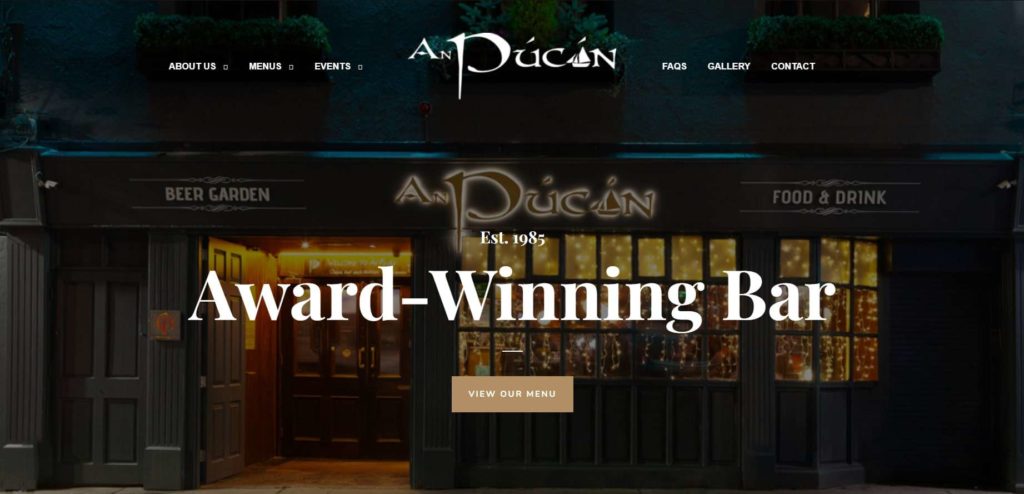 Test
Info
MENU
Irish Whiskey, Cocktails, Wine, Breakfast, Soup, Salad, Sandwich, Seafood
WEBSITE
https://anpucan.ie/
ADDRESS
11 Forster St, Galway, H91 P65D, Ireland
CONTACT DETAILS
Tel: +353 91 376561

Email: [email protected]

OPERATING HOURS
Monday to Thursday: 12:00 PM - 11:30 PM

Friday: 12:00 PM - 02:00 AM

Saturday: 10:30 AM - 02:00 AM

Sunday: 10:30 AM - 11:00 AM
| | |
| --- | --- |
| Atmosphere | ★★★★★ |
| Service | ★★★★★ |
| Beer choice and quality | ★★★★☆ |
| Value for money | ★★★★☆ |
An Púcán for sure is a gem, and a lot of locals would agree. In fact, it's a place that ranks high if you were to ask one for a rundown of places to dine and drink in Galway.
Under former management, it operated as a bustling but small Irish bar, but after renovations in 2014, it now has a more club-like vibe. However, it still adheres to the historical legacy of the well-known Irish bar custom and is faithful to how it was in the past.
We love how An Púcán has live traditional music every night and is a good venue for anyone who wants to discover the Galway music scene. They also have DJs that occasionally play in the back bar area, and they tend to stay open until the early morning.
The pub offers an assortment of Irish favorites, including over 180 different kinds of whiskey and a breakfast menu highlighted by their Full Irish Breakfast.
Throughout the day, you could get yourself a cup of coffee as well. Later in the day, many seafood dishes are made available–as well as other grilled meals.
The only thing to look out for when at An Púcán is queuing for a pint. Waiting for drinks can take longer especially during the weekends when late bars are at their peak!
Offers 180 different kinds of whiskey 
Modernized Irish pub vibes
Open until 2 AM on Fridays and Saturdays
Can get fully seated easily
Waiting time can take longer on peak hours
Customer Reviews
Good food and relaxing atmosphere
"Amazing food and staff. The atmosphere is very relaxed. My husband had the bacon and cabbage and will not stop talking about how good it was. My daughter had traditional Irish stew and I had the curry. We all cleaned our plates." – Paula Mattern
Our go-to restaurant!
"If you seek traditional Irish food when visiting Galway, An Pucan has never disappointed. Fantastic food, well-priced, and lots of it! The staff is super-efficient and friendly and pours the creamiest Guinness ever. A must-have is their chowder and brown bread, absolutely the best ever!" – Diane Lynn
2. The Dáil Bar
Test
Info
MENU
Cocktails, Wines, Beers, Irish Craft Beer, Irish Whiskey, Salads, Sambo, Burgers, Fish and Chips
WEBSITE
https://thedailbar.com/
ADDRESS
42 Middle St, Galway, H91 R8W3, Ireland
CONTACT DETAILS
Tel: +353 91 563 777

Email: [email protected]

OPERATING HOURS
Monday to Sunday: 12:00 NN - 2:00 AM
| | |
| --- | --- |
| Atmosphere | ★★★★★ |
| Service | ★★★★☆ |
| Beer choice and quality | ★★★★☆ |
| Value for money | ★★★★☆ |
As one of Galway's largest and most outstanding pubs, The Dáil Bar, has been operating in its current building since 1935.
High ceilings, chandeliers, and imported wood furniture are just enough modern characteristics to update the space without detracting from the stunning art-deco details that have made this venue famous.
The Dáil Bar is the ideal destination for an evening out in sophisticated, classic style. With a dazzling line of whiskey to choose from and a cocktail list, every bit of this pub is as impressive as it is extensive.
The Dáil Bar's menu raises the bar for conventional pub grub by using carefully chosen ingredients to provide restaurant-quality meals at reasonable rates. They've even partnered with a local distillery to offer a "house blend" unique to them!
Do note that The Dáil Bar doesn't offer booking seats right now, so getting seats during peak hours can be quite a hassle.
That being said, we highly recommend heading upstairs if you get there before 9 PM, and claim one of the unclaimed tables along the banisters.
What better way to have an evening of chatter with friends than by taking the course of least resistance and sitting where there aren't many people?
Overall, if you're looking for a late bar highly specialized in unique grub and drinks, The Dáil Bar is an absolute must-try!
Broad eat and drink menu
Offers unique signature drinks
Best for those looking to chat with friends over drinks
No seat bookings
Can get packed late in the night
Customer Reviews
Always a good night out
"One of my favourite bars in Galway. Always a good atmosphere with live music most nights. Service is always good and pretty quick even when very busy. Excellent cocktails served upstairs." – James M.
Look no further!
"If you are looking for an amazing Bar in County Wicklow, Ireland highly recommend The Dáil BAR. Upon entering I was made feel very welcome. Amazing Customer Service, Very Clean and Amazing Atmosphere. It should be noted I served all the World with the U.S.Marines and lived in the United States of America for over thirty years. I definitely know a great bar from my travels and life experiences. I definitely will visit this amazing bar in the near future again." – James Whyte
3. The Front Door Pub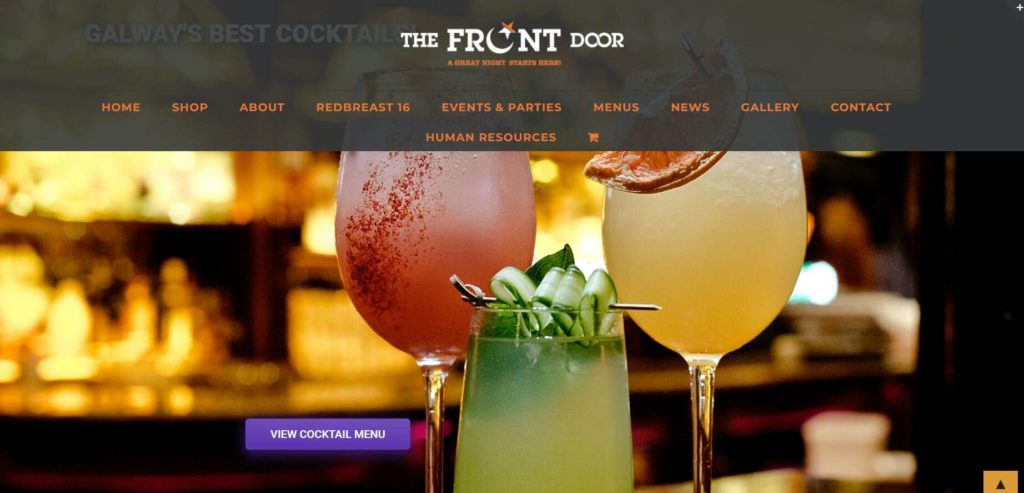 | Test | Info |
| --- | --- |
| MENU | Gin, Wine, Whiskey, Cocktails, Burgers, Steak, Seafood |
| WEBSITE | https://www.brazenhead.com/ |
| ADDRESS | 20 Lower Bridge St, Usher's Quay, Dublin, D08 WC64, Ireland |
| CONTACT DETAILS | +60 12-517 6984 |
| OPERATING HOURS | Monday to Sunday: 12:00 NN - 11:30 PM |
| | |
| --- | --- |
| Atmosphere | ★★★☆ ☆ |
| Service | ★★★★☆ |
| Beer choice and quality | ★★★★★ |
| Value for money | ★★★★★ |
The Front Door is one of the biggest and most popular pubs in Galway City. If you're the kind of person who is willing to take risks, this bar will probably suit your needs just fine.
The Front Door has two floors with five different evening bars and one daytime pub. We love how they have a variety of refreshing adult beverages, splendid flavors, and extraordinary people during both the days and nights!
If you're curious about your choices, The Front Door houses Tigh Nora, a traditional pub that dates back to 1874, and Sonny Molloy's Whiskey Bar, a whiskey shop with its own bar.
On Fridays and Saturdays after 8 PM, you can find more of a lively atmosphere in The Front Door. This bar could suit those of you interested in loud music and crowds.
As this is a very eclectic bar, it gets busy quickly with patrons on the younger side. This means you're likely to see quite a few patrons in their early 20s.
In light of this, if you are traveling with an older party, we advise stopping at The Front Door for a lovely day with traditional Irish pub fare and a drink. Visit the Celtic-style bar at night when it is busier with locals if you love a dynamic nightlife atmosphere!
Houses 5 different bars to choose from
Best for those looking for an eclectic nightlife
Can feel crowded past 8 PM
Not for those who want a chill drinking atmosphere
Customer Reviews
Amazing custom Red Breast barrel
"Lunch on 2nd day in Galway. Very cool bar with broad Irish whiskey selection, topped by their private barrel: 16 yr old single malt, single pot Red Breast aged on sherry barrel. Oh, what a warm "hug" this gives. I did chicken wings and were some of the best I've ever had, and I eat them at least every other week at home in the US. My wife did the "fish bap" sammie and also very pleased." – Terry D.
Go for the Gin
"The best part was the gin bar. Incredible selection of Irish gin. Super bartender, Paula, was a great host. The restaurant connected was also very good with a daily menu featuring typical Irish dishes. We had the shepherds pie and the fish and chips, both large and well prepared" – Bob and Cindy
4. Tigh Neachtain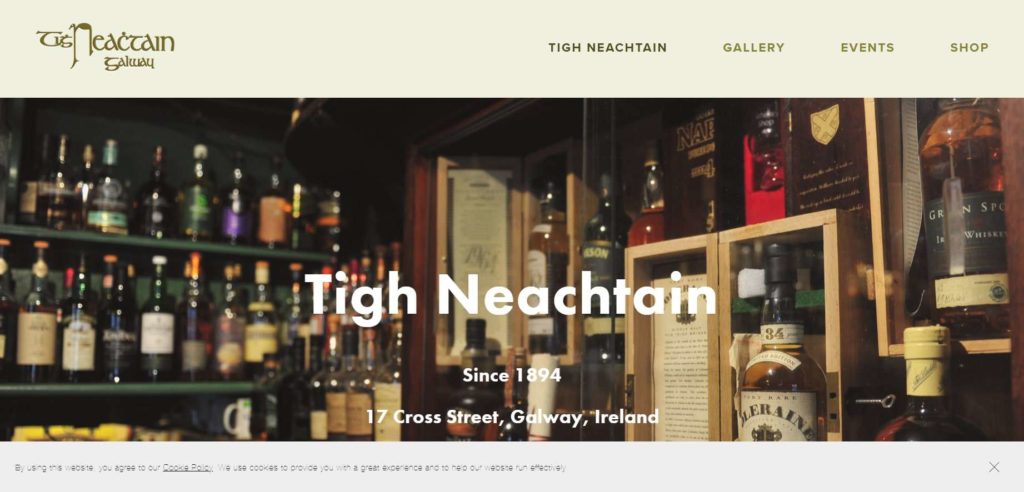 Test
Info
MENU
Guinness, Cider, Rum, Irish Whiskey, Scottish Whisky, Gin Vodka, Brandy, Coffee, Cocktails, Salad, Seafood, Soup, Mezze Board
WEBSITE
https://www.tighneachtain.com/
ADDRESS
17 Cross Street Upper, Galway, H91 F9F7, Ireland
CONTACT DETAILS
Tel: +353 91 568 820
OPERATING HOURS
Monday to Thursday: 10:30 AM - 11:30 PM

Friday to Sunday: 10:30 AM - 12:30 AM
| | |
| --- | --- |
| Atmosphere | ★★★☆☆ |
| Service | ★★★★☆ |
| Beer choice and quality | ★★★★☆ |
| Value for money | ★★★★☆ |
Whatever your taste in pubs, there's something for everyone at Neachtain's. We love it for a bit of craic and tourists are drawn to its authentic Irish vibe that's the making of an unforgettable night out!
Neachtain, which first opened in 1894, is a very unique spot when it comes to venues for music and has won many awards throughout its operation.
Some of the greatest Irish singers and musicians took their first step up on that stage to entertain their fans. A few prominent names who performed here include Brian Lennon and Sharon Shannon.
Like a great Irish pub, you're treated to the best music on tap, awesome treats like seafood chowder, and a warm and welcoming atmosphere you'll want to spend the evening in.
That being said, Tigh Neachtain is one of the pubs that close early into the night. You'll probably have to hop to another one if you want to drink extra pints before going on your merry way.
Whether you're looking for a place to take a seat in the wintertime or just trying to get away from it all, Tigh Neachtain should be on your list of places to stop in and have a pint.
Has a broad range of drinks available
Offers good music to pub-goers
Closes earlier than most pubs
Limited grub menu
Customer Reviews
Tourist-friendly
"Traveling on my own I look for a place where I can mix a bit with the locals to get a better reflection of the town and the people. This is one such place. In the late afternoon/early evening inside comes alive. The decor tells its own story with a number of little snugs throughout and books and posters from the older days. It's crowded but that's part of the experience. The bar staff are forever pouring the next Guinness and never rushed to not pull a proper pint. They are efficient, and friendly and will stop to tell you a story. Excellent and a must experience!" – C. Smith
Great pints
"Cold and wet night out in Galway, snug and welcoming inside. Loved this bar, great atmosphere, friendly staff, and creamy pints. I could have spent the whole night reading the framed playbills that decorated the walls and ceiling." – Jacqueline R.
5. Taaffes Bar
Test
Info
MENU
Guinness, Cocktails, Rum, Whisky, Beer, Ciders, Breakfast Food, Coffee & Tea, Grilled Gourmet, Soups, Salads, Toasties
WEBSITE
https://taaffesbar.ie/
ADDRESS
19 Shop St, Galway, Ireland
CONTACT DETAILS
Tel: +353 91 564 066

Email: [email protected]

OPERATING HOURS
Monday to Thursday: 10:30 AM - 11:30 PM

Friday to Saturday: 10:30 AM - 12:30 AM

Sunday: 12:00 NN - 11:00 PM
| | |
| --- | --- |
| Atmosphere | ★★★★☆ |
| Service | ★★★★☆ |
| Beer choice and quality | ★★★★★ |
| Value for money | ★★★★☆ |
Taaffes Bar is a pub that's located in Galway and has been open since 1853. This means that it has stood 150 years as a pub, housed in a 400-year-old building!
A popular haunt for tourists and locals alike, you'll find the Taaffes Bar to be a great place to have a good time.
If you came to Ireland with the desire to listen to some truly authentic Irish music, get into Taaffes before the crowds hit in order to find yourself a place to sit.
If you come in early into the night, you'll be able to enjoy the music coming from the quieter corner of the building. But since this place is lively, you wouldn't be able to avoid places where people are actively socializing.
Like most pubs in Ireland, Taaffes offers an unforgettable Irish experience for their guests not only because of their great dining options but also their authentic ambiance so sit back and enjoy some time with friends or family!
Serving delicious food and beverages, they also feature a vibrant atmosphere during the day as patrons sit by the fireplace. A unique experience, it's a great place to stop in on a cold winter's day.
As mentioned above, Taaffes gets busy but it's still worth visiting at least once in your vacation to enjoy hearty fare and scrumptious pub grub.
Known for having traditional Irish music performances
GAA pub
Offers a broad grub and drinks menu
Can get busy throughout the night
Not enough seats 
Customer Reviews
Black Gold!!! Did I just have the best Guinness ever?
"Black Gold!! After hunting for the perfect Guinness we may just have found it here, our concierge was adamant that we come and try this, I've been drinking Guinness all week long in multiple locations, and the fact that this taste completely different and blows everything that I've had before this out of the water. It's a completely euphoric experience!" – Sammy P.
Great pub with brilliant live music
"We were advised that this was one of two pubs to go to hear live music. They have sessions at 5.30 and then at 9.30 pm. We got there in good time for the 5.30 session and managed to get the best seats in the house. A big group of musicians came, a couple of fiddles, guitars, banjos, bourdon, flutist, whistle and more. Good pub food too. This has to be the best place for Irish live music." – Martin C.
FAQs about pubs
---