The 10 Best Personal Trainers in Dublin
Have you been working out, but not seeing your desired results?
If you want to lose those extra pounds and achieve the body of your dreams, hire one of the best personal trainers in Dublin featured in this article. These professionals can provide you with the right workout plan and ensure you're doing the exercises correctly.
Aside from featuring the top-rated personal trainers and gyms in the city, we'll also discuss the costs and answer the most frequently asked questions that you might also be wondering about.
If you're ready to take your first step in your fitness journey, let's get started!
How Much Do Personal Trainers Cost in Dublin
We understand that hiring a personal trainer can be another financial consideration. Below is a price comparison table for several gyms to help you decide which of the best personal trainers in Dublin charge rates that won't break your bank.
Gyms
Rates
Endeavour Gym
Package 1 €245 per month
Package 2 €448 per month
Package 3 €612 per month
Semi-private €179 per month
Better Body Gym & Fitness Studio
*Depends on the trainer and your specific needs
Bodycoach
One-on-one €60 per session
Small group (1 session per week) €30
Small group (2 sessions per week) €50
Small group (3 sessions per week) €75
Revolution Fitness Dublin
One-on-one personal training (3 to 4 sessions per week) €750- €900 per month
Group personal training sessions as little as €30 per week
FFS Gym
8 x 30-minute sessions €320
8 x 45-minute sessions €400
12 x 30-minute sessions €480
12 x 45-minute sessions €600
TH Training
Contact for more information
Danny Casey Health & Fitness
Contact for more information
The Best Personal Trainers in Dublin
Now that you have a general idea of how much you should expect to spend, it's time to discuss what each of the best personal trainers in Dublin could offer. This should help you decide which one is most suitable for your needs and fitness goals.
1. Barry Whelan of Endeavour Gym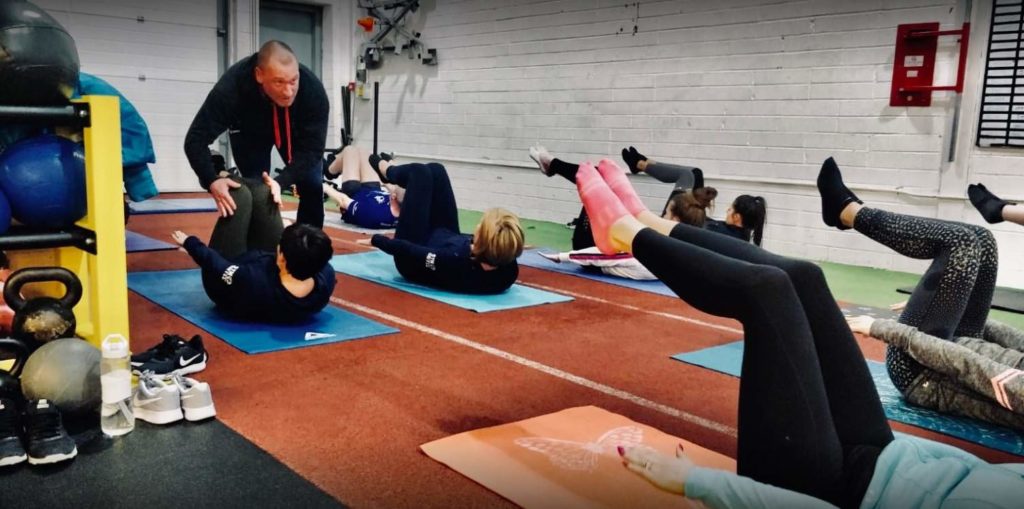 SERVICES
Personal Training
Semi-Private Coaching
WEBSITE
https://www.endeavourgym.ie/
RATES
Package 1 €245 per month
Package 2 €448 per month
Package 3 €612 per month
Semi-private €179 per month
ADDRESS
Endeavour Gym, 12 Trinity Court, Fonthill Business Park, Dublin 22, D22 YC60
CONTACT DETAILS
0872898567


[email protected]

OPERATING HOURS
6:00 am to 8:30 pm (Monday-Thursday)
6:00 am to 7:45 pm (Friday)
7:00 am to 11:45 am (Saturday)
Endeavour Gym is one of the longest-running and most reputable gyms in Dublin. It has been around for over two decades and has helped hundreds of clients in the city.
Although it has a small team of three fitness coaches, all of them are highly experienced and two even have a Master's degree. One of the favourites is Barry Whelan, who has 20+ years of experience as a coach.
Clients love him for his approachable personality and passion for fitness. He has conducted over 20,000 training sessions throughout his career and can provide nutrition coaching.
Endeavour Gym's services are limited to one-on-one and semi-private personal training, but they're undoubtedly among the best out there. Their one-on-one personal training service is their premium product and comes in three packages that cost €245 (4 appointments), €448 (8 appointments), and €612 (12 appointments) per month.
The semi-private sessions are also good enough as they limit the participants to 6 per coach. So you can expect that you'll still be provided with personalised services and no waiting around for equipment.
What's great about them is that whatever type of service you choose, they offer a trial month for half the price.
As for the gym itself, it's equipped with all the necessary equipment but don't expect something too fancy. Also, it has limited parking so prepare for an alternative solution especially if you're visiting at peak hours.
Offers trial month for half the price
Three private personal training packages to choose from
Semi-private sessions are limited to 6 people per coach
All coaches are highly experienced
Only three fitness coaches at the time of writing
Limited services offered
Gym has limited parking
Customer Reviews
Check out what their clients have to say:
"I was never a fan of gyms, but when I joined Endeavour it was different. 18 years later I'm still a member and for me that's because of the unwavering culture of discipline and support. I originally started with classes but have long since moved to 1-2-1 training, which better suited my schedule and needs. During Covid, the sessions seamlessly moved online without any drop in the quality. That's full credit to Barry, Frank and the Team! I would not hesitate to recommend Endeavour to anyone who is serious about improving their fitness." -Marian Ryan
"I've been training at Endeavour for years and Barry and the team are extremely knowledgeable regarding fitness and nutrition. They provide individual attention even when doing group classes and motivate you to train much harder than you would on your own. Everyone is very friendly, and the small class size mean there is no waiting around for equipment. I'd highly recommend them." -Emmet Hutchin
"I joined Endeavour Gym 6 months ago and it was the best decision I've ever made. I've tried for years to get into going to the gym and getting fitter but I could never stick with it longterm. The trainers are really professional and really care about helping you reach your goals. The lads really know what they're doing and they tailor everything specifically to you so that you keep getting better over time. I would recommend Endeavour Gym to anyone who needs that bit of help with reaching their fitness goals. It's a lifesaver." -rachel donoghue
2. Jeff Stein of Better Body Gym & Fitness Studio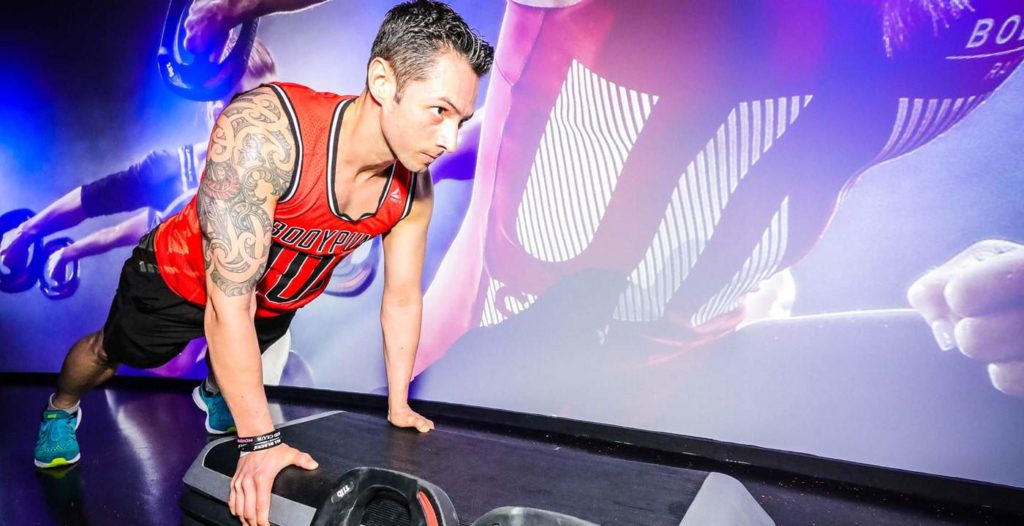 SERVICES
Personal training
Hit Spin and Core
Kettlebells
Yoga
Boxercise
Circuit
TRX
Les Mills Body Pump
Fitness equipment sales
WEBSITE
https://betterbody.ie/
RATES
*Depends on the trainer and your specific needs
ADDRESS
BetterBody Gym, 26-26A, Phibsborough Place, Between Boots & Property Team. Phibsborough Road
CONTACT DETAILS
085 2153456


[email protected]

OPERATING HOURS
6:30 am to 10:00 pm (Monday-Thursday)
6:30 am to 9:00 pm (Friday)
9:00 am to 2:00 pm (Saturday)
10:00 am to 1:00 pm (Sunday)
Fitness buffs will find Better Body Gym & Fitness Studio at Phibsborough Place an exciting playground packed with modern equipment and facilities. What we like about this gym is that they have a wide range of classes offered such as circuit training, yoga, and boxercise.
They have four expert coaches who handle these different classes and one of the favourites is Jeff Stein. Besides his degree and certifications around sports & fitness, clients choose him as their personal trainer because of his hands-on approach.
He understands that different people require different training methods, so he digs deeper into the genetic and lifestyle factors of each individual he trains with. Aside from facilitating workouts, he patiently educates his clients on nutrition and general health.
At Better Body Gym, you can also take advantage of all-inclusive membership packages that include a consultation program every 8 weeks, a free review, eating plan, and progress report. For students, healthcare workers, and senior citizens over 60 years old, they offer a 20% discount.
One thing we noticed though is that they have limited bathrooms and lockers, which can be a problem during peak hours. Nevertheless, it's just a minor problem considering the quality of service you'll get from their coaches.
Wide range of classes offered
Four expert coaches with varying areas of expertise
Various gym membership packages available
Membership includes eating plan, consultation, progress report, and review
Offers discounts for students, health workers, and over 60s
Limited bathrooms and lockers in the gym
Customer Reviews
Here are some of the reviews from their past clients:
"This gym came highly recommended by my brother included in my member ship- body stats, 6 personal training sessions and an eating plan. The trainers here are all highly qualified and willing to help any aspect of my training. Would definitely give it look." -Ectoplasm 2003
"I want to thank all the amazing coaches at Better Body Fitness for the great support over the last year. I was new to the gym setting in the beginning and with the help from the coaches I really enjoyed attending the gym, various classes and completing my personal training sessions. I loved some of the fun classes such as pilates and Les Mills. Unfortunately I had to leave due to moving house. Thanks again everyone at Better Body Fitness." -Clara O'Byrne
"Great range of weight lifting equipment. Lots of cages for squatting, bench pressing, doing pull-ups etc and a large range of kettlebells and floor space to put them to use. I worked out here frequently mid-week at lunch time and always had easy access to equipment I needed. Staff are friendly and available if needed but not in your face. All in all, a great little workout venue!" -Richard Grimes
3. Michael Geraghty of Bodycoach
SERVICES
One-on-One Personal Training
Small Group Personal Training
Large Group Personal Training
WEBSITE
https://www.bodycoach.ie/
RATES
One-on-one €60 per session
Small group (1 session per week) €30
Small group (2 sessions per week) €50
Small group (3 sessions per week) €75
ADDRESS
Ultimate Fitness Gym, Ballymount Dr, Walkinstown, Dublin 12, Ireland
CONTACT DETAILS
085 7310384


[email protected]

OPERATING HOURS
6:30 am to 9:00 pm (Monday-Friday)
7:30 am to 11:00 am (Saturday)
Founded in 2012, Bodycoach is a boutique gym in Walkinstown that offers one-on-one, small-group, and large-group personal training classes. Its founder, Michael Geraghty, is the only personal trainer in this gym so he runs all the classes.
Although being a one-man team means Bodycoach may have limited capacity, Michael's an experienced fitness coach and one of the most reputable in the city. He advocates lifestyle changes and provides education in health and exercise to improve people's lives.
What customers love about him is that he has a very systematic and goal-oriented approach. He starts by identifying the client's goals, developing a roadmap to achieve these, and setting a foundation for sustained progress.
His small group classes are the most popular type of training at Bodycoach. Besides the affordable rates compared to other gyms, what people love about this is that he limits these classes to only 4 participants.
This means you'd still get a hands-on, focused service like in one-on-one sessions, but at a lower cost. If you prefer fun classes with like-minded individuals with whom you share a common goal with, his large personal training classes that come with a tailored meal program may be the best option.
One thing we noticed about Bodycoach though is that it requires at least a 48-hour notice of cancellation, while other gyms only require at least 24 hours. Failing to notify him means you'll be charged for the session.
Fitness coach has 9+ years of experience
Cheap rates for small group personal training
Small group personal training is only limited to 4 people
Large group personal training comes with tailored meal program
Only one trainer so capacity may be limited
48-hour notice of cancellation, otherwise you'll be charged for the session
Customer Reviews
Below are some of the comments from their past clients:
"My partner and I signed up to Bodycoach small group fitness sessions over the summer. Michael has been awesome to work with. He knows his stuff, tailors the sessions accordingly, pushes you, checks in throughout the sessions to ensure you're doing ok and most importantly helps you to have a laugh along the way. I've trained with trainers on and off for 7 years in Ireland and Australia and I can honestly say Michael is top class. Both my partner and I have seen great results as we trained to get in shape for our wedding. My partner had knee surgery last year and Michael made sure to adapt as needed the sessions. He can work with all levels of fitness and strength and I'd absolutely recommend him." -MC
"Michael is a professional and very knowledgeable trainer. He makes training enjoyable. He is patient and does everything in his power to ensure that you achieve the goals that you set with him. I would highly recommend him." -Jonathan Peggs
"Michael is very knowledgeable and knows what he's talking about. He makes you feel really comfortable and understand the exercise you're doing. Working out can be daunting but he makes the whole experience really enjoyable!" -Hannah O'Reilly
4. James Hanley of Revolution Fitness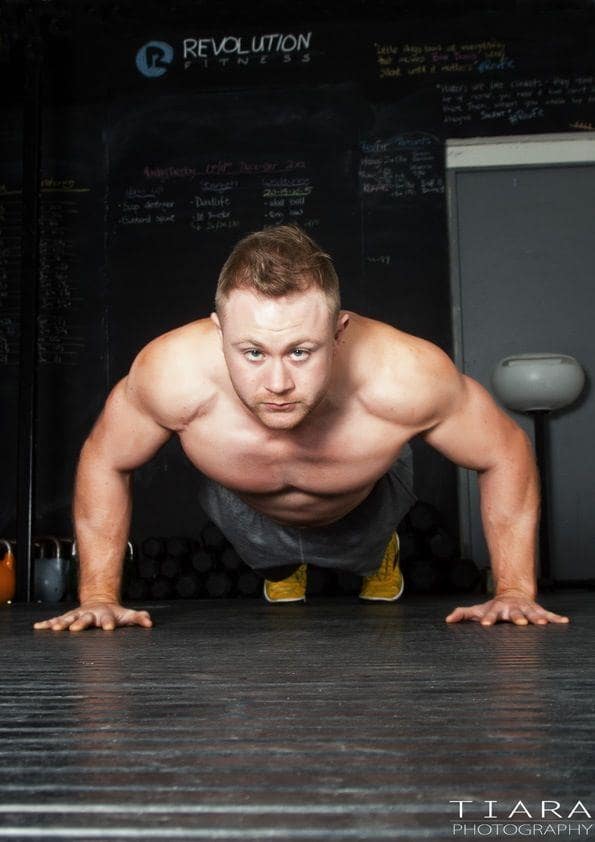 SERVICES
One-on-one personal training
Group personal training sessions
WEBSITE
https://revolutionfitness.ie/
RATES
One-on-one personal training sessions (3 to 4 sessions per week) €750- €900 per month
Group personal training sessions as little as €30 per week
ADDRESS
Unit 2A Ballyboggan Business Centre, Ballyboggan Road, Glasnevin, Dublin 11
CONTACT DETAILS

[email protected]

OPERATING HOURS
6:00 to 8:30 am; 10:00 to 11:00 am; 4:30 pm to 9:30 pm (Monday)
5:00 pm to 9:30 pm (Tuesday)
6:00 too 7:30 am; 10:00 am to 11:00 am; 5:00 pm to 9:30 pm (Wednesday)
5:00 pm to 9:30 pm (Thursday)
6:00 am to 7:30 am; 10:00 to 11:00 am; 6:00 pm to 8:30 pm (Friday)
9:00 am to 12:30 pm (Saturday)
Revolution Fitness is a leading personal training gym in Glasnevin that offers one-on-one and group training sessions. They have a team of full-time professional fitness coaches, but the most well-loved is the founder itself, James Hanley.
Clients love him as he makes exercise enjoyable and strives to build a community of individuals focused on looking, feeling, and performing better. He also provides nutritional guidance and is into the corporate wellness consulting business.
At Revolution Fitness, they use a live heart rate monitoring system called MyZone that shows an individual's heart rates, training zone, calorie burn, and other important information to help coaches serve you better.
They have three pre-designed programs that you can choose from depending on your fitness goals.
Their SWEAT program is for beginners who want full-body strength and cardio workouts, while TRANSFORMATION is for people who want to lose weight quickly. According to them, you can lose 7.85 kg in your first 6 weeks, provided you're at least 80% honest to the TRANSFORMATION plan.
Meanwhile, for men and women who want to get strong fast, the STRENGTH program is the most appropriate. This is perfect for both beginners who want to learn the correct technique and for experienced powerlifters.
However, they don't accept walk-ins for their fitness classes and you have to subscribe with one of their personal trainers to workout in their gym. So if you want to have a gym where you can visit just to use their equipment but you want to be able to do your own thing, Revolution Fitness may not be right for you.
Unlike other gyms that only provide tailored meal plans to support your fitness goals, you can order healthy meals off Revolution Fitness' approved meal prep specialists Parallel Meals. You can arrange for them to deliver the food at home or to the gym for your convenience.
Three pre-designed programs for varying goals
Offers healthy meals that can be delivered at your doorstep
Has a live heart rate monitoring system to aid coaches
30-day trials available
Walk-ins not available for personal training sessions
You can't workout in their gym without a subscription with their personal trainer
Customer Reviews
Below are some of the testimonials from their past clients:
"Aside from being a great gym, with great trainers who actually care about you personally (not just your progress in the gym), they have gone above and beyond throughout the pandemic to ensure that their members feel safe. There have had to be so many changes to how their business runs as a result of the continuous changes to government guidance and they have just pivoted on a penny and kept going each time. Their plan works if you follow it, their gym even pre pandemic was one of the cleanest best maintained gyms I've ever joined, there are no meat heads (or at least not the snobby kind), the culture that the staff have fostered is SO welcoming and everything is tailored – joining as a beginner you'll have no issue getting stuck in, they'll take the time to explain each move and make sure you're doing it safely. Joining as a more experienced gym-goer you can modify their programming to really push yourself as hard as you're comfortable to go (safely). Honestly cannot rate them highly enough." -Lynn McGrane
"This place is a real community, and I don't think it's too often you can say that about a gym. Whether you're looking for a change of pace from the usual commercial gym or want to make a renewed push come January, Revfit will have your back no matter what!" -Conor Gill
"I have trained with James twice in the past. I really like the gym and had a great experience both times. A very knowledgeable trainer, who knows how to get the best out of every session. I learned things from these sessions that have begun to fully click of late and has really improved my training a lot. (which also reminded me to leave this 5 star review 🙂 Highly recommended." -David Downes
5. Rory McInerney of FFS Gym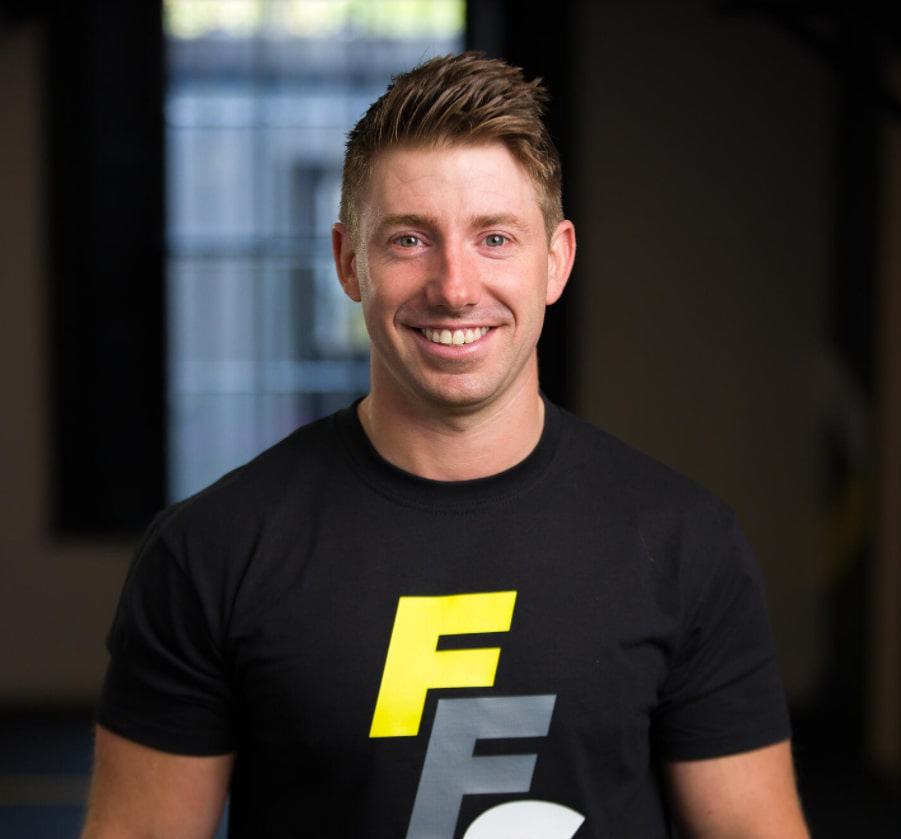 SERVICES
Personal Training
Strength & Conditioning
Metabolic Conditioning
Suspension & Bodyweight
Online Coaching
Corporate Wellness
Nutrition Coaching
Pregnancy & Postnatal Training
Physiotherapy
WEBSITE
https://www.ffs.ie/ffs-gyms-dublin-city-centre-online
RATES
8 x 30-minute sessions €320
8 x 45-minute sessions €400
12 x 30-minute sessions €480
12 x 45-minute sessions €600
ADDRESS
47 Leeson Street Lower, Saint Kevin's, Dublin, D02 P788, Ireland
CONTACT DETAILS
083 404 6434


[email protected]

OPERATING HOURS
5:30 am to 9:30 pm (Monday – Friday)
7:00 am to 1:00 pm (Saturday)
Established in 2013, FFS Gym is another notable gym in the city with two branches in Leeson St and one in Ivy Exchange. With a large team of fitness coaches and wellness professionals, it offers an extensive range of classes and services, including physiotherapy and pregnancy and postnatal training.
One of the crowd's top picks is its founder, Rory McInerney. He has a degree in Health and Performance Science, and has amassed over 10,000 hours in Strength & Conditioning coaching.
Although he's in charge of business development, his passion lies in coaching and he still runs classes at FFS Gym. He works with a small group of personal training clients, many of which he has trained over the past 3 to 5 years.
What we like about FFS Gym is that it has the most modern facilities compared with others on this list. Its Ivy Exchange branch is the newest among the three.
The best part about this is that it charges the cheapest rates. However, it's important to take note that all gym memberships are based on a 12-month contract and a 90-day notice is required if you want to cancel early.
When the 12 months are done, your contract will be rolling month to month and only a 30-day notice will be required for cancellation. So take this into consideration before you sign up.
Large team with 15 fitness coaches and wellness professionals
Extensive range of fitness classes and services
Also offers physiotherapy
Most affordable sessions
Modern, cutting-edge gym and facilities
Presence in Leeson St and Ivy Exchange
Excellent online training/ gym
No designated parking (on street available)
Wait list to train at FFS
Customer Reviews
Here are some of the reviews from their past clients:
"The structure of the classes ensure there is always great variety to the classes and progress can be made over time. Coaches explain and model all exercises well and provide good feedback during the sessions. There is always a high but realistic expectation set. It feels like coaches care about clients. Coaches bring a lot of energy to the sessions and really do their best to make the classes as close to the gym experience as possible. The timing of the classes works well too!" -Margaret Foley
"Fantastic knowledgeable, friendly and conscientious coaches. The classes are always really good and enjoyable, I don't think I've ever dreaded going to one. I love how each month you progress each week and taper back, a lot of thought goes into everything in FFS and I know there's an evidence based reason for everything which builds trust and confidence I'd have in each coach. I love how each coach is a specialist in something! The transition to fully online was and continues to be excellent. Really good quality coaching, warm and friendly and welcoming and fun." -Bronwyn Murphy-White
"Wow. Where to start. I had heard so much about FFS over the years from close friends and members for several reasons. I had always been relatively interested in fitness and living a healthy-ish lifestyle, but it was 2020 (of all years I know…) that really kicked started where I want to go in terms of fitness & living a happy lifestyle. This all came down to FFS. The trainers & crew, the fellow-members, the gym & facilities itself, the overall positive attitude and positive environment have made being a member in this gym A1. I would highly recommend it to all of my friends and family members. Worth the wait on the waiting list, 100%. Very much looking forward to getting back training in-person once gyms reopen, but for now, the trainers have gone above & beyond to keep us motivated via Zooms in the current times. Keep it up guys and thanks again!" -Niall Murray
6. No.17 Personal Training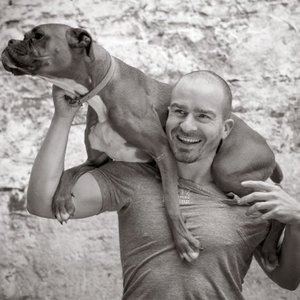 SERVICES
1:1 Coaching
Corporate Wellness
WEBSITE
https://www.no17pt.com/#
RATES
Tier 1 Coaching:
10 sessions = €700
20 sessions = €12000

Tier 2 Coaching:
10 sessions = €600
20 sessions = €1100

Principal Coaching
20 sessions = €1800
ADDRESS
Vault 10, Upper Hatch Street, DO2 C563
CONTACT DETAILS
EMAIL


[email protected]


TELEPHONE
(01) 607-8975
OPERATING HOURS
Monday – Saturday: 6AM – 10PM
Sunday: Closed
No.17 Personal Training will work closely with you and develop a holistic approach to your overall health and wellness. This will drive to a more sustainable change to unlock a more fulfilling lifestyle change!
Unlike other companies, they will give their attention to you from the beginning up until the very end. They will accompany you with their three step model which is Activate-Stretch-Reach Performance and Wellness Model.
First, they will help you activate your goals, record base-level metrics, and get a sense of what your body and mind need. After, they will talk about diet, rest, recovery, exercise, stress, and supplements and look beyond personal training to your immune system, hormones, toxin levels, digestion, energy, and nervous systems for a holistic solution. The second is to stretch yourself, wherein they will equip you with essential habits and life skills and you will challenge yourself to stretch both mentally and physically. Lastly, they will guide you in reach your target and maintaining it!
Offer two tiers of personal training rates based on diversity of experience and qualifications.
Principal Coaching is with John Belton, Head Coach
Amazing and expert trainers
Customer Reviews
Here are some of the reviews from their past clients:
"Whether I'm gearing up for a big occasion, training for a race or just trying to stay healthy, fit and strong, I know I'm a better, happier person when I've been to No.17. The transformation to body and mind is unbeatable while the expert trainers are encouraging, knowledgeable and dedicated to help every client meet their individual goals." — Melanie Morris; Editor in Chief IMAGE magazine
"The correlation between personal health and professional performance is now widely recognised. John Belton and No 17 have helped me hit my peak, address my stressors, and consider my wellness as a crucial part of my working day. I am fitter, faster and sharper because of them. No. 17 has honestly changed my life. I'm going in to my 40s in the best shape I've ever been in. I've never felt so fit, and never eaten as healthily as I do now. And I really enjoy the unpredictability of Mark's sessions." — Thomas Murphy
7. Lina Elias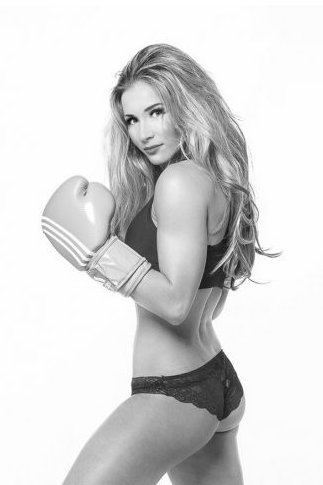 Lina Elias is a Dublin/London-based personal trainer and an online transformation coach. Unlike other coaches, she works each on an individual basis, focusing on reaching long-term results through challenging and constantly varied workouts.
What people love about them is the wide range of packages to choose from. On their website, there is a list of what services you can have on every package. This gives their clients the freedom to choose what fits the most for them.
Based on the testimonial of one of her previous clients who availed the traveling personal trainer service mentioned that within the first week of having Lina as their trainer, they felt more energized and motivated to go on their business trip. They also said that they consider their experience with Lina as one of the most positive journeys of their life.
Another previous client wrote a testimonial about how they used to hate going to the gym. But when they contacted Lina, their life changed. They availed the 6 months package and within those months, she said that Lina was able to put them in their best shape ever. Now, they can say that they super love going to the gym and find themselves upset when they have to miss a day.
Certified by Reps Ireland and is a graduate of NUIM Maynooth.
Free consultation
Definitely push the limits
Fun and enthusiatic
Operating hours are unavailable
Customer Reviews
Here are some of the reviews from their past clients:
"I signed up for the 12 week package and I must say it went fairly quickly. The program was just what I was looking for and surprisingly it was so easy to follow. I have had a personal trainer before, but have not used an online coach. In the 12 week program, Lina has everything that you need ( nutrition plan ,videos, shopping list, etc ). She is one of the best online coaches as she really gives you the 24/7 support and always helps you to stay motivated." – Yvonne, London
"Contacting Lina has been one of the best decisions I have ever made. She is a great trainer & I feel really happy with the results I achieved on her 12 week online program! She really knows what to do. I recommend Lina if you are looking for a dedicated coach that gives you 24/7 support and to achieve a physical improvement and healthier way of living!"Thanks Lina! – Natasa, London
8. Custom Fitness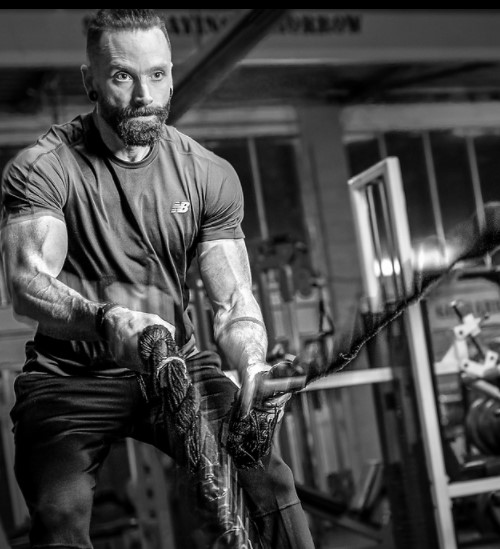 SERVICES
Personal Training
Online Training
Hybrid Personal Training
All Other Training
WEBSITE
https://www.customfitness.ie/
RATES
Contact for more details
ADDRESS
100% online
CONTACT DETAILS

[email protected]


0862214728
OPERATING HOURS
6am to 8pm
Custom Fitness is a company to consider if you are looking for a highly customized regimen to aid you attain your fitness goals. They are able to offer all of these efficient training routines to you anywhere as they are efficient in utilizing online means for this.
All you need is your gadget, and you can expect excellent value for your money since they ensure that you get to your physical goals one step at a time. Feel free to let them know your preferences anytime as they also offer free consultations.
They genuinely care for your well-being and ensure that each session has the balance of pushing you to your limits yet not to the point of overfatigue. They also have numerous packages you can choose from and customize to get the training regimen that will up your fitness game.
We recommend this company for your routine fitness training due to their dedication to guide you in any way, so you can attain and maintain your healthy and ideal fit self.
Free consultation
Free cheat sheet
100% online
No physical branch that you can visit
Customer Reviews
Here are some of the testimonials from their past clients:
"Keith wants you to achieve more than you do. I came to him with a fusion in my neck and a lot of other back problems like sciatica having had 12 procedures on my spine.
Keith listened to me and he spent time and a lot of effort getting to know me and how my body works so that we could train and achieve. He looks at the whole picture; from how you train to how your body reacts to the different exercises and tailors everything to suit you. He has gone above what I ever thought possible of a trainer! His methods have me lifting heavier than ever and training harder and longer than ever. His knowledge about the body as a whole, patience (so many texts and emails) and will for you to get to your goals are rare in a trainer and he is one of the main reasons I am now a year without a procedure or on pain patches.
If you want someone who can get the best results, motivate and really care about your training journey, then Keith is the trainer you need!!!" – Peter Gray (I.T.)
"Had a brilliant time being trained by Keith he really knows his stuff and not only does he train you he teaches at the same time. Really nice guy and is really passionate about helping everyone achieving and surpassing their goals. If you give him 100% he will give you 110% really enjoyed my time training with him and wish you all the best man cheers" – Ben Fennell
9. TH Training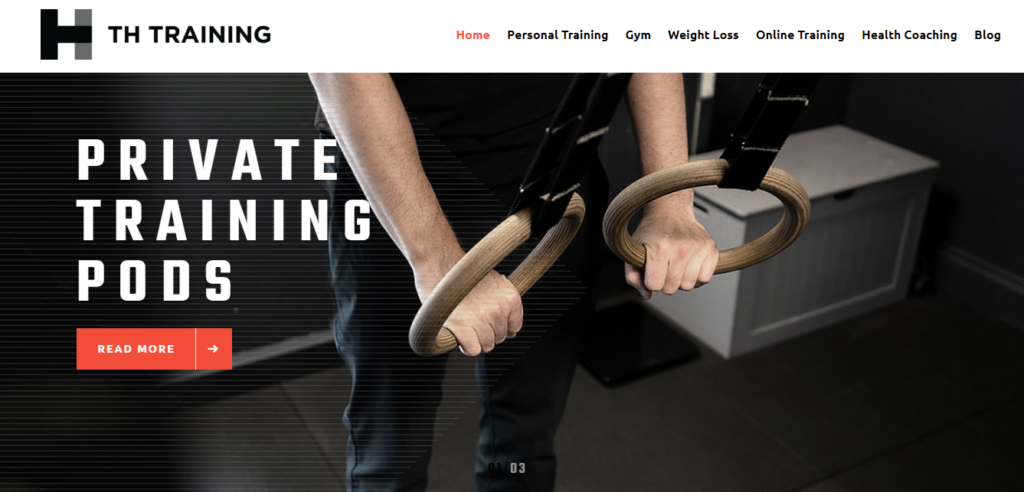 SERVICES
Personal Training
Gym
Weight Loss
Online Training
Health Coaching
WEBSITE
https://th.ie/
RATES
Request a Consultation
ADDRESS
The Anchorage, 3 Ringsend Rd, Grand Canal Dock, Dublin, D04 X924
CONTACT DETAILS
Tel:01-4413933
Email:

[email protected]

OPERATING HOURS
Monday – Sunday 05:00 – 22:00
If private training is your preferred style when it comes to achieving your fitness goals, then we proudly offer you TH Training. Their online services will surely help you progress your wellness objectives with expert guidance.
Their website also features a downloadable brochure should you need any more information regarding their services as well. Furthermore, they also possess innovative tools for fitness support and guidance.
While they have private rooms in Grand Canal Dock and Dublin 4 – this might be challenging for you if you are living far away from the area. They compensate for this with remarkable and comprehensive online training deals.
With real expert training and flexible booking, check them out for your fitness goals today.
Free brochure and consultation
Professional trainer
Offers online sessions
Customer Reviews
Here are some reviews from their clients:
"If you find yourself stuck and would like a coach to work alongside you as you pursue balance, strength and peace, then have a conversation first with yourself, and then with Tristan." – Hugh Bolton
"It's not easy for someone like me who was used to training, but Tristan always supports and gives you the required tools so you don't give up." – Miquel Parejo
10.   Danny Casey Health & Fitness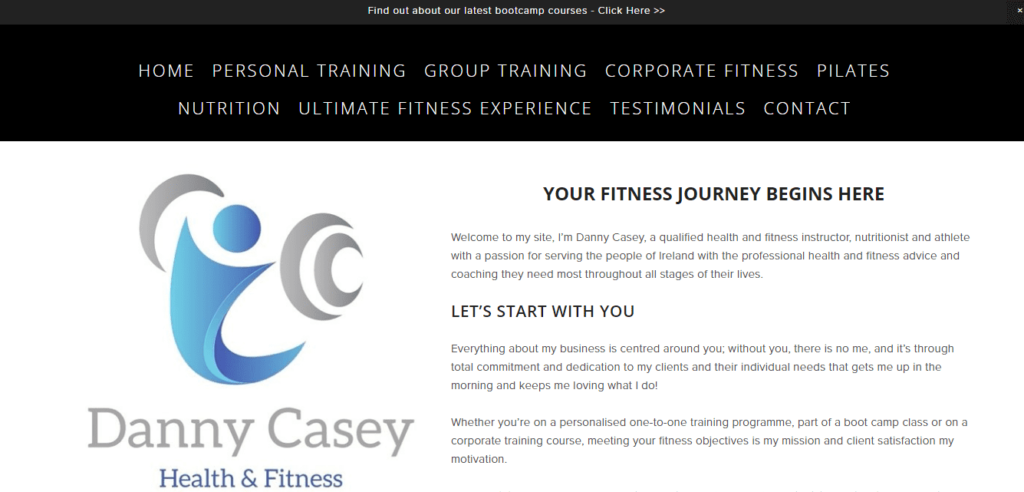 Danny Casey Health & Fitness is a company that is led and operated by a qualified health and fitness instructor that has also experience and expertise in interrelated fields such as nutrition and sports. Having been in the industry ever since 2004, he continues to update and educate himself of the latest approaches and technologies when it comes to guiding clients toward their journey of fitness and health.
We find his services to be very inclusive and personalized in a way that there is no single plan for each individual he handles and instead takes the time to contrast one that is reflective of the client's needs and condition.
Though price ranges are not readily available on the website, he is able to present packages that are good for both personal training and group fitness programs in which clients can readily look for references should they be interested.
Along with his extensive experience in fitness training, Danny also employs motivational coaching to better boost the esteem of his clients and produce better results and determination after every session with him.
Overall, with his accurate health analysis and thorough training regimen, we would gladly recommend him for clients looking for a professional who is able to incorporate simple personal gym training into their daily lifestyle.
Personalized regimens
Lifestyle-oriented approach
Inclusive packages
Operating hours unavailable
Slot limitations may occur
Customer Reviews
Here are some reviews from their clients:
"Having spent many hours cycling st weekends, I started group fitness classes with Danny in 2019 and was a bit sceptical first. There is no doubt that it is a great addition to cycling/running and many others aerobic exercise as it provides the much needed balance. I used to occasionally get shoulder pains after very long cycles, which I haven't noticed since starting the classes with Danny. Snd it's a bit of fun too. Keep up the good work Danny!" – Gerd Benndorf
"A great motivator. He does an excellent warm-up routine as I have injuries and he really knows how to max ur energy output. Great fun at the class and a nice gang of people. I always leave the class buzzin' . Good mix of men and women." – Joan Moloney
FAQs About the Best Personal Trainers in Dublin
---
Get started on the right foot in your fitness journey — choose from the best personal trainers in Dublin that we featured in this article. If you're feeling sore after a workout, you might also want to get chiropractic care.
We also created a guide on the best chiropractors in Dublin to get you feeling good again. Have you tried any of the personal trainers or chiropractors that made it to our lists?
Let us know about your experience!