6 of the Best Dog Daycares in Dublin
Dublin hosts many daycare centers that cater to all of the needs of "puppy parents". Many facilities have exciting features, but few of them have that extra boost in providing dogs with quality care and a safe environment.
We listed down the top dog daycares in Dublin, guaranteed to give your beloved furry friend their well-deserved TLC.
How Much Do Dog Daycare Services Cost in Dublin

Different daycare centers offer varying services and facilities, from indoor and outdoor areas to packages for grooming. The price of these services are highly dependent on the quality of products and equipment they use as well as the duration of the service.
In the table below, we listed down some prices with regards to different dog daycare rates.
| DAYCARE CENTER | PRICE OF DOG DAYCARE |
| --- | --- |
| Woof Doggie Daycare | €30 per day |
| The Dog Den | €27 per day (25% discount on 2nd & additional dogs from the same household) |
| The Canine Center | €25 per day |
| DSPCA Pet Hotel and Doggie Daycare | €27 (1 dog) €42 (2 dogs) €59 (4 dogs) |
| Doonane Dogs | €30 (Deluxe Kennel 1 dog) €35 (Bluebell Suite 1 dog) €25 (Daycare 1 dog) |
Top Dog Daycares in Dublin
We assessed the daycare centers based on the following criteria:
1. The Dog Lounge Lusk Doggie Daycare Centre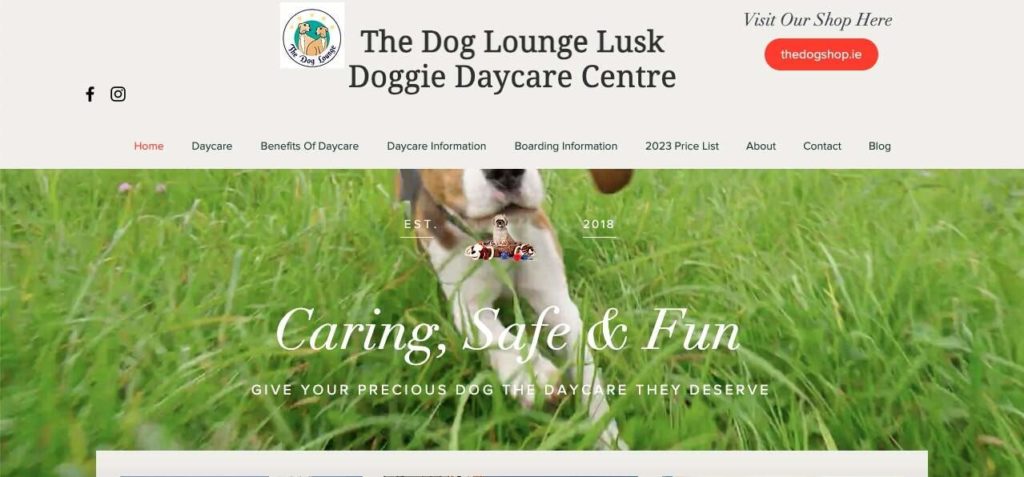 Test
Info
PRODUCTS
Pet Daycare
WEBSITE
https://www.thedogloungelusk.ie/
ADDRESS
Hedgestown Lane, Jordanstown, Lusk, Co. Dublin
CONTACT DETAILS
087 2873197
OPERATING HOURS
Monday to Friday: 8:00 AM- 5:30 PM

Saturday: 10:00 AM- 10:15 AM

Sunday: 11:00 AM- 11:15 AM
| | |
| --- | --- |
| Facilities | ★★★★★(5/5) |
| Variation | ★★★★★(5/5) |
| Cleanliness and Organization | ★★★★★(5/5) |
| Additional services | ★★★★★(5/5) |
| Background and expertise | ★★★★★(5/5) |
| Customer feedback | ★★★★★(5/5) |
| Overall satisfaction | ★★★★★(5/5) |
| Staff attitude | ★★★★★(5/5) |
Although they opened fairly recently back in 2018, The Dog Lounge Lusk Doggie Daycare Centre proves to be a strong choice as a customer favorite. This facility provides your dog with a safe and caring environment.
Initially, what stood out for us are their spacious facilities and amenities. They are located in the Lusk countryside and we find that they have a very sizable outdoor grassfield.
Although they do have substantial indoor space as well, we highly recommend them if you're looking for a daycare that can accommodate a lot of space for outside play.
The Dog Lounge Lusk Doggie Daycare Centre also has plenty of testimonials praising how friendly the owners are. We really appreciate that their approach allows even the most nervous of dogs to feel at home.
Customers can also breathe easy knowing that they can administer medications and injuries during the dog's stay. The medication must be given with a vet sticker but we really like that they're thorough in providing injury assessments for ailing dogs.
This helps owners feel at ease knowing that Dog Lounge Lusk Doggie Daycare Centre has the experience and background in these matters.
However, we highly recommend checking out their policies beforehand as they do have quite thorough conditions to follow. For example, owners must provide the dog's food per day clearly labeled and they do charge €10 for late pickup.
Overall, we find that The Dog Lounge Lusk Doggie Daycare Centre provides a high quality and attentive service that can help put any dog at ease with their facilities.
Accommodates injuries and medication
Very spacious outdoor field
Friendly owners and dog handling approach
Cheaper accommodation price per subsequent dog
Pet's food must be given by the owner
Stricter conditions in terms of application and late collection
Customer Reviews
Brilliant in Helping Our Dog Adjust
Could not recommend the Dog Lounge more to Dog Parents. We adopted a rescue dog last year and were concerned about boarding, as her first family gave her up and thought this may be stressful for her. Antoinette and Paul were brilliant in helping her settle over a few day care days and overnights. We are just back from an eight day trip and she is happy as ever. We could also see how she was getting on with some shared pics while we were away – she had great fun playing with other dogs ! Amazing place and a real haven for dogs. Highly recommended. -Robert Russell
My Dog is in Good Hands
Great place to leave your fur-friends. My Saluki is a bit iffy with other dogs, however anytime we leave him in for what we call a holidays he is over the moon. Antoinette and Paul make sure he is let out with dogs they know themselves to keep the whole pack safe and sound, we know Ollie is in good hands. We'll done guys!! Highly recommend!!! – Wojtek Soryl
2. Positive Dog Training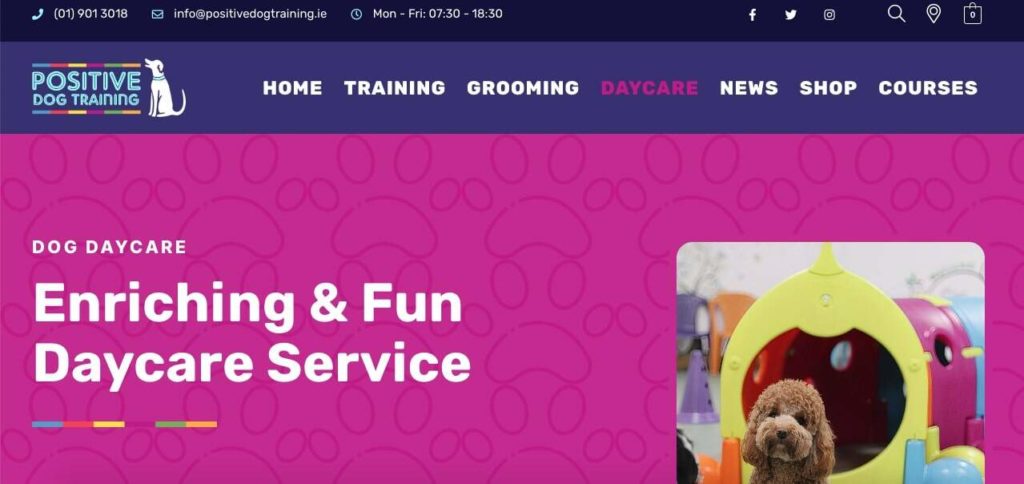 Test
Info
PRODUCTS
Courses for Dog Trainers, Dog Training, Grooming, Shop, Daycare
WEBSITE
https://positivedogtrainingdublin.com/
ADDRESS
Unit T2, Birch Ave, Stillorgan Business Park, Sandyford, Dublin 18
CONTACT DETAILS
01 901 3018
OPERATING HOURS
Daycare

Monday to Friday: 7:30 AM to 6:30 PM

Grooming

Monday to Friday: 9:00 AM to 6:30 PM
| | |
| --- | --- |
| Facilities | ★★★★★(5/5) |
| Variation | ★★★★☆(4/5) |
| Cleanliness and Organization | ★★★★★(4/5) |
| Additional services | ★★★★★(5/5) |
| Background and expertise | ★★★★★(5/5) |
| Customer feedback | ★★★★★(5/5) |
| Overall satisfaction | ★★★★☆(4/5) |
| Staff attitude | ★★★★★(5/5) |
A daycare center that certainly has a great variety in terms of services provided, Positive Dog Training is an excellent option for those looking for a one-stop-shop.
Established in 2011 by Liz McDonagh, has highly knowledgeable staff when it comes to dog care and varying dog needs. Whether it be dog behavior or first aid, customers can breathe easy knowing that their furry friends are in qualified hands.
We also find that they are a considerable choice if you are only first time dog owners. They have articles on their website about different topics like dog maturation and training.
If you have any questions as well, their staff are more than happy to help you out.
In terms of their daycare center, we really like how rigorous and engaging they are when it comes to admitting dogs. They can arrange for a trial day and assessment in order to gauge your dog's skill level and how well your dog can socialize with the others.
We really like that this step makes it even more personalized for each pup and owner.
What's more is that they accommodate drop-off and pickup times anytime between 7:30 AM to 6:30 PM. In this regard, they are more flexible compared to other centers.
However, keep in mind that they do not accept new dogs over the age of 8 and their daycare service is only for full days.
In the end, if you're looking for a facility that provides a personalized and flexible experience, Positive Dog Training may be the one for you.
Staff are very knowledgeable and experienced
Have great resources for first time owners
Very thorough in terms of preliminary steps
Flexible drop-off and pickup times
Does not offer a half-day service
Does not accept new dogs older than 8
Customer Reviews
Will Definitely Be Back
Me and Wee Milly went to the puppy hour on Saturday morning it was great very well organised staff very friendly and helpful will definitely be back. Lots of puppies on the day so Milly got to meet loads of new friends great fun, also there is tea and coffee with lovely fresh pastries. – Paul McKee
Great for Nervous Dogs
Staff are so friendly and understanding. Very helpful with nervous or timid dogs and do everything they can to accommodate nervous dogs and make them feel comfortable. Grooming service is great value and very efficient 😊 – Elise Thouvenin
3. The Canine Centre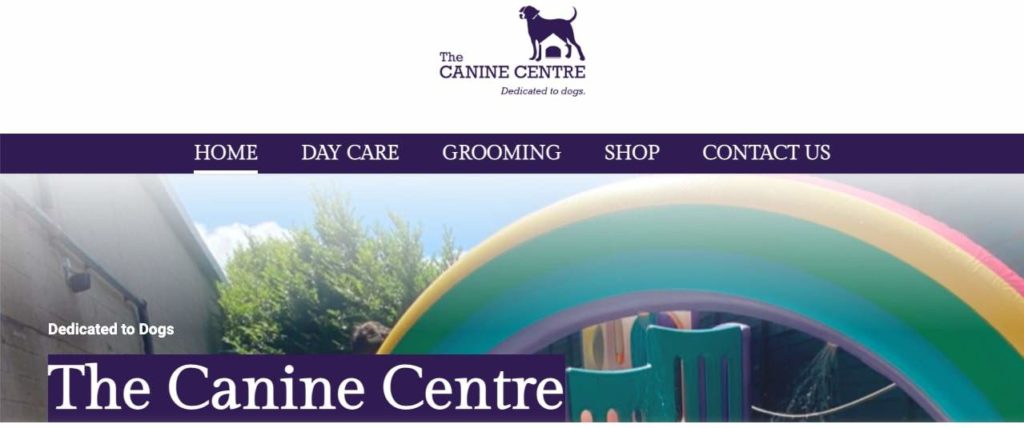 | Test | Info |
| --- | --- |
| PRODUCTS | Pet Daycare, Pet Grooming, Pet Training |
| WEBSITE | https://thecaninecentre.ie/ |
| ADDRESS | 7 Churchtown Business Park, Beaumont Avenue, Churchtown, Co. Dublin, D14 H766, Ireland |
| CONTACT DETAILS | +353-1-298-9588 |
| OPERATING HOURS | Monday to Friday: 7:30 AM- 6:30 PM |
| | |
| --- | --- |
| Facilities | ★★★★★(5/5) |
| Variation | ★★★★☆(4/5) |
| Cleanliness and Organization | ★★★★★(5/5) |
| Additional services | ★★★★☆(4/5) |
| Background and expertise | ★★★★★(5/5) |
| Customer feedback | ★★★★★(5/5) |
| Overall satisfaction | ★★★★☆(4/5) |
| Staff attitude | ★★★★★(5/5) |
A facility that aims to provide dogs with a relaxing and pleasant experience, The Canine Centre is a wonderful place for your pet to cool down.
What's nice about them is that they have an exhaustive and thorough assessment step. They want to ensure that all precautions are taken into account so they separate the dogs according to size and temperament.
You can be assured that The Canine Centre makes safety their top priority and they make a great choice for customers who are nervous about their more timid smaller dogs.
In relation to this, the registration through their Google Form takes into account any health and special requirements the customer's dog may need. We like how open and interactive they are when it comes to the owner's dog's conditions.
However, we would like to note that this assessment step requires a reservation beforehand, so make sure to plan this ahead.
What we also really appreciate about The Canine Center is that their facilities are quite varied. Although admittedly they are more limited in terms of outdoor spaces, their indoor spaces have a lot of activities and doys the pups can play with.
A big amenity highlight however is that they have both an outdoor and an indoor swimming area. It's a nice space that not many other daycares offer and some dogs have undergone hydrotherapy sessions in the past.
Overall, The Canine Centre's distinct features from services to facilities makes them a considerable option the next time your dog needs some pampering.
Thorough assessment of dog's health beforehand
Excellent grooming service
Friendly and accommodating staff
Great facility and amenities
Has a swimming pool
Full bookings especially on holidays
Assessment step requires a reservation
Customer Reviews
Helpful and Attentive
"Started taking my Lurcher pup here a few weeks ago. He loves it! Naomi and the staff are really helpful and attentive, they know all of the dogs personalities and requirements, and take excellent care of them. They also put loads of photos on their instagram which is a nice way to see what your dogs are up to! They're also always available on the phone if you have any concerns. Complete peace of mind." – Harry
Excellent Facilities
"Our dog adores every one of the talented team here and they are so good at what they do from grooming to the amazing day care facilities and hydrotherapy. They've helped us so much with her, they give such great advice, they treat her like she's their own dog and we can't thank them enough."–Saidhbh
4. DSPCA Pet Hotel and Doggie Daycare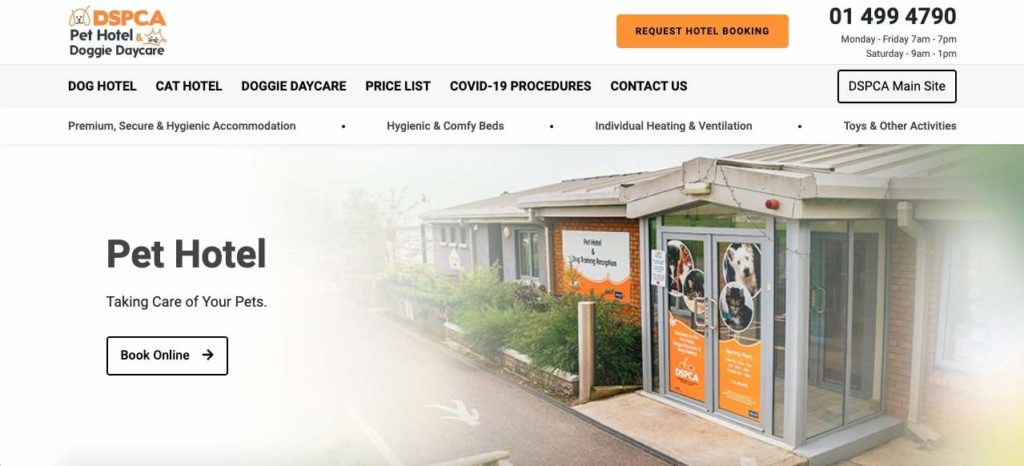 Test
Info
PRODUCTS
Dog Hotel, Cat Hotel, Doggie Daycare
WEBSITE
https://www.dspcapethotel.ie/
ADDRESS
Mount Venus Rd, Rathfarnham, Dublin
CONTACT DETAILS
01 499 4790
OPERATING HOURS
Monday to Friday: 7:00 AM to 7:00 PM

Saturday: 9:00 AM to 1:00 PM
| | |
| --- | --- |
| Facilities | ★★★★★(5/5) |
| Variation | ★★★★★(5/5) |
| Cleanliness and Organization | ★★★★★(5/5) |
| Additional services | ★★★★★(5/5) |
| Background and expertise | ★★★★★(5/5) |
| Customer feedback | ★★★★★(5/5) |
| Overall satisfaction | ★★★★★(5/5) |
| Staff attitude | ★★★★★(5/5) |

DSPCA is a well known and award winning organization that focuses on animal rehabilitation but they also have various branches of interest that are great services for domestic pets.
One of their specialties situated in Rathfanharm is called DSPCA Pet Hotel and Doggie Daycare. This place focuses primarily on providing a safe space for animals to stay.
We find their location to be the perfect spot for a daycare center since it has a lot of outdoor activity space. Not only do they have designated buildings for each of their pet hotels, but the rural atmosphere is a great space for animals to run around freely.
Upon application for their daycare, we like that they require an induction period for your pet to slowly integrate into the area and with the other dogs. It makes the process much safer especially for owners who have more nervous dogs.
However, if your dog has a hard time adjusting to other dogs, customers will certainly appreciate that DSPCA Pet Hotel and Doggie Daycare has a Kennel Day Care. This is ideal to accommodate dogs that adjust much slower to a different environment.
The features for their dog hotel are also quite varied and advanced, which include heating, hygienic beds, and medical administration.
However, because of their popularity, we highly recommend booking in advance because their slots can be filled up quite quickly.
If you do get a chance to avail of their services, we know you won't be disappointed with what DSPCA Pet Hotel and Doggie Daycare has to offer.
Very thorough induction process step
Sizable outdoor area
Can accommodate dogs who have difficulty socializing with other dogs
DSPCA also has dog training available
Very specific check in and check out hours
Pet hotel can be fully booked during peak seasons
Customer Reviews
Our Dog Enjoyed Her Stay
Would like to thank everyone at the DSPCA per hotel for looking after our fur baby while we were on holiday. She enjoyed her stay at the hotel. It was great peace of mind to know that she was in safe hands while we were away. 😊 – David Mooney
Great Staff Service
The staff is unbelievable, they're so nice and caring, feel very comfortable leaving the dog there. They go above and beyond to make sure pets and owners are all happy. Cannot recommend them enough -Martin Krivosik
5. Doonane Dogs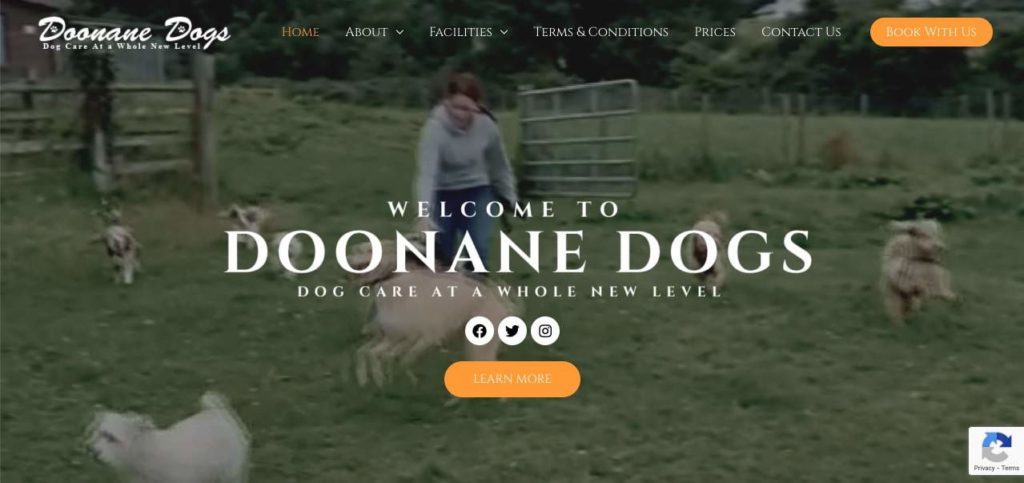 Test
Info
PRODUCTS
Deluxe Kennell, Bluebell Suites, Daycare
WEBSITE
https://doonanedogs.com/
ADDRESS
Coolmine, Saggart, Co. Dublin
CONTACT DETAILS
087 2220033
OPERATING HOURS
Drop-off and Collection times

• Between 11:00 AM to 12:30 PM

• Between 5:00 PM to 6:30 PM
| | |
| --- | --- |
| Facilities | ★★★★★(5/5) |
| Variation | ★★★★★(5/5) |
| Cleanliness and Organization | ★★★★★(5/5) |
| Additional services | ★★★★☆(4/5) |
| Background and expertise | ★★★★★(5/5) |
| Customer feedback | ★★★★★(5/5) |
| Overall satisfaction | ★★★★☆(4/5) |
| Staff attitude | ★★★★★(5/5) |
A service that approaches dog care with a more personalized and professional approach, Doonane Dogs is certainly a top choice for owners looking for a more tailor fit experience.
Emma Humphreys started Doonane Dogs with dog grooming, but expanded to dog care and boarding as well. She is very knowledgeable about dog behavior and pack behavior in particular.
We highly recommend her services if you're nervous about socializing your dogs with others. This is because she has a vast wealth of experience on the matter.
What makes Doonane Dogs unique from other daycares is that they have two distinct facilities available, Deluxe Kennels and Bluebell Suites.
Deluxe Kennels has everything your dog needs and direct access to outdoor views and spaces. On the other hand, their Bluebell Suites have cozier features like sofas, curtains and direct access to the courtyard area.
However, we admit that because they have a limited number of kennels available, they can get booked up quite fast. We still like that they provide various options to suit different dogs' temperaments.
We really appreciate Doonane Dogs is also very thorough in checking the suitability and health of your pups and they invite customers to check the facilities in advance.
If you're looking for a daycare that certainly has the knowledge and facilities for a cozy stay, you may want to check them out.
Can provide overnight boarding 
Offers two choices of packages
Have great advice and knowledge for dog's adjustment
Supply almost everything your dog needs from bedding to water bowls
More limited amount of kennels
One to one dog walking requires additional fee
Customer Reviews
Professional and Kinda
The place is absolutely fantastic, it is a 5 star hotel. Emma, the owner and her staff did an amazing job creating a happy place for dogs. Very professional and kind, she has huge knowledge of dogs, an expert in this field. – Patrycja Zeczew
Gives so much Joy and Attention
Best place to leave your furry friends when you are away. We can only relax knowing they are in the best hands here. Emma is a joy and gives so much attention to the dogs and post pics on fb so you can see them having the time of their lives – Wayne Kavanagh
6. Hilton 5 Star Doggie Daycare
| | |
| --- | --- |
| Facilities | ★★★★★(5/5) |
| Variation | ★★★★★(5/5) |
| Cleanliness and Organization | ★★★★★(5/5) |
| Additional services | ★★★★☆(4/5) |
| Background and expertise | ★★★★★(5/5) |
| Customer feedback | ★★★★★(5/5) |
| Overall satisfaction | ★★★★☆(4/5) |
| Staff attitude | ★★★★★(5/5) |
Hilton 5 Star Doggie Daycare is one of the best places to let your dog have fun and socialize with other fur pets. Jen, the owner of Hilton 5 Star Doggie Daycare lives  in a cottage in front of the daycare which is situated on landscaped, dog friendly land.
She is a seasoned fur baby caretaker who understands how important your dog is to you. As a result, she provides personal, dependable, safe, and, most importantly, professional services to all pets that stay with them.
They do this for the love of their four-legged pals, not for financial gain. This is encouraged out of respect and concern for the wellbeing of dogs. She is completely prepared to adore and care for your dog while you are gone.
With everything they have to offer, we truly believe that Jen, and her doggie daycare is one of the places to let our dog socialize while you're away.
5-minute drive from the Dublin Airport
Experienced staff
Great facilities
Customer Reviews
Would I recommend buying a puppy from Lisa
"Brought my lovely red Cavapoo home on Saturday, lovely, lovely Ollie. Such a happy social puppy due to the exception care and attention he was given by Lisa and Gerard. As registered breeders they have a wonderful operation in place where all their dogs are so well cared for and your puppy is the special one, testimony to this is how well socialized my beautiful puppy is. In addition I have been given a list of aftercare instructions on how to maintain a healthy outgoing puppy and encouraged to contact them if any additional information or advice required. Would I recommend buying a puppy from Lisa, 5 Star ✨✨✨✨✨ rating from me and Olli" – Evelyn Heron
Highly recommend it!
"Our little pup has been going here for daycare twice a week for about a year now. He loves it and Jen & the team take such good care of him, and are easy to deal with. He's a high energy little guy, but always comes home exhausted. Highly recommend!" – Paula Downes
FAQs about Dog Daycare in Dublin
---
It can be hard to select which daycare service to trust when it comes to caring for your beloved pet but we hope our list helps narrow down the best facilities up for the task. If you would like to read more we also have an article on the best dog training services in Dublin.