The 5 Best Car Washes in Limerick
It's natural for cars to get dirty because of how much we use them everyday. Aside from aesthetic purposes, keeping our car clean is important as it contributes to how smooth the vehicle runs.
In this article, we listed down the best car washes in Limerick for the next time your vehicle needs a good scrub down.
How much do car wash services cost?
Car washes usually have different tiers for different types of washes and features. More standard packages would include typical outer body washing while more advanced tiers include features like waxing and polishes.
Below are some price estimates of different car wash and valet packages.
| Package or Service | Price Estimates |
| --- | --- |
| Standard Car Wash | € 7 to € 12 |
| Premium Car Wash | € 12 to € 15 |
| Mini Valet | € 30 to € 50 |
| Full Valet | € 120 to € 150 |
| Self Service | € 1 per minute |
| Seat Wash | € 10 per seat |
| Hand Polish | €50 |
Top Car Washes in Limerick
We assessed the car wash according to the following criteria:
1. Prestige Car Wash and Valeting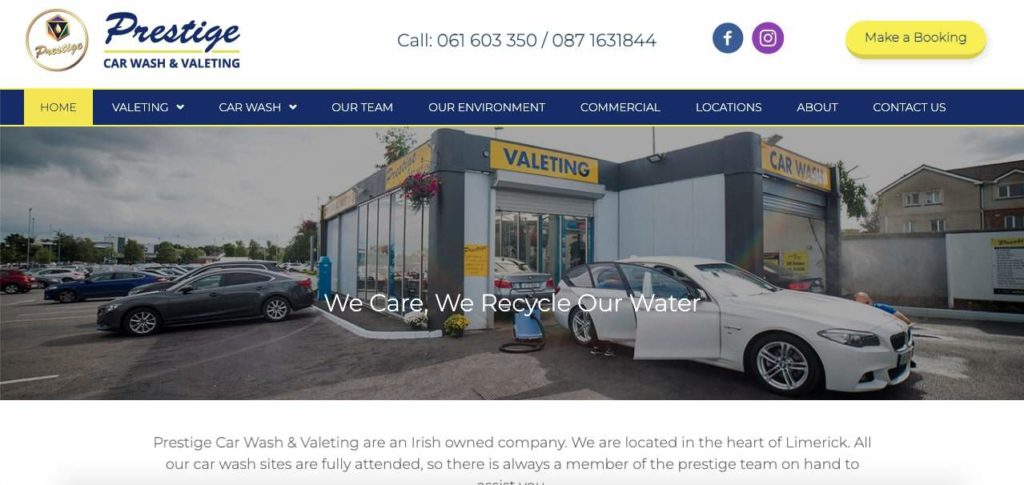 Test
Info
SERVICES
Car Wash, Valeting
WEBSITE
https://www.prestigecarwashlimerick.ie/
ADDRESS

• Castletroy Shopping Centre, Dublin Rd, Castletroy, Limerick

• Dock Rd, Ballykeeffe, Limerick City, Co. Limerick

CONTACT DETAILS
087 163 1844
OPERATING HOURS
Castleroy: Monday to Saturday: 9:00 AM to 6:00 PM

Dock Rd: Monday to Saturday: 8:30 AM to 6:00 PM
| | |
| --- | --- |
| Services | ★★★★★(5/5) |
| Car cleaning | ★★★★☆(4/5) |
| Additional services | ★★★★★(5/5) |
| Accessibility | ★★★★☆(4/5) |
| Prices | ★★★★★(5/5) |
| Customer feedback | ★★★★☆(4/5) |
| Satisfaction | ★★★☆☆(3/5) |
| Approach and attitude | ★★★★☆(4/5) |
With an impressive range of cleaning services, Prestige Car Wash and Valeting will surely satisfy a variety of customers with different needs and even different types of vehicles.
What we appreciate is that customer feedback highly praises their friendliness and approachability. This is great if you have any questions or requests, as their staff will be very accommodating in tackling these.
Additionally, we also appreciate that they have systems in place for water recycling and rainwater management. It's another detail that shows how mindful they are about their processes and technology.
In terms of their car washing, we like that they have an excellent range of prices and different features for different packages. They even have car washes for students and OAPs, as well as a prestige level category.
It gives customers a great selection to choose from, for different budgets and preferred features.
We were also impressed by how this wide range applied to their other service of valeting. It is a convenient option should customers want a more detailed interior cleaning.
However, we would like to point out that although the space for their facilities is quite large, the tunnels they have for valeting and car washing may not be the best for wider vehicles.
They do offer commercial cleaning services more appropriate for this, so make sure to give them a call for further details.
Friendly and qualified team of people
Have systems in place for water recycling
Affordable and wide range of car washing services
Also offers valeting
Closed on Sundays; different branches have slightly different operating hours
Car washing and valeting facility might not be the best for taller and wider vehicles
Customer Reviews
Price was Good and Service was Brilliant
Unbelievable service!! I've a dog and my car is usually full of hairs, I got the full valet done and it's like the dog was never in the car! I Will definitely be back again. Price was good, service was brilliant as the lady dealing with the car was very nice aswell as done a great job. -Stephenshine2k9
Great Attitude, Job and Price
Gave my car in here today with no notice, the girls are fantastic personalities, as busy as they were they carried out a full valet. Car is showroom condition now. Great attitude, great job and great price. Was able to have lunch in the shopping centre while I waited. So convenient, you would be mad to have your car cleaned anywhere else in Limerick. Thanks guys 💪 -Keith O Donoghue
2. Ballysimon Car Wash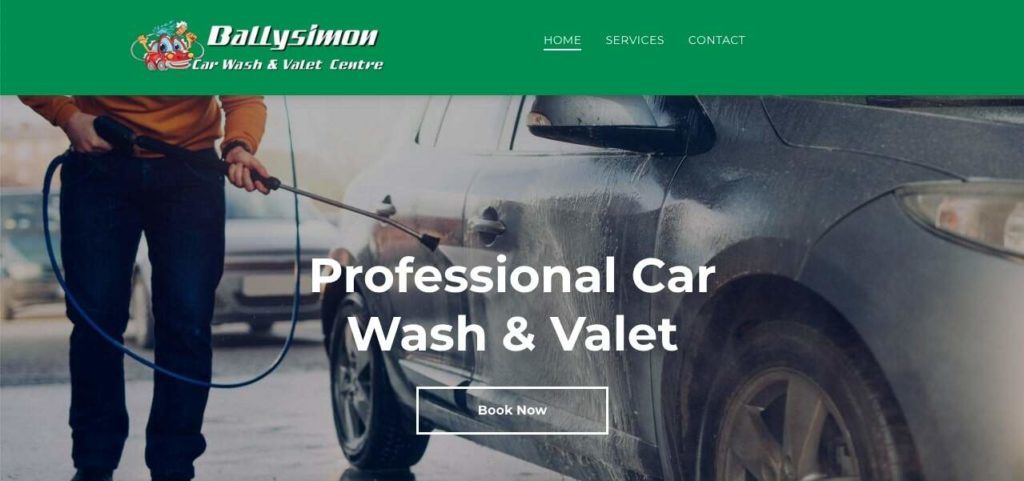 Test
Info
SERVICES
Exterior Car Wash, Interior Valet, Mobile Power Washing
WEBSITE
https://www.ballysimoncarwash.com/
ADDRESS
Monoclino Industrial Estate, Ballysimon Rd, Limerick
CONTACT DETAILS
061-439563
OPERATING HOURS
Monday to Friday: 9:00 AM to 6:00 PM

Saturday: 9:00 AM to 4:00 PM
| | |
| --- | --- |
| Services | ★★★★★(5/5) |
| Car cleaning | ★★★★★(5/5) |
| Additional services | ★★★★★(5/5) |
| Accessibility | ★★★★☆(4/5) |
| Prices | ★★★★☆(4/5) |
| Customer feedback | ★★★★☆(4/5) |
| Satisfaction | ★★★☆☆(3/5) |
| Approach and attitude | ★★★★☆(4/5) |
Ballysimon Car Wash and Valet Center is a great choice if you're looking for a more curated selection of various types of cleaning services.
They are an extension of Ballysimon Tyres which is right across the street from its location. This makes it a convenient choice if you're looking for vehicle cleaning, oil changing and tire services.
We also like that some customers reported back that they produce quick turnarounds and processes. If you're looking for a fast and efficient car cleaning service you may want to check out Ballysimon Car Wash and Valet Center.
In terms of their services, they offer both interior valets and exterior car washing.
We like that they do have both a standard exterior cleaning as well as a wash and wax package.
The prices for each of these packages are quite affordable, and the additional features of the wash and wax package make it easy for customers to further refresh the look of their car.
They also do have a mobile power washing service and we like that this option accommodates larger and more commercial vehicles.
The range of their valet services vary between three tiers, including additional features like polishing and shampoo. We appreciate how each of their packages, though small in range, still allow car owners some variety in selection.
It is important to take note that for MPV and 4×4 vehicles, the prices of all of these services go up slightly. We would advise you to check out their site for further details.
Customers praise efficiency
Great complement to their tire shop across the street
Has mobile power washing
Offer a wash and wax package
Shorter operating hours on Saturday and closed on weekends
MPV and 4×4 vehicles have slightly higher prices
Customer Reviews
Unbelievable Cleaning Transformation
I purchased an old jeep that must have been used on a farm, it was filthy absolutely gross and what's worse it was cream, couldn't really see the carpet, the leather was in terrible condition, those lads had it for a day, OMG the transformation made me cry, it was like a whole new car, unbelievable these lads are miracle workers, and very contentious. Highly recommend and will use them forever. Thank you AAAAA++++ -Margaret Gaul
Fast Turnaround
Excellent staff and service. Very fast turnaround for a great quality wash 👌 -Mark Lynch
3. Swift Carwash and Valet Centre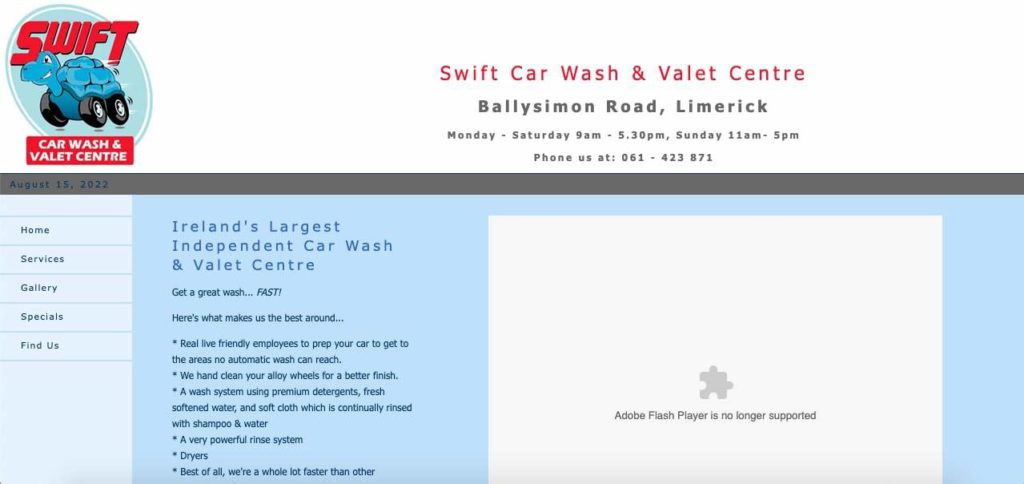 Test
Info
SERVICES
Tunnel Car Wash, Professional Valet Service, Extras
WEBSITE
http://www.swiftwashcentre.com/index.html
ADDRESS
Ballysimon Road, Limerick
CONTACT DETAILS
061 423871
OPERATING HOURS
Monday to Saturday: 9:00 AM to 5:30 PM

Sunday: 11:00 AM to 5:00 PM
| | |
| --- | --- |
| Services | ★★★★★(5/5) |
| Car cleaning | ★★★★☆(4/5) |
| Additional services | ★★★★★(5/5) |
| Accessibility | ★★★★☆(4/5) |
| Prices | ★★★★★(5/5) |
| Customer feedback | ★★★★★(5/5) |
| Satisfaction | ★★★★☆(4/5) |
| Approach and attitude | ★★★★★(5/5) |
Swift Carwash and Valet Centre has wonderful services that feature an in-depth selection of vehicle cleaning with some unique packages.
What makes them great is that they offer different techniques for cleaning your vehicle. This includes hand cleaning, wash systems and even self-service bays.
We appreciate this range of options as customers can really pick and choose which technique would work best for their cars, and in some cases even combine different methods.
This is a great option especially if your vehicle has intricate and hard to reach fixings.
All of these services are supported and managed by a great team of staff. Customer feedback has indicated that they found the customer service to be excellent and very helpful.
If you would like to dive into self-service washing, but it is your first time doing so, you can be assured that the staff would be more than happy to help.
Taking a look closer at their set of services, we like that the range of methods also supports a variety in prices. For customers looking for cheaper options, they have both self-services for jet wash and vacuum bays.
On the other hand, we like that their professional valet services have a wide selection of options for different customer needs, from faster express services to deep clean full valets.
We would however like to mention that they are very busy during the weekends. It would be better if you can afford to pass by during weekdays or go earlier during these weekends.
Pleasant and approachable staff
Offers different washing methods from self-service to wash systems
Uniquely has a valet service for car dressing
Also have extras that customers can add on to the service
Busy during weekends
Better suited for smaller and non-commercial vehicles
Customer Reviews
Great Wash for a Great Price
Excellent. Really friendly guy explained how it worked and theres a big sign with pricing and what's included. They take cash and card. 12 euro for a gold wash included a quick wash by a person plus the automatic wash afterwards. Did a really great job of the car. Takeaway coffee also available here. Handy location near Eastway on the Tipperary road. Can be busy at weekends. -Tom Cuillin
Fantastic Job
the boys do a fantastic job.they are dedicated to there job You can have a real nice chat with them while the are not busy but that would not last as they are always busy which tells me this must be a great place -Geraldine Moloney
4. Super Car Wash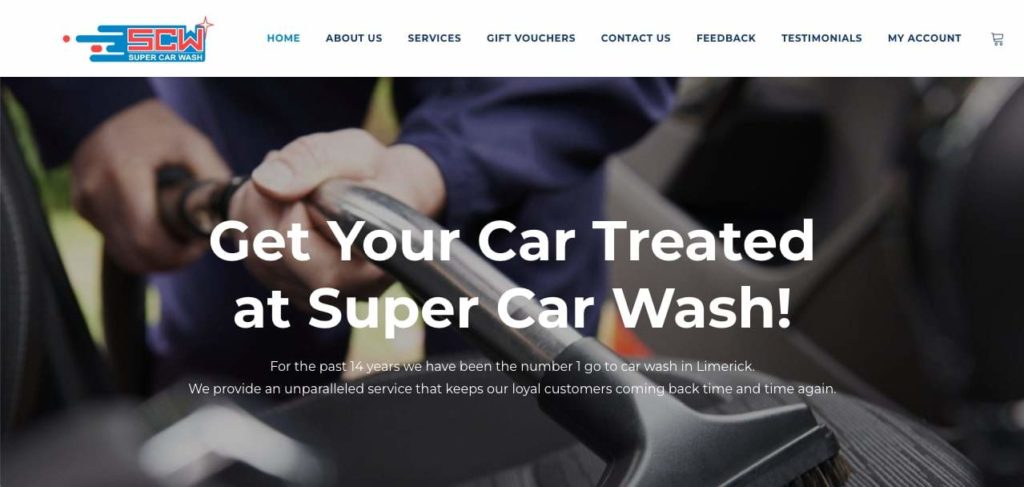 | Test | Info |
| --- | --- |
| SERVICES | Hand Wash, Shampoo, Detailing, Tire Services, Valet Packages |
| WEBSITE | https://supercarwash.ie/ |
| ADDRESS | Delta Retail Park, Ballysimon Rd, Garryglass, Limerick |
| CONTACT DETAILS | (087) 637-5959 |
| OPERATING HOURS | Monday to Saturday: 9:00 AM to 6:00 PM |
| | |
| --- | --- |
| Services | ★★★★★(5/5) |
| Car cleaning | ★★★★☆(4/5) |
| Additional services | ★★★★★(5/5) |
| Accessibility | ★★★★★(5/5) |
| Prices | ★★★★★(5/5) |
| Customer feedback | ★★★★☆(4/5) |
| Satisfaction | ★★★★☆(4/5) |
| Approach and attitude | ★★★★★(4/5) |
Established in 2007, Super Car Wash provides high quality cleaning jobs which in turn makes customers continuously return to their services time and again.
Numerous testimonials highlight their loyalty to them, describing the results from their services as excellent and their interaction with the staff as pleasant. We like that they can consistently provide car owners a reliable car wash to return to.
Moreover, some customers praise their attention to detail with the work. Even the photos show fantastic before and after shots of outer car doors and precise hubcap cleaning.
We also like that they have multiple locations available. Their most recent branch opened in 2019 at Ennis Road and alongside that they have two other branches.
This provides customers with an ample amount of space and options should one of the branches be full at certain times.
Taking a look at their services more closely, they offer different valet packages for washing and valeting. Some of the features include the primary use of handwashing as well as polishes and shampooing.
We like that even the most standard option provides customers with thorough cleaning features.
Keep in mind however, that they mainly use hand washing as opposed to automatic vehicle washing. This may comparatively result in longer waiting times and slightly higher prices.
Multiple locations
Can purchase gift vouchers and book online
High customer loyalty
Thorough and hands on process
Hand washing not the best choice for those looking for quicker services
Delta Retail Park branch might be busy during certain hours
Customer Reviews
Attention to Detail is Amazing
Can't fault the lads that do a fantastic job on all my cars they have done the last 6 years.very professional and polite,very fast and attention to detail is amazing,I've never left the car wash neededing to bring it back over missed areas as alot other places do.Keep up the great work lads. -Barry John Collopy
Never Once Been Disappointed
The guys at super car wash are just excellent. You give them your car, and they hand you back your car absolutely spotless! I have been a customer for years and have never once been disappointed. Great service to have! -Meabh O Kelly
5. Mobile Valet Limerick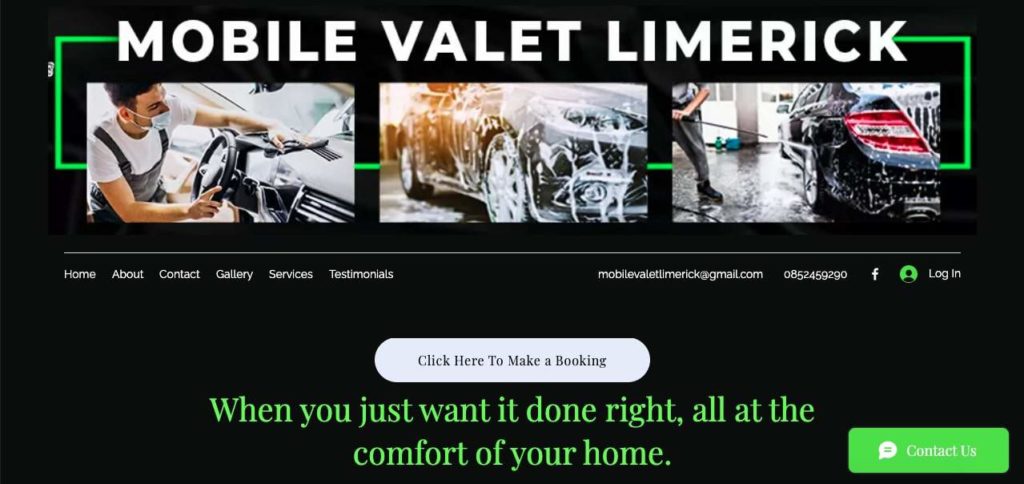 | Test | Info |
| --- | --- |
| SERVICES | Mini Valet, Deluxe Valet, Full Valet, Premium Full Valet |
| WEBSITE | https://www.mobilevaletlimerick.com/ |
| ADDRESS | 6 Amharc Muileann, Singland, Limerick |
| CONTACT DETAILS | 0852459290 |
| OPERATING HOURS | Monday to Saturday: 7:00 AM to 8:00 PM |
| | |
| --- | --- |
| Services | ★★★★☆(4/5) |
| Car cleaning | ★★★★☆(4/5) |
| Additional services | ★★★★☆(4/5) |
| Accessibility | ★★★★★(5/5) |
| Prices | ★★★★☆(4/5) |
| Customer feedback | ★★★★★(5/5) |
| Satisfaction | ★★★★★(5/5) |
| Approach and attitude | ★★★★☆(4/5) |
Mobile Valet Limerick offers distinct car cleaning services unlike any other. With over 5 years of experience, they have established a system that makes valeting even more convenient for the car owner.
Probably the unique feature that stands out from them the most is their mobility. Mobile Valet Limerick, as their name suggests, brings their services to you.
We find this to be very appealing as a common complaint about some car washing services are their long wait times.
Customers will highly appreciate this, making it very convenient for them to just schedule, wait and pay all from the comfort of their preferred location.
Their services cover Limerick and the surrounding areas. In light of their mobility, we also like that customers don't need to provide any equipment or resources, like water or electricity, at the specified location.
It gives customers a similar comfort as they would in going to outside car washes, but still enjoying the convenient factor of having it done at their preferred place.
In terms of their packages, they offer four distinct valet services from mini to full valet. We really like how their full valet service has leather and upholstery care, which is a great option for those who want their interiors very thoroughly cleaned.
We do forewarn however, that customers can only choose from these four types of packages, making it not as customizable as other car wash or valet options.
Provide the service at your preferred location
Customers do not need to provide electricity or water
High quality and excellent results
Great customer satisfaction and easy to coordinate with
May be slightly more expensive compared to traditional car washes
Services must be taken as packages, not as customizable with features
Customer Reviews
Cars Look like They Came out of a Showroom
The guys from Mobile Valet Limerick done 2 full valets for me recently outside my house and I have to say it was the best money i ever spent, both cars were like they were just out of the showroom. I would highly recommend and will be using this service from now on. -Liam Shan
Fantastic Service
My valet has just finished and I have to say, the car looks almost new.
Fantastic service and I would highly recommend, you wont be disappointed. -Terry Bussoli
FAQs about Car Washes
---
Whether your vehicle needs a deep clean or a good and light maintenance wash, we hope our list helps you in exploring the different car wash options out there. If you would like to read more we also have an article on the best car dealerships in Limerick.