5 Best Cafés to Check Out in Cork City
As Ireland's food capital, Cork has a lot to offer in terms of local cuisine and even international cuisine. It's not a surprise that it's also home to some of the country's best cafés.
A stunning view, rich history, good food, and a variety of coffee choices—find a Cork café and you'll have them all. 
How Much to Spend on a Café in Cork City
The price of food and drinks in Cork City cafés vary. This table shows the average price range of what they offer so you'll have an idea about how much you might spend on one visit at a local cafés: 
| | AVERAGE PRICE RANGE |
| --- | --- |
| Drinks (coffee, tea, juice) | €2-8 |
| Food (breakfast, lunch, dinner) | €10-30 |
Best Cafés in Cork
We're reviewing the top cafés in the city based on the following criteria:
1. Bean & Leaf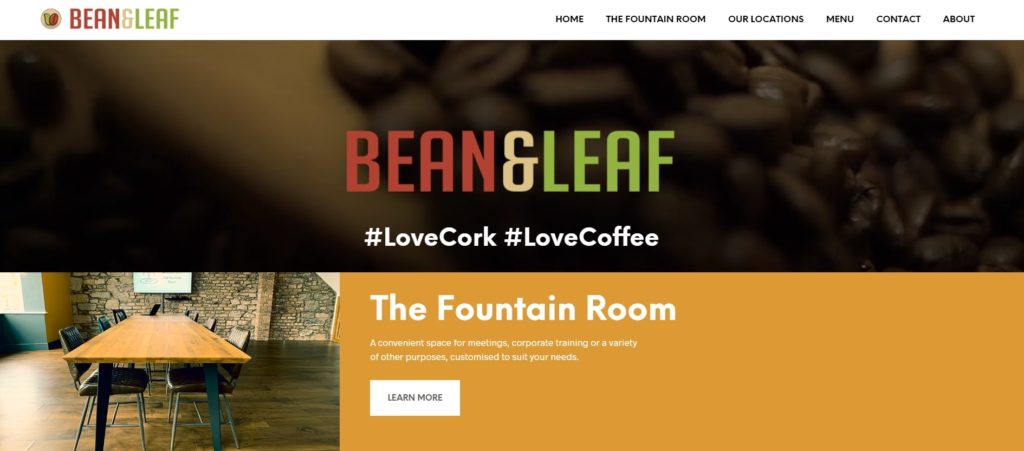 Test
Info
WEBSITE
https://beanandleaf.ie/
ADDRESS
29 Grand Parade, Centre, Cork, T12 EP99, Ireland
CONTACT DETAILS
+353 21 427 9254
OPERATING HOURS
Monday - Saturday: 7:00 AM - 9:00 PM

Sunday: 8:00 AM - 9:00 PM
| | |
| --- | --- |
| Ambience | ★★★★☆ (4/5) |
| Cosiness | ★★★★☆ (4/5) |
| Location and accessibility | ★★★★★ (5/5) |
| Convenience | ★★★☆☆ (3/5) |
| Café menu | ★★★★★ (5/5) |
| Variety | ★★★★☆ (4/5) |
| Quality (taste, freshness) | ★★★★★ (5/5) |
| Price (Higher score = better value) | ★★★★☆ (4/5) |
| Reputation | ★★★★☆ (4/5) |
When we asked the regular customers of Bean & Leaf what made them so loyal to the café, they told us it's because of the convenience. The café is open until 9pm, which makes it a good spot for those who want to relax after a long day at work.
Another thing we appreciate is the location. The café is accessible to the people in the area, which makes it really popular, that you almost find people lining up outside for a takeaway or a dine-in experience.
What we appreciate the most though is that even if there are a lot of customers, the service is quick. The staff move efficiently so even if the line is long, you don't have to wait for your order.
They're friendly as well! Another thing the customers love the most is that they're always greeted with a smile by the staff—plus they remember their regular orders as well!
We also love that the café has several tables and chairs even outside. However, one downside is that since it's so popular in the area, it's almost always busy; and because of this, all tables are easily filled with customers.
In terms of pricing, Bean & Leaf is at the affordable end. It has a good selection of coffee and cakes, all of them reasonably priced!
Probably the only thing customers always complained about is the long line in the toilet. The café only has a small bathroom and a lot of regular customers, so it can get pretty inconvenient most especially during busy hours.
Open until late at night
Good selection of cakes
Reasonably priced
Friendly and efficient staff
Nice location
Has outdoor and indoor seating
Top-class coffee
Nice atmosphere
Always busy
Long wait for the toilet
Customer Reviews
Nice location for drinking good coffee
Superb to be able to visit a local coffee house while on a trip to Cork. A really nice spot with loads of Irish produce. Good coffee and my chai latte was also awesome – with an option of spiced or vanilla and extra cinnamon. Friendly service from the team too!— Susan Mcentegart, Google Reviews
Perfect for those who need late-night coffee
Best cafeteria in Cork, love the coffee here, it's open late which is a blessing for people like me. The selection of cakes suits me. All cheesecakes are great, and the peanut butter bar makes me want to have another one or 2 right after the first one. Only downside is a lack of sitting places, don't get me wrong. There are a lot of tables inside and outside, but the place is busy. Sometimes you can't get the table inside to have a cake and some latte inside.— Krystian Bielak, Google Reviews
2. De Calf Cafe
Test
Info
WEBSITE
https://www.facebook.com/decalfcafe/
ADDRESS
Cornmarket Centre, Cornmarket St, Centre, Cork, Ireland
CONTACT DETAILS
+353 21 241 1126
OPERATING HOURS
Monday - Friday: 8:30 AM - 5:00 PM

Saturday: 9:00 AM - 5:00 PM

Sunday: 10:00 AM - 5:00 PM
| | |
| --- | --- |
| Ambience | ★★★★☆ (4/5) |
| Cosiness | ★★★★☆ (4/5) |
| Location and accessibility | ★★★★★ (5/5) |
| Convenience | ★★★☆☆ (3/5) |
| Café menu | ★★★★★ (5/5) |
| Variety | ★★★★★ (5/5) |
| Quality (taste, freshness) | ★★★★☆ (4/5) |
| Price (Higher score = better value) | ★★★★☆ (4/5) |
| Reputation | ★★★★☆ (4/5) |
De Calf Cafe is actually known around the area for two things: coffee and scones. Some regular patrons told us that the café serves piping hot, smooth-tasting coffee and it has (arguably) the best scones in the area!
Speaking of coffee and scones, we think you'll love that the café has an extensive menu for food and coffee. Even those who are choosy with their food will have something they prefer from the menu, which makes it the perfect place for picky eaters!
We also like that the menu has vegan-friendly food and gluten-free options. You don't have to compromise your diet because there's something for you.
Another thing—we appreciate De Calf Cafe caters to a large group as well. It has a lot of tables so even if it gets busy, customers don't have to wait long to get seated.
The ambience is amazing—it's clean and smells like coffee, giving it a homey atmosphere. And the staff are super friendly as well—they're attentive to your needs and address your issues with smiles on their faces.
Pricing is affordable too even though it has a good selection of coffee and food. We think you'll love the dessert the most because they're totally some of the best in the area!
Probably the only thing we can complain about is that it has a poor hotspot signal, so if you're there to work, this will be a problem. Also, some items in the café's menu aren't available, which can be pretty annoying if it's what you want to order. 
Has the best scones in the area
Reasonable prices
Vegetarian-friendly and has gluten-free options
Smooth-tasting coffee
Great atmosphere
Good breakfast selection
Extensive dessert list
Super friendly staff
Perfect for a large group
Poor signal for a hotspot
Some items in the menu aren't available
Customer Reviews
Best scones in the area
Came here on Thursday for a quick cuppa and scone. Lovely smell in the cafe, everything homemade. When we walked into the cafe it was quite busy which was a good sign. Latte nice and scone fine too. I would have preferred if the scone was warm when served and there was a bit of a baking powder taste to it but I enjoyed the scone though. Staff were jolly. All in all I did have a nice experience in De Calf Cafe and will be coming back 🙂 .— Olena Hearty, Google Reviews
Serves good coffee and desserts
Having travelled since the early hours, we were eager to find somewhere pleasant for coffee and snacks. We were not to be disappointed. Service was pleasant and everything was brought to our table. There was a very interesting choice of cakes and pastries with the carrot cake proving a great success. I opted for a sausage roll which arrived warmed and with leaves and a lovely chutney.
The coffees were good too!— Mick, Trip Advisor
3. Café Gusto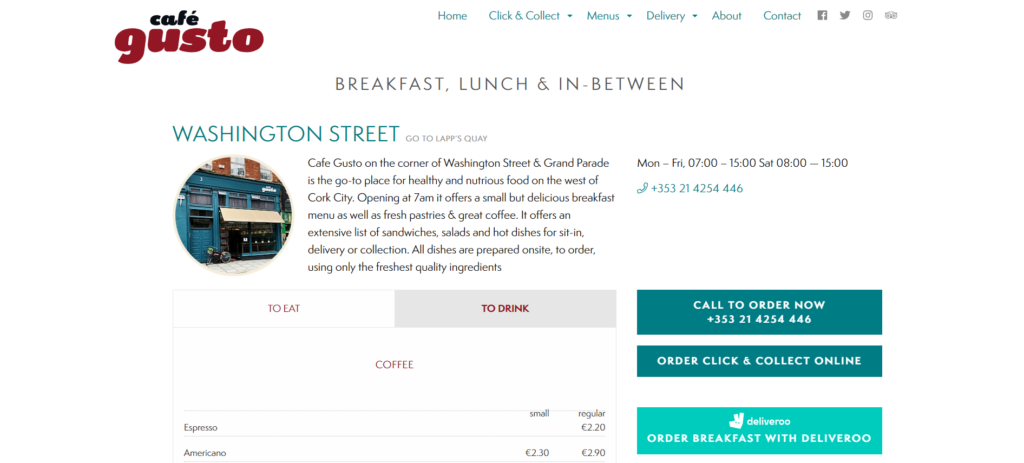 | | |
| --- | --- |
| Ambience | ★★★★☆ (4/5) |
| Cosiness | ★★★☆☆ (3/5) |
| Location and accessibility | ★★★★★ (5/5) |
| Convenience | ★★★☆☆ (3/5) |
| Café menu | ★★★★★ (5/5) |
| Variety | ★★★★★ (5/5) |
| Quality (taste, freshness) | ★★★★★ (5/5) |
| Price (Higher score = better value) | ★★★★☆ (4/5) |
| Reputation | ★★★★☆ (4/5) |
Café Gusto is a lovely little café in Cork City that's not your typical mainstream coffeehouse. What we love about it is that it serves authentic food and fantastic coffee which makes the experience of dining-in better than you have imagined.
The locals we talked to around the area told us it's their favourite breakfast place. However, they warned us to come in early because the place tends to get really full, especially during breakfast or lunch.
And we think this is actually a good reason to try the place! Having a lot of customers is an unofficial review of the place—it means Café Gusto's food and coffee are some of the best in the area!
Speaking of food, we love that Café Gusto has an extensive menu that caters also to the health-conscious. It has a lot of vegan-friendly and gluten-free items in the menu, and the ingredients are all locally sourced making the dishes fresh when served!
We also love the atmosphere in the café. It has a lovely setup, it's clean, and smells so good—plus the staff are accommodating and friendly!
It's quite a small café though, so if you want to enjoy the food with the atmosphere, we recommend going on a non-peak hour. Also, the tables are crammed close to one another so it might be a little inconvenient at times.
But other than those little problems, Café Gusto is a good place to relax while enjoying good food and good coffee. Plus it's the locals' favourite—you'll never go wrong with what the locals think is one of the best they have!
Clean café 
Extensive food menu
Vegan-friendly
Amazing coffee
Efficient service
Food is served fresh
Good value for money
Small space so it gets full easily
Tables are crammed close together
Customer Reviews
Amazing waffles and great coffee
Visited for breakfast. Had amazing waffles with berries and a great coffee. Be warned- it gets very busy and the tables are quite close together. Staff are really friendly and the place is kept very clean. I'd definitely return. — Clodagh15 JP, Trip Advisor
A cafe for the health-conscious
This cafe was just what we wanted for a quick and healthy lunch. I had the delicious salads of the day, topped with grilled halloumi. My husband had a Mediterranean roasted vegetable & hummus wholemeal sandwich. We both had an excellent cappuccino. The staff were pleasant, friendly and very helpful. All produce is locally sourced. There are just a few high tables with high chairs.— 3Globes, Trip Advisor
4. Myo Cafe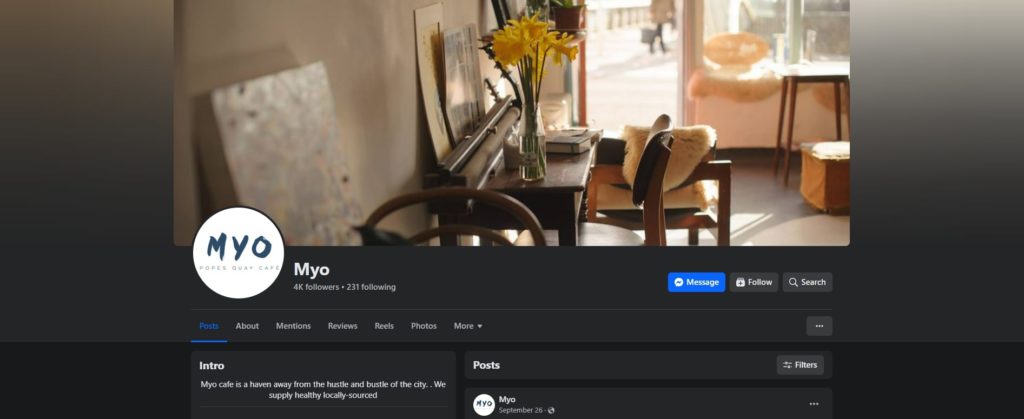 | Test | Info |
| --- | --- |
| WEBSITE | https://www.facebook.com/MyoCork/ |
| ADDRESS | 34 Popes Quay, Shandon, Cork, T23 F590, Ireland |
| CONTACT DETAILS | +353 87 662 9339 |
| OPERATING HOURS | Monday - Sunday: 9:00 AM - 7:00 PM |
| | |
| --- | --- |
| Ambience | ★★★★★ (5/5) |
| Cosiness | ★★★★★ (5/5) |
| Location and accessibility | ★★★★★ (5/5) |
| Convenience | ★★★★☆ (4/5) |
| Café menu | ★★★★★ (5/5) |
| Variety | ★★★★☆ (5/5) |
| Quality (taste, freshness) | ★★★★★ (5/5) |
| Price (Higher score = better value) | ★★★★☆ (4/5) |
| Reputation | ★★★★☆ (4/5) |
We're not going to deny it—while Myo Cafe offers fantastic coffee and good food, its main selling point to us is the view. It's located just beside the river—it's the perfect spot to enjoy the sun while relaxing with a good book and cup of coffee!
According to some customers we talked to, it has become their favourite spot to relax after a day of roaming around the city. They just order coffee and food, and prefer to stay outside while having a good chat.
The food is good, by the way—always served fresh and hot, which makes you appreciate it more. The coffee is fantastic as well—always served hot and piping, with a flavour that doesn't taste too strong.
We also love that the staff accommodate your coffee preferences. They can add water to your coffee or make other adjustments if it's too strong or bland for you!
Speaking of the staff, Myo Cafe's staff are very friendly to the customers. They engage you into nice conversations and even help you navigate through the area—ask them for recommendations for places to visit and they'll give them to you!
The only thing that we didn't like about Myo Cafe is the price of some items—it's not exactly budget-friendly. Another thing—the café is quite small, so on peak hours, you won't have a table to sit and enjoy your coffee and food.
Amazing view facing the river
Great atmosphere
Good coffee
Freshly baked goods
Friendly staff 
Has tables facing the river
A little pricey
Small space
Customer Reviews
Relaxing atmosphere with a perfect view of the river
What a nice little coffee shop! Very warm and eclectic atmosphere with great coffee and fresh baked goods. You can take your coffee outside and sit in front of the river. Great coffee and great views.— Toria Wilson, Trip Advisor
Lovely cafe in a perfect location
Beautifully decorated little CAFE on the banks of the Lee. They have seats opposite on the side of the riverbank, probably one of the best places to sit along the river in the city. Few places actually give you a view of the river. Coffees look good and they have a selection of soft drinks. Definitely a good option if you're in the Shannon quarter of the city. The stairs behind the sailors lead directly to shandon.— Mark McEntee, Google Reviews
5. Café Eco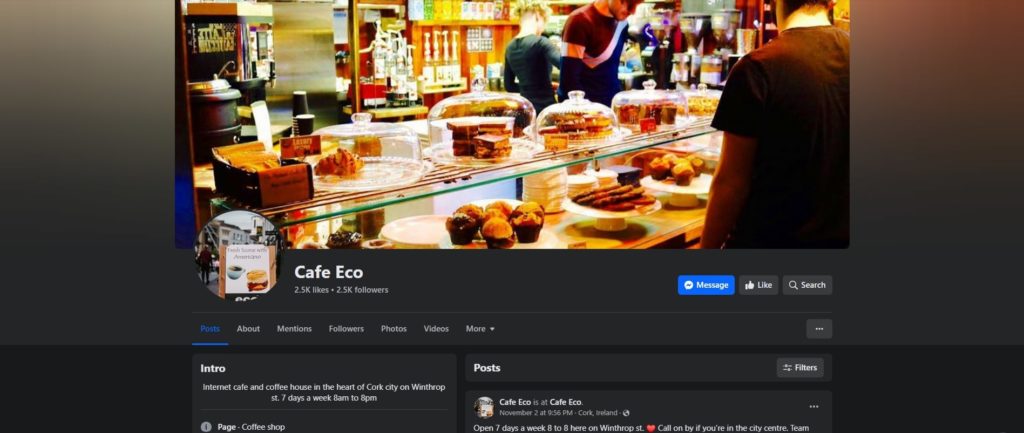 | Test | Info |
| --- | --- |
| WEBSITE | https://www.facebook.com/cafeecocork/ |
| ADDRESS | 8 Winthrop St, Centre, Cork, T12 EH1Y, Ireland |
| CONTACT DETAILS | +353 21 427 3090 |
| OPERATING HOURS | Monday - Friday: 8:00 AM - 8:00 PM |
| | |
| --- | --- |
| Ambience | ★★★★★ (5/5) |
| Cosiness | ★★★★★ (5/5) |
| Location and accessibility | ★★★★★ (5/5) |
| Convenience | ★★★★☆ (4/5) |
| Café menu | ★★★★☆ (4/5) |
| Variety | ★★★★☆ (4/5) |
| Quality (taste, freshness) | ★★★★☆ (4/5) |
| Price (Higher score = better value) | ★★★☆☆ (3/5) |
| Reputation | ★★★★☆ (4/5) |
Café Eco has a theme, which makes it perfect for students and professionals who happen to pass by the area and need a place to work or study. The café has a computer area which you can use if you need access to the internet and need printing.
We think it's the perfect hangout place for friends. The atmosphere is pretty chill and also very casual—just the thing you're looking for if you want to relax and just talk with your people!
In fact, the café has a variety of people from all types and backgrounds coming to hang out. You can see students and professionals hanging out at the place, simply because it's a cool place to do your own thing without the noise.
The café also serves good food with a lot of vegan options, which we appreciate—it can cater to any type of diet. It also has an extensive selection of hot or cold drinks, so you'll have several options if you're tired of plain coffee or tea.
We think you'll also love the desserts! Café Eco has a great cake selection that's recommended by the patrons—a definite must-try.
We also appreciate the friendly atmosphere of the place. The staff are always nice and will give you complimentary chocolates to enjoy with your drinks!
The only thing we're a little off about is that it's pricey. Also, we recommend checking the final bill because sometimes the staff make mistakes and double-charges you.
But other than those, in terms of atmosphere and variety of food and drinks, Café Eco is a good place to visit in Cork. It's open until 8pm so it's also a perfect spot to get late-night coffee! 
Great cake selection
Has a lot of vegetarian options
Chill hang out spot
Open until late
Nice staff
Has computers at the back for surfing
Has a lot of hot and cold drinks options
Good coffee
Pricey
Mistakes in the bill
Customer Reviews
Great cake selection with vegan-option
They have a great cake selection with vegan options! I got a vegan cheese toastie which was amazing with vegan mayo and chutney. Also I have tried the ready made vegan salad with sriracha mayo and falafel nut balls which was yummy too! Will definitely be coming back to try the pizza and cakes! — Grahenn, Trip Advisor
Chill hangout spot with computers
If you are looking to find a chill and cool looking place, with great service and food, this coffee should be your first option. They also have a bunch of computers well maintained in case you need one. I would recommend it 100%.— Jonathan Camarena, Google Reviews
FAQs About Cafés in Cork
---
Cork is the perfect city to visit if you want a picturesque view while eating good food and sipping fantastic coffee. If you want to explore more of what Ireland's food capital has to offer, visit the Top Restaurants in Cork.