5 Must-Visit Museums in Cork
According to history, Cork started as a monastic settlement and was founded by St. Finbar. It's also the only city in Ireland that experienced all phases of urban development making its history and culture rich.
This rich heritage can be found in several of Cork's museums—a must-visit places for history and cultural buffs!
How Much are the Entrance Fees to Cork Museums
The following table outlines the entrance fees to some of Cork's must-visit museums. Please note that the rates may change anytime, so it's better to always check in advance beforehand:
MUSEUMS
ENTRANCE FEES
Cork Public Museum
Free admissions
The Butter Museum
Adults: €5.00

Students/​Seniors: €4.00

Chil­dren: €2.00

Chil­dren under 12: Free (in a fam­ily group)

Cork City Gaol
Adults: €10.00

Students/​Seniors: €8.50

Chil­dren: €6.00

Family: €30.00

Nano Nagle Place

Free admissions to Nano Nagle's tomb and gardens




Heritage Experience:

- Adults: €7.50

- Children: €4.50

Collins Barracks Military Museum
Free admissions
Top Museums in Cork
We're listing down the best museums to check out in Cork based on the following criteria:
1. Cork Public Museum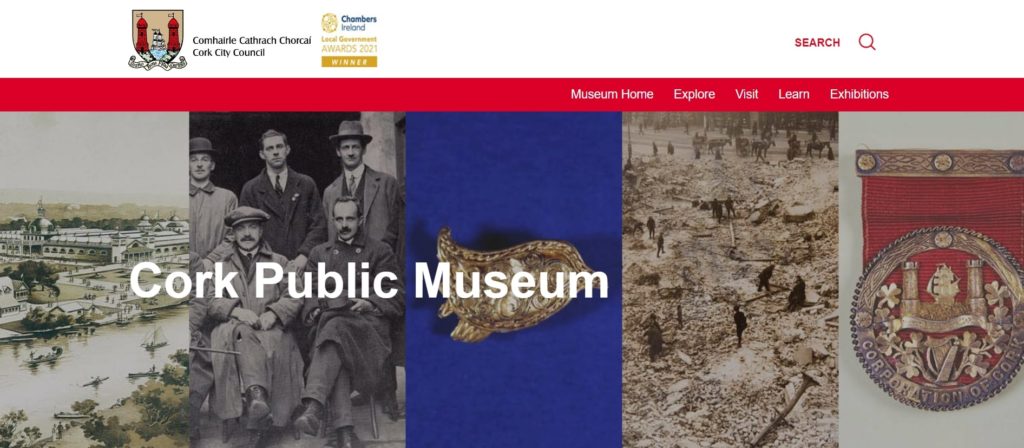 Test
Info
WEBSITE
https://www.corkcity.ie/en/cork-public-museum/
ADDRESS
Fitzgerald Park, Mardyke, Cork, T12 V0AA, Ireland
CONTACT DETAILS
+353 21 427 0679
OPERATING HOURS
Tuesday - Friday: 10:00 AM - 4:00 PM

Saturday: 11:00 AM - 4:00 PM
| | |
| --- | --- |
| Convenience | ★★★★★ (5/5) |
| Ease of access | ★★★★☆ (5/5) |
| Distance | ★★★★★ (5/5) |
| Theme | ★★★★★ (5/5) |
| Admissions fee (Higher score = better value) | ★★★★★ (5/5) |
| Reviews | ★★★★☆ (4/5) |
| Museum staff | ★★★☆☆ (3/5) |
If you're interested in the overall history of Cork as a city, we recommend dropping by the Cork Public Museum. This museum shows the rich history, and focuses not only on the good factors but also about wars and famine that shaped the city to what it is now.
We love it when a museum offers extensive knowledge about the city we're in because it makes us understand more about the people and the traditions. The more we know about something, the more we can give it the respect it deserves.
According to visitors we managed to chat with, visiting Cork Public Museum was an eye-opener because they realised there's more to Cork than being Ireland's food capital. They also loved that the museum is kid-friendly, which made things easier.
We think it's also worth praising that the museum is well-organised and well-maintained—paintings, photos, artefacts, and information are arranged properly. The exhibits are set up per theme so you'll instantly know what a particular area is for.
We also like that Cork Public Museum is in a lovely location. The grounds are picturesque and there's even a park nearby where you can rest after roaming around the museum.
There's also a coffee shop inside that serves as a relaxing spot for some. We love that it offers tasty pastries and good coffee—as good as some of Cork's best cafes.
The only problem we see is that sometimes, the museum closes without prior notice, making it a waste of time for those who visit the place early. Also, some staff need more knowledge about the exhibits because they can't provide more information to visitors.
Focuses on history and archaeology of Cork
Free admissions
Well-maintained
Has great exhibits
Near a park
Lovely location
Has a coffee shop
Kid-friendly
Some staff can't provide information about the exhibits
Closes without prior notice
Customer Reviews
Perfect place to know Cork's history as a city
Excellent historical museum covering the various peoples who lived, traded with, influenced and/or pillaged the County and city of Cork, the Venice of the south. Top quality displays, strong themes curated well and fascinating artefacts make the Cork Public Museum a must-see for history, sociology or genealogy buffs. — Paul O'Donoghue, Google Reviews
Focuses on the history that matters
Go to any local museum and you expect the usual background of flora and fauna as well as the story behind the locality. This museum has all this but what makes the difference is the exhibitions on Cork in the War of Independence and Civil War as well as the history of the Royal Munster Fusiliers, the local regiment of the British Army. Allow at least 2 hours to take it all in then relax in the surrounding park and treat yourself to a snack at the Natural Foods Bakery.— Stuart F, Trip Advisor
2. The Butter Museum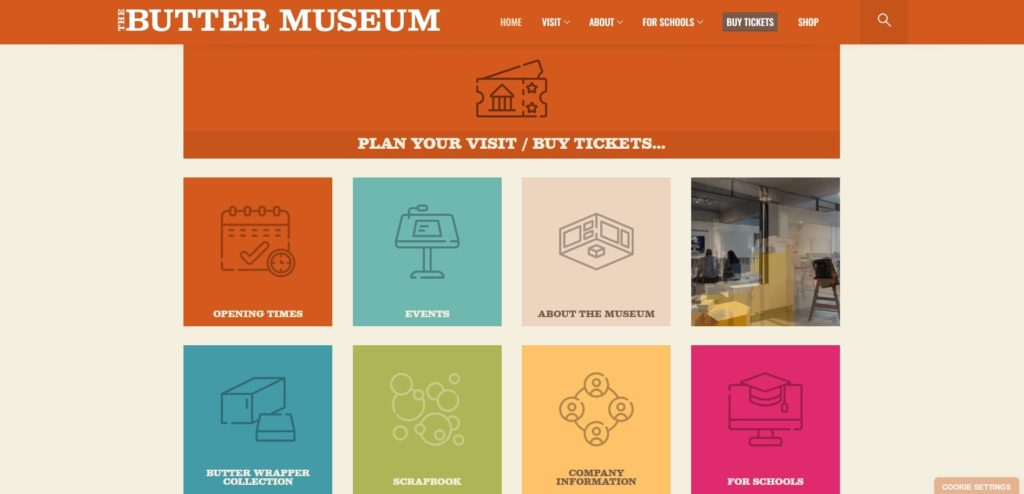 Test
Info
WEBSITE
https://thebuttermuseum.com/
ADDRESS
O'Connell Square, Shandon, Cork, Ireland
CONTACT DETAILS
+353 21 430 0600
OPERATING HOURS
Wednesday - Saturday: 10:00 AM - 4:00 PM

Sunday: 11:00 AM - 4:00 PM
| | |
| --- | --- |
| Convenience | ★★★★☆ (4/5) |
| Ease of access | ★★★★☆ (4/5) |
| Distance | ★★★★☆ (4/5) |
| Theme | ★★★★☆ (4/5) |
| Admissions fee (Higher score = better value) | ★★★★☆ (4/5) |
| Reviews | ★★★★☆ (4/5) |
| Museum staff | ★★★★☆ (4/5) |
Some of you might find this amusing, but it is what it is—The Butter Museum is dedicated to the spread we all love. Of course it doesn't just talk about how butter is produced, but it also shows the history of butter production and the industry in Cork.
It's actually quite interesting if you ask us! While you won't find butter sculptures of some sort, you can see the different equipment they used in making butter and informative videos that will show you the rich heritage of the product.
We also appreciate how well-organised the museum is. Despite being a small one, it has a lot to show the visitors in terms of artefacts and information, and you'll enjoy the visit even if it isn't a typical museum.
The staff are amazing as well! They know a lot about butter and its history, so if you feel like you missed some information and needed to hear it again, just ask the staff.
In terms of admission fee, it's not free. But we still recommend visiting it because it's a fun place to spend a couple of hours if you have nothing to do.
Just a little warning though—you need to climb a few narrow streets to be able to reach The Butter Museum. So it's probably not recommended if you're with senior companions.
There are also some tourist places nearby which you can visit after your museum tour. The view is amazing, and the overall vibe is serene—far from the noise of the city.
Educational
Interesting exhibits and artefacts
Fun museum
Friendly and knowledgeable museum staff
Well-maintained
Lovely setup
Near some tourist attractions
Requires a trek along some narrow streets
Small
Customer Reviews
Comprehensive history of butter production
Who knew there was so much to know about butter in Ireland? Interesting, educational. There is a nice introduction video followed by displays, some with short videos. You can see churns, milk cans, old processing equipment, 1000 year old butter, and even make a label with a stamp.— Mary Alice Murphy, Google Reviews
Informative and fun place to visit
… This museum is very informative and a lot of fun. We learned all about the history of butter production in Ireland. We learned about the early butter production techniques and dairy farming. There is an entire floor devoted towards this and it also shows how butter making progressed since the mid 20-th Century. Another part of the museum deals with Cork and the Butter Exchange Market. It shows how Cork became a big trading centre and was the largest butter market in the world… — Susan D, Yelp
3. Cork City Gaol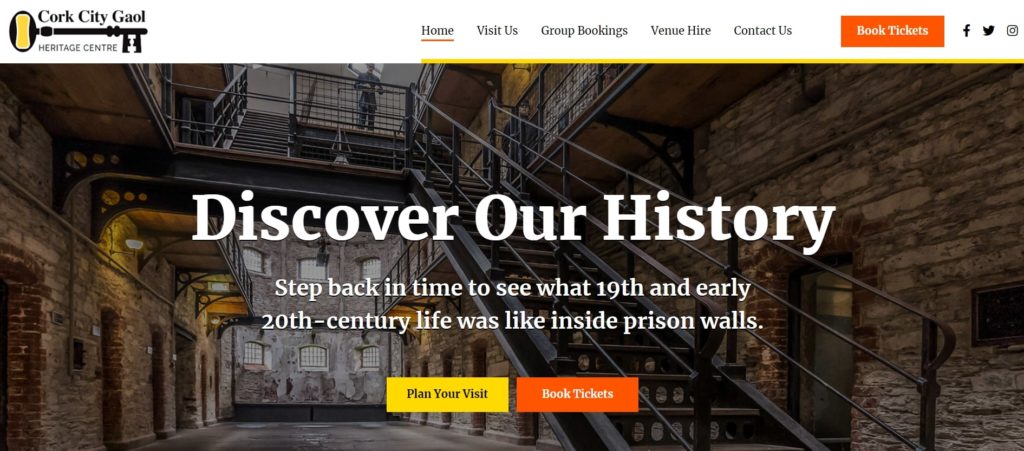 | Test | Info |
| --- | --- |
| WEBSITE | https://corkcitygaol.com/ |
| ADDRESS | Convent Ave, Sunday's Well, Cork, Ireland |
| CONTACT DETAILS | +353 21 430 5022 |
| OPERATING HOURS | Monday - Sunday: 10:00 AM - 4:00 PM |
| | |
| --- | --- |
| Convenience | ★★★★☆ (4/5) |
| Ease of access | ★★★★☆ (4/5) |
| Distance | ★★★★☆ (4/5) |
| Theme | ★★★★☆ (4/5) |
| Admissions fee (Higher score = better value) | ★★★★☆ (4/5) |
| Reviews | ★★★★☆ (4/5) |
| Museum staff | ★★★★☆ (4/5) |
If you're the type to appreciate a historical place with a touch of horror in it, we recommend visiting Cork City Gaol. In fact, according to some of its visitors, they visited the place because they loved some interesting and somewhat twisted stories.
Cork City Gaol was a prison, therefore it has a lot of not-so-innocent stories to tell. Whether you purchase the audio guide or the paper guide, you can find interesting information in there which might blow your minds!
To add to the allure of the place, there are a lot of lifesize figures around. They also feel alive as well, so some visitors feel a little uncomfortable staying in a room for a long time.
We have to give it to them though—it's well set-up. The place is organised and the grounds are lovely—very Instagrammable!
Oh—we also want to talk about the features the museum adds during special occasions. They set up this horror story place in one area, and if you want to take advantage of the melancholic mood of the place, you can visit that!
Just a little warning though—the fees aren't very budget-friendly. It's also quite a long walk from the bus terminal.
However, if you're a history buff who loves to learn about interesting stories, then it's definitely worth a visit. It's not every day that you can visit a preserved prison!
There's a gift shop and a snack house inside as well. So after your museum tour, you can do more fun things within the vicinity.
Lovely grounds
Instagrammable
Interesting story
Offers both audio and written guides
Well set-up
Has features that make the place more interesting
Lifesize figures
Gift shop
Snack house
Needs more maintenance
Long walk from bus terminal
A little high admissions fee
Customer Reviews
Old structure with an interesting rich history
This was a pleasant surprise. My expectations were fairly low, but we exceeded. This is a very cool walk through an old structure that has a pretty rich history. There are life size figures throughout and a number of interactive audio visuals. There was a small gift shop with snacks etc in it. This is indoors and outdoors with staircases. It can be a bit chilly indoors as it is all stone. There are bathrooms inside. Fun place to check out if in Cork.— Kevin McCabe, Google Reviews
A must-visit for history buffs
I visited on a weekend and bought the ticket on site. You can purchase a ticket with a paper guide or they have an audio guide as well. I went for the paper guide because it was cheaper and pretty much everything is written in the leaflet. They preserved the jail in the 19th century and have prisoner's names and statues in the rooms. It is described in the leaflet as well. If you love history, must-visit. They have a little projector room when you reach the end. I was amused to read the prisoner's story and to view how the jail looked back then. On the first floor, they put something like a horror story with lights. I was pretty scared to look at it. I would recommend visiting the jail. — Neenu John, Google Reviews
4. Nano Nagle Place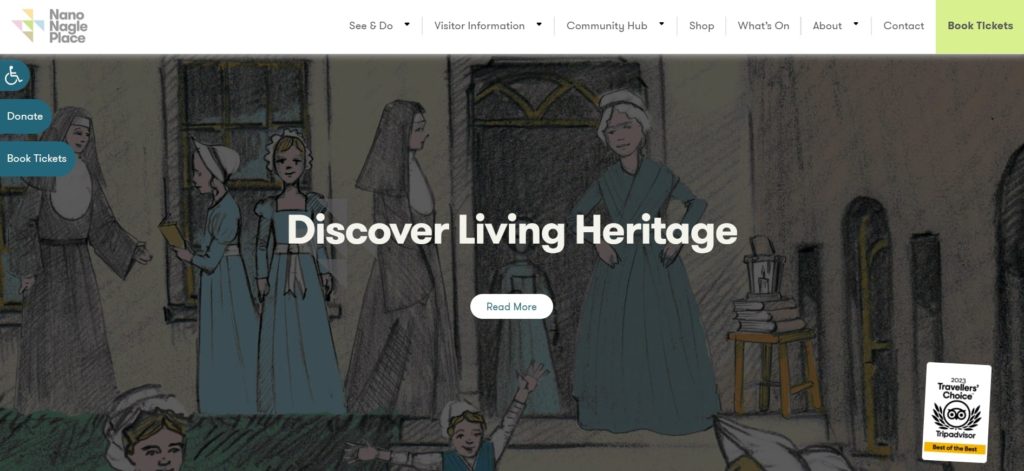 Test
Info
WEBSITE
https://nanonagleplace.ie/
ADDRESS
Nano Nagle Place, Douglas St, Cork, T12 X70A, Ireland
CONTACT DETAILS
+353 21 419 3580
OPERATING HOURS
Monday - Friday: 10:00 AM - 5:00 PM

Saturday - Sunday: 9:30 AM - 5:00 PM
| | |
| --- | --- |
| Convenience | ★★★★★ (5/5) |
| Ease of access | ★★★★★ (5/5) |
| Distance | ★★★★☆ (5/5) |
| Theme | ★★★★☆ (4/5) |
| Admissions fee (Higher score = better value) | ★★★★☆ (4/5) |
| Reviews | ★★★★☆ (4/5) |
| Museum staff | ★★★★★ (5/5) |
According to locals, Nano Nagle Place is one of the must-visit museums in Cork, not only because of the interactive museum itself, but also because of the lovely gardens and tomb. They even said tourists and locals alike would enjoy the place!
First of all, let's talk about Nano Nagle, and why she has a whole place dedicated to her. Well Nano Nagle has the kindest heart, and she dedicated all her life being of service and help to the poor, hence she's well-loved by a lot of people.
The interactive museum has all the information about her—from photos to artefacts—you can find everything here. There's even an audio guide if you prefer the self-guided tour over the guided tour.
The staff are also friendly and are always eager to assist you just in case. If you need more information, they can tell you everything since they're knowledgeable about the place as well.
The admission for the museum isn't free, but it's not that expensive either. However, the admission to the gardens and to the grounds are free—so if you simply want to walk around and enjoy the scenery, you don't have to pay a cent!
Accessibility-wise, Nano Nagle Place is ideal since it's just a short walk from St. Finbar's cathedral and at the same time it's easy to roam around the museum because it has lifts around.
It's not advisable to bring your car though. There are limited parking spaces around and it might be difficult to find a spot.
Well-preserved
Has a cafe and restaurant on site
Free admissions to tomb and garden
Short walk from St. Finbar's cathedral
Lifts on-site
Lovely garden
Perfect venue to just walk around
Friendly and informative staff
Interactive museum
Limited parking space
Paid museum explorations
Customer Reviews
Oasis in the middle of the city
Cannot believe it has taken me so long to visit this fantastic oasis of calm in my native city. Immaculately preserved and presented buildings, cemetery and gardens. Museum, bookshop, café and restaurant on site. Entrance is free of charge. Well worth a visit as it is only a short walk from St. Finbar's cathedral. Parking extremely limited….so leave the car at home.—Frank Murphy, Google Reviews
Lovely museum and a peaceful garden perfect for walks
Absolutely loved learning about Nano Nagel. The museum is well set up and has both indoor and outdoor spaces. It is worth going just to meet Agnes who is an ambassador of the centre and greeted us, sold us our tickets and gave us info before our tour even started. She is a wonderful and welcoming woman and was one of the highlights of our trip to Cork. This museum is a definite must. — Allison, Trip Advisor
5. Collins Barracks Military Museum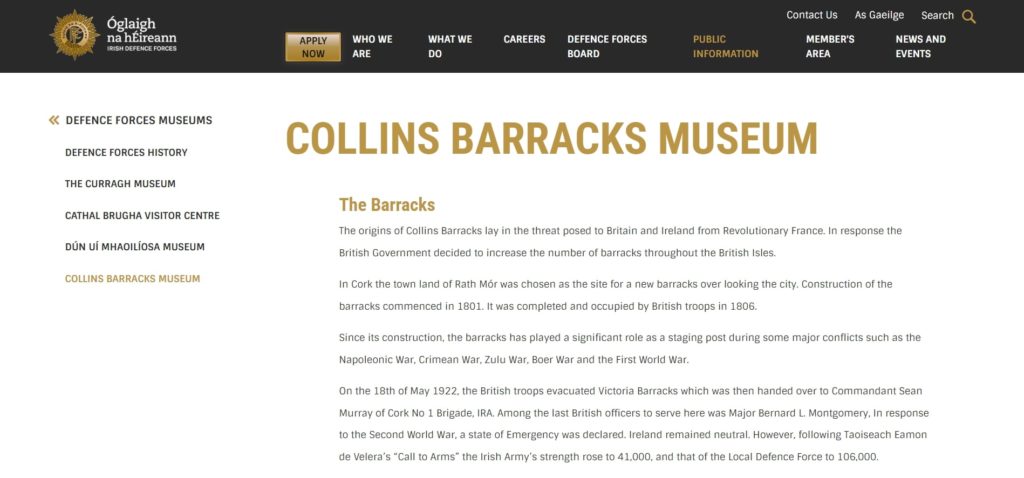 | | |
| --- | --- |
| Convenience | ★★★★☆ (4/5) |
| Ease of access | ★★★★☆ (4/5) |
| Distance | ★★★★☆ (4/5) |
| Theme | ★★★★★ (5/5) |
| Admissions fee (Higher score = better value) | ★★★★★ (5/5) |
| Reviews | ★★★★☆ (4/5) |
| Museum staff | ★★★★★ (5/5) |
Collins Barracks Military Museum might sound intimidating to some because of its theme, but if you're in love with history, you'll appreciate this museum. It was a former military station-turned-museum that houses several interesting items.
The purpose of the museum is to tell the story of the barracks and why they were built. Hence the items on display are related to key periods of this history.
We think Collins Barracks is probably one of the most informative museums if you want to really learn about Irish history. It shows the rebellions and the movements through lovely exhibits and comprehensive videos.
In connection to this, we really appreciate the curator of the museum. He's very well equipped with knowledge of the barracks, so listening to him is like living through history as well—you won't get bored and will even be tempted to ask questions!
We think you'll also enjoy the artefacts on display like paintings and photos. Plus, there are iconic military uniforms from the 1800s up to the present for you to view!
The only thing we're a little disappointed about was the limited operating hours. As much as you want to stay and absorb more of Irish history, your visiting hours are limited.
Collins Barracks Military Museum is not also easy to find for some, which is pretty much understandable because it once served as barracks for soldiers. Still, this might be a bit inconvenient to those who aren't very fond of too much walking.
Informative museum
Several interesting items on display
Professional and knowledgeable staff
Well-maintained museum
Clean and organised
Lovely grounds
Beautiful exhibits about Irish history
Limited opening hours
Not easy to find
Customer Reviews
Informative history about military barracks
What a fantastic experience, and hidden gem, at Cork's Collins Barracks army museum. Dennis and his team have truly built a comprehensive experience of this 200 year old (and still an active) military barracks. Understanding how and why this army barracks was first created by the British, and then handed over to the Irish Republic is fascinating. To look out and see Europe's 2nd largest military square, and the history rooms of Michael Collins, along with the visit of JFK shortly before he was assassinated in Dallas, Texas is for young and old alike to go visit. — Alan Butler, Google Reviews
Plenty of artefacts on display like military uniforms
Wonderful experience! The museum is very informative and interesting, it has plenty of items on display. We might be the luckiest guy because we've met Denis! Denis is really the best! He is so professional, kind and knowledgeable, he is the best tour guide, he told us Irish history and the stories of Michael Collins. We are so grateful and lucky to learn so much! Thank you so much dear Denis! All the best wishes for you and the museum, looking forward to seeing you next time!— 焦娇, Google Reviews
FAQs About Museums in Cork
---
Museums are the perfect spots to visit if you want to know the history of the place including the people, traditions, and behaviour. For more cultural endeavours in the city, you can try visiting Art Galleries in Cork.