5 Best Bakeries in Dublin to Satisfy Your Cravings
Dublin has so many amazing restaurants to try, and they all offer rich, savoury food that make our mouths water. Too much of a good food is a double-edged sword at times though, and we find ourselves looking for something lighter to fill our stomachs.
The good news is—commercial and artisan bakeries in Ireland are growing in numbers recently, and you can easily find one around Dublin!
Average Price Range of Bakery Goods in Dublin
We're listing down the average range you might spend for every visit to these local bakeries. These rates are based on the pricing of basic breads and pastries. Specialised goods such as cakes have higher rates:
| | ESTIMATED PRICE |
| --- | --- |
| Il Valentino Bakery & Cafe | €60-120 |
| Mannings Bakery | €50-100 |
| The Bretzel Bakery & Cafe | €50-70 |
| Hansel and Gretel Bakery & Patisserie | €20-50 |
| Green Door Bakery | €20-50 |
Best Bakeries in Dublin
We are reviewing must-visit bakeries in Dublin based on the following criteria:
1. Il Valentino Bakery & Cafe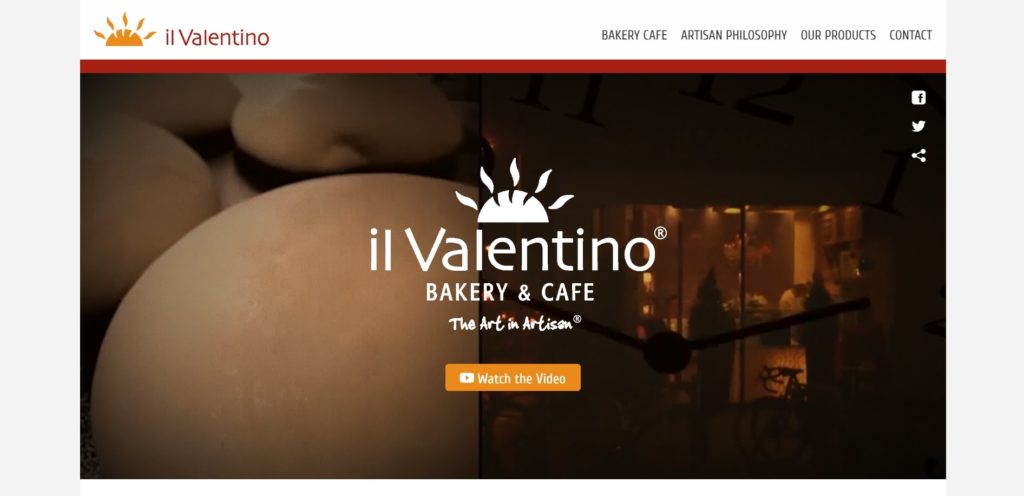 Test
Info
WEBSITE
https://www.ilvalentino.ie/
ADDRESS
Gallery Quay, 5, Grand Canal Dock, Dublin 2, D02 N265, Ireland
CONTACT DETAILS
+353 1 633 1100
OPERATING HOURS
Monday - Friday: 7:00 AM - 7:00 PM

Saturday - Sunday: 8:00 AM - 7:00 PM
| | |
| --- | --- |
| Recommendations | ★★★★☆ (4/5) |
| Location | ★★★★★ (5/5) |
| Ambience | ★★★★★ (5/5) |
| Maintenance | ★★★★☆ (4/5) |
| Hygiene practices | ★★★★★ (5/5) |
| Quality and taste | ★★★★★ (5/5) |
| Freshness | ★★★★☆ (4/5) |
| Variety | ★★★★★ (5/5) |
| Communication | ★★★★☆ (4/5) |
If you're the type who loves to take a morning walk and then get breakfast after, we recommend Il Valentino Bakery & Cafe. This bakery in Dublin is located in a strategic location so you can easily see it—and the view's great as well!
Some of its regular customers whom we're able to talk to told us that Il Valentino has become a part of their morning routine. After taking a walk, they go straight to the bakery to buy pastries for takeout or dine-in for breakfast.
The bakery is located next to the Grand Canal so the diners can get a lovely view while eating their pastries. We really love that customers have a place to relax while enjoying what they ordered.
Speaking of orders, we're in awe of the selection of not only pastries, breads, and cakes, but also of sandwiches and beverages. There's plenty of choices for everyone, so even if you have a picky eater companion, it won't be a problem!
The staff are lovely as well! They're very friendly and attentive, so the service is quite fast.
We also appreciate the cleanliness of the bakery and the cafe. It always feels better to eat in a well-maintained place so you can enjoy your food without worrying about sanitation.
Lastly, we also like that Il Valentino's customers have an option to order online. The bakery tends to be fully crowded, so if you're the type who isn't very comfortable with crowds, at least you can get your pastries delivered to where you're staying!
Just a little heads up—Il Valentino's baked goods aren't very cheap. However, for the quality and taste, splurging is definitely worth it!
Good location
Assortment of breads and pastries
Can order online
Has a cafe with a nice view
Freshly baked pastries and breads
Accepts credit cards
Nice selection of sandwiches
Clean and sanitised
Great coffee and beverage selection
Lovely staff
Long line in the morning
The cafe part is always full
Pricey
Customer Reviews
Cosy and clean cafe
Il Valentino in Dublin city centre's Grand Canal Dock is a lovely café and bakery with a cosy atmosphere. I only ordered an iced mocha café with oat milk and the service at the time was very speedy. The iced coffee was really good and unlike some of the competition, the level of sweetness was just right. The place is kept very clean and the food looks great too, something I'd like to try next time I'm in this part of Dublin. — Jordan Kevin Magtaan, Google Reviews
Perfect go-to bakery for breakfast
Best place for having an Italian breakfast. Good cappuccino, amazing pastries (especially the croissant with chocolate or almond), great service. They do take away as well. Be aware that there are few tables inside,be ready to wait a little bit. — Luca S, Yelp
2. Mannings Bakery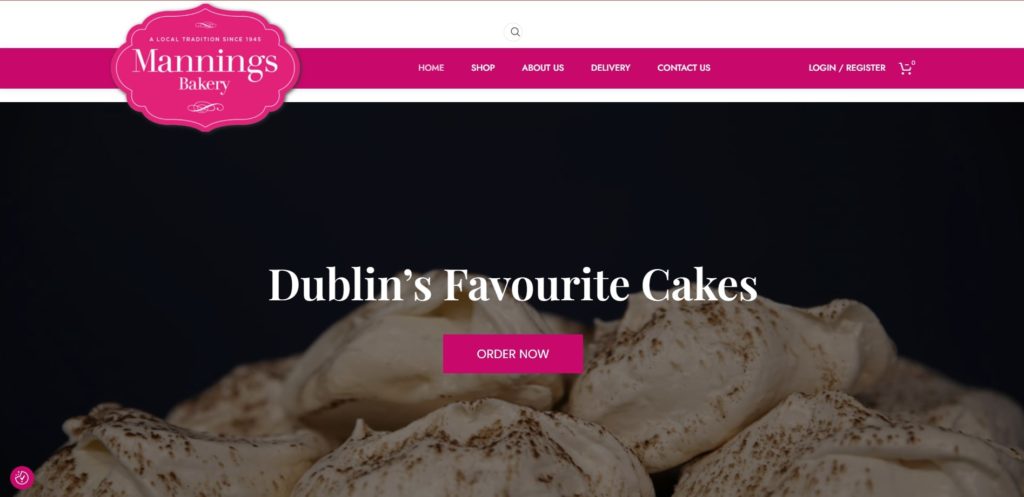 | Test | Info |
| --- | --- |
| WEBSITE | https://manningsbakeryshops.ie/ |
| ADDRESS | 39/40 Thomas St, The Liberties, Dublin 8, Ireland |
| CONTACT DETAILS | +353 1 454 2114 |
| OPERATING HOURS | Monday - Saturday: 8:30 AM - 5:00 PM |
| | |
| --- | --- |
| Recommendations | ★★★★☆ (4/5) |
| Location | ★★★★★ (5/5) |
| Ambience | ★★★★☆ (4/5) |
| Maintenance | ★★★★☆ (4/5) |
| Hygiene practices | ★★★★☆ (4/5) |
| Quality and taste | ★★★★☆ (4/5) |
| Freshness | ★★★★★ (5/5) |
| Variety | ★★★☆☆ (3/5) |
| Communication | ★★★★☆ (4/5) |
If you're looking for a bakery in Dublin that specialises in cakes, Mannings Bakery is the place to go! It's a local's favourite in terms of cakes for special occasions because according to them—Mannings has never failed to deliver.
When you visit its site, you'll see the different types of baked goods they have. We love that there are so many options, making it the go-to place for anyone who needs a cake at the last minute.
We also want to commend the bakery for being very accommodating with the customers. Any requests you want for your cakes, Mannings will try to do their best to fulfil them.
The good thing is that Mannings also has a physical shop, which is also a favourite place among the locals. We love that the bakery offers other food so it's also a perfect spot for lunch as well!
Speaking of perfect spots—we love that the bakery is located in an area where you can enjoy a relaxing view while enjoying your food and beverage. This is the reason why the bakery is always full—even students come here to hang out.
Lastly, we love that Mannings actually offers discounts for its customers. If you're a student and a regular patron, expect discounts for your orders—this is a good way to value customers!
The only thing you might be disappointed at is the lack of choices for other pastries and falling in line for a long time. But other than these minor issues, Mannings is the bakery to visit for your sweet and not-so-sweet cravings!
Affordable
Specialises on cakes
Good sandwiches
Friendly staff
Pretty cafe with a good view
Relaxing ambience
Discounts for students and frequent customers
Serves amazing lunch
Accommodates any requests on cakes
Always with a long queue
Limited pastries
Customer Reviews
A lot of sandwich and cakes options
They have a menu of sandwich options, but you can also make up your own sandwich which I love! My go-to sandwich consists of goat's cheese, pesto and sun dried tomatoes with a small bit of mayo, toasted on brown bread. My mouth is watering at the thought of it right now. Their red velvet cake slices are also worth a try as they are absolutely divine, as are all of the desserts though really. — Alice, Yelp
Best place for cakes and coffee
Nice place for coffee and cakes. The Irish brown soda bread is also highly recommended. Stopped by here for breakfast a couple of mornings ago. Good coffee. — David Chong, Gastro Ranking
3. The Bretzel Bakery & Cafe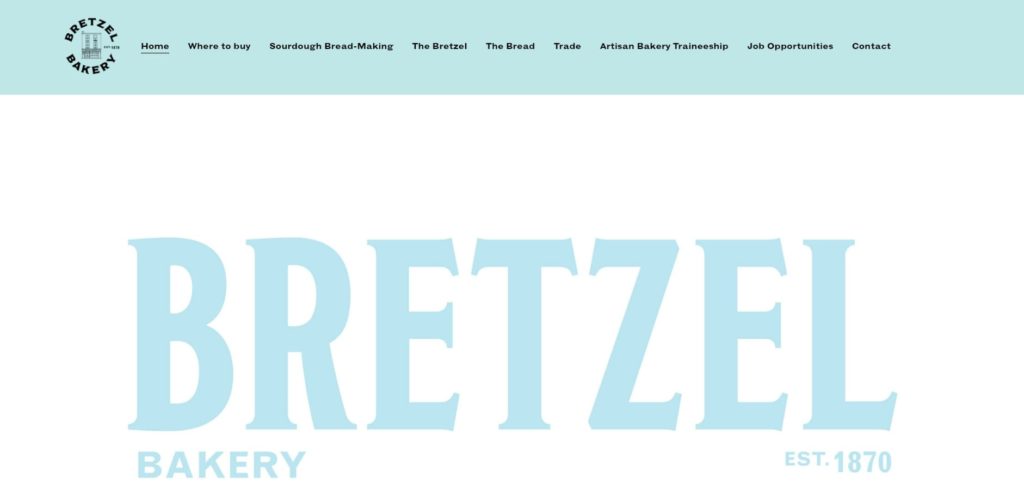 Test
Info
WEBSITE
https://www.bretzel.ie/
ADDRESS
1A Lennox St, Portobello, Dublin, D08 RK23, Ireland
CONTACT DETAILS
+353 1 475 9445
OPERATING HOURS
Monday - Friday: 8:00 AM - 6:00 PM

Saturday - Sunday: 9:00 AM - 4:00 PM
| | |
| --- | --- |
| Recommendations | ★★★★★ (5/5) |
| Location | ★★★★☆ (4/5) |
| Ambience | ★★★★★ (5/5) |
| Maintenance | ★★★★☆ (4/5) |
| Hygiene practices | ★★★★★ (5/5) |
| Quality and taste | ★★★★★ (5/5) |
| Freshness | ★★★★★ (5/5) |
| Variety | ★★★★★ (5/5) |
| Communication | ★★★★☆ (4/5) |
We think The Bretzel Bakery & Cafe is one of those bakeries that you just accidentally find while you're walking around a nice neighbourhood. It's located along a tree-lined street and it's easy for anyone to catch a whiff of its freshly baked bread!
Bretzel has been around a long time, so it's already an expert in making all types of breads, cakes, biscuits, pastries, bagel, and other desserts. You can see all of these organised in glass shelves so it's easier for you to choose your orders.
We also love the ambience, like a few feet away from the entrance to the bakery, you can already smell something nice. According to some customers we talked to, it's the sourdough bread—Bretzel has the best in Ireland and it's worth trying!
We're telling you—it's really an experience eating it—the sourdough bread is freshly baked every day and just smells so good. Pair it with Irish butter and jam, and you have a perfect breakfast right there!
Speaking of perfect—Bretzel's is smaller than the usual bakeries, so the table easily gets filled. But it's also so cosy and clean that it's a good place to relax and have coffee after a long walk.
On a busy day, your order might be served late. But what we love about it is that Bretzel still goes for customer satisfaction and makes up for it by giving the customer free pastries or a slice of cake—what amazing customer service!
Organised baked goods on display
Line is manageable on a weekday
Great customer service
Huge selection of pastries and breads
Clean and smells good
Gives freebies
Nice location
Small bakery so tables are easily filled
Food might be served late on a busy day
Customer Reviews
Goods are always freshly baked
A 150-year-old bakery located off Lennox Street, they are known for their outstanding sourdough bread! Walking in….. you get that smell of freshly baked… everything. Well organised bakery case with everything from muffins to croissants to scones! The line is relatively short during the week but runs out the door on the weekends. Definitely a great place to stop early in the morning to load up on carbs before exploring Dublin! Service is great and don't forget to ask for some Irish Butter & Jam. — Michael H, Yelp
Reasonably priced breads and cakes
This has to be the best Bakery and Coffee shop in Ireland. All the bread and cakes are baked fresh in the shop with a great selection as well. There is a small seating area but you can get take away as well. Would highly recommend a visit if you're in the area. Also reasonably priced. — Joe O, Trip Advisor
4. Hansel and Gretel Bakery & Patisserie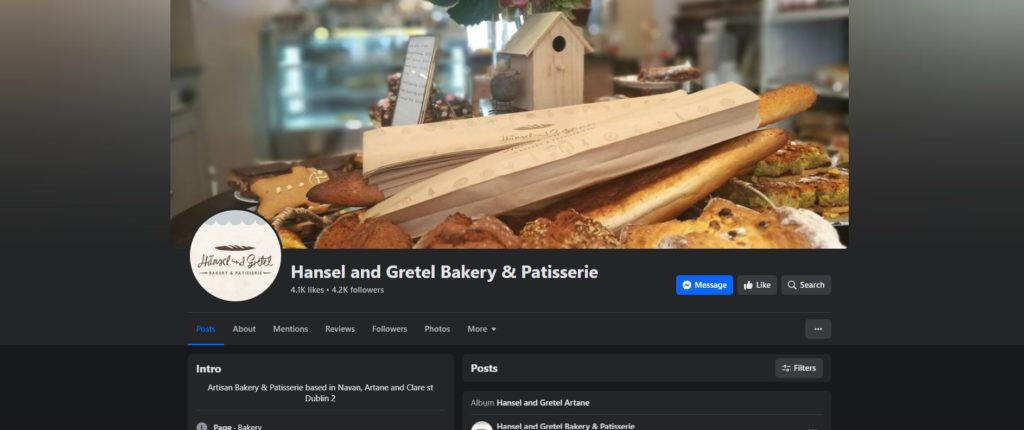 | | |
| --- | --- |
| Recommendations | ★★★★☆ (4/5) |
| Location | ★★★★★ (5/5) |
| Ambience | ★★★★☆ (4/5) |
| Maintenance | ★★★☆☆ (3/5) |
| Hygiene practices | ★★★★☆ (4/5) |
| Quality and taste | ★★★★★ (5/5) |
| Freshness | ★★★★★ (5/5) |
| Variety | ★★★★★ (5/5) |
| Communication | ★★★★☆ (4/5) |
Hansel and Gretel Bakery & Patisserie sounds like fiction, but it's a bakery that does exist, and in fact located near other tourist spots like National Gallery and Merrion Square. It's a little shop but noticeable because of the smells coming from it!
It's a little unnoticeable at first because the place is a little old and needs a little maintenance. But once you smell the baked goods from the bakery, you'll definitely check out what's inside.
What we love about Hansel and Gretel Bakery is that even though it's a small shop, it offers a wide range of delicious pastries. This is the reason why locals and tourists alike in the area always pass by the bakery to get their morning pastry and coffee fix!
According to some customers we talked to, they love the bakery's assortment of breads and cakes. They're always freshly baked and their sandwiches are always freshly made, so everything's just delicious and warm when you buy them.
We think one downside though is that Hansel and Gretel doesn't have a cafe area so you can't stay and eat your food inside. It can be tricky finding a spot to eat your pastries and drink your coffee, but it's still worth it!
The staff are friendly and polite. They'll also wrap your pastries and pack your coffee well so you can carry them properly—we love how considerate they are to their customers.
Price-wise, the bakery offers such reasonable prices for a pastry-coffee combination. In fact, we're quite surprised by how much pastries one can get for less than €20!
Near other tourist places
Great coffee
Good selection of pastries and cakes
Reasonable price
Everything's freshly baked including sandwiches
Polite and kind staff
No cafe area
Place needs a little maintenance
Customer Reviews
Deliciously incomparable pastries
We stopped by in the morning for coffee and scones and were so tempted by the many sweets on display that we returned later for an afternoon treat. Everything was delicious! Staff were friendly, and happy to describe the yummy-looking baked goods available. — Candy D, Trip Advisor
Cheap but quality pastry-coffee combination
Beautiful pastries here – classic croissants, danishes and pain au chocolat – plus great pre-made sandwiches, tea cakes, flans and slices. Really great quality and traditional styles. We ordered everything we could want for a breakfast on the run for 2 and were shocked to be charged only 9 euro! Breakfast deal of a pastry and coffee for 4 euro is incredible. — Alison, Trip Advisor
5. Green Door Bakery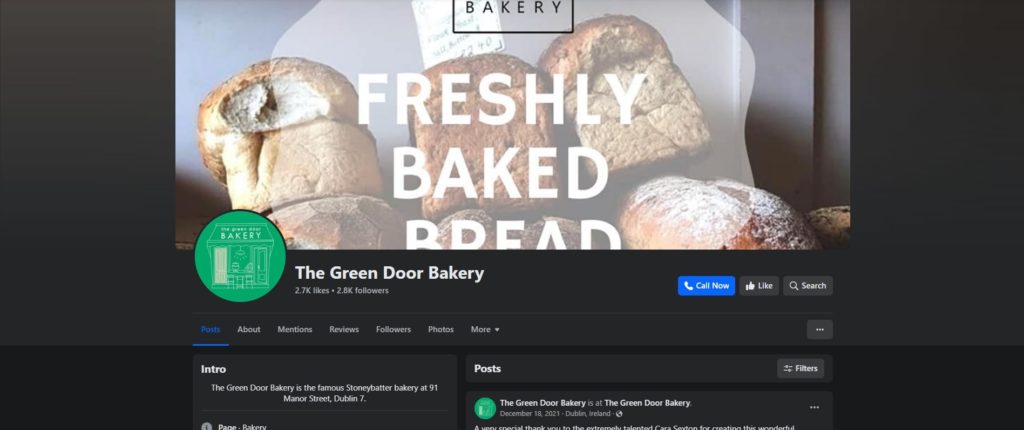 | | |
| --- | --- |
| Recommendations | ★★★★★ (5/5) |
| Location | ★★★★☆ (4/5) |
| Ambience | ★★★★★ (5/5) |
| Maintenance | ★★★★★ (5/5) |
| Hygiene practices | ★★★★☆ (4/5) |
| Quality and taste | ★★★★☆ (4/5) |
| Freshness | ★★★★☆ (4/5) |
| Variety | ★★★★★ (5/5) |
| Communication | ★★★★☆ (3/5) |
What made us put Green Door Bakery is the fact that it's recommended by locals. When the locals love a particular food store, we always take their words for it—they know where to find the best foods in the area after all!
First of all, according to them, Green Door Bakery offers a lot of unique breads and pastries. They love that there are a lot to choose from so as customers, they don't get tired of trying new things from the bakery.
Second, the bakery offers really high-quality delicious coffee for such a cheap price. We love that you can get both a pastry and a cup of fragrant coffee without busting the seams of your pockets!
Third, we love the friendly owners and the staff. They greet you with a smile the moment you enter the bakery, and it makes you feel welcome.
The service is quite fast as well! Green Door Bakery tends to get crowded, but because the staff are efficient, you don't have to wait long for your orders.
Another thing—we also love how aesthetically beautiful the pastries are. It shows us how much effort is being put into baking all of the baked goods on their glass shelves.
The only problem we see is that sometimes, the bakery opens later than its advertised business hours, which can be inconvenient to those who wake up early and go there. It's also not located in the usual tourist path so you need to search a little for it.
Variety of unique breads
Inexpensive but top-grade coffee
Well-maintained
Friendly owners
Freshly baked and aesthetically pleasing pastries
Fast service
Nice and friendly staff
Phone lines are busy for cake orders
The bakery opens late sometimes
Not strategically located
Customer Reviews
Efficient staff and high-quality pastries
A small and cute bakery. The quality of the bread is lovely! I Usually go there when I have no time during lunch breaks and I always enjoy having one of their rolls, especially Pesto and Mozzarella or the Pastrami one! The carrot cake is also my favourite cake and all the people there are always smiling and work hard to make sure the safety rules are followed and to serve the customers quickly and efficiently! —Gloria Gambino, Google Reviews
Aesthetically pleasing and incredibly tasting pastries and sandwiches
Might possibly be the best bakery I've ever stopped at. This bakery is a bit off the beaten path for tourists, but has incredible pastries, sandwiches, and beautiful looking bread. I stopped here on my last morning to get food for my flight back home and wish I had gone earlier. The staff there were incredibly delightful and insightful. I wish I had more time to go and try everything there.— Charlotte Powell, Trip Advisor
FAQs About Bakeries in Dublin
---
Done! We hope you get to visit all of these bakeries in our list—their pastries are definitely worth trying! But if you're not much of a sweets person and are craving for savoury bread, you can also try Pizza Restaurants in Dublin.