Top 5 Nightclubs to Experience in Belfast
When talking about Belfast, the first things that come to mind are those related to its history and culture like Belfast Castle, Titanic, and its food—hello, ulster fry!
But apparently, Belfast is also known for its legendary nightlife—and where else to experience it but in some of the city's best nightclubs!
Estimated Cost of Packages in Belfast's Nightclubs
The nightclubs in Belfast offer packages with several inclusions. The following are basic group rates, and they can go higher depending on the package.
Please also note that the rates can change anytime without prior notice.
| | GROUP RATES |
| --- | --- |
| Voodoo | **Varies & depends on the band playing |
| Alibi | £200 |
| Club Lux | £100 |
| Thompson's Garage | £110 |
| Ollie's | £150 |
How We Found the Best Nightclubs in Belfast
We're listing down the best nightclubs in Belfast based on the following:
1. Voodoo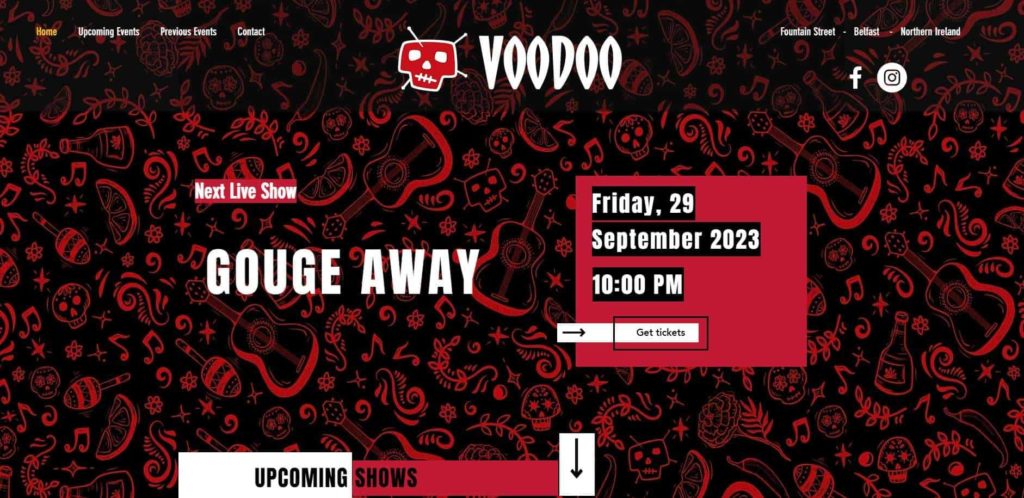 | Test | Info |
| --- | --- |
| WEBSITE | https://www.voodoobelfast.com/ |
| ADDRESS | 11A Fountain St, Belfast BT1 5EA, United Kingdom |
| CONTACT DETAILS | +44 28 9027 8290 |
| OPERATING HOURS | Monday - Sunday: 12:00 PM - 1:00 AM |
| | |
| --- | --- |
| Location | ★★★★☆ (4/5) |
| Group Packages | ★★★☆☆ (3/5) |
| Cocktail Menu | ★★★★★ (5/5) |
| Pricing | ★★★★☆ (4/5) |
| Variety | ★★★★★ (5/5) |
| Ambience | ★★★★★ (5/5) |
| Music & Themes | ★★★★★ (5/5) |
| Cleanliness | ★★★★☆ (4/5) |
| Staff Professionalism | ★★★★★ (5/5) |
| Local Reputation | ★★★★☆ (4/5) |
When we asked some regular patrons of Voodoo regarding the main reason they love going to the nightclub, they told us it's because of the ambience. It's a little more relaxed than typical dance clubs, hence they too tend to relax more when they go there.
We think it's probably because of the live bands that play different types of music. We love that Voodoo caters to different types of audience with its music, which makes it a leisure place to go for anyone who just wants to enjoy Belfast's nightlife!
We also appreciate that Voodoo has different themes every night. Offering a variety of music entertainment attracts more people because they get to enjoy different things.
One thing we appreciate as well is that the nightclub has a wide selection of cheap beers and other beverages. There's no need to empty out your pockets just for a good drink!
We also love that Voodoo has two levels—the first level is for drinking and the other level is for enjoying live music as well. So if you're the type to want a quieter evening, you can stay on one level.
The place is pretty clean too for a nightclub and bar, which we like as well. However, sometimes it can be pretty distracting when a staff takes care of every spillage or mess because they tend to mop all the time.
We think the bathroom could also use a little more cleaning too. But other than these couple of issues, if you just want to experience how the nightlife is in Belfast, Voodoo is a good place to start!
Friendly ambience
Great live music
A little more relaxed than some clubs
Cheap drinks
Clean bar area
Wide selection of beers
Has varied themes that cater to different audience
Has two separate levels
Has a smoking area
Staff mop spillage all the time which is sometimes distracting
Bathroom needs more cleaning
Customer Reviews
Great atmosphere
Great alternative bar. Metal, Punk, rock n roll this bar has it all, atmosphere friendly and full of many different great personalities of the public. — Jonny Gray, Google Reviews
Friendly staff and good music
Always a great place to call in for a pint of Guinness when in Belfast. Great staff and music. Highly recommended. — Melvyn D, Trip Advisor
2. Alibi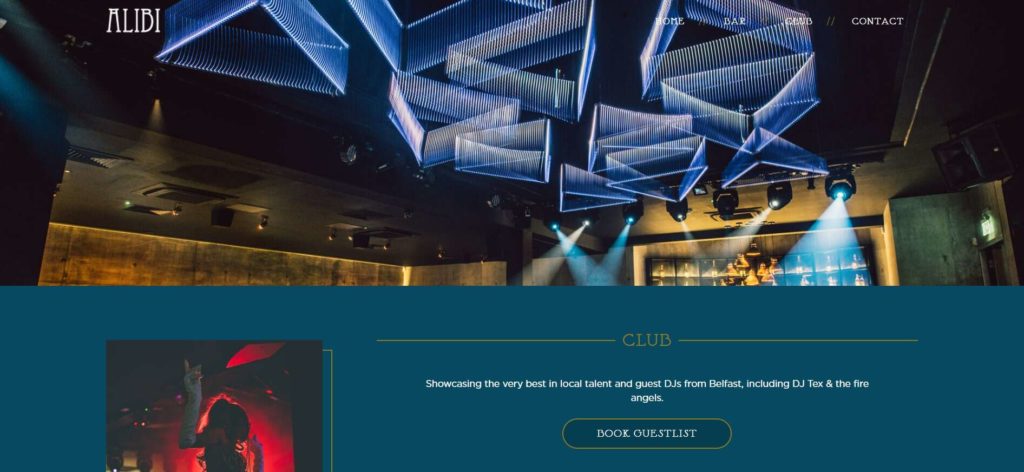 | Test | Info |
| --- | --- |
| WEBSITE | https://alibibelfast.com/club/ |
| ADDRESS | 23-31 Bradbury Pl, Belfast BT7 1RR, United Kingdom |
| CONTACT DETAILS | +44 7889 809831 |
| OPERATING HOURS | Friday - Saturday: 7:00 PM - 2:00 AM |
| | |
| --- | --- |
| Location | ★★★★☆ (4/5) |
| Group Packages | ★★★★☆ (4/5) |
| Cocktail Menu | ★★★★★ (5/5) |
| Pricing | ★★★★☆ (4/5) |
| Variety | ★★★★★ (5/5) |
| Ambience | ★★★★☆ (4/5) |
| Music & Themes | ★★★★★ (5/5) |
| Cleanliness | ★★★★☆ (4/5) |
| Staff Professionalism | ★★★★☆ (4/5) |
| Local Reputation | ★★★★☆ (4/5) |
It's not just Alibi's good selection of music that makes people flock towards this nightclub, but also its ambience. According to patrons we talked to, Alibi's a beautiful place to have a good time, making it not just enjoyable but Instagrammable as well!
Typically, we don't pay much attention to a nightclub's interior, especially if we go there to drink and dance the night away. However, when the adrenaline subsides and we sit down to drink and relax, we can all appreciate the aesthetics.
We also think the dance floor is cool—perfect for those who love dancing to every music. It's a little spacious so you don't need to rub elbows with other people, and has nice lighting as well!
Another thing we like about Alibi is its well-priced drinks—really good choices of drinks for a fair price! Also, the bar staff and the floor staff are lovely as well, and they're very attentive to customers.
Not to mention the service is quite fast! Ordering your drink and picking it up doesn't take a long time.
In addition to this, we also want to commend the staff for their professionalism. A couple of patrons told us that when the nightclub overcharges you, the staff will immediately let you know and give you a refund—this is good customer service!
The only problems we think you might encounter are not-so-polite bouncers, the pricey group packages, and a strict dress code (so dress semi-formally!). Aside from those, Alibi is the perfect nightclub to visit for those who simply want to have a good time.
Honest and polite staff
Good music selection
Great ambience
Well-priced drinks
Lovely bar and floor staff
Beautiful interior
Cool dancefloor
Fast service
Good security
Bouncers aren't very polite
Pricey group package
Strict dress code
Customer Reviews
Good music and honest staff
Good venue, music was very RNB. Staff were very helpful and the bouncers were actually great crack! Even gave me a piece of gum when no one else in the place seemed to have any. I was overcharged for some mixers though but when I contacted them to check what I was charged for they informed me of their mistake and refunded me and apologised which was nice. Atmosphere was great but not sure if that's because it was NYE or if it's always like that. Had a great fire show as well for NYE which was nice. — Matthew McCaw, Licklist UK
Safe and great ambience
It was great, good fun, good security, good music, good atmosphere. Great night out and no trouble or whatsoever. Safe enough and the DJ was fantastic. Keep it up. — Elvira Casupanan, Google Reviews
3. Club Lux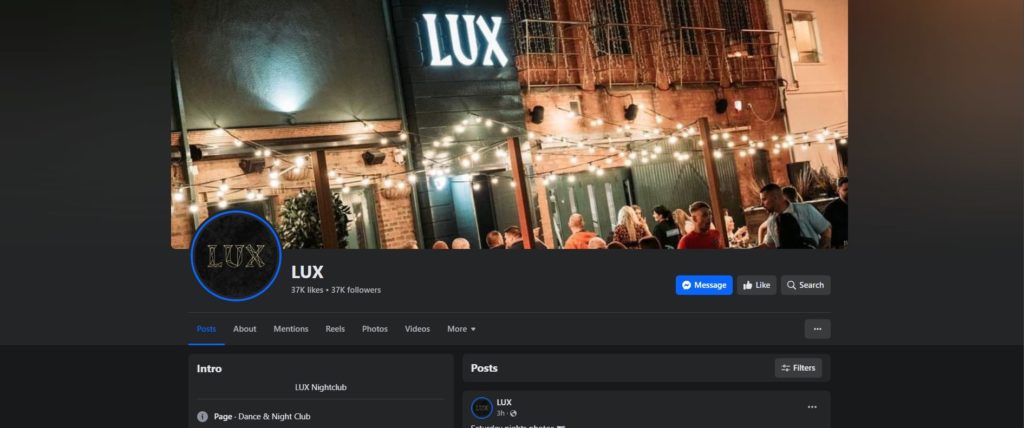 | Test | Info |
| --- | --- |
| WEBSITE | https://www.facebook.com/luxbelfast/ |
| ADDRESS | 16 Dunbar St, Belfast BT1 2LH, United Kingdom |
| CONTACT DETAILS | +44 28 9031 2807 |
| OPERATING HOURS | Wednesday, Friday - Saturday: 9:00 PM - 2:00 AM |
| | |
| --- | --- |
| Location | ★★★★☆ (4/5) |
| Group Packages | ★★★★☆ (4/5) |
| Cocktail Menu | ★★★★★ (5/5) |
| Pricing | ★★★★☆ (4/5) |
| Variety | ★★★★★ (5/5) |
| Ambience | ★★★★☆ (4/5) |
| Music & Themes | ★★★★☆ (4/5) |
| Cleanliness | ★★★★☆ (4/5) |
| Staff Professionalism | ★★★☆☆ (3/5) |
| Local Reputation | ★★★★☆ (4/5) |
For people whose main purpose in going to a nightclub is to dance, Club Lux is the place to go! It has everything you want for a dance-the-night-away agenda—roomy dance floor, great selection of dance music, and an extremely live dance audience!
In fact, a few patrons we had a chat with told us that when you're in Club Lux, everyone's on the dance floor, moving to every music being played. Sure, there were people who drink as well, but most are on the floor dancing to the beat!
We also love that it has a diverse crowd, which means different types of people go here. So whether you're a tourist or a local, you won't feel unwelcomed.
Another thing we love about Club Lux is its wide range of drinks—the bar serves all types and you can even make requests! Just a heads up though—you might need to wait long for your drinks as people also tend to flock towards the bar.
But at least the drinks are affordable and are mixed perfectly! We love that you can do both—drinking and dancing—at Club Lux and leave the place satisfied.
There are only a couple of problems we noticed, and one of them is about some staff needing more training in customer communication. Despite the fast-paced service in nightclubs, it's still very important that the staff know how to deal with its patrons.
Another is that Club Lux has no official website, so you have to scroll down several posts on their Facebook page to get the information you want. Reservation is quite hectic as well because you need to call, and the line's always busy!
Good dance music
Roomy dance floor
Cheap drinks
Lively atmosphere
Offers a wide range of drinks
Has a mixed crowd
No official website
Long wait at the bar for drinks
Staff needs more training in customer communication
Customer Reviews
Perfect for dancing
Nice music, and people. Will definitely recommend for dancing night out — Andriana Alkiviadou, Google Reviews
Good music and great selection of drinks
Great club. Good music..mixed crowd. Lots of drink offers. — Lizann Rainey, Google Reviews
4. Thompson's Garage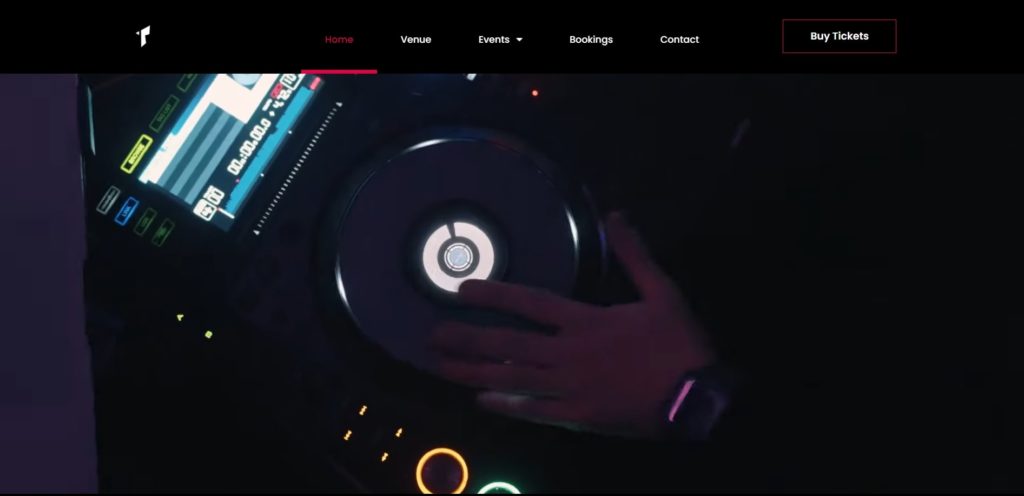 Test
Info
WEBSITE
https://clubthompsons.com/
ADDRESS
3 Pattersons Pl, Belfast BT1 4HW, United Kingdom
CONTACT DETAILS
+44 28 9032 3762
OPERATING HOURS
Sunday - Thursday: 9:00 PM - 2:00 AM

Friday - Saturday: 9:00 PM - 3:00 AM
| | |
| --- | --- |
| Location | ★★★★☆ (4/5) |
| Group Packages | ★★★★☆ (4/5) |
| Cocktail Menu | ★★★★☆ (4/5) |
| Pricing | ★★★★☆ (4/5) |
| Variety | ★★★★☆ (4/5) |
| Ambience | ★★★★☆ (4/5) |
| Music & Themes | ★★★★★ (5/5) |
| Cleanliness | ★★★★☆ (4/5) |
| Staff Professionalism | ★★★★☆ (4/5) |
| Local Reputation | ★★★★☆ (4/5) |
Ask the locals and they'll say Thompson's Garage's has the best DJs in town. And like what they all say—when you're in a new place, do what the locals do because they do it best!
So when they say Thompson's Garage has the most amazing DJs, follow their advice and go there. We all love good music, and if it's being given to us along with a nice lively atmosphere, then it's a perfect night out!
Another thing we appreciate about the nightclub is its lighting on the dance floor. It adds to the mood while you're moving to the beat, making the experience cooler.
Also, we have never seen a more lively crowd than the crowd at Thompson's Garage. It feels like attending a really good concert because everyone's just having fun dancing, and you can feel it as well.
It's probably because it's a melting pot of culture inside. The place has a lot of tourists and locals alike, which kind of makes it a little too overcrowded at times.
When it comes to drinks, the nightclub doesn't disappoint. It has a wide selection of drinks that taste so good you'll be lining up for another again—uh yes, it has a long line for drinks, but it's worth it!
Just a little heads up though—make sure you know how to handle your drinks because security is tight. Any misbehaviour will send you out on the streets–they want a peaceful fun crowd in there.
Has the best bartenders
Attentive and cheerful staff
Lively atmosphere
Pretty interior
Top-tier DJs
Nice lighting on the dance floor
Tight security
Great variety of drinks
Full of tourists and locals
Loud and fun crowd
Can get really overcrowded
Takes long to get your drinks
Customer Reviews
Affordable drinks and attentive staff
We had a great night at Thompson's Garage. The drinks are cheap and cheerful and the staff are so attentive and friendly, even when the place was very busy. Good DJ and nice relaxed atmosphere. — Alex, Trip Advisor
Top-tier DJs
Thompson Nightclub is a popular nightlife spot known for its lively atmosphere, trendy decor, and top-notch DJs. As you enter the club, you are greeted by pulsing beats and colourful lights, drawing you onto the dance floor. The music is loud and the crowd is electric, with people from all walks of life coming together to enjoy the night. The bartenders expertly craft cocktails while the staff ensures a safe and enjoyable experience for all. Overall, Thompson Nightclub is an unforgettable destination for anyone looking to dance the night away.— Barineka Maagbo, Google Reviews
5. Ollie's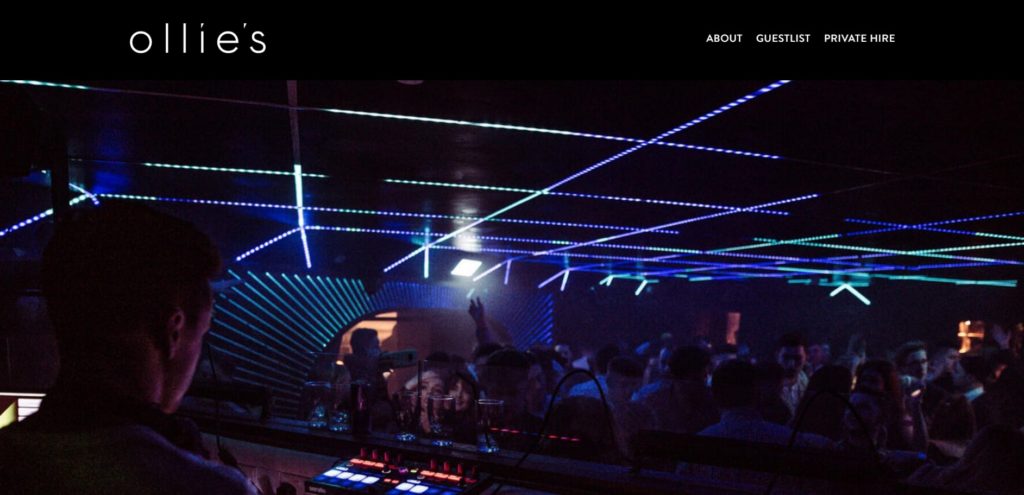 | Test | Info |
| --- | --- |
| WEBSITE | https://www.olliesbelfast.com/ |
| ADDRESS | 35 - 39 Waring St, Belfast BT1 2DY, United Kingdom |
| CONTACT DETAILS | +44 28 9026 7964 |
| OPERATING HOURS | Friday - Saturday: 9:00 PM - 3:00 AM |
| | |
| --- | --- |
| Location | ★★★★★ (5/5) |
| Group Packages | ★★★★☆ (4/5) |
| Cocktail Menu | ★★★★★ (5/5) |
| Pricing | ★★★★☆ (4/5) |
| Variety | ★★★★★ (5/5) |
| Ambience | ★★★★★ (5/5) |
| Music & Themes | ★★★★★ (5/5) |
| Cleanliness | ★★★★☆ (4/5) |
| Staff Professionalism | ★★★★★ (5/5) |
| Local Reputation | ★★★★☆ (4/5) |
When we talk about Ollie's in Belfast, we need to talk about several things: the music, the interior, the dress code, and the drinks. It mostly has everything you want in a nightclub—and so much more!
What we mean about that is that Ollie's is one of those nightclubs that leans towards the pricier side of things. It's not just about the drinks, you also need to dress up a little to enter this one as well.
So we're letting you know now if you want a flawless entry—put on the most smart-casual outfit you can find in your closet. Ollie's is very strict about the dress code and if you want to enjoy the night away, make sure you're properly dressed for it.
It probably has something to do with how the place looks. It has a stunning interior with a sophisticated vibe to it—you have to at least look good in pictures with this type of backdrop!
The place has a good selection of music as well! Ollie's probably has every type of music in their playlist to cater to its wide audience.
We also like that the bar serves a variety of drinks! You just have to wait a little long to get yours, but it's worth it.
We also want to commend all staff—both the bar and floor staff as well as the bouncers. Bouncers are strict, but they're polite and professional—something you rarely see in nightclubs nowadays.
So in terms of great dance music, good drinks, and lively atmosphere, we recommend trying Ollie's. Plus, you might run into some local celebrities because it's a popular spot for them as well!
Great music selection
Stunning interior
Great dance music
Dancing crowd is lively
Popular spot for celebrities
Lovely bar staff
Accessible
Professional and polite bouncers
Strict dress code
A little dark for some
Long queue for drinks
Customer Reviews
Great dance music and great crowd
Great club, good drinks, good music. Worth a visit! — Sam Dawson, Google Reviews
Great music selection
Wow wow wow what a great night! This stunning little venue is right beside the merchant hotel in the heart of Belfast city and I cannot begin to tell you what a great night I had here. 1st of all they had live music out the front of the venue and then they played RnB inside so you could have a wee boogie on the dance floor or just chill out front with the live music. I simply had one of the best nights out ever here. It's a must visit. I recommend the place for anyone who's visiting the city. It won't disappoint! — CK, Google Reviews
FAQs about Nightclubs in Belfast
---
The best way to enjoy a city's culture is not just through day activities, but also night activities. Hope our review helped you find the best nightclubs to have fun on your night out! For activities in other cities in Ireland, try Best Live Music in Dublin.