Top 5 Animal Shelters in Cork
Abandoned, lost, and stray animals also need care and shelter like domestic pets. Good thing for some, there are heroes that give them what they need to survive.
Cork has a number of shelters to house animals desperate for food and a proper environment for their well-being.
To know their background and their services, you can look into them here.
How much is the cost of animal shelter services in Cork?
Animal shelters usually do not charge their services as they operate through donations and funding. In other cases, there is a minimal fee for animal care services offered that can be viewed on the table below:
| Services | Estimated Average Price |
| --- | --- |
| Spay/Neuter | €10 - €300 |
| Deworming  | €4 - €10 |
| Vaccination | €89 - €200 |
| Adoption and Rehoming | €60 - €150 |
| Grooming | €30 - €100 |
| Basic obedience training | €80 - €150 |
The Best Animal Shelters in Cork
Animal shelters require a lot of love and work to maintain their operations. We evaluated the following shelters based on the following criteria:
1. Cork Society for the Prevention of Cruelty to Animals (CSPCA)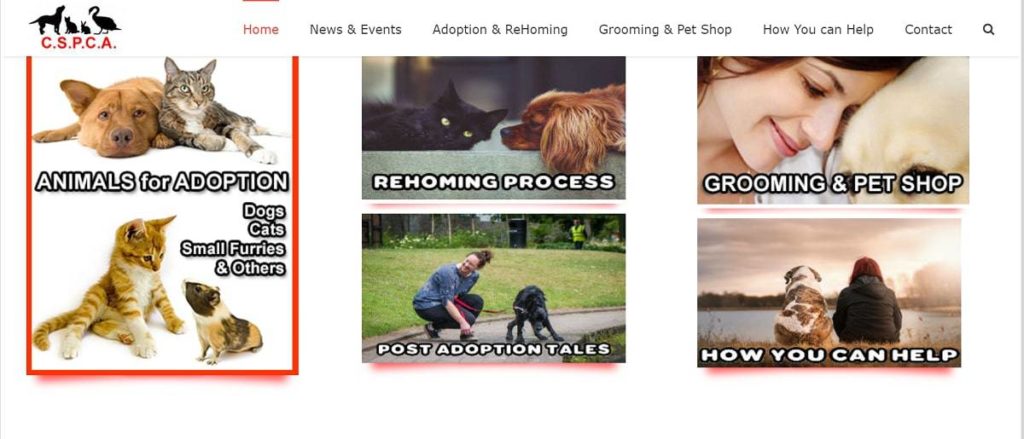 Test
Info
SERVICES

Adoption

Rehoming

Grooming

Pet Shop

Rescue

Rehabilitation

WEBSITE
https://cspca.ie
ADDRESS
Link Road, Mahon Point
CONTACT DETAILS
021 451 5534
OPERATING HOURS

Monday to Friday, 10:00 a.m. - 12:00 p.m.
| | |
| --- | --- |
| STAFF | ★★★★☆ (4/5) |
| CLEANLINESS | ★★★★★ (5/5) |
| SPACE | ★★★★☆ (4/5) |
| CARE QUALITY | ★★★★☆ (5/5) |
When you're looking for quality animal care, Cork Society for the Prevention of Cruelty to Animals (CSPCA) may just be one of the best shelters for animals.
CSPCA offers services on adoption of cats, dogs, and other small animals. You can also bring your pet in its area for basic pet grooming.
It's an ideal place for animal lovers for its clean and spacious areas that allow pets to enjoy playing. We like that the dog kennels are big enough to ensure that dogs are properly cared for.
The staff have a deep understanding of animal needs and are highly trained to respond to them. Though it's a given, the staff show deep care for animals and dedicate their time to help fur babies.
The staff also offer very helpful pieces of advice to wanna-be pet parents.
Kudos to this place for its non-stop efforts in rescuing and rehabilitating abandoned and stray pets even if it's reliant on donations and outside funding.
We love how they care for dogs of all ages and cats that are fit for rehoming and adoption.
Although there are many animals for adoption, you still have to undergo a tedious process of screening starting from setting appointments and answering questionnaires.
Another downside, based on some clients we've spoken to, are the unattended phone calls and the closure during weekends.
Nonetheless, it's a well-known place in Cork for quality animal care and rehabilitation for future adoptions.
Clean areas
Friendly and trained staff
Big kennels
Well-groomed animals for adoption
Can handle many animal types
Hard to contact at times
Tedious adoption process
Closed on weekends
Customer Reviews
Clean and spacious
"We loved to visit here today, all the staff were so chatty and kind and the place was super clean! I loved how big the kennels were and the little run for them was perfect to introduce the dog to each other. We walked a lovely little dog down the green way just behind the centre it was just perfect." – Aoife O Connell
Dedicated staff
"This place is wonderful. These people are putting time and effort into animals that other people couldn't care for. A great place to adopt as-well. They have dogs of every age that are loving and kind. The only thing I would say is that they don't update their website very often." – Cillian O'Regan
2. West Cork Animal Welfare Group
Test
Info
SERVICES

Adoption

Rehoming

Rescue

Rehabilitation

Animal Sponsorship

Lectures

Animal Case Investigation

WEBSITE
https://westcorkanimals.com
ADDRESS
West Cork Animal Welfare Group, Clonakilty
CONTACT DETAILS
086 850 0131
OPERATING HOURS

Monday to Saturday, 11:00 a.m. - 4:00 p.m.
| | |
| --- | --- |
| STAFF | ★★★★★ (5/5) |
| CLEANLINESS | ★★★★★ (5/5) |
| SPACE | ★★★★★ (5/5) |
| CARE QUALITY | ★★★★★ (5/5) |
West Cork Animal Welfare Group Ltd., a charitable institution in Cork, offers safe haven and quality care for abandoned and stray animals alike.
Equipped with two decades of experience in animal care, this group offers adoption of puppies, dogs, and cats. This is a good place to consider since all animals seeking new families are already fit and rehabilitated by the highly trained staff.
Aside from being friendly, the crew have immeasurable love and attention to animals. Veterinarians are also present to ensure science-based assistance to animals.
Also, the grassy fields of the place are very spacious and secure to prevent animals from escaping their temporary home.
We appreciate West Cork Animal Group's sharing of success stories of rehoming and adoption through its website and social media, which are very current and updated.

Options for pet sponsorships and fundraising are commendable, especially for pet lovers that cannot adopt.
Moreover, the staff share their animal welfare advocacies by educating schools and other institutions.
However, the group does not offer grooming and other services offered in pet shops. It is also close to the public on Sundays.
All in all, it's one of the best places to adopt healthy and adorable pets.
Facilities are well-maintained
Accommodating staff
Well-rehabilitated animals for adoption
Provides timely updates on adoption 
Closed on Sundays
Limited services
Customer Reviews
Friendly place
"Went to see a dog, [a] lovely friendly place staff were so helpful." – Rosarie Gill
Boundless work
"Adopted a lovely dog from these wonderful people. Cant praise their work enough." – Ivan Smith
Fantastic care
"They do fantastic work caring for animals." – Paul O'Sullivan
3. Skibbereen Animal Rescue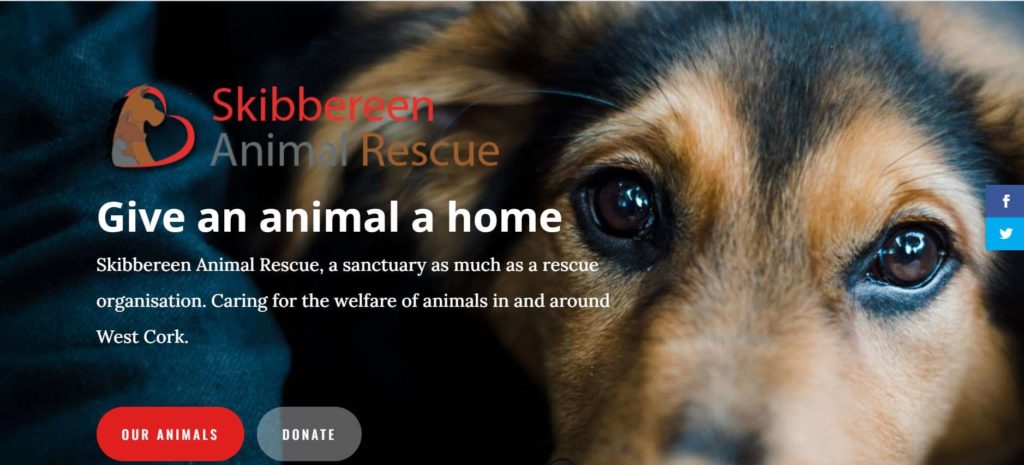 Test
Info
SERVICES

Adoption

Rehoming

Rescue

Rehabilitation

WEBSITE
https://www.skibbereenanimalrescue.ie
ADDRESS
Glounaphooka, Caheragh, Drimoleague
CONTACT DETAILS
086 879 5950
OPERATING HOURS

Always open
| | |
| --- | --- |
| STAFF | ★★★★☆ (4/5) |
| CLEANLINESS | ★★★★★ (5/5) |
| SPACE | ★★★★★ (5/5) |
| CARE QUALITY | ★★★★★ (5/5) |
Skibbereen Animal Rescue is an animal sanctuary founded in 1998 that helps loving animals find their deserving families.
Situated in a very large greenfield, this place is not just a simple animal shelter – it is a refuge for many animals as well.
We laud this sanctuary for housing not just dogs and cats, but also huge animals such as cows, horses, pigs, and donkeys. The experience it has in handling a variety of animals is a testament to its two-decade animal care provision.
Among the services it offers are animal adoption and rehoming, maintenance of rescues, and even rehabilitation.
For those who want to donate, you can check out their website and social media for animal information. Both are up to date and may even answer all your queries.
Moreover, we'd just like to note that the dedication of the founders and the staff is admirable.
For years, rescued animals that do not match adoption qualities are given lifelong care at the sanctuary. This is very different from other shelters that have animals euthanized when the adoption period lapses.
It's also noteworthy that all cats can roam free at the farm. Bigger animals also have a special facility for them.
The only disadvantages here are the unspecific operating hours and its nature of being donation-based. Overall, however, it's one of the best animal sanctuaries and options for adopting a pet.
Can house many and big animals
Animals that aren't adopted stay at the sanctuary for life
Confusing operating hours
Donation-reliant and self-funded
Customer Reviews
Animals come first
"Just as with a nursing home for the elderly an animal shelter must be viewed from the perspective of the service user, not the visitor. Here the animals come first, they are loved, they are cared for and looked after. They are happy and safe. The boreen may be rough, the buildings a bit dilapidated but this is a sure sign the animals come first." – Reddy O'Regan
One in a million
"Anita has really looked after the welfare of animals in West Cork over the years, and is one in a million." – Jasper Hampton
True sanctuary and haven
"Anita took a stray kitten from me this morning and was so helpful. The kitten (Flossie) will be spayed next week and will join the large happy band of cats that have total freedom to relax and play. This is a true sanctuary where animals can live in safety. Forever homes are an ideal solution, but this place is a haven for animals who can't be rehomed for whatever reason." – Jane via Google reviews
4. Araglin Animal Sanctuary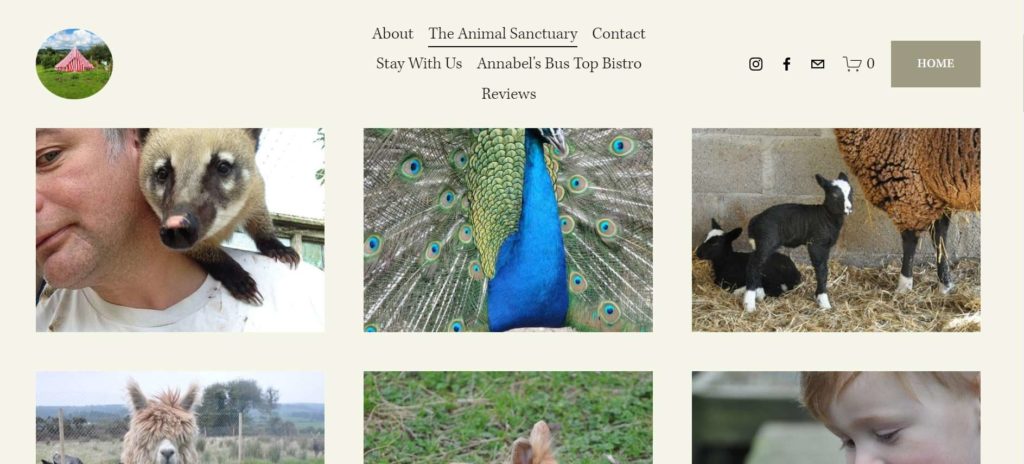 Test
Info
SERVICES

Animal Sanctuary

Open Visits

Glamping

Accommodation

Private Events

WEBSITE
https://www.araglin-glamping.com
ADDRESS
Billerough West, Araglin
CONTACT DETAILS
089 252 1283
OPERATING HOURS

Always open
| | |
| --- | --- |
| STAFF | ★★★★★ (5/5) |
| CLEANLINESS | ★★★★☆ (5/5) |
| SPACE | ★★★★★ (5/5) |
| CARE QUALITY | ★★★★★ (5/5) |
If you wish to see a place that houses and cares for a lot of animals in the countryside, Araglin Glamping & Animal Sanctuary is always open to host you.
True to its name, Araglin doesn't only shelter dogs and cats, but also serves as a sanctuary for deer, peacock and other birds, goats, sheep, horses, and other mammals. Indeed, it is a sight to behold.
Although it's self-funded and run by donations, all the animals in the area (including the abandoned and injured) are all well taken care of.
Owners Annabel and Andrew are also welcoming to visitors. Their obvious dedication to animal care has now covered even wallabies, lemurs, monkeys, and wolves.
Other than the animal sanctuary tour, it's great that the place offers glamping and camping accommodations for tourists. The cabins are well-equipped with kitchen utensils and are very clean.
You can also book your private event here! If you're too lazy to cook, you can dine in at the property's vintage double-decker bus Anable's for breakfast and dinner.
Visitors can likewise discover more nature's gifts in the countryside through hiking and a trip to Ardmore Beach.
Araglin doesn't offer adoption options for its rescues, though you can help the animals through donations. Even so, it's worth a visit.
Offers camping and glamping accommodation
Can house many and big animals
Tourist attraction
No options for adoption or rehoming
Donation-reliant and self-funded
Customer Review
Accommodating hosts
"A truly unique and unforgettable experience. The shepards hut was so comfortable and had everything we needed. Annabel and Andrew were so lovely and made us feel really at home. Being an animal lover, the sanctuary really blew us away with such a wide range of animals who are all cared for so well…"– Laura Garland
Animal lovers' paradise
"What an amazing place! We stayed in one of the huts and it was simply beautiful inside and out. It is an animal lovers paradise. We treated ourselves to the bbq and the home made pizza and if was fab. To top it all off the hosts are so welcoming, more than accommodating and went above and beyond." – Alison Hogan
Unique experience
"An amazing and unique experience. Andrew and Annabel are wonderful hosts and their dedication to the animals they care for is beautiful." – Erik Wihlborg
5. Beara Farm Animal Sanctuary

Test
Info
SERVICES

Animal Sanctuary

Rehabilitation

Rescue

Adoption

Animal Sponsorship

WEBSITE
https://www.facebook.com/BFASanctuary
ADDRESS
Beara Farm Animal Sanctuary, Adrigole
CONTACT DETAILS
083 086 8421
OPERATING HOURS

Always open
| | |
| --- | --- |
| STAFF | ★★★★☆ (4/5) |
| CLEANLINESS | ★★★★☆ (4/5) |
| SPACE | ★★★★☆ (4/5) |
| CARE QUALITY | ★★★★☆ (5/5) |
Beara Farm Animal Sanctuary is an example of genuine dedication for animal welfare and rehabilitation.
Although it's self-funded and has funding from donations, this small sanctuary takes good care of big animals like donkeys. Even farm animals such as goats, hens, geese, and ducks are welcome here!
Their services are centered on the rescue and rehabilitation of abandoned farm animals. Several rescues, like kittens, are also open for adoption when they're already healthy and fit.
Despite being a small shelter, the farm does not shorthand its animals of care. Animals are still given vaccinations and deworming before they're given up for adoption.
Even with a limited capacity, the owners are admirable for working on continued renovations and building of new facilities to house more animals.
We particularly like how Beara Farm opens its doors to volunteers to help in raising the farm animals. This allows people to not only bond with animals, but to socialize with fellow animal lovers as well.
Among the issues in Beara, however, is the limited capacity which halts the acceptance of other mammals in select periods. Worry not, the owners are working non-stop to expand the farm and the facilities.
Funding also poses a challenge but can still be addressed through donations and fund-raising activities. It doesn't have a website for now, but you can reach out to them via social media.
Can accommodate larger animals
Administers vaccinations and deworming
Accepts volunteers
Continuous facility improvements
Limited capacity
Doesn't have a large financing
Customer Review
Brilliant place
"Brilliant, it will be so much easier to keep everything clean and safe. We'll have lots more time to care for the health of the animals, and more time for play and cuddles. Yaaaay!" – Sue Grant
Hardworking staff
"Brilliant place to visit and if you do please give a donation as the are all very hard working." – Ahrlene Fuller
Safe and peaceful for animals
"Jaquie and Alan work tirelessly to help these unwanted and neglected farm animals. Some of their stories are heartbreaking but they, with the trustees and volunteers do all they can to give the animals safe and peaceful lives. It costs them everything…." – Sue Bociek
FAQs About Animals Shelters in Cork
---
Animal shelters exist to support animals that have been abandoned by their owners and even those that have lost their way home.
If you want to lend a hand for quality animal care through donations or volunteerism, you can visit the other top animal shelters in Ireland.