The 4 Best Law Firms in Dublin for Personal Injury Cases
Have you suffered an injury from a road accident, product, medical procedure, etc.? You may be entitled to compensation.
To help you obtain the damages you deserve, we've rounded up the best law firms in Dublin for personal injury cases in this article.
But don't just stay around for our picks, though, as there's more helpful info—FAQs and tips—before this article ends!
Lawyer Fees in Ireland
At the soonest time possible, it's very important to discuss with your law firm the various fees that will have to be made.
As regards legal fees and costs for civil cases, Citizens Information explains that the fee "can consist of the professional fee, miscellaneous charges (for example, phone calls) and charges from third parties (for example, government agencies)."
In addition, several factors determine lawyer fees, some of which are the time spent on the case; the difficulty of the case; costs of expert witnesses, among others.
The good news is, some law firms may apply the "no win, no fee" payment arrangement to your case.
Basically, this means that you won't have to pay any legal fees to your solicitor if he or she fails to win your case, according to Hussey Fraser Solicitors. However, this payment structure is not applicable in every case.
As Gary Matthews Solicitors points out, a solicitor would only agree to this if he or she is confident about the success of the case, among other considerations.
Discuss this clearly with your lawyer. If he or she has agreed to take your case on a "no win, no fee" basis, make sure this is in writing.
Meanwhile, note that lawyers are not permitted to charge clients a percentage of the compensation the client may be awarded to.
The Best Law Firms in Dublin for Personal Injury Cases
How did we come up with this list? Here are some things we considered:
Let's get to it—our selections for Dublin's best law firms for personal injury cases!
1. Hussey Fraser Solicitors
Test
Info
CLAIM TYPE
Personal injury:

Car & motorcycle accidents, accidents at work, accidents in public, and post-traumatic stress disorder




Medical negligence:

GP claims, birth-related injuries, hip replacement, surgical errors, accident & emergency, dentistry malpractice, and chiropractic negligence

WEBSITE
https://www.injury-solicitors.ie/
ADDRESS
17 Northumberland Road, Ballsbridge, Dublin 4, D04 KF76
CONTACT DETAILS
1890 66 81 99
OPERATING HOURS
9:00 am to 5:00 pm (Monday - Friday)
On our list, Hussey Fraser Solicitors stands out for mainly two things. First, it's got a 300+ 5-star rating on the web.
Second, it has a pretty solid team made up of 8 solicitors and 3 legal executives—the largest team on this list. So, if you're more after law firms with more manpower, Hussey Fraser may be a good fit for you.
Three of their solicitors have been solicitors for more than 20 years. In particular, Hussey Fraser's managing partner and owner, Malcolm Fraser, qualified as a solicitor in 1991.
His expertise includes areas of construction, construction dispute resolution, and contentious health and safety and environmental law matters.
Furthermore, another solicitor, John Browne, speaks Spanish fluently. Meanwhile, Hussey Fraser's legal executives all have a background in insurance.
Some of the personal injury cases they handle include injuries obtained in the workplace, from vehicular accidents, and in public places.
They also handle medical negligence cases such as surgical errors, birth-related injuries, dental malpractice, among others.
Aside from the written reviews you can find online from their clients, you'll also find video testimonials of clients on their website.
Big legal team
All legal executives have insurance background
One solicitor speaks Spanish
Video testimonials available on website
Webchat support available
Closed on weekends
Doesn't offer Book of Quantum on website
Customer Reviews
Very helpful and professional
"I recently had cause to use the services of Hussey Fraser. I found them to be very helpful and professional. I was kept up to date at all times and kept well informed on the progress of my insurance claim. I would not hesitate to engage their services in the future" -Luke Kennedy
10/10
"Conor at Hussey Fraser was my solicitor for a road traffic accident case. He was both professional and reliable and kept me and my family fully up to speed on every development as it happened. He was great to deal with and made what would have been a stressful and difficult experience so much easier. The case went how we wanted it to go, and I'm thankful for his and all at Hussey Frasers help! 10/10" – Glenn Donoghue
2. Quinn Solicitors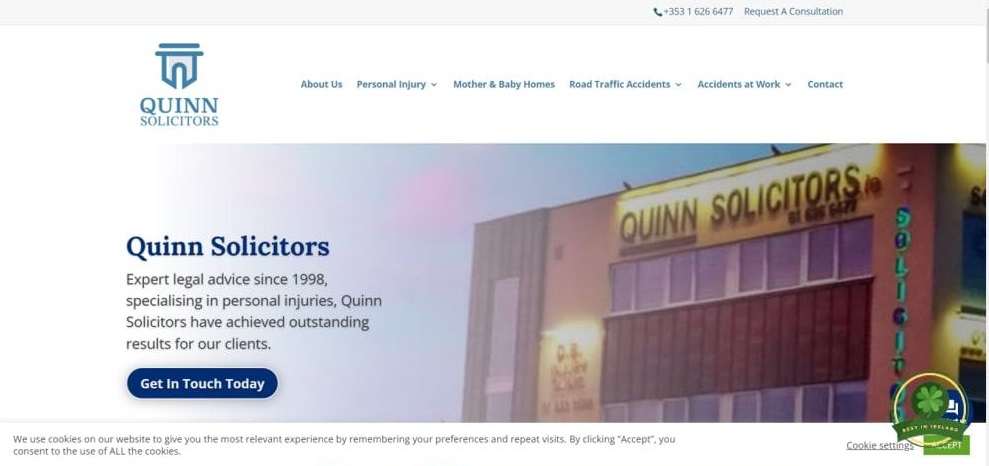 Test
Info
CLAIM TYPE
Personal injury:

Hand injury/arm injury claims, neck injury claims, head injury claims, and back injuries




Mother and baby homes




Road traffic accidents:

Cyclists, pedestrians, motorbikes, motorways, public transport, and taxi claims




Accidents at work:

Farming, forklifts, slip trips or falls, building sites, and inadequate training




Medical negligence

WEBSITE
https://quinnsolicitors.ie/
ADDRESS
283A Ballyfermot Road, Dublin 10, D10 DE93
CONTACT DETAILS
+353 1 626 6477
OPERATING HOURS
9:00 am to 5:30 pm (Monday - Friday)
Specialising in personal injuries, Quinn Solicitors was established in 1998.
Some of the personal injury cases it handles involve body injuries; road traffic accidents, including pedestrians, motorbikes, public transport, and more; as well as accidents at work involving insufficient training, slips and falls, etc.
But notably, this law firm can assist survivors of the infamous "mother and baby homes" controversy, where approximately, there are 130,000 survivors eligible to obtain compensation*.
Thus, if you happen to be a survivor or know someone who is, Quinn Solicitors encourages clients to contact them.
We also like that they've included info on compensation estimates regarding different injuries (based on the Injuries Board's Book of Quantum, 2016).
Thus, personal injury victims can have an idea of how much they may gain in compensation, even if these figures are just estimates.
Meanwhile, Quinn Solicitors's legal team comprises 3 solicitors and 2 legal executives. Brendan Quinn, its principal solicitor is responsible for all litigation matters.
Its two other solicitors specialise in conveyancing, probate, wills, among others.
We wished that more info were given on their legal team, though.
*According to the final report of the Mother and Baby Homes Commission of Investigation, as mentioned by Quinn Solicitors
Info on compensation estimates available
Can help "mother and baby homes" survivors
Claims to get back to clients within 1 working day
Limited info on legal team
No webchat support
Closed on weekends
Customer Reviews
Extremely helpful and honest
"Found Quinn to be extremely helpful, and honest and laid out my case from the get go. It was a personal injury claim which we ended up settling very quickly. I could not speak more highly of them." -Joe Bradley
Super helpful
"Excellent and fast, super helpful, thank you very much!" -Francesco Guisti
3. Gary Matthews Solicitors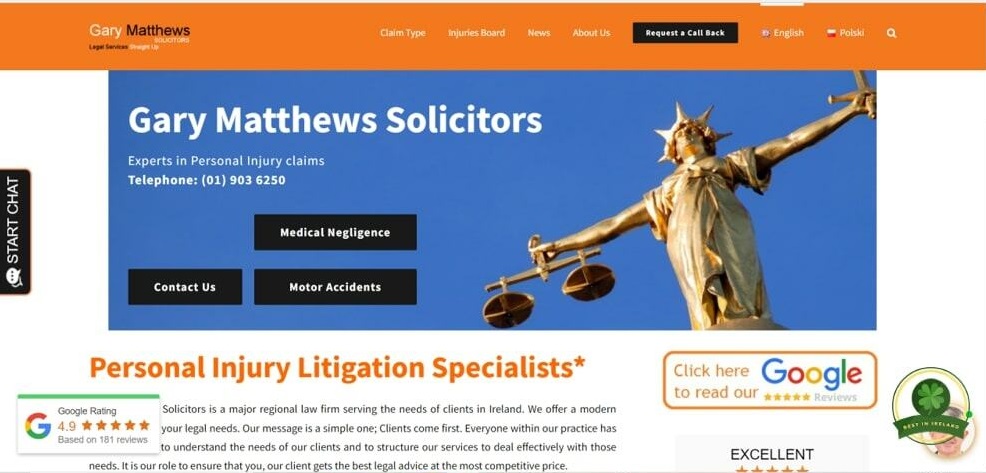 Test
Info
CLAIM TYPE
Motor accidents, medical negligence, accidents at work, accidents abroad, cybercrime, mortgage overpayments, slips or trip accidents, oil spill incident, and financial negligence
WEBSITE
https://www.gary.ie/en/home/
ADDRESS
3rd Floor, Ormond Building, 31-36 Ormond Quay Upper, Dublin 7
CONTACT DETAILS
01 903 6250
OPERATING HOURS
9:00 am to 5:00 pm (Monday - Friday)

9:00 am to 1:00 pm (Saturday)
This law firm is headed by solicitor Gary Matthews whose career spans more than 25 years. A solicitor since 1991, he focuses on civil and commercial litigation, particularly on personal injury claims.
He's joined by two other solicitors and five legal executives.
Gary Matthews Solicitors handles a good variety of claims. Aside from the usual personal injury claims, they also handle oil spills, that is, if your property or home becomes damaged via an oil leak or contamination.
And the great thing is, they can arrange for the right service providers to do the cleanup, regardless of the time it happened.
Clients can also contact them if they've been a victim of mortgage overcharging as well as those who've been affected by negligent auditors, accountants, actuaries, insurance brokers, and the like.
Plus, Gary Matthews Solicitors deals with cybercrime (e.g. cyber harassment, computer tampering, etc.).
And unlike other law firms, they're open until Saturday, with another office in Northern Ireland, to boot.
Open until Saturday
Another office in Northern Ireland
Book of Quantum available on website
Also handles cybercrime, mortgage overcharging, etc.
Can contact service providers for oil spill
Web chat support available
Large legal team
Closed on Sundays
Team info can be improved
Customer Reviews
Professional and caring team
"I highly recommend Gary Matthews solicitors. They dealt with my medical negligence claim in a very professional way and had in-depth knowledge of every step of the process. I am very grateful that I had such a professional and caring team to support me through what was a difficult and emotional process for me due to the nature of my case." -Anonymous
No delays, timely and professional advice
"I dealt with Joanne in Gary Matthews solicitors for personal injury claim following a traffic accident. Although operating remotely, online processes and communication were excellent and I was guided through the process expertly. There were no delays and advice was timely and professional. I would highly recommend Gary Matthews solicitors to any prospective clients." -Michael
4. Synnott Lawline Solicitors
Test
Info
CLAIM TYPE
Personal injury:

Road accident, cycling accident, public place accident, fatal injury, back injury, sports injury, road accident abroad, animal attack, asbestos injury, farm accident injury, Garda injury, uninsured driver, work accident, accidents involving children, spinal injury, head injury, holiday accident, post-traumatic stress, product liability, flight accident, electrocution injury, and PIAB claims




Medical negligence:

Medical negligence, cosmetic surgery, breast surgery, birth injury, cerebral palsy, hospital-acquired infections, A & E hospital, dental negligence, cancer misdiagnosis, and gastric band surgery claims

WEBSITE
https://www.synnottlawline.ie/
ADDRESS
Lawline House, High Street, Dublin 8, D08 CX34
CONTACT DETAILS
01 453 7890

1850 20 40 60 [email protected]

OPERATING HOURS
9:00 am to 5:30 pm (Monday - Friday)
Synnott Lawline Solicitors is the product of two firms that merged. Principal solicitor David Synnott heads its legal team made up of two other solicitors, one lawyer and one apprentice/intern.
David's legal experience numbers more than 30 years. Specifically, 20 of those years have been focused solely on personal injury law.
On the other hand, associate solicitor Michelle Synnott has been with the law firm for almost 20 years and specialises in areas of medical negligence, defamation, wrongful death, among others.
Plus, another legal team member knows Portuguese and Spanish, so this law firm could be a great fit for clients who come from places where the said languages are spoken.
Among the personal injury claims they handle, here are some especially worth mentioning: animal attack, asbestos injury, Garda, and PTSD (post-traumatic stress disorder), product liability claims, and more.
And under medical negligence, these are cosmetic surgery, cerebral palsy, cancer misdiagnosis claims, to name some.
It's also worth noting that Synnott Lawline handles multiple cases concerning breast implants and augmentation.
They've even created their own guide on personal injury claims. However, you'll have to submit your name, phone number, and email address to get this, though.
Can contact 7 days a week
Has a team member who knows Spanish & Portuguese
Own personal injury guide booklet available on website
Handles multiple cases on breast augmentation/implant
Offers support services
Only 1 legal executive in team
Book of Quantum unavailable on website
No webchat support
Need to submit details to get personal injury guide
Customer Reviews
Always present and supportive
"Michelle was always present and supportive to me during my time dealing with Synnott Lawline. She always took the time to call and check up on me and keep me informed on proceedings. I would of been lost without. A credit to any firm and I will never forget the time and passionate work she put in for me. Forever thankful." -Ian Bedford
Very efficient solicitors
"I'd highly reccomend Synnott Lawline. Very efficient solicitors and the team are extremely prfoessional. Would have no problem using them again." -Stephen Neale
Would highly recommend
"Michelle Synott dealt with my case and I found her very professional, helpful and courteous, would highly recommend 100%." -John Healy
How to Choose a Law Firm for a Personal Injury Case
What are the things you need to consider as you search for the right law firm? The following tips can help:
Specialisation
Looking for a law firm is kind of like choosing a doctor. Naturally, you'd want and need someone who specialises in your condition, or for this matter, your case.
Thus, if you're choosing a law firm that handles multiple practice areas, make sure a large amount of the cases they handle involve personal injury claims.
Or, you can just focus your search on firms that deal exclusively with personal injury claims.
Experience
This can be vague at times. A law firm may boast of decades of experience when in reality, it's referring to the total years of experience of its legal team.
On the flip side, just because a law firm was recently set up doesn't automatically mean it lacks experience.
Rather, check out the credentials and experience of its legal team individually.
Bigger vs. smaller law firms
You'll have to weigh the pros and cons for this one.
Of course, larger firms have bigger legal teams. They are more likely to have more resources and manpower, making them a good option for high-profile cases.
They may also have more branches in the country as well as partners abroad.
However, one disadvantage is the cost of hiring them.
Conversely, smaller firms are less expensive. Also, you're more likely to be given more attention since they handle fewer clients.
Communicating directly to your lawyer is easier compared to larger firms where you may need to first go through paralegals or office staff.
Nevertheless, they may not be the best option for bigger, more complex cases due to insufficient resources.
FAQs about the Best Law Firms for Personal Injury Cases
---
And that's a wrap for our list of the best law firms in Dublin for personal injury cases! We'd be really happy if any one of our picks helps you obtain a successful ruling on your case.
Got your own recommendations? Let us know by sending us a message, and we'll check them out ASAP!
Have a conflict with an employee? Or maybe with your employer? Read this article on the best employment lawyers in Ireland, and let the law settle your dispute!