The 6 Best Property Management Companies in Dublin
Being a landlord of multiple tenants is certainly a tough job. Rent collection, maintenance, finding tenants—these are just some of the things you'll need to handle.
If you're finding it hard to manage your commercial properties on your own, maybe it's time to get help. Our top options for the best property management companies in Dublin can help manage your estate, among other things!
In this article, you'll get to know how our choices can help you, what we liked and didn't like about them, and more. Besides that, we've also prepared FAQs and tips that we think are useful to landlords.
Property Management Fees in Ireland
It can be difficult to know how much on average you need to pay to avail of property management services. From what we've seen, some property management companies price their services by taking a certain percentage off of the monthly rent of a tenant.
This percentage can range from 5% to 20%.
On the other hand, while landlords are not required by law to pay property management fees, they are required to pay taxes.
According to Taxback.com, depending on your personal situation, you'll need to pay either 20% or 40% tax on your net rental income. The good news is there are several expenses that Revenue will permit you to claim back on, lowering the tax you give each year.
These expenses include your Private Residential Tenancies Board (PRTB) registration fee, repairs and maintenance, advertising and estate agent fees, property management fees, local service charges, legal/accounting fees, and insurance premiums.
However, some expenses are not tax deductible—for instance, the expenses incurred from the repairs or renovations conducted to your property before you rented it out.
Another expense that is not tax deductible is Stamp Duty. What is tax deductible is the legal assistance you obtained concerning Stamp Duty.
The Best Property Management Companies in Dublin
1. Redmond Property Group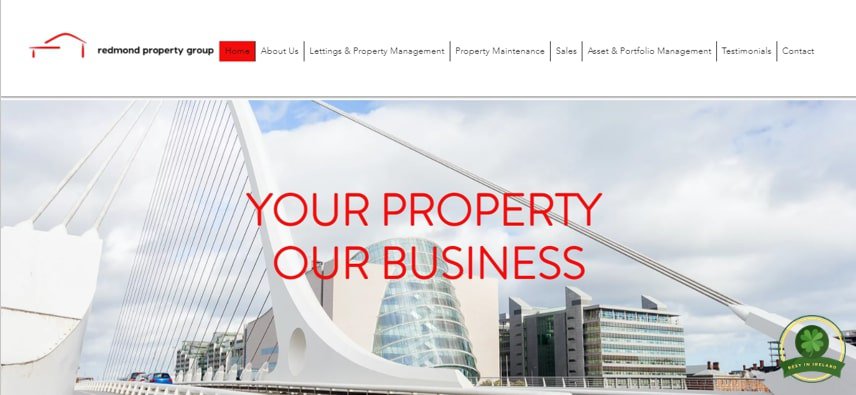 SERVICES
Property letting and management, property maintenance, asset and portfolio management, and sales
WEBSITE
https://www.redmondpropertygroup.ie/
ADDRESS
56 Broomhill Drive, Broomhill Industrial Estate, Tallaght, Dublin 24
CONTACT DETAILS
00353 1 414 7772


[email protected]

OPERATING HOURS
9:00 am to 5:00 pm (Monday – Thursday)
9:00 am to 4:30 pm (Friday)
Redmond Property Group offers a range of property-related services in sales, lettings, maintenance, property management, and asset and portfolio management.
For us, two of the main highlights of this residential property management company are its clients and property maintenance services.
Their clients don't just come from Dublin but other counties as well and are made up of private clients, estate agents, commercial landlords, financial institutions, housing associations, and more.
Moreover, the depth of Redmond's property maintenance services makes it a one-stop solution for its clients' property maintenance needs. Redmond has a team available 24/7 to provide cleaning services, appliance repair, grass maintenance, plumbing and electrical services, interior design, and so on.
Meanwhile, clients can have the option to choose between letting only or letting and property management services. Redmond's services include but are not limited to obtaining tenants, preparation of lease agreements, rent collection, and property inspection.
They can also provide you with a rental valuation of your property. However, note that this is not exactly offered for free, but is given "obligation-free."
On the other hand, we found resources on Redmond's website that are beneficial to landlords. This includes info on Building Energy Rating (BER), registration of tenancy, Rent Pressure Zone rules, and the like.
Wide range of clients
Letting-only service available
Extensive property maintenance services
Provides resources for landlords on website
Customer Reviews
Two of Redmond's clients had this to say about their services:
"Above and beyond! That's how far Redmond letting and property maintenance go. Always polite and helpful and really in touch our needs and expectations. Would highly recommend them to handle anyone's investment properties, or even if you need something done around the family home. They seem to surround themselves with only the best staff and trades for anything you could need! Thanks Team!" -D&L
"Liam Redmond Letting let and manage our family investment property, they always go above and beyond to make sure our investment is well looked after and working for us. Can't recommend them enough!!."-Elaine Sterio
2. Conerney Estate Agents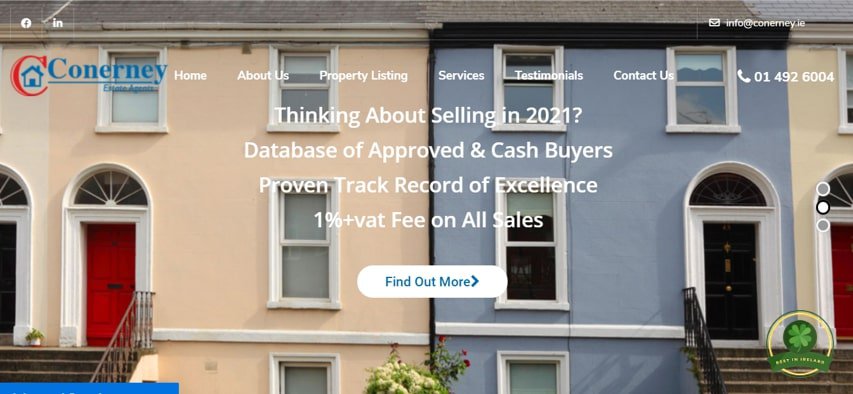 SERVICES
Property management, property listing, letting service, and sales
WEBSITE
https://conerney.ie/
ADDRESS
4 Main St, Rathfarnham, Dublin, D14 V8X2
CONTACT DETAILS
+353 1 492 6004


[email protected]

OPERATING HOURS
9:30 am to 5:00 pm (Monday – Friday)
Conerney Estate Agents is a property management service provider and an online platform for the sales and letting of a wide array of property listings. Apartments, duplexes, offices, retail establishments—these are just some of the properties they feature on their website.
This is also what's great about Conerney as they help clients advertise properties on their website along with other major websites. And because Conerney's site has multiple filters to customise tenants' search, you know they won't have a hard time finding your property.
Conerney's services are basically centred on letting, sales, and management of properties. Included in their letting service are a free market valuation of property, sourcing of tenants, transfer of rent fees to clients' bank accounts, among others.
And if you'd like to have them manage your property as well, Conerney has a property management team that's available 24/7, all year long.
They'll conduct regular inspections, register your tenancy, mail you a monthly and an annual statement of accounts, and provide a call out service for emergencies, among other services.
You also won't need to look for another service provider as regards repairs, designs, appliances—Conerney has their own team of electricians, plumbers, fitters, etc.
Wide array of property listings
Offers advertising of properties on multiple sites
24/7 property management team
Free valuation of property
Closed on weekends
Limited range of services
Customer Reviews
You can better assess the quality of Conerney's services by looking at comments left by their clients. Here are a number of positive remarks:
"We definitely recommend Conerney Estate Agents. We dealt with Simon and Jason, who were both excellent. They were professional, polished, friendly, accessible, responsive and keenly priced. They gave us plenty of advice, support and guidance during what can be a stressful process. And, of course, they got us a good result!" -Anna Sadlier
"Thank Mark for help let my property. Really professional and responsive. Really easy to communicate, highly recommend 100% 5 stars! Looking forward to the future cooperation." –彭飞
"The Team at Conerney's have been very professional in a recent letting of ours and achieved a quick turn around even with the current restrictions. Well done." -Conor Garrigan
3. Bespoke Estate Agents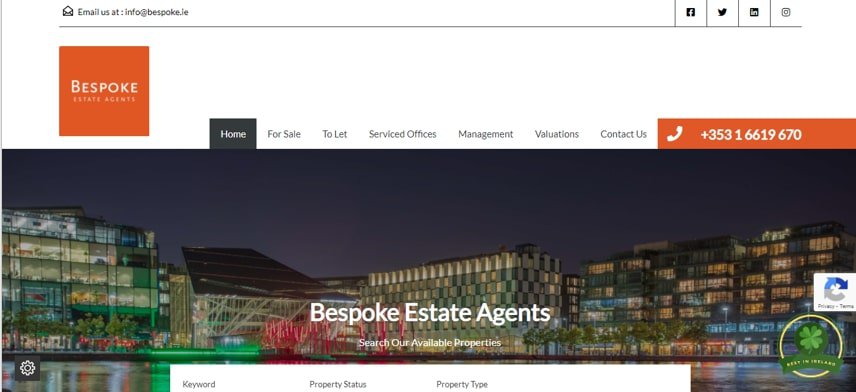 SERVICES
Property listing, property management, lettings management, and valuation services
WEBSITE
https://www.bespoke.ie/
ADDRESS
60 Merrion Square, Dublin 2
CONTACT DETAILS
+353 1 6619670


[email protected]

OPERATING HOURS
9:00 am to 5:30 pm (Monday – Friday)
If you've got a property in Ireland you want to let but you're not a local resident, we'd recommend Bespoke Estate Agents. Bespoke is a lettings management provider for both Irish and non-resident landlords.
They've got the necessary services for before, during, and after the tenancy. Pre-tenancy, Bespoke will inspect your property to know its letting value, advertise the property, show the property to the prospective tenant, and complete other needed transactions.
During the tenancy, Bespoke will be in charge of rent collection and act as the point of contact for all repairs and maintenance. Moreover, included in their services are yearly inspections and handling of an inspection report to their client-landlord.
And once a tenant leaves, Bespoke will also handle other necessary matters such as checking the inventory of the property's contents, assessing the extent of repairs, noting readings on utility metres, and such.
Furthermore, Bespoke manages apartment/block estates. Similar to their letting management services, this includes inspections, exterior and interior cleaning, grounds maintenance, and so on.
Meanwhile, if you're not yet looking to have your property let and managed but are just curious about its market value, Bespoke provides this for free.
What's more, they've got an assortment of other valuation services—something we didn't see in other property management providers. This variety covers tax valuation, red book valuation, finance valuation, probate valuations, to name a few.
Wide array of valuation services
Free market valuation service
Also services non-resident clients
Closed on weekends
No mention of 24/7 customer support
Customer Reviews
Other landlords noted Bespoke Estate Agents' great service in obtaining tenants. See what they have to say below:
"Susie managed the rental of my apartment in the city and did an excellent job. Responds instantly, sources excellent tenants, suggests ideas and get things done quick and efficiently. Fully recommend."-David Woods
"Seamless and attentive process securing new tenants for my property in Dublin 4. Really enjoyed working with Susie." -Deirdre McCarthy
Susie at Bespoke provides an excellent service in vetting prospective tenants, regular updates/feedback and finally tying up all the lose ends in a timely and efficient manner – Overall, Susie does 'exactly what it says on the tin!' which is what any landlord would want." -Colin Feely
4. Host Butlers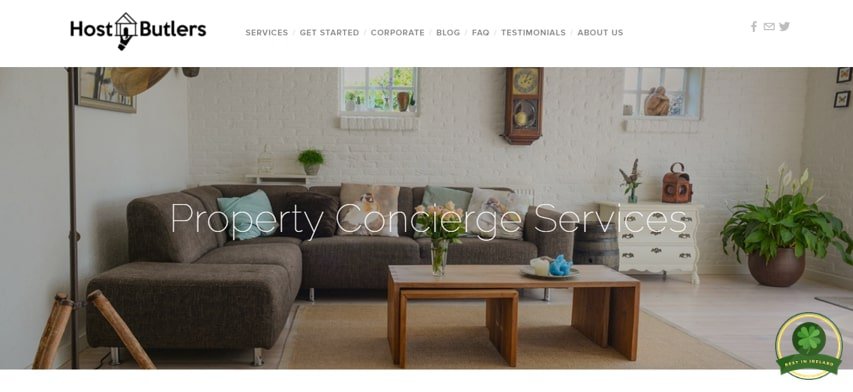 SERVICES
Full management package – 20% (incl. VAT) per booking + cleaning fee

Remote management package – 15% (incl. VAT)

Host Butlers Exec – 20% (incl. VAT)

Property Consultancy:

Consultancy meeting – €249 (incl. VAT) per session
Personalised on-site consultancy – €349 (incl. VAT) per session

Tax return package – €299
WEBSITE
https://hostbutlers.com/
ADDRESS
7 Cecilia Street, Temple Bar, Dublin 2
CONTACT DETAILS
00 353 83 8684527


[email protected]

OPERATING HOURS
9:00 am to 6:00 pm (Monday – Saturday)
What makes Host Butlers different from other property management companies is their focus on short-term rentals.
Hence, they're ideal for those who let their houses on Airbnb or Booking.com or those who simply want to let their residence for a short period of time.
Host Butlers offers two management packages: full management and remote management. Under full management, Host Butlers will handle the creation and management of your property's listing.
Their team will be the one to meet your tenants, arrange for cleaning, provide customer support, etc.
How Host Butlers prices this package seems simple enough. For each booking, 20% off of the tenant's rent will go to them.
In other words, if the rent per night of your apartment is €140, 20% of this amount or €28 is earned by Host Butlers; meaning, you'll be earning around €112 per night.
Meanwhile, their remote management package is also the same as their full management package except that the check-in process for guests is self-service. Also, instead of 20%, Host Butlers earns 15% per booking.
However, note that Host Butlers charges an additional fee for cleaning services. They didn't specify how much or give an estimate at least, so that's something you'll need to inquire with them.
Another good thing about Host Butlers is they also offer a consultancy service for those who want to enter into the business of short-term rentals.
So if you're only starting to consider letting your property on a short term, Host Butlers can discuss this with you in a meeting or within your property itself.
Open until Saturday
No setup costs
Provides taxation services
For short-term rentals only
No info on cleaning fee
Closed on Sundays
Customer Reviews
Learn more about this company, its services and staff by reading reviews from its clients:
"Host Butlers provided an excellent service renting our apartment on Airbnb. I would recommend them without any hesitation." -Dolores O Connor
"Great service takes all the pressure and stress out of hosting on Airbnb. The place was super clean and well looked after during the period we used HostButlers and they handled all the guest communication, check-in, cleaning etc. Guests were very happy with the service and they helped out with any guest queries or problems that came up during their stay. It made hosting effortless. Would definitely use again." -Hannah Kierans
5. Burlington Real Estate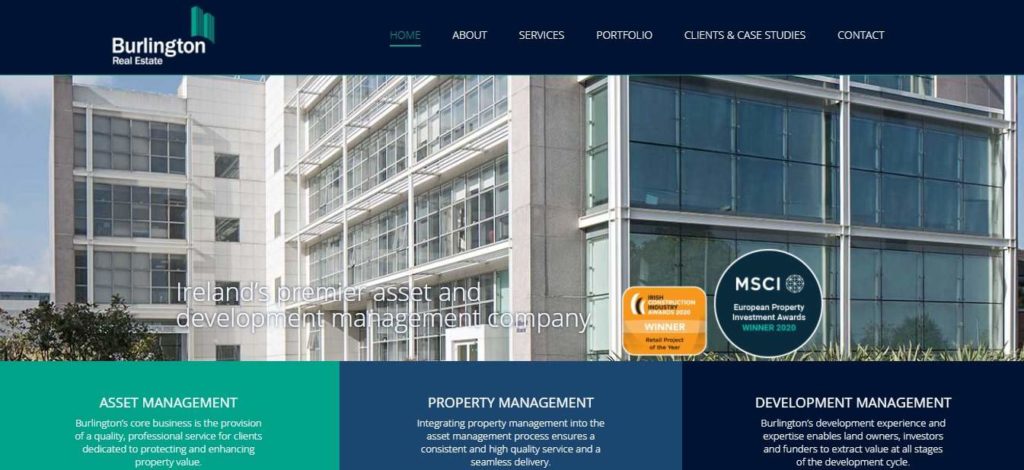 SERVICES
Property management, development management, asset management, and Appian Burlington property fund
WEBSITE
https://burlrealestate.com/
ADDRESS
45 Fitzwilliam Place, Dublin 2
CONTACT DETAILS
+353 1 905 8070


[email protected]

OPERATING HOURS
8:30 to 5:30 pm (Monday – Thursday)
8:00 am to 4:30 pm (Friday)
Looking at Burlington Real Estate's services and portfolio, we think they're ideal for landlords with multiple rental units or those who are serious about launching their property letting business to greater heights.
Burlington's experience in the property industry includes managing and/or developing large apartments, high rise buildings, shopping centres, offices, and such.
Aside from property management, two of their other services include development management and asset management.
This means that if you've got an existing property (or want to purchase land), Burlington can develop that estate. They'll be handling the fiscal, technical, administrative, and commercial aspects of the project, among other things.
Moreover, under their asset management services, clients can expect Burlington to maximise their property's asset value by managing factors such as maximisation of occupancy rates, recommendations for refurbishments, and more.
Burlington will also take care of finding tenants and ensure your property complies with regulations. Plus, they'll provide clients with a report on their real estate assets.
Wide array of clients
Large team
Offers development and asset management
Closed on weekends
No mention of free property valuation service
6. MTS Property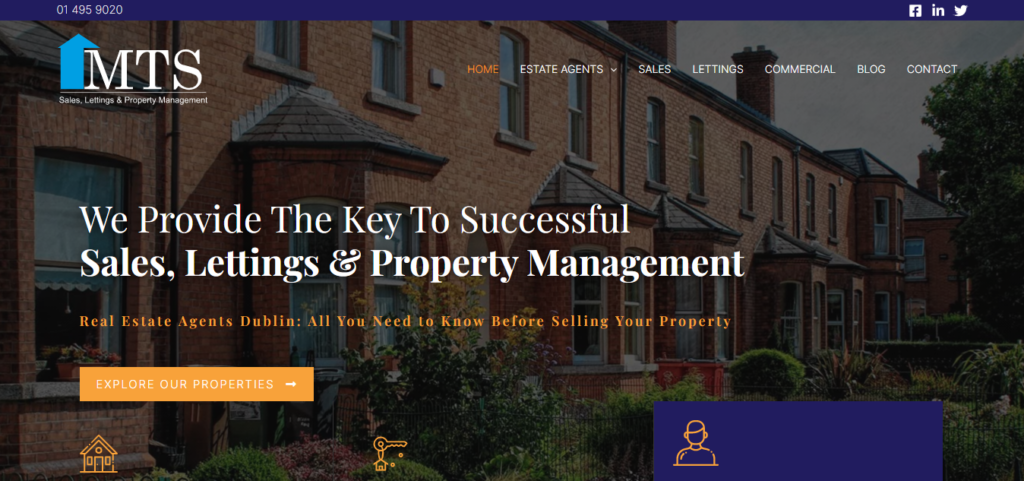 SERVICES
Real Estate Agents
Letting Agents
Property Lettings
Property Sales
Property Management
Property Valuations
WEBSITE
https://www.mtsproperty.com/
ADDRESS
1 Orwell Road, Rathgar, Dublin 6
CONTACT DETAILS
014959020 |

[email protected]

OPERATING HOURS
24/7
Over the years, MTS Property has built a reputation for itself. They take pride in having the ability and expertise to provide an unrivaled level of customer care for our clients in Dublin, especially in the Rathgar area.
We think they are great because their fees are 3% rental fees, 3% management fees, 1% sale fees that are paid on completion of sale. These are much lower than the average fees and will save you a great deal of money.
Regarding property management, they are one of the companies we definitely recommend. A reason for this is all property managed by them is subject to two inspections per annum, this includes a report issued for any problems and required remedies.
If the property is managed by MTS Property, they offer a maintenance emergency service that is available 24 hours, 7 days a week. This service is to facilitate the landlord who is not in a position to secure high-quality tenants and oversee the letting arrangements for their property.
Easy website interface
Maintenance responsibilities are carried out by the company
Managing over 300 properties all over Dublin
Some complaints about not doing repairs
Customer Reviews
Here are some reviews from their satisfied clients:
"I have been renting with MTS property for almost 2 years now. They are highly professional and responsive. Any issues we had with our property were addressed and fixed immediately. I highly recommend them."
"Louise & her team have been taking care and maintaining my property & tenants for almost 4years. The team are always so friendly in their communication & promptly take card of my needs/requests as well as the tenants."
How to Pick the Right Property Management Company
To make searching for the right property management company easier, read the tips below:
1. Schedule a meetup
These people will be acting as your representative, handling your property, screening tenants, and more. That's why it's important to talk to them in person and discuss how they'll handle your estate and help you earn profits as a landlord.
And don't just meet with one or two companies. The more options you have, the better you'll be able to judge which company offers the best services suited to your budget.
2. Inquire about their methods
Make sure to ask about how they'll be managing your property.
In other words, how will they advertise your property? What are the methods they use to vet tenants? How do they handle troublesome tenants, evictions, etc.?
Moreover, inquire about the types of properties they have managed in the past. Do they have experience managing your type of estate?
Another thing to ask about is if they can help you comply with government regulations concerning commercial properties.
3. Pricing
Be clear on the fees you'll be paying them. If they're offering a service package, make sure you're aware of the services included in the package.
This is to prevent the scenario wherein you end up paying other fees (e.g. maintenance and repairs) you didn't expect to be paying for at the start of your agreement with the company.
4. Recommendations
Are you acquainted with other landlords like you? It's a good idea to reach out to them and ask for their recommendations on property management companies.
And don't just ask for their selections. Ask about their experiences, how property management companies helped them (or did not help them), what advice they could give, and so on.
FAQs about the Best Property Management Companies in Dublin
---
And that concludes our list of the best property management companies in Dublin! We're grateful if this list has been of help to you even in the smallest way.
If you think we may have missed out on other property management companies in the city, just give us a call. We'll check them out right away!
Meanwhile, are pests bothering your tenants? Take action now by taking a look at our top picks for the best pest control companies in Dublin!