The 6 Best Travel Agencies in Ireland
If you've gotten bitten by the travel bug but don't know where to begin, you're in luck!
Taking into consideration the variety and quality of their services, value for money, and customer service, we've put together a list of the best travel agencies in all of Ireland for you to check out!
Read on as we cover the rates of travel agencies, each entry's service highlights, answers to commonly asked questions, and more!
How much do travel agencies charge?
Travel agencies typically don't have a flat fee that they charge their clients. Instead, they earn through commissions for each travel service they successfully arrange.
Their commissions are usually around 5% to 10% per airline or hotel booking. If you don't see their service fee upfront, that means it's already included in their service packages.
If that's a cause for concern, you can always ask them for a breakdown of fees to better understand the process of their computation.
Best Travel Agencies in Ireland
To make sure that you're spoiled for choice, we've crafted the following criteria for our selection process:
1. Cassidy Travel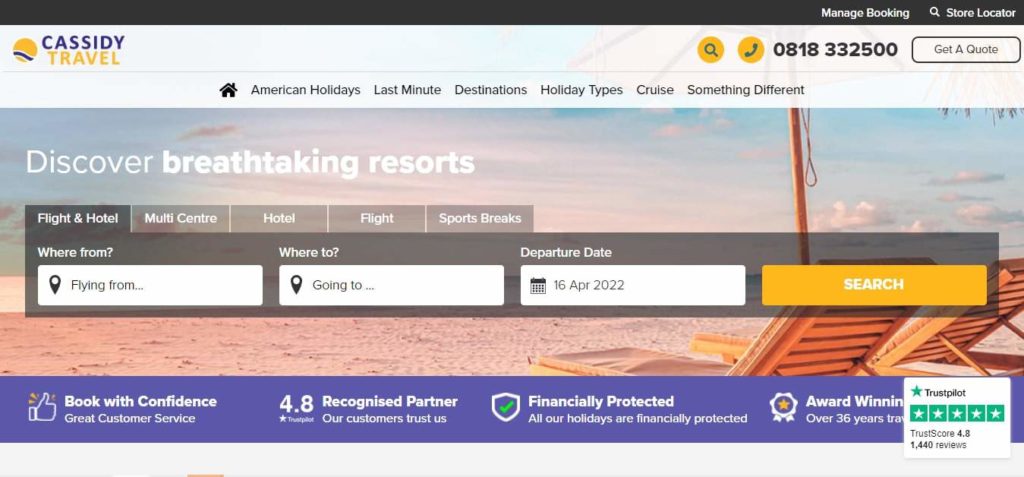 Test
Info
SERVICES
Flight and package bookings for private and group tours (worldwide), cruises, work abroad visas, etc.
WEBSITE
https://www.cassidytravel.ie/
ADDRESS
24 Liffey St. Lower, North City, Dublin 1, D01 F1W1, Ireland
CONTACT INFORMATION
081 833 2500
OPERATING HOURS
Monday-Friday: 9:30AM-5:30PM

Saturday: 10AM-5PM
| | |
| --- | --- |
| Service variety | ★★★★ (4/5) |
| Service quality | ★★★★ (4/5) |
| Customer support | ★★★★ (4/5) |
| Additional services | ★★★ (3/5) |
If reputation is part of your personal criteria, Cassidy Travel is an award-winning travel agency with more than 36 years of industry experience.
The reason Cassidy Travel caught our eye was their bespoke travel packages for various holiday types. Whether it be a romantic getaway or a fun family holiday, they have buildable packages that accommodate your way of traveling.
Another reason they caught our attention was their hands-on service. Aside from helping you sort your flight details, they'll even help you choose attractions to visit during your stay.
Although they have worldwide destinations, their selection is quite limited to those often frequented by tourists. These include the US, Malta, and Greece, which are their top destinations.
Even so, unique to Cassidy Travel is their "Something Different" catalog that features an unorthodox selection of destinations that could even be the center of your visit.
These include Christmas markets, escorted tours, and even sporting events, to name a few.
If you're not too keen on planning your trip online, you can visit one of their many stores across Ireland. From Blanchardstown to Tallaght, you can find the one closest to you via their store locator page on their website.
Since they are quite popular, we highly suggest you get in touch with them ASAP to plan your getaway.
Several branches across Ireland
Specializes in bespoke travel packages
Open on weekends
Multi-award-winning
Some branches are closed on Sundays
Some packages have high demand
Limited selection of worldwide destinations
Customer Reviews
Best holiday so far
"I booked a trip to Iceland with Suzanne, she was so friendly and professional, she booked flights, accommodation, airport transfers and guided tours, really took the stress out of planning a trip especially during a pandemic, would highly recommend, it was the best holiday so far!" – Les Mullen, Google Reviews
Pleasant and efficient
"Excellent – the staff as always are just terrific, so helpful and professional. We met weith Suzanne and Catriona today who were so pleasant and efficient. Also we would like to mention Linda and Vanessa with whom we have dealt over the years & have always found to be most efficient, helpful, pleasant and professional also. Please pass on our appreciation to all." – Mary Lynch, Google Reviews
2. Trailfinders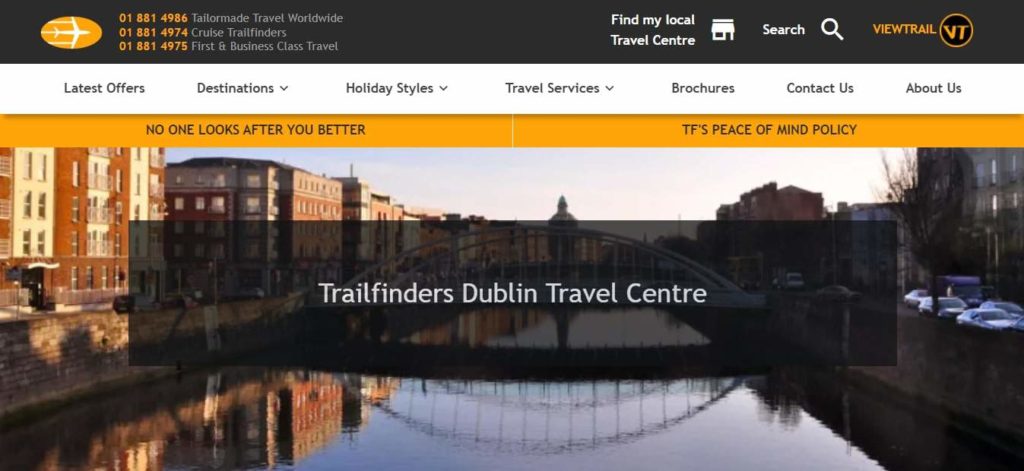 https://www.trailfinders.ie/travel-centre/dub
| | |
| --- | --- |
| Service variety | ★★★★ (4/5) |
| Service quality | ★★★★ (4/5) |
| Customer support | ★★★★ (4/5) |
| Additional services | ★★★★ (4/5) |
Since 1970, Trailfinders is a multi-award winning travel agency that has been offering travel itineraries for worldwide destinations across their 39 branches in the UK and Ireland.
They're open seven days a week, even on bank holidays. You don't even have to schedule an appointment either.
If you're not up to visiting them in person, they also offer virtual consultations. You can book an appointment on their website.
What caught our eye was their wide selection of travel destinations. From Africa to the Middle East, they have a number of holidays, tours, cruises, and more to choose from.
We also think it's worth mentioning that they have price points suited for all budgets. So, whether you're looking for a cheap hotel or a luxurious villa, they can make it happen.
They also offer tailormade packages depending on the type of holiday you'll be going on. From group travels of 10 or more to honeymoons, they can arrange it for you.
Oh, another thing worth highlighting is their travel insurance has COVID-19 coverage. We think this will definitely come in handy should something go wrong with your flight, visa, etc.
In particular, this covers cancellation prior to traveling, quarantine, and medical expenses while overseas. You can even get a 25% discount on your quote if you have private health insurance.
To add to this agency's list of pros, they can also help assist with your visa application and submission. You can collect your passport at their Dublin Travel Centre or have it delivered to your home.
Did we also mention that they have an app called Viewtrail? We think this is a convenient feature since you'll be able to access all your essential travel information whenever and wherever on your phone.
Since their packages are in high demand, we suggest inquiring as soon as you can to ensure that you get a good deal while they're still available.
Open daily
Has COVID-19 coverage
Wide selection of worldwide destinations
Multi-award-winning
Has an app
Offers virtual consultations
Some packages have high demand
Customer Reviews
Couldn't have been happier
"Been on a few trips through Trailfinders. Couldnt have been happier with the experience. Especially through Covid times, our rep Rob was amazing. He kept us informed about our cruise and made sure we were looked after." – Colin G., Google Reviews
Would definitely recommend
"Love trailfinders sooo helpful and Full of knowledge, trust them completely would definitely reccomened, and staff are so lovely, and feel secure and safe booking a hoilday with them, New York December 2022 here we come!!" – Cole Papaxx, Google Reviews
3. Midland Travel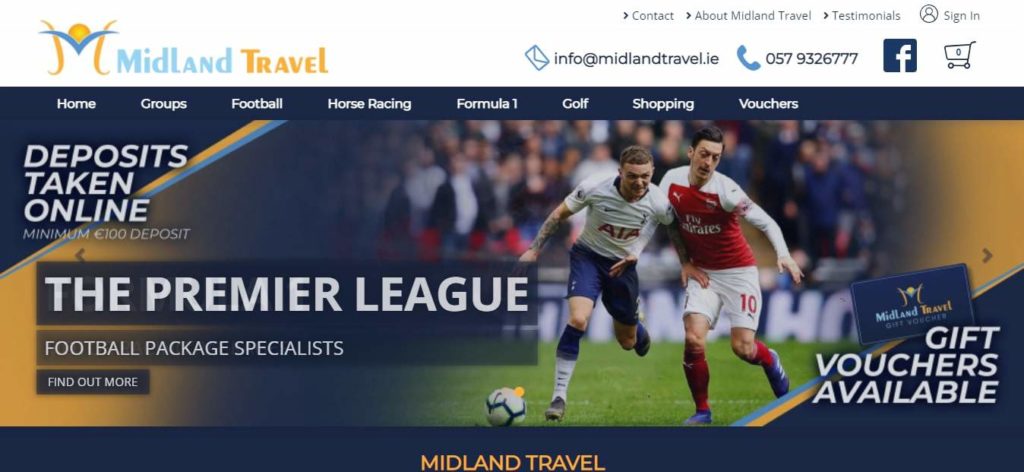 Test
Info
SERVICES
Flight and package bookings for private and group tours (worldwide), golf, horse racing, F1, etc.
WEBSITE
https://www.midlandtravel.ie/
ADDRESS
No. 1, The Mall, William Street, Tullamore, Co. Offaly, R35 X7X9, Ireland
CONTACT INFORMATION
+353 57 932 6777
OPERATING HOURS
Monday & Tuesday: 9AM-5PM

Wednesday & Thursday: 9:30AM-5:30PM

Saturday: 10AM-4PM
| | |
| --- | --- |
| Service variety | ★★★ (3/5) |
| Service quality | ★★★★ (4/5) |
| Customer support | ★★★★ (4/5) |
| Additional services | ★★★ (3/5) |
Unique to Midland Travel is that they're one of few sports travel specialists in Ireland. In other words, they can arrange travel for those eyeing to watch football, horse racing, Formula 1, and golf.
If you've got a game to catch, Midland Travel may be a viable option for you. They're a travel agency that specializes in arrangements for those eyeing to see matches and tournaments.
Particularly, they cater to football, horseracing, Formula 1, and golf enthusiasts. Aside from sports packages, they also sell team goodies such as jerseys for football fans.
If you're looking for deals, they also have a few for those traveling in groups. These include school tours, club tours, training camps, and tournaments.
Another thing worth mentioning is that they specialize in fundraisers, too, at little to no cost to the organizer. Here, they plan fundraising schemes for schools and clubs to be able to cover for the entire trip's expenses.
With more than 13 years of experience in the industry, Midland Travel has acquired a number of long-term accommodation partnerships.
In particular, they only offer city center hotels. We think this is a great convenience since you won't have to travel a great distance to get to the event itself.
Because they're one of the only few sports travel agencies, their packages have high demand. Hence, we recommend booking an appointment and getting all your travel details settled ASAP.
Specializes in sports travel
Does fundraisers to cover travel expenses
Only offer city center hotels
Closed on Friday and Sunday
Some packages have high demand
Customer Reviews
Looked after us very well
"Punctual, professional, courteous. Willie was brilliant. Great ambassador for the company. First class and a good skin. Looked after us very well. Would recommend to anyone looking to bring young fans to old trafford. Safe and no messing around. Thanks to Midland Travel" – TJ, Google Reviews
Great package deal
"Excellent service, punctual great package deal, Myself and my son had a great weekend, And I want to thank Willie the driver a great ambassador to your company, Highly recommend midland travel" — Shane Connolly, Google Reviews
4. Fahy Travel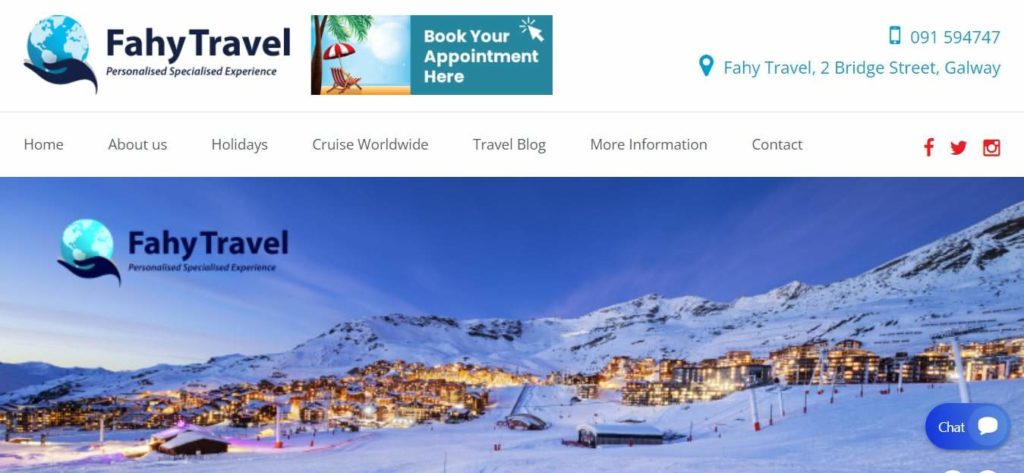 Test
Info
SERVICES
Flight and package bookings for private and group tours (worldwide), honeymoons, family, cruise, etc.
WEBSITE
https://www.fahytravel.ie/
ADDRESS
2 Bridge St, Galway, H91 HHN1, Ireland
CONTACT INFORMATION
+353 91 594 747
OPERATING HOURS

Monday & Wednesday-Friday: 9AM-5:30PM

Tuesday: 9:30AM-5:30PM

Saturday: 10AM-2PM
| | |
| --- | --- |
| Service variety | ★★★★ (4/5) |
| Service quality | ★★★★ (4/5) |
| Customer support | ★★★★ (4/5) |
| Additional services | ★★★ (3/5) |
Fahy Travel is a multi-award winning travel agency that offers flight and package bookings for worldwide travel. However, they're well known, particularly, for their worldwide cruises.
The reason Fahy Travel caught our eye is that their travel agents are well-traveled themselves. Hence, the majority of the destinations available have been tried and tested to ensure customer satisfaction.
We think they're worth checking out because they have eight partner cruise lines to choose from. These cruises also have their respective holiday packages, too.
If cruises aren't your thing, they also have regular worldwide holiday packages, too, from family holidays to honeymoons.
However, drew our attention was their Explore Worldwide package, which is a great option for adventurous travelers who want to truly immerse themselves.
These are tailormade packages that are personalized to the kind of adventure you seek. Past clients that we've gotten in touch with praised their bespoke itineraries.
If you're seeking more structure on your travels, they also offer escorted trips. Here, you'll be part of a premium guided and paced tour while traveling on luxury coaches.
All you need to do is enjoy the trip, as everything will be sorted out for you.
Did we mention that they have a wide range of worldwide destinations to boot? From Italy to Dubai, they have packages for almost any destination.
Hence, we like that you're given a variety of options. This way, you can pick out which best suits your travel needs and wants.
The only hitch is that they only have one branch, which is located in Galway. Hence, if you plan to pay them a visit, it may be troublesome if you're located far away.
Specializes in cruise trips
Offers immersive expeditions
Can make personalized itineraries
Customer Reviews
First class service
"Needed to arrange and buy my travel to and from Tennessee again for March and Fahy Travel put it all together for me like they have done a number of times before. First class service." – Jerry McLaughlin, Google Reviews
Very helpful
"Very helpful and thoroughly professional experience. I am delighted with my experience there and highly recommend their services." – Theresa Cunningham, Google Reviews
5. Tour America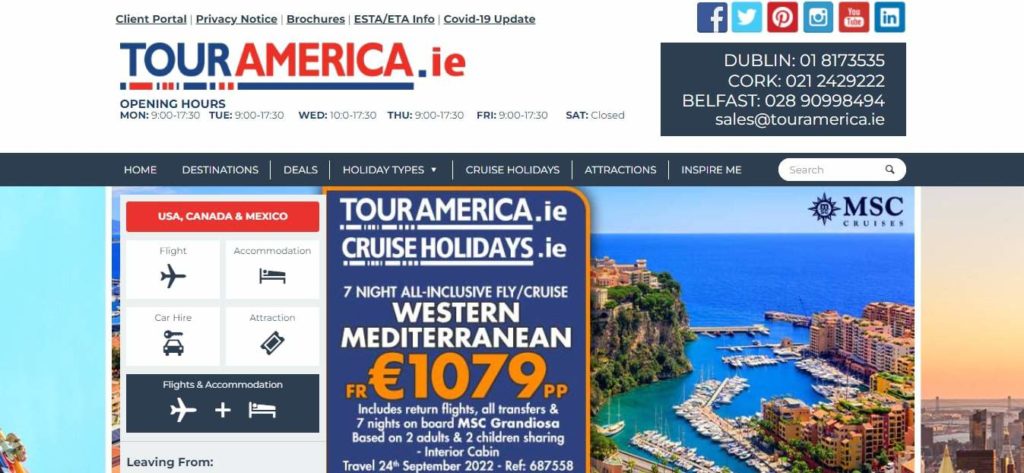 | | |
| --- | --- |
| Service variety | ★★★★ (4/5) |
| Service quality | ★★★★ (4/5) |
| Customer support | ★★★★ (4/5) |
| Additional services | ★★★ (3/5) |
If you're set on exploring the North of the US and its neighbors, namely Canada and Mexico, you may want to consider the multi-award-winning Tour America to set you up.
We think they're worth checking out since they've combed through all the best tourist destinations in these countries. Hence, your itinerary will be filled with fun activities throughout the duration of your stay.
We like that they have a selection based on holiday types. This way, you can select which best fits the kind of vacation you're planning.
One that stood out to us was their Over 50's Holiday. It consists of tailor-made holiday packages from cruises to escorted tours.
Another one that caught our eye is their Country Music Tour. If you're looking for an adventure down south, they have bespoke packages centered around live shows and performances for those who love country music.
We also think it's worth mentioning that they help you prepare for all the nitty-gritty details such as flight, accommodations, attractions, and even car hire if needed.
This means they're a great choice if you're traveling to any of these destinations for the first time and need hands-on assistance.
They have three branches, particularly in Dublin, Belfast, and Cork. Hence, it's quite convenient that you can visit whichever is closest to you.
However, keep in mind that they're only open until 5:30 PM on weekdays.
On the bright side, they offer 24-hour assistance in the event of any medical emergencies while you're overseas. This definitely deserves some brownie points from us!
However, their insurance policy doesn't cover COVID-19 protocols. Hence, we highly recommend you do your own research and ensure you've got all the necessary paperwork dealt with.
Multi-award-winning
Specialises in North American holidays/cruises
24-hour emergency assistance available
Travel insurance available
Has three branches across Ireland
Destinations limited to North America, Canada, and Mexico
Closed on weekends
Some packages have high demand
Customer Reviews
5-star service
"5 star service! Dealt with Sarah Manning who was excellent. Knew exactly what she was talking about and arranged out cruise holiday. Highly recommended." – Joe A, Google Reviews
Wonderful holiday
"Thank you again Tour America for a wonderful holiday, everything you recommended, flights Hotel, Car hire were all true and the tips of where to eat were fantastic. We will definitely be booking with our annual holiday with you again for next year." – Patrick O'Flynn, Google Reviews
6. Little Gem Private Tours Of Ireland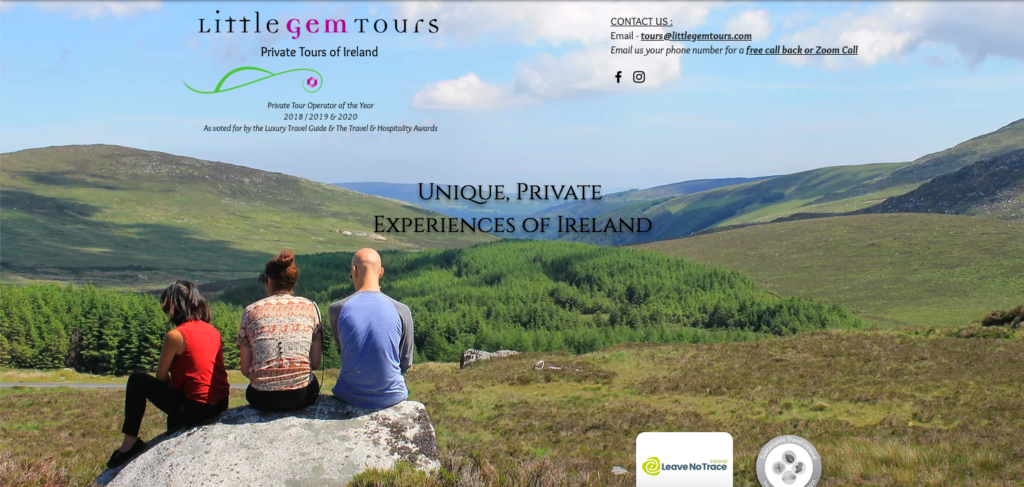 | | |
| --- | --- |
| Service variety | ★★★★ (4/5) |
| Service quality | ★★★★ (4/5) |
| Customer support | ★★★★ (4/5) |
| Additional services | ★★★ (3/5) |
Looking for unique, private experiences of Ireland? Little Gem Private Tours of Ireland can help you with that!
They're an Irish family owned and run private tour company.
What we like about them is they combine unique itineraries with the best guides and boutique accommodations for a truly authentic, unique and private experience of Ireland.
They have day tours and multi day tours, as well as specialised tours. Whatever your preference, we're sure they have something ready for you!
We think it's great that they're a company that promotes responsible and sustainable tourism. They're able to promote Ireland and its lesser known sights in a sustainable manner.
While aware that they can't be eco friendly because they use vehicles and the like, they do their best to minimise the negatives, which we appreciate about them.
We think their tours are very memorable and always exceed expectations!
We find them easy to work with as well. We let them know what we wanted and expected, and they made sure to deliver.
Tours with them are far from boring. They're able to share facts and history about Ireland without it feeling like a classroom lecture!
Like their name, they're truly a gem. We think you'll definitely have the best trip with them. We can't recommend enough!
However, if you're looking for travels to other countries, we think it would be best to check out the other agencies in this list because they only arrange ours around Ireland.
Specialises in tours around Ireland

Family owned and run
Promotes responsible tourism
Entertaining and knowledgeable guides
Destinations limited to Ireland
Customer Reviews
"Our family did a private tour with Little Gem Tours. It was awesome. Robbie was easy to work with and helped us choose the appropriate stops for our group of 12 ranging in age from 14-72. The trip was better than we could have expected. Our driver Tony was wonderful! He told us folklore stories, sang Irish songs for us and was a wealth of knowledge. You will not be disappointed using Little Gem Tours." — Teresa Roberts
"Little Gem Tours provided an amazing family vacation experience for my brother, dad, and I. We chose the south x west adventure, and could not have been more pleased. Every day was well planned with stays at luxury bed and breakfasts, and our tour guide, Martin, was exceptionally knowledgeable about Ireland's history and sites that we passed along the way (and stopped at as well!). He was passionate and resourceful in helping our family trace down our ancestors in County Sligo, bringing us to our grandmother's ancestral hometown and finding local historians and graveyards to look for clues. All in all, would recommend this tour a million times over! "— Kelsey Weston
FAQs about Travel Agencies in Ireland
---
And that ends our list of the best travel agencies in Ireland! Now all that's left to do is give them a call to start planning your dream vacation!
Now if you want to go on a little staycation instead, why not check out these fun ideas: