The 18 Best Digital Marketing Agencies in Ireland
Not achieving your target monthly profit? Maybe it's because you lack the right tools and strategies to reach your customers and advertise your brand.
If you think so too, this article on the best digital marketing agencies in Ireland is for you!
We'll discuss their services, pros and cons, and more, including a couple of FAQs and tips to get you started on your search for the right digital marketing agency.
Ready? Let's get to it!
The Best Digital Marketing Agencies in Ireland
Time now to tackle the focus of this article—Ireland's best digital marketing agencies!
1. Digital Sales – Dublin
We first featured Digital Sales in our best web design companies in Dublin article, so it's no newcomer on our lists. Interestingly, we're mentioning them again here for their digital marketing services.
Consequently, they're one of our picks if you're looking for a digital marketing agency that also has a good grasp on web design and other digital services.
One of the things we liked about their services is the effort they put into explaining it in detail. That in itself can say something about their expertise in their work.
Digital Sales's methodology focuses on using digital marketing activities such as SEO, paid media, and analytics to catch the attention of their clients' target audience.
It also includes delivering the content customers need as well as utilising data analyses to appropriately inform their recommendations and maximise digital marketing efforts.
And although headquartered in Dublin, you can also find Digital Sales in Cork and Galway.
Customer Reviews
What do clients have to say about Digital Sales? Take some time to read the comments below:
"Great company would highly recomend for anyone looking to take their digital marketing to the next level. Séamus Magann AVC." -Audio Visual Company
"Digital Sales really transformed our digital marketing presence online. We now have an integrated website and social media approach which has really delivered incredible results. The leads have grown exponentially, and the SEO activity has really delivered. But don't take my word for it just search: lawn care Dublin. Highly recommend the Digital Sales team for website design, website development, SEO and social media marketing. Anthony" -Anthony Green
"Thanks a mil Folks. Very informative meeting and a great service overall." -Frank Torpey
2. Heaventree
For the third time, Heaventree, a Galway-based marketing and design agency, earns a spot on our list. It first landed in our best advertising companies in Galway and best web design companies in Galway articles.
You'll know why when you check out the services on their website. There's a wide array of services that'll definitely benefit a business, such as web design, SEO, marketing, graphic design, and branding.
Heaventree offers profile management, profile optimisation, ad management and more across social media platforms like Facebook, Instagram, Twitter, and Linkedin, among other digital marketing services.
Moreover, some of their SEO services include on-page and off-page optimisation, Google optimisation, and link building strategies.
Need to sell products or services on your website? Heaventree also specialises in e-commerce development. Ticket, appointment, and course booking, auctions, e-learning—these are some of the things they can help you achieve on your site.
And if you're looking for other reasons to hire them over your current digital marketing agency, take note.
Heaventree promises to beat any quote you have received in the last 30 days for services such as social media and social media ad management and SEO.
Customer Reviews
These clients have great feedback for Heaventree:
"Our business has used Heaventree for many years now and find them excellent in every capacity. From design to website construction and management they cater for all the needs of our company." -Roiisaa
"Working on few projects with the guys from Heaventree Web Design. Web designs, analytics and much more. Great experience overall. Very good and responsive customer service. Quick turnaround and great skills. Highly recommend." -Kamil Krolak
"I've been using Heaventree design for the last 3 years and have found their service top class and great value , they have delivered two projects for me on time and budget and are in the process of doing a third project . Support service is very quick and effient . Would 100% recommend." T R
3. AGENT Digital – Limerick
AGENT Digital is a full-service digital marketing agency founded in 2007. Its wide service coverage spans 3 locations in Ireland and 3 international offices.
As a full-service company, AGENT Digital offers an extensive list of services, including multiple content management systems, video production, graphic design, WordPress hosting, consulting, marketing, among others.
And whether your company only has 5 employees or more than 50, AGENT Digital has a digital marketing plan for you. Smaller businesses can avail of their SME plan, which costs €999 a month, while larger businesses can turn to their corporate plan, which is priced at €1,999 a month.
Furthermore, if you're an Irish exporter, they can help you drive overseas brand awareness. This is via an e-marketing grant offered by Enterprise Ireland, a government organisation "responsible for the development and growth of Irish enterprises in world markets."
In terms of experience, AGENT Digital has worked with several famous brands, including Trivago, The Body Shop, Johnson & Johnson, Vodafone, and Virgin Atlantic.
Customer Reviews
These clients highly recommend AGENT Digital. Take a look at their reviews:
"A very professional and knowledgeable service. Kevin Meaney and the team at Agent are highly recommended." -E Hoyne
"Excellent experience with service setting up a website. Highly recommend." -Kenneth Buchholtz
"Kevin Heaney and his staff at Agent Digital are professional knowledgeable and so willing to offer advise and help. Highly recommend this team." -Patricia Irwin
4. Swot Digital – Dublin
Founded in 2014, SWOT Digital is a digital marketing agency located in both Dublin and Limerick. It earned a spot in Clutch's Top B2B Companies in Ireland and Western Europe last 2020.
Being a Google Partner is one of its main highlights. As an accredited Google Partner, you'll know this company has got the expertise and the resources to successfully operate Google Ads management.
In fact, they've been running Google Ads advertising campaigns for more than 15 years and specialise in search ads, mobile ads, and display ads.
Moreover, we like the fact that they renew their contracts on a month-to-month basis. This means you don't need to be tied to a long-term contract in case you only want to try out their services.
And if your business is just starting out, SWOT Digital offers info on the government's Trading Online Voucher Scheme. Aside from financial assistance, this scheme also offers training and advice to help your business trade online.
Customer Reviews
Discover what these clients have to say about SWOT Digital's services:
"Great service! Very helpful and professional." -Ivan
"Chris and the team are super responsive and knowledgeable. Having worked with them on digital marketing we are also looking to make use of their website development service." -Kelly O'Malley
"Our company have been working with SWOT digital for the last few years. We are very happy with their service and is happy to recommend them for your business needs." -Mathews
5. Increasily
Looking for a somewhat different approach to marketing? Increasily is a digital marketing agency with a focus on Human-to-Human or H2H digital marketing.
According to them, H2H is "about acknowledging that every marketing interaction, between businesses and consumers or between businesses and other businesses, is an interaction between humans."
Or, as explained in an article by Forbes, H2H "suggests that you see your customers as humans first and customers second." Thus, if you find this intriguing, check them out.
Although just recently founded in 2016, Increasily has already earned some awards, such as the Best Emerging Digital Strategists at the 2021 Irish Enterprise Awards and Best H2H Digital Marketing Agency at the 2021 Media Innovator Awards.
Some of the services they offer include Google Analytics, PPC management, SEO, web design, web development, to name a few.
Unfortunately, Increasily has a small team. So although they have a wide range of marketing services, we don't really recommend them for big companies or big marketing projects.
So if you'd like to avail of their services, check first if they can take you in since they can only work on a selected number of projects each month.
Customer Reviews
These two clients were clearly impressed with Increasily. Take a look at their full comments:
"Have been working with Increasily for 2 plus months now. I've been very impressed with how responsive and accomodating they are. They are very skilled at their jobs and highly efficient. I've also recommended them to other people as I've been so impressed." -David Foy
"I have recently started dealing with this company. To say I am impressed would be an understatement. Pasquale has been so informative and accommodating, nothing is too much trouble. Complete opposite to the service we received from our previous supplier. So make the call you will not regret it. Please contact me further if you want any further clarification." June McCann
6. Propeller Digital
Propeller Digital is a digital marketing agency that is highly experienced in creating comprehensive websites that will surely boost your business to the top. They have built over 100 of their signature sites that are guarantee revenue generation for your business.
They make use of well-known technologies such as Shopify, Webflow, Jamstack, Google Ads, and Ahrefs to better boost your site interaction and ease of access. They currently have locations in Ireland, Thailand, and UAE to serve you better as well.
They are operated and managed by a 5-man team who are all equally passionate about what they do and possess great expertise in the field. Due to their vast experience in serving clients all over the world, you will surely have no problem communicating with them your requests, ideas, and goals in which they can help make a reality.
We recommend this company for you due to their unique caliber of skills and amazing work ethics that will always focus on getting you and your business superb and tangible results.
Customer Reviews
Here are some reviews from their clients:
"We had a new website built to showcase the business and enable some online trading. Ruairi at Propeller Digital understood exactly what we needed and built a website that works well and we are really proud to have, you can check it out at foothealthplus.ie. We have already noticed new customers and more business as a direct result of the website."
"I worked with Propeller Digital on the development of an online store and Lead Generation website. The site is working very well since its launch with enquiries up strongly. Sales are converting which is also important. Propeller Digital are very easy to work with and were responsive to all queries raised during the build process. Would recommend.
"
7. Digital 24
Digital 24 is your digital marketing buddy when it comes to growing and taking your business to new heights. They are a highly recognized company that has received numerous awards such as NI Beauty Excellence in Marketing and CIM's Best Agency among many others.
They are an innovative digital marketing agency that is free of contracts, margins, and hidden costs that will make your experience amazing and stress-free. They make it to a point to understand your company and strategize adequately to attract and retain potential customers and clients for your business.
They have acquired partnership badges with Google and Facebook and are even known to exceed their benchmark and your expectations as well. Furthermore, they are committed to giving you transparent services that keep you up-to-date with your business in real-time and on a regular basis.
We recommend this digital marketing company for you due to their comprehensive marketing and content production expertise that will surely reel in potential clients looking for a company like yours.
Customer Reviews
Here are some reviews from their clients:
"I would highly recommend my mentor Cara Jackson who provided me with the best guidance during my programme with digital twenty four. Cara give me provided me with loads of knowledge and tips on how to grow my social media accounts. I have gained lots from taking part in this programme
"
"I have worked alongside Digital 24 several times in the last two years during my time at Whitenoise Studios. Niamh and her team are some of the most passionate and knowledgable people I have worked with. They are also very generous with their time and proactively create free content to help small and medium size businesses.
"
8. Evolve Marketing
Evolve Marketing is a digital agency that does things differently. Unlike others, their team works at the cross-section of the traditional and the digital world.
This means that they combine what has worked, with what is emerging. They can cater to law, accounting and consulting firms digitize their practices, and grow online.
What made us really recommend them is how big their team is. With their 9 members, they accommodate clients quickly and efficiently.
You will not regret putting your trust in them as they make sure that each of their clients is satisfied with their work.
9. Red Pick Media
Red Pick Media is a digital agency that is committed to equipping your business with efficient tools for it to be able to compete online. They have a vast variety of services specifically for that such as SEO services, content creation, and video production among others.
Recently founded, they have a unique approach to boost your business to new and greater heights. With today's emerging and fast-paced mobile market, they know just how to let your business flourish and be exposed to potential clients.
They are comprised of a team of amazing and talented individuals who have expertise in digital trends and techniques. Due to their commitment to share their expertise and deliver only optimal results, you and your company are in capable hands.
We recommend this agency for your business's online needs because of their reliable team and stellar work ethic that will help bring your company's assets to the market.
10. Niall Barry
Niall Barry is your go-to guy when it comes to exposing your products and services to potential customers. Specializing in Google Ads Management, he has a wide caliber of experience under his belt which makes him highly qualified for the job.
He is detail-oriented and will always strive to get you and your business advertised to the fullest. As seen on his website, he was able to get products in the forefront of the market when it comes to the Google Search engine.
Possessing the passion for your success, he is able to bring all of his experiences in the business in every digital advertising he does – including yours. Furthermore, he is dedicated to helping your business grow and flourish into what you have envisioned it to be.
We recommend him for your digital advertising needs due to his commitment to what he does which he clearly showcases on every job he does.
Customer Reviews
Here are some reviews from his clients:
"Our team had the pleasure of working with Niall for many years on digital advertising… He is extremely knowledgable in digital advertising. Niall will be a huge asset to any company he works for." – Erica Newman
"Niall set up our extensive Adwords account and now we can see a healthy return on our investment week in, week out." – Charles Kavanagh
11. FutureProof Digital
FutureProof Digital is a company owned and managed by Adam Bermingham. Their mission is to help their clients attain business growth, whether through a successful SEO campaign or a great website.
With that, these are the exact services they offer—digital marketing and web design. They specialize in SEO services, which covers Google Rankings, SEO copywriting, link building, WordPress SEO, page speed and local SEO.
They started with helping small, local businesses with SEO more than a decade ago, and haven't looked back since. Now, they also get to work with large, high value contracts.
But no matter the size of the business, FutureProof Digital has been successful at helping them drive organic business growth through SEO. This is why others come to them for assistance and trust them.
They mainly specialize in digital marketing and web design, and this limited amount of services may not make them attractive to you. However, we think that's what makes them a great choice because this also shows you that they're experienced and knowledgeable when it comes to these.
Customer Reviews
Here are some reviews from clients:
"Adam is an absolute gem where it comes to website design. From a logo I gave him, he completely flew with it and created a website that really enhanced it. His passion for creation and innovation really came through – a thoroughly professional, quality and bespoke service. He is kind, approachable and so open minded, and will do everything he can to create the best website for you. Thank you so much Adam from Project Galgo"
"Great service, Adam done a fantastic job on designing my website for my beauty salon. He included all the finer details of each and every product and nothing was an issue if I needed to change anything. He is very professional, helpful and continues to provide ongoing support. Couldn't recommend him enough, absolutely delighted with it. Thanks very much Adam from Orlas Beauty Studio"
12. Agile Digital Strategy
Agile Digital Strategy is a marketing agency that is both innovative and fast-paced so that they can offer clients real-time support and updated strategies that can help them boost their businesses online. Having worked previously with a myriad of businesses, they are familiar with the market circulating around the industry and just know the best strategy to employ to better make enterprises make an impact on digital platforms.
We find their services to be highly customizable since they make it to a point to get to know the client's business and their preferences as well so that they can better strategize the most effective approach to their business.
Another thing we think makes them exemplary is their multidisciplinary team of experts which enables the company to accommodate national and international clients and markets.
Also officially certified and partnered with Google, they also offer clients personalized packages wherein clients can also have a free consultation with them and negotiate possible rates and methodologies.
Past clients have commended them for their fast and flexible websites and jobs that were all finished in a timely fashion which we also would encourage clients in the UK and Ireland to give them a try should they want to expand their business online.
Customer Reviews
Here is a review from their client:
"Highly recommend Niamh and her team @Agile Digital Strategy Ltd. They have just finished our new website in less than a week so fast and efficient. We love it. Thank you."
13. WSI Digital Marketing
WSI Digital Marketing is an agency based in Dublin and has since then expanded its office and services to over 80 countries already as of the present. They are a digital marketing agency that is able to make use of various social media platforms such as Facebook, Google, Twitter, and LinkedIn to better market companies online.
From lead generation to digital awareness, they are able to utilize their resources, knowledge, and training in practical scenarios to help clients make a bigger and better impact on various online platforms.
They have had a wide and diverse experience in partnering and servicing various companies across industries so that clients can be sure that they know specifically how to go about advertising and marketing a company that is part of a particular industry.
Clients can also have access to expert advice and trust that all of their staff are adequately certified and trained in the field which was proven by their high client retention rate and consistently positive client statistics and interaction.
Overall, with international experts at the helm and in constant collaboration with each other, we think they are an exemplary option for clients who are within the scope of their business and further their online presence and customer reach as well.
14. VIMAR Digital Marketing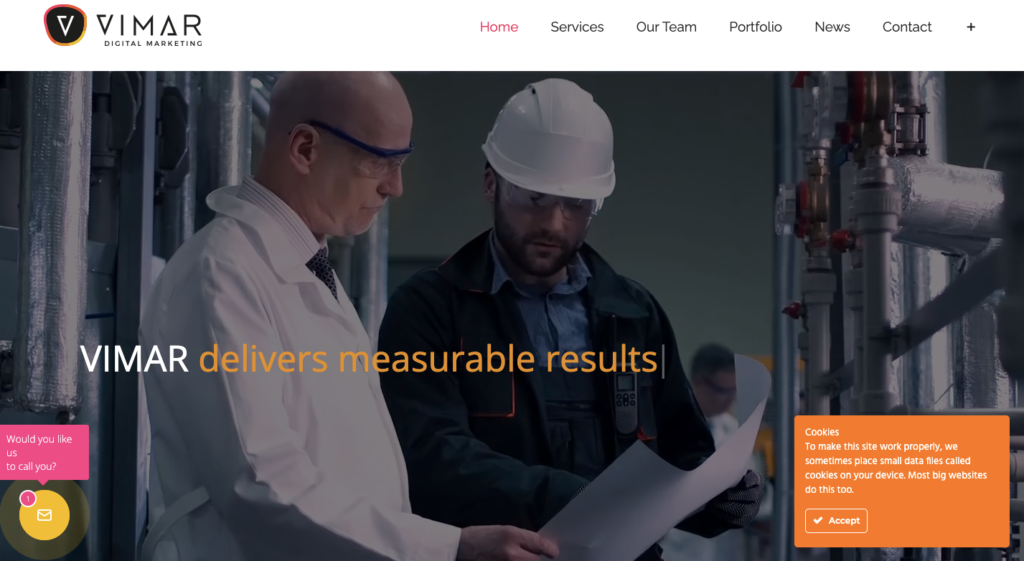 Next on our list is VIMAR Digital Marketing, which we can say is a one-stop-shop agency in Ireland.
We are impressed as they are a full circle marketing agency that offers a full range of digital marketing services for your company. This entails Web Design and Development, Search Engine Optimisation, Social Media Management, Content Production, and Online Advertising.
In providing you with this full circle marketing agency, their team possesses a diverse set of experiences that combine to provide a comprehensive offering for your company. They enjoy the challenge of bringing your company's marketing success. Long-term growth for your company necessitates a comprehensive view of your marketing offering.
The services that we have mentioned above are carefully crafted to provide your company with a professional digital marketing presence. A full-circle approach ensures that you develop a marketing strategy that is results-oriented.
15. Vroom Digital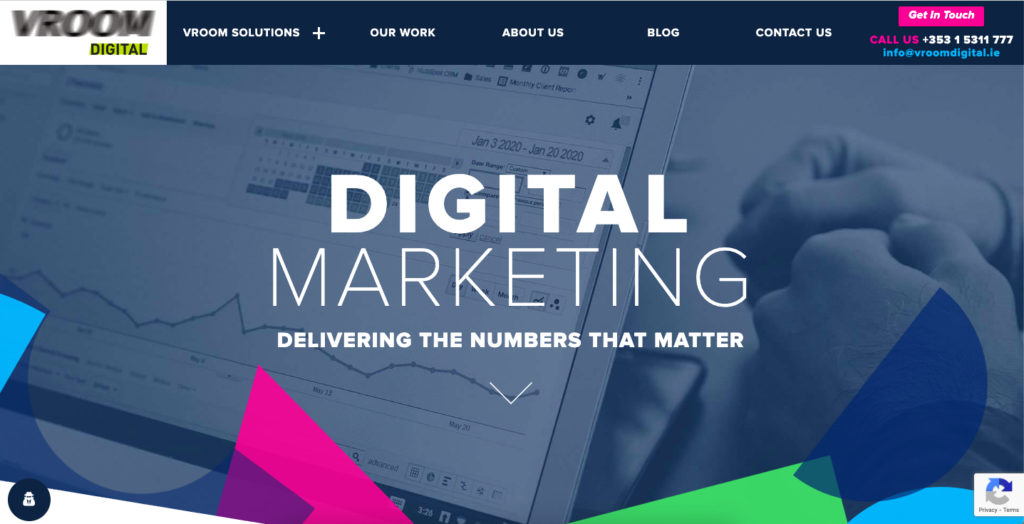 Vroom Digital is composed of a highly skilled team of 15 members that work with their clients to drive success.
They've got many years of experience put together and they've worked with a diverse client base—from small to large and Irish to international.
We find it impressive that they're among the top 3% of Google Partners in Ireland and that in 2022 they were announced as a Google Premier Partner.
It's not always easy to impress each and everyone of your clients, but Vroom Digital has managed to receive a 5-star rating on Google Reviews so far.
What we find admirable is that all the feedback from clients has been consistent over the past almost 10 years. This gives us even more confidence to include them as one of the best digital marketing agencies in the country.
Customer Reviews
Here is a review from their client:
"I don't often write google reviews but Vroom Digital are a professional, exceptional company who are a much valued partner to our business. The staff are a pleasure to deal with and go above and beyond to execute our brief and advise us at every possible turn how best to manage our SEO and google presence. I would recommend Vroom Digital to any business. Eve O'Hea GM Boyne Dental Group" — Eve O'Hea
16. Dublin SEO Company
Dublin SEO Company is a digital marketing agency that specializes in giving companies SEO Audit services to increase their Google ranking online and attract more potential clients with every search and click.
We like that they are able to employ professionals who are knowledgeable of both local and international online markets which helps greatly in applying the best marketing approach for each company.
They also offer a free SEO analysis report so that clients may know what the best approach and strategy can be done and where their company stands in the online market for better assessment.
We think, however, that their website could use more information regarding their services such as packages and price rates so that clients may know what to expect upon availing their services.
Nonetheless, with being a certified Google partner and even being recognized for their services, we find them ideal for companies who need professional SEO services that will surely boost their presence online.
17. HatchHouse Digital
HatchHouse Digital is a diverse, full-stack and accredited digital marketing agency.
They offer pretty much any digital marketing service your business might need. Whether it's ads management for different social media platforms, inbound marketing, design and development of websites, SEO, social media management or influencer marketing, they have it!
We've also discovered that they've worked with numerous business owners and they've had quite the successes in the projects they worked on.
What we like about the team is that they always put in the time needed to make sure that they deliver the best service and receive the best results.
They're also very knowledgeable about the services they offer, and this gives us the confidence to trust them to get the job done.
18. Digital Locker
Digital Locker is a digital marketing agency made of a multi-lingual team with backgrounds in web development, marketing and design.
As consumers, we like to work with teams that we can trust and we're glad Digital Locker is one of them. We like that they provide clients with honest and tangible results.
What's more is they listen to their clients and guide them the best way they can. They also know how to figure out what clients need, as well as what exactly to offer.
What we like about them is that they offer most of the digital marketing basics, like marketing strategy, web development, branding, e-commerce, and social media. With them, you'll get most of what you need.
We think that they work really well and are knowledgeable about what they do, hence why we highly recommend them to you.
FAQs about the Best Digital Marketing Agencies in Ireland
---
And that concludes our list of the best digital marketing agencies in Ireland! We hope we've been a great help to you.
Know other digital marketing agencies that should also be included here? Let us know, so we can check them out ASAP!
Need a creative eye that can overlook your marketing project? For this and more, you may be interested in taking a look at our list of the best creative agencies in Dublin.