The Top 5 Swimming Lessons in Cork
Whether you want to add another life-saving skill in your achievement list or want to become a competitive swimmer, enrolling in swimming lessons is a good start.
Whether it's for young children who are keen to learn or adults that just want to tread in deep waters, Cork has venues and instructors to train you!
To give you options on where to learn basic swimming skills and where to improve them, check out our review on the best swimming lessons in Cork.
How much do swimming lessons cost in Cork?
The cost of learning how to swim in Cork depends on the type of lessons and programs offered for different ages. Usually, clients are charged €20-€50 per session.
For programs composed of at least three sessions, the estimated cost is around €100. Check our list below for the range of service prices:
| Services | Estimated Average Price |
| --- | --- |
| Group swimming lessons | €20 - €30 per 30 minutes |
| One-on-one swimming lessons | €30 - €40 per 30 minutes |
| Two-on-one swimming lessons | €50 - €60 per per 30 minutes |
| Full Adult and Children Swimming Programs | €100 - €130 |
The Top Swimming Lessons in Cork
Your goal to learn how to swim is only achievable through proper lessons and training. Before we proceed with our top swimming lessons provider, here's the criteria we used to evaluate them:
1. LeisureWorld Swim School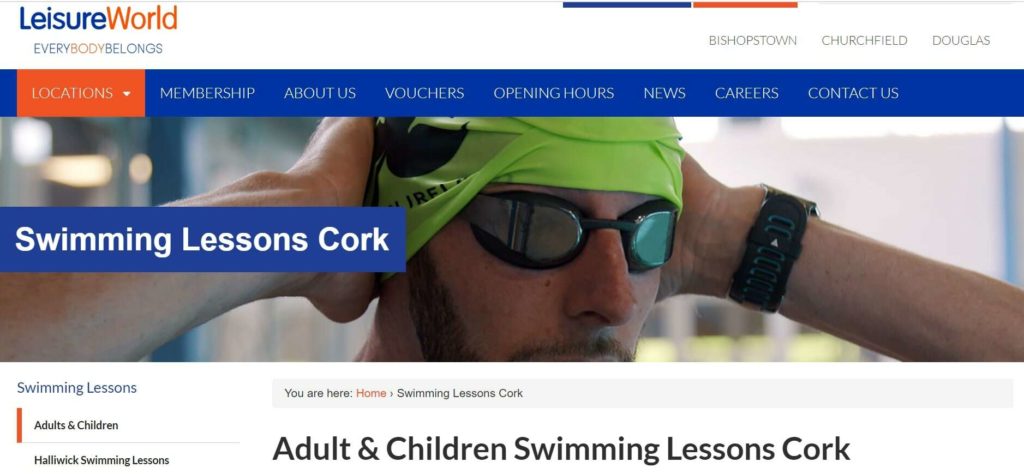 Test
Info
SERVICES

Children and Adult Swimming Lessons

Swimming Training

Swimming Skills Enhancement

Group Lessons

One-on-one Lessons

Two-on-one Lessons

WEBSITE
https://www.leisureworldcork.com/swimming-lessons-cork
ADDRESS
Rossa Avenue, Bishopstown, Cork, Ireland T12 FNY7
CONTACT DETAILS
+353 214 346505,

[email protected]

OPERATING HOURS

Monday to Friday, 7:00 a.m. - 8:45 p.m.

Saturday to Sunday, 9:00 a.m. - 5:45 p.m.
| | |
| --- | --- |
| INSTRUCTOR SKILLS | ★★★★★ (5/5) |
| INSTRUCTOR ATTITUDE AND PATIENCE | ★★★★★ (5/5) |
| PROGRAM EFFECTIVENESS | ★★★★☆ (4/5) |
| VENUES | ★★★★☆ (4/5) |
If you want to learn how to swim without pressure and at your own pace, LeisureWorld Swim School is a good choice especially for beginners. It offers group, one-to-one, and two-to-one sessions for all ages,
What we like here is the inclusiveness of the programs offered that are matched for each trainee's water skills. Whether you're a beginner, a child, or a swimmer who wants to get better skills and improved speed, there's something offered for you.
If you're a beginner, Group Lessons may be best for you. The great deal is you'll be taught about the basics of swimming along with other people.
Joining the Group Lessons will also help you improve your swimming skills through the regular assessments to help you progress gradually.
In case you can already swim but want more attention given to your training, you can enroll in their One-to-One Lessons. Through this, your skills will be improved with the help of a qualified instructor who will teach you additional techniques and strokes.
In terms of staff, the instructors are very patient and can teach over a group of 10 persons. We also appreciate their dedication in monitoring your progress to determine your needs to improve.
To add, the clean pools are located within a sports complex that is open daily, with many other facilities such as gyms and fitness classrooms.
One downside here is there are many student groups in the pools that are doing swimming lessons. The slots for swimming lessons are also filled quickly, thus, you have to wait for another time.
Overall, LeisureWorld Swim School is worth trying because you'll still be able to learn how to swim at the end of the day without any time pressure.
Patient and dedicated instructors 
Comprehensive programs
Clean pools
Equipped facilities
Open daily
Crowded venue
Slots get filled quickly
Customer Reviews
Great lessons
"Great swimming lessons and good value. Can pay per visit without an annual membership." – Simon Long
Safe place for swim lesson
"Amazing place [with] friendly staff . [I'm] learning to swim, so feel safe, there [are] plenty of lifeguards around." – Teresa Cunningham
Bigger and warmer pools
"Swimming pool is bigger than the average in Cork. There are 2 adult pools and one is 25mt long. Water is fairly warm compared to other pools I went to. Downsides are that it can be overcrowded frequently in peak hours..they have too small lockers and few of them are often out of order. Showers are ok. There are saunas and Turkish baths. Price is average. It allows single daily entry for 8.5 euro." – Paolo Bergomi
2. Club VitaeSwimming Lessons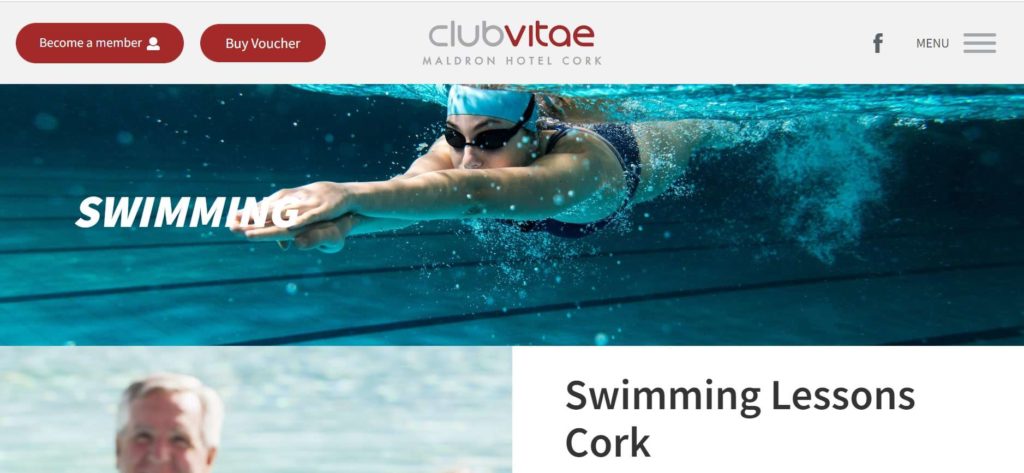 Test
Info
SERVICES

Children and Adult Swimming Lessons

WEBSITE
https://www.clubvitae.com/cork/swimming-lessons
ADDRESS
Maldron Hotel Cork,John Redmond Street, Shandon, Cork, IrelandT23 KCD1
CONTACT DETAILS
+353 21 452 9226,

[email protected]

OPERATING HOURS

Monday to Friday, 6;30 a.m. - 9:00 p.m.

Saturday, 8:00 a.m. - 8:00 p.m.

Sunday, 8:00 a.m. - 7:30 p.m.
| | |
| --- | --- |
| INSTRUCTOR SKILLS | ★★★★★ (5/5) |
| INSTRUCTOR ATTITUDE AND PATIENCE | ★★★★☆ (4/5) |
| PROGRAM EFFECTIVENESS | ★★★★☆ (4/5) |
| VENUES | ★★★★☆ (4/5) |
Club Vitae in Maldron Hotel is among the few known swimming lessons service providers in Cork, making it one of the quality choices for water skills development.
We like the club's openness to teach children and adults alike to swim while having fun. This is because their lessons are open for all persons ages four years-old and up of all abilities.
We also appreciate the 6 to 12 weeks-long duration of the lessons that helps trainees master swimming skills at their own pace. Swimming requires a strong muscle memory, that's why doing it for a longer period really helps.
In addition, the lessons are very centered on the students' skills. Since no two students are alike, Club Vitae can plan a swimming program designed to meet what you need to learn.
The students need not be afraid of the waters, too, because only qualified lifeguards are tapped as instructors. We also appreciate that there's a separate pool for younger children's training.
Not to mention, the adult pool is only 1.4 meters deep, a considerably safe pool level to avoid drowning.
However, the shallow pool limits the swimming skills that you can learn, especially skills like treading that requires deeper swimming pools.
Another drawback that we've encountered is the membership fee for the club that keeps on rising. This is not required for everyone, but the fee can allow you to enjoy other facilities such as saunas and gyms within the club.
All in all, we think it's a good swimming lesson choice due to the skilled trainers and the privacy you can have at the venue.
Highly skilled trainers
Inclusive lessons
Clear pool water
Operates everyday
Customer Reviews
Great facilities
"Clean, reasonably priced and great facilities. Staff are very friendly. Highly recommend [it]." – Sara Keo
Clean pools
"The Maldron club Vitae is exceptional and the staff is friendly and helpful. The pool here is kept at the perfect temperature and for every hour swimming session they spend 30 minutes thoroughly cleaning the locker rooms, toilets, etc." – Luke Ratterman
3. Westbury Swim School
Test
Info
SERVICES

Children Swimming Lessons

Toddler Swimming Lessons

Swimming Lessons for the Differently Abled

WEBSITE
https://www.westburyswimschool.ie/
ADDRESS
Westbury Swim School, Cork, Ireland P43 TV00
CONTACT DETAILS
+353 858 549246,

[email protected]

OPERATING HOURS

Friday to Saturday - 10:00 a.m. - 4:30 p.m.
| | |
| --- | --- |
| INSTRUCTOR SKILLS | ★★★★★ (5/5) |
| INSTRUCTOR ATTITUDE AND PATIENCE | ★★★★★ (5/5) |
| PROGRAM EFFECTIVENESS | ★★★★★ (5/5) |
| VENUES | ★★★ ★☆ (4/5) |
If you're not yet sure where to send your child for swimming lessons, you might want to take a look at Westbury Swim School.
What sets it apart from other swimming schools is it focuses on teaching young children how to swim. The program for the Preschool Years is awesome as it teaches children from two and a half years-old to float and be confident in deep water.
It's also cool how it teaches toddlers and babies basic movements such as splashing and kicking through the help of directional language. Through this, they can confidently do a front-to-back movement at such an early age.
We also like the comprehensiveness of the Primary School Years program that incorporates basic and intermediate swimming skills that boost children's water confidence.
What we love about this program is it offers pre-assessments to determine which class is best for the child.
Also, what is commendable in this place is its inclusive and welcoming Happy Fish program for children with special needs. What's so laudable here is the skillfulness of the staff in using augmented communication and the participation of parents.
One drawback you may encounter here is the limited slots considering the limited operating days and number of venues. Westbury Swim School also takes its students in other venues for their classes.
To sum it up, this swim school's specialization on children's learning makes it a top choice for kids' swimming lessons. After all, its mission is to develop water confidence among children in a fun atmosphere.
Committed to children development
Child-friendly lessons
Welcoming atmosphere
Experienced instructors
Limited operating days
Varying venues
Customer Reviews
Patient instructors
"Would highly recommend Westbury swim school. The instructors are very patient even with the most anxious of kids." – Sandy Griff
Handful of experience
"MarieAnne (operator) is an amazing instructor. Lots of experience and your child will be in very safe hands." – Pamela Morrison
Best decision
"I can honestly say having my little boy take up your swimming classes [has] been one of the best decisions we have ever made." – Ciara via Westbury Swim School's website
4. Oakgrove Aquatics Education Program and Swimming Lessons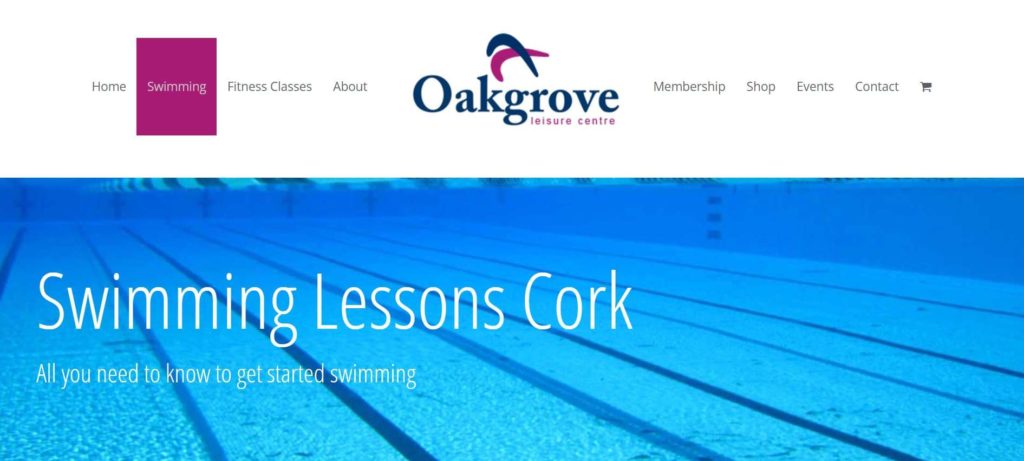 Test
Info
SERVICES

Children and Adult Swimming Lessons

Group Lessons

One-on-one Lessons

Continuous Assessment

Intermediate Lessons

WEBSITE
https://www.oakgroveleisure.ie/swimming-cork/
ADDRESS
Oakgrove Leisure Center, Ringmahon Rd, Cork, Ireland T12 W7RW
CONTACT DETAILS
+353 214 356722,

[email protected]

OPERATING HOURS

Friday to Saturday, 3:00 p.m. - 8:00 p.m.
| | |
| --- | --- |
| INSTRUCTOR SKILLS | ★★★★★ (5/5) |
| INSTRUCTOR ATTITUDE AND PATIENCE | ★★★★★ (5/5) |
| PROGRAM EFFECTIVENESS | ★★★★★ (5/5) |
| VENUES | ★★★★☆ (4/5) |
If you want to learn how to survive in deep waters and get educated on the basics of aquatic sports, then the Oakgrove Aquatics Education Program and Swimming Lessons might be for you.
Oakgrove's swimming programs in Cork have inclusive lessons for children, adults, and even hosts private sessions. Both the Group and Private Lessons are remarkable in terms of their effectiveness in helping you be confident in water.
This, in our opinion, is because the instructors have a shared 50-year teaching experience who also specialize in using holistic approaches for each student being trained.
Moreover, aside from teaching basic survival and treading skills, students are given the chance to learn front crawl, back crawl, breast stroke and the butterfly. Such skills are not taught in other schools' basic packages.
In terms of getting the best deal, we think what sets it apart from other swim schools is its aquatic education program where the basics of hygiene, water safety and hazards, and buoyancy are explained.
Venue-wise, this swim school is located in a leisure center with other sports facilities that students can enjoy. However, daily access would require membership that is outside your swimming lessons' fee.
One issue you might encounter here is the very limited swimming period set on Friday and Saturday only. The website is also outdated in terms of scheduling.
Still, we believe that swimming lessons here are still worth trying, considering the inclusivity of programs and background of the instructors.
Knowledgeable swimming and lecture coaches
Great location and venue
Extensive options of strokes and lectures 
Great aquatic education program 
Membership needed for other leisure facilities
Outdated website
Customer Reviews
Clean pools
"Great place!! Love classes with Miriam 👌 The pool is super clean. Staff is super friendly." – Marzena Sobala
Helpful staff
"Great place, clean. Staff very friendly and helpful." – John Geary
5. The Water School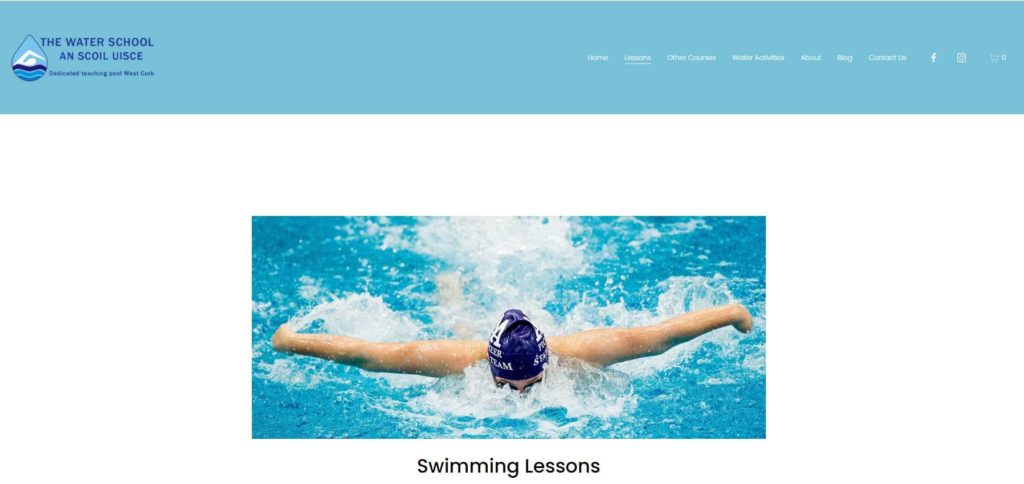 Test
Info
SERVICES

Adults, Toddlers and Childrens' Swimming Lessons

Advanced Swimming

Water Safety

Swim Teacher Training

WEBSITE
https://www.thewaterschool.ie/
ADDRESS
Pearson's Bridge, Kealkill, Cork, Ireland P75 XE39
CONTACT DETAILS
+353 276 6134,

[email protected]

OPERATING HOURS

Tuesday to Thursday, 9:30 a.m. - 9:00 p.m.

Friday, 9:30 a.m. - 7:00 p.m.

Saturday, 9:00 a.m. - 4:00 p.m.
| | |
| --- | --- |
| INSTRUCTOR SKILLS | ★★★★★ (5/5) |
| INSTRUCTOR ATTITUDE AND PATIENCE | ★★★★★ (5/5) |
| PROGRAM EFFECTIVENESS | ★★★★★ (5/5) |
| VENUES | ★★★★★ (5/5) |
If you're in search of a swimming school that has other activities other than its comprehensive swimming programs, you may consider booking at The Water School.
What makes this a great deal for swimming lessons is its dedication in teaching young children how to safely have fun in waters. Through its six-level programs, students with zero swimming knowledge gradually progress to having water survival skills.
We do not have any issues with the experience of its instructors though, considering that they are all qualified lifeguards.
When it comes to their venue, a safety feature is the shallow-to-deep pool that caters all ages, as well as an almost chlorine-free pool for individuals with medical conditions.
Of all the programs, the Advanced Swimming package is a must-try if you already have developed basic swimming skills. Through this, students can improve their techniques in highly structured training sessions.
What is another commendable offer here is the pre-assessment to find out which program is best to help develop your skills.
Moreover, you can also enjoy other water activities and lessons such as kayak rolling and the water safety course to expand your knowledge on water survival.
The only limitations from its services here is the closure on Sunday and Monday and the absence of hoists. Worry not, the experienced swim instructors are quick in helping you get out of the water.
In summary, this is one of the best places for swimming lessons – complete with highly skilled coaches and an extensive list of programs offered.
Many program options fit for your skill
Has intermediate lessons
Instructors are certified lifeguards
Clean and specialized pools
Closed on Monday and Sunday
No hoist available
Customer Reviews
Place to learn all swimming aspects
"Great place to take your children to learn to swim… Definitely the place to go to learn every aspect of swimming and water safety. Perfect place, fantastic people…" – Suan O'Sullivan
Helps you improve
"Teachers are fantastic. My two kids did the Summer Camp this week and they improved immensely. Thank You!!" – Dearbhail Mullins
True professional teachers
"I've been phobic towards water all my adult life due to a few bad experiences. Just 2 lessons in and Clive has done wonders for my aqua confidence. I was smiling from ear to ear after the second lesson, felt absolutely awesome and I look forward to the next lesson. I would strongly recommend Clive and his crew who are true professionals and absolutely wonderful people." – Brendan Hayes
FAQs about the top swimming lessons in Cork
---
Learning how to swim allows individuals to confidently enjoy deep and open waters while being safe. Aside from getting a personal skill, you'll also be able to save other people from drowning.
To know more about safe places for swimming in Ireland, you can also take a look at the top swimming lessons in Limerick.