The 5 Best Apartments in Waterford
Renting an apartment is more economical than buying your own space, more so if you're only staying for a certain period and not for good.
If you're looking for a good place to rent in Waterford, we've listed what we think are the best apartments in the area that might be of help to you!
How much do apartment rents cost in Waterford?
Before we proceed with our list of the best apartments, let's check first the estimated rent price for each type of room offered.
Usually, the cost of rent fees range from €1,000 to more than €2,400 depending on the number of bedrooms, type of apartment, and stay duration. Take a look at our estimates below:
| Apartment Type | Estimated Average Monthly Rates |
| --- | --- |
| One-bedroom | €1,000- €1,300 |
| Two-bedroom | €1,400 - €1,800 |
| Three- to five-bedroom | €1,900 - €2,400 |
The Best Apartments in Waterford
1. Trinity Apartments
Test
Info
AMENITIES AND SERVICES

Self-Catering Apartments

Short and Long-Term Accommodation

One-Bedroom Apartments

WEBSITE
https://www.trinity-apartments.ie
ADDRESS
Alexander St, Waterford, Ireland X91 Y49W
CONTACT DETAILS
+353 8605 39022,

[email protected]

OPERATING HOURS

24/7
| | |
| --- | --- |
| ACCESSIBILITY | ★★★★★ (5/5) |
| AMENITIES | ★★★★☆ (4/5) |
| CLEANLINESS | ★★★★★ (5/5) |
| DESIGN | ★★★★★ (5/5) |
| SERVICE | ★★★★★ (5/5) |
If you want to stay in a flat that has close proximity to all kinds of shops and food hubs, Trinity Apartments is one of the best choices for your accommodation because of its accessibility.
Situated at the heart of Waterford, guests can also visit tourist attractions like Reginald's Tower, Waterford Treasures: Medieval Museum, and other centuries-old churches. You can also take a ride to see the Suir River if you're on vacation.
Aside from its good location, Trinity Apartments has very clean one-bedroom units that were designed using contemporary interior styles. Not to mention, the furniture sets are complete with a comfortable sofa, chairs, and a table.
We also like their spacious bathrooms that are equipped with a hot shower, sink, functional toilet, well-lit mirrors, and washing machines. There are also towel hangers that can hold at least five towels.
For students and workers, even those which just want to sit and chill, you can enjoy Trinity Apartments' free WiFi and television.
Additionally, the rooms' compact kitchens have their own big refrigerator, cabinet, oven, water boiler, and other cooking materials. There's also an exhaust to prevent a smelly kitchen if you like to cook a lot.
The only issues you might encounter here is the challenging parking during holiday season and weekends and their very slow website. Also, the units are limited to one-bedroom only.
All in all, it's worth considering as a temporary place due to its accessibility and great amenities. Not to mention, the hosts are always available to respond to your needs during your stay.
Great location
Clean rooms
Modern design
Responsive staff
Narrow parking space
Limited to one bedroom
Slow website
Customer Reviews
Central location
"Very central location. Really clean and nicely decorated. Would definitely stay again, but parking can be a challenge. Especially as so many streets are pedestrianised in Waterford at the moment. Host very responsive." – Margaret McDonnell
Peaceful and clean
"I loved the peace and independence.. Very clean and [the] host is always there whenever needed." – Ntombikayise Matibini
Homely vibe
"Very homely and we'll kept apartments, clean and comfortable, eimear and pierce put lots of very nice little touches to the place, city centre is on the door step, would highly recommend." – Glenn Lynch
2. Priory House, Student Accommodation, Manor Village Apartments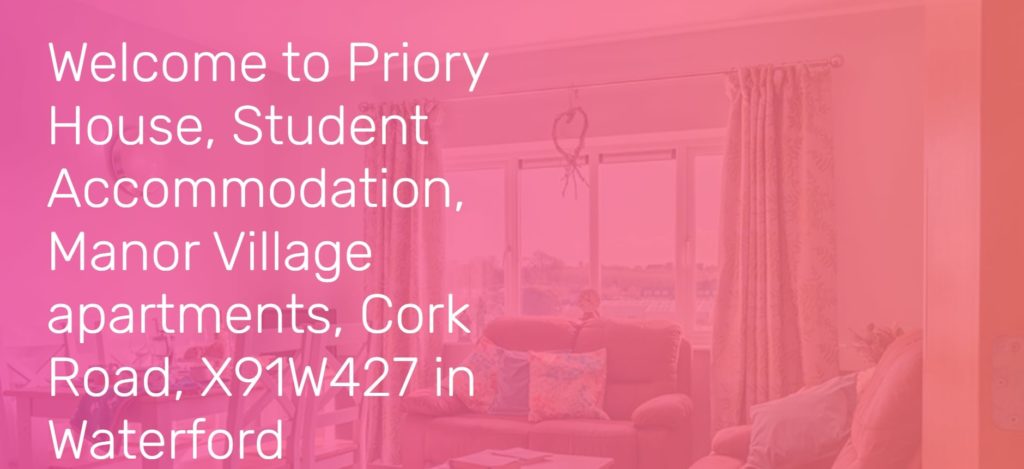 Test
Info
AMENITIES AND SERVICES

Short and Long-Term Accommodation

Student Apartment

Family Apartment

WEBSITE
https://priory-house.inn.fan/
ADDRESS
Manor Village, Cork Rd, Waterford, Ireland X91 W427
CONTACT DETAILS
+353 8301 24404, No email
OPERATING HOURS

24/7
| | |
| --- | --- |
| ACCESSIBILITY | ★★★★★ (5/5) |
| AMENITIES | ★★★★★ (4/5) |
| CLEANLINESS | ★★★★★ (5/5) |
| DESIGN | ★★★★★ (4/5) |
| SERVICE | ★★★★★ (4/5) |
Whether you're a student or a family looking for a nice place to stay while touring Waterford, you might include Priory House in your list of choices. This is among the few known apartments in Ireland's oldest city.
Conveniently located in Cork Road, staying here will give you quick access to many places such as groceries, restaurants, stores of all types, and even a five-minute walk to Waterford City's center.
What we consider as the best deal here is the cleanliness and minimalist designs of its units that can rely on natural light during the day. The living room chairs and dining table set are tiny to save more space, yet they are functional to serve up to five people.
We also appreciate that Priory House offers free internet connection in some rooms, as well as an elevator pass and free parking for tenants. We like the convenience of no longer requiring reservations for its parking spaces.
Moreover, we like how welcoming this place is to students by giving them rental packages. The internet access is sometimes included in their rooms.
In terms of the staff, customer queries are quickly responded to, according to one of their previous tenants.
The downside here is the lack of details provided in its website for those who want to rent here. This is aside from the absence of its email address for digital inquiries.
To sum it all up, we think that this place is still a good choice for its clean and accessibility features.
Free parking
Offers student accommodation
Close to groceries and city center
Bright units with natural lighting
No email available
Website is not user-friendly
Customer Reviews
Great location
"This was a great location to the city center. Also, the little grocery and take away right across the street was very convenient." – Janeth from Ireland, via Priory House's website
Responsive hosts
"Location and ease of access. Couple of queries were responded to very quickly by hosts. Really excellent value for money..great for a family." Bronagh from UK, via Priory House's website
Friendly to people with special needs
"Absolutely spotless clean. Ellen the lady that looks after everything… Priory House is suitable for special needs, wheelchair users. I could not fault this place. [Everything] you need is in your apartment… 15to 20 minutes drive to Tramore Beach, taxis are cheap…" — Mary Lowther
3. Faithlegg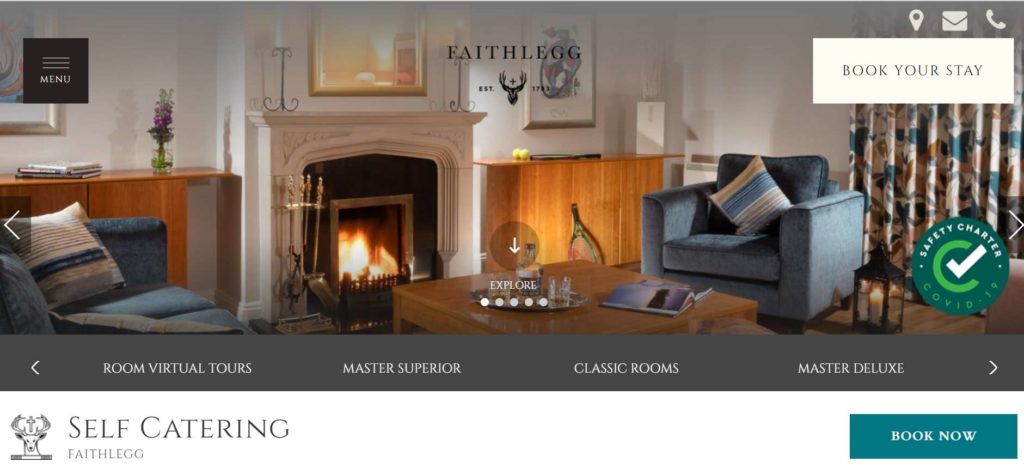 Test
Info
AMENITIES AND SERVICES

Self-Catering Apartments

Short-Term Accommodation

Hotel

Golf and Leisure Center

Dining

Events

Hotel

WEBSITE
https://www.faithlegg.com/self-catering.html
ADDRESS
Faithlegg Hotel, Faithlegg, Waterford, Ireland X91 PF83
CONTACT DETAILS
+353 5138 2000,

[email protected]

OPERATING HOURS

24/7
| | |
| --- | --- |
| ACCESSIBILITY | ★★★★☆ (4/5) |
| AMENITIES | ★★★★★ (5/5) |
| CLEANLINESS | ★★★★★ (5/5) |
| DESIGN | ★★★★★ (5/5) |
| SERVICE | ★★★★★ (5/5) |
Faithlegg is one of the most popular comfort accommodation establishments that has a golf course in Waterford. If you're looking to take a breather in the country, this place is for you.
Even if it's more known as a four-star hotel, it still offers self-catering holiday homes and apartments for monthly stays. What's more is that it has access to hotel services like the Roseville Rooms Restaurant and other fine dining and bar options.
In case you want to take a dip and relax, apartment guests can enjoy the pool, jacuzzi, and sauna. If you don't want to miss your workout sessions while on a holiday, you can even check in at Faithlegg's gym!
If you want to stay indoors, the self-catering apartment's amenities have your back. You'd definitely feel comfortable in their two to three five-star hotel-like bedrooms with a central heating system.
The kitchens are also fully equipped with a microwave oven, cooking materials, and dishwashers. There's no need to go outside the complex for laundry with the provision of washing machines for each unit.
In our opinion, what sets it apart from other apartments is its two bathrooms allocation for each unit. The towels and linens can also be requested from the staff whenever you need them.
When you're here, you might have to pay for hotel-based rent because the apartments are within the Faithlegg hotel's vicinity. In short, it's pricier since you'll be living in an exclusive self-catering holiday home.
Still, it's a great choice if you want to experience first-class service and amenities in Waterford.
Spacious holiday homes
Wide property
Can host events
Many amenities
Pricey 
Not suitable for long-term stays
Customer Reviews
Exceeds expectations
"In short, book to stay here. We got an upgraded room and it far outweighed our expectations. Spacious beyong belief and very comfortable. The staff are excellent, polite and helpful from the beginning. Dinner was good… Overall, an excellent experience and we will be back again." – Ciaran Dalton
Spacious and clean
"Had a beautiful stay at 20 willow wood lodge Faithlegg House. The property was very spacious, and spotlessly clean. Would definitely recommend it to anyone. Will definitely book again." – Sonya Daly
Beautiful rooms
"The room is beautiful and highly refurbished with high grade mattress, pillows and luxurious bedding, room service is excellent and food is excellent, the staff are highly trained. I had the best time during my stay for my cousin wedding in the same hotel…" – Rini Elttag
4. Faha Bells
| | |
| --- | --- |
| ACCESSIBILITY | ★★★★☆ (4/5) |
| AMENITIES | ★★★★☆ (4/5) |
| CLEANLINESS | ★★★★☆ (5/5) |
| DESIGN | ★★★★☆ (4/5) |
| SERVICE | ★★★★☆ (4/5) |
Are you planning to go to the beach and looking for a place like home? Faha Bells apartment is just a click away!
If you want an airy and spacious apartment for your family, this establishment can offer you a unit with two bedrooms and two bathrooms with complete basic house appliances.
The apartment also has its own oil heating system when you want to prepare food.
Also, you wouldn't have any sleeping troubles here. Faha Bells is generous enough in providing king-sized beds and twin beds with comfortable linens on all floors of the apartment.
What's so special here is you'll have a patio that can offer you a refreshing view of verdant mountains and the beach. This is because it's located close to natural attractions.
Despite being distant from Waterford's center, the perk of renting here is the accessibility to the environment-friendly sites such as the Greenway and the Copper Coast, a UNESCO global geopark.
Faha Bells has no official website, which can be a challenge to visitors. Nonetheless, there's no need to worry as you can still book from third-party accommodation applications.
Another downside is it's hard to find via digital maps. To get there, you have to be close to the Greenway and ask the locals where the apartment is.
Close to environmental parks
Many beautiful views
Available on popular booking apps
Cozy ambience
No official website
Hard to locate on digital maps
Customer Reviews
Relaxing area
"Lovely apartment in a quiet, relaxing area. Very convenient to the beautiful Dungarvan – Waterford Greenway for walking or cycling. Hosts [are] very attentive, helpful & friendly during our stay." – Gillian, via Airbnb
Comfortable beds
"We loved the accommodation, the comfy beds, the neighbouring animals, the hosts and the close proximity to the greenway." – Jo, via Booking.com
Ideal layout
"A home away from home. Modern and stylish with fantastic features. Spotlessly clean, ideal layout and perfect location." – Rebecca O Donnell
5. The Park Hotel and Leisure Center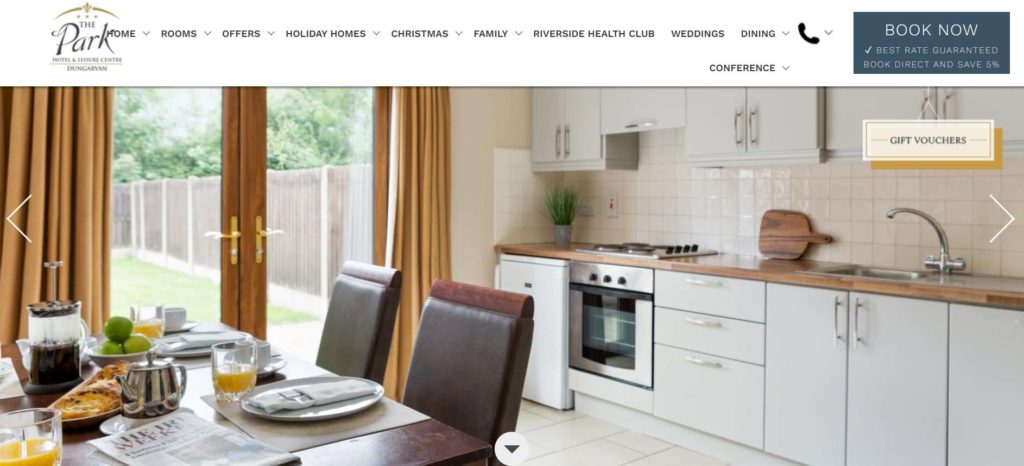 | | |
| --- | --- |
| ACCESSIBILITY | ★★★★★ (5/5) |
| AMENITIES | ★★★★☆ (5/5) |
| CLEANLINESS | ★★★★★ (5/5) |
| DESIGN | ★★★★☆ (5/5) |
| SERVICE | ★★★★★ (4/5) |
Situated in distance from the city and close to nature, The Park's Self-Catering Facilities is the place for your much-needed break from your busy life.
What we like in this place is the availability of a total of 13 large self-catering holiday homes that can each host up to five people. We think it's ideal for families and groups who want an extended holiday trip.
In terms of amenities, we were welcomed by spacious units that have two to three bedrooms including a master bedroom. Needless to mention, the top-notch units have their equipped kitchens, free parking, and reliable internet connection.
We also love The Park's commitment to a leisurely lifestyle for its guests by providing nature and health facilities like adult and kiddie pools, gyms, and saunas.
To add, its gyms and conditioning rooms have skilled trainers to assist the guests' wellness and body goals. We believe that this is perfect for those who want to stay fit while taking a break from the hustle.
Although it would take several minutes to drive to Waterford's center, the hotel complex is close to local attractions like the Greenway, Clonea Beach, Dungarvan Castle, and Dungarvan Brewery.
One challenge in staying here is the expensive rates for long-term stays. It would cost a lot when you want to stay for more than a month as the rates are based on hotel prices.
All in all, The Park can ensure that your stay is comfortable with its first-class facilities.
Leisurely lifestyle
Professional staff
Own garden for relaxation
Extensive unit options
Expensive for long term rent
Far from city center
Customer Reviews
Helpful and friendly staff
"From the moment we crossed the threshold of The Park, our stay was wonderful! The reception staff were helpful and friendly. The lady who seated us to breakfast each morning was warm and welcoming…" – Laura Sweeney
Good location
"We stayed in one of the houses on the hotel grounds. Friendly and helpful staff. Great pool and toddler pool. Good location to the town and greenway . Bike hire on the hotel grounds." – Denice, via Google reviews
Clean and close to leisure center
"Love the holiday homes. Very spacious and clean. Only a short walk to the hotel leisure centre." – Liz O'Donovan
FAQs About the Best Apartments in Waterford
---