The 8 Best Pilates Studios in Ireland
Are you interested in taking Pilates classes because of its many benefits? By concentrating on and strengthening the muscles you don't often use, this exercise will help balance your muscles and positively impact your wellbeing.
If you're looking for options in specific cities in Ireland, you may want to check out the best Pilates studios in Dublin, Cork, and the like beforehand.
But if you're not limited geographically, we also compiled some of the top Pilates studios in Ireland. Still, we feel it's smart to consider the costs first.
How Much Do Pilates Classes in Ireland Cost
The prices of the Pilates classes vary. This depends on the type of classes you're getting – whether they're done onsite, online, or prerecorded, as well as the memberships or other services.
Here are some estimates for your initial reference:
| SERVICES | ESTIMATED COSTS |
| --- | --- |
| Initial Consultation | Around €60 |
| Online Class | Around €16.50 |
| Onsite Class | Around €17.50 |
| Prerecorded Class | Starts at €14 |
The Top Pilates Studios in Ireland
We assessed the best Pilates studios in Ireland based on the following criteria:
1. Reform Pilates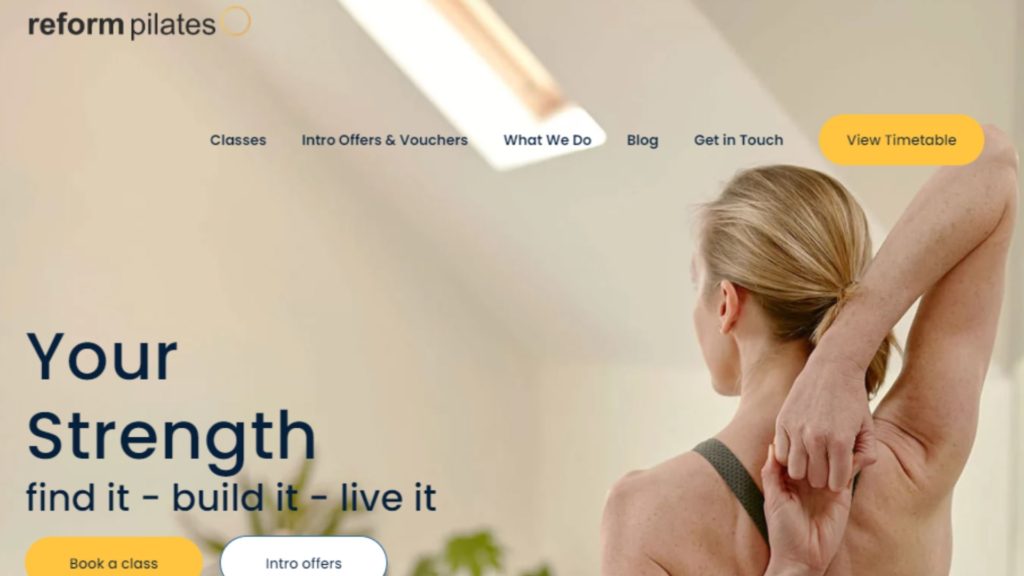 Test
Info
SERVICES

Classes, Intro Offers & Vouchers

WEBSITE
http://www.reformdublin.ie/
ADDRESS
2nd Floor, 2C Bath Pl, Blackrock, Co. Dublin, A94 T0C9, Ireland
CONTACT DETAILS
Phone: +353 1 447 5956

EMAIL: [email protected]

OPERATING HOURS

Monday - Friday: 7:30 AM - 8:00 PM

Saturday: 8:00 AM - 4:00 PM

Sunday: 9:00 AM - 12:00 PM
| | |
| --- | --- |
| COST | ★★★★☆ (4/5) |
| STUDIO AND APPARATUS | ★★★★★ (5/5) |
| SERVICES | ★★★★★ (5/5) |
| VARIETY | ★★★★★ (5/5) |
| QUALITY | ★★★★★ (5/5) |
| COMMUNICATION | ★★★★★ (5/5) |
| APPROACHABILITY | ★★★★★ (5/5) |
| RESPONSIVENESS | ★★★★★ (5/5) |
Open since 2011, Reform Pilates is one of our favourite Pilates studios in Ireland due to their mix of traditional and contemporary approaches.
For one, we like that their classes are developed for modern lifestyles. They teach online and in the studio on the reformer apparatus and other Pilates equipment.
They also offer several classes for various preferences – Studio for semi-private classes, Mid Morning Movers (best for over 60 years old), and Reformer (as in the Pilates apparatus) classes.
Yet, we feel it's best to discuss with them before choosing a class. This way, they can assist you whether you're new to Pilates, are in pain, or have an injury that needs to be taken care of.
We find it useful that they have their own app as well. This makes their booking processes more efficient, in our opinion.
Plus, they have a good number of Pilates instructors. Because of this, it seems a lot more prospective clients can be entertained at this studio.
If interested, you may book an initial consultation with Reform Pilates online. We think it's easy to reserve a slot since there are a bunch of available times every day.
Just make sure to check their varying schedules if you're sending an enquiry. They work shorter hours from Fridays to Sundays.
Another thing to consider is the limited parking at their location. It's best to scout the area first, so you can find a space.
Combines traditional and modern methods
Can instruct almost any age
Clients may book through their app
Usually have many open slots
Small parking space
Works fewer hours on Fridays through Sundays
Customer Reviews
Instructors are knowledgeable and patient
"I am delighted to wholeheatedly recommend Anna and her brilliant team at Reform pilates. Coming back to exercise after years of chronic illness and muscle wastage, they were the only people who could help me finally re-build my body again. Each instructor is incredibly knowledgeable and patient, and I regularly recommend this brilliant studio to family, friends and clients alike. Have no doubt – your search for a new pilates studios ends here!" – Leisha McGrath
Highly recommended
"I have been going to Reform for a number of years. Anna is amazing. Always leave the place feeling great. Can't recommend it highly enough." – Emer Gaughran
2. Live & Breathe Pilates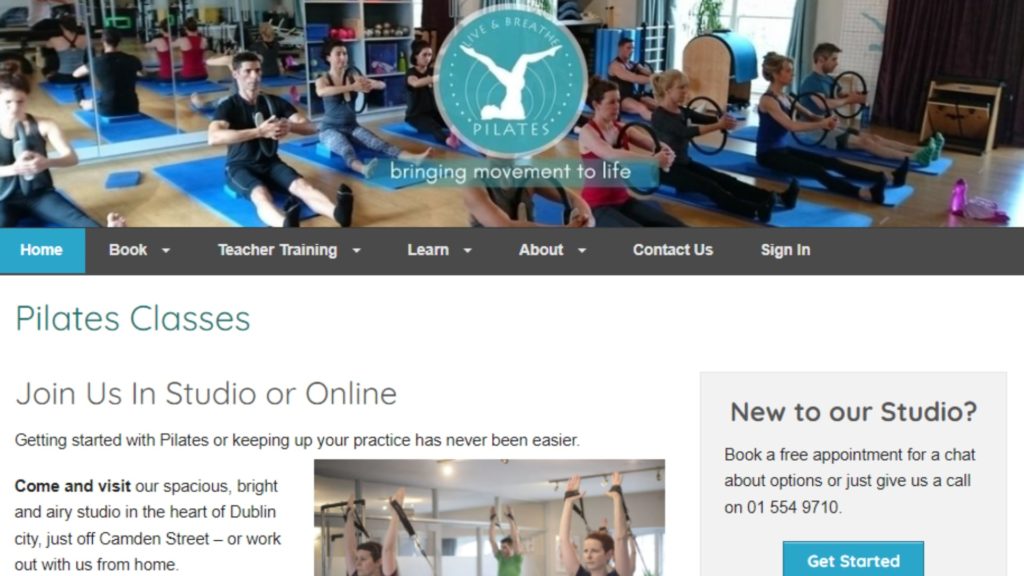 Test
Info
SERVICES

Classes, Teacher Training

WEBSITE
http://www.liveandbreathepilates.com/
ADDRESS
20 Camden Row, Portobello, Dublin 8, D08 H294, Ireland
CONTACT DETAILS
Phone: +353 1 554 9710

EMAIL: [email protected]

OPERATING HOURS

Monday - Friday: 7:30 AM - 8:00 PM

Saturday: 9:00 AM - 4:00 PM

Sunday: 9:00 AM - 2:00 PM
| | |
| --- | --- |
| COST | ★★★★★ (5/5) |
| STUDIO AND APPARATUS | ★★★★★ (5/5) |
| SERVICES | ★★★★★ (5/5) |
| VARIETY | ★★★★★ (5/5) |
| QUALITY | ★★★★★ (5/5) |
| COMMUNICATION | ★★★★★ (5/5) |
| APPROACHABILITY | ★★★★★ (5/5) |
| RESPONSIVENESS | ★★★★★ (5/5) |
Live & Breathe Pilates is an excellent Pilates studio in Ireland for those who want to try a bunch of classes – clients with chronic back pain, ongoing pregnancy, and older age are most welcome here!
We also appreciate that they offer a spacious, bright, and airy studio in the heart of Dublin city. For us, this looks ideal for comfortable Pilates classes.
Moreover, we like that they keep their classes small to focus on each individual's progress. This shows us that they care more about the quality than the quantity of their services.
If you want a more private class, we're glad that one-to-one sessions are also an option.
Their classes start for as little as €9 a session with their discounted multipacks and monthly plans. They seem to have some of the most affordable options in the city, in our opinion.
Not only that, but we also love that they can also tailor packages for you if needed.
If you want to give them a try, Live & Breathe Pilates provides an initial 15-minute appointment with one of their instructors.
We recommend making a reservation ahead of time to make sure they're free to talk and aren't busy teaching a class.
They're open 7 days a week and offer a variety of classes. Although, keep in mind that they close the earliest on Sundays.
Also note that while they offer bathrooms and changing facilities, they don't provide shower facilities. So they may not be an ideal place to go to if you have pressing plans afterward.
Available every day
Reasonable pricing
Has a spacious, comfortable studio
Few students per class
Offers personalised packages
No shower facilities inside
Shorter Sunday hours
Customer Reviews
Superb services
"The instructors at Live and Breate Pilates are superb. I was sent here by my physiotherapist some 6 months ago and having started building my confidence with one on one sessions I am now doing group mat classes and have started doing Reform Pilates essentials. I have not attended one session here that has not both challenged me – and been thoroughly worthwhile. They offer a 15 minute free minute in studio (or on line) introductory session so you can learn more about how can help you – whether you are a complete beginner (like me) or more advanced. I can't recomend Live and Breathe Pilates enough, I am so much fitter than I was when I started … still got a long way to go!" – Jean Callanan
All instructors are professionals
"Live and Breathe Pilates is run by the ultimate professional Steph Grey. Since starting the Fit for Life classes for older people I've felt a total change in my physical health. I'm more flexible, mobile, my balance is better and overall have improved physically. The exercises are adapted if anyone has any particular problems. Apart from giving the instructions at the actual class, Steph also helps us to understand how our bodies work so that we can adapt physically and improve on an everyday basis. The Pilates classes are good for mental health, too. I'm totally stress-free during the hour thinking only of the exercises. Steph brings a lot of humour to the classes and socially it is a pleasure to meet and chat with others in the class. All the other instructors are professional and their classes too are a pleasure. I thoroughly recommend Live and Breathe Pilates to everyone." – Christine Newman
3. Fox Physiotherapy
SERVICES
Beginners Classes, Advanced Classes, and Intro Offers
WEBSITE
https://www.eimearfox.physio/
ADDRESS
Riverview, Aghamore, Kilbeggan, Co. Westmeath, N91 AP9E, Ireland
CONTACT DETAILS
+353579332264
OPERATING HOURS
Monday: 10 AM–8 PM
Tuesday: 10 AM–7:30 PM
Wednesday: 10 AM–7 PM
Thursday: 10 AM–6 PM
Friday: 8 AM–2 PM
Saturday: Closed
Sunday: Closed
| | |
| --- | --- |
| COST | ★★★★☆ (4/5) |
| STUDIO AND APPARATUS | ★★★★★ (5/5) |
| SERVICES | ★★★★★ (5/5) |
| VARIETY | ★★★★☆ (4/5) |
| QUALITY | ★★★★★ (5/5) |
| COMMUNICATION | ★★★★★ (5/5) |
| APPROACHABILITY | ★★★★★ (5/5) |
| RESPONSIVENESS | ★★★★★ (5/5) |
Our experience with Fox Physiotherapy has been nothing short of exceptional. From the moment we walked through their doors, we were greeted with a warm welcome that set the tone for the entire journey.
The range of services offered by Fox Physiotherapy is truly impressive. Their pilates sessions are a perfect blend of challenge and support, tailored to individual needs.
Whether a beginner or an experienced practitioner, their skilled instructors guide you through invigorating routines that leave you feeling stronger and more aligned.
Convenience is key, and Fox Physiotherapy nails it.
With multiple class timings, we found it easy to fit sessions into our busy schedule.
The online booking system is a breeze to use, making it effortless to secure a spot in our preferred class. The studio's location is an added advantage, ensuring accessibility for all.
Fox Physiotherapy's reputation precedes them, and rightfully so. The studio has garnered a loyal following, and it's no surprise why.
Their commitment to excellence is evident in every aspect of their operation. The positive atmosphere is infectious, creating a sense of camaraderie among fellow participants.
While some might associate quality with a hefty price tag, Fox Physiotherapy defies that notion.
The cost of their services is a worthy investment in one's health and well-being. The expertise of their instructors, the state-of-the-art equipment, and the overall experience justify every penny spent.
However, they don't offer promos at the present. We advise checking their website for other affordable packages.
Convenient locations
Highly trained instructors
Impressive results
Tranquil and invigorating atmosphere
Customer Reviews
"Exceptional physiotherapist. Eimear was recommended to me by a friend. I had really bad pelvic pain from pregnancy and got GREAT relief after seeing Eimear. I went from bearly able to walk to feeling alot more mobile. I Will return postpartum again just to make sure everything is OK after birth." — Sarah O'Ruorke
"Eimear's modified pilates classes are the best way to recover from an injury and for strengthening. I thoroughly enjoy every class I attend, Eimear pushes you to achieve your best and makes it fun too! She explains and demonstrates everything at a perfect pace for everyone to pick up and always throws something new in to mix it up. She personally helps each individual to ensure they are doing the exercises and poses correctly. You really feel the benefits after doing Eimear's 6 week modified pilates course. Highly recommended!" — Carmen O'Sullivan
4. Repower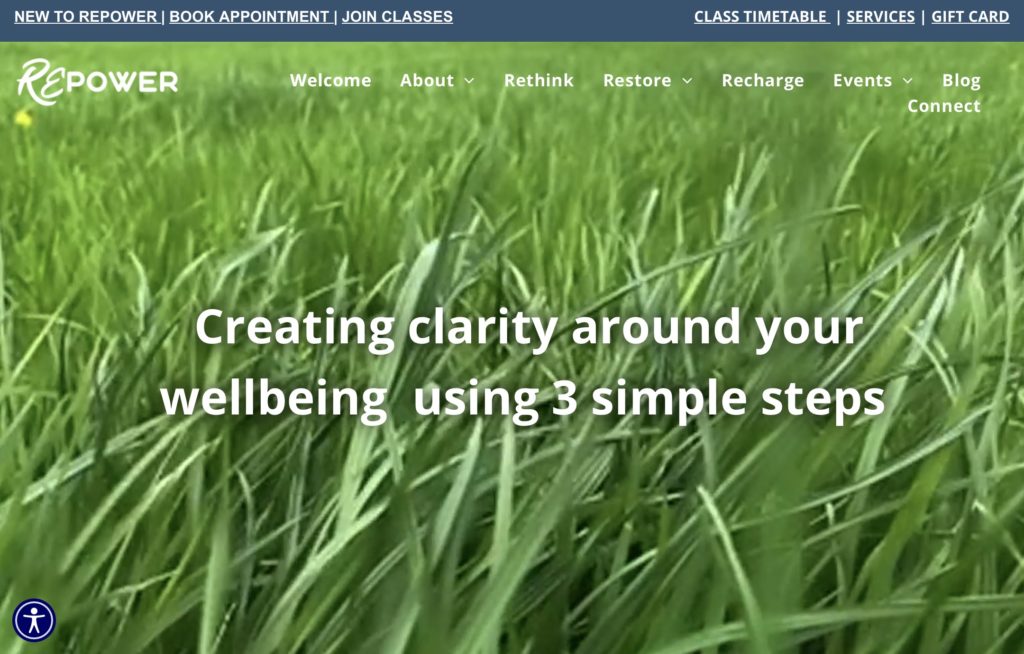 | | |
| --- | --- |
| SERVICES | Classes, Intro Offers & Vouchers, Yoga Studio |
| WEBSITE | https://www.repowerme.ie/connect |
| ADDRESS | Parklands Office Park, 16 Southern Cross Rd, Kilruddery Demesne East, Bray, Co. Wicklow, A98 R9X0, Ireland |
| CONTACT DETAILS | +35312829837 |
| OPERATING HOURS | Monday to Thursday: 9:30 AM to 8:30 PM; Friday: 9:30 AM to 12:30 PM; Saturday: 9:00 AM to 1:00 PM; Sunday: Closed |
| | |
| --- | --- |
| COST | ★★★★☆ (4/5) |
| STUDIO AND APPARATUS | ★★★★★ (5/5) |
| SERVICES | ★★★★★ (5/5) |
| VARIETY | ★★★★☆ (4/5) |
| QUALITY | ★★★★★ (5/5) |
| COMMUNICATION | ★★★★★ (5/5) |
| APPROACHABILITY | ★★★★★ (5/5) |
| RESPONSIVENESS | ★★★★★ (5/5) |
Whether we're Pilates pros or yoga newbies, they've got us covered. The instructors are not only knowledgeable and experienced but also have an infectious energy that leaves us craving more.
They guide us through each move, ensuring proper form and maximum results. Trust us, you'll be feeling the burn in all the right places.
Convenience is key, and Repower nails it. With a convenient location at the heart of the city, finding a studio close to home or work is a breeze.
Plus, their class schedules are as flexible as our favorite yoga pants. Whether we're early birds or night owls, they offer a wide range of class times to suit any schedule.
Reputation speaks volumes, and Repower has earned its stripes. It's not just us raving about their incredible classes and top-notch instructors.
The fitness community can't stop singing their praises either. They've garnered a loyal following of fitness fanatics who swear by Repower's transformative workouts.
Now, let's address the elephant in the room — cost.
We know, we know, fitness can sometimes be a drain on the bank account. But Repower offers some seriously competitive pricing options.
From drop-in rates to monthly memberships, they've got packages to suit every budget. So, we can focus on achieving that yogi glow without breaking the bank.
However, Repower is closed on Sundays. If you plan on visiting their studio, make sure you find the perfect weekday to do it.
Experienced and knowledgeable instructors
Convenient multiple locations
Stellar reputation in the fitness community
Competitive and flexible pricing options
Customer Reviews
"Rachael has looked after my rehab for any and all injuries I have had through the years, and is the best in the business. Remedy is a one stop shop for diagnosis, treatment and rehab plan. I leave every visit with a genuine appreciation for how much better my body moves, and armed with the knowledge for what I need to do to reduce and/or remove risk of injury reoccurrence. Have also supplemented my rehab plan with Reformer Pilates classes to support preventative maintenance. 5 stars all the way." — Jony Davis
"I have been attending Remedy regularly for the past 10 years for pilates and on occasion physiotherapy when needed. Even in a group class environment, experienced teachers ensure that pilates exercises are tailored to my needs and that I have the correct bodily alignment for each exercise. I find the staff at Remedy to be friendly, supportive and welcoming and they are truly passionate about what they do. Pilates keeps my body fit and strong and knowing that I am looking after my future self as I age gives me peace of mind." — Natalie Davis
5. Form School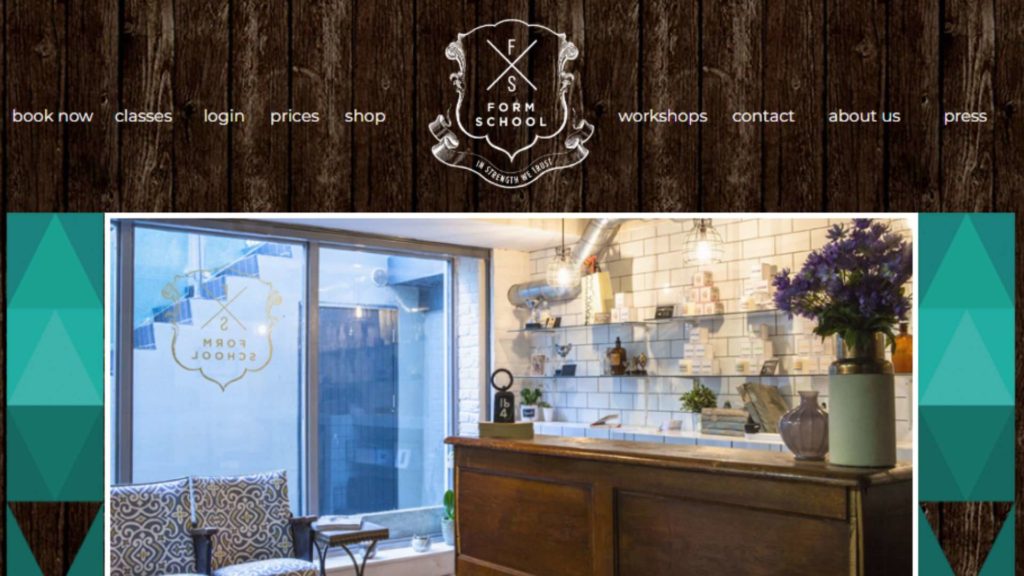 Test
Info
SERVICES

Classes, Workshops

WEBSITE
http://www.formschool.ie/
ADDRESS
24A Grattan St, Dublin Southside, Dublin 2, D02 P891, Ireland
CONTACT DETAILS
Phone: +353 1 254 3466

EMAIL: [email protected]

OPERATING HOURS

Monday - Saturday: 6:30 AM - 9:30 PM

Sunday: 9:00 AM - 12:00 PM
| | |
| --- | --- |
| COST | ★★★★☆ (4/5) |
| STUDIO AND APPARATUS | ★★★★☆ (4/5) |
| SERVICES | ★★★★☆ (4/5) |
| VARIETY | ★★★★☆ (4/5) |
| QUALITY | ★★★★☆ (4/5) |
| COMMUNICATION | ★★★★★ (5/5) |
| APPROACHABILITY | ★★★★★ (5/5) |
| RESPONSIVENESS | ★★★★★ (5/5) |
Form School is on our list for being one of the top Pilates studios in Ireland. They offer power classes to keep your every muscle group pumping!
This studio is actually a joint venture between an Irish international rugby player and a top fashion model. They've combined their respective fields to provide many workout options.
We think this makes them unique because the workouts are likely to be more active and cater to those who want to be healthier and more fit.
But beyond that, it's also incredible for us that they're experts at giving advice on a variety of topics. This includes nutrition, sports and business psychology, and rehabilitation from injury.
In addition, we love that their studio is set in a stylishly bohemian, welcoming, and artistic space based in the city centre. This seems like a good contribution to creating an aesthetic and relaxing environment for the clients.
Nonetheless, they have a few teachers at the moment. As a result, we feel their slots may be fewer than those of others.
Conveniently, you may easily park your cars and bikes around Form School. But to get a good spot nearby, we think it's best to come to onsite classes early.
Perfect for more physically active clients
Experts in many health topics
Offers a trendy space
Available car and bike parking 
Limited number of instructors
Shorter availability on Sundays
Customer Reviews
Really good instructors
"Great Reformer Pilates studio. Really good instructors and plenty of classes on the timetable. I would definitely recommend the studio." – Bettina Fredriksson
Has in-depth knowledge
"I love Formschool and I always go to Carolyn's classes. Her in-depth knowledge of physiology and anatomy and her warmth and humour make her classes one of the best in Dublin. I always look forward to my classes with Carolyn at the beautiful formschool studio, they are so always fabulous⭐⭐⭐⭐⭐" – Audrey O' Connor
6. Pilates Centre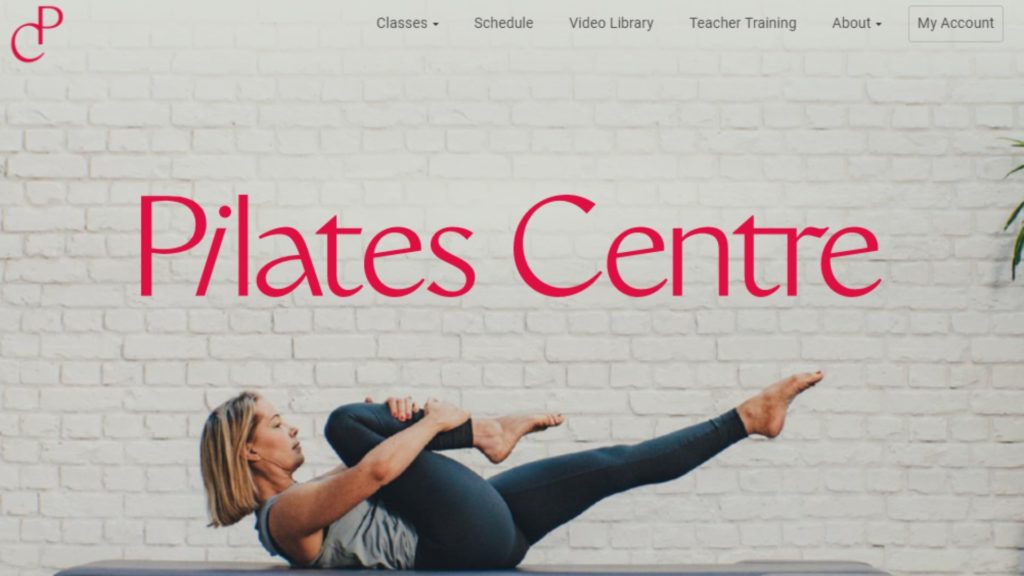 Test
Info
SERVICES

Studio Classes, Online Classes

Private Lessons, Video Library

WEBSITE
https://www.pilatescentre.ie/
ADDRESS
Unit 2, The Seapoint Building, 44- 45 Clontarf Rd, Clontarf, Dublin, D03 EW65, Ireland
CONTACT DETAILS
Phone: +353 1 535 9100

EMAIL: [email protected]

OPERATING HOURS

Monday - Sunday: 7:00 AM - 6:45 PM
| | |
| --- | --- |
| COST | ★★★★☆ (4/5) |
| STUDIO AND APPARATUS | ★★★★★ (5/5) |
| SERVICES | ★★★★★ (5/5) |
| VARIETY | ★★★★★ (5/5) |
| QUALITY | ★★★★★ (5/5) |
| COMMUNICATION | ★★★★★ (5/5) |
| APPROACHABILITY | ★★★★★ (5/5) |
| RESPONSIVENESS | ★★★★★ (5/5) |
The Pilates Centre is among the most credible Pilates studios in Ireland that we've seen.
Right off the bat, we can say that they offer a decent amount of classes to accommodate various needs. There are studio sessions, tailored classes, as well as live online and recorded classes.
A few of the clients we spoke with also praised their bright, open, and welcoming space. They mentioned that this really helps them concentrate while being relaxed.
In our opinion, it's nice that this studio seems to be well-equipped too. They have mats, reformers, towers, chairs, barrels, and more to support and challenge the body in all the right places.
Not only that, but their teachers are also all classically trained. This means they've completed at least 600 study and apprentice hours in the full Pilates method on all apparatuses at all levels.
This is highly reassuring for us. We believe there's also a lower chance for anyone to have a hard time or get injured if they're properly assisted by professionals.
If you'd like to reach them, we recommend reaching the Pilates Centre via email. We learned they don't have someone manning the phones daily, so calling them may not guarantee an immediate response.
Provides personalised classes
Accommodating space
Equipped with many apparatuses
With well-trained instructors
Limited communication channels
May be unresponsive at times
Customer Reviews
Professional, punctual, and caring
"Clean, organized, and just the right size (up to 8 people per class). Professional, punctual, caring and kind instructors who truly pay attention and cater to your needs. Helpful reception staff. I am very happy about each class so far. Thank you all!" – Nick Rodrigues
Clean and safe space
"Fantastic class as always with Corinna. Studio felt spacious and superclean….felt very safe. Cant wait to go back." – Julieann Behan
7. Charlotte's Pilates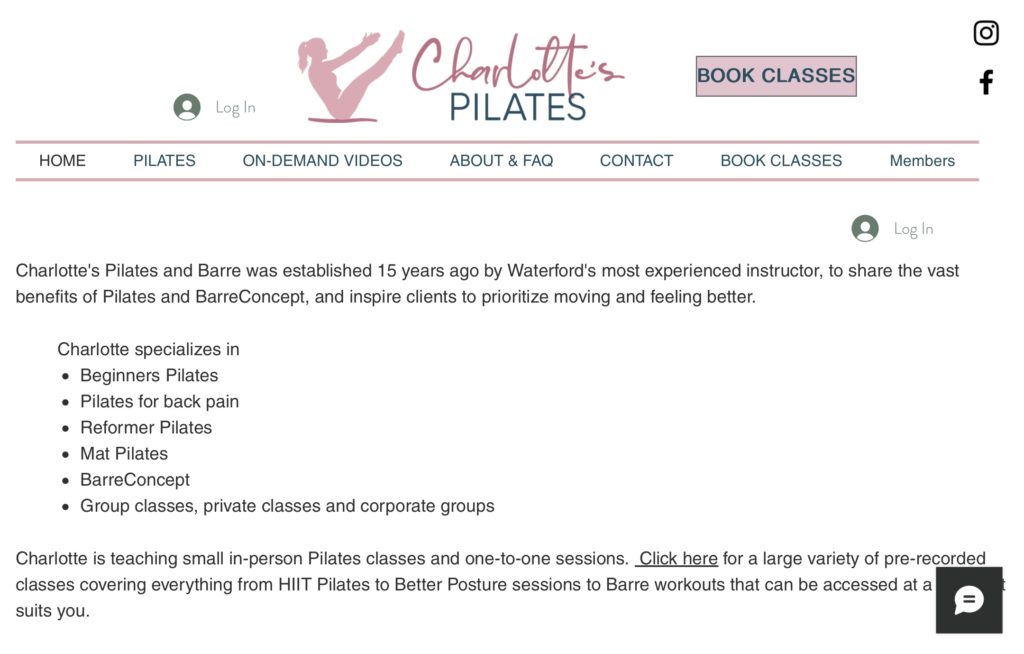 | | |
| --- | --- |
| COST | ★★★★☆ (4/5) |
| STUDIO AND APPARATUS | ★★★★★ (5/5) |
| SERVICES | ★★★★☆ (4/5) |
| VARIETY | ★★★★★ (5/5) |
| QUALITY | ★★★★☆ (4/5) |
| COMMUNICATION | ★★★★★ (5/5) |
| APPROACHABILITY | ★★★★★ (5/5) |
| RESPONSIVENESS | ★★★★★ (5/5) |
In the realm of wellness, where strength meets serenity, Charlotte's Pilates stands as an unwavering bastion of excellence. Our journey through their enriching services left us revitalized, sculpted, and craving for more.
From the moment we walked into their state-of-the-art studio, we were greeted by an ambiance of refinement that set the tone for what was to come.
Our every session felt like a symphony of controlled movements, expertly guided by their attentive and certified instructors. Each stretch, each pose, pulsated with purpose, a testament to their commitment to perfection.
The convenience factor? It's a home run.
With flexible scheduling options, even the busiest bees can savor the sweet nectar of Pilates. Whether dawn or dusk, they effortlessly tailored sessions to our frenzied timelines, never compromising on the quality that defines them.
Reputation isn't built overnight, but Charlotte's Pilates has meticulously sculpted theirs. A hushed reverence echoes through the fitness circles when their name is mentioned.
Countless success stories reverberate in harmony, a testament to their transformative impact. The fitness world bows to their prowess, and rightfully so.
Allow us to assure you, the value surpasses the investment. While the initial numbers might dance higher than some alternatives, the dividends reaped are in a league of their own.
Our bodies felt like a well-tuned orchestra, each muscle harmoniously playing its part, a true testament to the efficacy of their approach.
In the grand tapestry of fitness, Charlotte's Pilates is a vivid thread of distinction.
Their services exude excellence, convenience bows to their mastery, reputation precedes them like a herald, and the cost metamorphoses into an investment—an investment in a healthier, stronger, and more balanced you.
However, they can get busy sometimes. We suggest booking them ahead of time.
Expert instructors
Flexible scheduling
Customer Reviews
"Charlotte's Pilates transformed my perspective on fitness. Their expert guidance led me to discover muscles I didn't even know existed. I've never felt stronger!"
8. Reformation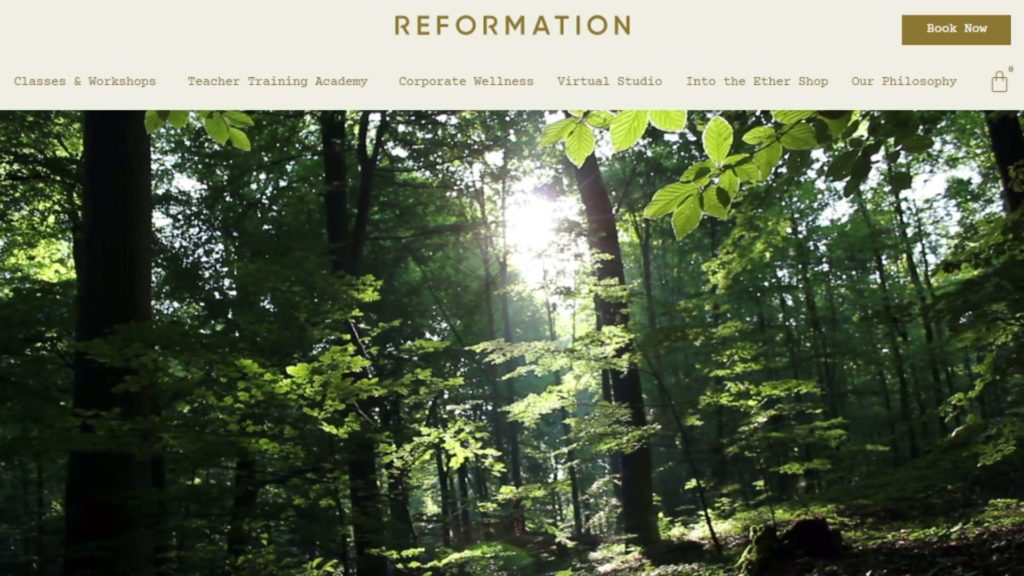 Test
Info
SERVICES

Classes & Workshops

Teacher Training Academy

Corporate Wellness, Virtual Studio

WEBSITE
http://reformation.ie/
ADDRESS
6 Dartmouth Pl, Ranelagh, Dublin 6, D06 W925, Ireland
CONTACT DETAILS
Phone: (01) 442 7466

EMAIL: [email protected]

OPERATING HOURS

Monday, Wednesday & Friday: 7:00 AM - 10:00 PM

Tuesday & Thursday: 6:30 AM - 10:00 PM

Saturday: 8:30 AM - 2:00 PM

Sunday: 8:30 AM - 12:00 PM
| | |
| --- | --- |
| COST | ★★★★☆ (4/5) |
| STUDIO AND APPARATUS | ★★★★★ (5/5) |
| SERVICES | ★★★★★ (5/5) |
| VARIETY | ★★★★★ (5/5) |
| QUALITY | ★★★★★ (5/5) |
| COMMUNICATION | ★★★★★ (5/5) |
| APPROACHABILITY | ★★★★★ (5/5) |
| RESPONSIVENESS | ★★★★★ (5/5) |
Reformation is on our list of the best Pilates studios in Ireland, as they have some of the most relaxing offerings for your next class.
More than being a typical Pilates studio, several clients told us that the classes are filled with intention and heart. This simply means that the teachers create a peaceful and calming environment for everyone.
Other than Reformer Pilates, they have yoga and yin classes with these ideas in mind as well. We believe they're experts in teaching excellent all-around exercises that benefit both the body and the mind.
We also like their Reformation On-Demand option. This is ideal for those who enjoy self-paced learning because they can be provided with a pre-recorded library of classes.
Non-members have to pay €29 per month for this, but studio members don't have to pay anything. That's why we suggest looking into their membership for the extra perks.
Keep in mind that their classes are easily fully booked, too. We think it's best to look at their available classes in advance, so you can plan early.
Also, note that Reformation's location is on a narrow street. While some parking is available, there might be limited space for everyone.
Their location has a calming ambience
Also offers yoga and yin classes
Provides virtual classes
Studio members get several perks
Slots get taken fast
Few parking spaces around
Customer Reviews
So welcoming and friendly
"Reformation is one of my favourite studios. They have some of the best teachers in Dublin and everyone is so welcoming and friendly! A great place for a workout and community!" – Cassie Wood
Great and relaxing
"Always a great and relaxing atmosphere at Reformation. The teachers are very knowledgeable and explain how each move you make strengthens and affects your body. Would highly recommend!" – Zeynep Naz Tugrul
FAQs About Pilates Studio in Ireland
---
There you go! We hope you liked our review of the best Pilates studios in Ireland. May you find the most comfortable option for your long-term wellness!
If you want to find more health and wellness-related services, start with some of our reviews right here:
More Resources for Pilates Studio in Ireland