The 5 Best Ice Cream Shops In Dublin
Ice cream is everybody's favorite and is almost always a top choice for dessert and a hero when you've had a tooth extraction.
Whether you have a sweet tooth or just cravings for sweets, we'll help you find the best ice cream in Dublin. If you're ready and hungry, check out our list!
How much does ice cream cost in Dublin?
There are many variations of ice cream when it comes to flavor, texture, and serving that determine how much they get sold in shops. Usually, a pint can be bought at the average price of €5.00 each serving.
Discover ice cream products and their prices below:
| Menu | Estimated Average Price |
| --- | --- |
| Single ice cream serving in cup/bowl | €3.00 - €10.00 |
| Ice cream in cone/bread | €8.50 - €15.00 |
| Pint | €3.60 - €17.00 |
| Tub | €11.50 - €18.50 |
The Best Ice Cream Shops in Dublin
1. Scoop Dessert Parlour Aungier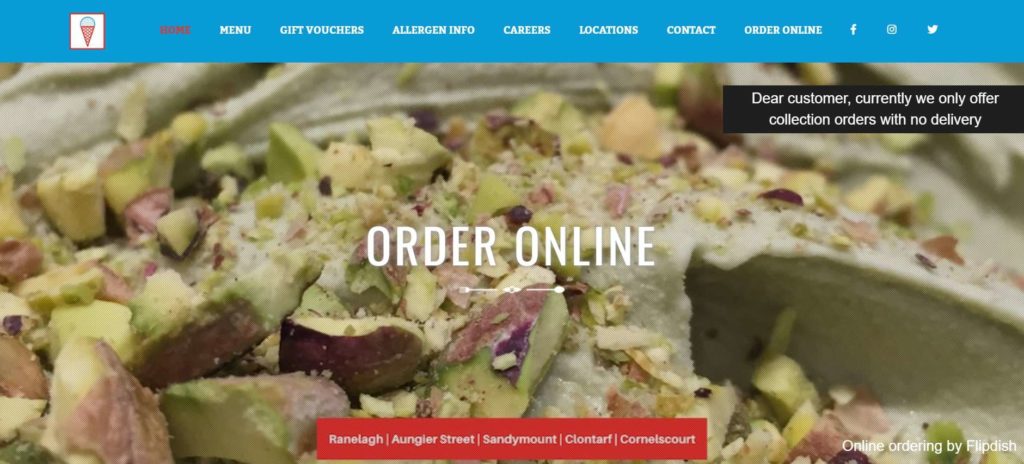 Test
Info
MENU

Multi-flavored Gelato Boxes

Sundaes

Waffles

Milkshakes

Crepes

WEBSITE
https://www.scoopgelato.ie
ADDRESS
82 Aungier Street, Dublin 2, Ireland D02 NP30
CONTACT DETAILS
+353 1 532 8096,

[email protected]

OPERATING HOURS

Monday to Thursday, 12:00 p.m. - 10:00 p.m.

Friday to Sunday, 12:00 p.m. - 11:00 p.m.
| | |
| --- | --- |
| Flavor Range | ★★★★★ (5/5) |
| Affordability | ★★★★★ (5/5) |
| Texture | ★★★★☆ (4/5) |
| Uniqueness | ★★★★☆ (4/5) |
| Accessibility | ★★★★★ (5/5) |
If you're looking for an accessible ice cream store with many flavors to choose from, this shop is for you! With many stores in Ireland, Scoop Dessert Parlour is a dessert shop that specializes in cold treats and sweets.
Our favorite here is the Ferrero Rocher Sundae for its very tasty and creamy mix of real Ferrero Rochet chocolates, Madagascan vanilla gelato, nuts, and fresh cream. You can also go for the Kinder Bueno Sundae if you want a little twist of Bueno chocolates.
We appreciate that Scoop Dessert allows customers to buy bigger servings with its gelato boxes with two to four flavors.
Also, what we like about this shop is its extensive desert choices of five Belgian waffles, five French crepes, and milkshakes. This is on top of the six sundae options available in its daily menu,
Another factor that made us include this shop in our list is that it allows customers to make their own sundaes from three scoops of gelato, sorbetto, sauce, and toppings.
If you have concerns about the flavors and milk used, there's no need to worry as allergen information is available for customers who are sensitive to certain ingredients.
When you're planning to take a sweet snack here, you have to check the store to check the menu as the ice cream flavors are not posted on its website. Another minor drawback according to some buyers is the shop closes earlier than the set closing time.
Nonetheless, getting your ice cream here is a good choice as you can mix your cup with its other desert choices.
Rich flavors
Has other branches in Dublin
Many choices for desert
Gives customers allergen info of products
Flavors not listed on its website
Closes earlier than set time 
Customer Reviews
Delicious and big servings
"The variety of Gelato is big, and the handmade, sugar-free, Gelato are delicious. The Belgian waffles are all right. The employees are quick and kind, the price and value are in the upper end for this location and recommended. Payment is contactless possible, high hygiene standards." – Muhammed Cifci
Many alternatives
"Very good ice cream. Even when your favourite flavours are sold out, there are some delicious alternatives. A wonderful ice cream experience and I would highly recommend it to anyone looking to cool down or treat themselves." –Tommy Aquinas
Affordable ice cream
"Awesome ice cream. It is not pricey for the portions. The salted caramel flavour is a must try." – Rui Belem
2. Arctic Stone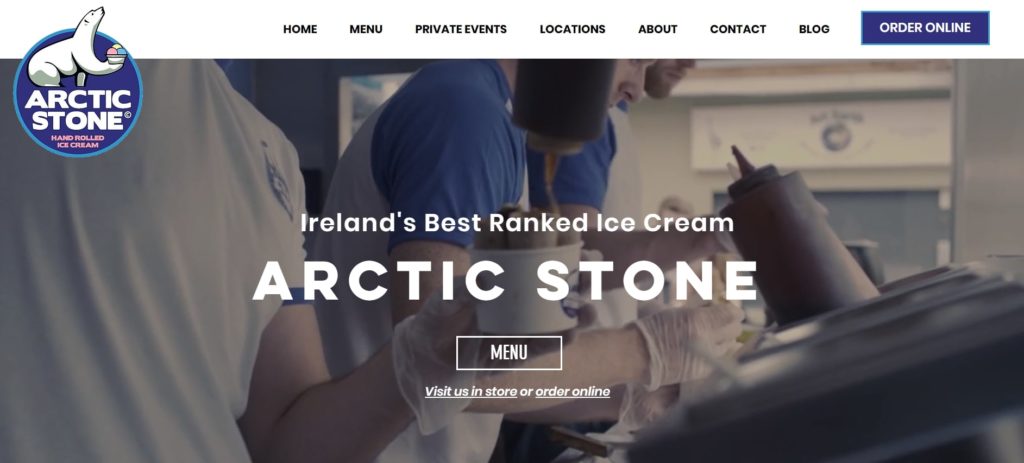 Test
Info
MENU

Hand-rolled Ice Cream

Dairy-free Ice Cream

Ice Cream Online Ordering and Delivery

WEBSITE
https://www.arcticstone.ie
ADDRESS
Blackrock Market Dublin, Ireland A94 PW74
CONTACT DETAILS
+353 879 750553,

[email protected]

OPERATING HOURS

Monday to Friday, 1:00 p.m. - 8:00 p.m.

Saturday to Sunday, 11:00 a.m. - 9:00 p.m.
| | |
| --- | --- |
| Flavor Range | ★★★★★ (5/5) |
| Affordability | ★★★★★ (5/5) |
| Texture | ★★★★★ (5/5) |
| Uniqueness | ★★★★★ (5/5) |
| Accessibility | ★★★★★ (5/5) |
You can buy an ice cream anywhere, but if you want a different experience for an ice cream, Arctic Stone Hand-Rolled Ice Cream is the place to be.
We love how unique its ice cream product servings are – perfectly rolled in front of you using the available ingredients of your choice like cookies, Nutella, berries, citrus, and banoffee pie.
Another added noteworthy experience here is the store allows you to choose your own flavor, two toppings, and your own sauce. If you're lactose intolerant, the dairy-free ice cream choice has your back!
When it comes to taste, the servings are tastefully sweet and thick in texture. You can also choose between a regular or larger serving, and both are served generously.
The staff are also very cheerful in making your cup of desert. Plus, you can even hire the store on your private party to give your guests a nice treat.
Arctic Stone has two locations in Dublin, once in Blackrock Market and one in Clanbrassil Street. However, you may have to wait for several minutes as there are queues of customers.
Still, this is one of the best places to have an ice cream in Dublin for its nice and exceptional style of serving your cup of sweets.
Unique ice cream experience
Cheerful and accommodating staff
Offers delivery
Has dairy-free options
Long queues
Too much artificial flavor
Customer Reviews
Best rolled ice cream
"The best rolled ice cream in Dublin. We tried caramel and Oreo flavor and it was delicious. They have a good variety of toppings and sauces to complement the ice cream, really recommended for a sunny day in Blackrock." – Osvaldo Huerta
Vegan and lactose intolerant friendly
"By far the tastiest Ice Cream in Ireland, 100% Irish, fresh local ingredients, produced and made in front of you, vegan and lactose intolerant options available too. I'd highly recommend their friendly team, customer service and it's a very enjoyable experience watching their team hand-roll your ice-cream. My kids just love it, and a visit to their new shops in Blackrock and Bray are cool, especially at night when the led lights are on!" – Sarah Trenaman
Can make combinations
"Hand rolled ice cream. If you've never tried this you're missing out. It was my first time and I had plain strawberry. But they can make any combination of flavors you like. Really nice and inexpensive." – Ogiee Murtagh
3. Teddy's Ice Cream
Test
Info
MENU

Plain and Chocolate-dipped Cones

Sundaes

Ice Cream Boats

Ice Cream Tubs

Family Special

WEBSITE
https://teddys.ie
ADDRESS
1A Windsor Terrace, Dun Laoghaire, Dublin, Ireland A96 F3F9
CONTACT DETAILS
+353 864 529394,

[email protected]

OPERATING HOURS

Monday to Saturday, 10:00 a.m. - 8:00 p.m.

Sunday, 11:00 a.m. - 8:00 p.m.
| | |
| --- | --- |
| Flavor Range | ★★★★☆ (4/5) |
| Affordability | ★★★★★ (5/5) |
| Texture | ★★★★☆ (4/5) |
| Uniqueness | ★★★★☆ (4/5) |
| Accessibility | ★★★★★ (5/5) |
Teddy's Ice Cream is a classic ice cream favorite that has been serving cold sweets in Dun Laoghaire since the 1950s.
Teddy's offers 12 affordable and soft ice creams in cones with chocolates, mallows, and Oreo for as low as €1.30 apiece. It also has sundaes and ice cream Coke floats.
We love the Oreo Cone for its great combination of crunchy toppings and soft ice cream base. The strawberry ice cream tub is also a good choice for its use of fresh ingredients.
Another great option if you're with kids is the Marshmallow Cone if you want to treat them with soft and chewy ice cream mix. Also, tubs are available for group servings or if you want to store ice cream in your fridge.
What we also like here are the use of fresh ingredients and the plentiful serving for each order.
In case you're planning to host a party with a great ice cream for your guests, you can always book their van packages that can serve up to 70 people.
Although this place has been operating for decades, there are still queues in its store in Dublin. Another minor drawback here is the menu that's not posted on Teddy's Ice Cream's website.
Nonetheless, the soft ice cream and variety of serving sizes and types are what made this ice cream store into this list.
Great selection
Caters to private events
Fresh ingredients
Big servings
Menu unavailable online
Inconsistent operating hours
Customer Reviews
Massive cones
"The best '99 around. These guys have no problem dishing out a massive-sized cone, and offer a wide range of toppings and twists. If you're looking for a great '99, look no further. Compared to any others I've had, this is the go-to spot now." – Kyle O'Brien
Creamy and fresh
"Definitely the best ice-cream I have tried in Ireland! Smooth, creamy, fresh 😋 I like this particular place better than ice-cream trucks as it is fresher and does not need running engine which pollutes the air." – Yulia K
Great location
"Good ice-cream, very generous portions. Mostly 99s rather than flavored ones but delicious nonetheless. Great location by the sea and only a few mins walk from Dun Laoghaire center." – Mark M
4. Gino's Gelato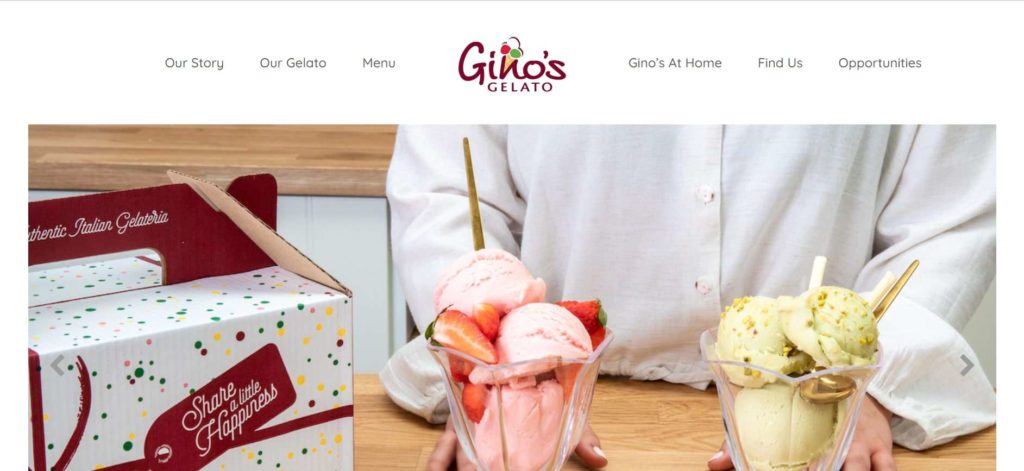 Test
Info
MENU

Ice Cream

Gelato

Crepes

Waffles

Milkshakes

WEBSITE
https://ginosgelato.com
ADDRESS
1st Floor Blanchardstown Center, Blanchardstown, Dublin 15, Ireland D15 HC8D
CONTACT DETAILS
+353 181 29621,

[email protected]

OPERATING HOURS

Sunday to Tuesday, 10:00 a.m. - 7:00 p.m.

Wednesday and Saturday, 10:00 a.m. - 7:30 p.m.

Thursday to Friday, 10:00 a.m. - 9:15 p.m.
| | |
| --- | --- |
| MENU | Ice Cream, Gelato, Crepes, Waffles, Milkshakes |
| WEBSITE | https://ginosgelato.com |
| ADDRESS | 1st Floor Blanchardstown Center, Blanchardstown, Dublin 15, Ireland D15 HC8D |
| CONTACT DETAILS | +353 181 29621, [email protected] |
| OPERATING HOURS | Sunday to Tuesday, 10:00 a.m. – 7:00 p.m.Wednesday and Saturday, 10:00 a.m. – 7:30 p.m.Thursday to Friday, 10:00 a.m. – 9:15 p.m. |
| | |
| --- | --- |
| Flavor Range | ★★★★★ (5/5) |
| Affordability | ★★★★☆ (4/5) |
| Texture | ★★★★★ (5/5) |
| Uniqueness | ★★★★★ (5/5) |
| Accessibility | ★★★★☆ (4/5) |
Looking for a different kind of ice cream? Gino's Gelato in Blanchardstown offers real Italian ice cream goodness using authentic and fresh ingredients.
What sets this apart from other ice cream stores is its use of fine ingredients and pure Irish milk mixed together in traditional methods for an Irish-Italian taste. This desert spot is also known for not using additives and preservatives.
If you want a variety of taste, Gino's has over 50 flavors using popular chocolate brands, candies, and fruits. Our best pick here is the bubble gum for those who want a playful combo of minty, sweet, and fragrant ice cream.
Aside from the great range of flavors, the consistency of the cream lets you enjoy the serving without having to think about it melting quickly. We also like that Gino's has vegan-friendly and gluten-free ice creams and desserts.
What's more is you can pair your ice cream with the selection of crepes and waffles. Also, you can have a milkshake by just having your ice cream flavor mixed with organic milk.
One minor downside is the non-availability of its price list and complete menu on its website and social media account. Some customers also noted that Gino's customer service needs room for improvement.
Overall, the Italian inspiration and freshness of the ingredients make this spot worth trying.
No additives and preservatives
Vegan-friendly and gluten-free menu
Pure organic milk used
Thick and creamy texture
Price list not available
Customer service needs improvement
Customer Reviews
Amazing taste
"Nothing better than getting fresh Italian gelato from an Italian with a thick accent. Giovanni you were amazing! He made our quick stop so enjoyable and kept us laughing. He made recommendations and let the kids try as many samples as they wanted. The gelato was a big hit and tasted amazing. Excellent location and in the center of whats going down. Highly recommend." – Sara N
Helpful staff
"Such a good variety of Gelato! The Nutella & cheery is delicious! The employees are more than helpful and willing to give you as many samples are you want! It's worth it to try as many that look good to you!" – Teresa Wali
5. Murphy's Ice Cream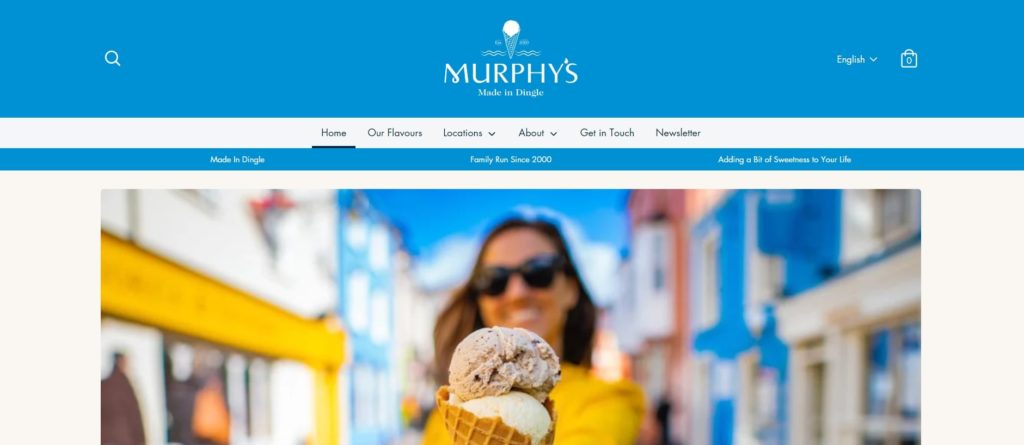 Test
Info
MENU

Ice Cream

Sorbet

Irish Ice Cream

Gluten-free Ice Cream

WEBSITE
https://murphysicecream.ie/
ADDRESS
27 Wicklow St, Dublin 2, Ireland D02 WN51
CONTACT DETAILS
+353 66 915 2644, http://www.murphysicecream.ie
OPERATING HOURS

Monday to Thursday, 12:00 p.m.- 10:00 p.m.

Friday to Saturday, 11:00 p.m. - 11:00 p.m.

Sunday, 12:00 p.m. - 10:00 p.m.
| | |
| --- | --- |
| Flavor Range | ★★★★★ (5/5) |
| Affordability | ★★★★☆ (4/5) |
| Texture | ★★★★★ (5/5) |
| Uniqueness | ★★★★☆ (4/5) |
| Accessibility | ★★★★★ (5/5) |
With six locations in Ireland, the popular Murphy's Ice Cream boasts of handmade ice creams using fresh and rare local Kerry cow milk.
Whether you want a healthy and authentic ice cream or just want a try, you may consider Murphy's because it doesn't use additives and artificial flavoring and powdered milk.
In our opinion, the best among its selection is Smooth Chocolate – Seacláid that is made with pure Valrhona cocoa, making its chocolatey taste enjoyably solid.
When you want a little variation, you can have the Chocolate Whiskey – Fuisce Seacláide. This has the same level of goodness with the Smooth Chocolate but has a West Cork Whiskey addition.
Also good options are the Lemon Curd, Raspberry Sorbet, and Mango Sorbet for their refreshing fruity taste that's also fit for vegans.
What we also love with Murphy's is the cheerfulness of its staff who are very willing to explain to customers how the ice cream servings are made! As a bonus, customers can have a free taste of the flavors to help them decide which flavor to choose.
However, Murphy's servings are known to be more expensive than normal ice cream stores in Dublin. The price list is also not shared on its online platforms, and you have to join the lines on peak hours to get your scoop.
Overall, we think Murphy's is worth lining up for its pure cocoa ingredient and alcohol-flavored ice creams.
Accommodating staff
Offers multiple flavor free taste
Great flavor combo
Chocolate gelato uses pure Valrhona Cocoa
Prices not available on website
Long customer lines on peak hours
Customer Reviews
Easy to locate
"Very nice ice cream with very different flavors. Staff is very nice and makes you taste everyone of it so that you can decide better. Right in the center of city center so easy to find and reach as well. Have couple of alcohol based flavours as well. They are really nice. Raspberry and mango sorbet were nice too." – Nikhil Ronngta
Good customer service
"Probably one of the best ice creams I've tried. The combination of flavors is really unique but somehow it tastes really good. I got the Dingle Sea salt and Irish Brown bread and they're delicious. Can't wait to try the rest:) On top of this, their customer service is really good, very cheerful staffs and they also let you try the flavors before you order." – Mech Bolinas
Delicious ice cream
"Love everything about this place.The ice cream is delicious and the staff are always cheery,helpful and more than willing to ply you with several samples.Went 3 times in a span of 5 days! Brownie,Irish coffee and Irish Brown bread must try." – AJ Froman
FAQs about the best ice cream in Dublin
---
Having a cup of ice cream is one of the popular decisions we make during summer or during warmer days. If you want to explore popular ice cream houses in Dublin, we hope this review helps.
To know more about other activities you want to experience, you can take a look at the best pubs in Ireland.
---