The Best Stores for Office Chairs in Cork
Sometimes we're working at our desks for hours on end so the small details of comfort and posture make a huge impact.
In this article, we explore some of the best stores for office chairs that can offer you the most comfort and design.
How much do office chairs cost?
Office chairs mainly vary in price due to brand, features, as well as the materials it is made of. Some office chairs do have better features for mobility, armrest as well as cushioning.
Below is a table of prices of different office chairs we found.
Store
Office Chair
Price
CJM Furniture

Racing Style Office Chair Black and Red

--------------------------------------

Vantage 1 or 2 Level Swivel Chair with Fixed Loop Arms

€ 245




€ 75

Dave Moran Office

Teknik 1095 Nova Mesh Back Black Fabric Chair

€ 265

Supplies LTD

Teknik 8511HLW Kingston Black LiWood Exec Chair

€ 515

EasyOffice.ie

Arista Concept Medium Back Operator Chair Blue

--------------------------------------

Avior Snowdon Heavy Duty Chair Charcoal

€ 274




€ 723.47

Argos

Habitat Ergonomic Office Chair Grey

--------------------------------------

Habitat Orion Faux Leather Office Chair Black

€ 250




€ 190
Top Office Chairs in Cork
We assessed the stores based on the following criteria:
1. Argos Cork Retail Park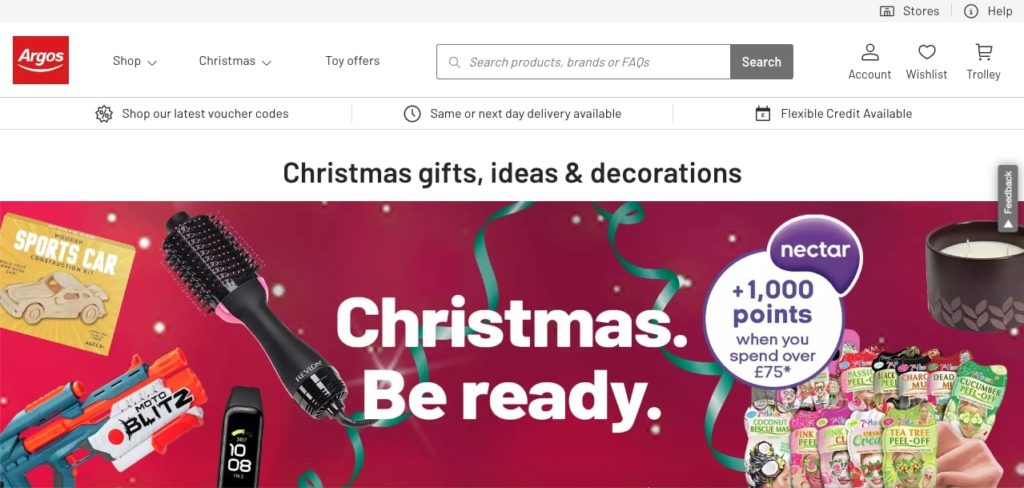 Test
Info
PRODUCTS

Office, PCs

Phones

Kitchen and Laundry Equipment

Home and Furniture

Garden

DIY

Sports

Leisure

Health

Personal Care

Home and Entertainment

Toys

Games etc.

WEBSITE
https://www.argos.ie/
ADDRESS
Blackpool Retail Park, Cork
CONTACT DETAILS
Phone: 1800 535 091

EMAIL: [email protected]

OPERATING HOURS

Monday to Saturday: 9:00 AM to 6:00 PM

Sunday: 10:00 AM to 6:00 PM
| | |
| --- | --- |
| Variety of Selection | ★★★★☆(4/5) |
| ⮕Price | ★★★★★(5/5) |
| ⮕Design | ★★★☆☆(3/5) |
| Terms and Conditions | ★★★★☆(4/5) |
| Other Selection | ★★★★★(5/5) |
| Feedback | ★★★★☆(4/5) |
| ⮕Customer Service | ★★★★☆(4/5) |
| ⮕Overall Satisfaction | ★★★★☆(4/5) |
A versatile option that can provide you with other categories of products, Argos Cork Retail Park does offer quite an excellent selection of office chairs to choose from.
It opened its first Ireland stores back in 1996 and has since expanded to include their website offerings in 2005. Since then, they have become one of the leading retailers both in store and online.
We are very impressed by their online purchase experience as it is both convenient and very informative. They accept six types of online payment and what's more, is that they do have an option for click and collect services.
In terms of their office chair selection, admittedly it is more limited in terms of varieties and features, but nonetheless is still a solid selection.
We highly recommend checking them out especially those looking for affordable options. They have varying styles and colors to suit different types of office spaces as well as very helpful customer reviews for each type of chair.
We would however note that some products can get out of stock for home delivery so it would be best to contact their staff beforehand about inventory.
What's great as well about shopping from Argos is that customers can also purchase other products from a variety of other categories. If you're looking as well for items like office supplies or appliances to fill up other office spaces, this is a very sensible option.
Argos all in all is perfect for those looking for a great selection of office chairs as well as a one-stop-shop for a variety of other products.
Great delivery service
More comparatively affordable office chair options
Can purchase this alongside a variety of other product categories
Accepts a wide variety of online payments
More limited range of office chairs
Some items are out of stock for home delivery
Customer Reviews
Absolutely No Fuss at All
Great system, know what you want before you get there, you can reserve it. Call and pay for it and you are away. They are very helpful if there's an issue with your purchase and will refund or replace your item with absolutely no fuss at all. It's very reassuring to know that before you buy an expensive item like a TV. Other shops don't want to know if you didn't buy their insurance – Ken Timoney
Great Staff Experience
I dealt with a lovely lady called Lesley who had great item knowledge and a wonderful, very polite demeanour. A great service and a credit to the branch! 10/10 on staff for me – Brian O'Kane
2. EasyOffice.ie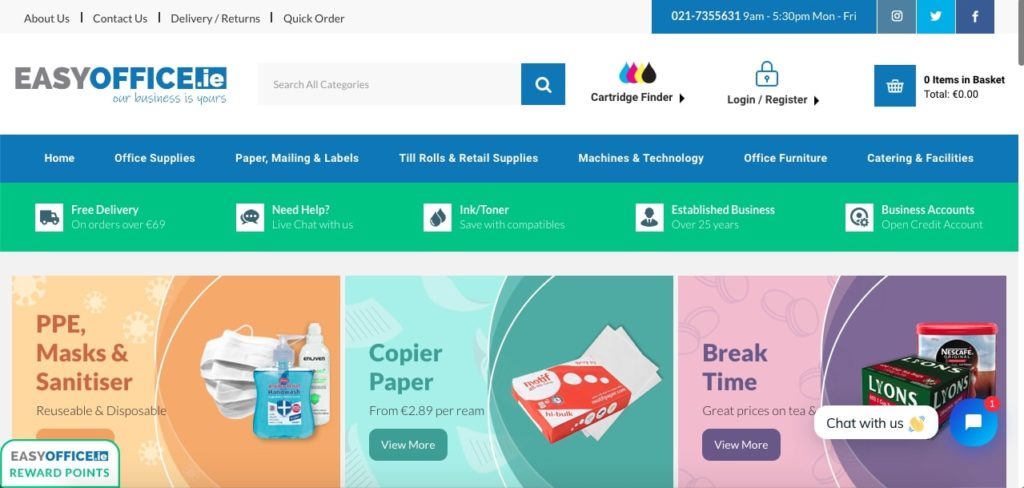 Test
Info
PRODUCTS

Office Supplies

Paper

Mailing

Labels

Till Rolls and Retail supplies

Office Machines and Technology

Office Furniture

Catering and Facilities Supplies

WEBSITE
https://www.easyoffice.ie/
ADDRESS
Unit 8, College Commercial Park, Magazine Rd, Glasheen, Cork
CONTACT DETAILS
Phone: 021 7355 631

EMAIL: [email protected]

OPERATING HOURS

Weekdays: 9:00 AM to 5:30 PM
| | |
| --- | --- |
| Variety of Selection | ★★★★★(5/5) |
| ⮕Price | ★★★★★(5/5) |
| ⮕Design | ★★★★☆(4/5) |
| Terms and Conditions | ★★★☆☆(3/5) |
| Other Selection | ★★★★★(5/5) |
| Feedback | ★★★★★(5/5) |
| ⮕Customer Service | ★★★★★(5/5) |
| ⮕Overall Satisfaction | ★★★★★(5/5) |
With over 25 years of experience, EasyOffice.ie is a reliable option for those looking for all types of office products.
If you're a business looking to restock all different kinds of office supplies under one store, then we highly recommend checking out what EasyOffice.ie has.
They have all kinds of items like writing instruments, presentation essentials, retail supplies and computer accessories. They even have a very useful cartridge function available on their website.
It makes them a great candidate as a one-stop-shop whether your business needs to restock on fresh supplies or is even just starting out.
For their section on office furniture, what we really appreciate is that their selection of office chairs has a wide range of different prices. From simpler designed affordable options to more pricey heavier duty chairs.
Another feature we also really like is that they display the number of available stock. It's great if you're considering bulk orders for your office or business space as you can gauge the number of chairs they already have available.
EasyOffice.ie also has some very enticing terms and conditions with free delivery on orders over €69 as well as warranties on their office chair stock.
However, they aren't the quickest in terms of delivery as they are unavailable over the weekends. We would also advise looking over their return policy as the period for returns is quite short compared to other options.
Regardless, they make a very convenient choice if you're looking for both office chairs alongside supplies to stock up on.
Free delivery for some orders
Amount of office chair stock is displayed in the website
Good selection of office chairs for different budgets
Impressive range of other office supplies
Not the quickest delivery terms
Return policy is quite short
Customer Reviews
Great Delivery Service
The quickest delivery ever. Ordered late Sunday night. Had it Monday morning into my hand. Delivered by a super friendly man. Delivery was free and the cost of my toner was better value than I have ever paid before. – Marie OC
Prompt Personal Service
Have been dealing with easyoffice on a regular basis . Prompt personal service also excellent delivey . Local firm worth supporting – Anthony Heffernan
3. Dave Moran Office Supplies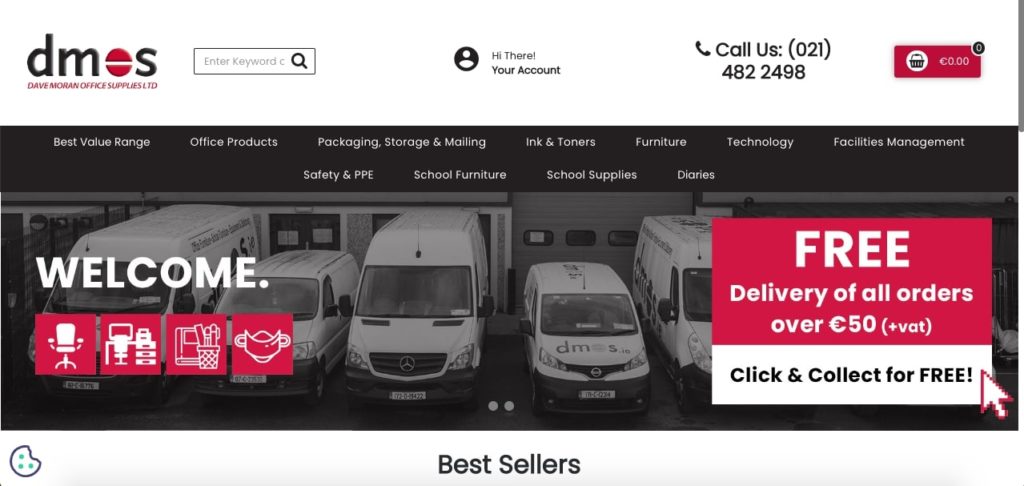 Test
Info
PRODUCTS

Office Products

Inks and Toners

Packaging Materials

Storage Materials

Mailing Materials

Furniture

Office Technology

School Furniture

School Supplies

Facilities Supplies

Safety and PPE supplies

WEBSITE
https://www.dmos.ie/
ADDRESS
Unit 4 Glanmire Ind Est, Glanmire, Co. Cork
CONTACT DETAILS
Phone: (021) 482 2498

EMAIL: [email protected]

OPERATING HOURS

Weekdays: 9:00 AM to 5:00 PM
| | |
| --- | --- |
| Variety of Selection | ★★★★★(5/5) |
| ⮕Price | ★★★★★(5/5) |
| ⮕Design | ★★★★☆(4/5) |
| Terms and Conditions | ★★★★★(5/5) |
| Other Selection | ★★★★☆(4/5) |
| Feedback | ★★★★★(5/5) |
| ⮕Customer Service | ★★★★★(5/5) |
| ⮕Overall Satisfaction | ★★★★★(5/5) |
Dave Moran Office Supplies was established in 2005 with a wealth of experience in the industry from Dave Moran himself.
What makes them a standout option for us as a store to purchase all types of office products is their excellent and consistent quality customer service.
Several previous customers have praised their responsiveness and helpfulness when it comes to purchasing from their selection. We really like how engaged and prompt they are when it comes to any customer concern.
If you're a new business looking for some great advice and guidance on which type of product suits you best, Dave Moran Office Supplies has the best hands on approach that can really help you out.
In terms of their office chair range, they have an impressive variety to choose from, from different price ranges to features.
We were very impressed with the amount of different manufacturers they carry so their selection makes a great option if you're looking to really explore a breadth of styles.
However, do take note that quite a number of their office chairs are limited in stock so it might not be the best place to consider if you're looking to have larger quantity orders. In this case, it would be best to inquire with them beforehand.
With customer service that is second to none, Dave Moran Office supplies makes a great choice for their wide range of office chairs and prompt delivery of services.
Excellent range of more affordable office chairs
Has helpful information available on each chair type
Aso offers other types of office furniture and technology
Free deliveries on orders over € 50
Location is a bit farther from the center
Limited supplies available for some office chairs
Customer Reviews
Second to None Personal Service
I cannot recommend the team at DMOS highly enough for all the help and assistance they give to Pharmacy First Plus! No query is trouble to them, while their promptness in reply and delivery is exceptional. The personal service given by Dave, Jon and the team is second to none. FIVE STARS ALL THE WAY! – Keith O'Hourihane
Consistently Great Service
We have done business with Jon and his team for years.Great service nothing is ever a problem.Highly recommend .Well Done to all his Staff – Paul O Donoghue
4. CJM 2nd Hand Furniture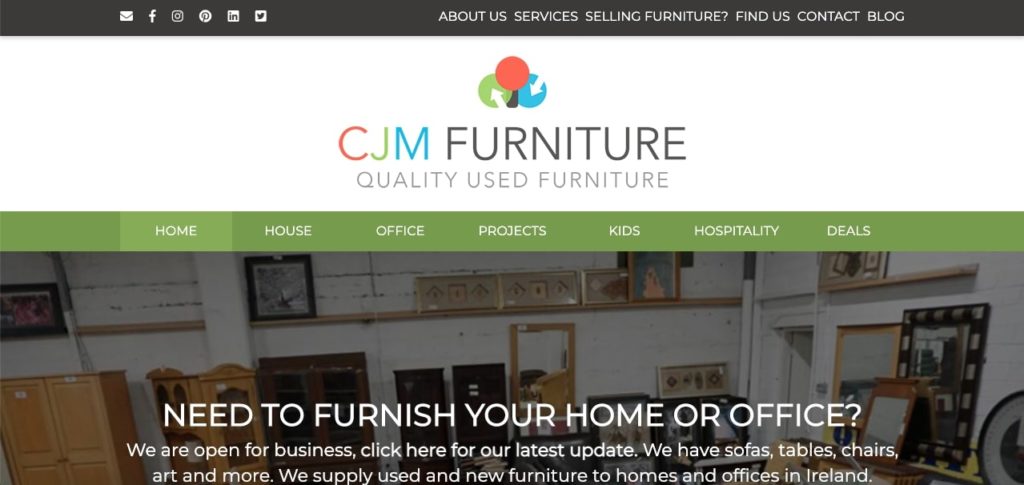 Test
Info
PRODUCTS

House furniture

Office furniture

Kids furniture

Hospitality furniture

WEBSITE
https://www.cjmfurniture.ie/
ADDRESS
Unit B2, Marina Commercial Park, Centre Park Rd, Cork
CONTACT DETAILS
Phone: 087 1777 595 / 021 4847475

EMAIL: [email protected]

OPERATING HOURS

Weekdays: 9:00 AM to 5:00 PM

Saturday: 10:00 AM to 3:00 PM
| | |
| --- | --- |
| Variety of Selection | ★★★★☆(4/5) |
| ⮕Price | ★★★★☆(4/5) |
| ⮕Design | ★★★☆☆(3/5) |
| Terms and Conditions | ★★★★☆(4/5) |
| Other Selection | ★★★★☆(4/5) |
| Feedback | ★★★★☆(4/5) |
| ⮕Customer Service | ★★★★☆(4/5) |
| ⮕Overall Satisfaction | ★★★★☆(4/5) |
CJM 2nd Hand Furniture started back in 2009 and since then has become a reliable choice in looking for secondhand furniture in all sorts of categories.
We think that they are the perfect choice for businesses looking as well for a complementary set of furniture and space related services.
These additional services are not usually offered when it comes to other stores selling office furniture. Their furniture clearance services for example are very enticing for businesses looking to change the look of their space while buying new items.
In this offering as well, the price of the service is offset by any furniture that they can purchase from your space. On top of this, their space planning service can help businesses explore options on the layout of newly cleared spaces.
It's the perfect set of services for offices looking for makeovers.
In terms of their office chairs, admittedly because they mainly sell used furniture, the stock will be highly variable. It's not the best store to rely on for consistent inventory but what makes them great is customers can find excellent deals.
If you're looking as well for other office furniture to complete the look, they have affordable options for tables, counters, seating and storage.
For those on a budget and in need of an office space with a fresh new layout, CJM 2nd Hand Furniture may be your best bet.
Great for looking for deals
Has space planning, product sourcing and furniture clearance services
Substantial experience on furnishing 
Offers other categories of used furnitures
Not the best option for bulk orders
Stock is highly variable
Customer Reviews
Excellent Selection
Great choice of furniture in this spot from chairs, home desks, sofa, coffee tables & more. I bought a beautiful sofa, home office desk & coffee table which I couldn't be happier with. I arranged delivery, there was a minor mix up on the delivery day so I was personally refunded my delivery fee to my letterbox by Colin who was very helpful & a gentleman who went through the whole process with me. I will be back next time I need more furniture & can't recommend these guys enough! – Oliver Sean Callely
Competitive Prices
Great furniture at competitive priced. Will be back and have recommended to several colleagues. – Michael Norris
5. Ronnie Moore LTD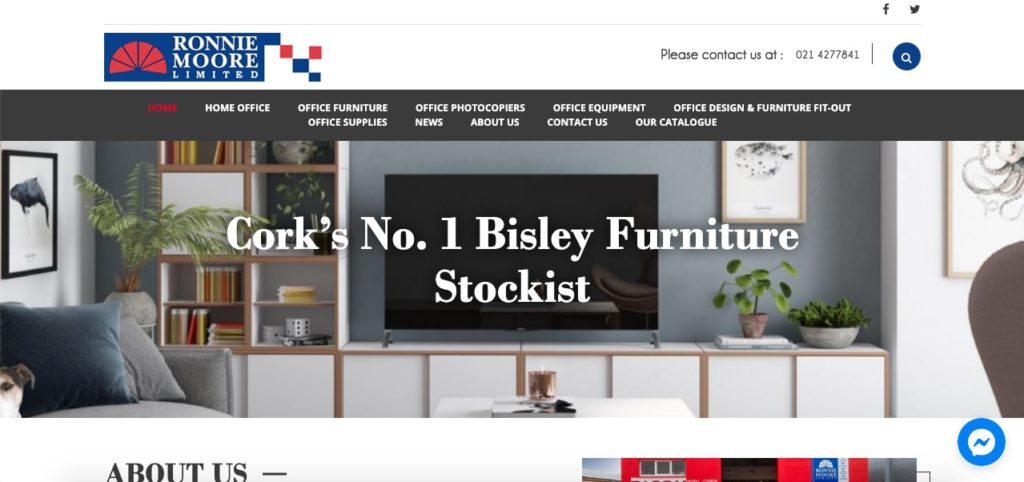 Test
Info
PRODUCTS

Home Office products

Office Furniture

Office Supplies

Office Photocopiers

Office Equipment

Office Design and Furniture Fit Out

WEBSITE
https://www.ronniemoore.ie/
ADDRESS
Unit 9b, South Cork Industrial Estate, Vicars Rd, Togher, Cork
CONTACT DETAILS
Phone: 021 427 7841

EMAIL: [email protected]

OPERATING HOURS

Weekdays: 9:00 AM to 5:30 PM
| | |
| --- | --- |
| Variety of Selection | ★★★★☆(5/5) |
| ⮕Price | ★★★☆☆(3/5) |
| ⮕Design | ★★★★★(5/5) |
| Terms and Conditions | ★★★★☆(4/5) |
| Other Selection | ★★★★★(5/5) |
| Feedback | ★★★★★(5/5) |
| ⮕Customer Service | ★★★★★(5/5) |
| ⮕Overall Satisfaction | ★★★★★(5/5) |
Ronnie Moore LTD probably has one of the more long standing histories amongst all other stores offering office chairs. They are a trustworthy option, having catered to many satisfied businesses like Ardmore Shipping and Ricoh.
What impressed us most about them is the range of six different categories they had for office chairs. For example, they have executive chairs, mesh back chairs, lumbar support chairs, vinyl chairs and more.
If you're looking to explore options from a wide variety of different materials and shapes, this may be the store for you.
What we will note however is that unlike other online offerings, Ronnie Moore LTD requires you to contact them for the prices so it won't be as easy to compare between different models and makes.
On the other hand, we really appreciate that the store also has design and fit out services which are perfect to round out the whole process.
Their team also has very substantial experience in this regard so they make a perfect option for a top to bottom furniture makeover.
We were also very impressed by the range of other items they carry, especially equipment from photocopiers, printers and projectors.
If your office space is in need of a new office chair and technology, we highly recommend checking out what Ronnie Moore LTD has to offer in terms of quality and variety.
Wide range of other office supplies
Offers design and fit out services
Impressive range of different types of office chairs
Orders over € 75 are eligible for free delivery
Prices need to be contacted for
Some furniture options will take longer and require an extra charge
Customer Reviews
Exceeding Customer Requirements
We have been working with Ronnie Moore Ltd for over 40 years. From stationery supplies to managed print services, they are unrivaled when it comes to meeting and exceeding customer requirements. Their professionalism, efficiency and customer service is second to none, making them the complete single source solution for clients in the Cork area. – Business Manager Ricoh
Excellent Customer Care and Product Knowledge
Ronnie Moore has been the supplier of photocopiers and multifunctional devices to Bantry Credit Union for longer than I can remember. In my experience, they tick all the boxes. Their product knowledge is excellent, their focus on customer care is admirable, their after-sales service is first-rate. Most of all, I like their can-do approach and attitude. When we had a particularly urgent need some years ago, they pulled out all the stops to help us. They are problem-solvers, which for me is key to a successful business relationship. – Finbarr O Shea
FAQs about Office Chairs
---
With the many options for office chairs out there from different designs to varying functional features, we hope our list provides you with the right resources out there.
If you would like to read more, we also have an article on the best office spaces in Dublin.