The 5 Best Optometry Clinics in Cork
Getting an eye checkup is one effective way in ensuring a person's visual health. As people age, the eyes change and may even begin to weaken and have issues.
Before you book an appointment with an eye specialist, read our review on the 5 best optometrists in Cork below to help you find the most appropriate optometrist for your eye health.
But before we proceed, let's take a look at the range of rates on different eye services in the next paragraph.
How much do optometrists charge in Cork?
Just like buying an item in malls, availing the service of an eye specialist comes at different prices. See the estimated rates below:
| Services | Estimated Average Price |
| --- | --- |
| Eye Checkup and Exam | €20.00 - €300.00 |
| Driver Vision Test and Certification | €20.00 - €30.00 |
| Color Vision Test and Certification | €25.00 - €35.00 |
| Lens Assessment and Fitting | €40.00 - €100.00 |
| Glasses | €50.00 - €300.00 |
The Best Optometrists in Cork
Unlike opticians, optometrists offer eye care services like basic checkup and treatment of uncomplicated visual problems. To make sure you get quality eye services, we evaluated our listings based on the following:
1. Cork Eye Clinic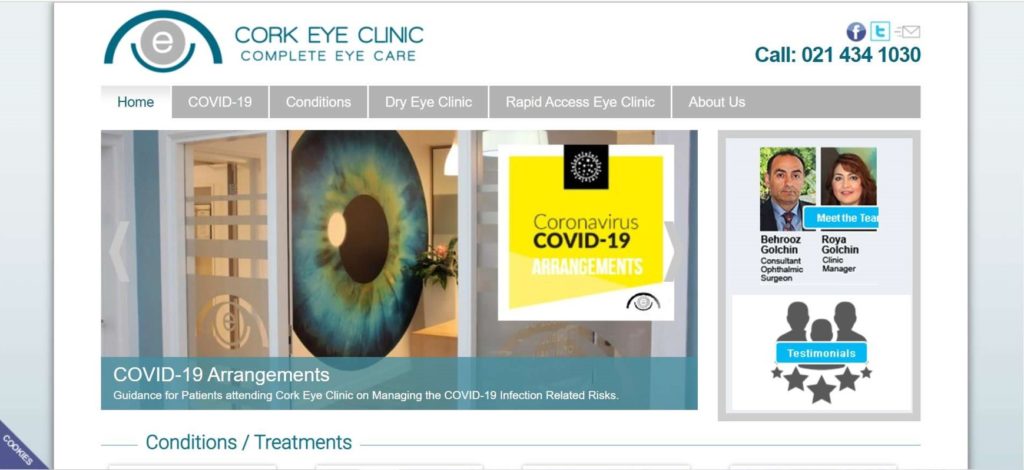 Test
Info
SERVICES

Eye Checkup

Rapid Access Eye Clinic

Dry Eye Clinic

Laser Treatments, Surgery

WEBSITE
https://www.corkeyeclinic.ie/
ADDRESS
Suite 7&8 Clinic A Cork Clinic, Western Rd, Cork, Ireland, T12 VY83
CONTACT DETAILS
Phone: +353 214 341030

EMAIL: [email protected]

OPERATING HOURS

Monday, Wednesday, and Friday, 9:00 a.m. - 5:00 p.m.

Tuesday and Thursday, 9:00 a.m. - 6:00 p.m.
| | |
| --- | --- |
| SERVICES | ★★★★★ (5/5) |
| EXPERTISE | ★★★★★ (5/5) |
| FACILITIES AND EQUIPMENT | ★★★★★ (5/5) |
| ACCESSIBILITY | ★★★★★ (5/5) |
Cork Eye Clinic is a great place to go if you're looking for a complete eye clinic with ophthalmologists and optometrists. It's located along Western Road in Cork, so it's easy to find.
One reason why we included it here is its variety of services, including an urgent care eye clinic that can get you seen quickly if you have sudden eye problems. They also offer laser treatments and surgery, as well as dry eye services.
We also like that it has a variety of ophthalmologists and optometrists on staff who know how to treat a wide array of conditions using modern technology. The equipment is also up-to-date and gives you the best possible experience.
The Rapid Access Eye Clinic is its latest service that we like, but it is expensive compared to other places that offer the same. It's a little pricey, but in just 24 to 48 hours upon booking, you can have your sudden eye concern checked.
Take note also that it doesn't have a known in-house eyewear shop. Don't worry, its specialists can refer you to one if you need new glasses or contacts.
Overall, it's a good place for an eye checkup and vision problem treatment because its services are broad. It even includes treatment for cataract and complex eye conditions.
Variety of services
Complete with ophthalmologists and optometrists
Efficient Rapid Access Eye Clinic
Uses modern technology
Pricey urgent care
No in-house eyewear shop
Customer Reviews
Great clinic
"It is a great Clinic [and] every one very nice there. I had my eyes done and they [know] what to do for me as they are very nice. I was there this morning [and] they talk to you and explain everything to you. [It's] the place to go." – Joan O Driscoll
Professional staff
"Super easy to find, very clean place with friendly and professional staff. I highly recommend the place." – Rak
2. Specsavers Optical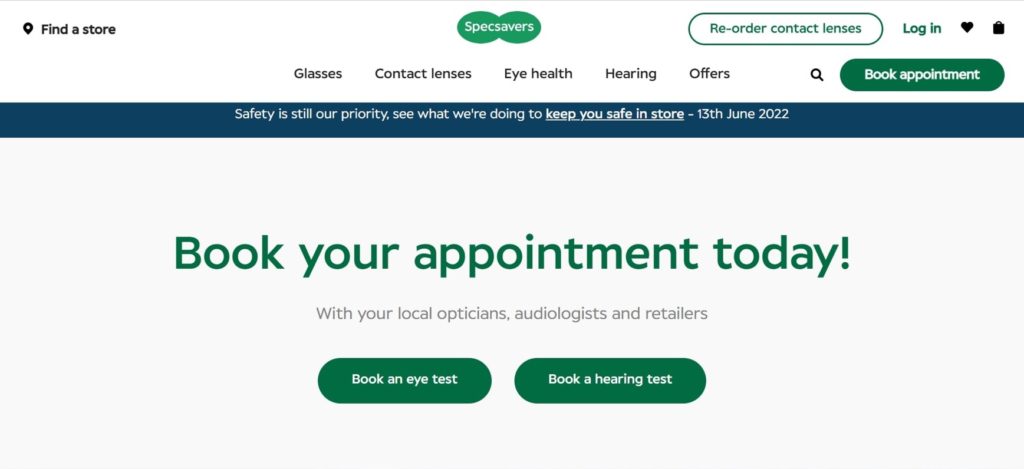 Test
Info
SERVICES

Eye Test

Online Consultation

OCT Scan

Glasses

Contact Lenses

Hearing Test

WEBSITE
https://www.specsavers.ie/
ADDRESS
2 Opera Ln, Centre, Cork, Ireland T12 PR52
CONTACT DETAILS
Phone: +353 214 248722, No Available Email
OPERATING HOURS

Monday to Saturday, 8:30 a.m. - 7:00 p.m.

Sunday, 11:00 a.m. - 6:00 p.m.
| | |
| --- | --- |
| SERVICES | ★★★★☆ (4/5) |
| EXPERTISE | ★★★★☆ (4/5) |
| FACILITIES AND EQUIPMENT | ★★★★★(5/5) |
| ACCESSIBILITY | ★★★★☆ (4/5) |
Specsavers, located along Opera Lane in Cork, is an optometric clinic that offers a wide range of services. It's a popular eye clinic in Cork and its services are the reason for this.
This clinic, which has many branches in Ireland, offers a full eye test, online consultation, and OCT scan which is the most advanced diagnostic testing available. We also like that it has its own in-house shop of eyewear and hearing aid devices.
Specsavers' eyewear selection is extensive and includes everything from basic frames to designer brands like Ray-Ban and Oakley. You can also get prescription sunglasses at Specsavers if that's something that interests you!
What's more, consultations are offered by an experienced optometrist who will take the time to go through your full eye health history and any issues you're having. This is followed by expert advice on what you have to do next.
The best part about Specsavers is their convenient online consultation service, which allows you to book an appointment directly from home or work.
Although it's a popular eye clinic, Specsavers doesn't offer surgical or complex procedures. There's also days when you have to wait for several minutes before getting your eye checked.
Still, it provides quality care for anyone looking for basic eye care services like an eye test or prescription glasses.
Experienced optometrist
Variety of eyewear
Detailed eye checkup with consultation
Convenient online consultation
No surgical and complex procedures
Long waiting time
Customer Reviews
Excellent experience
"I had an Excellent experience a few days ago when getting my eyes tested and picking out my first pair of glasses. The staff were so nice , friendly and helpful. I felt very comfortable and at ease." – Sarah Coleman
Great service
"I went there for an emergency, with no appointment, completely panicked. They took time to make all the checks and gave me ref. letter for the hospital. Great service." – Elo Monhinvalle
3. Suil Eile Optometrists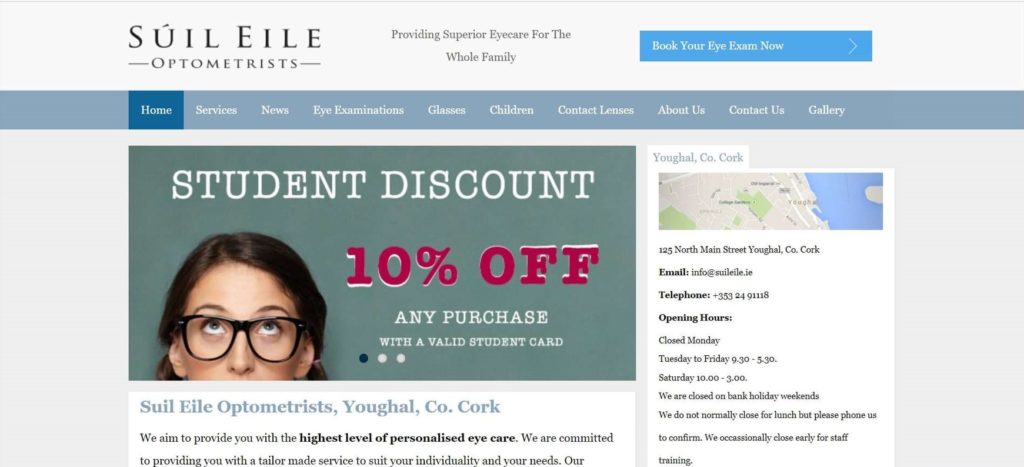 Test
Info
SERVICES

Eye Examinations

Glasses

Children Eye Care

Special Services

WEBSITE
http://www.suileile.ie/
ADDRESS
125 N Main St, Youghal-Lands, Youghal, Co. Cork, P36 CH61, Ireland
CONTACT DETAILS
Phone: +353 249 1118

EMAIL: [email protected]

OPERATING HOURS

Tuesday to Friday, 9:30 a.m. - 5:30 p.m.

Saturday, 10:00 a.m. - 2:00 p.m.
| | |
| --- | --- |
| SERVICES | ★★★★☆ (4/5) |
| EXPERTISE | ★★★★☆ (4/5) |
| FACILITIES AND EQUIPMENT | ★★★★☆ (4/5) |
| ACCESSIBILITY | ★★★★★ (5/5) |
With a decade of experience, Suil Eile Optometrists located in Youghal is the perfect place to go if you are looking for a professional and friendly optometrist.
Its up-to-date equipment and cutting edge technology will help you get the most out of your appointment. What's more, its child friendly services ensure that your entire family will enjoy their time at the clinic.
Also, the top reason for its inclusion in this list is its comprehensive eye exams that cover every aspect of your vision, from checking your prescription to making sure there are no underlying issues with your eyes.
When it comes to eyewear, it has leading glasses brands so that you can get exactly what you want—whether it's normal glasses or contact lenses. There are even glasses comfortably fit for children.
They also have a great selection of sunglasses if you're looking for something more casual, or just want to protect yourself from UV rays while enjoying some outdoor activities.
Suil Eile does not offer complex eye treatments such as laser eye surgery or cataract surgery, but it offers routine checkups with its optometrists to ensure that everything is healthy and functioning properly.
The clinic is closed on Sundays and Mondays but has long operating hours mid-week, so if you're having changes in your eyesight, you can drop by here.
Up-to-date clinical equipment
Comprehensive eye exam
Leading glasses brands
Child-friendly services and glasses
No complex eye treatments
Closed on Sundays and Mondays
Customer Reviews
Very patient on children
"Always a great services from Sue…. My daughter has Down Syndrome and Sue is always very patient and brilliant with her!" – Karl P
Helpful and friendly
"Really helpful and friendly. Fixed my bent glasses very quickly and wouldn't even take a payment!" – Alexander Cockburn
4. Feeney Opticians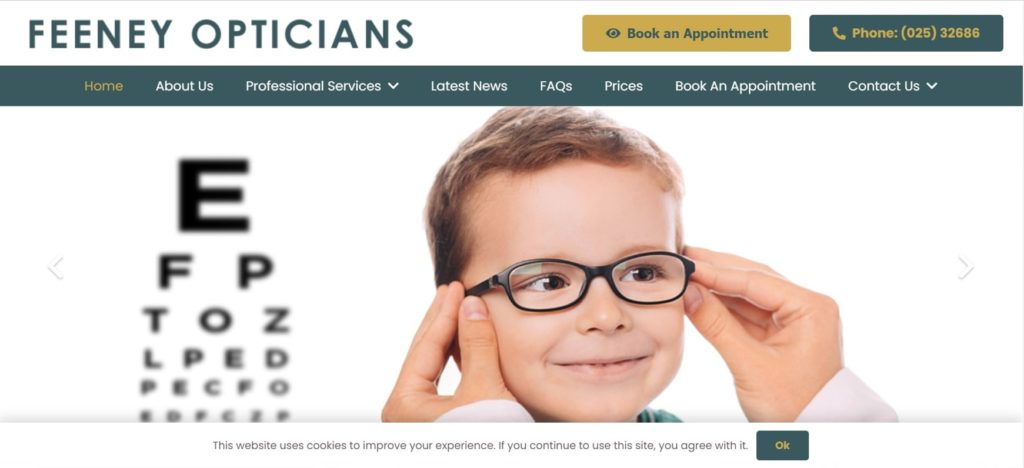 Test
Info
SERVICES

Eye Test

Eye Screening

Professional Services

Lenses and Eyewear

WEBSITE
https://www.feeneyopticians.ie/
ADDRESS
2 McCurtain St, Fermoy, Co. Cork, Ireland P61 YX39
CONTACT DETAILS
Phone: +353 253 2686

EMAIL: [email protected]

OPERATING HOURS

Monday to Friday, 9:30 a.m. - 5:30 p.m.

Saturday, 9:30 a.m. - 5:00 p.m.
| | |
| --- | --- |
| SERVICES | ★★★★★ (5/5) |
| EXPERTISE | ★★★★★ (5/5) |
| FACILITIES AND EQUIPMENT | ★★★★★ (5/5) |
| ACCESSIBILITY | ★★★★☆ (4/5) |
Feeney Opticians, located in Fermoy with accredited optometrist Dr. Feeney at the helm, is a clinic that offers a specific eye screening service. There are basic eye services for all ages in this clinic.
Also, we appreciate its great range of eyewear with top eyewear brands globally. Not only that, but the optometrists are informative in telling you what type of eyewear suits your eyes best.
We also like that it provides occupational eye screening, so you can be sure that your eyes are getting the best care possible. This is just one of its many eye screening services that diagnose simple to complex eye problems.
Moreover, it's great to know that there are no hidden fees or surprises when it comes to pricing. The prices of glasses and services are laid out clearly on their website, and you won't have to worry about extra charges when you're picking out your frames.
If you want a more detailed eye exam, however, you might want to look elsewhere. This is because Feeney Opticians doesn't offer in-house eye surgeons or eye laser treatment options.
This is because it's only an optometry clinic and not a specialty clinic for complicated eye matters that need laser treatments and surgery. Still, its affordable rates and variety of eye diagnostics makes it a good clinic to visit.
Specific eye screening services
Great range of eyewear
Has occupational eye screening
Transparent pricing
Limited to basic eye care
No in-house eye surgeons
Customer Reviews
Helpful optometrist
"Highly recommend Feeney [Opticians]. Jennifer is lovely to deal with & so helpful. Wouldn't go anywhere else." – Claire Dennigan
Good range of frames
"Wonderful range of really funky frames and unique styles!…" – John O'Connell
5. Egans Opticians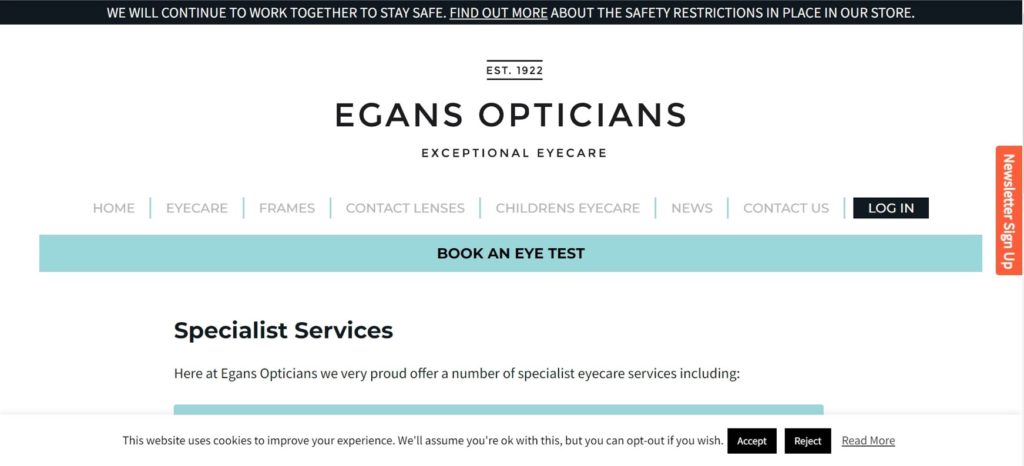 Test
Info
SERVICES

Eye Test

Specialist Services

Glasses

Contact Lenses

Children's Eyecare

WEBSITE
https://www.egans.ie
ADDRESS
5-6 Lavitt's Quay, Centre, Cork, Ireland T12 APN1
CONTACT DETAILS
Phone: +353 214 277655

EMAIL: [email protected]

OPERATING HOURS

Monday to Friday, 9:00 a.m. - 5:30 p.m.

Saturday, 9:00 a.m. - 5:00 p.m.
| | |
| --- | --- |
| SERVICES | ★★★★☆ (4/5) |
| EXPERTISE | ★★★★★ (5/5) |
| FACILITIES AND EQUIPMENT | ★★★★★ (5/5) |
| ACCESSIBILITY | ★★★★★ (5/5) |
When you're looking for an optometrist, you want to know that you're getting the best service possible. At Egans Opticians located at Lavitt's Quay, you can get just that.
The clinic has five optometrists and three opticians, so it can cover a wide range of needs with its staff. It also does basic eye exams and fittings for glasses or contact lenses, and has specialists who are trained in corrective procedures.
We're impressed by its specialist services that aid people with color blindness. It even has lenses for color blindness!
There's also prosthetic or artificial eyes for patients who have lost one of their eyes to have their eye appearance restored. We like that the artificial eyes are customized based on patients' eye color.
In addition, if you need help with keratoconus, a condition that causes irregularly shaped corneas, Egans has an expert who can help you find the right lenses for your vision needs.
Although Egans Opticians doesn't offer Lasik treatments and has no in-clinic or consultant ophthalmologists, it does everything else well enough that we highly recommend giving it a try!
If you need more information about these services, just ask one of the staff members; they'll be happy to give recommendations based on their experience working with patients.
Broad range of specialist services
Optometrist is experienced on keratoconus
Has lenses for color blindness
Helpful prosthetic products
No Lasik treatments
No ophthalmologists
Customer Reviews
Great experience
"I had a great experience, it was easy to get an appointment online. And I did not have to wait to see an optometrist. And she was great, she took the time to listen to me and my concern and explained what my issue was and what I need to do. I would highly recommend this store." – Mansor AI
Attentive and friendly
"…The staff are friendly, genuine and approachable and were all more than willing to help me. I [received a] full eye test and was talked through the whole process from start to finish. I was very indecisive when choosing frames but that was no issue at all and was given all the time and advice i needed to decide on the perfect frames for me…" – Eoin Curtin
FAQs about the best optometry clinics in Cork
---
And that's a wrap!
Getting your eyes checked must only be done by certified eye care specialists. If you're still looking for other services, you can check out the best eye clinics in Cork article.
---