The 5 Best Dance Studios in Dublin
As fun as it is to dance wherever you are, it isn't easy to train just anywhere. There are a number of factors to consider to make sure you're making the most of every session you have.
Whether you're a seasoned expert or a newbie eager to learn how to move, there are options for you. Here's our list of the top dance studios and schools in Dublin.
Dance Studio Costs
Here are the current rates for studios on our list at the time of writing.
| | |
| --- | --- |
| Back Street Dance Studio | €75 for 1 class per week for a term |
| ITW Dance Studios | €23.50 per week for a year |
| Wojtek Potaszkin Dance Academy | Prices available upon request |
| Viva School of Dance | €50 for 5 weeks |
| Dublin Salsa Academy | €40 for 5 weeks |
Top Dance Studios
We evaluated each of these dance studios according to the following criteria:
1. Back Street Dance Studio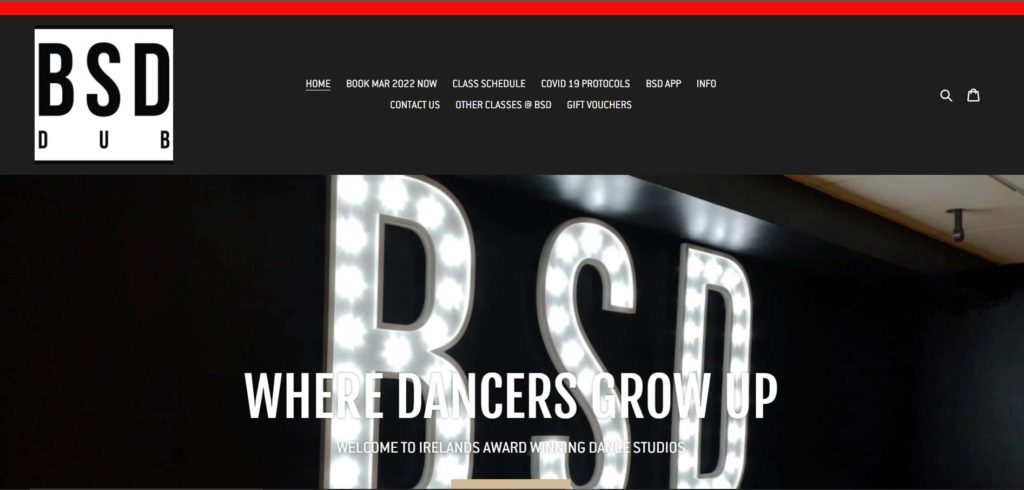 Test
Info
SERVICES
Classes for 2-5 years, 6-12 years, and 13+, adult classes, rentals
WEBSITE
https://bsddublin.com/
ADDRESS
Unit 8 Columba House, Nevinstown Lane , Airside , Swords, Co Dublin. Ireland. K67 KH96
CONTACT INFORMATION
+353 890 23 11
OPERATING HOURS
Monday: 10:00 AM - 9:00 PM

Tuesday: 10:00 AM - 8:00 PM

Wednesday: 10:00 AM - 9:00 PM

Thursday: 10:00 AM - 9:30 PM

Friday: 10:00 AM - 8:00 PM

Saturday: 11:00 AM - 5:30 PM
| | |
| --- | --- |
| Convenience | ★★★★☆ (4/5) |
| Classes Offered | ★★★★★ (5/5) |
| Team | ★★★★★ (5/5) |
| Student Satisfaction | ★★★★☆ (4/5) |
You might have heard of Back Street Dance Dublin as the winners of Ireland's Got Talent in 2019. Considering this impressive feat, you might be interested in learning from their team.
If so, come to their place. This award-winning studio offers classes and is available for rental as well.
Some of the dance classes offered are Irish dance, ballet, heels, hip-hop, and lyrical jazz. They also have classes for yoga, pilates, and gymboree for kids.
We think this is a good range of dance styles, although they are mostly modern. We also dig the fitness classes offered – if you ever want to try something else out, you can give them a go too.
Classes are available for three different children's age groups as well as adults. Each class can be booked for €25 per head, which we found is a little bit on the pricier side, although not unreasonably so.
They also offer packages per term, which is usually around €75 for a class per week for the duration of that term. We recommend this option because you'd get to save more, especially because to make the most of a dance class you'd usually need more than one or two sessions.
They do not accept cash payments, which we think some people might find a little inconvenient. We wish there were more options for people who may find it difficult to pay online or via card.
They also only issue refunds if you present a doctor's certificate that states you are unable to participate in physical activities. While we understand this, there could be a little more flexibility in the face of other emergencies.
Back Street Dance also states that they reserve the right to remove any student who threatens the safety of any instructor or student, which we love. We'd feel a lot safer in a space that respects our comfort as well, after well.
Award-winning studio
Wide range of dance styles offered
Rental available
No cash payments
Inflexible refunds
Customer Reviews
Absolutely amazing
Best dance school IN IRELAND. They won Ireland's got talent and they really deserved it. I go there my self and the teachers are top notch and professional.
This place makes me feel at home. -Rosalily
Huge thanks to everyone involved in the funky kidz summer camp
It was the first time my little one left me to do anything like it and she absolutely LOVED it woke up every morning so excited to go to dancing and brought her out of her shell big time made loads of new friends too. All the staff were so kind and brilliant with the kids and made me feel very happy to leave her for a few hours she can't wait to go back in September thanks again -Aly Galvin
2. ITW Dance Studio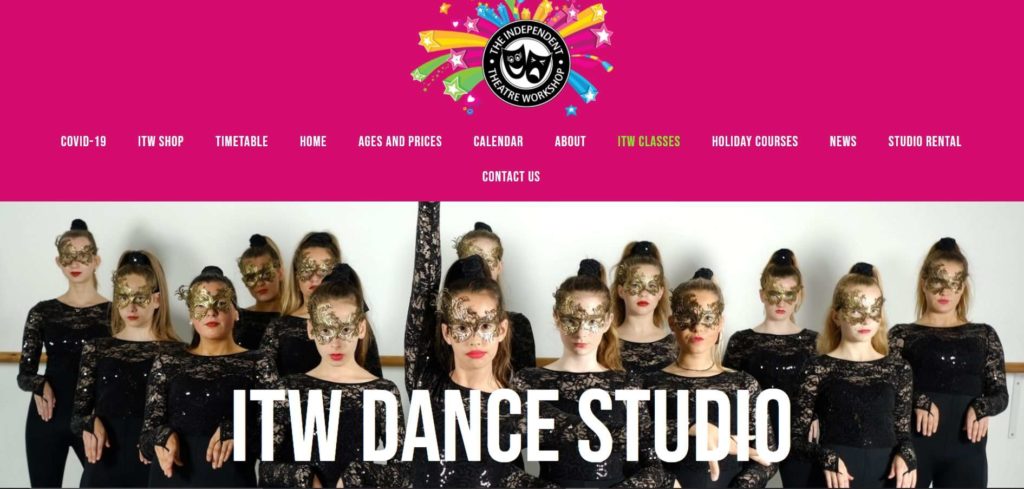 Test
Info
SERVICES
Dance memberships, dance classes for ages 3-18
WEBSITE
https://www.itwstudios.ie/itw-dance-studio
ADDRESS
Clonskeagh 8 Terminus Mills, Clonskeagh, Dublin 6 Ranelagh Beechwood Community Centre, Mountainview Road, Ranleagh, Dublin 6 Drumcondra

Arts and Business Campus, 40 Lower Drumcondra Road, Drumcondra Village, Dublin 9

CONTACT INFORMATION

[email protected]

+353 1 260 0831 / +353 1 219 6842

+353 1 260 0831 / +353 1 219 6842

OPERATING HOURS
Saturday: 9:15AM–7PM

Sunday: 10AM–4PM

Monday-Friday: 10AM–8PM
| | |
| --- | --- |
| Convenience | ★★★★☆ (4/5) |
| Classes Offered | ★★★★☆ (4/5) |
| Team | ★★★★☆ (4/5) |
| Student Satisfaction | ★★★★☆ (4/5) |
The Independent Theatre Workshop's goal is to foster creativity and confidence in growing students.
They teach a number of dance styles, such as lyrical contemporary, ballet, hip hop, jazz, and jazz fusion. We think it's a good range of modern styles that a lot of kids are interested in.
They also offer a Dance Membership, where students learn a variety of styles including jazz, hiphop, modern, and musical theatre techniques.
We like this option for children looking to be more versatile in their dance. This way, they'll get the fundamentals of each style without having to pay the full price multiple times.
Their classes are available for children between 3 and 18 years old, which means they unfortunately don't have classes for adults. We think it would have been great if this space could be shared with older students who are curious and open to learning.
Their dance memberships are €23.50 per week, which are paid in ten week installments three times per year. We find this to be of good value per week; however, a full year is expensive and will definitely be an investment.
This also means that your child will need to be committed for a full year. We would have liked to see some packages for shorter durations for people who may not be able to commit.
They also offer private lessons for €25 a week for members and €35 a week for non-members, which is a little expensive, but you get the full attention of your teachers and the whole session to yourself.
With all that in mind, the Independent Theatre Workshop also states that they aim to build a strong social community through their performances, where they give the students the chance to connect with and learn from professionals in their field.
We've gotta admit we love this, because growing up is a crucial time for socialization and finding direction. Interacting with successful alumni is a great way to see a possible future for them.
Wide range of dance styles offered
Good value package
Private lessons available
No shorter-term packages
No adults classes
Customer Reviews
Deep knowledge and experience
Gillian Oman and her team of dedicated professional teachers deliver first class tuition in all aspects of performance, and inspire kids of all ages to be the best that they can be. Gillian's deep knowledge and experience of the industry brings an additional dimension to ITW's reputation as one of the best performing arts academys in Ireland.. -Marianne Nolan
This is a wonderful place!
Highly reccommend to anyone considering sending their kids to drama or dance classes! Everyone is very welcoming and professional and most importantly very kind! It's a genuinely lovely place where you will learn lots, meet great people and make many happy memories -Jessie Sheehan
3. Wojtek Potaszkin Dance Academy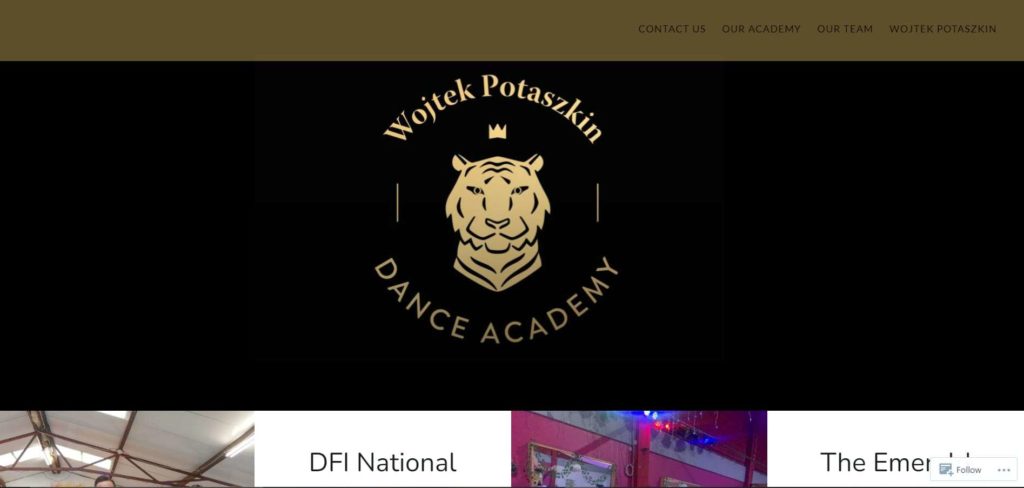 Test
Info
SERVICES
Rentals, classes for all ages
WEBSITE
https://wojtekdance.com/
ADDRESS
Wojtek Potaszkin Dance Academy Unit 1, Palmerstown Business Park Old Lucan Road Palmerstown Dublin 20
CONTACT INFORMATION

[email protected]

;

[email protected]

OPERATING HOURS
Monday-Friday: 9AM-7PM

Saturday: 9AM-3PM
| | |
| --- | --- |
| Convenience | ★★★★☆ (4/5) |
| Classes Offered | ★★★★☆ (4/5) |
| Team | ★★★★★ (5/5) |
| Student Satisfaction | ★★★★★ (5/5) |
Wojtek Potaszkin is a Polish dancer who received the World DanceSport Federation Adjudicator Licence, which is the highest judging license for dancesport competitions around the world.
In 2016, he was recognised by the DanceSport Federation of Ireland as the "Best Dancer in Ireland." With a background like this, it's no surprise that people from all over Ireland want to be taught by him and his team.
Some of the other instructors include Jacek Snochowski who is a multiple time winner of prestigious break dance competition Red Bull BC One Cypher, Elaine O'Dwyer who has won national titles in both the UK and Ireland, and Chris Dylus, who choreographed and directed an international Michael Jackson tribute tour.
We think this gives the academy a certain level of prestige, as you will be taught by some of the most decorated dancers in the world.
WPDA is the largest academy for Latin, ballroom, hip-hop, and breakdance in Ireland.
We love this range of dance styles, as most of the Latin and ballroom dance academies we found tend to stick to only those dance styles. We think it's really fresh to see ballroom competitors and world-class hip hop dancers train under one roof.
Their students range from 3 year olds to adults, which is awesome. With Wojtek, they all have opportunities to compete internationally.
In fact, the academy hosts one of the biggest dance events in Ireland every year, a competition called the DanceComp. This event invites dance schools and teams from over 8 countries worldwide.
We think that some people may find the high level of performance a little intimidating, as the academy prides itself on its discipline. However, according to our surveys, there is a balance of fun and study, and children love their classes.
We should also note that the studio has plenty of parking space, which is very convenient for many of you with cars.
Discounts are available for siblings and students taking a mix of different classes. Prices for both the classes and studio rentals can only be accessed by contacting the academy.
Award-winning teachers
Rentals available
Ample parking space
High level of expertise can be intimidating
Customer Reviews
Both my daughter aged 11 and son aged 16 attend this dance school, we've been involved with it for over 6 years now. It's a fantastic school with amazing kids and parents who support each other unbelievably! The school owner Wojtek is amazing at his job and undoubtedly the best in the business, giving all the students both young and old the best training and opportunities there are available.
Whether it be just for fun, fitness or competitive dancing, I can highly recommend this school to anyone. With Ballroom, Latin, Drama and Hip Hop classes available there's sure to be a class to suit all 😊 -Cathy Caulfield
We have been part of this dance school for many years.
Great range of classes for kids and adults as well as weekend workshops with top international teachers which is always exciting.
Ballroom & Latin dancing taught to a very high Competitive level plus beginner classes available for all ages.
Lovely studio space in Palmerstown. -Elaine Odwyer
4. Viva School of Dance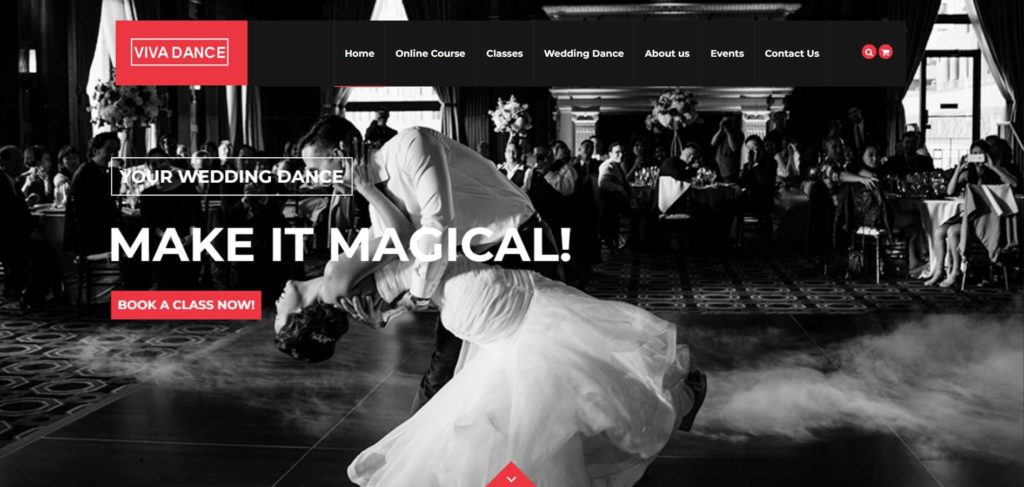 | Test | Info |
| --- | --- |
| SERVICES | Beginner, intermediate, and advanced classes, children and adults, online courses |
| WEBSITE | https://www.vivaschoolofdance.com/ |
| ADDRESS | 21 Esmond Ave, Drumcondra, Dublin 3, D01 WA07, Ireland |
| CONTACT INFORMATION | +(353) 087 348 7377 |
| OPERATING HOURS | Monday-Friday: 9AM-10PM |
| | |
| --- | --- |
| Convenience | ★★★★★ (5/5) |
| Classes Offered | ★★★★☆ (4/5) |
| Team | ★★★★★ (5/5) |
| Student Satisfaction | ★★★★★ (5/5) |
Viva School of Dance is run by World Dance Champion Marcin Syzmutko and Ksenia Yanchenkova, who both represent Ireland in World and European Latin Championships (Professional Division).
They are both respected members of the DanceSport Federation of Ireland. Marcin is Chair of the Media and Digital Marketing Department while Ksenia is the Vice President and Chair of the Athletes Commission.
With instructors who are highly respected in the dancesport scene, we can definitely guess that this school comes with a level of prestige you might want to experience.
They offer beginners, intermediate, and advanced classes for children and adults.We love that there are different levels within the age groups, so beginners who are starting a little later in life can definitely still join in on the action.
These classes are taught across several locations: Dance Ireland and Larkin College in Dublin 1, Scott Chaitriona Cailini in Dublin 5, Harold's Cross Primary School in Dublin 6W, and Tymon Bawn Community Center in Dublin 22.
We like that this gives you options for locations as well as classes, so you can choose classes that are the most convenient for you and your schedule.
Their adult dance classes cost €50 for 5 weeks and €15 for a single class while their children's classes start at €30 or €10 for a single class. These classes are definitely on the more affordable side of this list.
We love this value and think you can really save with this school. However, we should note that it's important for you not to miss a week during the duration of your course if you want your full money's worth.
Viva also offers wedding dance packages with 1, 2, 3, or 5 lessons, incidentally. Each lesson is an hour long and will cost you around €70, with the 3 and 5 lesson packages offering discounts.
Several locations
Great value
Wedding dance packages available
Award-winning teachers
Not as much range in styles of dance offered
Customer Reviews
I absolutely love the place!
Dance teachers are really positive and they always find a way to motivate people. They have so many different classes, and you can really find something for yourself. To be completely honest – I didn't try all of them, but I was looking at different geoups and they all look amazing! I decided to join after finding them on Facebook and Instagram (because I wanted to go back to dancing Latin) and so far I'm super happy with the classes. (Even my Covid fat is slowly going away ☺️)
Great space, great atmosphere, great workout, super fun! -Goran Gooxich
Great experience and super studio
Ksenia taught us our wedding dance and was amazing. Highly recommend this dance school! -Bex Towell
5. Dublin Salsa Academy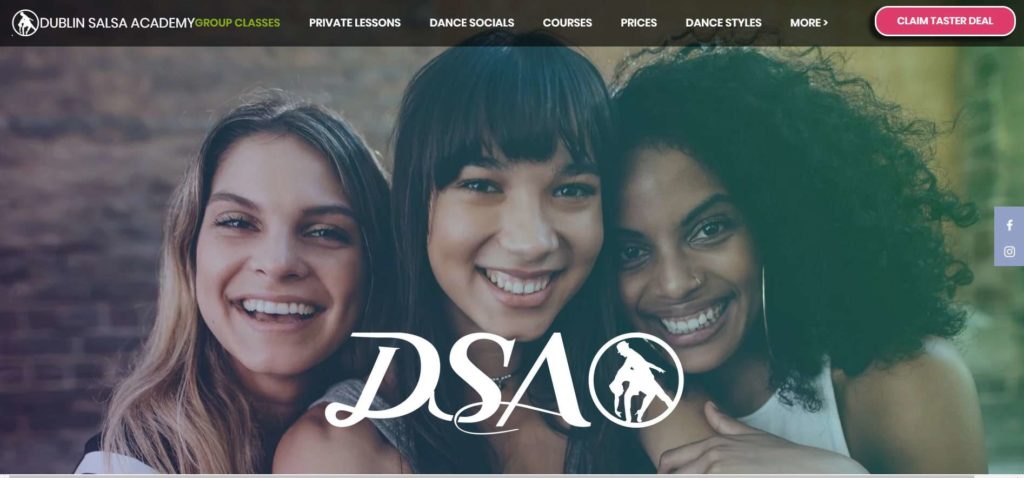 Test
Info
SERVICES
Beginner essentials courses, fundamental courses
WEBSITE
https://www.dublinsalsacademy.com/
ADDRESS
Custom House Dock IFSC, Dublin 1 City center, Dublin, D01 W0X8, Ireland
CONTACT INFORMATION

[email protected]

086-0379214 or 085-8609969

OPERATING HOURS
Monday: 6:30–11PM

Tuesday: 7–11PM

Wednesday: 6–11PM
| | |
| --- | --- |
| Convenience | ★★★★★ (5/5) |
| Classes Offered | ★★★★☆ (4/5) |
| Team | ★★★★☆ (4/5) |
| Student Satisfaction | ★★★★★ (5/5) |
Dublin Salsa Academy is run by Abel and Alina who are an active couple in the Dublin Latin Dance scene.
They are joined by four more dance instructors from all over the world, including India, Poland, Ecuador, and Lithuania. Abel is from Cuba, which they call the birthplace of Latin beats.
They offer classes in Cuban salsa, L.A. salsa line style, and sensual bachata. We'd always prefer a little more range in dance styles, but they are called Dublin Salsa Academy for a reason.
Their beginner 5-week essentials courses are only €40. They offer their classes three days a week, so you have the liberty of choosing which day works for you.
We love this deal because it's both affordable and flexible with scheduling. Even if you have to miss your usual Tuesday class, there are two more days for you to choose from so you can make the most out of your payment.
For their fundamentals classes, a drop-in class is €15 for a single session. You can save by getting a 2-session combo for €25.
They also offer membership cards at €46 for a month with a class per week, and €80 for 2 classes per week. We believe these are definitely reasonable prices for more experienced dancers.
You can also get private lessons at €50 per head for a class. This is definitely more expensive, but you'll have privacy and the full attention of your instructors.
One thing we'd also like to note from our surveys is the fun and judgement-free atmosphere their clients have gushed about. Overall, we think they're a solid studio to go to for anything Latin or if you're a beginner.
Affordable beginners essentials course
Flexible scheduling
Memberships available
Private lessons offered
Small range of dance styles
Customer Reviews
The right choice
I'm new to dancing and despite having limited experience from other schools, I knew I've made the right choice when I joined DSA. Both Abel and Alina are very friendly, professional and focused on details. They follow a very methodical approach in their teaching and break down the most complicated moves into easy to follow steps, making the process fun and engaging throughout. They provide quality feedback and a structure which helps you build and improve your social dancing skills. Apart from excellent teachers they are super kind and have great sense of humour! Join the team and you will not be disappointed 😉 -M.S.
I've never been in such an amazing school!
Great teachers, great atmosphere, smile, fun, energy… You'll be looking forward to the next lessons. Nobody judges anyone here. It doesn't matter who you are, how old are you or what are u wearing right now. Just come and have fun!
FAQs about dance classes
---
Want to learn a different set of skills? Here's our guide to the best cooking classes in Dublin.