The 5 Best Property Management Companies in Cork
As a landlord, you want your property to be well-maintained for your tenants. However, the whole process of selling and managing it in Ireland can get overwhelming and stressful.
For this, getting a property manager in prime areas like Cork would be useful. To extend your search, you could check out the best property management companies in Dublin or Galway too.
But before you look for companies offering property management in Cork, it's wise to evaluate the costs first.
How Much Does Property Management in Cork Cost
The cost of professional property management in Cork depends on factors like the exact location, type and size of the property, and extent of work to be done.
Property management in Cork may also charge higher fees because many houses here also charge higher rents.
But if you don't like the hassle of handling it on your own, getting a property manager is a way to go. Here are some estimates to get you started:
| Services | Estimated Fees |
| --- | --- |
| Property Management This typically includes rent collection, inspection, maintenance, tenant correspondence, etc. | Option 1: Flat fee |
| | Option 2: Percentage fee of 5 to 20% + VAT of the monthly rent |
| | Extra fees may also apply |
The Best Property Management Companies in Cork
We assessed some companies offering the best property management in Cork based on the following criteria:
1. AML Property Services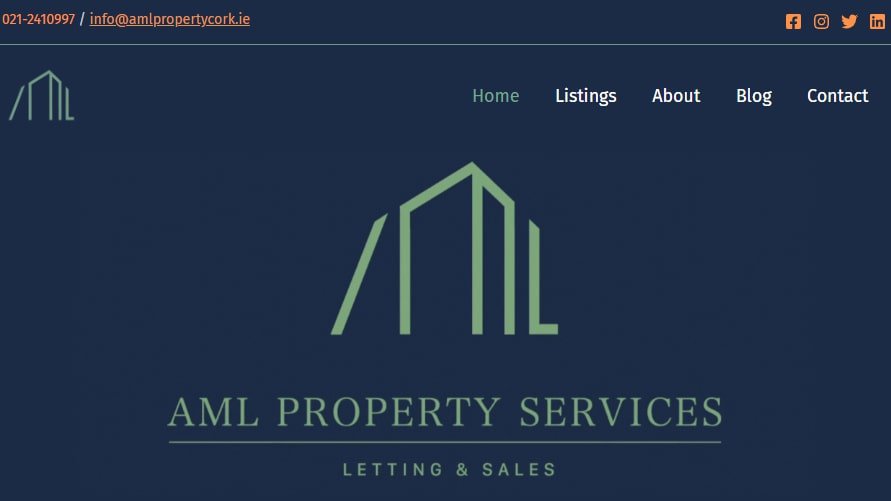 Test
Info
SERVICES
Residential Sales, Property Letting, Property Management, Snagging Services
WEBSITE
http://amlpropertycork.ie/
ADDRESS
No.1, Dunbar St, Ballintemple, Cork, T12 FRR3, Ireland
CONTACT DETAILS
021-2410997

+353 85 861 3338

OPERATING HOURS
Monday - Thursday: 8:30 AM - 6:00 PM

Friday: 9:00 AM - 5:00 PM
| | |
| --- | --- |
| CREDENTIALS | ★★★★☆ (4/5) |
| SERVICE | ★★★★★ (5/5) |
| COMMUNICATION | ★★★★★ (5/5) |
| EFFICIENCY | ★★★★★ (5/5) |
For us, property management in Cork is what AML Property Services excels at.
At first, it was stressful for us to look for trustworthy tenants. But to ease our worries, they diligently arranged viewings with suitable candidates, collected the reference checks, and managed them!
They also recommended beautiful furnishings and fittings to improve our property and make it a more attractive place to live in.
It soon became apparent that AML had years of experience because of how organised they were from start to finish.
We didn't have to worry about anything. They efficiently prepared our property for rental, alongside organising a BER certificate and other requirements for us.
In addition, they maintained our property with the cleaning and repairs in a timely and cost-effective manner. Routine inspections were carried out, along with a well-written report for our easy reference.
Communication was also great with their professional staff – their response time was impeccable!
They also kept us updated on everything and took care of the rent payments seamlessly.
It was also delightful that whenever we had clarifications to settle, they were attentive to resolve them as fast as they can.
Professional and good communicators
Impeccable response time
Effective and efficient
Detail-oriented
Closed during the weekend
Website may be a bit hard to read (dark background)
Customer Reviews
Super professional
"AML property services are a pleasure to deal with from start to finish. Super professional, friendly and efficient. Anything we needed Aíne dealt with immediately. Excellent service that I would highly recommend." – Andrea C
Highly recommended
"Aine was a delight to deal with and I would highly recommend her to anyone interested in her services. She made the journey so smooth and was so helpful. Thanks, Aine!" – Luke Daunt
2. Lisney
| Test | Info |
| --- | --- |
| SERVICES | Residential, Commercial, Advisory, Valuations, Research |
| WEBSITE | https://lisney.com/ |
| ADDRESS | 1 South Mall, Street, Cork, T12 CCN3, Ireland |
| CONTACT DETAILS | +353 21 427 5079 |
| OPERATING HOURS | Monday - Friday: 9:00 AM - 5:30 PM |
| | |
| --- | --- |
| CREDENTIALS | ★★★★★ (5/5) |
| SERVICE | ★★★★★ (5/5) |
| COMMUNICATION | ★★★★★ (5/5) |
| EFFICIENCY | ★★★★☆ (4/5) |
Dealing with your property can be demanding. This is why you should let experts like Lisney handle your property management in Cork.
We're lucky enough to have been provided by the exceptional service of Laura, the property manager assigned to us. She was personable and pleasant to talk to.
It was also nice to hear how well-informed she is about the market. We received some practical advice on how to maximise our prices too!
In addition, we commend how fast she replies to our queries and resolves our concerns. Her work ethic is outstanding and reassuring.
Some previous clients also swear by the marketing undertaken to sell their homes. They got excellent offers and couldn't be happier with how it all turned out.
But while we were fortunate to have such an attentive property manager, some clients before us didn't experience the same.
They were given a different property manager and though helpful at first, many issues emerged and they were rushed. This property manager has since then left the company and they were passed down to Laura.
This just means that the role of a property manager entails a lot. They need to be resourceful and relaxed yet firm, for things to run smoothly.
Overall, we highly recommend Laura from Lisney to guide your property management journey with the utmost professionalism!
Polite and friendly
Knowledgeable about the market
Responsive
Gives practical advice
Backed up by lots of research
Booking a valuation on their website is easy
Some property managers may get carried away with the stress
Not that active on social media
Customer Reviews
Lovely
"Lisney people are professional, responsive to queries and friendly. Got my keys today and even got a lovely scented candle that goes with it. Lovely gesture. Highly recommended.👌" – Maria Mia To
Top-class
"Our recent experience of purchasing a house from Laura Pratt of Lisney was top class. Laura is a true professional and was superbly informed on the property. Laura answered our queries promptly and was always available to take my calls. We appreciate Laura's honesty and integrity throughout the process. Thank you." – Marie McAuliffe
3. John D Sullivan & Co. Ltd.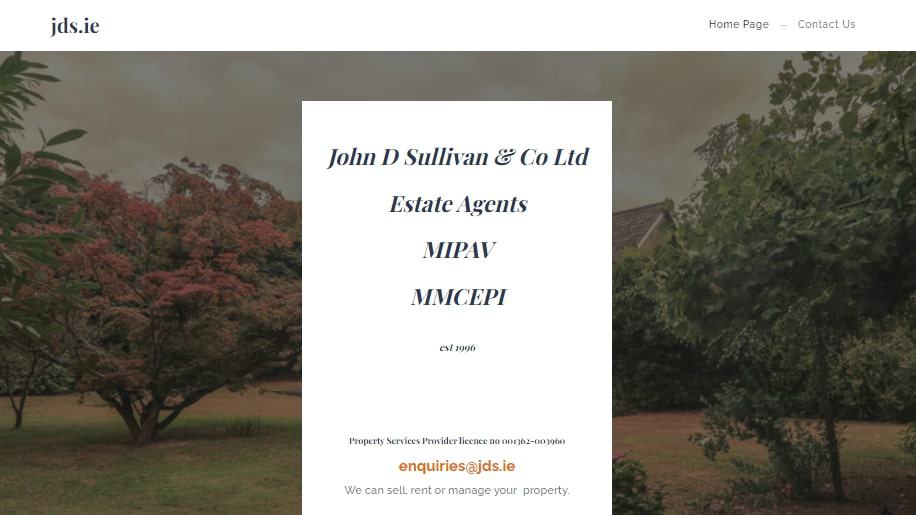 Test
Info
SERVICES
Property Services Provider
WEBSITE
https://jds.ie/
ADDRESS
Plunkett Chambers Business Centre, Oliver Plunkett St, Centre, Cork, Ireland
CONTACT DETAILS
Phone: 021-4279024

Fax: 021-4272099

Mobile: 086-2659968

OPERATING HOURS
Monday - Friday: 9:00 AM - 5:00 PM
| | |
| --- | --- |
| CREDENTIALS | ★★★★☆ (4/5) |
| SERVICE | ★★★★☆ (4/5) |
| COMMUNICATION | ★★★★★ (5/5) |
| EFFICIENCY | ★★★★★ (5/5) |
Selling the property is perhaps one of the biggest hurdles to overcome in our property management. Good for us, John D Sullivan & Co. Ltd. is an expert in this arena.
Their help and accommodation are invaluable in the whole process of selling our apartment. Any request or issue we had was immediately and seamlessly acted upon.
We also didn't have problems with following up on any queries because communicating with them was as easy as pie!
Several of their clients notably mention this company's courtesy and enthusiasm as well. It's nice to deal with friendly property managers because it eases the stress caused by selling or renting a house.
It was also lovely how they went above and beyond in making sure we got the best sale price. We're glad we didn't wait long to hire a property manager like them!
During the times when we had problems with paperwork, they were reliable enough to smooth things out. We didn't have to be afraid of anything holding up the sale because of their expertise.
It was no surprise they're great at what they do because they have already rented and sold a bunch of properties. This includes furnished and unfurnished apartments, renovated houses, a range of offices, and the like.
You don't have to hesitate to work with them, as most properties you can mention are probably already a part of John D Sullivan & Co. Ltd.'s portfolio!
Experienced, with good portfolio
Helpful and accommodating
Excellent communicators
Can easily report maintenance issues online
Website looks simpler than other established competitors
Website lacks info about their services
Customer Reviews
Fantastic
"Fantastic experience. Very professional." – Mary McHugh
Helpful and courteous
"Emer has always been extremely helpful and courteous to us and always followed up and responded very quickly to us over the years and especially over the last few months, during the sale." – James and Eileen Power
4. ERA Downey McCarthy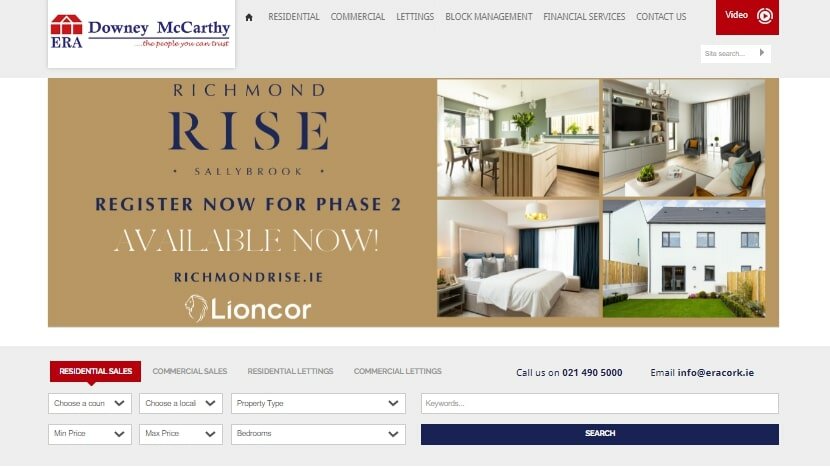 Test
Info
SERVICES
Residential Sales, Commercial Sales, Lettings, Block Management, Financial Services
WEBSITE
https://www.eracork.ie/
ADDRESS
60 South Mall, Centre, Cork, T12 E95F, Ireland
CONTACT DETAILS
Phone: 021 490 5000

Fax: 021 490 5005

OPERATING HOURS
Monday - Friday: 9:00 AM - 5:30 PM
| | |
| --- | --- |
| CREDENTIALS | ★★★★☆ (4/5) |
| SERVICE | ★★★★☆ (4/5) |
| COMMUNICATION | ★★★★★ (5/5) |
| EFFICIENCY | ★★★★☆ (4/5) |
Competent and organised, ERA Downey McCarthy is among the all-rounders delivering the best property management in Cork.
First of all, their property managers were approachable and good listeners. They focused on what we needed and wanted to happen for our property and accommodated them all.
There were times when selling or maintaining our property caused utter chaos in the middle of the paperwork and delays. For many, this can even lead to emotional distress.
Still, this company remained calm and showed us the highest level of professionalism in every way. They diligently concentrated on the solutions and were timely in keeping us updated.
We can say they made the whole process more understandable and easier for us to accomplish!
Most details were communicated to us via Whatsapp and all the information sent to us was comprehensive and useful.
Several clients of theirs also vouch for the good advertising campaigns made for their property to attract buyers or tenants. They took magnificent photos of the properties and made them look their best!
Additionally, their contacts with local landscaping and other contractors help them hire the most cost-efficient staff. Their extensive connections and resourcefulness saved us a lot for maintenance tasks!
We also liked how they checked in with us regularly. They were always quick to respond to the many questions we had.
But for some, there were instances when some repairs were overlooked. Make sure to promptly let them know about any cracks or damages to avoid miscommunication.
For decent property management in Cork, alongside good aftercare, reach out to ERA Downey McCarthy soon!
Approachable and pleasant
Responsive
Attentive to details
Lots of maintenance contacts
Good aftercare
Repairs could get overlooked at times
Some appointment notifications may take time
Customer Reviews
Positive experience
"Very positive experience dealing with ERA Downey McCarthy. Very attentive and responsive to our needs and requests, Nothing was too much trouble for them. Joe Healy in particular deserves special mention, an absolute gentleman who went above and beyond to assist us. Many thanks." – J Q
Friendly, professional, and swift
"ERA Downey McCarthy dealt with my house purchase in a friendly, professional and swift manner from start to finish. A five-star experience." – Michel Schellekens
5. Wallace Estates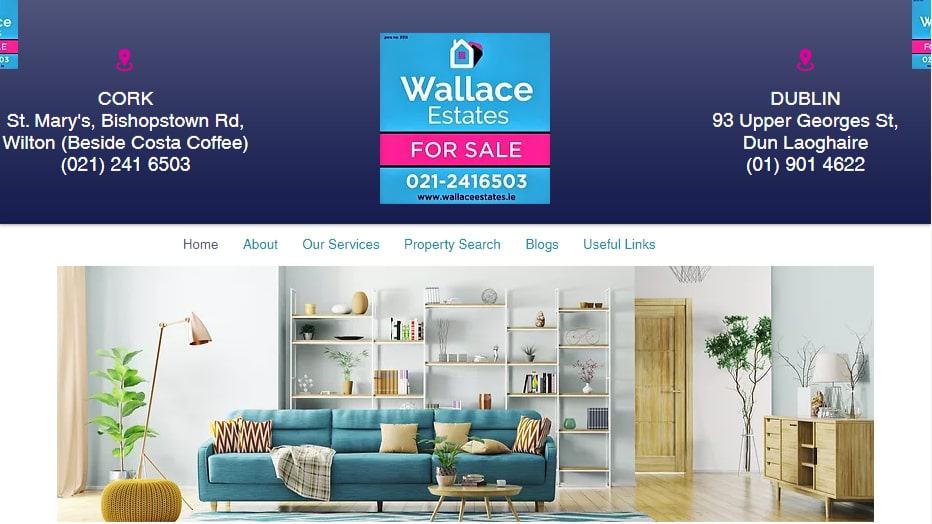 | Test | Info |
| --- | --- |
| SERVICES | Property Sales, Lettings, Management |
| WEBSITE | https://www.wallaceestates.ie/ |
| ADDRESS | St. Mary's, Bishopstown Rd, Wilton, Cork, T12 WFC2, Ireland |
| CONTACT DETAILS | +353 21 241 6503 |
| OPERATING HOURS | Monday - Friday: 9:30 AM - 5:00 PM |
| | |
| --- | --- |
| CREDENTIALS | ★★★★☆ (4/5) |
| SERVICE | ★★★★★ (5/5) |
| COMMUNICATION | ★★★★★ (5/5) |
| EFFICIENCY | ★★★★★ (5/5) |
With their incredible team, Wallace Estates' property management in Cork should not be disregarded.
Even beginners won't worry about the sale of their property, because this company delivers unrelenting support. Whether it is a legal or any technical matter, they took the time to discuss it with us in detail.
They're highly knowledgeable about the market and were able to provide us with a higher price for our property than what we expected!
Several clients also shared they've been working with Wallace for years! Any issues they voice out are always heard and resolved.
For us, honesty and prudence are always much appreciated.
That's why it was commendable that this company has a straightforward approach when dealing with concerns. We were sent a weekly report about online views, number of calls, number of viewings, and the like so we're kept in the loop.
They're always accessible to their clients and are eager to give a variety of suggestions and options when needed.
From the first to the last call we had with them, we were treated with respect. This made us feel comfortable talking about our property in the most honest way possible.
If you also want to experience a smooth journey with your property management in Cork, be sure to call Wallace Estates at your earliest convenience!
Respectful and knowledgeable
Straightforward with concerns
Skillful with managing property prices
Detail-oriented and sends reports
Some advertised house photos online have low quality
Some website pages are under construction
Customer Reviews
Pleasure to deal with
"Was a pleasure to have a deal with Wallace Estates. We were tenants for 2.5 years, never had issue, any needs were heard and done." – Fabio Roselló Salazar
Great experience
"We have had a great experience with Wallace Estates. They have been very professional and helpful. Highly recommend for anyone looking to rent in Cork." – Vera Stojanovic
FAQs About Property Management in Cork
---
There you go! We hope you liked our review of the best property management in Cork. May you achieve peace of mind as a landowner too!
If you want to find more property management-related services, start with our review of the best mortgage brokers in Cork to learn more!