The 5 Best Water Softener Companies in Ireland
Many don't pay attention to the quality of water they use at home. But if your health or the environment suffers because of it, you need to think otherwise or try ways to achieve a more eco-friendly home.
The formation of limescale, for example, is one of the concerns you might notice. Left untreated, this can reduce the effectiveness of soaps and detergents and may even cause costly plumbing repairs.
To avoid this, you can have your water source assessed and get a water softener in Ireland. But before reaching out to a water solutions company, it's wise to consider the costs first.
How Much Do Water Softener Services in Ireland Cost
It's best to consult an expert to ensure your water softener would fit your house's size and the number of inhabitants. The water hardness plays an important factor as well.
Here are the estimated prices for easy reference:
| Water Softener Installation | Estimated Costs *Installation and maintenance charges vary |
| --- | --- |
| 8 - 14 L (1 to 5 bedroom house) | €400 - €650 |
| 20 - 30 L (5 to 8 bedroom house) | €650 - €1,000 |
The Best Water Softeners in Ireland
We assessed some companies offering the best water softeners in Ireland based on the following criteria:
1. Water2buy Water Softeners
| Test | Info |
| --- | --- |
| SERVICES | Water Softeners, Reverse Osmosis, Water Filters |
| WEBSITE | https://www.water2buy.com/ |
| ADDRESS | European Fulfillment Center 1 The Business Center Northwest Logistics Park Ballycoolin, Dublin 15, D15 K138, Ireland |
| CONTACT DETAILS | +353 1 566 6509 |
| OPERATING HOURS | Monday - Friday: 8:30 AM - 5:00 PM |
| | |
| --- | --- |
| QUALITY | ★★★★★ (5/5) |
| EFFICIENCY | ★★★★★ (5/5) |
| CUSTOMER SERVICE | ★★★★☆ (4/5) |
| VALUE | ★★★★★ (5/5) |
Water2buy Water Softeners has a variety of water solution services to choose from. Among these are their water softener installation and replacement, reverse osmosis, water filter replacement, and the like.
We like that they arrived promptly and brought the water softener we ordered in good condition. It was also a delight to deal with their reliable customer service who helped us easily set up the control panel.
Whenever we had problems, nothing was too much trouble for them as well. Their diligent and constant assistance is much appreciated.
Sometimes, they could take a while to respond. But when they do, they make sure to cater to all our needs immediately.
There's also lots of helpful information about their products on their website and app. The instructions were clear and detailed enough for us to understand on our own.
We just wish they could improve on the sturdiness of their packaging too. While nothing was ruined, the items could still break while in transit.
Overall, they offer a tonne of services at competitive prices. They're also consistent in improving their app, videos, and manuals to support their DIY community.
If you want a cost-effective solution for your water filtration concerns at home, Water2buy Water Softeners in Ireland is there for you!
Detailed info on the website and app
Easy to install and operate
Helpful customer service
Cost-effective products
Low-maintenance items
Occasionally takes time to respond
Can have slight delays with the delivery
Packaging may not be the sturdiest
Customer Reviews
Looks great
"The water softener looks great, and although the installation of the connectors with their O-rings is a little muddling there is a wealth of helpful information available via the app. Looking forward to many happy years of soft water!" – Jonathan Baylis
Very pleased
"Very pleased with our water softener. Clear instructions for setting it up ourselves." – Tracy Rigby
2. Aquasoft® International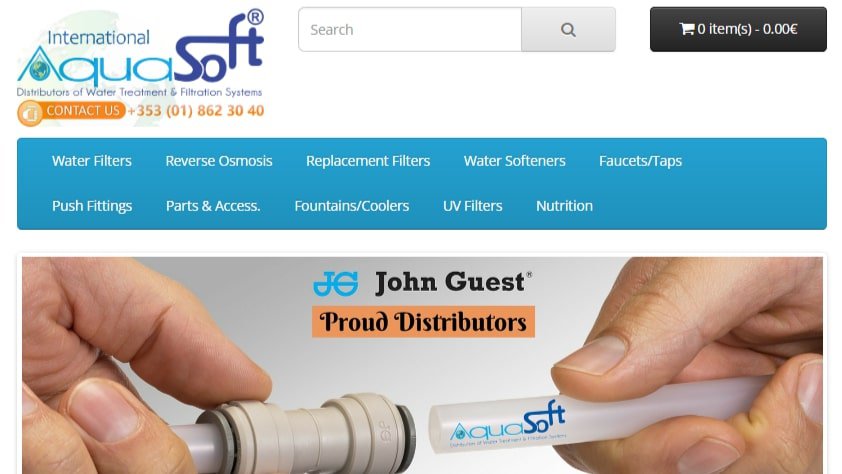 Test
Info
SERVICES
Water Softeners, Water Filters, Reverse Osmosis, Replacement Filters, Faucets/Taps, Push Fittings, Parts & Accessories, Fountains/Coolers, UV Filters, Nutrition
WEBSITE
https://www.aquasoft.ie/
ADDRESS
B14, Santry Business Park, Swords Rd, Turnapin Little, Dublin 9, D09 VW96, Ireland
CONTACT DETAILS
+353 1 862 3040
OPERATING HOURS
Monday - Thursday: 10:00 AM - 5:00 PM

Friday: 9:00 AM - 4:00 PM
| | |
| --- | --- |
| QUALITY | ★★★★★ (5/5) |
| EFFICIENCY | ★★★★☆ (4/5) |
| CUSTOMER SERVICE | ★★★★★ (5/5) |
| VALUE | ★★★★★ (5/5) |
With their good customer service, Aquasoft International is one of the easiest to reach for water solutions and water softeners in Ireland.
For one, their staff was a pleasure to deal with. They also offered numerous options and solid advice to suit our needs.
We appreciate that they took the time to explain the tiniest of details. It was challenging for us to make an informed decision at first, but they made this more manageable.
A client shares the staff even came out on a Sunday to look at their problem with the products. They were accommodating on all queries and follow-ups as well!
It was noticeable that the area worked on ended up spotlessly clean too! What's more, we commend that they helped us retain most of our storage space.
After a while of having broken appliances due to limescale formation, calling their team to fix these has improved their performance and longevity.
We noticed that they provide a tonne of water accessories on their website too! This is particularly useful if you're looking for various specific parts.
Just one thing, though. We hope they can improve on their delivery services, as there can be some delays and issues from time to time.
But all together, we're pleased with the results from Aquasoft International and we'll likely call them again soon.
Punctual and efficient
Clean setup
Gives good advice
Responsive to queries
Friendly and diligent staff
Occasional delivery problems
No email address displayed
Customer Reviews
Highly recommended
"Steve and his team at Aquasoft offer great advice on what is required to improve your water quality at home. This is backed up with an on-time and super efficient installation and backup service. Highly recommended." – Tom Campbell
Absolutely delighted
"Recently had our water softener installed by Steve and absolutely delighted with it. We did lose a press in the kitchen for the installation but 100% worth it in the difference in the water we now have, our skin and hair have cleared up so much and there are no residue marks left on our pots/pans etc. Steve is very friendly and helpful throughout the process." – Sarah Healy
3. Euro Water Solutions
Test
Info
SERVICES
Water Softeners, Water Filters
WEBSITE
http://www.eurowatersolutions.ie/
ADDRESS
Unit D1, N City Business Park, Finglas, Dublin, D11 FH22, Ireland
CONTACT DETAILS
+353 1 808 1378
OPERATING HOURS
Monday - Thursday: 9:00 AM - 5:30 PM

Friday: 9:00 AM - 4:30 PM
| | |
| --- | --- |
| QUALITY | ★★★★★ (5/5) |
| EFFICIENCY | ★★★★☆ (4/5) |
| CUSTOMER SERVICE | ★★★★☆ (4/5) |
| VALUE | ★★★★★ (5/5) |
For quick installation of water softeners and other water equipment, Euro Water Solutions is on our list!
On their website, we appreciate looking at comprehensive information about their services that could align with our needs.
There, we saw a handy reference table indicating the number of people living at home, alongside the size of the water softener and the type of equipment required respectively.
We think many could also benefit from the packages they offer too. These are composed of equipment, accessories, and free installation all in one!
From the moment we emailed them and got our initial response, they also showed us courtesy and friendliness. When we had suggestions to share, they took them professionally and greatly valued our feedback.
It also became evident how knowledgeable they are about their products as they talked us through our options.
They were hands-on and accommodated our needs throughout our purchase too. Their installation job was quick and efficient.
As a bonus, we appreciate the added shelf they made for us to maximise our space as well!
A customer also shared that they used to have dreadful limescale. Although it's not completely gone, most of it has already been eliminated because of Euro's help.
Nevertheless, several customers just had minor problems with their installation. These hiccups, however, were quickly remedied.
For the most part, Euro Water Solutions showed us excellent services at decent prices. Make sure to check them out for great water softeners in Ireland too!
Courteous and friendly staff
Knowledgeable and detail-oriented
Good communication
Great-tasting water
Maximises space
Installation issues may occur at times
May sometimes take time to respond
Customer Reviews
Satisfied
"Excellent service and great quality. Karl was a great salesperson who really intimidated all our needs throughout the purchase. I really appreciate the service. Overall much satisfied with the product." – Laveen Kumar
Very happy
"We had the water softening system installed about a month ago and are very happy with it. The drinking water tap is giving great tasting water, and there is a huge decrease in the limescale build-up around taps etc. Really friendly, obliging staff-I would really recommend Euro Water Solutions." – Grainne Hargaden
4. Water Man
Test
Info
SERVICES
Water Softening Equipment, Water Filtration, Purification Treatment
WEBSITE
http://www.waterman.ie/
ADDRESS
Derryglassaun, Menlough, Co. Galway, Ireland
CONTACT DETAILS
+353 86 444 0222

Michael Fitzpatrick: 087 975 1255

OPERATING HOURS
Monday - Friday: 8:00 AM - 8:00 PM

Saturday: 8:00 AM - 6:00 PM
| | |
| --- | --- |
| QUALITY | ★★★★★ (5/5) |
| EFFICIENCY | ★★★★☆ (4/5) |
| CUSTOMER SERVICE | ★★★★★ (5/5) |
| VALUE | ★★★★★ (5/5) |
Water Man has some quality services like water treatment, water filtration, and water softeners in Ireland you shouldn't miss!
We like how precise their installation job turned out. Their staff had engaging personalities during our conversations.
It was also refreshing that their team was honest about their evaluation of our water concerns.
They guided us on which services would result in the most savings. This was incredibly helpful in leading us to the best choices for our water filtration project.
Their work was also thorough and neat – what a bunch of perfectionists! They made sure there was enough space in our surroundings to work around too.
The quality of the water also greatly improved. A client even shared how excited he is to bathe and clean the house after their water softener installation.
In addition, it was interesting to learn about their rainwater harvesting systems. This is about making use of natural resources to minimise waste and reliance on the treated water supply.
However, it was difficult for us to look up more information on their website since it's still under maintenance. We hope their new and improved website comes along as soon as possible.
All in all, the entire experience with Water Man was pleasant and reassuring. We couldn't recommend working with them more!
Quality water softeners
Efficient installation
Thorough and neat
Pleasant drinking water
Only 1 main contact person
Website under maintenance
Customer Reviews
Fantastic quality
"The service was great and efficient. Very precise with the installation. The quality of the water is fantastic. Absolutely transformed our household. Will highly recommend it. After researching for a while, we decided to go with waterman and it was the best decision. Thnx Michael!" – Reena Carr
Great service
"Great service, very neat & clean. could not recommend Michael enough. Noticed an instant difference in the water. Wish I did it sooner. Thanks, Michael 👍" – Olga Roulston
5. Leo Forde Water Services Ltd.
Test
Info
SERVICES
Water Consultancy, Commercial Water, Domestic Water
WEBSITE
http://waterstore.ie/
ADDRESS
Dunshaughlin Business Park, Unit A5, Dunshaughlin, Co. Meath, A85 YP65, Ireland
CONTACT DETAILS
+353 1 801 1360
OPERATING HOURS
Monday - Thursday: 9:00 AM - 4:00 PM

Friday: 9:00 AM - 3:30 PM
| | |
| --- | --- |
| QUALITY | ★★★★★ (5/5) |
| EFFICIENCY | ★★★★☆ (4/5) |
| CUSTOMER SERVICE | ★★★★☆ (4/5) |
| VALUE | ★★★★★ (5/5) |
Leo Forde Water Services Ltd. envisions to treat every family to a healthier water source. They have a good number of domestic and commercial water services to meet various, specific needs.
When they serviced us, they wowed us with their experience and expertise in all aspects of water purification. This involves water softening, filtration, taste and odour removal, and many more!
One of their interesting services, in particular, is using ultraviolet systems. We learned that these are designed to kill any harmful bacteria before it enters our home.
They also recommended reading their informative blogs online so we could become familiar with innovative services that align with our needs.
Additionally, a customer told us that their previous low-grade water equipment failed and caused flooding years ago. But upon switching to Leo Forde, they don't want to go back to cheaper systems anymore.
This just goes to show that we should invest in better water solutions so they could be functional and durable for a long time. This could mean paying a little more for quality services.
But with Leo Forde, we believe we got what we paid for because of their top-notch equipment that lasts!
We just wish they would update their new web store soon because we'd like to see more of their updated services. For now, there are also only limited ways to contact them since they aren't that active on social media.
In the end, we're pretty satisfied with Leo Forde Water Services Ltd.'s comprehensive services. You should see for yourself too!
Experienced
Great value for money
Website provides detailed info
Transparent with product prices
Pending web store with updated services
Not that active on social media
Customer Reviews
Very pleased
"Very pleased with my water softener got from Leo Ford. A pleasure to deal with inc Paddy the installer. Many thanks." – Sean Fitzsimons
Happy with our setup
"Fantastic service, highly professional, clear pricing, clean installation, would 100% recommend. Very happy with our set up." – R Love
FAQs About Water Softener in Ireland
---
There you have it! We hope you liked our review of the best water softeners in Ireland. May you enjoy the benefits of soft water soon!
If you want to find more home and water-related services, start with our reviews below to learn more!
More Resources for Water Softener in Ireland