The 5 Best Plumbers in Ireland
Plumbers in Ireland are available to help you with any plumbing problem you may have. They can deal with everything from leaks and clogs, to installation and repairs.
Whether you're looking for a plumber for your home or business, professional plumbing services can help you find the right person for the job.

But for now, let us help you find the best plumbers in Ireland with this review!
How much does plumbing cost in Ireland?
The average cost for plumbing work in Ireland is €150. This amount includes materials and labor but does not include any hidden costs like taxes or permits. Here's our estimates for plumbing service rates:
| Services | Estimated Average Price |
| --- | --- |
| Kitchen Pipe Repair | €100.00 |
| Bathroom Pipe Repair | €125.00 |
| Pump Repair | €200.00 |
| Drainage | €100.00 |
| Oil Boiler Repair/Installation | €70.00 |
The Best Plumbers in Ireland
Plumbing is one of the most important parts of your home yet it's one of the most expensive parts as well. We used the criteria below to determine which plumbers are the best in Ireland:
1. Plumbers Near Me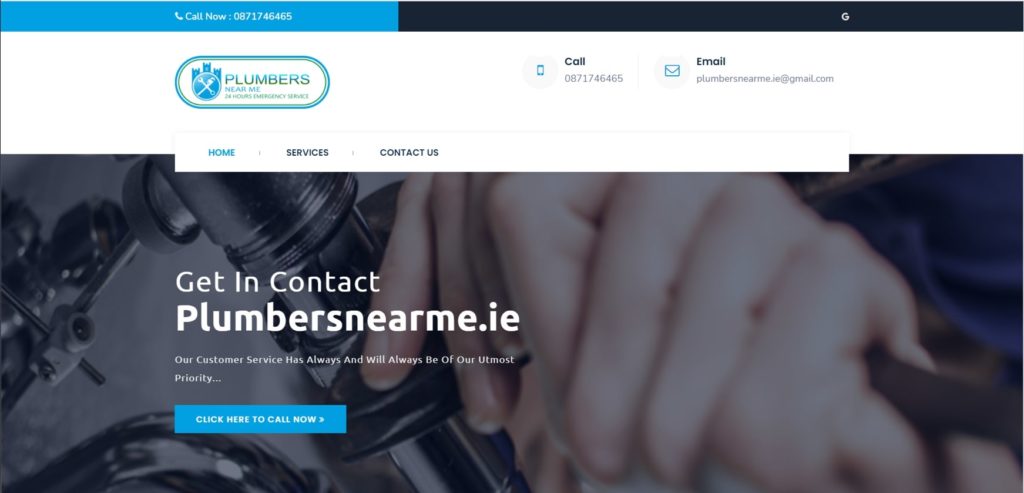 Test
Info
SERVICES

Residential and Commercial Plumbing

Emergency Plumbing

Tap Replacements

Boiler Installation

New/Reconditioned Pumps

WEBSITE
https://plumbersnearmedublin.com/
ADDRESS
15 Blanchardstown Rd N, Blanchardstown, Dublin, Ireland D15 HC8D
CONTACT DETAILS

Phone: +353 871 746465

OPERATING HOURS

24/7
| | |
| --- | --- |
| SERVICES | ★★★★★ (5/5) |
| EXPERIENCE | ★★★★★ (5/5) |
| ACCESSIBILITY AND AVAILABILITY | ★★★★★ (5/5) |
| PRICING | ★★★★☆ (4/5) |
Plumbers Near Me is the place to call when you need plumbing services in Ireland. This family-owned business has been providing plumbing services for 18 years, serving both residential and commercial clients.
What makes this an efficient plumber is its emergency service available 24 hours a day, 7 days a week!

So if your pipes burst in the middle of the night or on a Sunday afternoon, you can rest assured that someone will be on their way over immediately to get it fixed.
Not only that, but it also has experience with several different types of plumbing problems covering leaks and broken pipes. What's more, it is fully licensed so you can be sure that your plumbing job will be done properly and safely.
We also find its other services very helpful, such as tap replacements and boilers, and new or reconstructed pumps. Not to mention it's always open so you'll be assisted anytime in Ireland.
It's also easy to communicate with Plumbers Near Me. You can just send them a text message or email if you want to get in touch with its staff quickly.
The only downsides, which we think are just minor, includes the unavailability of its rates on its website and there's also no septic tank draining service.
Nonetheless, its emergency service and extensive pipe repair service make it worth trying.
18 years of experience
Serves residential and commercial 
Has emergency service
Always open
Rates unavailable online
No septic tank draining services
Customer Reviews
Fast response
"Great experience using Plumbers near me! Liam was able to come out within the hour of us calling, very fast response especially as this was outside business hours. Very professional and thorough, got to the bottom of the problem very quickly and even fixed the hinge on the attic door for us which was not part of his job! Highly recommend and will certainly be using him for any future plumbing jobs!" – Yvonne Smith
Excellent job
"Liam arrived promptly on a Sunday evening to fix a leaking pipe. He did an an excellent job and was thoroughly professional at all times. I wouldn't hesitate to recommend Liam to my friends and neighbours." – Mr Gormley
2. Dublin Area Plumbers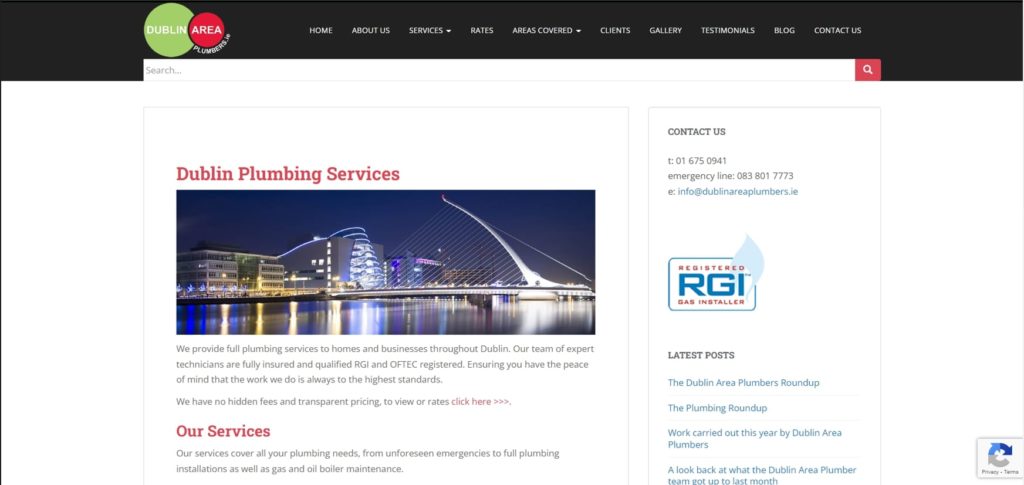 Test
Info
SERVICES

Plumbing

Diagnostic/Assessment

Breakdown

Maintenance

Repair

Gas Boiler

Emergency Service

WEBSITE
https://www.dublinareaplumbers.ie/
ADDRESS
1 Saint, St Andrew's St, Dublin 2, Ireland D02 R856
CONTACT DETAILS

Phone: +353 167 50941

OPERATING HOURS

24/7
| | |
| --- | --- |
| SERVICES | ★★★★☆ (4/5) |
| EXPERIENCE | ★★★★★ (5/5) |
| ACCESSIBILITY AND AVAILABILITY | ★★★★★ (5/5) |
| PRICING | ★★★★★ (5/5) |
If you're looking for a reliable plumber in Dublin, Ireland, you've come to the right place at Dublin Area Plumbers.
One factor that we really considered here is its wide range of plumbing services including repairs, replacements, maintenance and more.
We also find it helpful that its plumbers are qualified and experienced, so you can be sure that your plumbing issue will be resolved quickly and efficiently. They're also known for providing fast and clean service!
The diagnostic or assessment service is another big deal here. Though it's paid, it's a fixed price during regular business hours and can help you determine what needs to be done before any work begins.
In case of an emergency situation such as a broken pipe or blocked drain, it has a 24-hour emergency service so that your home doesn't flood or cause damage to other areas of your property.
Moreover, its qualified plumbers are good in doing regular maintenance that is affordable. Its call handlers are also happy to answer any questions that you might have about emergency services.
We like that they make sure that all of their products come with a warranty, so if something goes wrong with one of them, they'll cover it!
However, there is a slight difference for the charges between regular hours and post-working hours services, and that it only serves the Dublin area.
Don't worry, it's not too much and the quality of service it gives makes Dublin Area Plumbers a reliable plumber.
Qualified plumbers
Informative call handlers
Products have warranty
Fast service
Higher prices after office hours
Serves Dublin area only
Customer Reviews
Speedy and efficient
"Brian came to fix a tap for us. He was super speedy and efficient and made sure everything was working 100% before he left. I had asked him if he did gutters and drains as we had a blocked drain at the front of the house. Brian jumped straight into investigating and removed the blockage without extra charge! What a great service…" – Morgan White
Brilliant service
"We had taps dripping for weeks. Called Dublin Area Plumbers, the service was excellent. Brian called that evening and the taps were replaced within two days. Efficient, friendly and brilliant service. I would highly recommend them." – Janet Mahony
3. Stillorgan Gas, Plumbing & Electrical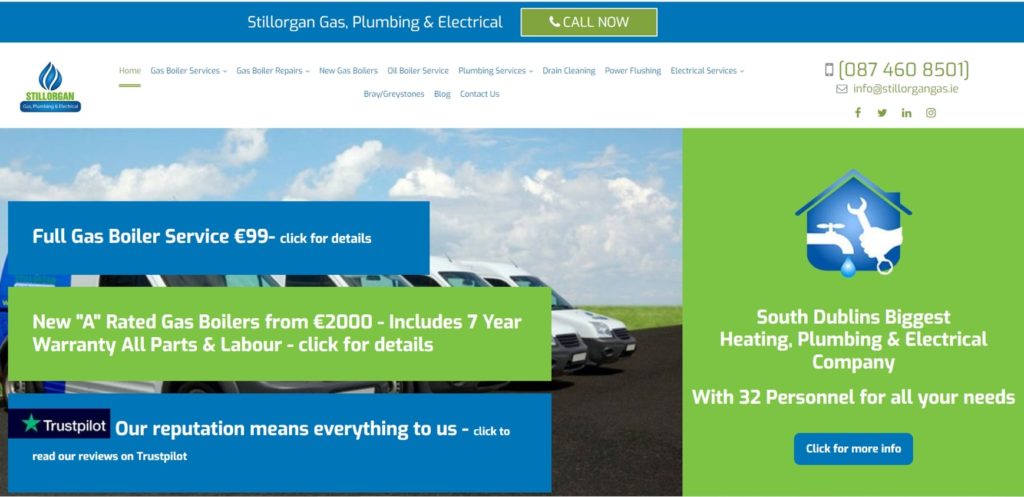 Test
Info
SERVICES

Gas Boiler Repair

Oil Boiler Service

Plumbing

Leak Repair

Flush Repair

Radiator and Bathroom Repair/Installation

Replacements

Drain Cleaning

Power Flushing and Washing

WEBSITE
https://www.stillorgangas.ie/
ADDRESS
Lower Kilmacud Rd, Stillorgan, Dublin, Ireland A94 T9R7
CONTACT DETAILS

Phone: +353 874 608501

OPERATING HOURS

24/7
| | |
| --- | --- |
| SERVICES | ★★★★☆ (4/5) |
| EXPERIENCE | ★★★★★ (5/5) |
| ACCESSIBILITY AND AVAILABILITY | ★★★★☆ (4/5) |
| PRICING | ★★★★☆ (4/5) |
We know you have a lot to choose from when it comes to plumbing services in Ireland. That's why we want to show you why Stillorgan Gas, Plumbing & Electrical is one of the best choices for your home or business.
It's been in business for decades and has worked with big clients both residential and commercial, even food establishments that require regular drain and pipe maintenance for grease and other substances that may cause blockage.
It has a great number of staff composed of 32 plumbers, engineers and electricians who are all ready to help you with any job, large or small.
From plumbing repairs and installations to gas pipes and electrical work, you can be sure that they can take care of everything.
What we like most here is its extensive draining services that are available 24/7. These include the use of CCTV surveying tech that can detect odor sources and problems faster and more accurately than traditional methods.
In addition, we like that its services guarantee a one-year functionality of its services. This is a great feature because it allows you to get the most out of their services without having to worry about anything breaking down after the installation.
However, its personnel may easily resort to replacements of damaged objects that can be fixed by repair. Its lines are also busy sometimes due to high demand.
Still, its experience in doing almost all house plumbing and electrical systems can assure you of a problem-fixed status after the service is done.
Works with big clients
Great number of staff
Variety of drain services
Uses CCTV surveying tech
Resorts to replacement
Busy lines
Customer Reviews
Done in a day
"We had a very positive experience with Alan and his colleague. We had a gas leak which could not be located. We needed to have a complete re-piping of our gas supply. Alan assessed the situation within a day of notification and then scheduled the installation for 3 days later. The service was efficient, courteous and done in a day. We were very pleased." – Jacqueline Hayden
Neat job
"Excellence all around. Rapid response (within an hour) from Shane to a serious leak. Arrived with replacement parts, neat job and really good price. Highly recommended emergency repair service." – William Roche
4. Paul Shortall Plumbing and Heating Ltd.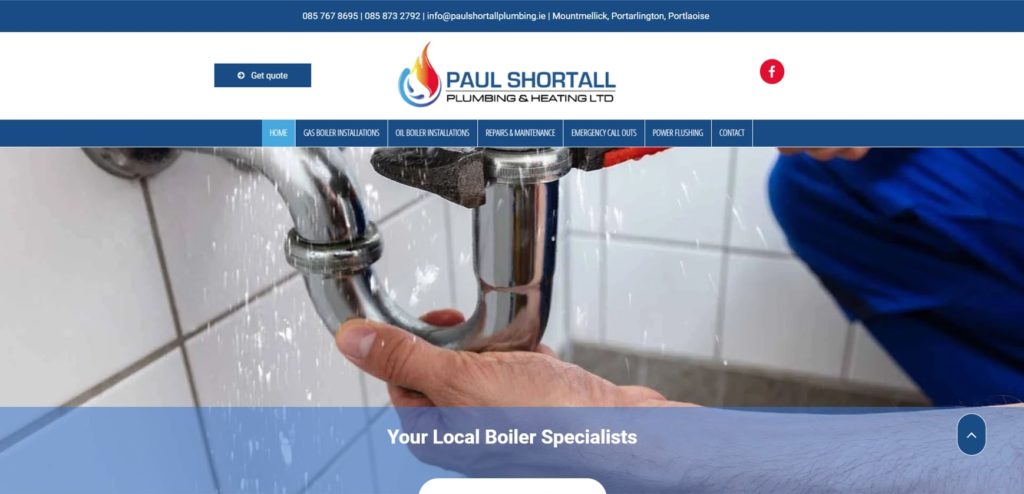 Test
Info
SERVICES

Gas Boiler and Oil Boiler Installation

Plumbing

Repairs and Maintenance

Power Flushing Emergency Services

WEBSITE
https://www.paulshortallplumbing.ie/
ADDRESS
4 Sarsfield St, Ballycullenbeg, Mountmellick, Co. Laois, Ireland R32 F963
CONTACT DETAILS

Phone: +353 858 732792

OPERATING HOURS

Monday to Friday, 8:30 a.m. - 5:30 p.m.
| | |
| --- | --- |
| SERVICES | ★★★★★ (5/5) |
| EXPERIENCE | ★★★★★ (5/5) |
| ACCESSIBILITY AND AVAILABILITY | ★★★★☆ (4/5) |
| PRICING | ★★★★★ (5/5) |
Located in Co. Laois, Paul Shorthall Plumbing & Heating Ltd. is an Ireland-registered gas installer and Oil Firing Technical Association-approved service that can help you with your household drain and heating issues.
What's good about this firm is it's fully insured and specializes in installing, repairing, and maintaining gas boilers, oil boilers, and central heating systems. So whether it's a pipe or temperature control problem, it has your back!
Also, it has an effective power flushing service that's quick and efficient. Not only that, but it's also good for almost all home heating systems and the effects are long-lasting because it doesn't use harsh methods and chemicals.
To ensure that you receive the best service possible, it has a team of highly trained technicians who have the skills needed to work on any type of system.
In fact, the company has been providing plumbing services in Ireland for over 30 years and offers a wide range of services to meet your needs.
Its experience ensures that it can handle nearly any situation with ease, so you know that you will be taken care of no matter what happens.
However, unlike other plumbers, Paul Shorthall Plumbing & Heating Ltd. only operates on weekdays during regular office hours, so make sure to check its schedule when you're also busy.
To compensate for this, this firm has emergency plumbing services during weekdays that are fast to respond to any call.
Long-lasting results
Specializes in heating systems
Fully insured
Over 30 years experience
Closed on weekends
No night service
Customer Reviews
Very tidy
"I have Paul done numbers of jobs for me for around 15 years. Best plumber. Couldn't recommend him enough. He's very tidy and done excellent jobs for me. Will be using him for rest of my life not changing plumber." – Fiona Mc Donald
Delighted with work quality
"Paul from the very start was so helpful. He discussed my options at length on the phone and called out to discuss my project. He was at the end of the phone, anytime I rang to answer questions, as plumbing I know nothing about. He was a very clean and tidy worker and I was delighted with the quality of his work and the price. I would confidently recommend Paul." – Michelle Howard
5. Drain Doctor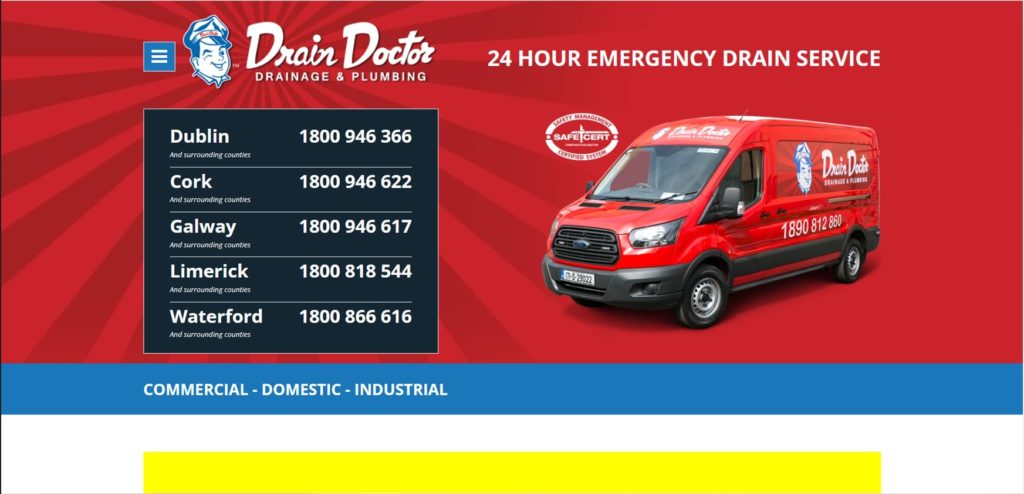 Test
Info
SERVICES

Drain Repair and Cleaning

Septic Tank System Services

CCTV Drain Survey

Emergency Plumbing

Toilet Unblocking

Excavation

Gutter Cleaning

Smoke Testing

Rodent Investigation

WEBSITE
http://www.thedraindoctor.ie/
ADDRESS
1 Chestnut Grove, Western Industrial Estate, Dublin, Ireland D12 CK4K
CONTACT DETAILS

Phone: +353 180 0946366

OPERATING HOURS

24/7
| | |
| --- | --- |
| SERVICES | ★★★★★ (5/5) |
| EXPERIENCE | ★★★★☆ (4/5) |
| ACCESSIBILITY AND AVAILABILITY | ★★★★★ (5/5) |
| PRICING | ★★★★★ (5/5) |
When it comes to plumbing, it's important to know that you're in good hands. And the Drain Doctor is here for you every step of the way.
Drain Doctor is a leader in plumbing, drain cleaning, and septic tank services. If you're curious about its specialization, it's on fixing all types of drainage systems but can still do rodent probing and even smoke testing!
Not to mention, it uses state of the art equipment when conducting drainage surveys to pinpoint what's causing your problem quickly.
Moreover, with multiple locations across the country, its staff are available to serve you with ease and efficiently. In fact, they are available 24/7, so you don't have to worry about calling at the wrong time.
And don't think too much about having to wait for an appointment—there are no callout fees with Drain Doctor!
Also, with Drain Doctor, you get comprehensive services that can also cover toilet unblocking to gutter cleaning.
But what really sets Drain Doctor apart is its commitment to providing excellent customer service. It doesn't surprise clients because it will discuss exactly what service is best for you, and they always deliver on its promises.
The minor concerns we have here is that the rates aren't stated on its website and there's no mention of post-repair services. These are no biggie, though, compared with the benefits of having your pipe system cleaned by one of the most trusted plumbers.
Comprehensive services
Multiple locations
Highly trained technicians
No callout fees
Unavailable prices online
No post-service care
Customer Reviews
Knowledgeable staff
"Really great service for a very fair price. Two lovely gents, very professional, knowledgeable friendly got the job sorted for me really quickly, cleaned up after themselves. I would highly recommend Drain Doctor." – Sharyn Rowat
Great service
"I rang with at about 7pm and they had an engineer back to me within 10 minutes to say he could call out within half an hour. Darren arrived on time and had our sewage problem sorted within the hour for nearly half the price of another company that wouldn't have been able to get an engineer out to us until the following day. Great service!" – Wayne Brogan
FAQs about the best plumbers in Ireland
---
Plumbing is a crucial part of your home. It keeps you safe and healthy, but it can also cause serious damage if it's not maintained properly.
When you're still looking for other plumbing services in Ireland, these reviews may help:
---