The 8 Best Window Cleaners in Dublin
Looking to get your windows sparkling again? You may be able to clean most of them, but what about those that are harder to reach?
Ditch the ladder and contact one of the best window cleaners in Dublin instead! We've already rounded them up in this article—you just need to check them out.
And if you need some tips to help you choose, we've got some of those as well, plus a couple of FAQs about windows.
Window Cleaning Service Fees in Dublin
Unfortunately, only 2 of our featured choices have info on their service prices. You can view them in the table below.
TheCleaningCompany.ie only gives a rough estimate of their service prices which is based on property type, as you can see. You'll need to fill out their quote form to get a more accurate service price.
Meanwhile, you'll need to contact the other 3 to get a quote.
WINDOW CLEANER
SERVICE
COST
TheCleaningCompany.ie
Window cleaning

Property type:
– Standard 1-3 bed, semi-D or terraced house
– 4-bed, semi-D
– -5+ bed
– Non-housing estate/countryside house
– Commercial property
€55 – €60 (incl. VAT)

€60 – €70 (incl. VAT)
From €60 (incl. VAT)
From €60 (incl. VAT)

From €60

Note: prices include VAT
Base Window Cleaners
Window cleaning
Need to contact
Cleanscapes
Window cleaning
Need to contact
ECS Cleaning Services
Window cleaning
– Minimum call outs; includes up to 10 windows
– 10-15 windows
– 15-20 windows
– 20-25 windows
– Area greater than 25 windows
€79.45

€96.47
€107.82
€119.17
Request free quote

Note: prices include VAT
Embassy Cleaning
Window cleaning
Need to contact
The Window Woman
Weekly and Monthly Commercial Window Cleaning Contracts
Starts at €100
Happy Clean
Window cleaning
Need to contact
The Best Window Cleaners in Dublin
Moving on, here are our top picks for Dublin's best window cleaners!
1. TheCleaningCompany.ie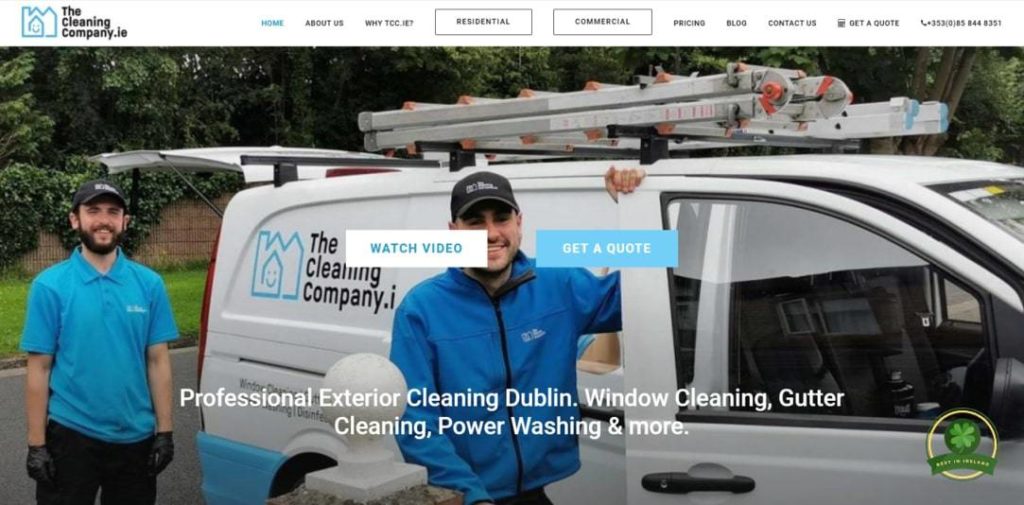 SERVICES
Residential:

Window cleaning, gutter cleaning, power washing, fascia & soffit cleaning, conservatory cleaning, soft washing/moss removal, roof cleaning, and bio-mist disinfecting

Commercial:

Window cleaning, gutter cleaning, power washing, cladding cleaning, facade & shop front cleaning, and bio-mist disinfecting
WEBSITE
https://thecleaningcompany.ie/
ADDRESS
Meadowfield, Corbally, Saggart, Co. Dublin
CONTACT DETAILS
+353(0)85 844 8351


[email protected]

OPERATING HOURS
24/7
TheCleaningCompany.ie is a family-owned cleaning service company with over 200 5-star reviews online. It boasts of cleaning more than 70,000 windows and servicing over 1,000 clients annually.
For residential clients, TheCleaningCompany.ie utilises the reach and wash cleaning system to clean windows. This system involves scrubbing windows and panes and cleaning with pure water.
They also use this for commercial clients, including other methods such as the traditional budget and squeegee method. In addition, they're equipped with cherry pickers, also known as mobile elevating work platforms (MEWPs) to clean windows in multiple-storey buildings.
Actually, TheCleaningCompany.ie has serviced some popular commercial clients such as Burger King, Tiny Tots, Subway, and Tesco, among others.
What's more, they're one of the few window cleaning companies we've seen that offers bio-mist disinfecting services. This service can eliminate viruses and bacteria such as E. coli, Salmonella, Legionella, swine flu, norovirus, and more.
Another service of theirs we'd like to highlight is their cladding and facade/shop front cleaning. This is ideal for commercial clients as keeping a clean and neat shop front helps give customers a good first impression.
Moreover, they're a reliable service provider as they have a hotline that's available 24/7. Add to this is their wide service coverage which includes not just the entirety of Dublin but parts of Kildare, Meath, and Wicklow.
24/7 hotline
Wide service coverage
Offers other cleaning services
Has serviced well-known clients
Has pricing info
No house cleaning services
No info on service fees for weekends and beyond office hours
Customer Reviews
The reviews below are just a few of the numerous positive remarks TheCleaningCompany.ie has garnered for their cleaning services:
"Luke and his team did the most amazing job of our windows inside and out. Extremely efficient and professional from start to finish. They took great care of our property while here also. They are really the best window cleaning service we have ever used and I can highly recommend the service." -Jean Ann Taylor
"I use TheCleaningCompany.ie to clean the windows in my business premises and my home. They always do a fantastic job. Would recommend to anyone. Update: fantastic clean by Stephen this week. These guys continue to provide a brilliant service." -Aisling O'Leary
"Very professional and friendly service. I wouldn't hesitate to recommend this company." -Catherine Jones
2. Base Window Cleaners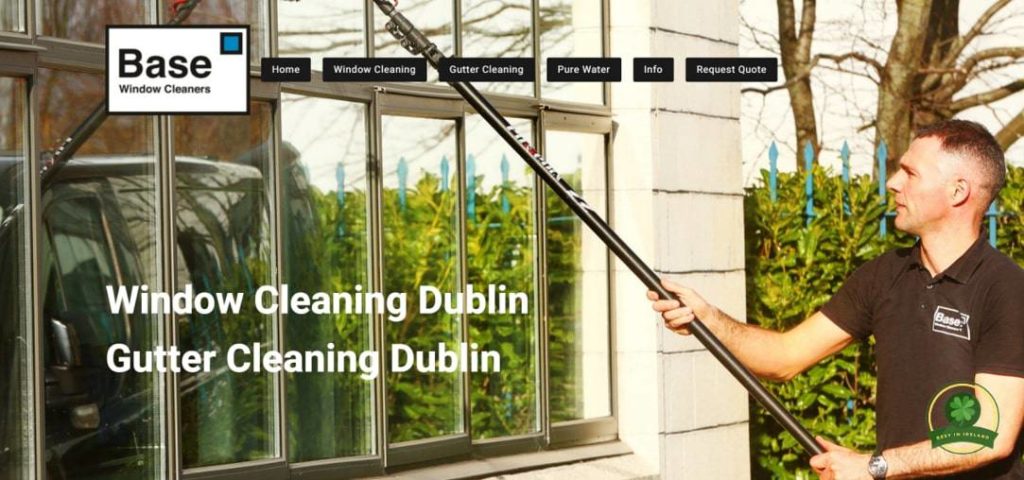 SERVICES
Window cleaning, gutter, fascia, and soffit cleaning, and Base pure water supplier
WEBSITE
https://basewindowcleaners.com/
ADDRESS
Hireco Park, Long Mile Road, Dublin, D12 EPY6
CONTACT DETAILS
01 598 4227


[email protected]

OPERATING HOURS
8:00 am to 10:00 pm (Monday – Friday)
8:00 am to 8:00 pm (Saturday – Sunday)
Base Window Cleaners may only offer a limited list of cleaning services, but they're another reliable service provider with plenty of good reviews. They have long operating hours and service clients all week long.
They clean the windows of homes, apartments, conservatories, high-rise buildings, schools, hotels, factories, supermarkets, cafes, and many more.
What's unique about this cleaning company is that they're actually a supplier of purified water to other members of the window cleaning industry. This is added assurance for clients concerning the water they're using to clean windows.
Base Window Cleaners is equipped with almost 1,000 litres of water in its vans to clean the exterior windows of clients. Meanwhile, they clean interior windows with a soap applicator and then dry with a squeegee.
Furthermore, they also utilise a water-free glass cleaning tool which is ideal for office glass, high-glass windows, and roof skylights, according to them.
Base Window Cleaners can clean windows with a height of 20 metres using their water-fed poles. Additionally, they have access to cherry pickers for windows that are harder to reach.
In terms of their team's credentials, they have certifications for courses such as Safe Pass, manual handling, and operation of MEWPs. These qualifications are important since window cleaning can be a risky job.
Open 7 days
Long operating hours
Purified water supplier
Limited cleaning services
Doesn't clean frames of internal windows
Customer Reviews
The two customers below had a satisfactory window cleaning experience from Base Window Cleaners:
"Paul and his team came when they said they were coming. They moved quietly and unobtrusively both inside and outside the building and did a fantastic job. It is a residential care facility and with many windows.They did a thorough job of cleaning the guttering and removed some growth and blockages.They cleaned the windows and later checked and buffed where there was a delayed dribbling due to an air vent in window frames that retained some water. The housekeeper and long term residents said it was the first time they ever saw the windows so clean in years. We will definitely be booking Base Window Cleaners again and I can heartily recommend them." -Phillip O'Halloran
"So easy to deal with + I don't think my windows have ever been so clean!" -Marzi Pan
3. Cleanscape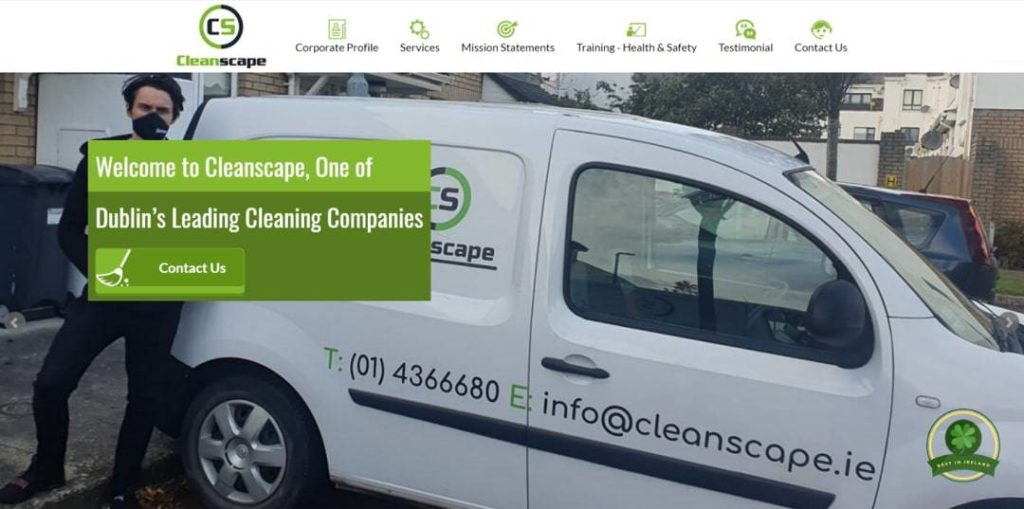 SERVICES
Office cleaning, carpet cleaning, window cleaning, ground maintenance, power washing, house cleaning service, student accommodation cleaning, apartment cleaning, school cleaning, commercial cleaning, and janitorial services
WEBSITE
https://www.cleanscape.ie/
ADDRESS
6 – 9 Trinity St, Dublin 2
CONTACT DETAILS
014366680


[email protected]

OPERATING HOURS
7:00 am to 6:00 pm (Monday – Friday)
7:00 am to 3:00 am (Saturday)
In terms of training qualifications, Cleanscape's cleaning staff are all certified by the British Institute of Cleaning Science (BICSc) which boasts of being the largest independent, professional, and educational body within the cleaning industry.
Cleanscape offers a wide array of cleaning services for both residential and commercial clients. Hence, they're one of the cleaning companies we'd recommend if you'd like to have your whole house, apartment, office, and so on cleaned, not just your windows.
They utilise a water-fed pole system that can reach windows from a height of up to 65 feet, about the height of the fifth to the sixth floor.
However, we did notice that they make no mention of also using cherry pickers/MEWPs, so we're unsure how they'll be able to clean hard-to-reach windows.
On the other hand, they've got 24-hour customer care service, so you can call them anytime. And while their operating hours don't go beyond 6:00 pm, they're almost open for 24 hours on Saturdays.
Open 6 days
Longer operating hours on Saturdays
24-hour hotline
BICSc certified
Extensive cleaning services
Closed on Sundays
No mention of cherry pickers/MEWPs
Customer Reviews
Conor Gallagher and Helen Rice are clients that have availed of Cleanscape's services more than once. Read their feedback:
"We have used Cleanscape Limited now for over 10 years for both office and domestic cleaning. They are a very professional company who are punctual, thorough and reliable. James Rice the owner, is always easy to reach and very helpful." -Conor Gallagher
"We have used Cleanscape a number of times and have always found James and his team to be reliable, punctual and courteous and their cleaning is to a very high standard." -Helen Rice
4. ECS Cleaning Services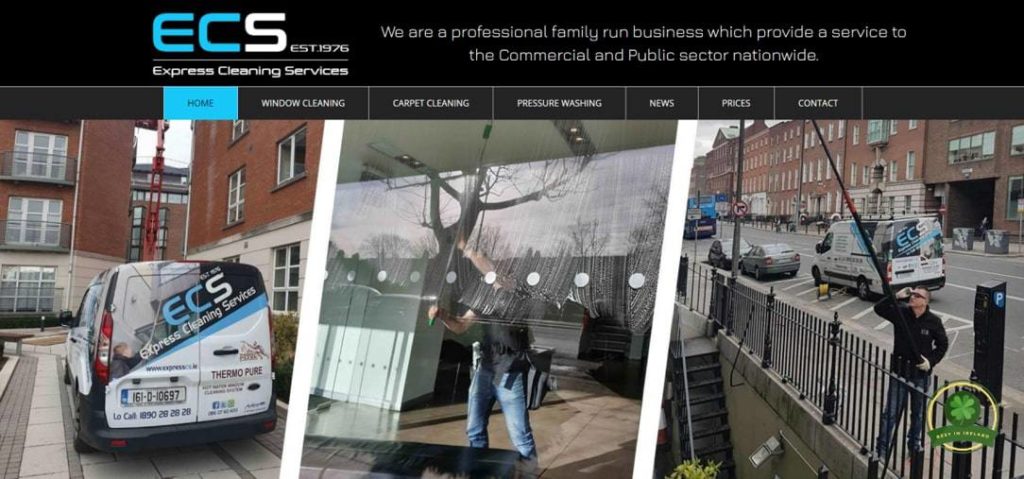 SERVICES
Window cleaning, carpet cleaning, pressure washing, house cleaning, and conservatory cleaning
WEBSITE
https://www.expresscs.ie/
ADDRESS
Arbour Hill, Dublin 7
CONTACT DETAILS
1890 28 28 28
086 076 0600


[email protected]

OPERATING HOURS
8:00 am to 6:00 pm (Monday – Friday)
9:00 am to 3:00 pm (Saturday)
ECS Cleaning Services initially started in 1976 as a company that offered only window cleaning before expanding its offerings to include more cleaning services. In other words, they've got more than 40 decades of experience cleaning windows.
Similar to their competitors, ECS utilises the reach and wash system to clean their domestic and commercial clients' windows.
This system involves using a pole with a brush at the end. The pole serves to feed water to the brush which then moves across windows to clean them.
Moreover, this system does not incorporate detergents and uses only purified deionised water. They're also equipped with 650-litre water tanks to clean multiple windows and can clean windows with a height of up to 80 feet.
They don't mention using cherry pickers/MEWPs in their services, but from the pics posted on their website, apparently, they also use one.
Meanwhile, ECS's minimum call-out is up to 10 windows, priced at €70, excluding VAT. Our advice is to clarify with them if this price is fixed regardless of having less than 10 windows.
If so, the €70 minimum call-out fee may not be worth it if you only have a few windows.
Open 6 days
Offers other cleaning services
Has pricing info
Closed on Sundays
No mention if also available beyond office hours and weekends
Customer Reviews
Timmy Horgan, an ECS customer, says he is "very happy" with ECS. Read his full statement below:
"Very happy – professional, courteous, good humoured, offered advice without any pressure to undertake. Will call on them again." -Timmy Horgan
The client below may have had unpleasant experiences with other window cleaners, but he had good things to say about ECS. Check out what he said:
"I was a bit weiry about getting professional window cleaners in due to previously bad experiences with others. I searched ECS and they were with me the same day. They done an excellent job inside and out. Will definitely recommend and most definitely use again. I think the guys name was Martin..thank you Martin." -Patrick McGranaghan
5. Embassy Cleaning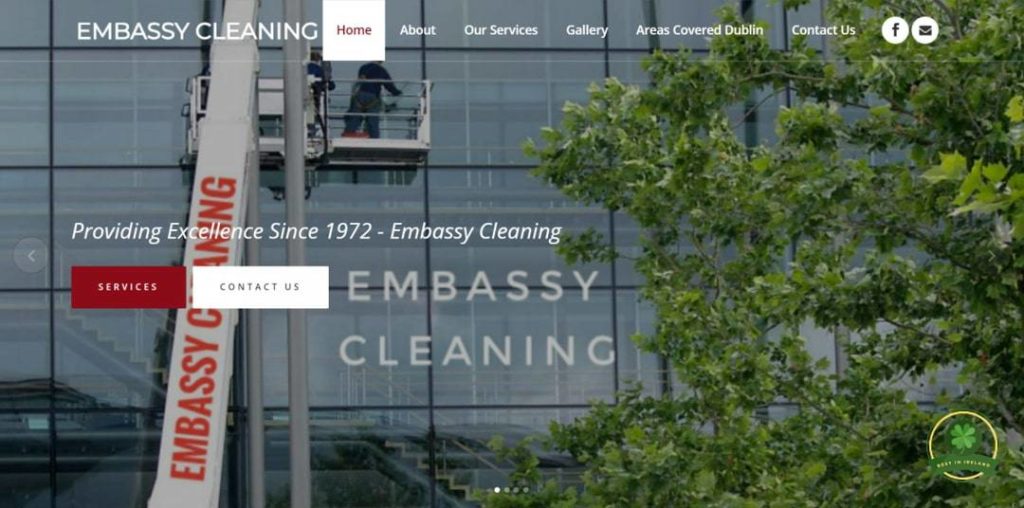 SERVICES
Window cleaning, carpet cleaning, cladding cleaning, power washing, gutter cleaning, and residential cleaning
WEBSITE
https://www.embassycleaning.com/
ADDRESS
Head office:
49 Fitzwilliam Square, Dublin 2

Northside office:
Unit 10, Abbey Business Park, Baldoyle Industrial Estate, Dublin 13
CONTACT DETAILS
Head office:
01 8326266

Northside office:
01 6776239



[email protected]

OPERATING HOURS
9:00 am to 5:00 pm (Monday – Friday)
Established in 1973, Embassy Cleaning is a family-run company that has more than 40 years of experience in the industry.
They're willing to render their services even beyond office hours and on the weekends, so you most likely won't need to adjust your schedule to hire them. Plus, they cover all areas in Dublin.
Catering to both residential and commercial clients, Embassy Cleaning utilises cleaning techniques such as the reach and wash system, hoist access, and safety harness eyebolt cleaning service to clean windows.
They also use cherry pickers and hydraulic platforms among other equipment to carry out their window cleaning services.
Moreover, Embassy Cleaning has other cleaning services, including residential cleaning. Hence, they're another ideal cleaning company to tap into if you require a more comprehensive cleaning service.
Unfortunately, this cleaning service is only limited to houses and apartment blocks and is not for other types of establishments.
Also, they don't give any info on their service prices, only free estimates. In particular, ask if they charge higher for beyond office hours and weekend services.
Available beyond office hours and weekends
Covers all Dublin areas
Free estimates
Has other cleaning services
No pricing information
Only offers residential cleaning
Customer Reviews
Embassy Cleaning hasn't got a lot of reviews yet from its clients. However, one of the few who left a comment for them says that she's been their customer for around 2 decades:
"Been using Embassy Window cleaners for 20 odd years… quite honestly I think they're the best in the business… highly recommended." -Maria Heather
6. The Window Woman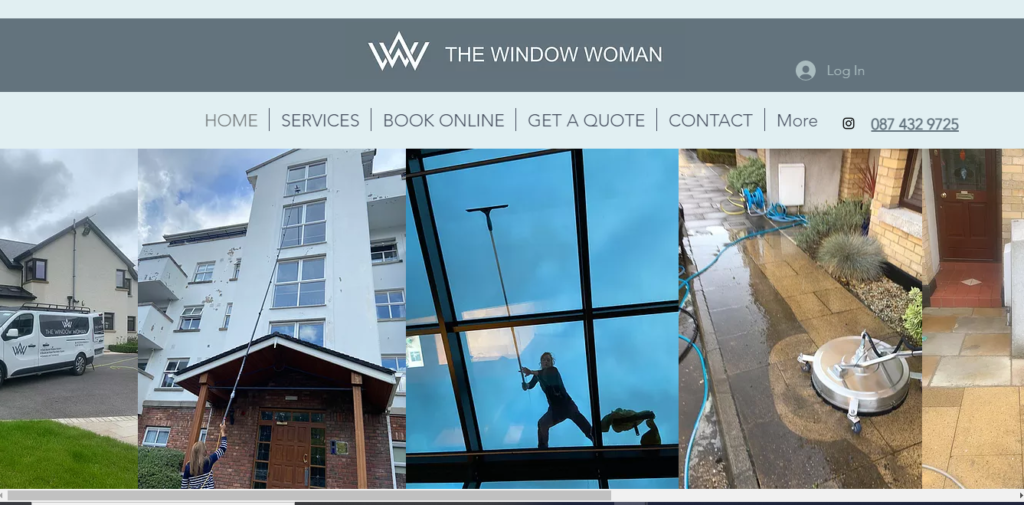 SERVICES
Reach & Wash Pure Water System up to 50 feet, Domestic and Commercial Contract Cleaning, Inside and Outside Window Cleaning, Professional Deep Clean Power Washing, Patio and Decking Restore, Fascia Soft Wash
WEBSITE
https://www.thewindowwoman.ie/
ADDRESS
Killiney, Co. Dublin
CONTACT DETAILS
+353 86 398 4142 (available 8am – 7pm Monday to Saturday)
0874329725


[email protected]

OPERATING HOURS
Operates 7 days a week
The Window Woman is a window cleaning company based in Dublin that accommodates a wide array of cleaning jobs such as apartment blocks, hotels, retirement homes, schools, factories, estate homes, and the like.
The company also services all Dublin areas and offers both commercial and residential cleaning as well as other additional services such as deep clean power washing and fascia soft wash among others. Though there are no plans available on their official website, clients may easily request additional services prior to the appointment by simply getting in touch with them.
Clients are also offered free quotations on cleaning jobs they wish to be done by them in order that they can ensure that the said job is within their budget. They may also choose to book their appointments online hassle-free by sending a picture of the said window or windows they intend to get a cleaning job on.
We recommend this company for any Dublin-based window cleaning as they are highly acclaimed by their past clients to be very accommodating and professional, all while delivering high-quality workmanship.
Services all areas in Dublin
Free quote
Professional cleaning services
Phone line isn't available on Sundays
Customer Reviews
Here are some reviews from their clients:
"WW provides a very professional window cleaning service; Always smiling and helpful; Highly recommended." – Liam O Donovan
"Need your windows cleaned – inside or outside or both? We can definitely recommend The Window Woman. They arrive with all they need to do the job & leave the home owner with Sparkling Windows 🎉🎉" – Margaret McKleon-Boyle
7. Men in Black Property Maintenance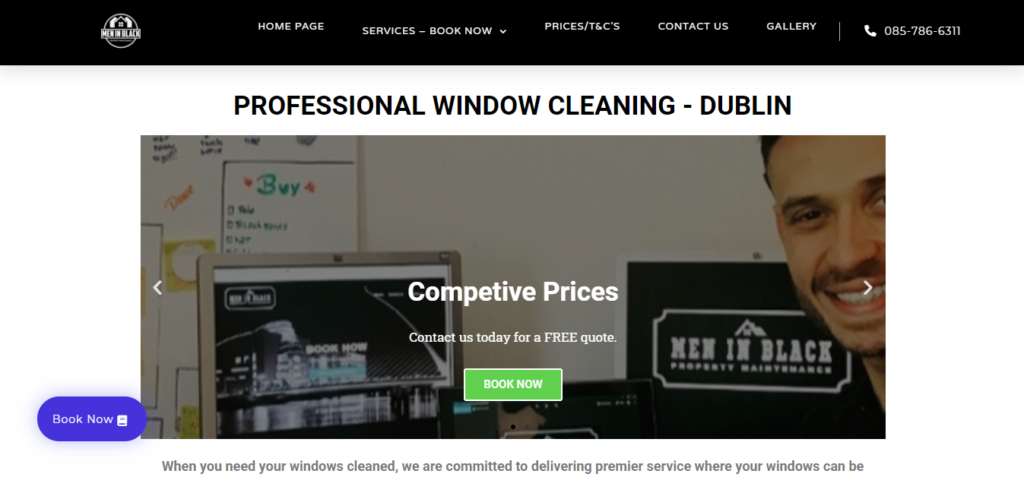 SERVICES
gutter cleaning
Window Cleaning
Property Cleaning
Chimney Sweep
Roof Services
WEBSITE
https://www.mibireland.com/
ADDRESS
Santry, Dublin – Ireland
CONTACT DETAILS
(085) 783 6311.
OPERATING HOURS
09:00 – 18:00
Looking for a professional window cleaner? Well, you are in luck because we can recommend Men in Black Property Maintenance for many reasons.
First of all, their team is committed to delivering a premier window cleaning service wherein your windows will be cleaned both inside and out. Second, with a starting price of €50, they can clean up to 5 windows and their frame.
The third is their hassle-free online booking. Since they have an easy interface, with only a few clicks, you will get to book their professional cleaners.
Their payment options are Mastercard, VISA, Discover, and AMEX.
Rates are available on their website
Free quote for 9 windows and above
Do not cover Dublin 1 and Dublin 2
Customer Reviews
Here are some testimonials from their clients:
"Tiago gave my family and I an amazing service when we had an emergency with our stove last weekend and needed our chimney checked and cleaned. Tiago is so professional, courteous and competent in all that he does. He is so thorough in his work and reliable too. I could not recommend Tiago and his company more to any other customer" – Catherine Byrne
"Would highly recommend MIB property maintenance.Tiago and his team are prompt and very professional in dealings with their customers. They offered us a very competitive price for gutter cleaning on a 4 bed house. We had a small miscommunication in relation to the services offered as we assumed this also included the fascia cleaning (extra cost), but Tiago came back to us at a later date and completed the job in full and to a very high standard. He even went as far as checking with us during the job to ensure we were happy with it. Would gladly do business with these guys again and wish them all the best with their business. Highly recommended" – Gary Smith
8.   Happy Clean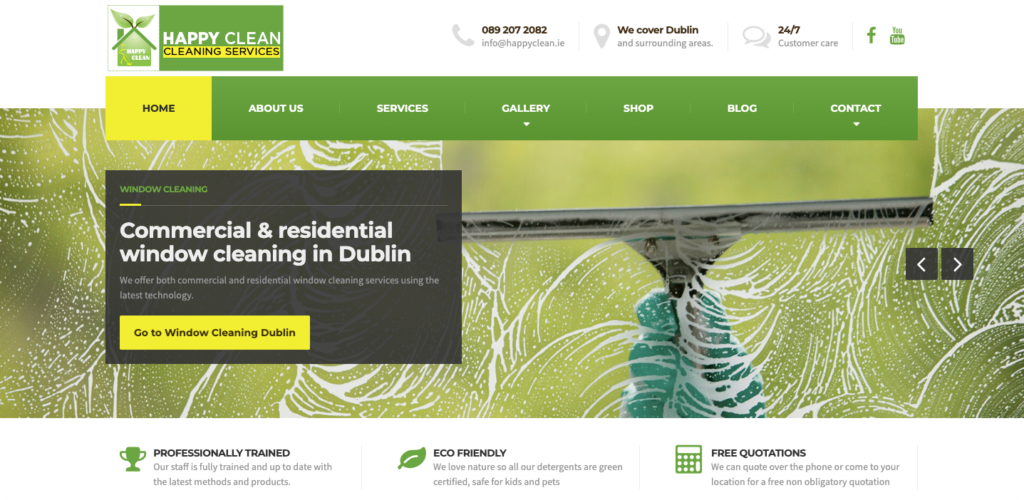 SERVICES
One-off Deep Cleaning
Regular Cleaning
Move-in / out Cleaning
Window Cleaning
Carpet Cleaning
Leather Cleaning
Mattress Cleaning
Floor Cleaning
Upholstery Cleaning
Post-construction Cleaning
Customized Cleaning
Garden Cleaning Services
WEBSITE
https://happyclean.ie/
ADDRESS
Dublin, Ireland
CONTACT DETAILS
Tel.: 089 207 2082
Email:

[email protected]

OPERATING HOURS
24/7
Happy Clean is next on our list. They are a new company that was founded to provide high-quality cleaning services.
We are amazed that we came across their cleaning company because they offer a wide range of cleaning services, including deep cleaning, regular cleaning, office cleaning, commercial cleaning, carpet cleaning, window cleaning, and floor polishing, to name a few.
Aside from that, they use environmentally friendly detergents and invest heavily in professional equipment to ensure that you are completely satisfied with the results. Of course, who wouldn't be grateful if the cleaning company worked around their schedule? They are adaptable because they allow you to create your own personalized cleaning service based on your specific needs.
In addition to having a flexible schedule, they are also available 24 hours a day, seven days a week. Your window cleaning concerns are in good hands with Happy Clean.
Free Quote available
Eco friendly
Professional and experienced cleaners
No hidden fees & charges
24/7 Customer Care
24 hours emergency service (residential or commercial)
Discount & bonuses for regular customers & long-term contracts
Flexible hours to adjust their time to your schedule
No flat price rates available online
Customer Reviews
Here is a review from one of their clients:
"Arrived ahead of time. Very polite and professional. Spent a very long time doing a thorough cleaning job. Carpets look like new! Nothing was any trouble for Adrian and his assistant; they moved heavy items out of the way and left everything spotless. Floors are gleaming and sofas stainless. Mould removal from bathroom window and ceiling was also removed quickly and efficiently. Delighted with the job and I highly recommend this company." – Edel Mulvany
How to Pick the Right Window Cleaner
Hopefully, the tips below help guide you as you search for a suitable window cleaner:
1. Other cleaning services
Many window cleaning companies also offer other cleaning services such as gutter cleaning, house cleaning, power washing, disinfecting, carpet cleaning, and many more.
Availing of these other services may help you score discounts, which is why it's a good reason to look for companies that don't just offer window cleaning.
It'll also save you time as you won't need to look for and contact other service providers for these types of labour.
2. Pricing
Be clear on how the window cleaning company prices their services. Is it by the hour, per window, etc.?
What about the extent of the cleaning procedure? Will only the glass be cleaned or will it include the frames as well?
Moreover, if you're hiring them on a weekend or beyond office hours, ask if you'll be paying higher service fees.
On the other hand, if you're a client who needs routine window cleaning (you're a restaurant owner, for instance,) inquire about possible discounts for regular customers like you.
3. Insurance
This is a must when you're looking for window cleaning companies. Window cleaning can be a risky job, especially for high-rise establishments.
In other words, accidents may happen to window cleaners. There's also the possibility of window damages as a result of cleaning.
Insurance will help cover these unfortunate instances and save you from paying for expenses on medical bills and window damages.
FAQs about the Best Window Cleaners in Dublin
---
And that's a wrap for our list of the best window cleaners in Dublin! Whether for residential or commercial purposes, we hope you found the right window cleaner for you.
Do you think we left out other notable window cleaners? Kindly give us a call, and we'll take a look ASAP!
If you liked our choices for window cleaners, you might like what we've got concerning the best chimney sweeps in Dublin!