The 8 Best Installers of Solar Panels in Dublin
A solar panel is a great way to power your home and save money at the same time. You can also get solar panels that are environmentally friendly, which makes them a great option for you.
Many people have been using them for years now, and you should too. Here are the top solar panel services that might interest you!
How much do solar panels cost in Dublin?
The cost of solar panels in Dublin varies depending on the size, brand, quality, and the service needed for it. Solar panels services rates aren't fixed, so we recommend that you inquire from solar panel service providers.
On average, a residential solar panel system can cost anywhere from €3,000 to €20,000. Here's a quick cost summary:
| Products and Services | Estimated Average Price |
| --- | --- |
| Solar Panel System | €12,000.00 |
| Installation Service Only | €1,000.00 |
| Solar Panel System Repair | €1,000.00 |
| Solar Panel System Replacement | €9,000.00 |
The Best Installers of Solar Panels in Dublin
Selecting the right solar panel system and its installation comes at a price and requires engineering skills. The following are our criteria in selecting the best service providers:
1. Alternative Energy Ireland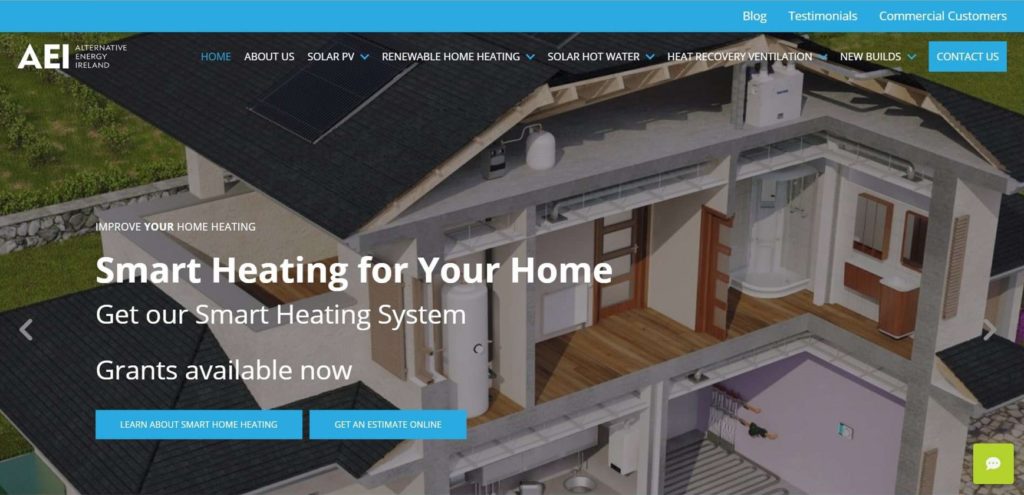 Test
Info
SERVICES

Solar Panel Installation

Solar Hot Water

Renewable Home Heating

Service and Maintenance

WEBSITE
https://www.aei.ie/
ADDRESS
Unit E1 Centre, Point Business Park, Oak Rd, Dublin, Ireland D12 P959
CONTACT DETAILS
Phone: +353 144 33996, no available email
OPERATING HOURS

Monday to Thursday, 9:00 a.m. - 5:00 p.m.
| | |
| --- | --- |
| SERVICES | ★★★★★ (5/5) |
| EXPERIENCE | ★★★★★ (5/5) |
| EQUIPMENT | ★★★★★ (5/5) |
| STAFF | ★★★★☆ (4/5) |
| PRICING | ★★★★☆ (4/5) |
If you're planning to get a team of experienced and professional photovoltaic (PV) solar panel system installers and designers, think about tapping Alternative Energy Ireland (AEI).
It's a well-established solar panel service provider in Dublin with over 15 years of experience in the industry. Among its services include solar energy design and installation, solar hot water, and heating services.
A testament for the quality of service it provides especially on solar panel systems is its impressive portfolio that can be viewed on its website. It's also a plus point that it has covered other areas outside Dublin.
What we like most is it offers a 20-year output guarantee on its solar-related services, giving customers peace of mind knowing that their investment is in good hands in the long run.
We also appreciate AEI for giving ample time to discuss with future clients to fit a sustainable and cost-effective design, cost, and service to their needs.
However, because solar panel system installation varies depending on the area covered and establishment design, the rates will vary from person to person.
Take note also that you need to deposit a certain amount before the booking and delivery of actual services begin.
Overall, it's a good firm to consider when looking for a solar energy system because it has already built a good reputation in building hundreds of systems across Ireland.
Extensive solar energy, solar hot water, and heating services
15 years experience
Great portfolio across Ireland
20 year-output guarantee
Cost and rates vary
Pre-booking deposit required 
Customer Reviews
Excellent service
"From start to finish AEI provided an excellent service. I was supported throughout the process and any questions or follow ups that I had were dealt with efficiently. The contractors on site were experts in their field and they carried out their work thoroughly and effectively. I am delighted with the end results and would highly recommend them. Thank you AEI!" – Lisa Kenny
Professional and tidy
"Very impressed. Arrived to consultation on time, presented a professional quote within 24 hours. Took care of all the paperwork with the grant and ESB. Installed earlier than the original date they stated. Installers were professional and tidy. Called before arriving and called again before leaving. As someone who deals with contractors on a daily basis I thought their customer service was second to none." – Mark O'Farrell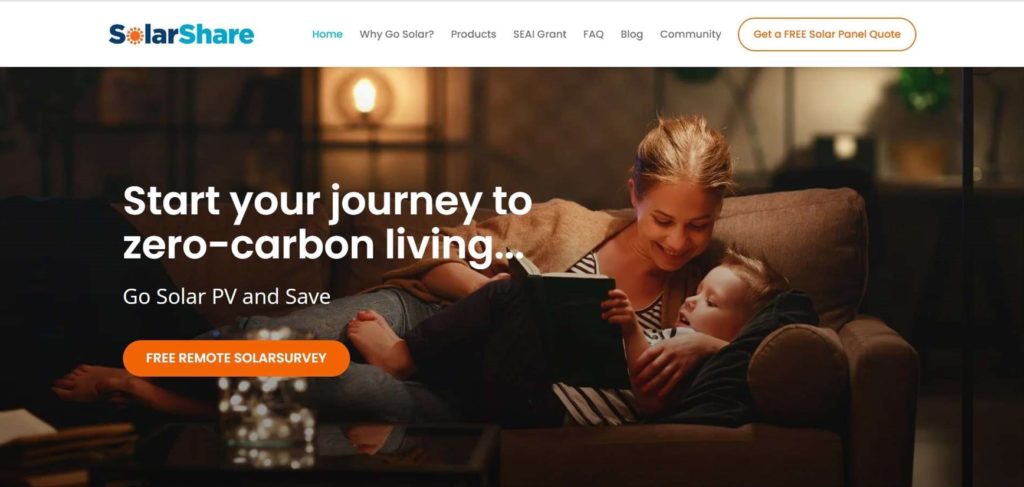 Test
Info
WEBSITE
https://solarshare.ie/
ADDRESS
Carlisle Building, 51 Bracken Road, Sandyford, Dublin 18, Ireland D18 CV48
CONTACT DETAILS

Phone: +353 196 09867

EMAIL: [email protected]

OPERATING HOURS

Monday to Friday, 8:30 .am. - 6:30 p.m.

Saturday, 10:00 a.m. - 3:00 p.m.
| | |
| --- | --- |
| SERVICES | ★★★★★ (5/5) |
| EXPERIENCE | ★★★★★ (5/5) |
| EQUIPMENT | ★★★★★ (5/5) |
| STAFF | ★★★★☆ (4/5) |
| PRICING | ★★★★★ (5/5) |
Making your home or office building more eco-friendly requires some adjustments, including having an independent renewable energy source to power up your office.
If you need help, you can tap the reliable services of Solar Share that is based in Dublin 18. The catch? It uses cutting-edge technology.
One of the key features of Solar Share is that it helps customers get the ideal design for their solar panel system, ensuring the best solution for their energy needs.
What we like most is it begins its process by taking the time to listen to what you need and how you can stretch your budget. What's more, it's followed by a free remote solar survey and quotation.
Additionally, Solar Share' services are Sustainable Energy Authority of Ireland (SEAI) grant-applicable. This means that customers can take advantage of government incentives for switching to renewable energy.
Another convenient service that we like is the remote solar data monitoring that gives clients an eye on their system's performance from anywhere at any time.
However, the process and installation may take 2 to 3 months to complete. There's also no service for solar-powered hot water systems.
It's not a problem though, once your solar panel system has been installed. The system can significantly cut your building's power rates that also cover your electric and water heating systems.
Helps you get the ideal design 
SEAI grant-applicable
Remote solar data monitoring
Free remote solar survey and quotation
2-3 months process and installation
No solar hot water system
Customer Reviews
Professional service
"Had a 5.3kwp system, 5kw battery and Eddi installed by SolarShare last week. The experience from start to finish has been very professional. Early consultations ensured I had a full understanding of the system and what it could deliver, based on my location and orientation of my roof.That was followed up by a proposal giving me a few options at different price points. No hard sell. The actual installation was equally professional…" – Gerry McGarry
Competitive prices
"Serious company with competitive prices. The presales service is prompt and supportive. The amazing install team was friendly and professional. Their customer success team is fully available after the install to fine tune the solar system no matter how many and complex questions you may have. I recommend SolarShare 100%." – Silviu-Mihai Munteanu
3. Veep Energy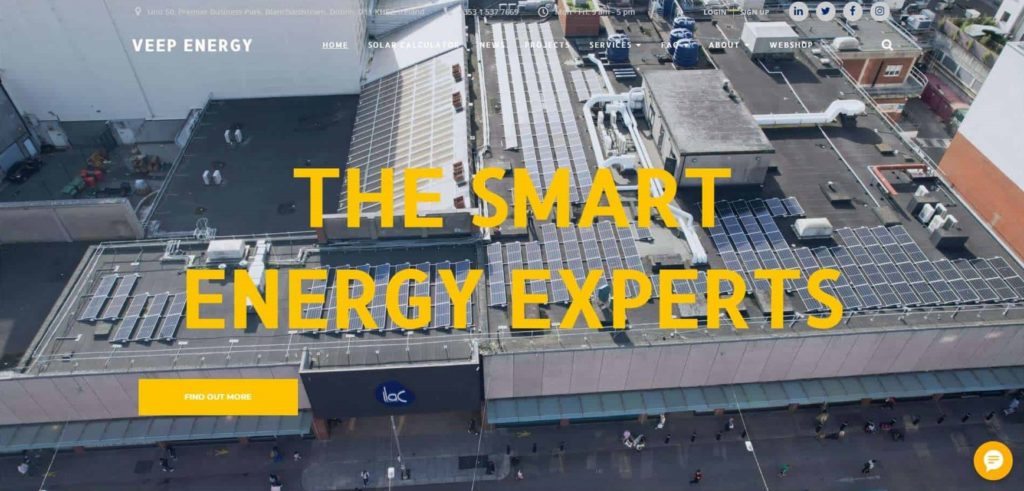 Test
Info
SERVICES

Rood and Ground Mounted Solar

Battery Storage

EV Charging

Maintenance

Aggregated Grid Services

WEBSITE
https://veepenergy.ie/
ADDRESS
Unit 50, Premier Business Park, Ballycoolin, Dublin, Ireland D11 KH52
CONTACT DETAILS
Phone: +353 1 537 7669

EMAIL: [email protected]

OPERATING HOURS

Monday to Friday, 9:00 a.m. - 5:00 p.m.
| | |
| --- | --- |
| SERVICES | ★★★★★ (5/5) |
| EXPERIENCE | ★★★★☆ (4/5) |
| EQUIPMENT | ★★★★★ (5/5) |
| STAFF | ★★★★★ (5/5) |
| PRICING | ★★★★★ (5/5) |
When searching for a professional solar panel installer in Dublin, one of the names that may appear is Veep Energy. It's not a surprise to us because its 7-year experience can speak about its output.
One of the things that impressed us most about Veep Energy was their use of their own engineers and technicians, who were able to provide a guide on the entire process of having a solar panel system at home.
The fact that they can integrate solar panels with other electric assets like generator sets is also a big plus. Not only does this give you flexible power sources, but also creates a comprehensive energy solution.
Moreover, with over 6,923 solar panels installed and over 1,500 solar energy and EV charging systems installed, Veep Energy has a proven track record of delivering high-quality results.
The flexible financing options it offers are also a huge deal maker, allowing you to choose a payment plan that can let you pay in installments.
The only downside is it's closed on weekends and there are no fixed rates.
These aren't deal breakers because you can have all the time during the weekday to process your application. Plus, fixed rates aren't a thing for customized services that are mainly based on your needs and preference.
Overall, we highly recommend Veep Energy for anyone looking for a reliable and experienced provider of solar panel systems in Dublin, Ireland.
Employs own engineers, technicians
Can integrate with electric assets like gensets
Installed over 6,000 solar panels 
Flexible financing
Closed on weekends
No fixed rates
Customer Reviews
Knows technology well
"I did quite a bit of research before I decided to go with Zoltan and his crew, He is super approachable and really knows the technology well, he adjusted the quote for me based on his knowledge and experiance, He stayed on last with Adrian (electrican)on a Friday evening to get me setup, I could'nt recommend them higly enough! Zoltan is an Engineer and not some type of salesman trying to sell the tech." – Peter Gallagher
Prompt on paperwork
"Great service provided. Very professional, efficient and knowledgeable. Paper work for the SEAI grant was handled very promptly. Overall very satisfied with our installed PV system and would highly recommend Zoltan and his team." – Brendan Cantwell
4. Wyse Solar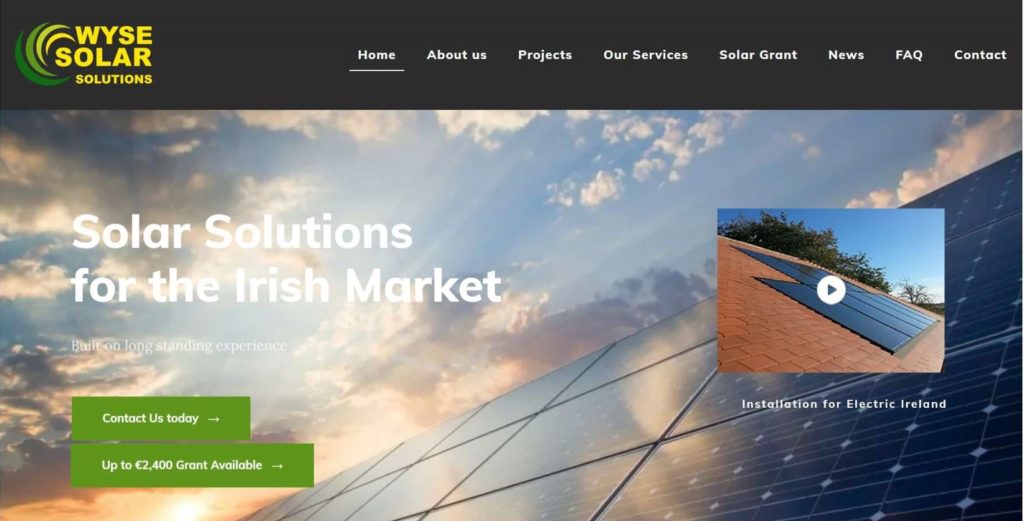 Test
Info
SERVICES

PV Solar

E.V Charger Points

Solar P.V Electricity

WEBSITE
https://wysesolar.ie/
ADDRESS
142 Meadow Mount, Whitehall, Churchtown, Co. Dublin, Ireland D16 CR92
CONTACT DETAILS
Phone: +353 129 88330

EMAIL: [email protected]

OPERATING HOURS

Monday to Friday, 8:00 a.m. - 6:00 p.m.
| | |
| --- | --- |
| SERVICES | ★★★★★ (5/5) |
| EXPERIENCE | ★★★★★ (5/5) |
| EQUIPMENT | ★★★★★ (5/5) |
| STAFF | ★★★★★ (5/5) |
| PRICING | ★★★★☆ (4/5) |
Located in Churchtown, Wyse Solar is a "wise" option for a solar panel service provider because of its long experience in the solar energy industry.
We're impressed by its over 30 years of experience in solar panel installation, specializing in providing reliable services on PV panels for domestic and industrial use.
We like that it has a deep understanding of how to design, install and maintain solar panels.
Also, it's accredited by the SEAI, the Electricity Supply Board (ESB), and the Register of Electrical Contractors Ireland (RECI). We like this because it speaks of commitment to meeting industry standards and regulations.
Another advantage of Wyse Solar is its good solar battery storage which is a critical aspect of solar energy. We find this very convenient, especially when there's excess energy generated during the day that can be used on other days.
However, there is one major downside to Wyse Solar's services. Currently, excess power generated by their systems cannot be sold back to the grid, which limits the overall financial benefits of the investment.
It also doesn't mention having an available emergency service, which could be an issue in the event of an issue with the system.
Still, it has a great pool of experts and technicians who can assure that your system is properly installed to avoid inconveniences and malfunctions during late hours.
Over 30 years experience
Specializes in photovoltaics
SEAI, ESB, and RECI accredited
Good solar battery storage
Excess power cannot be sold
No emergency service
Customer Reviews
Great from start to finish
"Great experience from start to finish. The guys did the install last week of 11 panel PV system with hot water diverter. Work was extremely professional and the guys left the place spotless. One small issue was resolved without any fuss the next day. Excellent service and I would highly recommend WYSE for anyone thinking of a PV install." – Paul Keogh
Fast, clean installation
"We got a SolarPV system from Wyse Solar after two neighbours recommended them.14 Panel system with Battery. From Initial contact to job completion – exceptional service from start to finish. Anthony, Jessica and all the staff are an absolute pleasure to deal with. Fast clean professional installation. I would highly recommend Wyse Solar to anyone looking at a Solar system." – Ciaran Gavin
5. Going Solar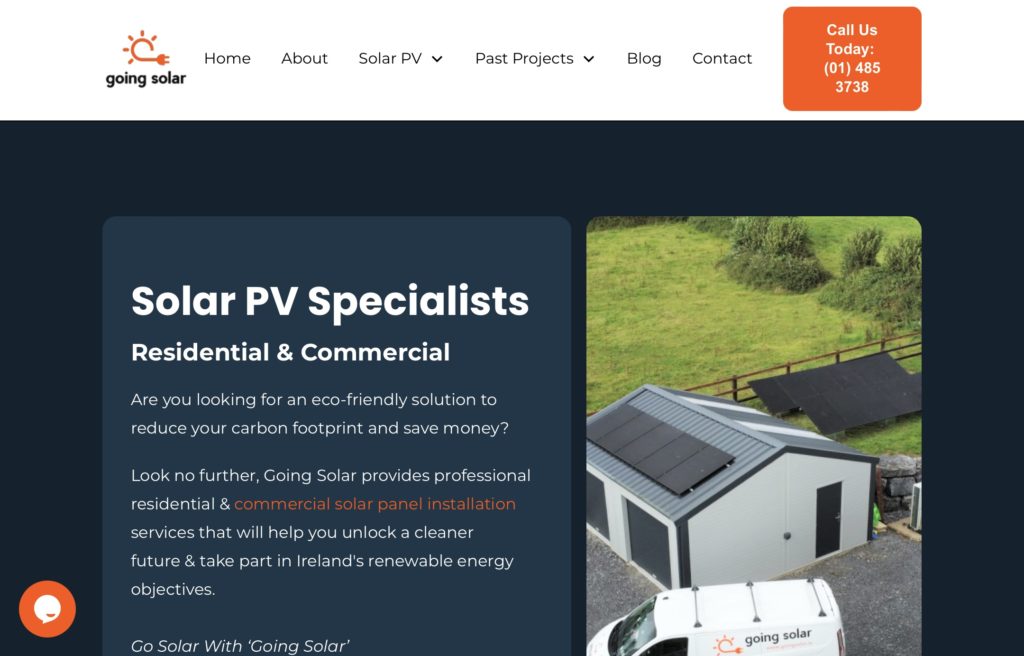 | | |
| --- | --- |
| SERVICES | Residential Solar Panels and Commercial Solar Panels |
| WEBSITE | https://goingsolar.ie/ |
| ADDRESS | Unit 20, Northwest Business Centre, Ballycoolin, Co. |
| CONTACT DETAILS | (01) 485 3738 |
| OPERATING HOURS | By appointment basis only |
| | |
| --- | --- |
| SERVICES | ★★★★★ (5/5) |
| EXPERIENCE | ★★★★★ (5/5) |
| EQUIPMENT | ★★★★☆ (4/5) |
| STAFF | ★★★★★ (5/5) |
| PRICING | ★★★★☆ (4/5) |
At Going Solar, we discovered a beacon of excellence in the world of solar panel installation. Our experience with this company was nothing short of electrifying, as they demonstrated exceptional services across the board.
When it comes to convenience, Going Solar shines brilliantly. From the initial consultation to the final installation, every step was seamlessly orchestrated.
Our questions were met with clarity, and the team's punctuality was as reliable as the sun's rising. In a world where time is of the essence, Going Solar ensured our journey to renewable energy was both swift and hassle-free.
The reputation of Going Solar speaks volumes, and rightfully so. Their name resonates like a well-tuned chord in the solar industry.
Our research revealed a symphony of positive reviews, each note harmonizing the company's commitment to quality. With a track record like theirs, it's no wonder they stand tall among competitors.
Yet, excellence doesn't have to come at a steep price. Going Solar shattered the misconception that environmental consciousness must break the bank.
Their cost-effective approach didn't compromise the caliber of their work. We found ourselves basking not only in the glow of solar power but also in the glow of financial satisfaction.
The heart of any company lies within its team, and Going Solar's employees radiate passion.
From the engineers crafting ingenious designs to the installers meticulously placing each panel, their dedication was palpable. It was as if they were not just working for us, but for the betterment of the planet.
However, they can get busy during peak days. So we suggest booking their service ahead of time.
Swift and seamless from consultation to installation
A name that resonates with a track record of excellence
Shattering the myth of pricey environmental consciousness
Customer Reviews
"Going Solar made the transition to renewable energy a breeze! From start to finish, their team's professionalism and efficiency were impressive. Highly recommended!"
"I was skeptical about the cost, but Going Solar proved me wrong. Their affordable approach didn't compromise quality. Now my energy bills are lower, and I'm proud to be eco-friendly!"
6. SolarSmart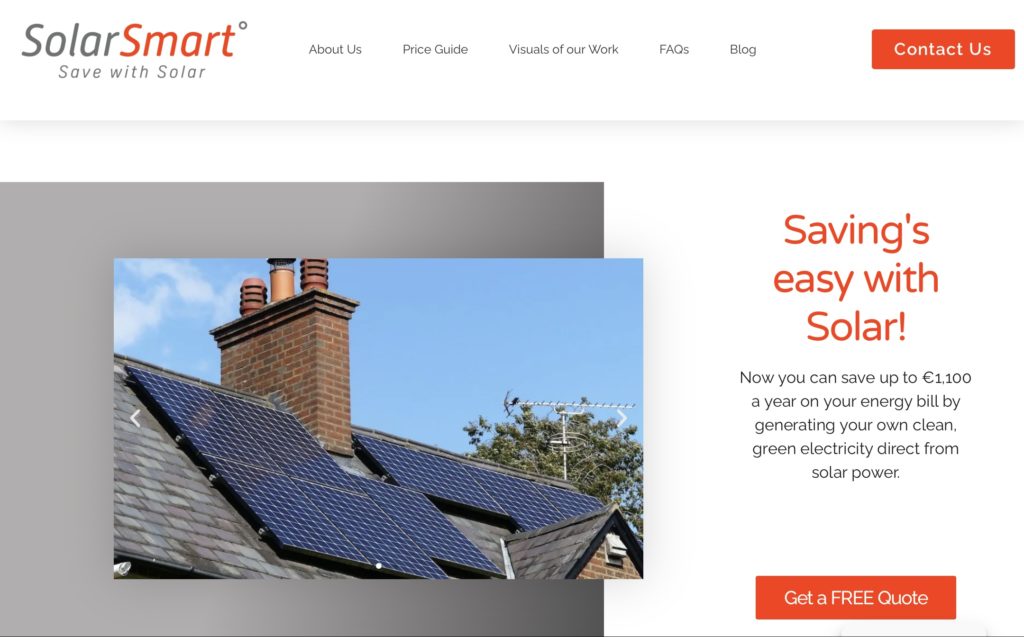 | | |
| --- | --- |
| SERVICES | Solar panels |
| WEBSITE | https://solarsmart.ie/ |
| ADDRESS | Clonshaugh Business & Technology Park Dublin D17 W267 |
| CONTACT DETAILS | 1800 911 770 |
| OPERATING HOURS | Appointment basis only |
| | |
| --- | --- |
| SERVICES | ★★★★★ (5/5) |
| EXPERIENCE | ★★★★★ (5/5) |
| EQUIPMENT | ★★★★☆ (4/5) |
| STAFF | ★★★★★ (5/5) |
| PRICING | ★★★★☆ (4/5) |
At SolarSmart, we've experienced a service that truly shines. From installation to operation, every step has been an emblem of efficiency.
Their services are a symphony of professionalism, ensuring a seamless journey towards sustainable energy.
Convenience is the heartbeat of SolarSmart's ethos. We were pleasantly surprised by their adeptness at minimizing disruption.
Their installation process, executed with surgical precision, reflects a commitment to our convenience. It's like they've mastered the art of invisibility.
Reputation precedes them, and with good reason. SolarSmart's name isn't just a moniker; it's a testament to their standing in the industry.
Our encounter with them was a glimpse into the world of trusted service providers. They've garnered respect, and after experiencing their diligence firsthand, we understand why.
While quality often comes with a hefty price tag, SolarSmart breaks the mold.
Their cost-efficiency is almost magical, aligning with our vision of a greener future without making our wallets wince. It's a rarity to find a company that balances quality and affordability so gracefully.
From inception to operation, SolarSmart's attentive approach pervades. Their customer support is a lighthouse guiding us through any confusion. It's as though they anticipate our questions before they're even formed.
The satisfaction of being heard and understood? Priceless.
Installation day dawned like a well-rehearsed performance.
SolarSmart's team, clad in professionalism, orchestrated the process with choreographed finesse. They're a harmonious blend of experience and innovation, reminding us that progress need not compromise on tradition.
Sadly, they can get busy during peak days. We advise booking them ahead of time.
Count on SolarSmart to deliver on promises, every time
Experience streamlined processes from installation to operation
Achieve sustainability without breaking the bank with SolarSmart
Customer Reviews
"Absolutely impressed with SolarSmart! Their team made the transition to solar a breeze. Professionalism at its finest."
"SolarSmart's cost-effective approach was a game-changer for me. Green energy is finally within reach, thanks to them!"
7. Evolve Eco Solutions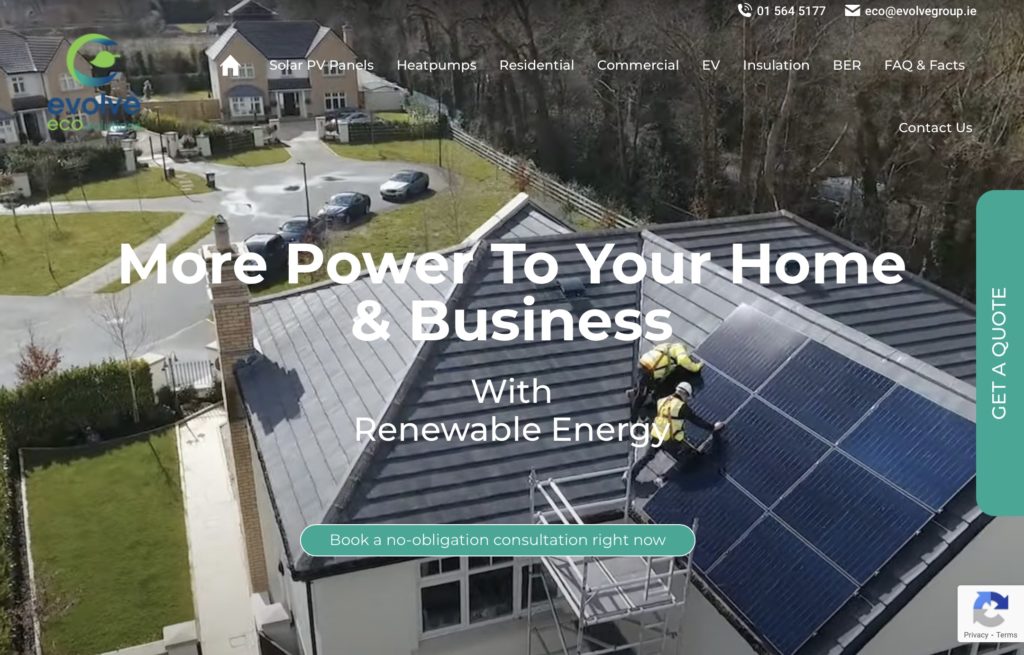 | | |
| --- | --- |
| SERVICES | Solar PV Panels, Heatpumps, Residential, Commercial, and EV |
| WEBSITE | https://evolveecosolutions.ie/ |
| ADDRESS | Unit 65 Premier Business Park Ballycoolin Road Dublin 11 D11 HV05 |
| CONTACT DETAILS | 01 564 5177 |
| OPERATING HOURS | By appointment basis only |
| | |
| --- | --- |
| SERVICES | ★★★★★ (5/5) |
| EXPERIENCE | ★★★★★ (5/5) |
| EQUIPMENT | ★★★★☆ (4/5) |
| STAFF | ★★★★★ (5/5) |
| PRICING | ★★★★☆ (4/5) |
We recently had the privilege of experiencing Evolve Eco Solutions' solar panel installation services, and we must say, it was an electrifying experience!
From start to finish, their commitment to excellence shone as bright as the sun.
First and foremost, their services are top-notch. The consultation was thorough, and they tailored a solar solution that perfectly suited our needs.
Installation day was a breeze—their team was prompt, efficient, and left no trace behind. We were up and running with clean, green energy in no time.
Convenience is the name of the game, and Evolve Eco Solutions delivers.
Scheduling was a breeze, and they accommodated our busy lives seamlessly. They handled all the permits and paperwork, sparing us the headache. A truly hassle-free experience.
Reputation matters, and Evolve Eco Solutions' track record speaks volumes.
Their stellar customer reviews and numerous industry awards reflect their unwavering dedication to quality. It's no surprise they're a trusted name in the solar industry.
We were pleasantly surprised to find their prices were competitive, without sacrificing quality.
Their transparent pricing structure left no room for surprises. We're not just saving the planet; we're saving money too!
Unfortunately, they don't offer promos yet. We recommend checking their website for other affordable deals.
Expertise
Efficiency
Reputation
Affordability
Customer Reviews
"Evolve Eco Solutions exceeded my expectations! The installation was a breeze, and now I'm enjoying clean energy and lower bills. Highly recommended!"
"I chose Evolve Eco Solutions for their reputation, and they didn't disappoint. Professional, hassle-free, and cost-effective. A win-win for both the environment and my wallet!"
8. Ecoplex Energy Solutions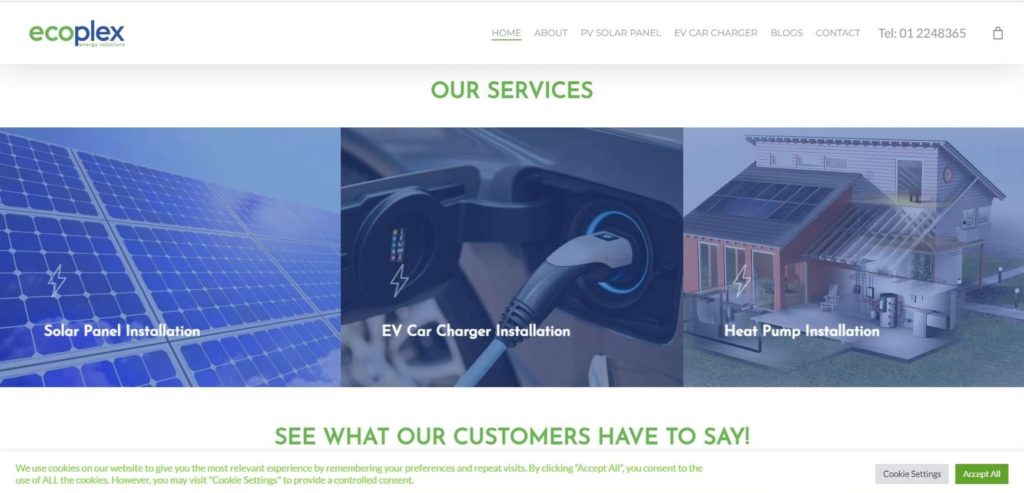 Test
Info
SERVICES

PV Solar Panel for Home and Business

EV Car Charger

Heat Pumps

Boilers

WEBSITE
https://ecoplexenergy.ie/
ADDRESS
Iona, The Rise, Main St, Blanchardstown, Dublin, Ireland D15 K2E4
CONTACT DETAILS
Phone: +353 122 48365

EMAIL: [email protected]

OPERATING HOURS

Monday to Friday, 8:30 a.m. – 5:00 p.m.
| | |
| --- | --- |
| SERVICES | ★★★★★ (5/5) |
| EXPERIENCE | ★★★★★ (5/5) |
| EQUIPMENT | ★★★★★ (5/5) |
| STAFF | ★★★★★ (5/5) |
| PRICING | ★★★★☆ (4/5) |
We considered Ecoplex Energy Solutions in Blanchardstown as a leading solar panel service provider in Dublin for several reasons.
With a team of 17 experts, the company has the expertise and experience necessary to provide high-quality services to its clients.
In our opinion, one of the key advantages of Ecoplex Energy Solutions is that it helps clients with the paperwork required to install solar panels. It also assists clients process papers on government grants.
We think this makes the process of transitioning to solar energy more streamlined.
Another strong point here is the free site surveys that allow clients to get a more detailed idea on what solar panel installation will entail. It's helpful in giving a more exact cost estimate because the staff are able to check the clients' site first hand.
The company is also very responsive to queries, with a commitment to reply within 24 hours.
However, it's closed on weekends, which can be inconvenient for some clients. Also, the rates aren't fixed so you need to discuss it with them to arrive at a win-win budgeting solution.
Overall, we think Ecoplex Energy Solutions is a strong option for those looking for solar panel services. There are also services on heat pumps, electric vehicle chargers, and even on boilers.
Has 17 experienced experts
Helps in paperwork and grants
Free site surveys
Responsive to queries 
Closed on weekends
Quotation needed for rates
Customer Reviews
Proper survey
"Ecoplex were the only company out 5 quotes that were willing to visit and do a proper survey to quote us. They handled everything from the installation to helping me with the SEAI paperwork to claim back the grant. The Installation was very professional & their workers were polite and answered my questions. I'm now having an EV car charger installed by them!" – Alexander Bell
Great customer service
"I got a solar panel system installed with Ecoplex Energy Solutions a few months ago and had a great experience. The team was absolutely fantastic. They did brillant job and provided great customer service from start to finish. In particular, Emer and Joanna were extremely helpful with the SEAI paperwork and they explained everything to me in great detail. Since having it installed, my electricity bills have significantly reduced whilst my home has become more eco-friendly. It's a win-win! Everything works perfectly…" – Zoe Walsh
FAQs about the best solar panels services in Dublin
---
Solar is one renewable type of clean energy. Building a system of it is cost-efficient, eco-friendly, with many benefits not just to a single building but in the entire community.
Take a look at our review on the 9 Best Solar Panel Companies In Ireland for other solar panel services in the country.
---