Best Places to Stay in Ireland on a Budget
Searching for the best places to stay in Ireland on a budget? We've compiled some of the cheapest yet quality accommodations so you can have fun without hurting your wallet.
The Top Budget-Friendly Places to Book in Ireland
Here are some of the best affordable places to visit in Ireland:
The Sandymount Hotel, Dublin
The Metropole Hotel, Cork
The Wyatt Hotel, Westport
Dublin Skylon Hotel
Clayton Hotel Dublin Airport
Scotts Hotel Killarney
Cork International Hotel
Are you planning on visiting Ireland soon? Consider these affordable lodgings for your next holiday.
The Sandymount Hotel, Dublin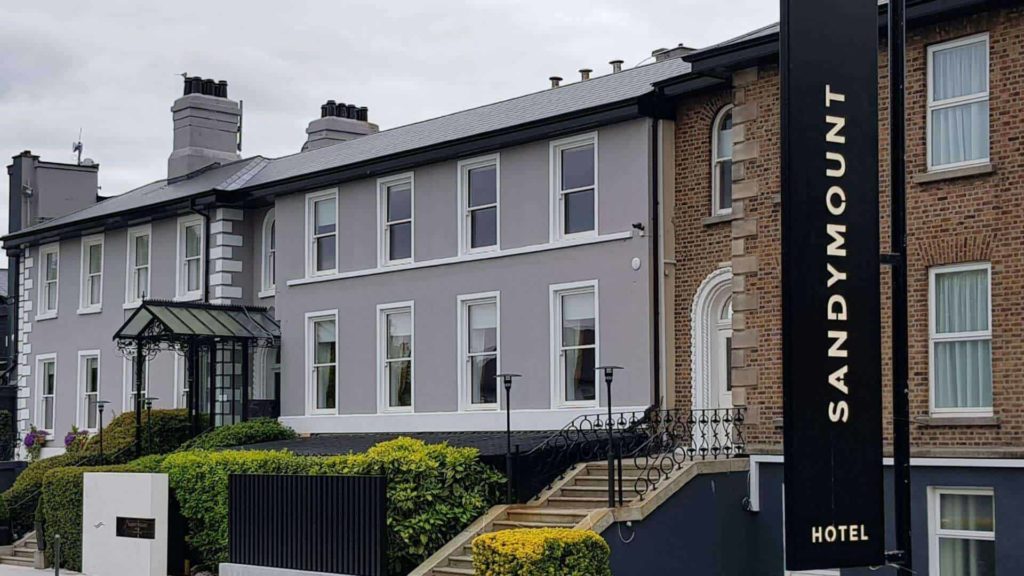 If you want some time away from all the noise in the city, the Sandymount Hotel provides a tranquil haven. We also think this is a convenient location since it's just a leisurely stroll from Dublin's City Centre.
Sandymount Hotel actually started out as a small, 4-bedroom guesthouse in 1955. Fun fact: In 2017, Failte Ireland gave it a 4-star rating after an $8 million renovation.
This includes new beds, the Line Out Bar, and Whitty's Restaurant with an outdoor terrace. Their new 4 conference rooms also show us that they're ideal for business events too.
Of course, you're not truly leaving everything from the city behind. Sandymount has a lot of shops, restaurants, and pubs, and Wi-Fi is free for guests. 
After a day of learning about Dublin and going on tours, you can also relax in the Herbert Suite or one of the beautifully kept private gardens.
Travel tip: You may visit the Sandymount Strand, a long and windy beach nearby. This is a popular place for strolls along the coast with views of Dublin Bay, which could be an excellent place for you to reflect or meditate at.
In addition, Sandymount Hotel offers five E-car charging stations and a shuttle bus with 8 seats that can transport visitors within a 4-kilometre radius of the hotel. 
But this needs to be pre-booked at least 2 days before the trip so that tourists can get where they're going as easily as possible.
Just note that the free parking is first-come, first-served. Parking may be scarce during key event dates, so it's best to plan your trip wisely.
The Metropole Hotel, Cork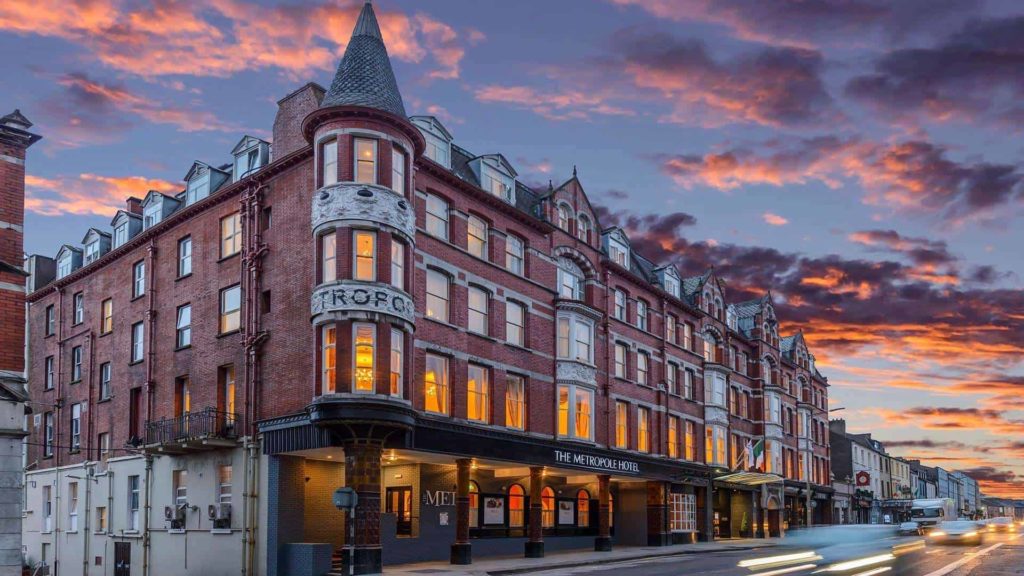 Are you interested in going to art galleries or learning about the past? Then, The Metropole Hotel might be a good fit for you.
This is one of Cork's most iconic hotels and is situated in the middle of the Victorian Quarter in the city centre. They've been known to provide friendly service and hospitality for more than 125 years.
They have a long history, beginning as a candy shop and 'dry' hotel. This was before they regained their former glory and became famous for hosting movie, theatre, arts, and literature stars.
For us, their recently renovated hotel looks magnificent and rich in character. Here, we believe you may enjoy the better things in life – superb service, chic decor, sumptuous food, and timelessly elegant surroundings.
Visitors can also explore Cork's most well-known tourist destinations, go boutique shopping nearby, or check out the city's numerous art museums and theatres.
Friendly tip: We suggest going to The MET Cork to relax, where a team of mixologists and chefs make delicious food. Your taste buds will be happy, and the staff might even tell you something about the hotel's history or a secret.
Also note that the Leeside Leisure Facility is now only open for gym use. Yet, their pool is unfortunately closed until further notice.
The Wyatt Hotel, Westport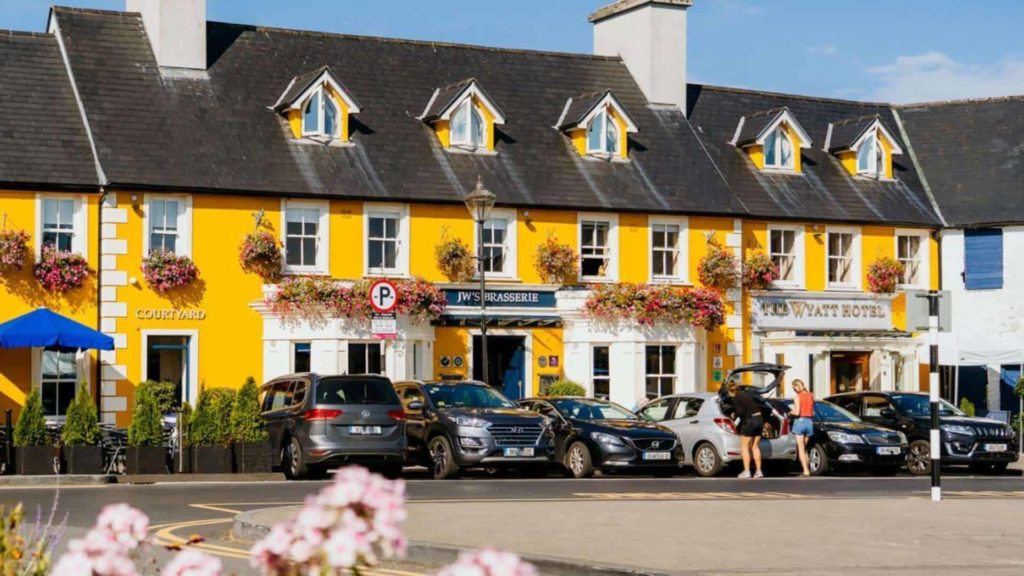 For us, The Wyatt Hotel is probably suitable for those seeking something vibrant and cosy.
In the centre of the beautiful town of Westport, The Wyatt is a wonderful 3-star boutique hotel. They're known for having a friendly atmosphere that attracts both tourists and residents.
This well-rounded hotel has a restaurant that has won awards, an elegant brasserie, a lively traditional Irish bar, and 90 rooms that are nicely decorated. All visitors can also take advantage of free parking and Wi-Fi.
In addition, the Wyatt is the only hotel in Westport that welcomes dogs! On the lower ground floor, there are 4 rooms designated as dog-friendly with direct courtyard access.
If you're famished, we recommend taking a 90s brunch at The Cobblers, their bustling gastro pub. Take in 3 hours of music with their DJ, mouthwatering food, and the option of bottomless drinks such as booze, juice, tea, and coffee.
Travel tip: While checking in, make the most of their Guest Rewards card. This lets people take advantage of discounts and special deals from a wide range of stores and service providers in the area.
We also appreciate that visitors can choose between up to 3 parking locations while staying at the hotel. At Westport, there's a Pay & Display parking system as well – this is free for the first hour!
While using public parking lots, your ticket must be visible on your dashboard. Moreover, parking metres are provided on all streets and outside the hotel.
Dublin Skylon Hotel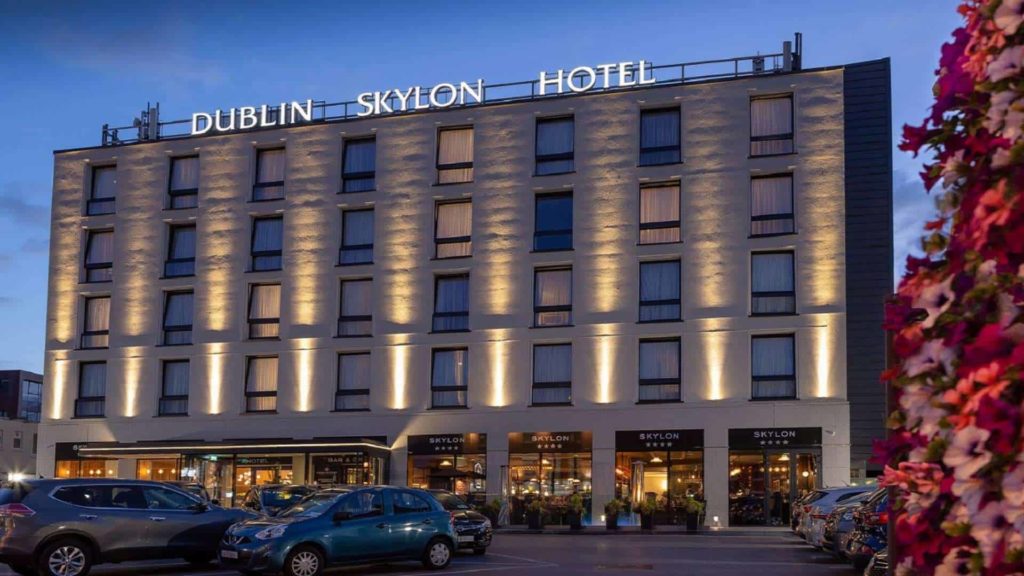 The Dublin Skylon Hotel, which is in the heart of North Dublin, is known for its cutting-edge amenities. The hotel's portrayal of Irish culture makes us believe that it would also be good for international guests.
We think this hotel is also strategically located near many important sites. The Dublin Skylon Hotel is close to many well-known locations, in addition to Dublin City Center and the Dublin Airport.
This includes being 15 to 20 minutes' walk from places like Glasnevin Cemetery, Croke Park, and the National Botanic Gardens.
This appears to be appropriate for those who intend to do a lot of touring throughout the day or week.
Friendly tip: Do you like drying your hair much faster? Take advantage of each guest room's free-to-use hair dryer, located in the vanity table's drawer!
On the hotel's ground floor, you can also find the Skylon Bar & Grill, which serves meals for breakfast, lunch, and dinner.
In addition to their variety of appetisers, entrées, and desserts, they also provide a children's menu, and you can ask if they have any gluten-free alternatives.
Their parking is also convenient for both hotel guests and people who live there.
Clayton Hotel Dublin Airport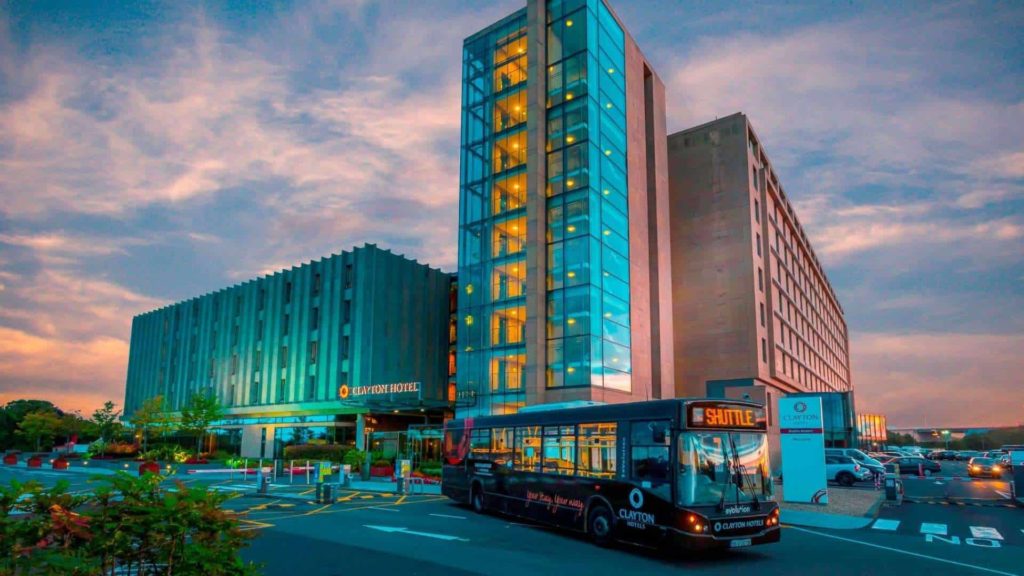 If you want to stay near an airport, The Clayton Hotel Dublin Airport is the place to stay for your next vacation. Conveniently, it's also 15 minutes away from Dublin City Center.
We advise getting a room at their airport hotel to avoid the stress of early-morning flights and wake up feeling rested and prepared. Its 608 rooms have a lot of space and a comforting ambience for the perfect start to your next trip.
Another of our recommendations is going to The Playwright Bar or The Italian Kitchen. For us, these places are great to pass the time with an excellent drinking or dining experience. 
In their Italian restaurant, the pizza dough is made by hand from Italian wheat that has been kneaded, stretched, pulled, and battered. 
This is topped with your chosen ingredients before being stone-baked in their famous wood-fired oven. Because of this, we believe you can have a pizza experience that's classic and feels authentic.
When it's time to head to the airport, you can also relax knowing that your car is in a safe parking lot. You may select between long-term and short-term parking. 
Don't have a car? No worries! Their free shuttle buses to both terminals arrive every 30 minutes, taking the burden out of travelling.
But if you're just staying for a short time, don't fret because there are still some attractions to enjoy. Within 20 minutes of their 4-star hotel, we suggest visiting the Newbridge House, the Old Jameson Distillery, and the GAA Museum.
Alternatively, the picturesque seaside communities of Malahide and Howth and several of Ireland's top golf courses are also both within a 15-minute drive away.
Scotts Hotel Killarney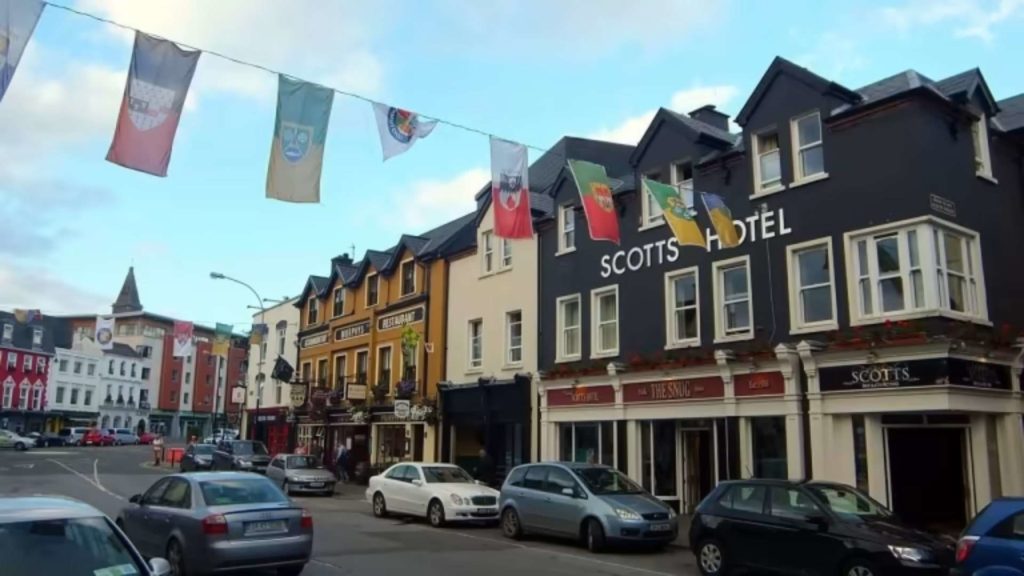 The Scotts Hotel Killarney is another option that we believe is superb. It's a hotel in the heart of the city with luxuriously furnished bedrooms, contemporary styling, and welcoming accommodations.
We think couples and groups of friends are drawn to the upper-middle Scotts Hotel because of its convenient position close to Main Street.
This hotel's proximity to Killarney's 25,000-acre National Park and to the bus and rail stations also makes it a strategic location, in our opinion.
The 126 modern guest rooms have big bathtubs, flat-screen TVs, coffee and tea makers, and stylish bathrooms. Nonetheless, we feel these seem plain in comparison to their stylish lobby's zebra-print carpeting.
A free underground parking garage, free WiFi, and a restaurant that offers all meals are available on-site too. Just note that getting breakfast is an extra charge.
The Scotts bar may be enjoyed by drinkers as well. Because it's vibrant and modern, this is a popular local hangout for evenings.
We believe you won't easily get bored because the hotel is close to Killarney's town centre's restaurants, pubs, clubs, and theatres.
Also, guests are welcome to use the underground parking, which is free.
Travel tip: Save more money! You can cut €10 per night by making a direct booking on their website.
Cork International Hotel
If you're looking for top family accommodations, The Cork International Hotel is a lovely  option.
It's a short 10-minute drive from Cork City Center and is situated immediately near Cork Airport. Also, famous sites like Fota Island and Blarney Castle are only 20 minutes away.
We also recommend this location if you wish to spend your vacation in Cork to take advantage of everything the Wild Atlantic Way has to offer.
For us, they're one of the city's most entertaining options. This is thanks to their roomy family rooms, kids' play area, cinema room, and affordable packages.
Are you looking for an efficient dining service? We suggest stopping by The New Yorker Bar in the Cork International Hotel for a quick snack, lunch, or dinner.
You might be interested to know that this hotel is a popular wedding venue too! Their wedding planner is available immediately, whether you're planning a small ceremony, a civil union, or a large party in two years.
Their rates also rank among the most affordable in Cork, in our opinion. In fact, they even provide a 'Best Rate Guarantee' challenge.
If you discover a lower rate somewhere else with identical terms, they'll match it and give you breakfast! But you should let them know within 24 hours of making your reservation so that they can make room for it.
---
And there you go! We hope you find the best places to stay in Ireland on a budget. May you find a fantastic accommodation worth your money and time!