8 Places for the Best Piano Lessons in Dublin
Featured Image from: https://www.pexels.com/photo/food-wood-art-industry-7521171/
The sound of Chopin floating through the air after a hard day's work is a great way to destress.
But your child playing it for you, or even learning how to play yourself, is a whole different level of relaxation. There's something about live music that canned tunes simply can't match.
If you're interested in taking piano lessons for you or your child, you can look through our list of options of where to take the best piano lessons in Dublin. We've also compiled lesson rates, plus a few helpful tips to get you started.
The Cost of Piano Lessons in Dublin
So, you're interested in piano lessons but would first like to know how much it will cost. You'll find the average rates of piano lessons below:
Average Cost
| | |
| --- | --- |
| Individual / 30 minutes | €20 |
| Individual / 45 minutes | €30 |
| Individual / 1 hour | €40 |
| Group of 2 / 30 minutes | €12.50 |
| Group of 3 / 45 minutes | €13 |
| Kids Group Class / 40 minutes | €10 |
| Adult Beginner Lessons / 45 minutes | €30 |
| Advanced / 1 hour | €40 |
Where to Get the Best Piano Lessons in Dublin
Here are our top picks for schools offering the best piano lessons in Dublin:
1. Colorful Keys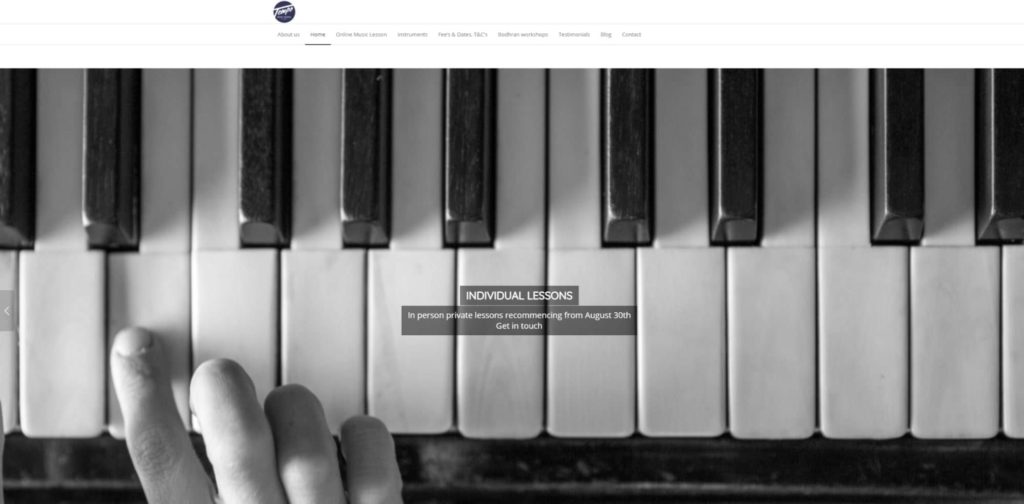 SERVICES
preschool piano lessons, adult piano lessons, online lessons
WEBSITE
https://colourfulkeys.ie/
ADDRESS
78 Durrow Rd, Crumlin, Dublin 12, D12 V3A3, Ireland
CONTACT DETAILS
+353 1 548 1133
OPERATING HOURS
Mon – Fri, 3:00pm – 7:00pm
Sat, 10:00am – 4:00pm
Let's face it: lessons can be dull.
Even more so for children because they have shorter attention spans. They get bored quickly when lessons are not presented in an engaging way.
Colorful Keys seems to know this and have focused on teaching piano through fun games, reinforcing music concepts in different ways. They incorporate technology in their teaching to keep the lessons interesting.
We picked them precisely because of this.
We think it's a refreshing approach to teaching. After all, we do learn faster when we're having fun.
But Colorful Keys doesn't just focus on piano playing per se; they search for the different aspects of musicality in their students for a well-rounded music education. Thus, they also do improvisations, play pop tunes by ear and allow them to compose their own music.
Who knows, there might be a Philip Glass or John Lennon in your child who's just waiting to come out!
You can pick between online classes in their home studio or your home (only up to 5k radius of the studio).
Colorful Keys also accepts adults, by the way, but we personally think they're better for children's piano lessons.
Unfortunately, they're not accepting students for this year anymore. But you can join the waitlist for next year if you're willing to wait.
And if you're not in Dublin, they will also help you locate a teacher wherever you are.
Gamified learning
Teaches improvisations and composition
Lessons for adults and children
Choice between online, in studio or home lessons
Will help you find a teacher if you're outside Dublin
Doesn't teach other instruments
Home lessons are only up to 5k radius of the studio
2021 already full
Customer reviews
Students and parents of students were very happy with their teaching methods:
"Nicola is a truly fantastic piano teacher. We drive all the way from Co. Kildare every week so that our children can benefit from her excellent teaching methods. Passionate. Dedicated and inspiring." – Stephanie Myerscough, Google reviews
"Nicola is an excellent piano teacher. As an adult beginner, I am delighted with the progress I have made – her classes are well structured with lots of variety and creativity and her enthusiasm for teaching is clear. I can't recommend her highly enough." – Maureen Loughran, Google reviews
2. Tempo Music School

| | |
| --- | --- |
| SERVICES | beginner lessons, intermediate lessons, advanced lessons |
| WEBSITE | https://tempomusicschool.ie/ |
| ADDRESS | 40 Drumcondra Rd Lower, Drumcondra, Dublin, Ireland |
| CONTACT DETAILS | +353 85 719 7714 |
| OPERATING HOURS | Mon – Sat, 10:00AM – 9:00PM |
Are you a complete beginner? Or are you already playing Fantasie Impromptu Op 66?
The team of music teachers from Tempo Music School can guide you in your piano journey, whatever level you're in. They offer beginner, intermediate and advanced piano lessons for both children and adults.
Lessons called "Baby Beats Music" can start for ages as young as 9 months old. Piano lessons can be given to adults as old as, well, there's really no limit as long as you're willing to learn!
They're not limited to piano either. They also teach other instruments like drums, violin, banjo, flute, sax, cello, guitar and many more.
You can choose a solo lesson, one with a partner, or a group session. They also have online or face-to-face lessons that just restarted recently.
We know lessons are an extra expense and can be a bit pricey, especially if you want to enroll more than one child. So, one thing we appreciate with Tempo Music School is that they have a sibling discount.
Those are savings you can use for books and other stuff if you're enrolling at least 2 kids for a full term.
Take note though that lessons are non-transferrable. And if the student decides to withdraw, the school will only refund 50% of the value of the remaining classes.
Piano lessons on all skill levels
Children and adults accepted
Lessons for other instruments available
Individual, partner or group lessons
Sibling discount offered
Lessons are non-transferable
No home lessons
Only 50% will be refunded in case of withdrawal
Customer reviews
Tempo Music School provides superior lessons compared to others, as these customers can attest:
"Tempo Music School has always provided superior bodhrán and Irish music workshops , oozing musical talent and so personable and great with the groups. We would have no hesitation in recommending Robert and his team…" – Oran Masterson, Tempo Music School reviews
"Rob and the team in Tempo provide a supportive and encouraging atmosphere for anyone looking to learn an instrument. We have sampled piano and fiddle and both were excellent and set at the right pace to learn and enjoy." – Sinead Healy, Google reviews
3. Pembroke Piano School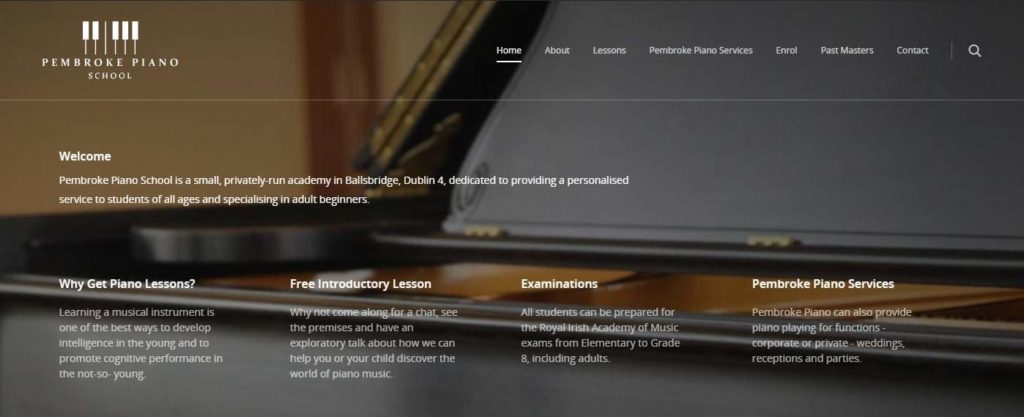 SERVICES
piano lessons for all ages, examinations, keyboard lessons, fast track lessons
WEBSITE
http://pembrokepiano.ie/
ADDRESS
106 Pembroke Rd, Ballsbridge, Dublin, D04 XSV9, Ireland
CONTACT DETAILS
087 6940 286


[email protected]

OPERATING HOURS
Mon – Fri, 8:00am – 8:00pm
Sat, 8:00am – 1:00pm
This is a small, privately-run academy in Ballsbridge, Dublin 4. We chose Pembroke Piano School because they are highly experienced in teaching adults in particular.
They have had numerous successes in helping adults progress, whether through the exam system or by playing for pleasure.
So, no need to feel embarrassed! They'll take you in even if you're a complete beginner or a returning student.
We've checked their records and found that the majority of their adult students have reached a very high level in the RIAM exam system too. In fact, they've even received honours—a good indication of their expertise in teaching adults.
Pembroke Piano School also offers fast-track learning so you can learn the piano in the shortest possible time. It's a very popular method for teens and adults (and we can understand why) that can only be applied to non-classical music.
If you're not convinced yet that they deserve to be on our list, their free introductory lessons might do the trick. How many other music schools offer these?
Or if you know someone who might want lessons themselves, you can ask them to come with you. You can also simply give them a single (or more) lesson voucher.
At any rate, they accept students both young and old. We just think their piano lessons for adults are the ones that really make them stand out the most.
We also like that you can hire them to play at functions like weddings, parties, corporate events and such.
Children and adults accepted
Highly experienced in teaching adults
Fast-track learning offered
Free introductory lesson
Piano lessons gift vouchers
Provide piano playing service for events
Offers piano lessons only
Mode of teaching isn't explained on their website, which those "shopping around" online may find off-putting
Customer reviews
These students confirmed they got the value for their money by enrolling at Pembroke Piano School:
"I love my piano lessons at Pembroke Piano. Joseph is a fantastic teacher – very calm, knowledgeable, patient and fun. He is also great value for money. I would 100% recommend Joseph to anyone! As an adult, over the years I have tried to learn piano but after 2/3 weeks given up. I have now had 5 months of lessons with Joseph and I have no intention of stopping as I look forward to my next lesson each week!" – Annabel, Google reviews
"Joseph is a fantastic teacher. I started with lessons about a year ago and will surely keep going as long as I can. Joseph has a personal style and guides well from the first lesson so one can improve quickly while slowly introducing technical aspects and musical theory. Highly recommended!" – David van Leeuwen, Google reviews
4. Sound Training Music Academy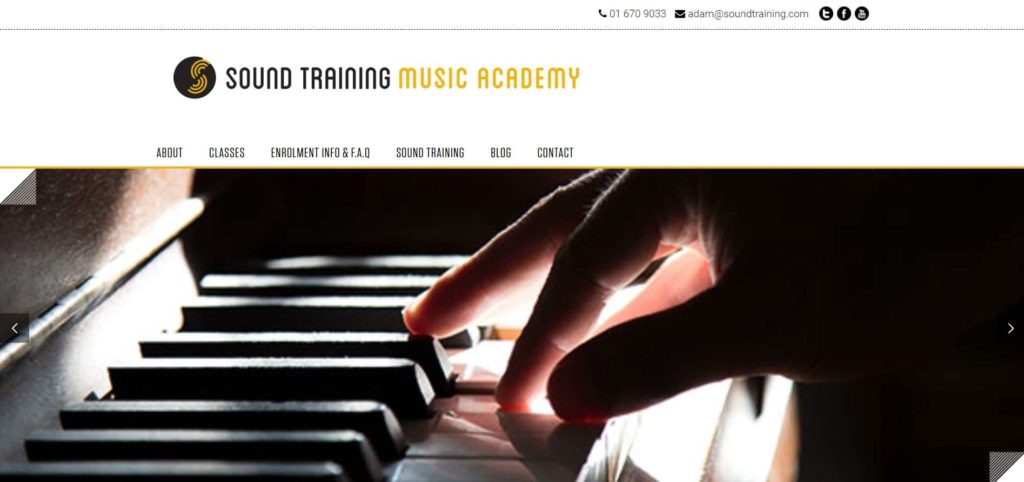 Established in 2015, Sound Training Music Academy is one of the newest music schools we have in the heart of Dublin—in Temple Bar, to be exact.
And their focus? Teaching adults music from both an academic and practical standpoint.
What won us over is their holistic approach to music education. Aside from the actual lessons—which we've heard is top class, by the way—students will also have access to facilities and all the other support STMA is getting.
That means you can access things like recording facilities, production facilities, live performance venues, online tutorials and the like.
We also approve that STMA wants to help their students to release a professional product, be it an album or a live performance. They have been in the music production industry for over 30 years, after all.
So, if you've ever dreamt of recording or performing for a live audience, this could be your chance.
They only offer one-on-one lessons (only in the evenings), by the way, which could be a good thing. You know you'll be getting highly-personalised, highly-specialised sessions.
It could be a bad thing too, though… because then, you might get more stressed out or feel more pressured to perform well.
As a final note, aside from piano lessons, STMA also offers guitar, singing, drums, violin and voice-over lessons. This may come in handy if you want to learn more than piano playing.
Highly specialised lessons
One-on-one lessons
Access to recording and production facilities
Access to live performance venues
Only adults accepted
Lessons are in the evenings only
Customer reviews
STMA has helped numerous students expand their knowledge in music, as what these students have testified:
"Small group with professional hands-on training! Really enjoyed the course with Cathal! Thanks again for everything!" – Kerry O'Boyle, Facebook reviews
"Highly recommend STC for anyone looking to get into or expand their knowledge on music!" – Steven Cooper, Facebook reviews
5. Pianos Plus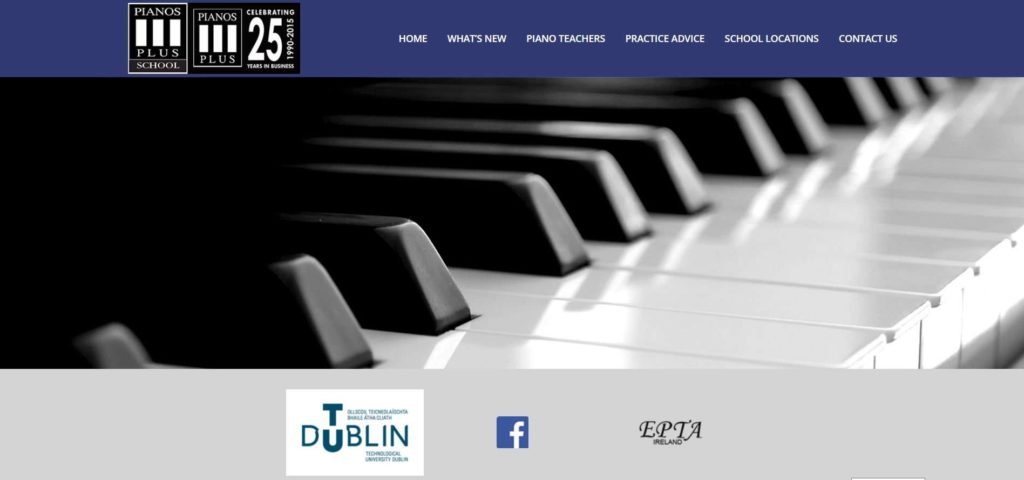 Piano Plus specialises in everything connected to pianos. Let's deal with the piano lessons first.
Piano Plus offers piano lessons for both children and adults. They have several teaching locations, so it's good that you can choose the one closest to you: Centrepoint, Donnybrook, Cabinteely and Terenure.
However, some of these locations are temporarily unavailable and they didn't mention if they offer online classes.
They made up for this small inconvenience by having first-rate teachers who have mastered piano from universities not just in Ireland but overseas as well.
If by any chance you or your child want to take lessons but don't have your own piano, you can buy from them as they have an online piano store. They have installment plans to make the payments more manageable.
Or you can rent the piano for a year if you don't want to buy one yet. Once you decide to buy it, 40% of the rent you paid will be deducted from the total amount of the piano.
For us, that sounds like a safe and practical choice. Why spend on an expensive instrument if you're unsure if you or your child will stick to the lessons?
It's like a test run. At least you can return the piano and keep most of your money if your interest in learning suddenly (or slowly) wanes.
Specialising in piano lessons
Children and adults accepted
Offers several teaching locations
Sells pianos
Installment plans available
Piano rental offered
No mention if they do online classes
Only piano lessons are offered
Digital or electronic pianos not accepted
Customer reviews
Check out some of Piano Plus's reviews below:
"My son is over 4 years with the school. We are very delighted with his achievements. Anna is a great teacher and keeps my son interested and very professionally handles any situation. The concerts at the end of each semester makes the students feel proud of their hard work. Well done!!" – Olesea Babitchi, Google reviews
"Thoroughly enjoyed having lessons with pianos plus. The teachers were very friendly and encouraging and there were many opportunities to perform in public which boosted confidence and ability. The lessons were superb and I would definitely recommend it!" – Ruth Britton, Google reviews
6. The Piano Studio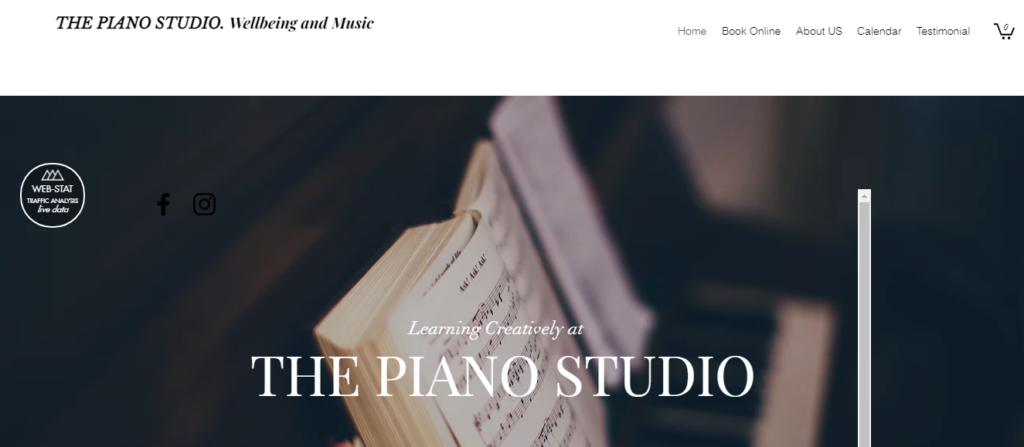 The Piano Studio is a music school that focuses mainly on comprehensive piano lessons both for children and adults at various levels of mastery. Aiming to create a safe space in the community that will make every individual happy, respected, and fulfilled while in the process of learning music.
They not only focus on teaching the technique, but they also empower students to become musicians. Their focus is to educate with love and provide a musical education that gives students peace of mind, while implementing mindfulness techniques.
Should you wish to learn piano for various reasons such as relaxation, exam preparation or simply wanting to discover and giving the piano a try – they are the perfect school to try for their nurturing teachers and welcoming community. Having taught already over 1000 students, they are commended for their patience and passion for teaching piano which is clearly reflected in each session you are to spend learning the brilliant instrument.
They have a unique approach and strategy that actually is tailored at your own pace and your own needs and try to also teach you how to be empowered and become a means to boost your own mental wellbeing as a means of meditation. Furthermore, their methodology has various benefits aside from learning the piano such as promoting concentration, discipline, patience and develop other areas of your person such as confidence and creativity among others.
Their lessons are focused on providing a very solid understanding of music, plus all their students can play the instrument but can also read music.
We recommend this music school for you due to the immersive and welcoming community of opportunities that await you should you wish to avail of their lessons – not only will you be one step to being a stellar pianist but also another step to rediscovering yourself.
Piano lessons for various purposes
Welcoming community
Patient mentors
Customer reviews
Here are some reviews from their clients:
"I began with my first piano lesson in September 2019. As a mature student, it presented a huge personal challenge, and this was my aim. Yeli has been an inspiration, demonstrating competence, patience and encouragement in equal measure . I'm not ready to give my first solo recital, but feel I have made significant progress. I would recommend The Piano Studio Dublin to all budding piano enthusiasts."
"It's not easy to find a teacher who is patient with beginners, but Yeli is definitely one of them!" My children have learned and enjoyed themselves so much, and love sharing their new skills with me."
7. Piano Lesson Dublin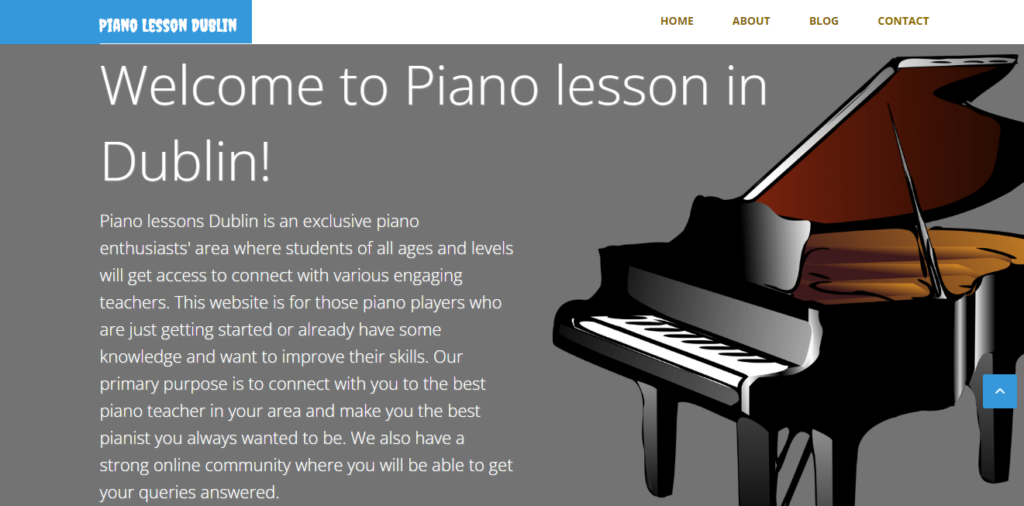 | | |
| --- | --- |
| SERVICES | Beginner Piano Lessons, Kids Piano Lessons, Intermediate Piano Lessons, Advanced Piano Lessons |
| WEBSITE | https://pianolessondublin.com/ |
| ADDRESS | 8PVH+CH Dublin 8, Dublin, Ireland |
| CONTACT DETAILS | [email protected] |
| OPERATING HOURS | Contact for more information |
Piano Lessons Dublin is a company that offers innovative Piano lessons for you no matter what age and level of mastery you possess. They help you in connecting with the piano that will best nurture and effectively teach you the instrument so that you can play the piano with confidence and with expertise once you are done with their sessions.
They are comprised of a team of highly experienced piano teachers who have been in the classical music industry and have also had many years of success in teaching and performing the said instrument. Each of their teachers is unique and possess their own approach in teaching piano which makes it a good starting point should you be looking for the right teacher who can effectively learn piano.
They also offer a wide variety of classes that you can choose from such as beginner Piano lessons, kids piano lessons, intermediate piano lessons, and advanced piano lessons among others according to your needs. Furthermore, they employ specific approaches and concepts included in every class such as general piano lesson itself, piano theory, and proper technique so you can be sure that with them – you get the whole package.
We recommend this company for your piano lesson needs due to their innovative facilities in which they continuously update so that you can have the best piano lessons at affordable rates yet still compete with high-quality standards.
Highly experienced teachers
Innovative facilities
Holistic teaching methods
Operating hours are not available
8. Piano Lessons Dublin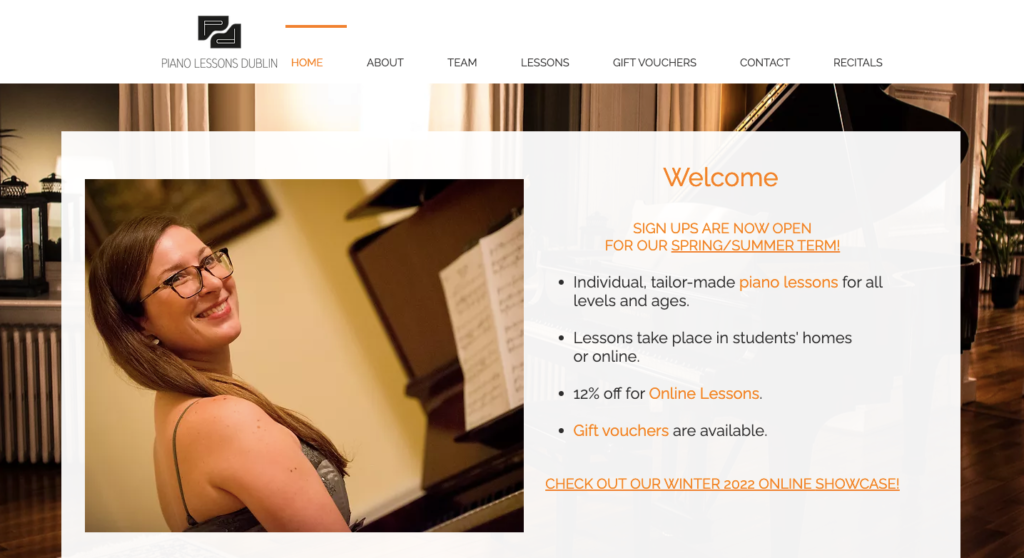 Since 2013, Piano Lessons Dublin, a family-run music school, has been providing piano lessons in Dublin.
As this school is owned by accomplished classical and jazz pianists Anja Kuncic and Leopoldo Osio, we are impressed that they have over 200 students causing them to be one of the most important providers of piano lessons in Dublin, Ireland.
Truly, teaching piano lessons is the owner's passion for they specialize in visiting students all over town and providing individual lessons that are tailored to each student.
Due to the pandemic, they now recently expanded our offering to include Online Lessons. The school accommodates students of all levels and ages, both children and adults, whether you want to play for fun or take graded exams (e.g. RIAM, ABRSM).
What is amazing about their school is that they also collaborate with an incredible team of highly qualified teachers from a wide range of musical and cultural backgrounds. Film composers, songwriters, classical concert pianists, and jazz virtuosos are among them allowing them to cover a wide range of genres, including classical, jazz, pop, Latin, blues, and film music.
12% off for online lessons
Lessons take place in students' home or online
Customized piano lessons for all ages
Can't find their address online
No physical classroom
Customer reviews
Here are some reviews from their clients:
"My daughter started her piano lessons with Leo 4 years ago. It has been an amazing experience. Leo is an excellent teacher always encouraging her and stimulating her by creating their own original pieces. They have created a special bond and understanding.
This year she completed her first RIAM exam, primary grade, with excellent results. Anja and Leo organize regular concerts during the year, great confidence-building experience for the young musicians. I am delighted with their school." – Enrica Pascarella
"We took Piano lessons with Emmet and Anja for both of my kids, 10 and 14 years old for a couple of years now. I'd highly recommend Anja and her school. They are very motivated and professional. My kids were prepared for RIAM exams, and passed them with very good results. They really enjoyed piano lessons, as they were given a good mix of classical and modern pieces. Anja would find notes for whatever my kids wanted to play, which was great!" – Galb A.
Benefits of Learning to Play the Piano
Numerous studies have proven the benefits of learning how to play the piano in children. It teaches them patience, encourages self-expression, enhances coordination and increases memory capacity.
But very few talk about the advantages of learning it as an adult. So aside from the actual lessons, what else can you get out of learning how to play?
It sharpens your intellect
Learning how to play the piano activates that part in your brain used in math and spatial reasoning. It improves your memory and focus.
It improves your patience and discipline
You can't learn to play overnight. You need to repeatedly practice to get it right.
And once you finally do, you'll realise you've not just learned a music piece, but have also improved your patience and discipline at the same time.
It improves your reflexes
The older we get, the slower our reflexes are. To counter this, you can play a musical instrument like the piano so you can train your body to react quickly.
Some studies indicate that taking lessons helps increase the body's level of human growth hormone, thus theoretically slowing down the ageing process.
It improves overall health
Music is known to reduce stress and anxiety. By playing the piano, you can channel your energy into something that can relieve your stress instead of worsening it.
This in turn lowers blood pressure, slows down your pulse rate and strengthens your immune system.
FAQs about the Best Piano Lessons in Dublin
---
And that concludes our top picks on where you can get the best piano lessons in Dublin. Just shoot us an email if you have other suggestions and we'll review them right away.
Are you also relocating and in need of someone to help move your piano or deliver the one you just bought, incidentally? Check out our list of the best movers in Dublin here.