The 10 Best Physical Therapy Clinics in Dublin
Do you keep experiencing back pains and you just don't know the reasons why? Well, that might be your sign to undergo physical therapy.
We've got some of the best physical therapy clinics in Dublin that can help you out from head to toe. If you want to be freed from these pains as you age, check out our review!
How much does a physical therapy session cost in Dublin?
Depending on the severity of your injury, a physical therapy session can cost you around €70 in Dublin. A table of price estimates is provided below:
| SERVICES | ESTIMATED AVERAGE PRICE PER SESSION |
| --- | --- |
| Dry Needling | €45.00 |
| Massage | €40.00 |
| Physical Therapy | €50.00 |
| Rehabilitation | €50.00 |
| Sports Therapy | €60.00 |
The Best Physical Therapy Clinics in Dublin
A lot of clinics can claim that they're the best when it comes to physical therapy. But for us, there can only be a few.
The following factors were used to determine why we included the items on this review as among the best:
1. Dynamic Physiotherapy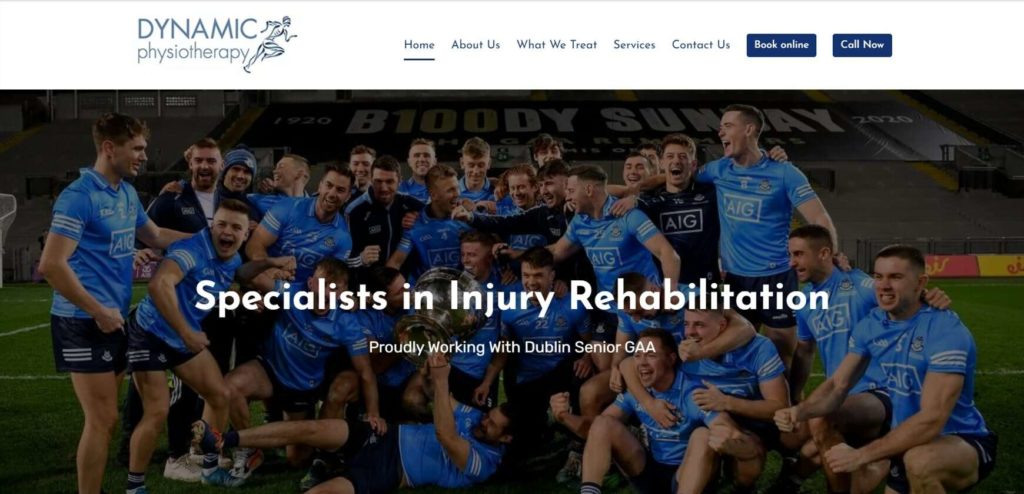 Test
Info
SERVICES

Sports Injury Rehab, Sports Massage

Ergonomics, Orthotics Prescription

Pre and Post Natal Physiotherapy

Acupuncture And Dry Needling

Online Video Consultations

Rehabilitation Post Surgery

Biomechanics Assessment

Taping And Strapping

WEBSITE
https://www.dynamicphysiotherapy.ie/
ADDRESS
Unit 3 Creighton St, Dublin Docklands, Dublin 2, Ireland D02 F8X7
CONTACT DETAILS

PHONE: +353 167 50041

OPERATING HOURS

Monday to Thursday, 7:30 a.m. - 8:00 p.m.

Friday, 7:30 a.m. - 5:00 p.m.
| | |
| --- | --- |
| EQUIPMENT | ★★★★★ (5/5) |
| EXPERTISE | ★★★★★ (5/5) |
| FACILITY | ★★★★★ (5/5) |
| RATES | ★★★★☆ (4/5) |
| SERVICES | ★★★★★ (5/5) |
For any physical therapy related services that your doctor requires for you, Dynamic Physiotherapy in Dublin Docklands is a reliable clinic to consider.
The main reason we recommend this in Dublin is it's known for providing excellent rehabilitation services, especially for those who have undergone surgery or sustained an injury.
It has a team of expert physical therapists, Niall and Foster, who are well-equipped to handle any type of musculoskeletal condition and mild to serious sports injuries.
What's also commendable in this clinic is its proven expertise in sports physical therapy with various clients.
Another service it has is its taping and strapping that can help athletes recover quickly and safely from injuries It also offers biomechanics assessments and provides personalized programs to meet the unique needs of each patient.
Moreover, it allows online bookings and consultations, making it easy for patients to schedule appointments conveniently at their website.
However, the clinic is closed on weekends and it doesn't have a shockwave treatment. These are just minor issues that do not significantly affect the quality of therapies it provides, though.
All in all, we consider Dynamic Physiotherapy a top-notch physical therapy clinic in Dublin for its expertise in different injury management.
Ideal for rehabilitation 
Expert on sports physical therapy  
Best for biomechanics assessment 
Established physical therapists 
Allows online booking and consultations
Closed on weekends
No shockwave treatment
Customer Reviews
Excellent physiotherapist
"Foster is an excellent physiotherapist. My Lower back pack was resolved in only one week and Foster not only alleviated my pain but also recommended me specific daily exercises to increase my core and buttocks muscle strength to prevent future injuries. The lady at the office was also very kind and efficient. I highly recommend dynamic physiotherapy services." – Marlene Araújo Silva
Very experienced
"I attended with Niall for prenatal physiotherapy on my two pregnancies and couldn't recommend him more. His excercises and massage work really helped me manage my back pain, even as my pregnancies progressed and I got bigger. He is clearly very experienced dealing with pregnancy back pain and was always happy to alleviate any concerns I had or answer my many questions!…" – Edel Finn
2. Maple Clinic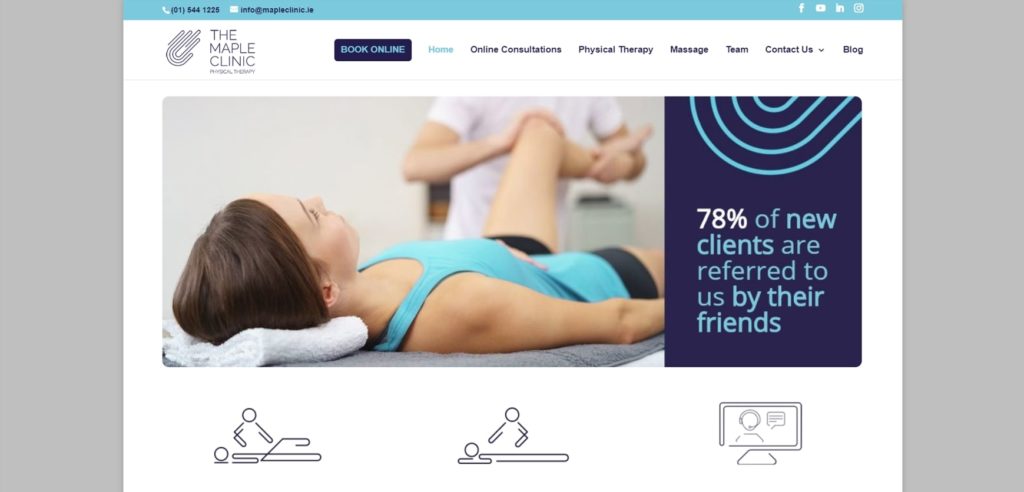 Test
Info
SERVICES

Physical Therapy, Massage

Online Consultations

WEBSITE
https://mapleclinic.ie/contact/
ADDRESS
Seafield House, 4a Seafield Park, Trimleston, Booterstown, Co. Dublin, Ireland A94 XH72
CONTACT DETAILS

PHONE: +353 154 41225

OPERATING HOURS

Monday and Wednesday, 10:00 a.m. - 9:00 p.m

Tuesday, Thursday, Friday, 7:30 a.m. - 2:00 p.m.
| | |
| --- | --- |
| EQUIPMENT | ★★★★★ (5/5) |
| EXPERTISE | ★★★★★ (5/5) |
| FACILITY | ★★★★★ (5/5) |
| RATES | ★★★★☆ (4/5) |
| SERVICES | ★★★★☆ (4/5) |
As individuals who've had their fair share of physical therapy treatments, we can say that Maple Clinic is one of the best clinics for rehabilitation and pain management in Dublin.
From its online consultations to its thorough assessments, Maple Clinic is dedicated to providing personalized care for its patients.
What we love most here is its commitment to determining the root cause of patients' issues rather than just temporarily relieving symptoms.
We like its hands-on treatments, which include trigger point release, fascial work, joint mobilizations, and stretching.
As mentioned, it has bespoke rehabilitation plans that target a patients' specific treatment needs. Not just that, but the plan can be viewed on a mobile app!
Moreover, it's also worth noting that the therapist at Maple Clinic is registered at the Irish Association of Physical Therapists and that the clinic is covered by major insurance firms.
While there are a few service limitations, such as the lack of taping and strapping and specific sports rehab programs, these are just small issues.
Overall, Maple Clinic is an excellent choice for anyone in need of physical therapy sessions during weekdays. It's ideal for those who need constant reassurance that their injuries or muscle problems will get better with therapy.
Thorough assessment
Hands on treatments 
Develops bespoke rehabilitation plans 
Irish Association of Physical Therapists-registered 
Covered by major insurance firms
No taping and strapping
No specific sports rehab programs
Customer Reviews
Most effective
"Karen is a fantastic professional. I have been receiving treatment for neck and shoulder pain for years with various professionals and by far Karen's treatment has been the most effective. Add to that, her friendly demeanor and helpful approach – I recommend her very highly." – Fiona Egan
Pinpoints root cause
"Had my ground zero appointment today and Karen was a fountain of knowledge for me! I had been trying to find ways to help my lower back pain for months on the internet to no avail but she helped really break down the root of where it was coming from for me, highly reccomend!" – Oscar Daly
3. L.E.A.F Physical Therapy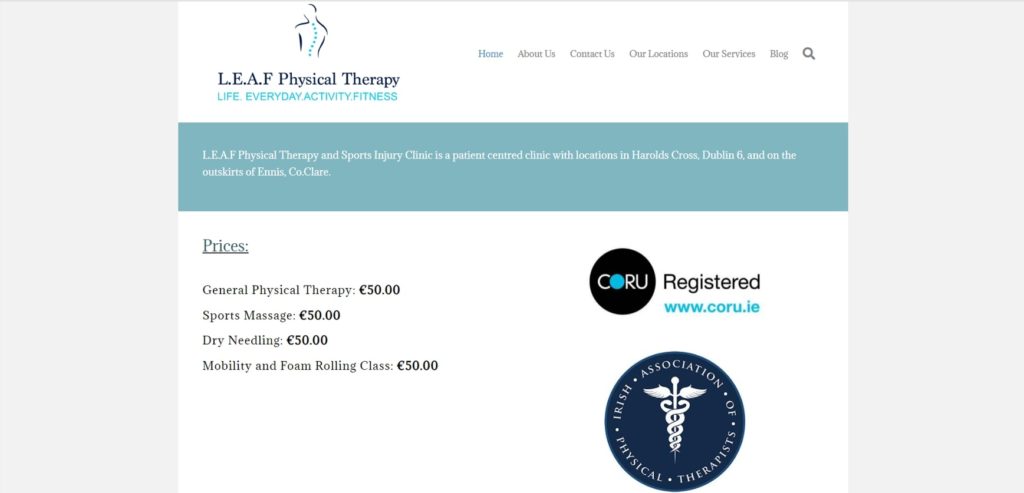 Test
Info
SERVICES

Elderly care. Sports Massage

Dry Needling Treatments

Medical Legal Reports

Rehab Programmes

WEBSITE
http://leafphysio.ie/
ADDRESS
Your Fitness Gym, 220 Harold's Cross Rd, Harold's Cross, Terenure, Dublin 6W, Co. Dublin, Ireland D6W DF85
CONTACT DETAILS

PHONE: +353 877 757815

OPERATING HOURS

Monday to Friday, 6:00 a.m. - 10:00 p.m.

Saturday to Sunday, 10:00 a.m. - 6:00 p.m.
| | |
| --- | --- |
| EQUIPMENT | ★★★★★ (5/5) |
| EXPERTISE | ★★★★★ (5/5) |
| FACILITY | ★★★★☆ (4/5) |
| RATES | ★★★★★ (5/5) |
| SERVICES | ★★★★☆ (4/5) |
Looking for a top-notch physical therapy clinic in Dublin? Look no further than L.E.A.F Physical Therapy!
With two convenient locations in Dublin and Clare, L.E.A.F is one of the best choices for anyone in need of physical therapy.
For us, what we really think as the best feature of this clinic is its focus on elderly physical therapy. With this, you'll be fine knowing that it doesn't only cater to sports therapies, but also for all ages.
In addition, it has an expert therapist, Mike Weaving, who's a specialist in sports injuries and musculoskeletal injuries.
He's also a registered therapist and member of the Irish Association of Physical Therapists and The Health and Social Care Professional Council.
Another great thing about L.E.A.F is its transparent pricing. The prices are fixed, so you won't have to worry about surprises in your medical bill.
Furthermore, it operates daily so you can easily schedule appointments around your busy schedule.
However, there are limited treatment details for its procedures on its website. This means you have to call or ask in person about its services and take notes yourself.
Do note that you have to call, email, or set an appointment at the site because there's no booking portion on its website.
Overall, if you're in need of physical therapy and want to work with a registered professional, this clinic is a good choice.
Ideal for elderly physical therapy
Has two locations 
Experience and registered therapist
Transparent pricing
Open daily
Limited treatment details
No online booking and consultation
Customer Reviews
Great experience
"Great Experience, I had knee pain and Mike was able to get to the root cause in the first session and give me relief. He provided me with some strength work and had me back in the gym in 3 weeks. Mike was very knowledgeable, helpful and professional. Would recommend him 100%!" –Ryan Earley
Extremely knowledgeable
"Absolutely brilliant experience. Went to Mike with a shoulder problem. He got straight to the root of the issue and three sessions later my shoulder feels great. Mike is very friendly, extremely knowledgeable, and is very thorough in his treatment and instructions on how to manage going forward. I would 100% recommend." – Conor Galvin
4. ReSync Physiotherapy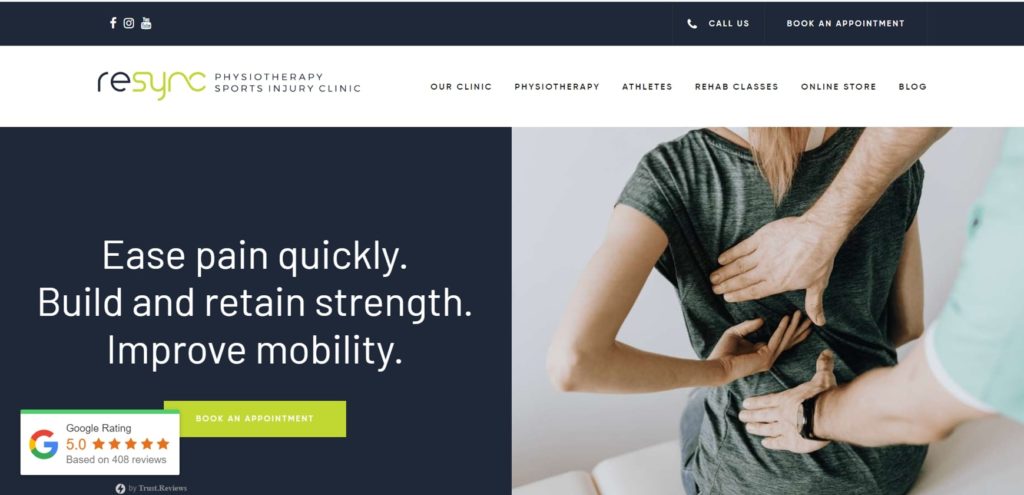 Test
Info
SERVICES

Complete Guide to ACL Surgery Rehab and Return to Running

Athletic Development, Achilles Tendon Clinic

Better Bones Class, Male Strength Training

Shockwave Therapy, Running Injuries

Sports Massage, Physio for Children

Post Surgery Rehab, Athlete Rehab

Hip & Groin Clinic, Pilates Classes

Neck Pain & Stiffness, Heel Pain

Physiotherapy, Sports Physio

Female Only Strength Classes

Low Back Pain, Hip Pain

WEBSITE
https://resyncphysiotherapy.ie/
ADDRESS
Unit 16 Belarmine Plaza, Belarmine Ave, Kilgobbin, Stepaside, Co. Dublin, Ireland D18 WFF3
CONTACT DETAILS

PHONE: +353 168 55181

OPERATING HOURS

Monday to Friday 8:00 a.m. - 9:00 p.m.

Saturday, 9:00 a.m. - 12:00 p.m.
| | |
| --- | --- |
| EQUIPMENT | ★★★★★ (5/5) |
| EXPERTISE | ★★★★★ (5/5) |
| FACILITY | ★★★★★ (5/5) |
| RATES | ★★★★☆ (4/5) |
| SERVICES | ★★★★★ (5/5) |
For anyone seeking top-quality physical therapy in Dublin, ReSync Physiotherapy is a clear standout in our opinion.
Offering a wide range of services that cater to all ages and conditions, ReSync is a good choice for those looking to improve their physical health and performance.
What impressed us in this clinic is its comprehensive sports rehab and performance programs. We find its athlete program helpful to athletes who wish to maximize their potential aside from injury recovery.
Also, it offers a variety of rehab classes that can be inclusive. These include pilates and bone and overall strengthening that are ideal for overall health, posture, and strength improvement.
ReSync also specializes in children's physical therapy sessions, so parents have no need to worry as their children get the best care while having fun.
Another great thing about ReSync is its helpful shockwave treatment. This non-invasive treatment is designed to provide quick results and cut down on recovery time from injury and pain.
Furthermore, with the spacious and modern facility and powerhouse manpower, ReSync is well-equipped to handle even the most complex physical therapy cases.
Be advised, though, that the clinic has no Sunday operations and has no clinic doctor. Not an issue, as there are four experienced physical therapists that can help you cope up with your condition.
Overall, we find this clinic ideal for those looking for a variety of physical therapy services and a good team.
Impressive services range 
Ideal for children's physical therapy sessions
Helpful shockwave treatment 
Comprehensive athlete program 
Powerhouse manpower 
No Sunday operations
No clinic doctor
Customer Reviews
Brilliant throughout
"I went into see Diarmuid after a year without progression on an Achilles injury that kept me out of football for the previous year. He was brilliant throughout my whole recovery process, providing a tailored plan for every stage of my rehab and now for the first time in 2 years I've no to little pain left. Very grateful for his thorough approach and after care support. Couldn't recommend highly enough." – Eoin Sheehy
Great treatment plan
"After injuring my ankle. Sean was extremely professional and devised a great treatment plan to get me back walking again. He also sent me lots of exercises to strengthen the muscles to prevent it happening in the future. Would have no hesitation in recommending Sean and ReSync." – Finola Mcgorisk
5. Dublin Sports Injury Clinic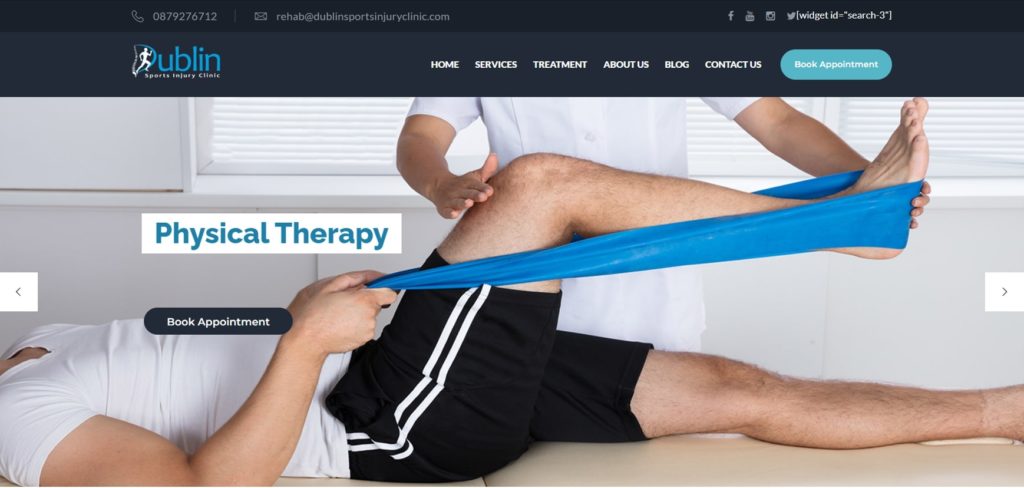 Test
Info
SERVICES

3 Exercise For Thoracic Mobility, Tennis Elbow

Herniated Discs Treatment And Management

Shockwave Therapy, Deep Tissue Massage

Groin Injury, Hamstring Injury, Knee Pain

Ankle Injury, Back Pain, Frozen Shoulder

Shin Splints, Neck Pain, Shoulder Pain

Back Pain & Neck Pain, Sports Injuries

Running Strength & Conditioning

Pre/ Post-Operative Rehabilitation

Treatments for Achilles Tendinitis

Online Physio Consultation

WEBSITE
https://www.dublinsportsinjuryclinic.com/
ADDRESS
34 Fitzwilliam Square S, Dublin 2, Ireland D02 X840
CONTACT DETAILS

PHONE: +353 879 276712

OPERATING HOURS

Monday to Friday, 8:00 a.m. - 7:00 p.m.

Saturday, 10:00 a.m. - 3:00 p.m.
| | |
| --- | --- |
| EQUIPMENT | ★★★★★ (5/5) |
| EXPERTISE | ★★★★★ (5/5) |
| FACILITY | ★★★★★ (5/5) |
| RATES | ★★★★☆ (4/5) |
| SERVICES | ★★★★★ (5/5) |
Are you a fitness enthusiast who wants to take their physical therapy to the next level? We think we just found a clinic in Dublin for you to set your next appointment at.
Dublin Sports Injury Clinic has a vast range of services covering sports and common injuries. These cover problems on the ankle, back, groin, knee, neck, tennis elbow, shoulder, and hamstring.
We like its approach in responding to patients' concerns, wherein it focuses on treating the pain source and not just the pain site.
Also, with its thorough diagnosis and explanation, patients can gain a greater understanding of their injuries and the best ways to treat them.
The clinic also places a strong emphasis on patient education, which is crucial in preventing future injuries.
Another thing we like here is its gradual exercise progression approach. This ensures that patients build strength and endurance over time slowly but surely.
For runners, the clinic's Running and Strength Conditioning Program is a game-changer. The program can help you boost performance and prevent injuries.
However, the clinic only has one physical therapist, so make sure to book a schedule ahead of time to secure a slot without having to wait in line.
The rates aren't also available online as treatment and plans vary from patient to patient.
Still, this clinic is definitely worth checking out when you want specialized and thorough rehabilitation treatment plans.
Ideal for injuries treatment 
Treatment is focused on pain source
Gives attention to patient education
Gradual exercise progression
Great for runners
Only one physical therapist
Rates unavailable online
Customer Reviews
Easy to follow plans
"I highly recommend Bob who is an excellent physio. He accompanied me for a tendinitis of the Achilles heel, and was the only one to find an effective solution. Thanks to him, I was able to improve my condition so that I could play sport again. Bob is a good listener, and offers rehab plans that are easy to follow. He is very competent and a good coach. He is also someone who knows how to encourage and give confidence to heal faster." – Fabien Jimenez Roldan
Beyond expectations
"Bob is by far the best physio therapist I've ever tried. I started with Bob after my ACL surgery, he has prepared a rehab plan, explains the plan to me and the progress I should be making, with clear steps. Bob also explains to me his choice of rehab exercises and what are their benefits. My knee feels better, the rehab is going beyond what I expected and soon I'll be back to playing football again. Highly recommend." – Rachid Slimani
6. Therapy for Optimal Performance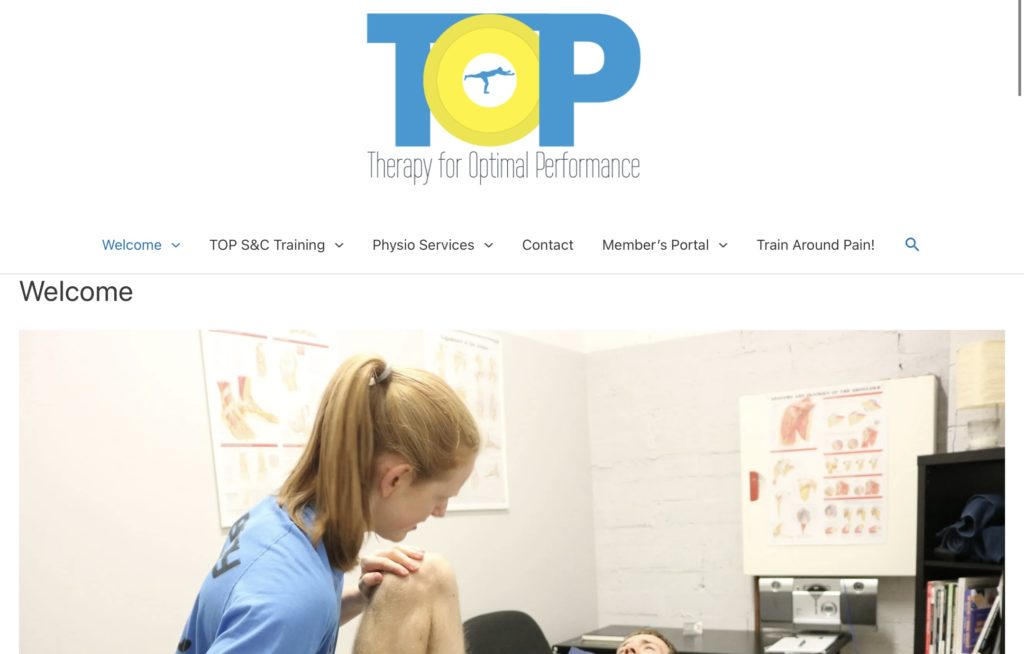 | | |
| --- | --- |
| SERVICES | Physical Therapy, Strength Training Plans, Sports Performance Plans, and Full Return to Play Rehabilitation |
| WEBSITE | https://www.top-therapy.com/ |
| ADDRESS | 1st Floor River House, Raheny Shopping Centre, Clontarf East, Raheny, Co. Dublin, D05 N8K8, Ireland |
| CONTACT DETAILS | 353 83 184 9894 |
| OPERATING HOURS | Monday 10 AM–1 PM 3–6; Tuesday 8–9:30 AM 12–5; Wednesday: Closed; Thursday: 10 AM–1 PM; Friday: 8 AM–2 PM; Saturday to Sunday: Closed |
| | |
| --- | --- |
| EQUIPMENT | ★★★★★ (5/5) |
| EXPERTISE | ★★★★★ (5/5) |
| FACILITY | ★★★★★ (5/5) |
| RATES | ★★★★☆ (4/5) |
| SERVICES | ★★★★★ (5/5) |
We recently tried out Therapy for Optimal Performance's services and let's just say, we were pleasantly surprised.
Their customer service was top-notch. From the moment we booked our appointment, we were treated like royalty.
The staff was friendly, accommodating, and made us feel right at home. We appreciated the personalized attention we received, as it really made us feel like they cared about our well-being.
They have a track record of helping athletes, performers, and everyday people achieve their full potential. It's no wonder they've been featured in top publications before.
We felt confident in their abilities and were excited to see what they could do for us.
We were a bit hesitant at first, as we thought their services may be too pricey. However, we were surprised to find their rates were reasonable, especially considering the level of expertise they provide.
Convenience was also a major plus for us. They have flexible scheduling options, so it was easy to find a time that worked for us.
Plus, they offer virtual sessions, which is great for those who can't make it to their physical locations.
And finally, we were blown away by the knowledge and expertise of our therapist. They really knew their stuff and were able to provide us with actionable strategies to improve our performance.
But do note they're not open on weekends. We advise paying them a visit on a weekday or booking an appointment with them ahead of time.
Personalized attention from friendly and accommodating staff
Impressive reputation with a track record of helping people achieve their full potential
Reasonable rates for the level of expertise provided
Convenient scheduling options and virtual sessions available
Closed on Saturdays and Sundays
Customer Reviews
Great physical therapist
"Fiona has been my S&C coach and physical therapist for the last few years and each year working with her I've felt and played better without picking up any major injuries. She's been great resolving any niggles to get me back training and playing matches quickly. I can't recommend her enough." — Matthew Feely
Comprehensive and educational
"Fantastic therapist. Always leave consultations feeling better and better equipped to fix whatever issue I walk in with. S&C plans are also very comprehensive and educational, have allowed me to really improve as an athlete. Can't recommend enough!" — Niall McGovern
7. Wren Clinic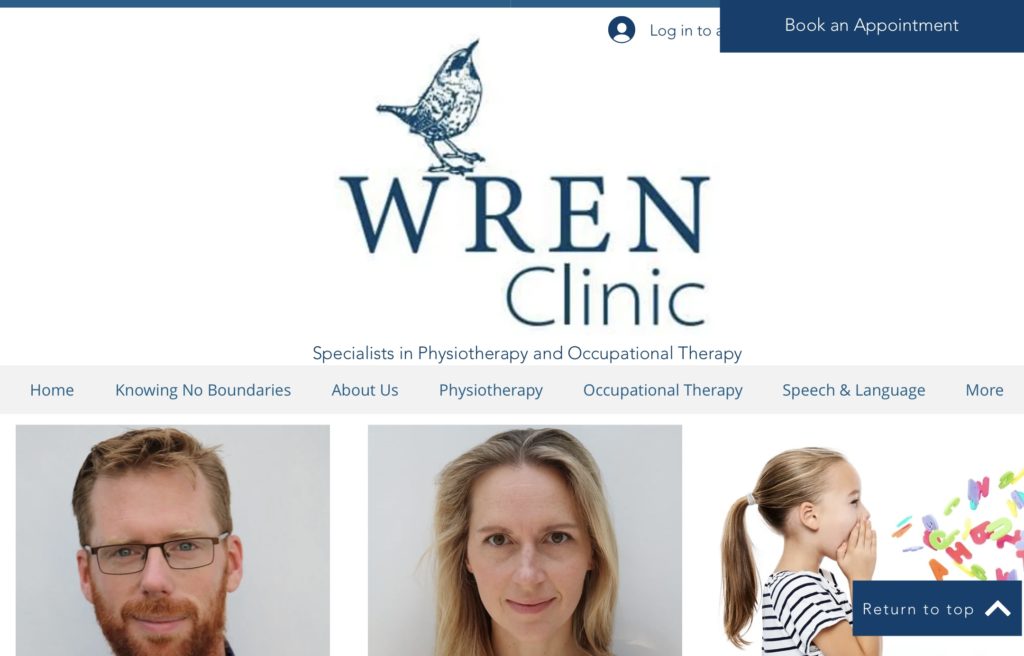 | | |
| --- | --- |
| SERVICES | Sports Injury Rehab, Sports MassageErgonomics, Orthotics PrescriptionPre and Post Natal PhysiotherapyAcupuncture And Dry NeedlingOnline Video ConsultationsRehabilitation Post SurgeryBiomechanics AssessmentTaping And Strapping |
| WEBSITE | https://www.wrenclinic.ie/ |
| ADDRESS | First Floor, 2 Kilmore Road, Artane/Beaumont, Dublin 5, Ireland |
| CONTACT DETAILS | [email protected] |
| OPERATING HOURS | Monday to Friday: 9:00 AM to 7:00 PM |
| | |
| --- | --- |
| EQUIPMENT | ★★★★★ (5/5) |
| EXPERTISE | ★★★★★ (5/5) |
| FACILITY | ★★★☆ (4/5) |
| RATES | ★★★★☆ (4/5) |
| SERVICES | ★★★★★ (5/5) |
We wanna spill the beans about our latest discovery in the world of physiotherapy: Wren Clinic. We recently checked it out and we were thoroughly impressed.
Wren offers a one-stop-shop for all your physiotherapy needs. From sports injuries to post-surgery rehab, these guys have got your back (and your knees, and your elbows).
They've assembled a team of skilled professionals who wield their magic wands (well, maybe not wands, but close enough) to whip your body back into shape.
Convenience? Oh, you betcha!
Located smack dab in the heart of Ireland, Wren makes it ridiculously easy for us to stumble into their healing haven. No more trekking through treacherous terrains or navigating mazes of confusing streets.
Their physiotherapists are the superheroes of the human body. They listen to our cries of pain and expertly diagnose the root cause.
Then, armed with their arsenal of therapeutic techniques and cutting-edge equipment, they have our backs on our feet faster than we can say "Bob's your uncle."
We can vouch for their excellence because we came out of there feeling like we could win a marathon or two.
Moreover, Wren has a reputation that precedes itself. Word on the street (and by "street," we mean the buzzing online community) they're the go-to clinic for all things physiotherapy.
They've earned their stripes by consistently delivering exceptional care and putting smiles on countless faces. And hey, if the internet says it's true, it must be, right?
Unfortunately, they're closed on weekends. So be sure to book your appointment before Saturday knocks on your door.
Competitive rates
Wide range of services
Professional and expert team
Customer Reviews
Professional and knowledgeable
"I recently visited Dr Colm Daly to address a shoulder pain issue, and I had a very positive experience. Colm took the time to thoroughly assess my shoulder, asking questions about my symptoms, medical history and specifically about the type of weight lifting exercises I do at the gym. His professionalism and knowledge were evident as he very quickly assessed it was a shoulder impingement issue. He explained the root cause and outlined a treatment plan." — Fergal Lawler
Engaged, patient, and kind
"Had an appointment with Dr Colm Daly today. He was reviewing my son (18 months). He was so engaged, patient and kind. He explained everything so clearly to me and Fox my son was at ease. I would highly recommend the Wren Clinic and Dr Daly." — Sorcha Bryne
8. Rapid Rehabilitation and Performance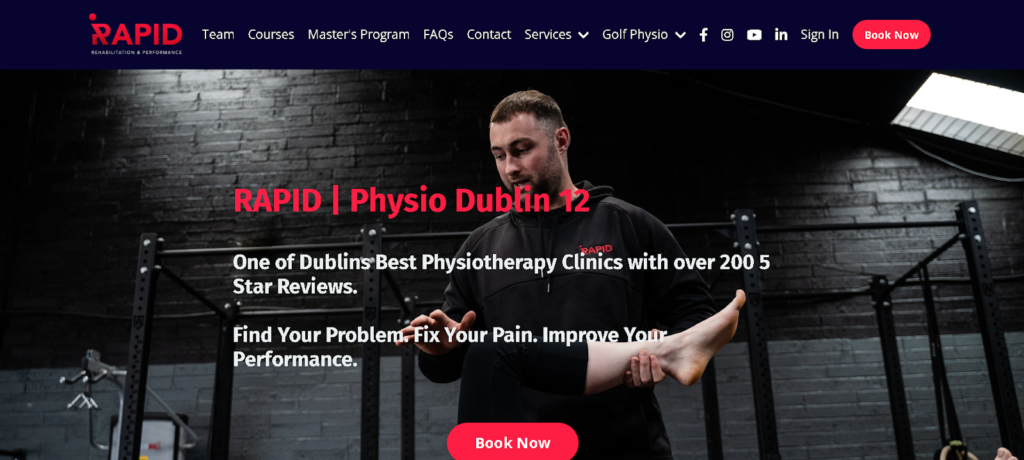 SERVICES
Conditions Treated:
Plantar Fasciitis Pain, back pain, hamstring strain, hip physio, knee pain, sciatica pain, shoulder pain, sports injury, osteoporosis treatment, and osteopenia treatment.
WEBSITE
rapid.ie
ADDRESS
Unit 3 Beechlawn Industrial Complex
Greenhills Road
Walkinstown
Dublin 12
CONTACT DETAILS
https://www.instagram.com/rapid.ie/
085 187 2961
[email protected]
OPERATING HOURS
| | |
| --- | --- |
| EQUIPMENT | ★★★★☆ (4.5/5) |
| EXPERTISE | ★★★★★ (5/5) |
| FACILITY | ★★★★★ (5/5) |
| RATES | ★★★★☆ (4/5) |
| SERVICES | ★★★★★ (5/5) |
RAPID is a physiotherapy and sports medicine clinic located in Dublin 12, offering quick and accurate diagnosis and treatment of various musculoskeletal problems. Their team of Chartered Physiotherapists provides a comprehensive physiotherapy assessment and movement screen to address the root cause of the problem and not just the symptoms. They create personalized rehabilitation programs that aim to resolve the pain and help their clients achieve a fitter, stronger, and healthier lifestyle.
With over 200 5-star reviews, RAPID boasts having the best physiotherapists in Dublin 12. Their expertise in exercise rehabilitation and strength and conditioning allows them to build comprehensive programs that address their clients' pain and fitness goals, ensuring rehabilitation all the way back to top-level performance. They also have some of the best sports and exercise physiotherapists in Dublin who can help athletes of all levels to identify their weaknesses, rehab their injuries, and improve their sporting abilities.
RAPID's approach is holistic, focused on treating the root cause of the problem and not just the symptoms. Their expertise in rehabilitation, strength and conditioning, and sports medicine is reflected in their commitment to helping their clients achieve their fitness goals and return to full function. Overall, RAPID is an excellent choice for those seeking effective physiotherapy and sports medicine services in Dublin 12.
Comprehensive personalized rehabilitation programs
Competitive rates
Holistic approach to treating the root cause
Website needs to be updated
9. Amatsu Clinic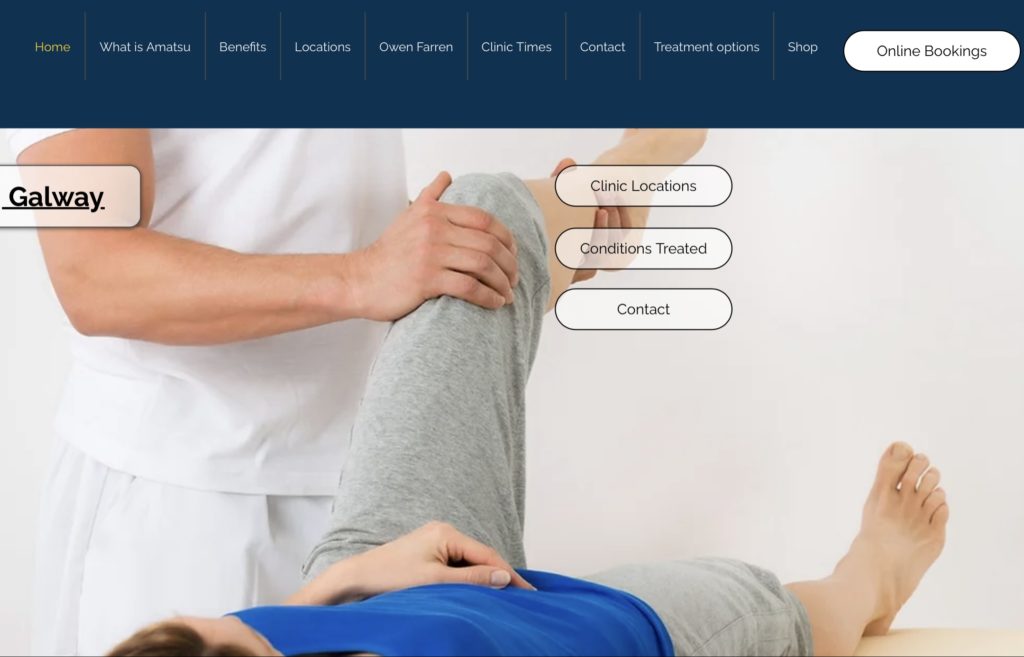 SERVICES
Sports Injury Rehab, Sports MassageErgonomics, Orthotics PrescriptionPre and Post Natal PhysiotherapyAcupuncture And Dry NeedlingOnline Video ConsultationsRehabilitation Post SurgeryBiomechanics AssessmentTaping And Strapping
WEBSITE
https://www.amatsuclinic.com/
ADDRESS
The Amatsu Clinic, Unit 7, Sandyford Hall Centre, Sandyford Hall Walk, Sandyford, Dublin, D18 F438, Ireland
CONTACT DETAILS
+353871725294; [email protected]
OPERATING HOURS
Thursday: 8 AM–8 PM
Friday: 8 AM–4 PM
Saturday: 9 AM–2 PM
Sunday: Closed
Monday: 8 AM–7 PM
Tuesday: 8 AM–7 PM
Wednesday: 8 AM–8 PM
| | |
| --- | --- |
| EQUIPMENT | ★★★★☆ (4/5) |
| EXPERTISE | ★★★★★ (5/5) |
| FACILITY | ★★★★★ (5/5) |
| RATES | ★★★★☆ (4/5) |
| SERVICES | ★★★★★ (5/5) |
Our experience at Amatsu Clinic was a breath of fresh air in the world of physical therapy. From the moment we stepped foot in their doors, we knew we were in for something special.
Their services were top-notch, with a wide range of treatments tailored to our specific needs. Whether it was a stubborn backache or a pesky sports injury, their expert therapists knew just the right moves to get us back on track.
Convenience was key, and Amatsu Clinic nailed it. With multiple locations scattered around the city, we never had to go too far to find relief.
Plus, their flexible scheduling options meant we could fit in appointments around our hectic lives.
When it came to reputation, Amatsu Clinic definitely lived up to the hype. Word of mouth had already reached our ears, and boy, did they deliver.
Their stellar reviews were well deserved, as we witnessed firsthand the dedication and skill of their staff.
We all know physical therapy can be a strain on the wallet, but Amatsu Clinic struck the perfect balance between quality and affordability. Their rates were competitive, and they even worked with our insurance provider to make the process smoother.
But let's not forget the cherry on top — the atmosphere. The clinic exuded a warm and welcoming vibe, with friendly staff who made us feel right at home.
However, they're closed on Sundays. We recommend booking a therapy session on weekdays.
Top-notch services
Convenient locations
Stellar reputation
Reasonable prices
Customer Reviews
"I had a sore neck, vertigo, nausea, general malaise, not able to do any sport, and all this had a huge impact on my every day life. One meeting with Dave, and I had the best week since all these symptoms started. I feel almost normal again, and I can't be more grateful. Would highly highly recommend!" — Tom Beurghs
"I've suffered with back pain most of my life, and that got progressively worse after breaking my neck in 2017. Doctors said there wasn't anything they could do and just prescribed very strong pain medication to manage the symptoms. Before I went for my first session with Alan, I couldn't do anything without being in severe pain. After my first session, I was able to come off my tablets and have been medication-free since. I honestly have no idea how he does it, but I've gone from feeling like an 80 year old in the body of a 30 year old to being able to do the most basic things pain free, which is honestly a dream come true." — Sarah Presch
10. Rathmines Chronic Pain & Sports Injury Clinic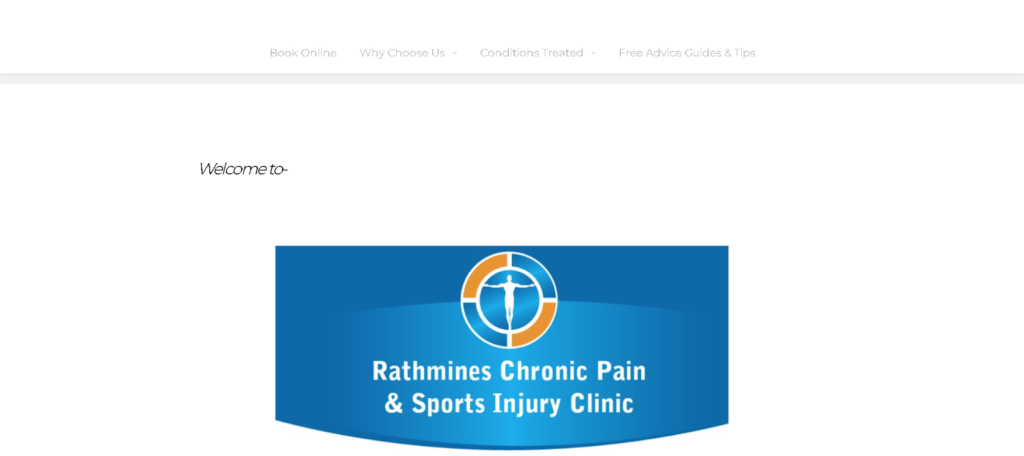 SERVICES
Conditions Treated:
Lower Back Pain
Knee Pain
Shoulder Pain
Hip Pain
WEBSITE
rathminespainclinic.ie
ADDRESS
Rathmines Pain & Injury Clinic
Swan Leisure,
Rathmines,
​Dublin 6.
CONTACT DETAILS
085 1099702Email [email protected]
OPERATING HOURS
Monday – Thursday, 9:00 AM – 9 PM
Friday, 9:00 AM – 5 PM
Saturday, 10:00 AM – 2 PM
| | |
| --- | --- |
| EQUIPMENT | ★★★★★ (5/5) |
| EXPERTISE | ★★★★★ (5/5) |
| FACILITY | ★★★★★ (5/5) |
| RATES | ★★★★☆ (4.5/5) |
| SERVICES | ★★★★★ (5/5) |
Rathmine's pain clinic has been helping active individuals get back to feeling their best for over 13 years. Located in Swan Leisure, Rathmines, Dublin 6, the clinic is open from 10 am to 9 pm on weekdays. They specialize in using hands-on techniques, stretching techniques, and gentle movements to relax tense muscles, give freedom to stiff joints, ease strained ligaments, and treat pain caused by muscle strain or imbalance, stiff joints, strained ligaments, or irritated nerves. Occasionally, they also meet people whose pain is stress-related.
The clinic offers several therapies to help patients feel better, including NeuroKinetic Therapy, Anatomy in Motion, and Selective Functional Movement Assessment. NeuroKinetic Therapy is a sophisticated form of manual therapy that identifies the cause of pain and dysfunction and corrects it quickly. Anatomy in Motion is an approach that looks at movement and eliminates pain and compensation from the body. Selective Functional Movement Assessment assesses fundamental patterns of movement to identify impairments that may contribute to associated disability.
Overall, Rathmine's pain clinic seems like a great option for individuals seeking a safe and effective solution to their pain-related problems. Their use of various therapies ensures that patients receive personalized care and treatment for their unique needs. Additionally, their certification in SFMA and other comprehensive systems of musculoskeletal evaluation and exercise intervention demonstrates their commitment to providing efficient and effective care.
Effective pain relief services using hands-on techniques
Offers personalized care and treatment
Utilizes sophisticated manual therapy and movement assessment
Customer Reviews
John is an extremely professional and knowledgeable therapist.
"John is an extremely professional and knowledgable therapist. He has been working with my son to resolve a very tricky and debilitating back issue. I cannot believe the difference in my son's condition. I couldn't recommend him highly enough. (as an extra bonus, he is kindness personified). 5⭐️" – Toni Carroll
Hands down the best physio session
"Just out of a first physio session with John – hands down the best physio session I have had ever had spanning 20 years! He is highly professional, knowledgable and so friendly. I went to see John after weeks of knee problems following a fall. We worked through tests to identify the issue and solutions to address the pain and avoid future injuries. Although I dont live in Dublin I aim to work with him over video from abroad. I highly recommend going to see John for any physio issues." – Richie Bennett
FAQs About the Best Physical Therapy Clinics in Dublin
---
Physical therapy is like your mage when playing online games. It's a healer and can get you out of pain in a series of sessions.
When you're feeling some pain on your back, shoulder, or from a sporting event, physical therapy will help you get back on track.
Make sure to check our review on the best physical therapy clinics in Ireland!
---