5 of the Best Yoga Classes in Cork
With all of the daily stresses, yoga can be a relaxing yet physically engaging practice to incorporate into daily life.
There are a lot of options out there for everybody, from different types of yoga to teachers who have varying approaches.
In this article, we break down the best yoga classes in Cork that can offer you the proper guidance in techniques and flows during the lessons. 
How much do yoga classes cost?
Classes in yoga are priced based on the instructor, facilities, equipment used and the duration of the program. Nowadays, there are even pre-recorded classes that can offer a cheaper and more convenient option.
Listed in the table below are some of the prices we found of different yoga classes in the area.
STUDIO
PACKAGE DETAILS
PRICES
Hot Yoga Cork

Intro Offer, Three Weeks Unlimited

Drop In Class, 75 to 90 min. Non Heated

€ 59

€ 22

Douglas Yoga Centre

Gentle Yoga with Louise, 6 Week Course

Kundalini Yoga and Meditation with Miriam, Drop In

€ 75

€ 15

Ashtanga Yoga Cork

First Timer Promotion, 30 Credits Valid for 32 Days

Standard Monthly, 30 Credits Valid for 32 Days

€ 80

€ 95

Himalaya Yoga Valley
Single Class Pass
€ 12
PhysioYoga Cork
Single Class Studio
€ 17
Top Yoga Classes in Cork
We assessed the classes based on the following criteria:
1. Hot Yoga Cork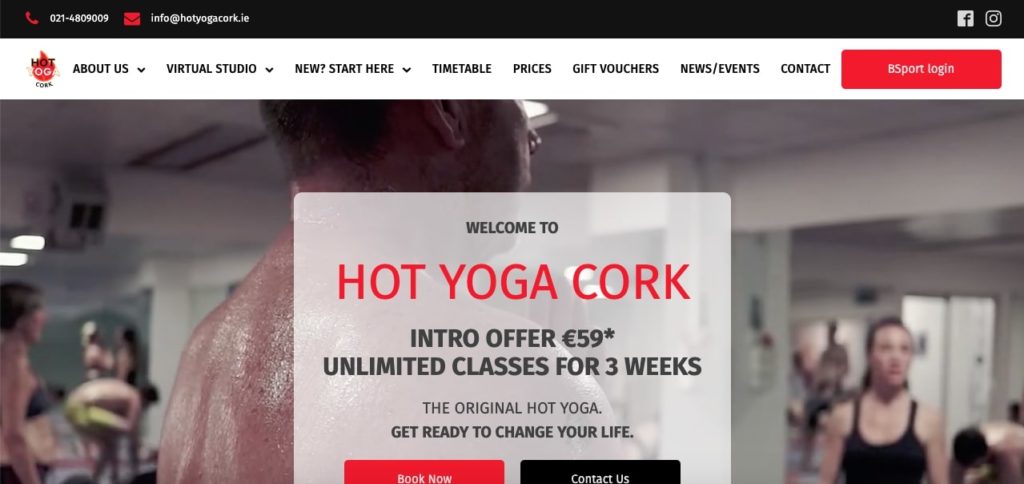 Test
Info
SERVICES

Warm Hatha Yoga, Yin Yoga

Vinyasa Yoga, Sound Bath

Hot 26, Virtual Classes

Hot Yoga, Hot Pilates

WEBSITE
https://hotyogacork.ie/
ADDRESS
Lowlands, Pouladuff Industrial Estate, Tramore Rd, Ballyphehane, Cork
CONTACT DETAILS

PHONE: 0214809009

OPERATING HOURS

Monday to Saturday: 9:00 AM to 7:00 PM

Sunday: 10:00 AM to 1:00 PM
| | |
| --- | --- |
| Yoga Classes | ★★★★★(5/5) |
| Range  | ★★★★☆(4/5) |
| Depth  | ★★★★★(5/5) |
| Terms and policies | ★★★★★(5/5) |
| Pricing | ★★★★★(5/5) |
| Customer experience | ★★★★★(5/5) |
| Availability and booking  | ★★★★☆(4/5) |
| Satisfaction  | ★★★★★(5/5) |
Hot Yoga Cork offers well-equipped facilities and well-thought out classes which makes the yoga sessions here a more unique and rejuvenating experience.
Their specialty, of course, is hot yoga. What we like is that they've got a complete set of features that make the experience easier and accessible for beginners.
They have a spacious and well lit room for the in-studio sessions which also includes shower facilities and changing rooms should students need it. We also highly recommend their introductory offer which includes unlimited classes for 3 weeks.
This is especially great for newcomers who are looking to explore the practice of hot yoga as it's a relatively affordable option that they can customize to their own pace.
Speaking of their price packages, we think customers will really appreciate how affordable and varied their membership system is.
Students can choose from membership options of different credit amounts and durations. Included in their selection is even an unlimited monthly membership option.
For those looking to fully dedicate themselves to hot yoga and practice it regularly, we like that customers can transition from a reasonably priced intro offer to a full unlimited per month package.
We do caution that some of their classes can get filled up quickly especially during post work timeslots. It would be best to schedule your sessions way in advance but they do have an option for waitlisting should any other slot free up.
Hot Yoga Cork has some very convenient features and a well stocked facility to create an immersive yoga class experience that students will appreciate.
Their introductory package is more affordable and has unlimited classes
Has both options for heated and non heated sessions 
Can book classes through an app
Well equipped with shower facilities and changing rooms
Not the best place for advancing in skill as most classes are mixed level 
Some classes can get filled up quickly 
Customer Reviews
Nothing Compares to the Teachers
By far the BEST hot yoga studio we've ever been to! The facilities and studio itself is fab, but nothing compares to the teachers ~ the most welcoming, knowledgeable and friendly people you'll ever meet! They're quick to get to know you and make you feel like part of the yoga family. We were so lucky to get to practice here and we will be back again! Thank you Kate, Rosie and Lisa 🔥 -Rachel Leigh
Come Out Completely Restored
I love this place. Classes are challenging, teachers are welcoming, friendly and motivating. I can go in feeling horrible and come out completely restored. It is my mental break from everyday stress and although some days it feels like torture, you always feel better having done it. I can't wait to try some of the new classes! Well done to Kate and the whole team. -Gen Rose
2. Douglas Yoga Centre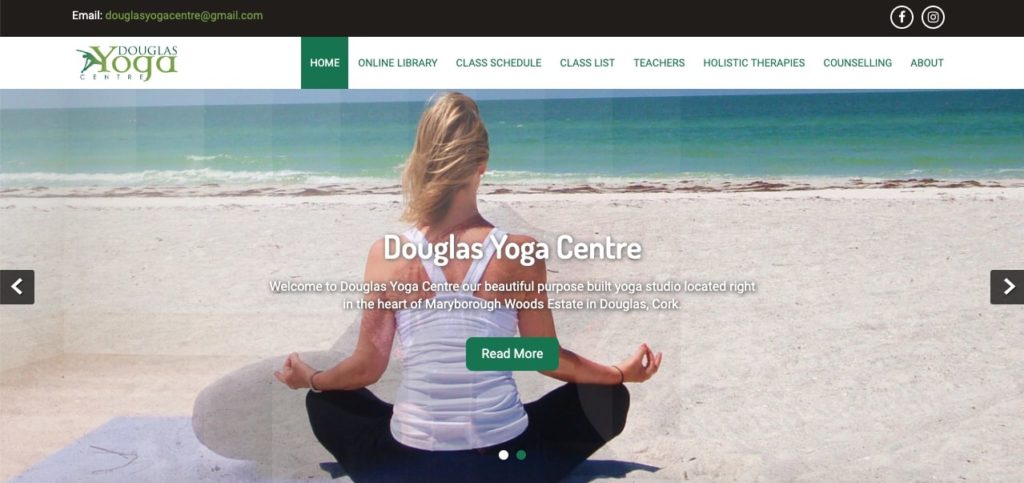 Test
Info
SERVICES

Hatha Yoga, Kundalini Yoga

Kids Yoga, Teens Yoga

Mom and Baby Yoga

Gentle Hatha Yoga

Corporate Yoga

Prenatal Yoga

WEBSITE
http://douglasyogacentre.ie/
ADDRESS
The Mall Maryborough Woods, Douglas, Co. Cork
CONTACT DETAILS

PHONE: +353 86 362 7370

OPERATING HOURS

Weekdays: 9:00 AM to 10:00 PM

Saturday: 9:00 AM to 7:00 PM

Sunday: 9:00 AM to 9:00 PM
| | |
| --- | --- |
| Yoga Classes | ★★★★★(5/5) |
| Range  | ★★★★★(5/5) |
| Depth  | ★★★★★(5/5) |
| Terms and policies | ★★★★☆(4/5) |
| Pricing | ★★★★★(5/5) |
| Customer experience | ★★★★★(5/5) |
| Availability and booking  | ★★★★☆(4/5) |
| Satisfaction  | ★★★★★(5/5) |
With a wide range of yoga classes that consider even those of younger ages, we highly recommend Douglas Yoga Centre if you're looking to explore a wide variety for different concerns.
We were very impressed with their roster of teachers as they have very diverse backgrounds and specialized expertise in different areas of yoga.
This includes backgrounds in restorative yoga, kundalini yoga and meditation, hatha yoga and more. Many previous students have also expressed how they liked the welcoming and attentive approach of the instructors.
It's a great studio to check out if you're intimidated with learning yoga, as the teachers are both knowledgeable yet approachable.
Another impressive aspect to Douglas Yoga Centre is their range of different yoga classes available.
For both moms and expectant mothers, the centre offers both prenatal yoga as well as mum and baby yoga. It's a great option to develop or regain your strength during the process as well as bond with your baby.
In the same vein, they also have kids and teens yoga which can help them relax, develop coordination and have a gentle outlet for their energy.
We really like that they have different types of yoga for different ages, so customers and families will be enticed to visit the studio together.
Keep in mind however, different classes usually have different point persons to contact and schedule with. We do wish that their booking process is more convenient and all in one on the site.
Overall however, Douglas Yoga Centre is the perfect place if you're looking to explore different types of yoga, especially for mothers and young ones.
Have specific classes for younger age ranges 
Offers yoga for specific concerns like stress or eating disorders
Affordable options for lengthier courses and drop ins
Very varied and extensive background of teachers and instructors
Room and ambiance feels a little more enclosed
Different classes require booking with different contacts 
Customer Reviews
Intuitive Sense of What Students Need
I would highly recommend Douglas Yoga Studio & Louise. I joined & have practiced in Louises classes for over 3 years now! And with every class I have always found Louise has an intuitive sense of exactly what her students need – she is friendly & welcoming, & competently teaches yoga classes that balance flexibility, mobility & strength work, in a mindful way. Your body & mind feel lighter leaving the studio! -Aoife Breen
Great for Various Levels
I highly recommend the Douglas Yoga Centre and Louise George. I have attended her classes for around 15 months now and it is so part of my weekly routine I could not be without it. I am 60 and the youngest in the class is probably in her mid 20s but Louise makes it clear that everyone has to keep to within their own limits and describes various different levels of most exercises. Totally relaxing but also enables you to work every single part of your body. Classes very relaxed and fun but a great workout too! -Alison Winfield
3. Ashtanga Yoga Cork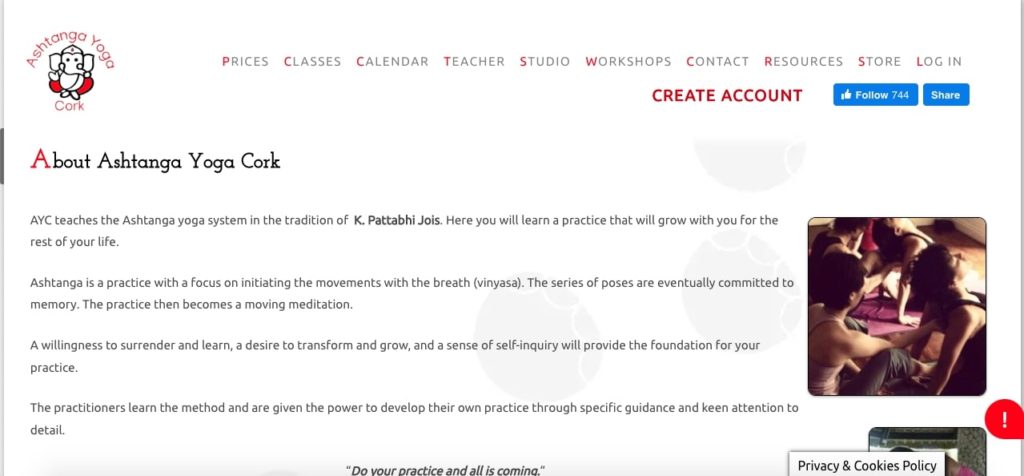 Test
Info
SERVICES

Counted Full Primary

Mysore Self Practice

Workshops, Guided

Guided Beginners

Led Half Primary

WEBSITE
https://ashtangayoga.ie/
ADDRESS
2-4 Carey's Ln, Centre, Cork
CONTACT DETAILS

PHONE: 00353 21 204 0100

OPERATING HOURS

Monday and Wednesday: 6:00 AM to 9:15 AM; 5:30 PM to 7:30 PM

Tuesday and Thursday: 6:00 AM to 9:15 AM; 6:30 PM to 7:45 PM

Friday: 6:00 AM to 9:15 AM

Saturday: 9:00 AM to 12:00 PM
| | |
| --- | --- |
| Yoga Classes | ★★★★☆(4/5) |
| Range  | ★★★☆☆(3/5) |
| Depth  | ★★★★★(5/5) |
| Terms and policies | ★★★★☆(4/5) |
| Pricing | ★★★★★(5/5) |
| Customer experience | ★★★★★(5/5) |
| Availability and booking  | ★★★★★(5/5) |
| Satisfaction  | ★★★★★(5/5) |
Ashtanga Yoga Cork is one of the most qualified yoga studios in the area. It gives their customers both options of more freedom or more guidance in learning the practice.
The teacher, Eunice, is highly qualified and knowledgeable in the area as she has completed both 200 hour training sessions in teaching Vinyasa as well as practicing Ashtanga Vinyasa Yoga .
She has also learned under notable teachers like Petri Raisanen and Mark Robberds. If you're looking to learn yoga under the guidance of a teacher who is both knowledgeable and motivational, we think that their studio offers the complete experience.
In terms of their prices and packages, we do really appreciate that a lot of them have a very long period of validity. For example, their standard class credits and introduction to Mysore self practice are valid for a full year or 365 days.
They have some great options if you're searching for more flexibility in class credit validity.
In terms of their variety in classes, we do think that other studios offer wider ranges to explore. We do like however, that they have classes for different guidance options, from beginners to half led and mixed level classes.
Ashtanga Yoga Cork has a highly qualified teacher that enhances the experiences in the yoga classes. They make an excellent choice if you're looking for versatility in guidance and independent learning.
Very in-depth and well-guided classes 
Class credits and promos have a substantial validity period
High customer praise for the teachers' guidance and approach
Have features to make the experience more personalized
Uses Paypal primarily for all transactions 
More limited in variety of offerings as compared to other studios
Customer Reviews
Keeps us Motivated
Eunice is an amazing teacher, very professional and caring at the same time. Since I've started to do Ashtanga Yoga my physical and mental health improved a lot, every day I feel a bit stronger and I improved so much. Eunice keeps us motivated by doing different workshops and the best part is, you feel part of a community. 🙏🏻🧘‍♀️ -Maria Soare
Lovely Style of Teaching
My practice has grown so much since I became part of the wonderful yoga community at AYC. Eunice has a lovely style of teaching and she gives wonderful adjustments. The shala has a relaxed and friendly vibe, ideal for a daily practice. Eunice is very tuned into the international yoga community and she has inspired me to meet some of the most influential people in the world of yoga which is awesome! -Bridget O'Connor
4. Himalaya Yoga Valley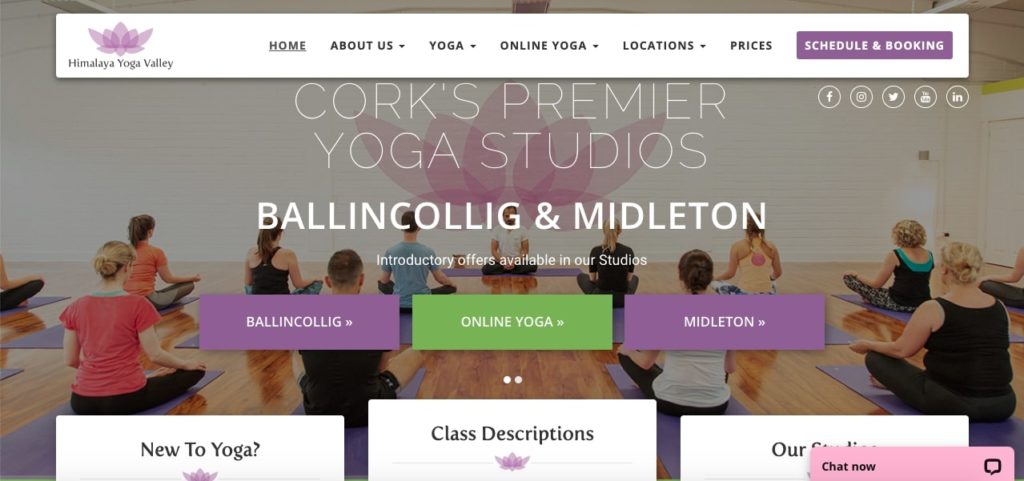 Test
Info
SERVICES

Classes: Beginner, Intermediate, All Levels

Yoga in the Park, Retreats

Online Yoga, Workshops

Yoga Teacher Training

Corporate Yoga

WEBSITE
https://yogacorkireland.com/
ADDRESS

13A Westpoint, Link Road, Ballincollig, Co. Cork

10 Mill Rd., Townparks, Midleton

CONTACT DETAILS
OPERATING HOURS

Ballincollig

Monday, Tuesday, Thursday: 10:00 AM to 9:00 PM

Wednesday: 9:30 AM to 9:00 PM

Friday: 9:30 AM to 8:30 PM

Weekends: 10:00 AM to 12:30 PM




Midleton

Weekdays: 10:00 AM to 9:30 PM

Weekends: 10:00 AM to 12:30 PM
| | |
| --- | --- |
| Yoga Classes | ★★★★★(5/5) |
| Range  | ★★★★★(5/5) |
| Depth  | ★★★★★(5/5) |
| Terms and policies | ★★★★☆(4/5) |
| Pricing | ★★★★★(5/5) |
| Customer experience | ★★★★★(5/5) |
| Availability and booking  | ★★★★☆(4/5) |
| Satisfaction  | ★★★★★(5/5) |
Himalaya Yoga Valley has made learning yoga more accessible through their different centres, programs, classes and retreats. Also a registered yoga school, they have expanded their branches and offerings over the years.
What impressed us initially about Himalaya Yoga Valley is their wide range of teachers and their multiple branches, having studios located in both Ireland and India.
Because of their expansive roster of instructors, they have one of the largest number of different class options amongst yoga studios out there. Students will greatly appreciate that their sessions have different areas of improvement and skill levels.
This includes classes for stability, flexibility, muscle toning, balance, flow and relieving stress. We also like that their set of options are great for those looking to both advance their skills from basics to intermediate skills.
We highly recommend checking out their website for the class descriptions, as you will find that they have something for everyone.
Outside of their in-studio practices, Himalaya Yoga Valley goes beyond by also offering online yoga and other programs.
From live videos to organized retreats, it's worth availing of services from them as they have a wide set of activities to prolong your practice. It is important to note that their passess and memberships are non refundable in most cases.
Regardless, if you're looking to take your practice above and beyond with different levels of classes and programs outside the studio, make sure to check out what Himalaya Yoga Valley has to offer.
Has both online and in person yoga
Spacious and bright studio
Conduct a lot of programs, workshops and events
Wide team of trained teachers
Shorter operating hours on weekends 
Passes and memberships are non refundable or transferable unless the class is cancelled
Customer Reviews
Can't Wait to Come Back
Treated myself to a membership as I want to learn mindfulness, improve my flexibility and build my strength. Did my first class tonight with Lisa and she was excellent. I can't wait to come back. -Danielle Williamson
All the Teachers Give Care and Commitment
I love practising yoga with Himalaya Yoga. I do miss the classes in Cork city centre but find the online videos and classes really beneficial, especially as I can choose what sort of practice to do, depending on how I feel that day and how much time I have. All the teachers give commitment and care to their teaching and, so it feels like a personal experience despite the physical distance. It has really helped me to cope during this pandemic . -Anne McShane
5. PhysioYoga Cork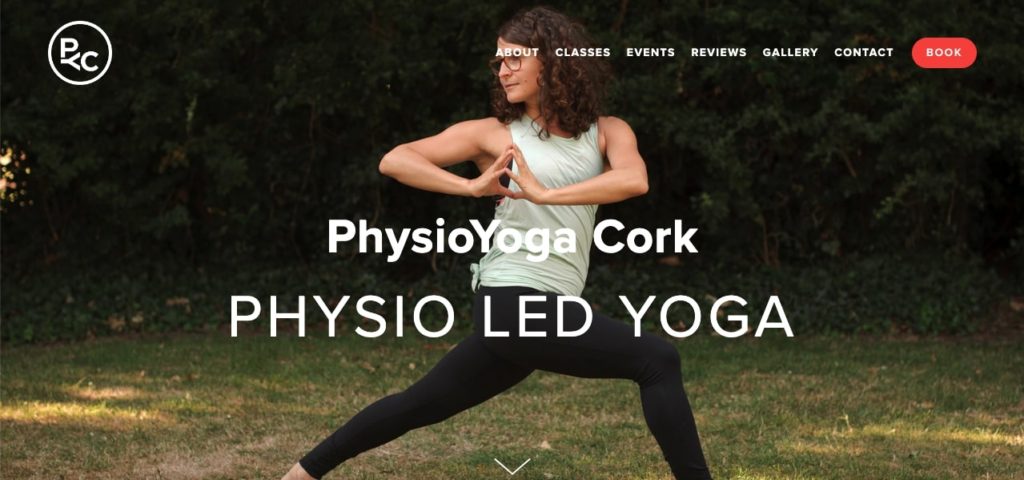 Test
Info
SERVICES

Classes: Beginners, Mixed Levels, Intermediate

Studio and On Demand Classes

WEBSITE
https://www.physioyogacork.ie/
ADDRESS
10 Dean St, The Lough, Cork
CONTACT DETAILS

PHONE: +353 (0) 85 286 6962

OPERATING HOURS

Monday, Thursday: 9:30 AM to 9:30 PM

Tuesday, Wednesday: 10:00 AM to 5:00 PM

Friday: 10:00 AM to 3:00 PM
| | |
| --- | --- |
| Yoga Classes | ★★★★☆(4/5) |
| Range  | ★★★☆☆(3/5) |
| Depth  | ★★★★★(5/5) |
| Terms and policies | ★★★★★(5/5) |
| Pricing | ★★★★★(5/5) |
| Customer experience | ★★★★★(5/5) |
| Availability and booking  | ★★★★☆(4/5) |
| Satisfaction  | ★★★★★(5/5) |
Although a yoga class formatted on a smaller scale, PhysioYoga Cork has over 7 years in the business. Their unique and high quality programs have resulted in consistent customer praise over the years.
What we found stands about her is that teacher Johanna Huber has a unique approach to the classes as she blends both science and yoga.
Customers will be drawn to the balance and attention to both the mind and body of her program, employing practices that target aspects like pain science for example.
It's a program that definitely takes a more unique approach compared to other yoga classes.
We also think customers will appreciate PhysioYoga Cork's range of offerings and affordable pricing. They offer both prerecorded and studio classes with affordable deals for lengthier programs.
Her single studio class is only 17 euros so if you would like a more affordable option when it comes to yoga classes, you may want to check them out.
We also like that they have three types of classes for different skill levels. Admittedly, however, their intermediate classes are less frequent which can be more limiting in terms of availability.
The classes also take place at St. Fin Barre's Cathedral Hall which is a very peaceful and calming environment perfect for yoga.
All in all, for those wanting to try a more unique approach to yoga, with a more straightforward selection of classes, you may want to check them out.
Interesting approach blending both science and yoga 
Offers both studio and on demand classes
Very affordable prices with discounts for multiple purchases
Plans well-thought out retreats from time to time
Shorter operating hours 
Intermediate classes are less frequent in schedule
Customer Reviews
Lovely Teaching Style
Johanna is a brilliant Yoga teacher. Have been going to her classes for a few years now and what I like about them is that she has a really lovely teaching style. It's not just simply doing poses and trying to copy them, Johanna explains how the body moves, the importance of breath work and also knows that each person and their flexibility is different. This is turn makes you more intuitive to what your own body needs. Each class has a different theme which she clearly explains at the start of the class. Would definitely recommend anyone to go as after the classes you feel fantastic both physically and mentally! -Sinead M
Pays Attention to Everyone in Detail
Physio yoga classes are great. Johanna facilitates an individual approach to yoga. She pays attention to everyone and how they're doing in detail. The classes are informal and friendly. I find myself feeling fantastic for days after a class and the flexibility I'm looking for is starting to come too. -Gwen Lettis
FAQs about Yoga and Yoga Classes
---
Yoga can be a daunting practice especially for beginners, but with the right teachers and facilities, it can be a very fun and fulfilling experience. We hope our article helped you out in selecting your next yoga class.
If you would like to read more, we also have an article on the best pilates studios in Ireland.