The 8 Best Hypnotherapy Clinics in Dublin
Featured Image from: https://pixabay.com/illustrations/black-and-white-background-spiral-2703890/
Stress and anxiety are normal human reactions. Both are natural parts of our lives.
So, we deal with them the way we know how: listening to classical music, getting a massage, taking a long and hot bath in the tub, etc. There are times, though, when those aren't enough.
If you think what would help you is hypnotherapy, you can check out the list of the best hypnotherapy clinics in Dublin we've picked below. We've also added some useful information on hypnotherapy that might be of help to you, including the cost of your average session.
The Cost of Hypnotherapy in Dublin
Aside from stress and anxiety, hypnotherapy can help with weight loss, public speaking, breaking bad habits, fears and phobias, and more.
Different issues require different types of hypnotherapy. And different types of hypnotherapy cost different things, as you can see here:
Average Cost
| | |
| --- | --- |
| Consultation | Starts at €75 |
| Suggestion Hypnotherapy | Starts at €80 / session |
| Analytical Hypnotherapy | Starts at €80 / session |
| Clinical Hypnotherapy | Starts at €80 / session |
| Smoking Cessation | Starts at €250 |
| Vaping Cessation | Starts €150 |
| Weight Loss Program | Starts €299 |
*Sessions are usually 60-90 minutes each
The Best Hypnotherapy Clinics in Dublin
We've picked reputable and qualified hypnotherapy clinics in Dublin for you. Check them out below:
1. Hypnosis and Therapy Centre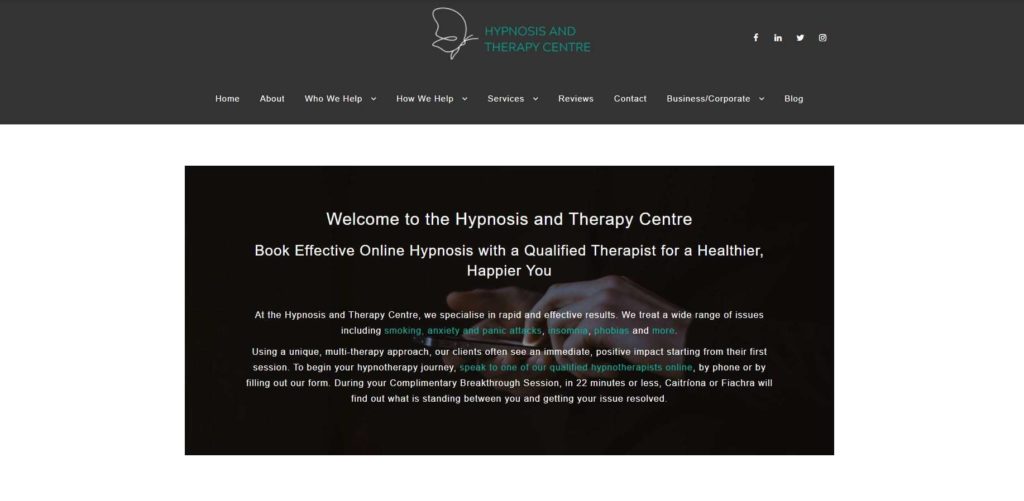 SERVICES
smoking, insomnia, anxiety, depression, tourettes, panic attacks, self-confidence, phobias, alcohol addiction, weight loss, chronic pain, stress, public speaking
WEBSITE
https://hypnosisandtherapy.ie/
ADDRESS
20 Harcourt St, Saint Kevin's, Dublin, D02 H364, Ireland
CONTACT DETAILS
+353 1 450 8923
OPERATING HOURS
Mon – Sat, 10:00am – 8:00pm
Sat, 10:00am – 6:00pm
Training is important in any field. In hypnotherapy, only a trained, licensed or certified hypnotherapist can work on mental health issues like eating disorders, stage fright, phobias etc.
We picked Hypnosis and Therapy Centre for this list precisely because their therapists hold several diplomas and certificates in this field: ones for Neuro-linguistic Programming, Life Coaching, Hypnotherapy, Mind Coaching, Conversational Hypnosis and Advanced Strategic Hypnotherapy.
To date, they've helped people with different issues like rage, smoking cessation, lack of self confidence, alcohol addiction, etc.
Now, how effective are they in dealing with these issues? They claim rapid results that can usually be seen from the client's first session.
Based on our research and the reviews of people who previously took on their services, that claim seems to hold up and they seem to have a good success rate.
They use a unique, multi-therapy approach applying a combination of psychotherapy, hypnosis, NLP and similar practices. This, they said, encourages change.
If you have doubts—and we don't blame you if you do—you can avail of their 22-minute complimentary breakthrough session. It's a free phone consultation where you will have an initial discussion with a therapist about the issue you want to resolve.
Once you decide to go for it, programmes are typically 3 to 5 sessions. The initial session is about 60 minutes and follow-up sessions can last up to 45 minutes.
The days of the sessions are also provided close together to maintain momentum and achieve optimal results. Their programmes are focused on solutions and not intended to be carried out over a long period.
One of the things we also appreciate about them is the ongoing support they provide. Sliding back to old habits is a real issue in situations like this and we think it's important to have somebody check on your progress once in a while.
Also, please note that a deposit is required to secure a time slot. The remaining payment is paid at the end of the first session.
Take note that you have to make sure you want this, though.This is because payments to them are non-refundable except in certain circumstances.
Certified in hypnotherapy and similar fields
Uses multi-therapy approach
Free phone consultation
Solution-focused programmes
Provides ongoing support
Payments are non-refundable
Deposit required 
Customer Reviews
Here are some of Hypnosis and Therapy Centre's reviews:
"Fiachra was great to work with. Really helped get to the root of my challenges and put things in perspective. I would highly recommend the service for anyone looking to make positive change in their lives." – DG Aherne, Google reviews
"I was lucky enough to be referred to Fiachra by someone who had found him super helpful recently! I had been unsuccessful in giving up smoking for some time! I found his therapy extremely helpful not only in curing my addiction but in allowing me to take control of my life and emotions once again… Thank you Fiachra… an absolute gentleman!" – Pamela Reynolds, Google reviews
2. Dublin Hypnosis Clinic

SERVICES
weight loss, quit smoking, anxiety, stress reduction, fears and phobias, hypnosis training, gastric band, IBS, confidence building, public speaking
WEBSITE
https://dublinhypnosisclinic.ie/
ADDRESS
24 Main St, Blackrock, Co. Dublin, A94 K8R9, Ireland
CONTACT DETAILS
+353 86 361 3872


[email protected]

OPERATING HOURS
Mon – Fri, 8:00am – 8:00pm
Sat, 10:00am – 5:00pm
Dublin Hypnosis Clinic is best known for providing training to employees of businesses and corporations through clinical hypnotherapy.
Their team includes top psychology lecturers and hypnosis trainers like Seamus Foley, Cormac Colleran and Joe Plowman. They influence the mind through hypnosis to improve performance and teach influence skills in individuals and teams.
But that's not to say they don't help individuals with issues not related to work. Some of their other services include hypnotherapy treatments for weight loss, smoking cessation, anxiety, irritable bowel syndrome, stress reduction among others.
Are they good? Going from what clients said, it seems so.
They're also pretty well-established, having been in the business for 7 years and having a collective experience of nearly 40 years.
Further proof of their quality is that they were named the Hypnosis Clinic of the Year winner by the Prestige Awards and Corporate Livewire Magazine twice in a row (2020, 2021).
Some of the companies they have worked with are Google, Facebook, Bank of Ireland, LinkedIn, Whirlpool, Permanent TSB, Pfizer among others. So, given all these, we'd say there's a basis for their strong reputation in the field.
In terms of convenience, they have clinics in Blackrock and Clontarf, but also do online sessions. They didn't mention, however, if they require a deposit to secure a session.
7 years in the business, with 40 years of collective experience
Hypnosis Clinic of the Year winner 2020, 2021
Strong list of business clients including names like google and Facebook
Online sessions offered
Closed on Sundays
No confirmation if a deposit is required
Customer Reviews
Read some of Dublin Hypnosis Clinic's reviews below:
"Hi Cormac just wanted to thank you for your help in the past few weeks , you were great dealing with my situation it really worked for me and I would recommend you to people who wood need help, regards Kevin" – Kevin Barry, Google reviews
"Can highly recommend Cormac for teens. Brought daughter for separation anxiety after a serious bereavement. He tapped in immediately to the inner strengths she already had and gave her great confidence to cope when worried. I can see my old daughter re-emerge." – Ann Morris, Google reviews
3. Hypnosis-Dublin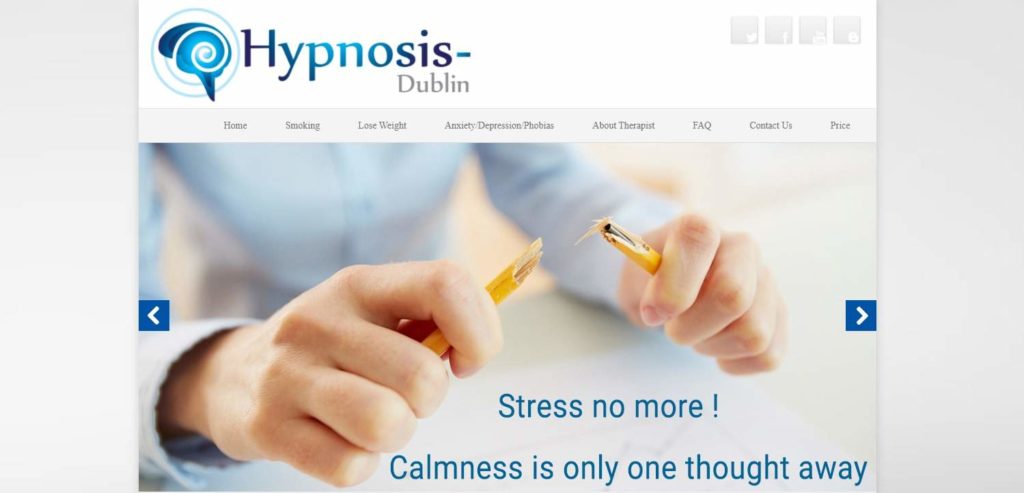 SERVICES
anxiety, stress, depression, low confidence, tinnitus, major fears and phobias, weight loss, smoking
WEBSITE
https://www.hypnosis-dublin.com/
ADDRESS
Oscailt Integrative Health Centre, 8 Pembroke Road, Dublin, D4, Ireland
CONTACT DETAILS
+353 86 731 0053


[email protected]

OPERATING HOURS
Mon – Fri, 10:00am – 7:00pm
Sat, 10:00am – 8:00pm
Because every client is unique and has different needs, Hypnosis-Dublin tailors each session for each client.
They pride themselves on giving powerful sessions to reprogram the mind because "stubborn problems need stubborn efforts."
That might be true, but let's get to what really matters: their success rate. Of course, it's necessary to note here that results vary from person to person.
Drawing our assessment from client testimonials and the fact that they have been around for more than a decade, it looks like the success rate is high enough, though. Most of their customers were very complimentary too.
Their hypnotherapist/psychotherapist is also Garda-vetted and a registered member of Clinical Hypnotherapy Professionals Association (CHPA) in Ireland, which is the only recognised registration body in Ireland for the European Association of Hypno-psychotherapy (EAHP).
How much do sessions cost? It's €90 for the average one-off session.
There's still some variation in pricing based on what you're getting, though. For instance, smoking cessation is €190 for 2 sessions.
They treat all sorts of issues, such as panic attacks, fears, phobias, depression, insomnia among others. However, the rates for these have not been disclosed to us.
If you're not sure whether to give it a go or not, you can take advantage of their phone consultation, which is free.
You can also give them a call or fill up their contact form. However, they sometimes have problems with Yahoo mails bouncing back, so you might want to send them a text message instead.
Highly customised sessions
Garda-vetted
Registered member of CHPA
Free phone consultation
Emails to them sometimes bounce back
Rates may vary based on issues being addressed
Customer Reviews
Here are some of Hypnosis-Dublin's reviews:
"I started to See Ger Griffin in Hypnosis-Dublin @ the start of may, I was finding it hard dealing with anxiety,With the help of Ger I now feel I'm back on track & I'm enjoying life. Ger is a really Nice & kind Guy & I found it very easy to talk to him. He has helped me enormously, it's been such a rewarding experience ,i cant thank Ger & Hypnosis -Dublin enough, I have recommend Ger & Hypnosis Dublin to family & friends." – Jay Vee, Google reviews
"Hypnosis Dublin helped me a lot while suffering from Tinnitus. Ger is a very kind and caring person who made me feel very relaxed and stress free. Thanks" – Trevor Byrne, Google reviews
4. Ruth Allen M.Clin.Hypn.Psych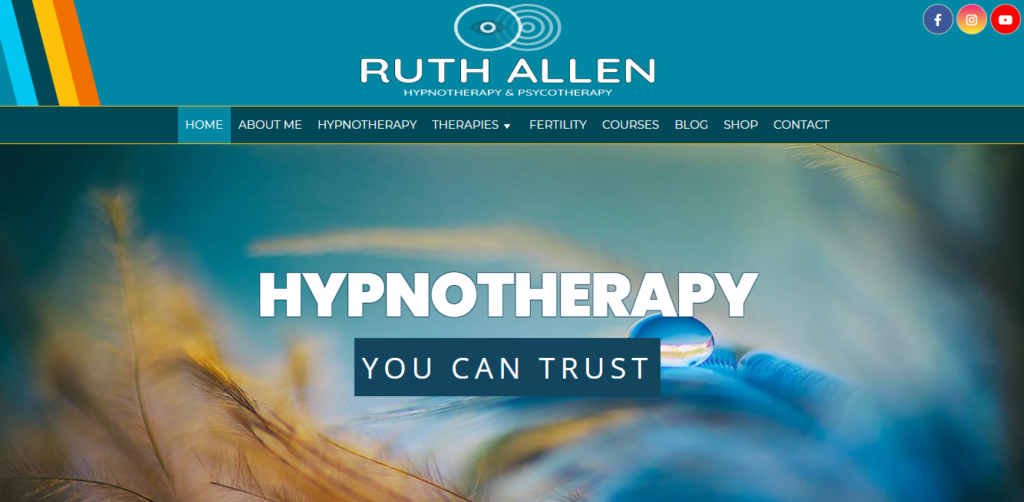 | | |
| --- | --- |
| SERVICES | Depression, Anxiety, Trauma, Fears & Phobias, Stress, IBS, Stop Smoking, Addiction, Weight Loss, Fertility |
| WEBSITE | https://www.ruthallen.ie/ |
| ADDRESS | 10 Main St, Clontarf East, Dublin 5, Ireland |
| CONTACT DETAILS | 086 1634460 |
| OPERATING HOURS | Mon-Sat: 10:00am – 8:00pm |
Ruth Allen Hypnotherapy is a clinic that specializes in Hypnotherapy and Psychotherapy as a means to address and treat issues such as depression, anxiety, trauma, and phobias among others. Headed and operated by Ruth Allen, she is a Clinical Hypnotherapist, Psychotherapist, Enhanced Cognitive Behavioural Therapist, Counselor and Fertility Coach who is willing to guide you through the whole treatment.
She aims to be able to solve and help you achieve your goals in the least time possible in order that you can make the most out of your life and enjoy it to the fullest. She is willing to work with you in order that she can provide client-centred solutions that will effectively resolve your problem.
She also makes sure that her previous training in her field of expertise is constantly upgraded in order that not only will she receive professional development but also ensure that you get the best possible treatment and receive the treatment and approach that is most efficient for you and your situation and needs. Furthermore, all of your sessions are strictly confidential and professional in order that you can have a safe environment wherein you can be yourself.
We recommend this clinic for you if you would like a highly efficient and updated methodology that only uses research-based therapeutic treatments.
Uses research-based methodology
Highly credible expert
Client-centred services
5. Sean Flanagan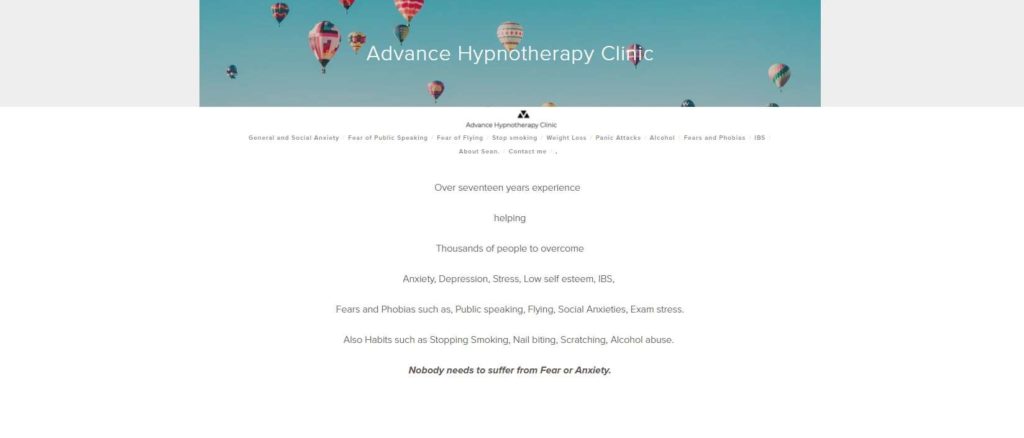 SERVICES
general and social anxiety, fears and phobias, stop smoking, weight loss, panic attacks, alcohol, IBS
WEBSITE
https://www.seanflanagan.org/
ADDRESS
Clifton House, Fitzwilliam Street Lower, Dublin 2, Ireland
CONTACT DETAILS
+353 86 313 4309


[email protected]

OPERATING HOURS
Mon – Fri, 9:00am – 7:00pm
Sean Flanagan has 17 years of experience in hypnotherapy. He treats people with social anxiety, fear of flying, exam stress, depression, panic attacks and bad habits like nail biting, smoking and alcohol abuse.
He has even developed a formula that blends hypnotherapy and transformational coaching in order to resolve emotional and psychological issues.
His clients say that the way he uses the power of a client's mind to resolve issues has helped them without any negative side effects.
In fact, several even claimed that his hypnosis treatments resulted in the improvement of other issues like tension headaches, irritable bowel syndrome and migraines.
It doesn't take him long to get to the heart of the issue too. Typically, treatments run a short course of about 3 to 4 sessions.
However, this varies from person to person.
Unfortunately, there's no guarantee here that you will be refunded if treatments don't work out for you. Or if there will be a complimentary extension of the sessions.
Head hypnotherapist has 17 years of experience
Blends hypnotherapy and transformational coaching
Short sessions
Clinic is open for in-person treatment
Closed on weekends
No guarantees on refunds in case of dissatisfaction
Customer Reviews
Here's what clients are saying about Sean Flanagan:
"I am so grateful for the changes that hypnosis has led to. I am honestly happier in myself than ever before, so, what I got was a bargain and I would recommend you to anyone. Thanks so much Sean and Happy New Year to you." – Claire Byrne, Sean Flanagan reviews
"Sean is an incredible hypnotherapist. He helped me on multiple levels, including finding possible causes for my chronic headaches. He also helped me achieve peace during some turbulent moments, and I am very grateful for this. I highly recommend Sean to anyone." – Anda Maria Bratfalean, Google reviews
6. Stephen Travers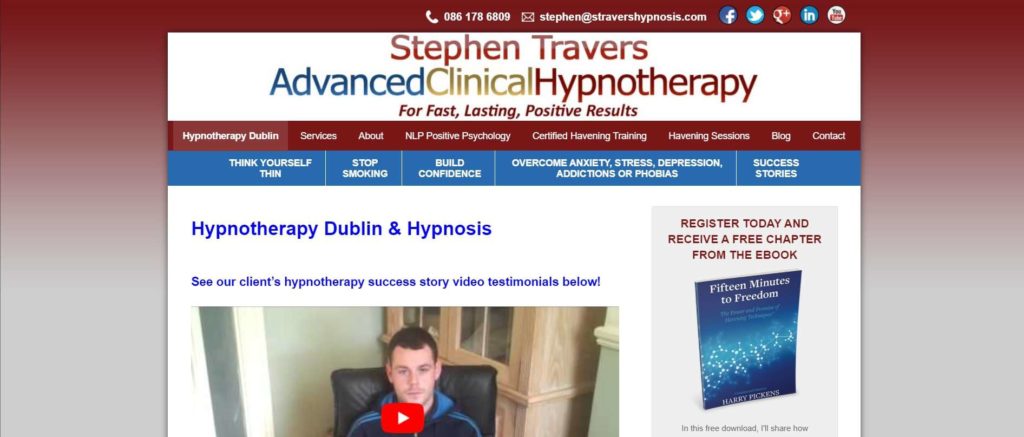 SERVICES
anxiety, panic attacks, stress control, anger management, fears, phobias, depression, confidence building, public speaking, stop smoking
WEBSITE
https://stravershypnosis.com/
ADDRESS
The Healing House, 24 O'Connell Ave, Berkeley Rd, Phibsborough, Dublin 7, Ireland
CONTACT DETAILS
+353 86 178 6809
OPERATING HOURS
Mon – Fri, 9:00am – 8:00pm
Sat, 9:00am – 5:00pm
Interestingly, Stephen Travers doesn't just use hypnotherapy in his sessions. He uses "havening" too.
To clarify, the havening technique is an alternative therapy that uses eye movements, touch and distraction to reduce anxiety and stress. It can be used to supplement hypnotherapy.
But aside from that, Travers also utilises other advanced psychological methods like Thought Field Therapy (TFT) and Neuro-linguistic Programming (NLP). This gives you an idea of how multilayered his approach can be.
A graduate of the Institute of Clinical Hypnotherapy & Psychotherapy and Ireland's first Certified Havening Techniques Practitioner, Stephen has helped literally thousands of people get over their anxiety, phobias, traumas, smoking addiction and various psychological and emotional issues using these methods.
He has been practising for over a decade now and is an accredited member of the Institute of Clinical Hypnotherapy & Psychotherapy Ireland. He is also the director of U.K & International Havening.
Now, what does all this mean? With his credentials, plus the research we've conducted and the reviews we've read, it seems he is as skilled as his reputation indicates.
It also says something about his expertise that he also conducts training for other health professionals.
Furthermore, Stephen provides coaching and consulting services to enhance professional sports and business performance as well.
Unfortunately, he's a bit hard to book at times thanks to his popularity. It's not helped by the fact that he's closed on Sundays, which further limits the available appointment times.
Uses advanced psychological methods and techniques
Accredited Member of the Institute of Clinical Hypnotherapy & Psychotherapy Ireland 
Conducts trainings for health professionals
Offers coaching and consulting service 
Closed on Sundays
Can be hard to book
Customer Reviews
Here are some reviews for Stephen Travers:
"Stephens is great to work with and has really helped me through some deep rooted issues/memories. I feel generally relieved from the fear and anger I was carrying with me without fully realising it, and like I can finally begin to be the more confident, relaxed and content person I want to be.
If you're on the fence about this treatment I would say try it because it's a lot more powerful than you might expect it to be, as well as a skill you take with you." – Irene Sweeney, Google reviews
"I have been with Stephen twice now , once back in 2014 , in one session I stopped smoking and have never smoked since. Recently I approached Stephen again in relation to anxiety and stress. In 4 sessions I have built up coping skills and resilience to both problems and would have no problem recommending Stephen and his techniques." – Cathal MacCearain, Google reviews
7. The Happy Me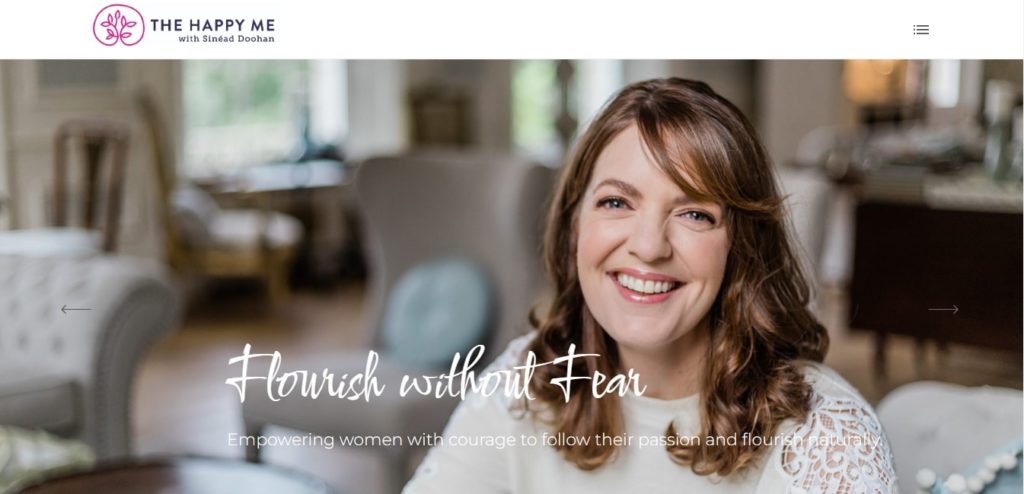 The Happy Me is a clinic that is founded and operated by Sinéad Doohan who is a qualified Clinical Hypnotherapist and Rapid Transformational Therapist as well. Especially working with women, to better embrace their dreams and identity, she helps her clients find their voice when it comes to taking concrete steps toward what they are passionate about.
We think that the variety of hypnotherapy sessions she offers is commendable and ideal for clients who would like to have a more intimate and personalized session to let out all their insecurities and thus have an effective session as well.
However, currently, she only offers online sessions and consultations can be done over the phone.
We find that her services are not singular in nature as RTT uses a number of modalities. In some sessions, they use NLP, Psychotherapy, Hypnotherapy and Coaching modalities to help their clients progress.
Overall, with positive feedback from her services, we recommend her expertise to women who wish to rediscover their passion and attain the confidence they need to further their dream and career to new heights.
Holistic therapy
Phone consultations available
Efficient methodologies
Operating hours unavailable
Online sessions not yet available
Customer Reviews
Here are some reviews from their clients:
"I feel upbeat, energized, positive, excited, motivated, content, happy, high energy. I don't feel a fool anymore… I can let them feelings fall away at any time. I feel in the last few days present and can remind myself to be present. One week left. Every week I feel new things and positive change."

"I fell like a s upper power. I feel calmer. I'm not overwhelmed, it feels amazing. I'm cooking without the overwhelm. I stopped biting my nail. I now speak fluidly in work with strangers as I'm sure of myself."
8. Wendy Quinn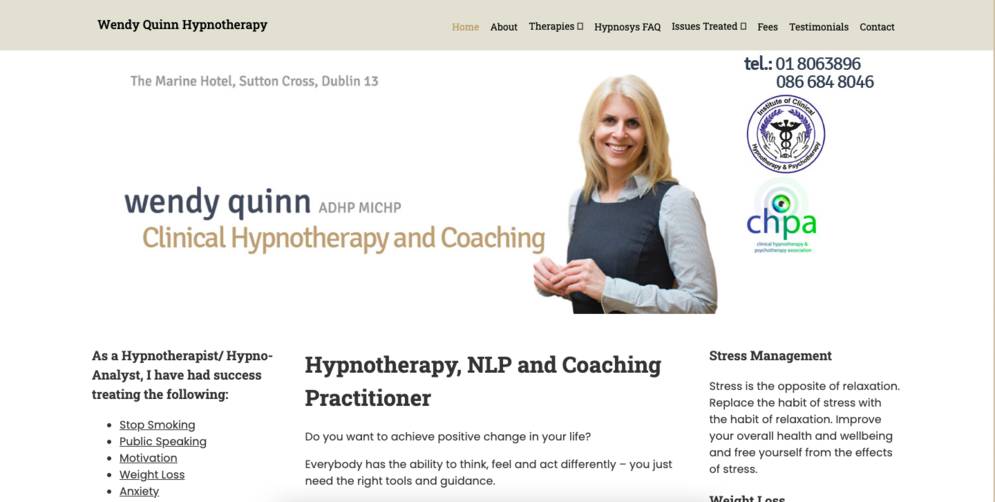 | | |
| --- | --- |
| SERVICES | Hypnotherapy |
| WEBSITE | https://wendyquinn.ie/ |
| ADDRESS | The Marine Hotel, Sutton Cross, Dublin 13 |
| CONTACT DETAILS | 01 806 3896 | 086 684 8046 |
| OPERATING HOURS | Contact for more information |
Do you need some positive changes with your life? Wendy Quinn can help you with that! She's a fully qualified Hypnotherapist/Hypno-Psychotherapist, NLP Master Practitioner, and Personal and Business Coach and Supervisor.
She has been offering both hypnotherapy and coaching services for more than 16 years now, and she's worked in Ireland and abroad.
Since the beginning of her career as a hypnotherapist, she's been able to treat panic attacks, exam nerves, and fears and phobias. She has also helped others with their relationship issues, lose weight, and break bad habits. And to think that this is still a conservative list of everything she's been able to treat through the years!
How was she able to treat all of these, you ask? Her practice combines hypnotherapy, NLP and coaching to ensure the best possible outcomes for her clients.
If you're looking for a way to get rid of any negative thoughts, change bad habits, deal with your issues and such, Wendy can get you started with that and work on them with you. We truly recommend her!
Experienced and has been in the industry for more than 16 years
Has treated different issues
Combines hypnotherapy, NLP and coaching for her treatment regimen
Operating hours unavailable
Customer Reviews
Here are some reviews from their clients:
"Hi, I am Nuala living in Dublin and I want to say that Wendy Quinn's hypnotherapy clinic has helped me when I needed help desperately. She is very professional and an excellent motivator. I am grateful for this therapy and I urge anyone who wants to try this growing and important method to contact Wendy and make an appointment and change your life for the better."
"Very quick and professional. Learnt how to bring down my panic and constant worrying, I have more energy as well and it was easier than I thought." —'Keith, Swords
What are the different types of hypnotherapy?
As we mentioned earlier, different psychological and emotional issues require different types of hypnotherapy. If you want to learn more, we've outlined some of the most commonly used hypnotherapy types below:
Suggestion Therapy
It is believed that we are more open to suggestions when we are in a hypnotic state. Once the client is in that state, the hypnotherapist will offer suggestions to help change thought patterns and break bad habits like nail biting, weight loss, smoking cessation and similar issues.
Analytical Therapy
This type of therapy aims to identify the root cause or 'trigger event' that led to the current issue the patient is experiencing. Once the root cause has been identified, it will be easier for the therapist to relieve the symptoms and reduce negative associations.
Cognitive Hypnotherapy
This is a newer form of hypnotherapy that is used to influence the cognitive, behavioural and emotional well-being of a person in a positive way. It is often used in the treatment of anxieties and phobias.
Ericksonian Hypnotherapy
This type of hypnotherapy uses indirect suggestions (also called seeding ideas) through stories and metaphors to activate intrapsychic resources that were previously dormant.
FAQs about Hypnotherapy Clinics in Dublin
---
And that concludes the information we have on hypnotherapy and where you can find the best hypnotherapy clinics in Dublin.
Feel free to email us if you want us to review a clinic that deserves to be on this list.
If, on the other hand, what you're looking for is a psychotherapist, you might be interested in checking out our list of the best psychotherapists in Dublin here instead.