The 10 Best SEO Companies in Cork
If you want your business to grow, you can't ignore setting up a firm online presence.
With the number of competitors out there though, you may be wondering, how do I get noticed?
If your website is not getting much traffic, then looks like it's time to invest in SEO. And to help you with this, we've selected the best SEO companies in Cork!
In this article, you'll find pros who employ SEO techniques leading to higher Google rankings. With info on their services, clients, locations, and more, choosing the right one might just be a click away.
But hold on—before you check out our options, get acquainted first with a few tips on how to choose the right SEO company for your needs.
Tips for Choosing the Right SEO Company
Take note of the following to help you select the right SEO company for your business.
1. Company portfolio
A good SEO company will include a portfolio on their website that contains info on their work. This typically outlines the clients they've worked with as well as the kind of services rendered.
Here, you can read about whether a particular SEO company has serviced freelancers, SMEs, startups, B2B companies, and others. Take note if they've been employed by a business with the same industry you're in.
2. Techniques
Make sure the SEO company you're planning to hire for your business utilises ethical SEO techniques, also known as white hat SEO.
White hat SEO refers to the techniques that agree with the guidelines set by Google to increase a site's rankings. This means coming up with quality (not plagiarised) content, obtaining backlinks through guest blogging, putting in the right amount of keywords, among others.
Because SEO done the right way will take some time, beware of companies offering to magically increase your site's rankings in just weeks. Unethical SEO practices, also known as blackhat SEO tactics, are techniques that deliver immediate results.
However, over time this will lead to a demotion from Google. Plus, Google might even ban your website.
3. Pricing and services
As mentioned above, SEO done right will take some time (up to several months). Hence, make sure you have the budget to sustain these services.
Ask yourself. Does the SEO company charge per hour, or do they offer SEO packages?
Also, depending on what your business needs, see if they offer either local and/or national SEO services.
The Best SEO Companies in Cork
Let's head right on to Cork's best SEO companies!
1. Baldwin Digital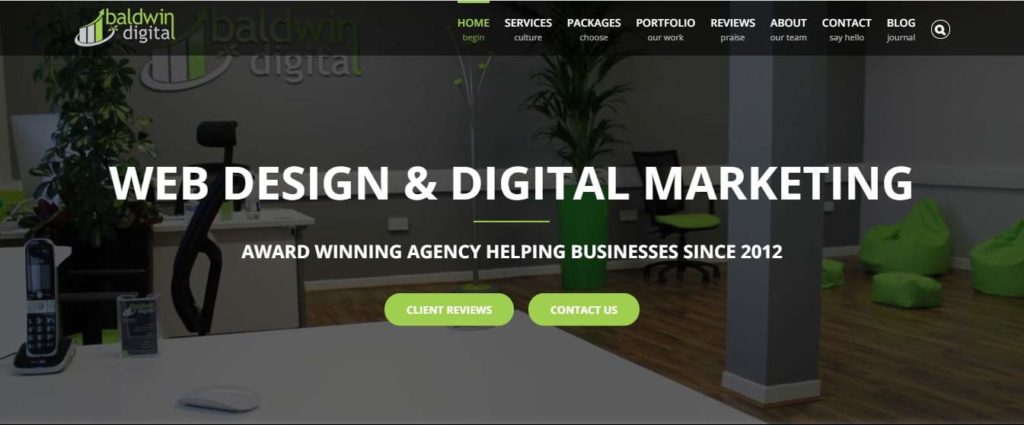 SERVICES
SEO services, web design, logo design, web development, e-commerce website design, website management, WordPress training, social media training, PPC management, search engine marketing, SEO package, SEO bespoke plan, website package, and logo design package

SEO package:
Local starter – €200 + VAT/month
Local business – €250 + VAT/month
Local enterprise – €300 + VAT/month
National starter – €400 + VAT/month
National business – €450 + VAT/month
National enterprise – €500 + VAT/month
WEBSITE
https://www.baldwindigital.ie/
ADDRESS
Baldwin Digital Ltd, 29 Maple Woods, Ballinacurra, Midleton, Co. Cork, Ireland P25 AP65
CONTACT DETAILS
021 201 1424


[email protected]

OPERATING HOURS
9:00 am to 6:00 pm (Monday – Friday)
By appointment on Saturdays
Baldwin Digital is a digital marketing agency made up of experts in technical and creative marketing. With more than 10 years in the industry, they have serviced a wide array of clients which include Safefood, Gingerbread House, LeisureWorld, and many more.
Aside from SEO, they provide services in web design, digital marketing, and even social media and WordPress training, to name a few. You can also choose from their SEO, website, or logo design packages.
If your business doesn't really require publicity outside of your area, their SEO package features local SEO packages. Likewise, if you need to enhance your website's visibility on a national scale, you can opt for their national SEO packages.
Meanwhile, for SEO services tailored for your business needs, they also have a bespoke SEO plan you can avail of.
Baldwin Digital also prides itself on utilising legitimate practice guidelines. This ensures your website doesn't incur a Google penalty from unethical SEO techniques.
Set monthly price
Bespoke SEO plan available
Also offers training in SEO, digital marketing strategies, etc.
Closed on Sundays and bank holidays
Customer Reviews
Check out some great reviews from their satisfied customers:
"Working with Mark and his team has been exceptional, the work that he has helped with and strategies suggested have helped our organisation no end—I would have no problem recommending Baldwin Digital for all digital marketing needs." -Richard Murphy
"Baldwin Digital were a real pleasure to work with. They were always quick to reply to any questions and were clear and detailed in response. It was very easy to get regular updates on the progress of the site, and they were happy to take on board any feedback I had. For the price, they offered a tremendous and highly personalized service. It was always an extremely professional and efficient service, but also very friendly. The explanations and lessons they gave in running the site once completed were a great asset in starting my online business." -Teresa Ryan
2. Torc Web Design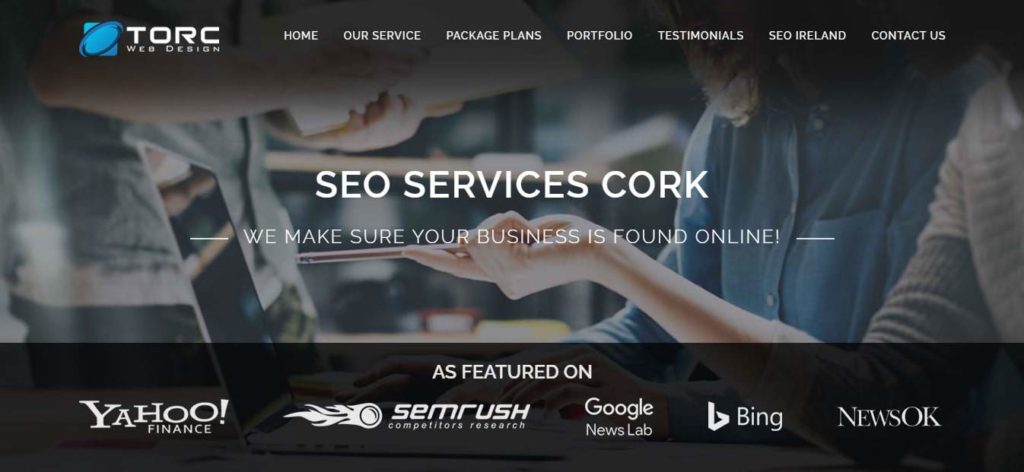 Torc Web Design is a digital marketing company that specialises in SEO. They also provide services in web design, web hosting, and even content writing.
Since SEO services can shift depending on the website and keywords, contact them for a free SEO quote. This is to obtain the right SEO package for you leading to higher rankings for your website on Google.
With expertise on Google patterns and other search engines, Torc Web Design's SEO package provides attention to local marketing, reciprocal linking, and text placement needs.
And if you need optimised content for your website, Torc Web Design delivers an extensive list of content writing services. These include SEO article writing, online and web copywriting, blog writing and consulting, among others.
Content writing services available
Free SEO quote
Office is not in Cork
Closed on weekends
Customer Reviews
Below are some comments from their customers:
"I have used a few web designers, but none come close to the service and professionalism offered by Torc. Attention to detail, easy communication and fast reaction. They actually care!! Highly recommended." -Dog Walker Darlington – UK
"It's always a pleasure working with Niall and his team. They are reliable professionals that you can trust your business to, they do charge fair prices while helping to grow your business. To be noted Niall is also a friendly and nice individual to deal with. We have been doing business with this firm for many years and they never failed to support or assist, we have been well looked-after throughout. Highly recommended." -Live in Sardinia
"Niall did a fantastic job designing our website and has been a great help going forward. Very easy to work with and very responsive. I would highly recommend Niall and Torc Web Design." -Castlefergus Lodge
3. Epresence Digital Marketing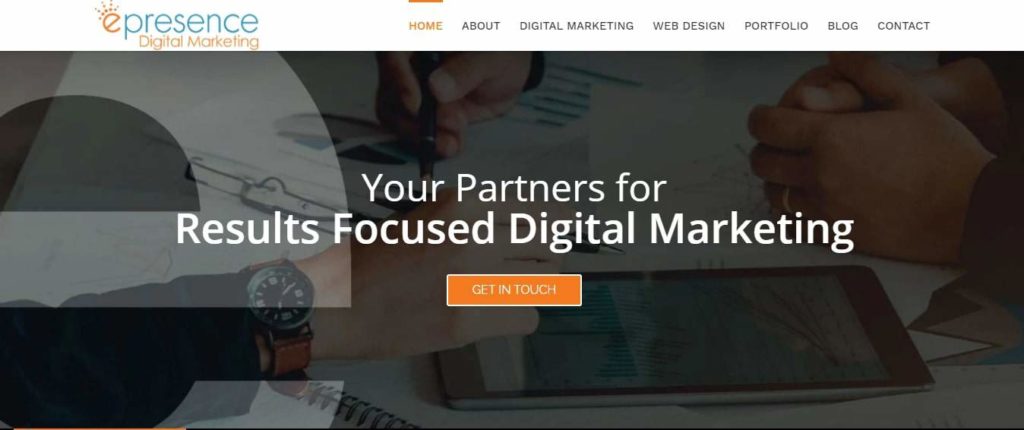 SERVICES
SEO: Onsite SEO, offsite SEO, full tracking and reporting, and local SEO Digital marketing strategy, digital advertising (PPC), content marketing, email marketing, social media advertising, web analytics, web design, and ecommerce implementation
WEBSITE
https://epresence.ie/
ADDRESS
Link Road Business Centre, Ballincollig, Cork
CONTACT DETAILS
+353 (0)21 2362901


[email protected]

OPERATING HOURS
9:00 am to 5:30 pm (Monday – Friday)
Founded in 2008, Epresence Digital Marketing is a digital marketing agency with offices in Cork and Kerry. It is owned and directed by John Brennan, a management consultant specialising in digital marketing, business development, and innovation management.
Epresence Digital Marketing's onsite SEO services can help websites gain traffic by looking into areas such as keyword analysis, user experience, as well as the website's elements.
On the other hand, their offsite SEO services can help establish your website's relationship with other sites through link building.
They also provide full tracking and reporting services which lets you become aware of your business's performance online. And if in need to expand your company's visibility in your local area, you can also avail of Epresence Marketing Digital's local SEO services.
Their website even offers a free document that'll guide you on how to optimise your website leading to higher Google rankings.
Includes free SEO guide
Has another location in Kerry
Free consultation
Customer Reviews
See what Epresence Digital Marketing's customers have to say about their services:
"Limerick Podiatry Centre have worked with the team at Epresence in getting our digital presence established and have found them to be extremely helpful, knowledgeable, and very efficient. I would have no problem recommending them to any business looking for this service." -Ellen O donoghue
"A wonderful team and extremely professional! Gillian, John and the whole team have been great to work with and are always on hand to sort any issues. The website they designed is fantastic and the feedback we have gotten has been great. Would highly recommend." -Lisa Sullivan
"Party World have worked with the Epresence team for a number of years now. They fully understand our needs and are extremely professional. Our main point of contact is Austin who has an in-depth knowledge of our online marketing, Google Advertising, and analytics goals. They provide an excellent service and we would highly recommend Epresence to anyone." David Acheson
4. The Digital Department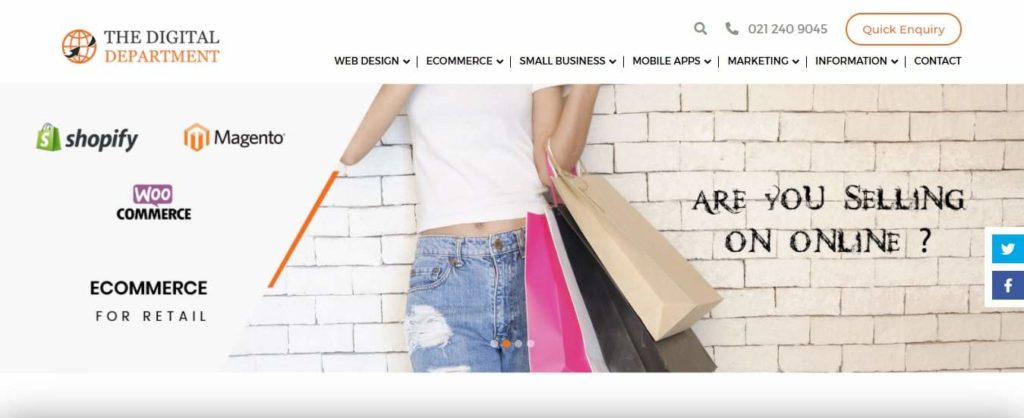 SERVICES
SEO, WordPress development, Magento development, online trading voucher, WooCommerce, Magento support services, Shopify development, web design, search marketing and lead generation, mobile apps, Amazon marketing, digital marketing, social media, and email marketing
WEBSITE
https://www.thedigitaldepartment.ie/
ADDRESS
Unit 5 Emmet House, Barrack Square, Ballincollig, Cork
CONTACT DETAILS
021 240 9045


[email protected]

OPERATING HOURS
9:00 am to 5:00 pm (Monday)
9:00 am to 5:30 pm (Tuesday – Friday)
The Digital Department is a web design company that offers a wide array of digital services from web design to Amazon marketing. Although headquartered in Cork, their clients, which include both small and big companies, come from all over the country.
They comprehensively discuss the steps they take in their SEO services. Step one starts with search word research, followed by planning and objectives, and so on until they reach step six which concerns offsite optimisation.
The strategies they employ with regard to offsite optimisation include link building, local listings, social sharing, and content.
Concerning costs, this will depend on the extent of the project, the number of keywords, among other factors.
One unique thing about The Digital Department is their marketing referral program. By referring other businesses to them, you can earn a commission worth 10% of the project The Digital Department will accomplish for that particular business.
Extensive list of ecommerce services
Has Amazon marketing service for Amazon sellers
Has marketing referral program
Closed on weekends
Minimal info on team members
Customer Reviews
Below are some comments from their clients:
"I have used and still using Arthur's services on many occasions. He did web design, SEO optimisation, booking and payment systems integration. I found his work excellent. His approach is very professional and straightforward. Arthur can quickly grasp the brief and provide solutions in a very timely manner. He not just does the work, he advises and helps to find the best solution. I found Arthur very knowledgeable and friendly, with practical solutions. I would highly recommend him, you will not be disappointed!" -Jurgita Petiul
"For my new website, I needed an expert in web design who would be quick to respond, easy to work with and supportive with any additional requests as the business grew and changed. Arthur was all this and more. His work speaks for itself. I highly recommend him!" -Peter Coughlan
"Monkstown Bay Sailing Club are a client of Web Design Cork. We are extremely happy with the service provided by Arthur and would highly recommend their services to anybody." -Alan Fleury
5. Digital Sales
SERVICES
SEO, PPC, analytics, social campaigns, marketing automation, content marketing, advertising and retargeting, web development, user experience, creative development, ecommerce development, and software and app development
WEBSITE
https://www.digitalsales.ie/
ADDRESS
Digital Sales Cork, Unit 3D North Point House, New Mallow Road, Cork, Ireland, T23 AT2P
CONTACT DETAILS
+353 21 202 1077


[email protected]

OPERATING HOURS
8:30 am to 6:00 pm (Monday – Friday)
Founded in 2014, Digital Sales is a digital marketing agency that employs a digital sales methodology to generate results for their clients. With offices in Cork, Dublin, and Galway, their service offerings include SEO, content marketing, web development, e-commerce development, and so on.
Having expertise on the four primary SEO techniques (on-page SEO, off-page SEO, technical SEO, and analytical SEO), clients can rely on Digital Sales's wide range of SEO services.
Their SEO services are managed and provided by their in-house team of developers, content marketers, and content specialists.
Aside from initial SEO audits, other services included in their SEO work are competitive audit, ongoing maintenance, local SEO, website migrations, and consultancy.
What's more, if you'd like to know more about your website's SEO, Digital Sales's website offers a free SEO audit. Aside from SEO, you can also have your website performance, e-commerce performance, and others audited.
Particularly on SEO, they've serviced companies of the likes of Mackenway Wines, Tuath Housing, and Rockcourt Medical Centre, to name a few.
Multiple locations in Ireland
Inquiry feedback within a couple of hours
Free digital audit
Customer Reviews
Below are several reviews from Digital Sales's customers:
"The unique thing about Digital Sales was that they understood what we did, what we were about and what our needs were.
We cannot thank Digital Sales enough for the invaluable work they put into the project. The website and its payment facility has been a great addition and is already helping to improve communications with our tenants." -Sean Whelan, The Iveagh Trust
"I'm blown away by what Digital Sales was able to produce.
Diarmuid is approachable, always willing to answer questions. He explains things well and delivers far and above his promises. He went above and beyond what I'd imagine the website would be." -Donal O'Reilly, M.E.W.P. Services
"They're highly skilled and give their all to their customers.
They're very personable, ambitious, and hardworking. They deliver a very good product. Customer service is excellent. They're highly skilled and give their all to their customers." -Nuala Eustace, Phil Hannon Solicitors
"They walked us through the plan, step by step, explaining in non-technical terms the reasoning behind the strategies.
Diarmuid is personable, listens well, asks good questions, and gives us what we want. He didn't try to dictate what we wanted but really listened. He adjusted what was needed, came back with a proper plan, and executed it well." -Bren Smith, Mackenway Wines
6. Royal SEO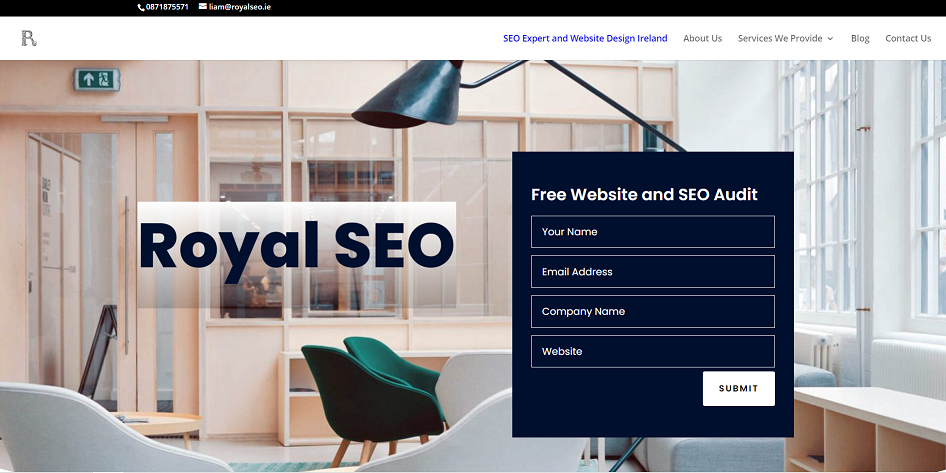 Royal SEO provides high-quality SEO services in Ireland, providing their clients with the options of local SEO or full-service SEO. Based in County Cork, they also specialize in building WordPress Websites that will be designed so that you are ranked highly on Google.
Their team will design a WordPress website specified to your industry. Initially, they will ask you a series of questions regarding what you would like to be included and what type of business you run.
Afterward, you can then simply leave it to their professionals. Based in Cork, but servicing Ireland wide, they do everything from SME websites to multinational e-commerce websites and anything in between.
Royal SEO ensures the websites they create are the most recent version of WordPress, updated with the latest features, such as themes and plugins to build a modern, easy to access website. They are also always desktop, mobile, and tablet friendly.
Led by a professional
Follows a strict and comprehensive schedule for each project
Rates are unavailable online
Lack of reviews
7. Elegant Pro Designs

| | |
| --- | --- |
| SERVICES | Web Design, Web Development, Graphics Design, Digital Marketing, SEO / PPC, and App Development |
| WEBSITE | https://elegantprodesigns.com/ |
| ADDRESS | The Bungalow Kilcully, County Cork, Ireland |
| CONTACT DETAILS | +353 (01) 4429894 | [email protected] |
| OPERATING HOURS | 8:30 am to 6:00 pm (Monday – Friday) |
Elegant Pro Designs is one of the leading IT companies that offer a complete solution to all Web problems.
This company is a melting pot for professionals imbued with web skill and creativity. They boast of a competent workforce who has a rich experience in this field.
Their expertise and experience have enabled them to provide customized service to all their customers in any part of the world round the clock.
They strive to become the primary choice of any customer when it comes to providing outsourcing services, back office services and software solutions, helping them sustain their competitive edge by delivering quality, speed, cost & effectiveness.
Furthermore, they are dedicated to developing and delivering products and services that consistently exceed the expectations of their customers with exceptionally high quality and getting it right-the-first-time performance.
Multiple locations in Ireland
Custom designs that suit your brand
Follows industry approved protocols
Rates are unavailable online
Customer Reviews
Below are several reviews from Elegant Pro Designs' customers:
"Elegant pro Designs done a brilliant job on designing my website and provides a great service"
"Excellent to deal with and very professional. also very good at understanding my needs and creating what was required"
"I highly recommend Elegant Pro Designs to any business wanting to develop a new website, Ryan is very professional and a great help, he keeps in contact all the time throughout the process and his help and suggestions are very helpful, Thank you, Ryan."
8. Forza Direct Marketing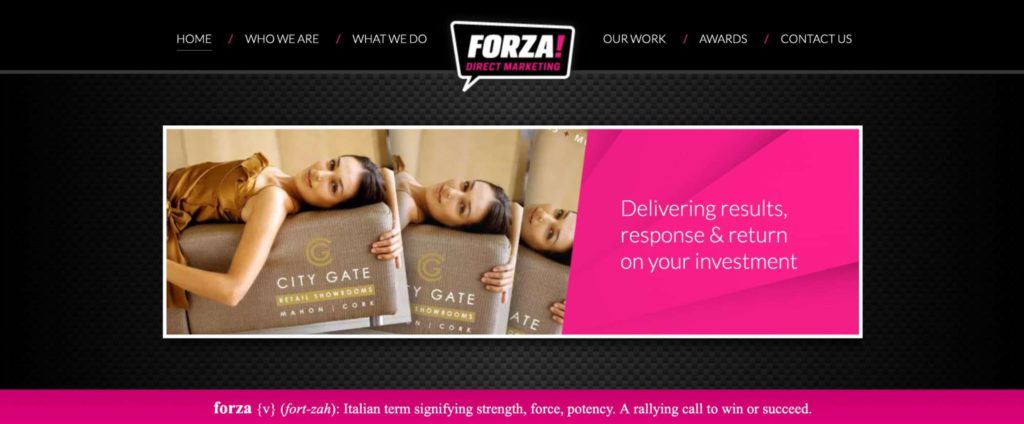 SERVICES
Marketing Consultancy, Direct Marketing, Graphic Design & Creative, Advertising & Copywriting, Brand & Logo Design, Online/Digital Marketing, Web Design, Print Management, Events & Exhibitions, Promotional Products
WEBSITE
https://www.forza.ie/
ADDRESS
Building 1000, Floor 2, City Gate, Mahon, Cork
CONTACT DETAILS
021 240 9022 |

[email protected]

OPERATING HOURS
Mon to Fri: 9:00 am – 5:00 pm
Forza Direct Marketing is a great option to consider if you're looking to marry digital marketing and traditional marketing at the same time. This all-around agency comprises a team of graphic designers, logo designers, content writers, and seasoned marketing experts.
Suffice to say that they're more than your typical digital marketing agency. We love that they're not tied into one specific marketing channel.
This allows them to diversify their strategies—whether through online or offline means—so you can reach your goals. So if convenience is your primary concern, then we can confidently say that this agency can get you everything under one roof.
That said, this makes them an excellent choice for businesses of all sizes. Their wide range of services means that they have plenty of leeway to work on your budget.
While they cater to businesses across various industries, they mostly take pride in their work in real estate marketing.
The only drawback here is that availability may be limited, seeing that their team is relatively small. In that case, we highly recommend consulting with them early, especially if your campaign isn't due any time soon.
Wide range of services
Ideal for businesses of all sizes
Specialises in real estate marketing
Award-winning agency
Limited availability
Closed on weekends
Customer Reviews
Exceptionally creative
"Would highly recommend Ivan, Daniel and the Forza team. Thanks to their knowledge and determination our website looks great and functions really well. Forza are exceptionally creative, professional and efficient in what they do." —Helen O'Sullivan, Google Reviews
Great support service
"Ivan and Olga and the entire team an Forza have been nothing but a great support service, and also a team that advise without expectation for business, which is rare and an admiral commodity in today's commercial world. A good partner and advise team." —Louise Director Yellow Harbour, Google Reviews
9. SEO Pro Services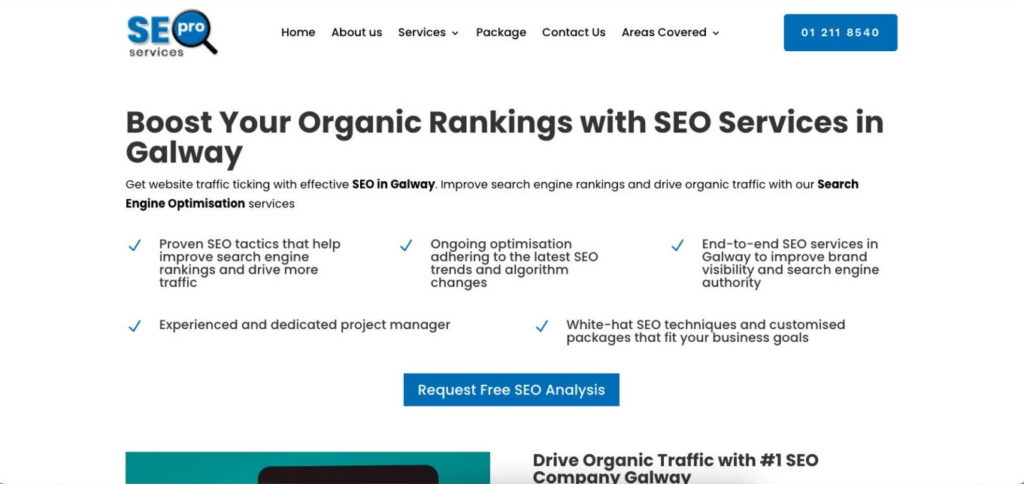 SERVICES
SEO, SEO Consulting, SEO Strategy, Content Optimisation, On Page Optimisation, Data Analysis
WEBSITE
https://seoproservices.ie/seo-services-galway/
ADDRESS
Unit 12, ACE Enterprise park, Bawonogue Road, Clondalkin, Dublin, Dublin 22, Ireland
CONTACT DETAILS
Phone: 01 211 85 58
Email:

[email protected]

OPERATING HOURS
Mon – Fri: 08:00 – 18:00
Sat: 09:00 – 14:00
SEO Pro Services offers highly innovative and creative digital marketing solutions that can help your business have a strong online presence.
They've been helping small and middle-sized businesses reach larger target markets organically.
Their services include Website Audit & Competitor Analysis, Website Structure Optimisation, Conversion Rate Optimisation, Code Optimisation, Social Media Optimisation, Search Engine Optimisation Consulting, and Content Marketing.
If you choose them, they promise to give you the best service from its well-trained, efficient, and highly qualified team members.
What's more is they only use white hat techniques. There's no funny business with them, only organic traffic and growth.
However, they mainly deal with SEO, so if you're looking for a company that offers other services along with this, for example Web Design, you may look at other companies in this list.
Wide range of optimisation services
Well-trained and highly qualified staff
Only uses white hat techniques
Free enquiry available
Closed on Sundays
Rates unavailable online
10. Full Circle Design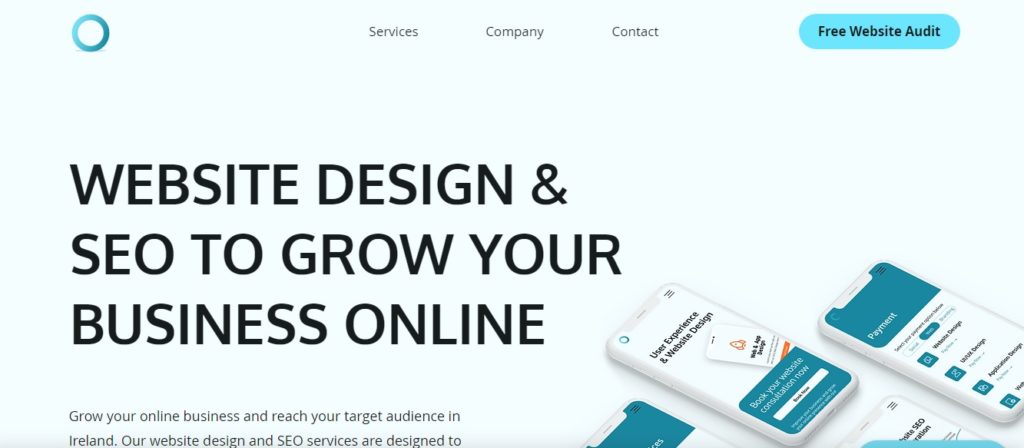 Full Circle Design is a digital marketing service that helps enterprises of all sizes, including construction firms, B2B firms, schools, and start-ups, establish an online presence. They may provide businesses with a comprehensive range of internet services, including social media and website creation.
We like that they have a thorough understanding of what makes a successful website and what deters people from seeing one and that they use this knowledge to build a solid basis for their client's websites.
They make sure that the website is not only optimized for all devices and systems but also that each design is straightforward to use and browse, focusing on simple yet effective solutions.
Another feature is that all of the websites they design are user-friendly and already optimized for SEO, allowing potential clients to find them via focused organic search and keyword planning.
Overall, their previous clientele praised them for providing a pleasant experience and a responsive website, which has improved their reach and engagement to new heights.
Accommodates wide range of industries and companies
Efficient and innovative solutions employed
Easy to work with staff
Operating hours unavailable
Customer Reviews
Here are some reviews from their clients:
"It has been a pleasure to work with  Aaron from Full Circle Design on the development of our website for O'Dwyer & Co. Throughout the process  we found Aaron to be very positive, helpful, professional and full of creative ideas. Aaron showed a genuine interest in the business and we would highly recommend Aaron and the Full Circle Design team for any website developments you may need." – O'Dywer & Co
"We used Full Cirlce Design to help us in the design of our new club logo. Aaron, was so easy to deal with and was very prompt in combining all of our ideas to create a fantastic design. He also helped us bring our social media profile up to date.Very friendly, professional and experienced service, I couldn't recommend them enough!!" – ABGN Gun Club
"Aaron from Full Circle Design was so helpful when setting up our website, he listened to what we wanted, explained how to make it work best for us. We're delighted with our website and would highly recommend Full Circle Design for their expertise and their customer service." – Ardfinnan Community Playschool
FAQs about the Best SEO Companies in Cork
---
And that ends our choices for the best SEO companies in Cork! We hope your website climbs up on Google rankings with the help of our list.
If you know other great SEO companies that should have been on our list, please send us a message. We'll check them out straight away!
Are you looking for an SEO company in Ireland's capital? If so, you might want to take a look at our options for the best SEO companies in Dublin!