8 Best Pet Sitters in Ireland
Pets need attention and care, but sometimes we have obligations that require us to be away for a while. In this article, we explore the best pet sitters in Ireland who you can reliably leave your furry friend with.
How much do pet sitter services cost?
Pet sitter service prices usually vary by hour, facilities as well as other care requirements and requests. In the table below, we listed some prices we found of various pet sitters in Ireland.
| Pet Sitter | Service and Conditions | Price Estimates |
| --- | --- | --- |
| West City Kennels and Cattery | Cattery and Kennels, Per Small Dog or Cat, Per Night | € 15 |
| The Rabbit Rooms | 1 Rabbit Boarding, Per Day | € 14 |
| Cookstown Boarding Kennels and Cattery | 2 Dogs Sharing a Kennell, Per Day | € 22 |
| Maow Care, Cat Sitting and Behavioural Therapy | Cat Sitting, One Hour Visit | € 30 |
| Pet Sitters Ireland | Pet Sitter Visits, 1 to 3 Pets, | € 21 |
| Little Pets Holiday Home | Guinea Pig Boarding, 1 Guinea Pig, Per Day | € 8 |
Top Pet Sitters in Ireland
We assessed the sitters according to the following criteria:
1. Little Pets Holiday Home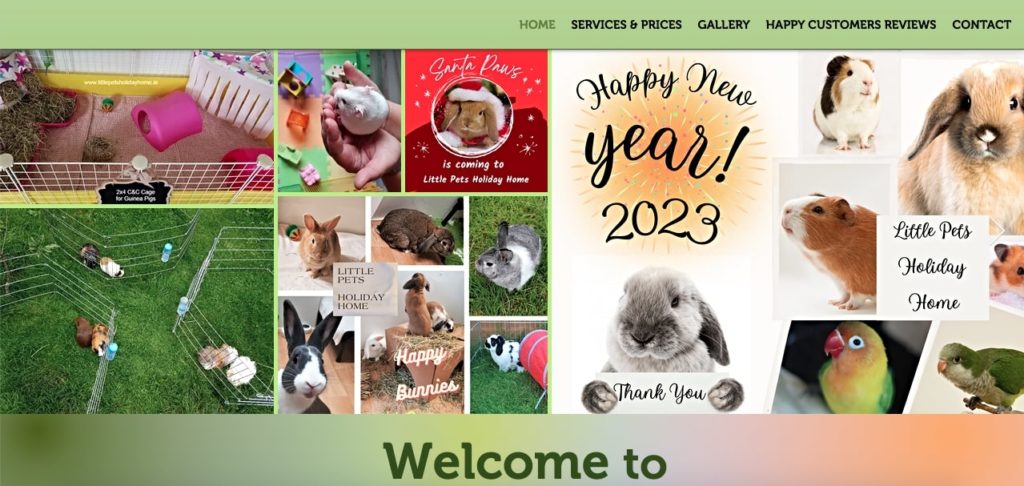 Test
Info
SERVICES

Guinea Pig Boarding

Rabbit Boarding

Hamster Boarding

Bird Boarding

Reptile Boarding

Pampering and Grooming

Collection and Drop Off Service

WEBSITE
https://www.littlepetsholidayhome.ie/
ADDRESS
80 Dara Ct, Aghards, Celbridge, Co. Kildare
CONTACT DETAILS

Phone: 089/425857

OPERATING HOURS

Tuesday to Saturday: 7:00 AM to 10:00 AM; 5:00 PM to 8:00 PM

Sunday: 5:00 PM to 7:00 PM
| | |
| --- | --- |
| Range of services | ★★★★☆(4/5) |
| Pet sitting | ★★★★☆(4/5) |
| Additional services | ★★★★☆(4/5) |
| Background | ★★★★★(5/5) |
| Price | ★★★★★(5/5) |
| Customer feedback | ★★★★★(5/5) |
| Staff approach | ★★★★★(5/5) |
| Satisfaction | ★★★★☆(4/5) |
Little Pets Holiday Home provides a high quality service with keen attention to your pets' needs and environment. Although this family business has only opened in 2019, they have over 20 years of experience in pet care.
What impressed us most about their business is their consistent positive feedback from clients about the quality of their services.
Many have noted how professional and caring they are in dealing with the animal. What's more is that the customers really appreciate the constant updates the business provides when they are away.
We think that this is a perfect service especially for first timers who are nervous about leaving their furry friends, as Little Pets Holiday Home is very communicative and gives assurance and information on the state of your pets.
In terms of their services, we do like the range of boarding and pet sitting they offer for small animals. Their prices are very reasonable and they do have options for some small animals sharing cages at reduced prices.
Keep in mind however that for certain breeds of pet birds, the prices may be slightly higher, so make sure to check out the necessary information on their website.
Additionally, they also have a grooming service as well as collection and drop off services for more convenience.
Little Pets Holiday Home makes an excellent choice for owners of smaller pets looking for attentive care and helpful features and services.
Provide services for a wide variety of pets
Consistent feedback of excellent care
Can provide a drop off and collection service
Very reasonable prices
Limited amount of animals at a time
Grooming is limited to guinea pigs and rabbits
Customer Reviews
Service and Experience was Excellent
This is the absolute best small animal boarding service out there. The service and experience with Little Pets Holiday Home was excellent. Our bunny Darcy was so well looked after, with so much love and dedication. Nell is loving, kind, trustworthy and incredibly knowledgeable about small pets care and diet. She gave us good and effective advise when asked, and also sent us regular updates so we could see our bunny while we were away on holiday. Also, super important, the boarding pens are big, clean, and equipped with high quality supplies. We could see our bunny was happy, so we could be happy and have peace of mind. Little Pets Holiday Home – highly recommended! – Patricia Cruz
Excellent Standard of Care
We've used Little Pets Holiday Home on a number of occasions and I wouldn't send our 2 guinea pigs anywhere else. The standard of care is excellent. We love getting the regular updates and pictures. Nell is also great at providing expert advice and tips to newbie guinea pig owners like us. I wouldn't hesitate recommending Little Pets Holiday Home. – Elaine Robinson
2. Pet Sitters Ireland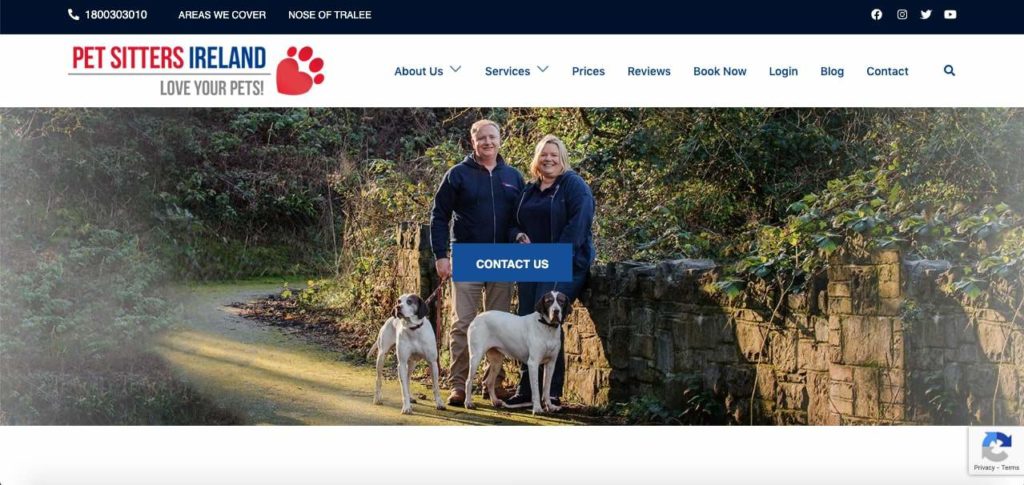 Test
Info
SERVICES

Pet Sitting

Dog Walking

Cat Sitting

Rabbit Sitting

Wedding Chaperone

WEBSITE
https://www.petsittersireland.com/
ADDRESS
Rathvinden House, Leighlinbridge, Co. Carlow
CONTACT DETAILS

Phone: 1800 30 30 10, 0879898042

OPERATING HOURS

Weekdays: 10:00 AM to 5:00 PM
| | |
| --- | --- |
| Range of services | ★★★★★(5/5) |
| Pet sitting | ★★★★★(5/5) |
| Additional services | ★★★★★(5/5) |
| Background | ★★★★★(5/5) |
| Price | ★★★★☆(4/5) |
| Customer feedback | ★★★★★(5/5) |
| Staff approach | ★★★★★(5/5) |
| Satisfaction | ★★★★☆(4/5) |
With their services covering all of Ireland, Pet Sitters Ireland is a great option to consider for various kinds of offerings for all types of pets.
What we really like about them is that they can adapt to a wide range of customer needs. They can take care of different animals from the usual dogs and cats to horses and small reptiles.
It sets them apart from other pet sitting businesses that have a more specific set of animals they cater to. They are definitely a reliable choice for owners of both common and more unique pets.
Pet Sitters Ireland is also very thorough when it comes to their process. We really appreciate that their procedure ensures that your pet gets the proper attention it needs, also providing a free meet and greet beforehand.
This meet and greet makes sure that the proper pet sitter is matched as well as any discussion of your companion's specific needs.
While we do admit that their prices are more expensive than the average pet sitter, we were very impressed with the range of services they have offered.
Aside from the standard dog or cat pet sitting, they also offer more advanced options like premium pet sleepovers or deluxe doggie holidays. We like that they have different tiers for different budgets and needs.
Uniquely, they also have a wedding service for assistance with your pet during your ceremony. It is undeniable that overall, Pet Sitters Ireland is one of the most versatile options out there.
Multiple branches available
Award winning and excellent background
Has a 24 hour service for online booking and payment 
Wide range of services
Pricier services
Shorter visits applicable for only cat owners
Customer Reviews
Followed Instructions Carefully
I am extremely satisfied with Pet Sitters Ireland! Our cat is rather shy and is only affectionate towards us, but despite of that she was relaxed when we got home. The cat sitter followed my instructions carefully, took very good care of our cat, informed us regularly and even uploaded pictures. I can only recommend choosing Pet Sitters Ireland! – Barbi Bukó
Very Thorough Reports
I used Pet Sitters Ireland to check in on my cat recently while away on holiday. I was delighted with the service. Really thorough reports were sent daily and there was great communication. It really gave me piece of mind while away. Highly recommend. – Emma O'Nolan
3. Maow Care Cat Sitting and Behavioral Therapy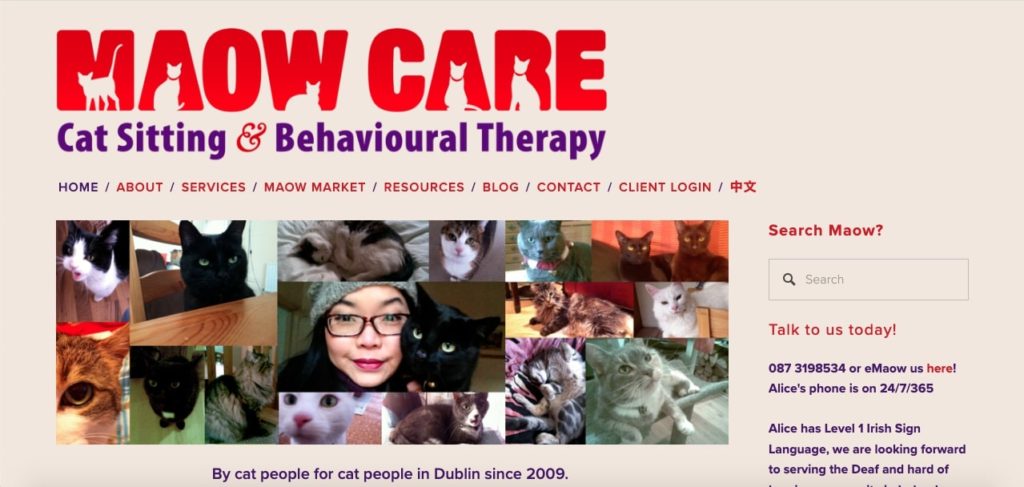 Test
Info
SERVICES

Cat Sitting

Behavioural Therapy

Training

Lost Cat Recovery

WEBSITE
https://www.maowcare.com/
ADDRESS
Charleville Ave, Ballybough, Dublin
CONTACT DETAILS

Phone: +353 87 319 8534

OPERATING HOURS

Open 24 Hours
| | |
| --- | --- |
| Range of services | ★★★★☆(4/5) |
| Pet sitting | ★★★★☆(4/5) |
| Additional services | ★★★★☆(4/5) |
| Background | ★★★★★(5/5) |
| Price | ★★★★☆(4/5) |
| Customer feedback | ★★★★★(5/5) |
| Staff approach | ★★★★★(5/5) |
| Satisfaction | ★★★★★(5/5) |
A business focused on providing care, comfort and expertise for all types of cats, Maow Care Cat Sitting and Behavioral Therapy is one of the best options out there for your feline friend.
Their team of people is highly experienced and covers different areas of need aside from pet sitting such as cat behaviour, veterinary, and rescue volunteering. We think that their range of services is a good mix for customers looking for the total package.
On top of this, we like that they are an especially great option for emergency options, as they are available all days of the week, all year round. Not many other services have such availability even during a normal work week alone.
Their procedure is also optimized to better understand the customer's cats with a free initial meet and greet with both virtual and in person options. We like that they make it easier and more convenient for the owners.
Speaking about their limitations however, their prices are a little more expensive than most other options out there. Potential customers also need to be aware that they do not offer cattery services but mainly an in house sitting service.
We do think the quality and expertise is enough to justify such prices and in house options without any unfamiliar environment, makes it more comfortable for the cat.
Lastly, their range of cat services is quite impressive. Aside from sitting, they also offer behavioral therapy, workshops and lost cat recovery.
With a wide range of cat focused services as well as their undeniable expertise and experience, Maow Care Cat Sitting and Behavioral Therapy is an excellent choice you should definitely consider.
Open 24 Hours
Have a free initial meet and greet
Can also provide behavioral therapy and workshops
Highly qualified, provide great advice and care
Pricier options
Does not provide cattery services
Customer Reviews
Made Everything Stress Free
Highly recommended Maow Care. Alice was so accommodating for us and made everything stress free for us and our cat. Our cat (who is quite nervous and anxious) loved our cat sitter and provided updates to us each day and made her feel so comfortable. Would happily recommend to anyone looking for a sitter. – Serena Dempsey
Very Communicative
Very happy with the service. Amazing contact with Alice and our cat sitter, I really liked the daily Whatsapp updates. I felt that people working at Maow Care are passionate about cats and know how to take care of them. – M Nie
4. Cookstown Boarding Kennels and Cattery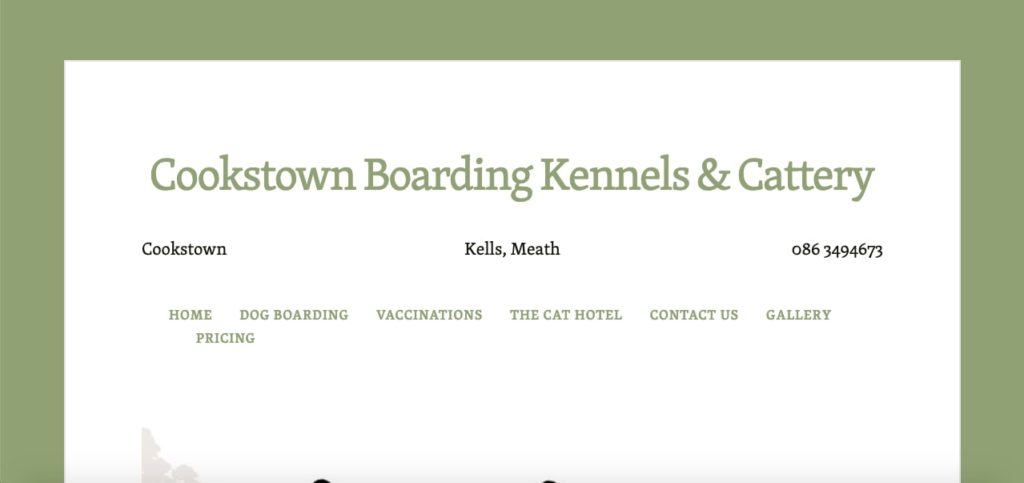 | | |
| --- | --- |
| Range of services | ★★★★☆(4/5) |
| Pet sitting | ★★★★☆(4/5) |
| Additional services | ★★★☆☆(3/5) |
| Background | ★★★★★(5/5) |
| Price | ★★★★★(5/5) |
| Customer feedback | ★★★★★(4/5) |
| Staff approach | ★★★★★(4/5) |
| Satisfaction | ★★★★★(5/5) |
Located in Meath County, Cookstown Boarding Kennels and Cattery is the perfect option as owners will feel assured by their well-stocked facilities.
Michael Foley founded the business way back in 2007 and what we like is that he has a background in animal science and nutrition.
One of the top priorities when owners leave their pets is that their health is monitored so it's nice that this business has the expertise to oversee this aspect.
In terms of their dog boarding, we really appreciate the different available facilities the business has to offer. They have both fenced grass play areas where pets can roam around freely as well as an indoor option for a more controlled environment.
On top of this, dogs, unless from the same household, are exercised individually. We like that the business takes extra precautions when it comes to your pet interacting with others, thus reducing any possible risks.
We really appreciate that they take further steps as well for the dog's comfort, using relaxing lavender scented candles as well as playing dog relaxing CDs for cooldown. It really shows how they pay attention to those little details.
However, we do recommend taking a look at their cat hotel beforehand as the space is more limited. However, they do take the same amount of care with regards to routine checks as well as environmental safety.
If you're on the lookout for a kennel and cattery that has some excellent facilities, we highly suggest checking them out.
Great outdoor space with play areas
Both options for dog kennels and a cat hotel
Owner's expertise in animal science and nutrition
Wide range of facilities with great features
Only one phone number available for contact
Cat hotel has a bit of a smaller space
Customer Reviews
Secure and Clean Facilities
Excellent kennels and Michael and his staff were brilliant. Very secure and clean facilities. It was the first time leaving our pup Maggie in a kennels and she seemed to enjoy her stay. Will definitely use them again. – Stephanie Redmond
Our Dog Loves His Visits
Michael is great / our dog loves his visits and comes home in great form (and gets excited when he goes) and the team have been great when we have needed them, highly recommend and thanks to all the team (esp Michael) for your help, – Peadar McCaffrey
5. The Rabbit Rooms
Test
Info
SERVICES

Small Animal Boarding

Bunny Bonding Coach

Fiona's Pet Academy

Bunny Club

Pet Grooming

WEBSITE
https://www.therabbitrooms.ie/
ADDRESS
23 Woodview Grove, Blanchardstown, Dublin 15
CONTACT DETAILS

Phone: +353834041465
| | |
| --- | --- |
| Range of services | ★★★★★(5/5) |
| Pet sitting | ★★★★★(5/5) |
| Additional services | ★★★★★(5/5) |
| Background | ★★★★★(5/5) |
| Price | ★★★☆☆(3/5) |
| Customer feedback | ★★★★★(5/5) |
| Staff approach | ★★★★★(5/5) |
| Satisfaction | ★★★★☆(4/5) |
The Rabbit Rooms is definitely one of the more premier services out there when it comes to great quality care for small animals.
Established in 2014, the owners have had a longstanding experience in caring for different types of animals and over the course of their business, have taken care of hundreds of pets per year.
It's a great option for customers looking for a very experienced pet sitting business.
When it comes to their small animal boarding, we appreciate how thorough they are regarding every single detail for pet care. In times of health emergencies or needs, they work with local vets in the area and make sure to contact owners for any details.
Aside from this, they make sure that pets are let out separately to avoid risks of possible disease transfer, mating and fighting. They also make sure that all the facilities are disinfected and sanitized before any use.
Being a more premier service however, means that their prices are a little bit more up there than the average pet sitting or boarding business. They may even charge customers for any additional administering of necessary medications.
However, we do like that they also accommodate other types of small animals like rats, so they are more flexible in that sense.
They also have a great range of other additional services that can enhance your pet's stay such as some very thorough grooming options, as well as bunny bonding courses.
When it comes to providing a full experience for care and boarding for small animals, The Rabbit Rooms definitely makes for a solid choice .
Very experienced with animal care
Offers boarding for other types of animals as well
Great available additions for grooming services
Highly rated by customers for their care and expertise
Slightly pricier services
Grooming services are only available for rabbits and guinea pigs
Customer Reviews
Our Bunnies are in Expert Hands
Our Bunnies have stayed with Fiona and family for several years now. We'd never cope without her. They are elderly bunnies at this stage and we know when we leave them with Fiona that they are in expert hands. She loves and cares for them as we do. Brownie (11yrs) was a bit 'off' this Summer and Fiona was quick to act. She was great with administering medication and seeking advice from our fantastic vet at Palmerstown Veterinary. It was a tough Summer with the heat at The Rabbit Rooms I'm sure, but Fiona and her fabulous team went to great lengths and kept their visitors cool. Thank you Godmother Fiona! xxx Brownie & Oreo – PT Coghlan
Wouldn't Hesitate Sending my Bunny Again
A big thank you to Fiona for looking after Marbles last week I was nervous as we had never left him before but Fiona was the only person I would trust with him. I call her the bunny whisperer. She gave him a fabulous groom as you can see in the photo. I wouldn't hesitate in sending him again. – Mairea Nelson
6. Heather's Top Dog Boarding Waterford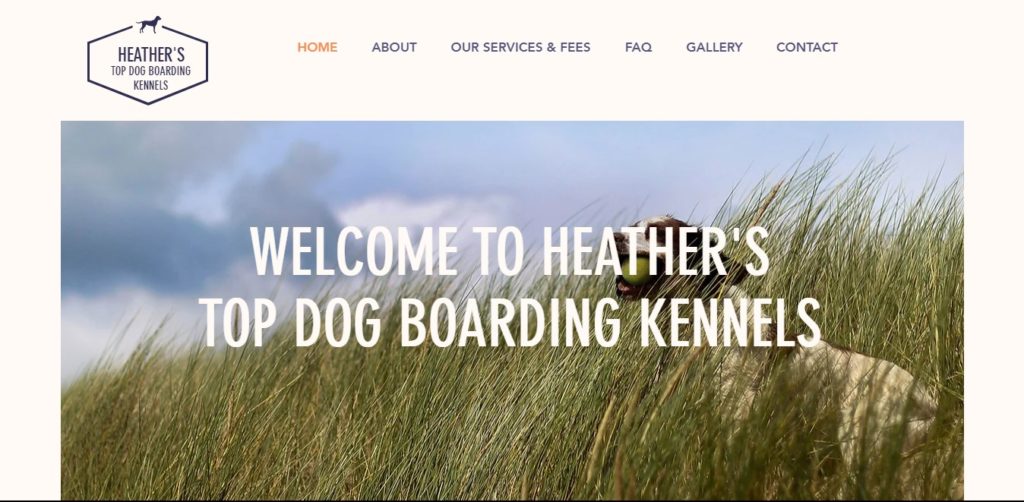 | | |
| --- | --- |
| Range of services | ★★★★★(5/5) |
| Pet sitting | ★★★★★(5/5) |
| Additional services | ★★★★★(5/5) |
| Background | ★★★★★(5/5) |
| Price | ★★★★☆(4/5) |
| Customer feedback | ★★★★☆(4/5) |
| Staff approach | ★★★★★(5/5) |
| Satisfaction | ★★★★★(5/5) |
Heather's Top Dog Boarding Waterford is run by Heather Kent for the past 15 years which makes it a well established kennel that allows for personal individual attention and loads of love and care to your dog.
In comparing them to others, they have kennels for smaller type dogs which have heating and they also have larger kennels for larger breed of dogs. Additionally, these kennels comprise of an indoor kennel attached to its own outside run.
What we like about them is that if your dog is sick they are more than willing to administer oral medication. To make it even better, they do not do an extra charge for this!
Unlike other pet sitters, their staff can collect and drop off your dog back to your home if you live within10-15Km range of their premises. Note that a fee of €10 for each trip will apply if required.
Another factor why we prefer them is because their rates are based on the agreement based on the requirements of the owner.
The only catch here is that if your pet is collected any later than 12:00 PM, you will have to pay another full days charge so make sure to go back to your pet before noon.
Caters three dogs at most per client
Feed customer's own food if supplied
​Accepts small and large breed of dogs
If the dog is collected any later than 12pm and a full day's charge will apply
Customer Reviews
Here are a few reviews from our previous customers:
"I have a young border collie that is very fearful and can become aggressive with strangers as a result. Because of this, I had never left her with anyone but the time had come when I absolutely needed to introduce her to a kennel ahead of a 2 week absence. Heather came highly recommended but I still was very unsure my dog would ever be able to settle with anyone. I tentatively rang Heather and described my dog's issues and her response was amazing! Heather genuinely welcomed the challenge of working with my nervous dog and have her ready for her stay. Heather's friendliness and unshakable "can do" attitude put me and my dog instantly at ease. The communication between us was so easy and I was relieved to have found a professional with the same positive gentle approach to dog training as me. Over a few weeks Heather helped my dog build a trusting relationship with her and her staff. She was not put off when my dog had her moments and in fact I was amazed at how quickly and easily my dog settled in the end. To me it is clear that Heather is gifted with a natural ability to connect with the dogs, read their behaviours and lead them. Her confidence in her ability to handle my dog gave me absolute peace of mind while I was away but I was blown away when she sent me a picture of her daughter hugging my dog a few days after I had gone! 😍 I am so glad to have found Heather as I couldn't have dreamt of a better outcome!"
"Highly recommended. Heather took the time to settle my nervous dog in and I had great peace of mind knowing she was in such good care while I was away. I returned to a happy, relaxed dog. Thanks Heather!"
7. PetMinder Portlaoise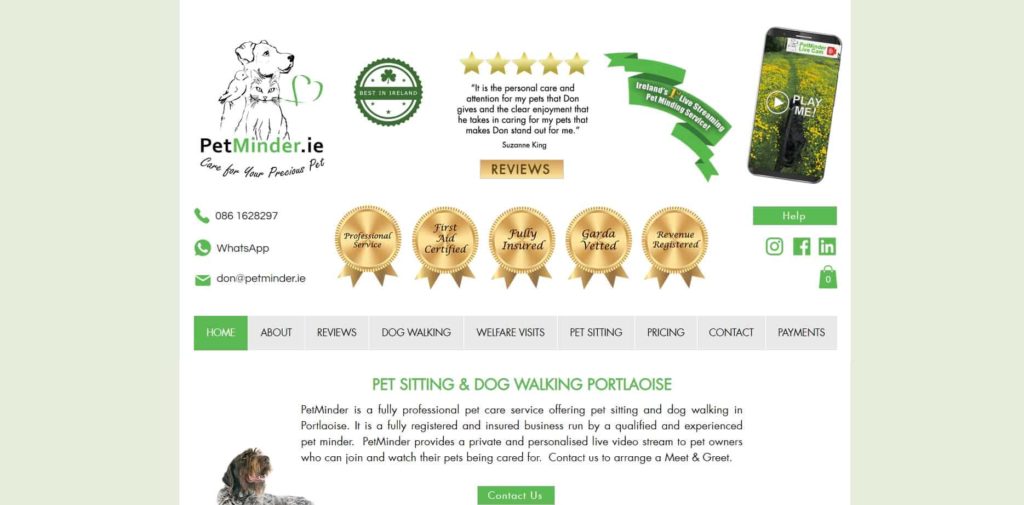 Test
Info
SERVICES
Dog Walking

Welfare Visits

Pet Sitting

WEBSITE
https://www.petminder.ie/
ADDRESS
Dublin Road, Portlaoise, Co. Laois
CONTACT DETAILS

Phone: 086 1628297

OPERATING HOURS
Monday - Saturday: 7:00AM - 7:30PM

Sunday: 7:30AM - 8:00PM
| | |
| --- | --- |
| Range of services | ★★★★☆(4/5) |
| Pet sitting | ★★★★★(5/5) |
| Additional services | ★★★★☆(4/5) |
| Background | ★★★★★(5/5) |
| Price | ★★★★★(5/5) |
| Customer feedback | ★★★★★(5/5) |
| Staff approach | ★★★★★(5/5) |
| Satisfaction | ★★★★★(5/5) |
PetMinder Portaoise is a company that provides clients with a variety of holistic and comprehensive local pet-sitting services such as dog walking and welfare visits among other pet sitting services by qualified and insured professionals in the field.
With various certifications such as Advanced First Aid, Tackling Dog Reactivity, and Animal Psychology and Pet Behaviour, clients can be sure that each situation is dealt with properly with the right response and in an immediate manner to provide both immediate and long-term benefits.
Past clients have commended them for their high quality of care and attention employed when it comes to approaching their services along with their reliable, punctual, and versatile services in general that come with it.
Note though that even if their rates are readily available for the services that they accommodate, clients with a more personalized package in mind may need to contact them for a more accurate breakdown of their charged fees.
Overall, with their diverse experience with various pets, fully insured and qualified personnel, and affordable and inclusive packages, we highly recommend them to clients in the area looking for such services.
Professional and prompt services
Punctual and timely appointments
Kind and pleasant personnel
Additional services may incur fees
Customer Reviews
Here are some reviews from their clients:
"I would highly recommend Don from Petminder. He walks our dog when we need extra help since having a new baby in the house. Our dog always has the best adventure with Don and comes back delighted with life. Don is professional, punctual and caring, and takes an interest in our dog's welfare. Our dog is also a nervous dog and Don has shown great understanding about this and how to manage it. Thank you so much Don!"
"Cannot recommend Don enough! The idea of the doggy walk video is brilliant, gives that extra peace of mind that my dog is extremely well looked after! And it's nice to be able to kind of join in on the walk if stuck at a desk for work!! My dog absolutely loves his walks with Don which is clear to see in the videos. Don is extremely professional, a natural with animals and an absolute pleasure to deal with."
8. Cat Minders at Home Limerick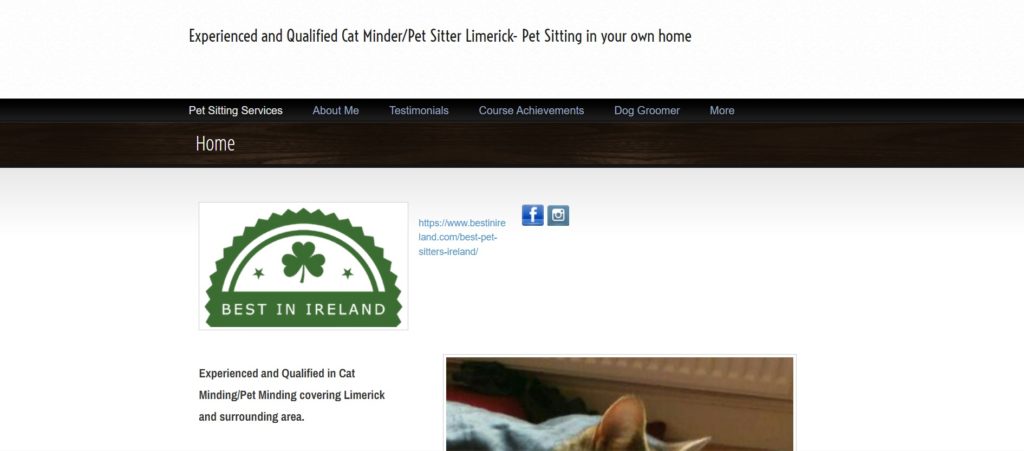 Test
Info
SERVICES
Pet Sitting

Dog Grooming

WEBSITE
https://www.catmindersathome.com/
ADDRESS
Dooradoyle, Limerick, Ireland
CONTACT DETAILS

Phone: 086 3717050

OPERATING HOURS
24/7
| | |
| --- | --- |
| Range of services | ★★★★☆(4/5) |
| Pet sitting | ★★★★★(5/5) |
| Additional services | ★★★★☆(4/5) |
| Background | ★★★★★(5/5) |
| Price | ★★★★★(5/5) |
| Customer feedback | ★★★★★(5/5) |
| Staff approach | ★★★★★(5/5) |
| Satisfaction | ★★★★★(5/5) |
Cat Minders at Home Limerick is a business that offers premium and professional pet-sitting services. Headed and operated by Niamh Hogan, he has been bringing sustainable and convenient alternative services to that catteries and kennels in the comfort of the clients' homes.
We like that he is highly certified and trained in various interrelated courses such as Cat Care and Dog Psychology among others to ensure clients that not only will their pets be handled properly but also one that will be beneficial to them in the long run.
Furthermore, their service rates are also competitively priced and versatile to the needs and specific preferences of the client to which he can readily integrate and take note of during the said visit or pet-sitting session.
Note though that there might be limitations when it comes to the availability of slots since he is a one-man team and also has a specific set specific visiting hours during weekdays and weekends.
Nonetheless, with his diverse experience in pet sitting and the variety of training taken in relation to the services they offer, we highly recommend them to clients looking for pet sitting services in the area.
Reliable and experienced pet sitter
Versatile and professional approach
Valuable and inclusive packages
Limited visiting hours available
Customer Reviews
Here are some reviews from their clients:
"We have been using Niamh's services for years. We have 3 cats one of them is very nervous and gets easily stressed. Yet she loves Niamh. The three of them are absolutely mad about her. Whenever we go on holidays we always ask Niamh to mind them. We never had any problems. What else can I say? Just one thing I highly recommend her services to all animal lovers. It's a great alternative to leaving your cat in a cattery or an animal hotel. Niamh, thank you so much for minding our furry friend so well."
"I was never happy with the idea of putting my cats in a cattery and didn't want to pass the responsibility of looking after them to family or friends so I was delighted to discover Niamh's website on Google. Just reading about the service offered by Niamh encouraged me to make plans to escape from my two bossy flatemates, Tosca and Ming. The initial meet and greet went as I had hoped it would, with T&M taking to Niamh immediately. I felt very confident that I was leaving T&M in good hands. As promised, I received updates with photos on a daily basis and I found this very reassuring. I would have no reservations about recommending Niamh to other and I will be booking her again in the future. Thank you Niamh. Deaglan"
FAQs about Pet Sitters
---
Finding the right pet sitter for your companion can help both put your mind at ease and give your pet an enjoyable time. If you would like to read more, we also have an article on the best pet shops in Ireland.