The 8 Best Personal Trainers in Cork
Featured Image from: https://www.pexels.com/search/personal%20trainer/
You might have a workout regimen all picked out from YouTube, but it won't get you off the couch.
Besides, those workout videos you see might not be tailored for your specific body type and fitness level. So, even if you do follow them to the letter, you still won't achieve your goal.
A personal trainer can address all of that. Fortunately for you, we've listed some of the best personal trainers in Cork, how much you can hire them for, and what we think of them.
The Cost of Hiring a Personal Trainer in Cork
If you don't have an idea of how much it costs to hire a personal trainer, we've outlined the rates of some of our top picks below so you can easily compare them:
David Sisk Fitness
| | |
| --- | --- |
| The Assessment | €50 |
| Introduction Package | €175 |
| 1-to-1 60-Minute Sessions | €60 |
| 1-to-1 30-Minute Sessions | €38 |
| Semi-Private Sessions | €45 per person |
| Online Training | €19.99 / month |
Gillian O'Sullivan
| | |
| --- | --- |
| Once Off Training Session | €60 |
| Training and Nutrition Session | €120 |
| Buddy Session | €70 |
| Trio Session | €90 |
| Specialist Training | €70 |
| 7 Session Training Package | €350 |
| 12 Session Training Package | €500 |
MT Fitness
| | |
| --- | --- |
| MT I.D. Membership | €20 |
| MT P.T. Plus | €40 |
| MT PT | €50 |
ATP Fitness
| | |
| --- | --- |
| Unlimited Live Fitness Classes | €149 |
| 10 PT Sessions | €199 |
| 20 PT Sessions | €349 |
| 6 Week | €289 |
| 12 Week | €499 |
| Unlimited Online Classes Monthly Membership | €49 |
| 10 Class Pack | €70 |
| 50 Class Pack | €299 |
Complete Fitness
| | |
| --- | --- |
| Weight Loss & Nutrition Class | Contact for more information |
| Pilates Class | Contact for more information |
| Metcon Class | Contact for more information |
| Athlete Training | Contact for more information |
Solas Health & Fitness
| | |
| --- | --- |
| Spark | € 25.00 Per Week |
| Light-Up | € 30.00 Per Week |
| Shine | € 40.00 Per Week |
Warrior Fitness Group
| | |
| --- | --- |
| Fitness Classes | €9 – €79 |
| Personal Training | €30 – €240 |
| Buddy Training | €50 – €360 |
| Couple & Teen Packages | €40 – €750 |
The Best Personal Trainers in Cork
Your personal trainer is your guide and partner in achieving your fitness goals. We've picked the best trainers in Cork and reviewed what each one can do for you.
1. Gillian O'Sullivan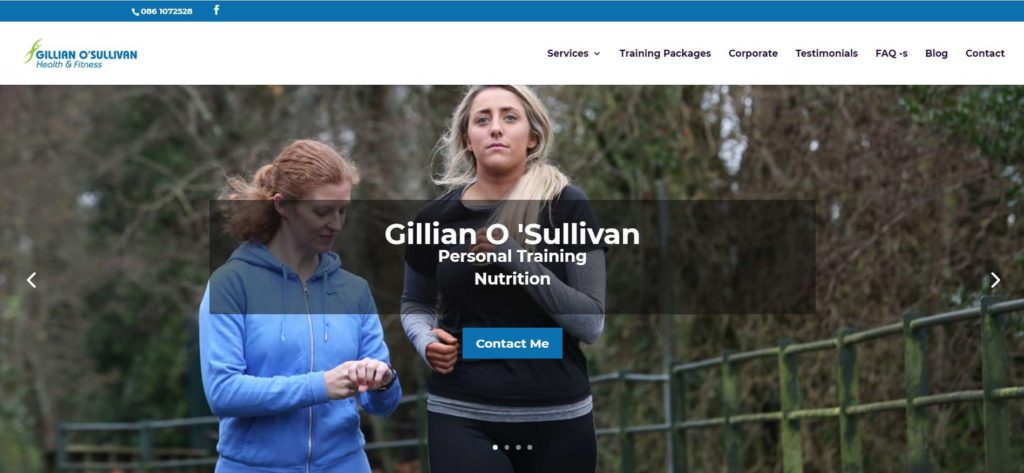 SERVICES
older adults, pre and post baby, wedding preparation, weight loss and fitness
WEBSITE
http://gillianosullivan.ie/
ADDRESS
Hayfield Manor Hotel Perrott Ave, College Rd, Cork, Ireland
CONTACT DETAILS
+353 86 107 2528


[email protected]

OPERATING HOURS
Mon – Fri, 9:00am – 9:00pm
Want to be trained by an Olympian? Here's your chance!
Gillian O'Sullivan is one of Ireland's prized athletes. Her career in race walk is pretty impressive: she holds the world record for 5km in Dublin, silver medalist in the 2003 Paris World Championships and 10th placer in the 2000 Sydney Olympic games.
Now, why do we think all this matters in training someone else to be physically fit? Because she knows the hurdles of training and can share with you the discipline and regimen she did to succeed.
She's also not 'just' an athlete—she's a qualified personal trainer, having been accredited in 2006 by National College of Exercise and Health Studies (NCEHS).
She has trained a lot of people since then—from complete beginners to competitive athletes of all ages, merging her experience as an Olympic athlete with her personal trainer skills to help clients achieve their fitness goals.
But she doesn't limit her service to private individuals only. She also has a corporate programme, delivering health and fitness classes to corporate groups and companies like Novartis, Pfizer, Boston Scientific among others.
Now, don't be intimidated! She offers packages where you can train with a buddy or a trio session if that's more comfortable for you.
You can also opt for a one-off training or a longer, specialist training package. She also caters to goals like pre and post baby fitness, guiding older adults in their workout and helping you get some of that weight off before your wedding day!
Olympic athlete
NCEHS certified
Servicing beginners and competitive athletes
Offers corporate programmes
Wide options of training packages
Accepts online booking consultation
Doesn't mention if remote training is offered
Doesn't mention if support group is available
Customer Reviews
Very informed and supportive approach
"I couldn't recommend Gillian highly enough. She has worked with me to regain my fitness and weight (plus a bit) after the birth of my baby. She has a very informed and supportive approach which helped me to focus on the task at hand. I really enjoy my sessions with Gillian who is genuinely a great person to deal with." – Niamh Hodnett, Google reviews
Challenging and enjoyable
"I would highly recommend Gillian O'Sullivan as a personal trainer. Gillian is excellent to work with and her sessions are challenging and enjoyable at the same time. Definitely one of the top personal trainers in Cork." – John Mahony, Google reviews
2. Ian Murphy, ATP Fitness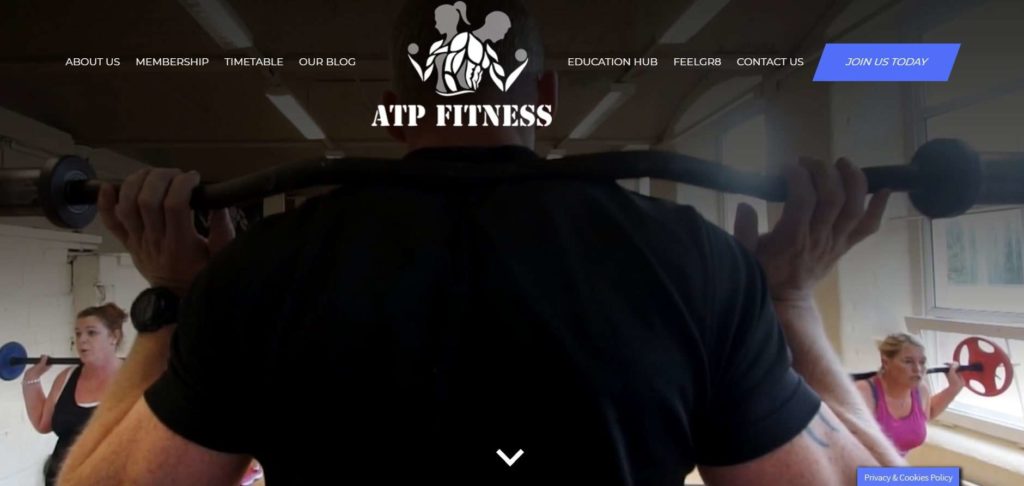 SERVICES
online fitness classes, personal training, class training
WEBSITE
https://www.atpfitnesscork.ie/
ADDRESS
a1, Donnybrook Commercial Centre, Donnybrook, Douglas, Cork, Ireland
CONTACT DETAILS
+353 21 436 9341
OPERATING HOURS
Mon – Thurs, 6:30am – 8:30pm
Fri, 6:30am – 7:00pm
Ian Murphy has been introduced to fitness early. Growing up, he played a lot of sports including rugby, soccer and GAA.
After being in the fitness industry for years, he realised that the only way to get people to include fitness and health in their busy lives was to offer a personalised approach in training.
He co-founded ATP Fitness in 2016 and started offering flexible membership packages to suit all levels of training. They have PT bundles with no expiration date, the Body Sculpt package, class packs, a combination of PT and fitness classes and more.
The gym also offers starter packs and premiums memberships that include these:
Meal plans
Home workouts
Tailored calories
Tutorial videos
Private FB group
Freebies like water bottle, yoga mat, journal, pop socket, and accountability poster
Speaking of home workouts, we think it's important for gyms to evolve and work around the problems brought about by Covid-19. That's why we appreciate that ATP Fitness is offering a monthly subscription that provides live online fitness classes.
Not only is it unlimited, but you also get a recording after each class so you can do it again at your own convenience. It's a bummer subscription can be cancelled anytime with a week's notice, but we hope not!
If you want to get a feel of what Ian is like, you can listen to his podcast or take advantage of their free consultation before signing up. You can also download their app if you want to know more about their packages.
Wide options of training packages
PT bundles have no expiry date
Premium memberships include meal plans, freebies etc
Live online fitness classes
Has podcast
Free consultation
App available for download
Online fitness class can be cancelled anytime with a week's notice
Closed on weekends
Doesn't mention any certification
Customer Reviews
Give you the extra push
"The guy's enthusiasm for fitness is infectious. You are guaranteed to leave every class and training session exhausted but so satisfied and feeling so much better than when you arrived. It's so nice to find a place that's more about getting healthier, stronger, fitter than just always focusing on getting smaller. The trainers here have a fantastic ability to help and guide you to achieve your goals and to give you the extra push that you might need. They can turn your "I can't" into "I can"! No better guys to put you through your paces. I would definitely recommend Atp fitness. – Claire Craig, ATP Fitness member
Answered all my questions and gave me helpful tips
"I found the staff in ATP brilliant in the run up to my recent wedding. They answered any questions I had in relation to diet and gave me helpful tips on little changes I could make. They pushed me harder than ever during sessions and played wedding related songs in the gym in the week leading up to the wedding to keep me focused. Thank you ATP!" -Sarah, ATP Gym memberlass
3. Vilma, David Sisk Fitness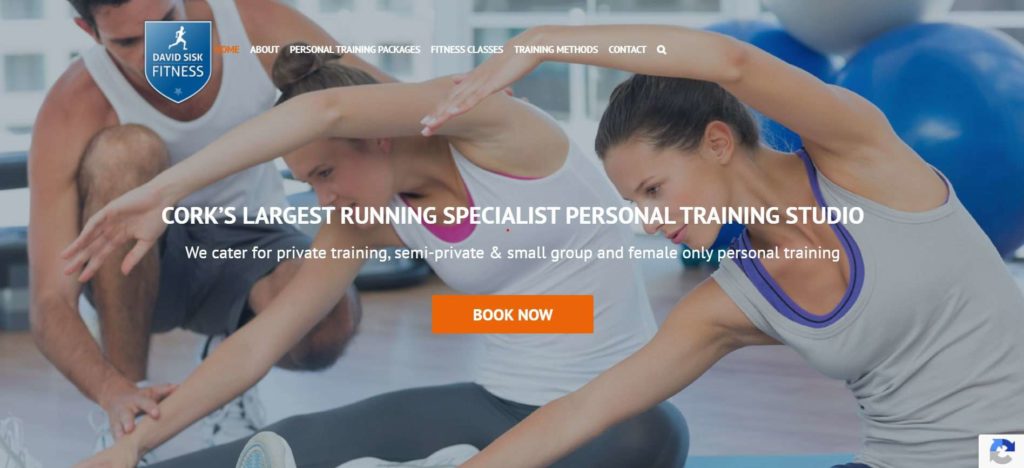 SERVICES
assessment, introduction package, 1-to-1 30/60-minute sessions, semi-private sessions, nutrition coaching, online training
WEBSITE
https://www.davidsiskfitness.com/
ADDRESS
Unit 6, Mount Oval Village, Cork, T12 V20C, Ireland
CONTACT DETAILS
+353 21 489 8452


[email protected]

OPERATING HOURS
Mon – Fri, 6:00am – 8:30pm
Sat, 6:00am – 12:05pm
Vilma is a master trainer at David Sisk Fitness having worked there both as a trainer and nutrition coach since 2007.
Like other trainers, she is also passionate about sports—handball in particular. It's a game where she won the 1997 silver medal in the World Junior Olympic Games.
But she isn't just experienced—she has a Bachelor's Degree in Sports Science from Vilnius University. She is also certified in several fields: as a personal trainer, exercise nutritionist and coach, and as a group trainer in kettlebells, Spin, Vipr and TRX.
We think this is more than sufficient proof that she has the skills to train people to achieve their personal fitness goals.
Now, what kind of training packages are offered at David Sisk Fitness? They have several: 30 or 60-minute 1-to-1 sessions, semi-private sessions (for 2 people), small group, female only, introduction package and more.
But we're especially keen on their once-off assessment package. For just €50, they will analyse your muscle balance, posture, current weight, health and lifestyle, etc.
This information will help them determine where you should start with your training. The more accurate the information you share, the more they can design an effective program for you – and that's what we call a personalised training program!
All their packages and sessions include a personal nutrition plan. Yes, they have online training too.
In terms of payment, they're pretty strict on cancellations. If you don't show up or you cancel within 12 hours of your class, you'd still have to pay in full and won't be allowed to book another class until you pay the late-fee.
Please also note that all sessions are from Monday to Saturday and it's by appointment only.
Has a Bachelor's Degree in Sports Science
Certified personal and group trainer
Certified nutritionist and coach
Wide options of training packages
All packages/ sessions include a personal nutrition plan
Online training available
Sessions are by appointment only
Strict payment/cancellation policy
Customer Reviews
Attentive to technique
"Fantastic Personal Training service. My experience with Dara and Vilma have been really positive. So attentive to technique and really push you to your limit but most importantly at a pace you're comfortable with. I've been training in David Sisks now for around 10 months and I couldn't recommend them any more highly." – Jamie Healy, Google reviews
Such personalised service
"Great personal training and group classes. Such personalised service at both. Would highly recommend Vilma and David." – Jackie Kehoe, Google reviews
4. Edward Finn, One Arena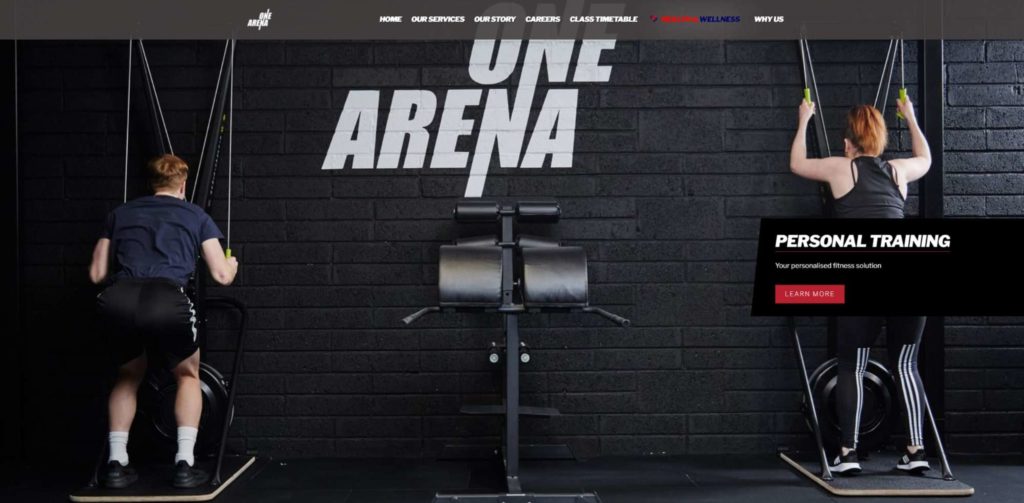 SERVICES
small group training, personal training, boxing, yoga, nutri zone, health consultation, KMC therapies
WEBSITE
https://onearena.ie/
ADDRESS
4 Swan's Nest Business Park, Pouladuff Road, Cork, T12 XC1Y, Ireland
CONTACT DETAILS
+353 87 756 9826


[email protected]

OPERATING HOURS
Mon – Fri, 6:00am – 9:00pm
Sat – Sun, 8:00am – 5:00pm
Off the bat, what we like about One Arena in particular is that they have wellness facilities and programmes aside from their personal training programmes.
But we're getting ahead of ourselves. Let's talk about Edward Finn first.
Edward Finn is a qualified personal trainer and is certified in strength and conditioning, sports physiology and nutrition. He's been running his own fitness classes since 2013, until he finally decided to set up his own gym, One Arena.
His gym offers one-on-one training where you will be guided on how to build habits and learn techniques to live a healthy, active life. This package includes:
A personalised training plan
One-on-one sessions
Monitoring of progress
Nutrition plan
In-body composition analysis
Access to training apps, library and online support group
If you want to be trained with a group instead, One Arena also offers small group training (online or in-person) where you can work out with other people 3x or do unlimited training per week. They also have other services like boxing, yoga, health and nutrition consultations.
Now, if you've lived a sedentary life, working out, doing circuits and finally getting some physical activity can bring aches and pains to your body. But One Arena's got that covered as they have a range of treatments to get those aches fixed up.
Their wellness programmes include neuromuscular therapy, dry needling, deep tissue massage, etc not just to relieve body pain but also to provide preventive support.
And because wellness isn't just physical but a full integration that includes mental well-being, they have also collaborated with other specialists like psychologists, psychotherapists and craniosacral therapists for their clients who might need those services.
That's something we think is really noteworthy. We've checked out a lot of gyms, but finding one that offers well-being programmes is rare as most gyms let you fend for yourself after training.
Certified
One-on-one and small group training
Online or in-person
Boxing and yoga offered
Health and nutrition consultations
Therapy sessions
Wellness programmes
No mention if packages have expiry
No mention if consultation is free before signup
Customer Reviews
Facility is topclass
"Ed and his team have a very professional and friendly approach with their clients, very well run small group training classes which cater for all levels of fitness, the One Arena facilities are top class with top of the range equipment, the facility is kept spotlessly clean at all times. Keep up the great work!" – Liam Donnacliffe, Google reviews
Not just a gym but a community
"Best gym in Cork! I attended sessions at the gym and online. For anyone working from home and finding it hard to switch off at the end of the day the online classes are amazing and have helped me so much with this. Ed and Kiran make an effort to get to know each member and make One Arena not just a gym but a community." – Laurena O Beirne, Google reviews
5. Sean Healy, MT Fitness

SERVICES
buddy training/small group training, one-to-one programme
WEBSITE
https://mtfitnesscork.com/
ADDRESS
Unit 5 Kilnap Business and Technology Park, Old Mallow Rd, Blackpool, Cork, T23 N6XC, Ireland
CONTACT DETAILS
+353 85 738 4657
OPERATING HOURS
Mon – Fri, 6:00am – 9:00pm
Sat, 8:00am – 2:00pm
MT Fitness has several competent trainers, but we picked Sean Healy because of several things:
One, he's a fully-qualified personal trainer and fitness instructor. In fact, he has an REPs (Register of Exercise Professionals) certificate.
Two, he spent three years in CIT studying recreation and leisure management. He is qualified with a level 7 degree.
He is also very athletic and has a background in martial arts. He has represented Ireland at the European championships (and in different countries) in combat sports like Muay Thai and boxing.
A lot of his trainees say he's not just skilled: he's also approachable, friendly and enthusiastic. We think these are extra qualities that make training fun—and not like a boot camp as a lot people imagine it to be!
With regards to packages offered at MT Fitness, you have three options: one-on-one, buddy or small group training and ID Membership or what's known as an "open gym." They also have online classes.
One-on-one will get you three individualised sessions a week, plus a nutrition plan, trainer support, access to support groups and more. Buddy or small group training entitles you to the same thing as one-on-one, except that it's not individualised.
You will get over 20 open gym slots a week for the ID Membership package. It also includes a custom ID training programme, goal setting, progress tracking and such.
There's a 12-week minimum term for all programmes too, and they're all on a weekly rolling direct debit.
Has REPs certificate
Level 7 degree in recreation and leisure management
Martial arts background
All programmes include a nutrition plan
Support group available
With minimum term
No mention if consultation is free before signup
Customer Reviews
The Zoom classes they offer are fab
"MT Fitness has been amazing during Covid. I started with them in January because I didn't feel comfortable in myself. The zoom classes they offer are fab and the support from all trainers has been outstanding. They push you to the max. I have been getting great results in my short time with them and I feel good!" – Nicole Long, website review
Made me feel comfortable and encouraged from day one
"MT Fitness has changed my life in ways I never knew were even possible. I started in the gym at a young age of nearly 44, I had never been in the gym before that and was so nervous that I would not be able to do it. I was always made to feel comfortable and encouraged from day one. Now 3 years later, I love training, never imagine I would say those words. I am much happier in myself, I am healthier, more confident, and more motivated. The feeling I get after a training session is the best feeling ever and really improves my mood which in the current climate is needed more than ever." – Lissa Higgins, website review
6. Complete Fitness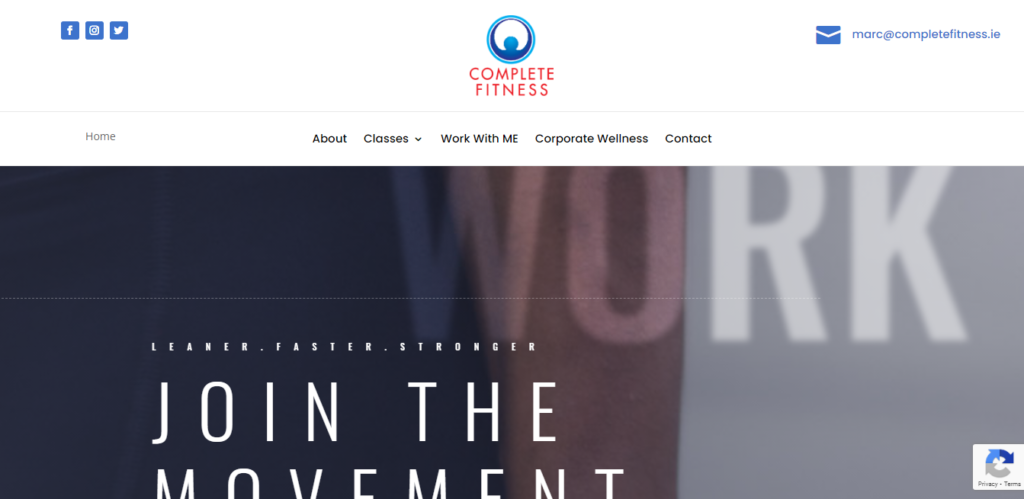 Complete Fitness is your go-to company when it comes to availing of a training regime that will produce the optimal results that you desire. They ensure that you will be thoroughly guided and assigned to a professional who knows their way around the field and knows the most efficient way to address your personal goals.
They also offer a comprehensive and convenient online package that will bring also the best results possible despite the online barrier present during each session. They are able to come up and strategize on a highly personalized regime that will help you achieve your goals in the best time frame for you at your own pace and schedule you desire.
Every program they design will surely improve various areas of your health including mobility, fitness, lean muscle, and nutrition among others. Rest assured that they will guide and advise you all the way before, during, and after each session to guarantee that you make the most out of the services you paid for.
We recommend this company for you if you are looking for a one-stop for both your nutritional and exercise program needs as they offer this with high expertise in the field and are laid out in a user-friendly format for your convenience as well.
Offers free class passes
Personalized regimes
Excellent customer service
Rates are not available online
Customer Reviews
Here are some reviews from their clients:
"Complete Fitness are beyond excellent. All the classes and tutors are fantastic, they really care about all the students and offer great advise in all aspects of stretches and nutrition etc, and really monitor your progress and help you as the weeks progress. There's a great feeling of community for me at Complete Fitness. I cannot recommend them highly enough."
"This was my first experience of TRX and Pilates classes. The best thing about complete fitness is that the classes are small so you feel you get he most from the class as the teacher has the opportunity to support each person individually with their form. You also get to know the instructors and others in the classes. Paula is an excellent, and experienced teacher with a calm and balanced approach and I would highly recommend her classes."
7. Solas Health & Fitness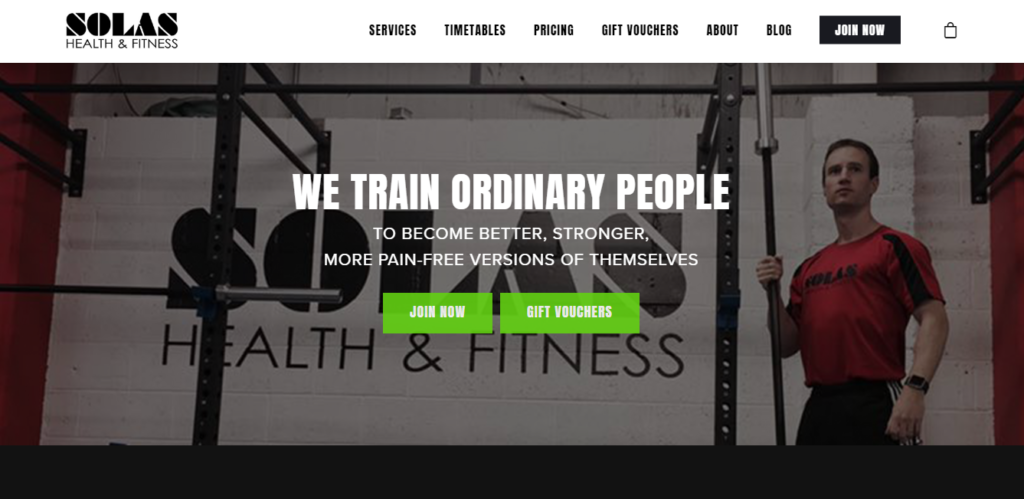 Solas Health and Fitness is a fitness center that specializes in giving you highly personalized training that aims to help you become a better, stronger, and pain-free version of yourself. From small group training to private group training, they are consistent and dedicated in delivering you only high-quality services without any gimmicks and hidden fees.
All of the approaches that they utilize are always proven and efficient as they use only traditional resistance training as they have proven time and time again that this methodology is timeless and relevant up until today. Through their reliable approaches, they are more than willing to help you achieve your fitness goals such as concerns in body composition and pain reduction.
They are highly commended by their clients to exhibit their extensive knowledge on the field with utmost relevance and professionalism as many have recovered from their treatments and training. They also pay close attention to detail that helps them identify and guide you in the best way possible so that you are sure that what you receive is what you need.
We recommend this company for your fitness needs due to their welcoming atmosphere and equally superb services that will surely give you one of the best fitness experiences you can ever have.
Customizable classes
Offers beginner courses
Offers gym memberships
Operating hours are not available
Customer Reviews
Here are some reviews from their clients:
"5* all around, Cathal is a fantastic trainer and he goes into every detail from start to finish, he really knows his stuff and makes you feel so comfortable and not out of place. I would recommend for all to come here, great gym and people
"
"Cathal was recommended to me following an injury, and I can see why. He has a great training style, with a big emphasis on the quality of each exercise to get the maximum benefit. I'd highly recommend SOLAS and Cathal."
8. Warrior Fitness Group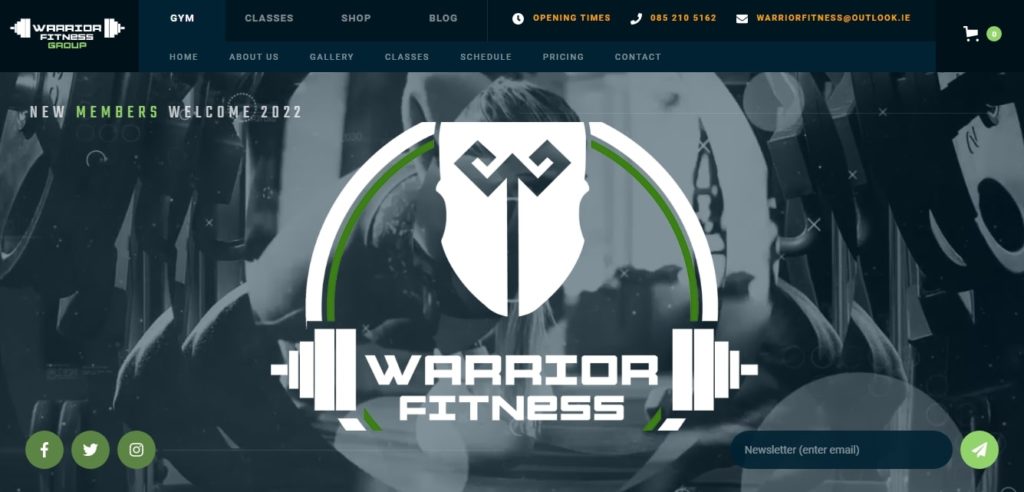 Wide range of classes offered
Motivational approach
Personalized regimes provided
May be costly without gym membership
Customer Reviews
Here are some reviews from their clients:
"I would be a mature and novice member and I have been welcomed in with open arms. I find the circuit training particularly excellent as it's so varied. Barry & Grace really get you working and despite they saying 'enjoy' before every session during which they work you hard you actually do 'enjoy' every session. Can't recommend enough." – Christopher Smith
"Highly recommend warrior fitness. Done my 2nd personal training tonight with Barry & had one Saturday with Grace both are absolutely fantastic Trainers.They really pushed me to my ability looking forward to the next few weeks." – Trisha O. Mahony
The Benefits of Hiring a Personal Trainer
Hiring a personal trainer might just be an extra expense for some, which in a way, it is. But we can only ignore our health for a while until we get sick and spend even more money on doctor's fees and medication.
Here are some of the reasons why getting a personal trainer is better than working out on your own:
Keeps you motivated
How many times have you planned to stop binge-watching your favourite TV series and finally get some exercise? If you ever were successful in getting off the couch, how many times have you skipped your training sessions?
A personal trainer will push you to start and keep your training. He will remind you why you want to exercise in the first place and help you keep your eyes on your goals.
Expert advice
More than a motivator, a personal trainer is an expert who can assess your physical condition and create a programme based on that. So, if you've been exercising for months and aren't seeing any change, your trainer would know why and can help you work out a more efficient plan.
Avoid injury
Because your trainer is skilled, he would know which exercises can aggravate your condition (if you have any) and will find a way to get your heart rate up without causing further damage.
He will also make sure you're using the correct form when exercising and not just doing the motions. Incorrect form can lead to injuries or at the very least, lack of results.
Avoid workout rut
If you've ever run out of routine exercises to do, you know what we mean. A personal trainer can provide variety to your workouts and can help you get out of workout ruts and plateaus.
FAQs about the Best Personal Trainers in Cork
---
We hope our list of the best personal trainers in Cork and the information we've shared encouraged you to start your fitness journey. If you know a trainer who deserves a spot on our list, let us know and we'll be happy to give our assessment.
If you're looking for a personal trainer in Dublin on the other hand, you might want to check out our list of the best personal trainers in Dublin too.