The 5 Best Painters in Ireland
Planning to repaint your walls can take a whole day if you aren't well equipped to handle the job. It's best to leave it to the professionals to save time, effort, and even money.
To help you find the best ones across the country, we listed the best and most reputable painters in Ireland. If you're not sure whether to do it yourself or not, we also answered some common questions about painting services below.
So, let's start by talking about costs to expect first.
How much do painters charge in Ireland?
The cost of painting a house depends on several factors: the scope and complexity of the job, the kind and brand of paint to be used, and the urgency of the project.
In some cases, painters also charge per day, which generally ranges from $225 to $300. On top of that, you also have to take into account the costs of materials and paint.
We listed the average costs of the most common painting jobs you can expect in the table below. To get an accurate quote, we recommend contacting your chosen service provider directly.
| SIZE | ESTIMATED COSTS |
| --- | --- |
| Average bedroom | €250 to €500 |
| 3-bedroom home (interior) | €2,200 to €5,000 |
| 4- to 5-bedroom home (interior) | €7,500 to €10,500 |
| Small bungalow (exterior) | €1,200 to €2,000 |
| Eaves and fascia for an average home (exterior) | €1,500 to €2,000 |
| Large homes and mansions (exterior) | €18,000 to €45,000 |
The Best Painters in Ireland
Here are the most important things that we looked at in coming up with this list:
Moving forward, here are the top painters that you can find in Ireland!
1. Ireland Painters

| Test | Info |
| --- | --- |
| SERVICES | Residential Painting, Commercial Painting, Wallpapering Services, Kitchen Spray Painting |
| WEBSITE | https://irelandpainters.com/ |
| ADDRESS | 60 Kilbarron Rd, Kilmore, Dublin 5 |
| CONTACT DETAILS | 085 764 7575 |
| OPERATING HOURS | Mon to Sun: 6:00 am - 9:00 pm |
There are many reasons why Ireland Painters made it to our list. For one, they're flexible to handle all sorts of painting jobs for residential, commercial, and industrial establishments.
We love the fact that they use eco-friendly paint in their projects, so you also don't have to worry about toxic residue after the job is completed.
On top of that, they also offer free colour consultation services, in which they'll survey your premises and advise you on the right colours for your home. They also offer 24/7 support should you encounter any problem outside of their official hours.
And while they're based in Dublin, we heard that they actually travel nationwide for those who choose to hire them—so don't let their location stop you from asking about their services!
Just take note that this may cost you extra, though. You'll need to take into account travel expenses that may be incurred, especially if you live across the country.
Lastly, they also offer a wide range of services such as roofing, electrics, plumbing, tiling, and all sorts of building management services, making them a one-stop shop for your maintenance needs.
Wide range of services
Services available nationwide
Fully insured painters
Uses eco-friendly paint
Free colour consultation
24/7 customer support
Open daily
Rates unavailable online
Call-out fees may be expensive in some areas
High demand for services may mean limited availability
Customer Reviews
Available on relatively short notice
"Marty painted my spare bedroom in a few hours; was available with relatively short notice and great to work with. Would definitely hire again." —Ohad Lutzky, Google Reviews
Completed the job in a very short time
"I recently bought a one-bedroom apartment which needed to be entirely refreshed but I also needed the work done within a reasonable budget. Joe, Marty and their team did a fantastic job which included painting, decorating, plumbing, electrics etc and they transformed the whole apartment. They also completed the job in a very short time and were extremely nice and good to work with. I would highly recommend them and I won't hesitate to contact them if I need any more work done in the future." Tríona Ward, Google Reviews
2. McLoughlin & Son Decorators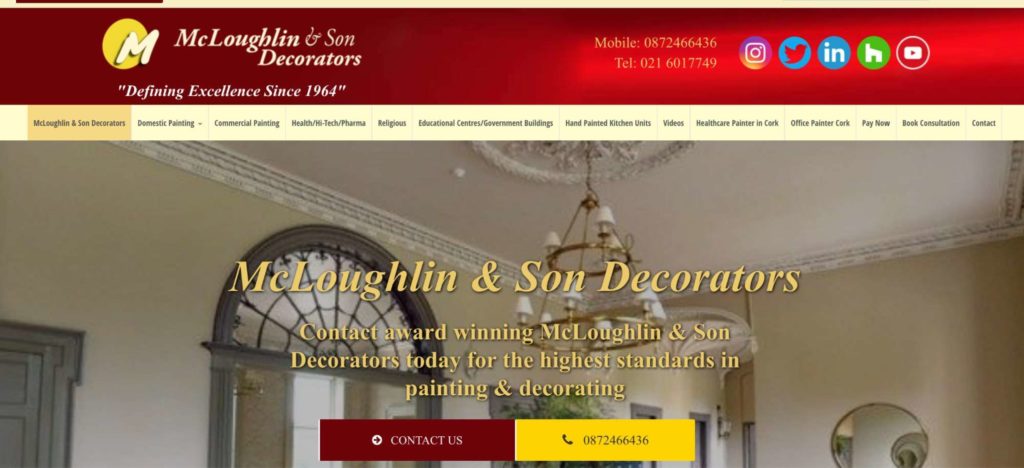 Test
Info
SERVICES
Residential and Commercial Painting, Wall Repair, Wall Prep
WEBSITE
https://www.mcloughlinandson.com/
ADDRESS
Unit 9, Ballincollig Commercial Park, Ballincollig, Cork
CONTACT DETAILS
087 246 6436 or 021 601 7749 |

[email protected]

OPERATING HOURS
Mon to Fri: 6:00 am to 6:00 pm

Weekends and Nights by Request
This family business has been around since 1964 and has earned a reputation for providing high-quality painting and decorating services to Cork residents.
Normally, family-run businesses such as theirs are also known for their personal approach when it comes to dealing with clients. And seeing how much their clients rave about them for it, we're happy to report that this holds true for them too.
While they can paint houses and commercial buildings alike, their specialties include painting all kinds of colleges and churches in Cork.
For the latter, they have extensive faux painting expertise. This means that they can create finishes that are designed to resemble a range of luxurious materials like marble, wood, metal, or stone.
While their relatively short operating hours can be a drawback for some, you still have the option to request them to come over on nights or weekends, in case you're busy during the day.
You also have the option of choosing from a wide range of paint that you want them to utilise on your walls. We would've wanted to see if all those options were eco-friendly though, but sadly there's no mention of those.
Specialises in painting churches
Wide range of paint available
Fully insured painters
Available on nights and weekends by request
Painters are reported to be neat and prompt
Rates unavailable online
Service coverage limited to Cork
Not all paint is eco-friendly
Customer Reviews
Brilliant to deal with
"This is a super professional and high quality service. Brian, Mick and Mark were so professional and brilliant to deal with. We were so impressed with the high standard achieved when repainting cupboard doors, built in unit and interior walls of our kitchen living room. We would highly recommend Brian and his team.The overall result was above and beyond our expectations." —Marie O Connell, Google Reviews
Delivered great results
"Absolutely brilliant. Getting a quote was easy and took no time to get it scheduled. Work was done to perfection and Aaron was a perfectionist and delivered great results." —Chantelle Wallace, Google Reviews
3. Southeast Farm Painters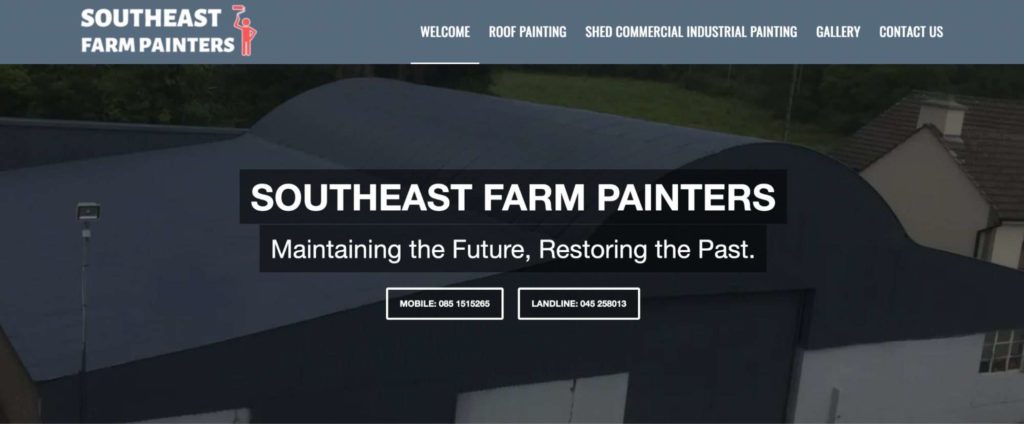 Test
Info
SERVICES
Roof Painting, Commercial/Industrial Painting,
WEBSITE
https://southeastfarmpainters.ie/
ADDRESS
83 Woodlands, Castledermot, Co. Kildare
CONTACT DETAILS
045 258 013 or 085 151 5265 |

[email protected]

OPERATING HOURS
Mon to Sun: 7:00 am - 8:00 pm
If you reside around Kildare and happen to have a barn that needs repainting, then Southeast Farm Painters might just be the right company for the job.
It's exactly the type of niche that they're known for over 28 years now. They can paint and coat all types of farm buildings, which includes houses, barns, industrial sheds, hay sheds, and much more.
To be exact, they're also widely known for their roof painting jobs. They provide complete packages that also include a soft wash roof cleaning service, which will make your roof look good as new.
We like how sustainable their practices are. For example, they use eco-friendly coating products such as plastic-coated cladding paint, which can offer your roof many years of protection from harsh weather.
If you ensure that your roof is regularly maintained, this will fundamentally cut down costs on repainting jobs in the long run and therefore, keep cans of paint away from landfills.
Sadly, their services are only limited to exterior painting. So if you're planning on repainting your bathroom or kitchen, then this company may not provide you with what you're looking for.
In terms of service area coverage, they're decently accessible, serving Wicklow, Waterford, Dublin, Kildare, and other surrounding areas.
Like most service providers nowadays, you'll have to contact them to get an exact quote for the services you require.
Wide service area coverage
Specialises in farm and roof painting
Fully insured painters
Uses eco-friendly paint
Open daily
Rates unavailable online
Call-out fees may be expensive in some areas
Services limited to exterior painting
Customer Reviews
Professional, friendly, trustworthy workers
"Southeast farm painters were excellent. They were professional, friendly and trustworthy workers. They offered their expertise and advice on what was needed and the final product was fab. Thanks lads." —Conor Kehoe, Google Reviews
Very tidy
"I had southeast farm painters do some work on my farm sheds done a fabulous job on them and very tidy. I would fully recommend these guys to anybody thanks." —John Ryan, Google Reviews
4. West Coast Decorators
Test
Info
SERVICES
Interior and Exterior Painting
WEBSITE
http://westcoastdecorators.com/
ADDRESS
Casa Del Mar, Coast Road, Oranmore, Co. Galway
CONTACT DETAILS
087 963 0914 or 091 758582 |

[email protected]

OPERATING HOURS
Mon to Sun: 6:30 am - 11:30 pm
West Coast Decorators is the one to call if you're based in Galway, Limerick, and other surrounding areas like Athenry, Loughrea, and Athlone. Beyond that, you'll have to call them to see if they can accommodate your needs.
What makes this company different from others is the fact that they specialise in kids' bedroom painting. Yes, you heard that right—they can literally paint your children's favourite cartoon characters on their bedroom walls.
We think that this special skill can also come in handy if you're thinking about creating your own accent wall indoors. Alternatively, they can also install wallpapers to give your walls a splash of colour.
Not to mention that they also use eco-friendly paint, which is also perfect for children's rooms and for clients with allergies.
Another unique thing about them is that they provide 3-month warranties to all their clients. Their painters are fully insured too, which is another reason why we had to recommend them.
Specialises in kids' bedroom painting
3-month warranties for all clients
Wide area coverage
Uses eco-friendly paint
Fully insured painters
Wide range of services
Open daily 
Rates unavailable online
Call-out fees may be expensive in some areas
Customer Reviews
Very professional and didn't delay
"Philip and his team are fantastic at what they do. I recently bought an old house and the kitchen needed updating. Philip and his team arrived and done exactly what I asked for. They revamped my kitchen cabinets and it honestly looks like a new kitchen. I couldn't be happier. They were very professional and didn't delay, they got the job done and cleaned up, no mess. That in itself is the best part of the experience. Highly recommend these guys!" —Dannie Folan, Google Reviews
Transformed every room
"Really delighted with the work just finished by Philip and Jack. They completed a large two bedroom apartment in 5 days, Every surface was included, ceilings, walls and all woodwork. I could see the progress each day and the prep work that went into getting the finish that we ended up with. It transformed every room. I recommend highly and will use again." —Brian Delaney, Google Reviews
5. Original Style Painting and Decorating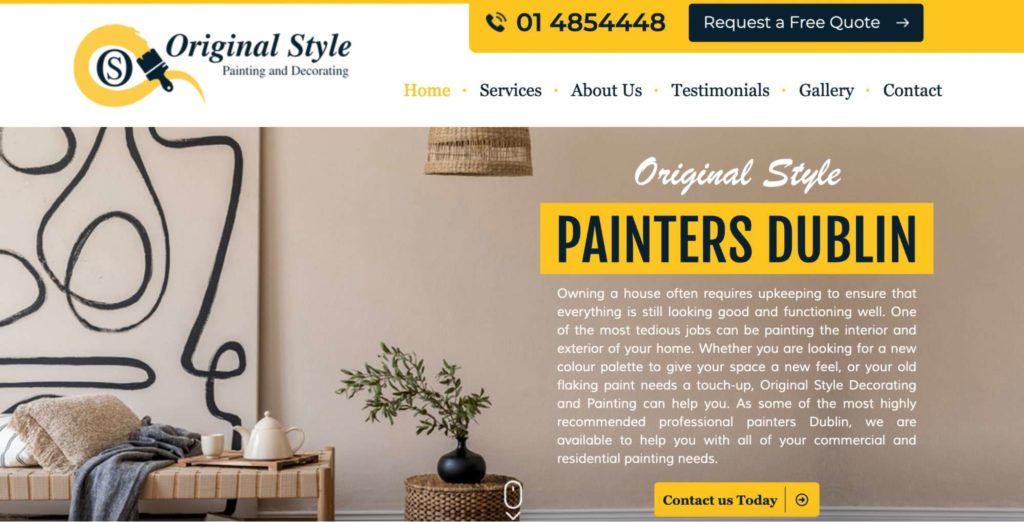 Test
Info
SERVICES
House Painting, Commercial Painting, Furniture Painting, Wallpapering, Plastering Services, Spray Painting
WEBSITE
https://osdecor.ie/
ADDRESS
11 Griffeen Glen View, Esker South, Lucan, Co. Dublin
CONTACT DETAILS
01 485 4448 or 089 251 3114 |

[email protected]

OPERATING HOURS
24/7
Here's another option for residents of Dublin and surrounding counties: Original Style Painting and Decorating. They're an all-around service provider that can handle repainting, wallpapering, and touch-up requests in residential and commercial spaces.
They don't really have a specialty, which can be a blessing or a curse depending on how you see it. Simply put, they provide general painting jobs of high quality—no extra frills to think about.
Aside from the fact that their painters are fully insured, we like that they offer 12-month guarantees on all their work, which is pretty extensive compared to others.
Like most of our entries here, we're always happy to recommend service providers that also try to be sustainable as much as possible. Not only do they use eco-friendly paint, but they also practise sustainability in other ways.
For instance, they reduce wastage of products and tools while minimising the use of single-use plastics in their services—and that gets them a huge point from us!
Note that they only cover counties surrounding Dublin though. So if you're based in an area outside of that, then you might want to skip this company.
12-month guarantee
Uses eco-friendly paint
Sustainable and ethical practices
Fully insured painters
Wide range of services
Open 24/7
Rates unavailable online
Services limited to Dublin only
Customer Reviews
Ensured all was left clean at the end of the day
"OS Decor carried our work on our home in June 21. They completely painted the exterior of the house and did some interior work. Work carried out was to the highest standard with a quality finish. The team completed the work in excellent time and ensured all was left clean and tidy at the end of each day. Quality work with excellent service. We would have not hesitation in using OS Decor again in the future." —Des G, Google Reviews
Very reliable and polite
"We were impressed by Olegs team when they painted the front of our Neighbours house so we had him back to do ours!. The job was done so well, walls prepared and the painting was top class. They came when they said they would, were on time and cleaned up after themselves. We had them back to paint our kitchen and bedroom which included wallpapering. Again, professional quick and quality service. Oleg was very reliable and polite, and was very mindful of the quality and finish." —Sinead Lawlor, Google Reviews
FAQs about Painting Services
More Resources about Home Maintenance Services in Ireland
---