The 5 Best Food Markets in Dublin
Some of Ireland's food markets are located in Dublin, which makes the city a popular choice amongst locals and tourists when it comes to food.
You can find almost any type of food in a Dublin food market—from organic fruit and veg to mouthwatering sandwiches and desserts—it's really a foodie's dream! 
Average Cost of Food in a Food Market in Dublin
The following table shows the average cost of basic products in some of the food markets in Dublin. Please remember that the prices vary per food market and may change without prior notice.
There are also more foods being sold in food markets that aren't in the table due to the varied pricing:
| | ESTIMATED PRICE |
| --- | --- |
| Organic fruits and veg | €1.22–€3.80 / kg |
| Rice and grains | €1.68 / kg |
| Bread | €1.86 / 500 g |
| Meat and fish | €10.00–€12.00 / kg |
| Dairy products | €1.29–€10 |
| Sandwiches, pastries | €3.00–€10.00 |
| Drinks | €2.50–€8.00 |
Best Food Markets in Dublin
We're evaluating the top food markets in Dublin based on the following factors:
1. Herbert Park Food Market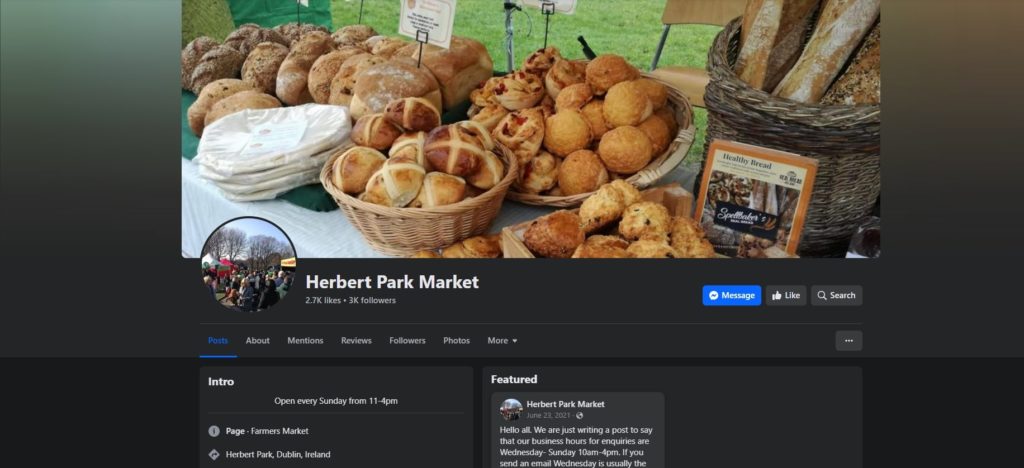 | | |
| --- | --- |
| Variety | ★★★★★ (5/5) |
| Location | ★★★★★ (5/5) |
| Accessibility | ★★★★★ (4/5) |
| Vibe | ★★★★☆ (4/5) |
| Quality | ★★★★☆ (4/5) |
| Reputation | ★★★★☆ (4/5) |
When it comes to variety, Herbert Park Food Market is right there at the top of the food market hierarchy in Dublin. The park has several stalls dedicated to selling local produce as well as international food!
It's regularly open on Sundays from 11:00 in the morning to 4:00 in the afternoon. You can spend the whole day enjoying the food it offers and at the same time bring home fresh ingredients you can use for cooking.
We also love that even though it's a food market, you can still see stalls offering other things such as flowering pots and plants and even jewellery! We think you'll need to set a budget when you come here to make sure you don't go way overboard!
When we say variety, we mean it—you can find organic fruits and veg, local breads and pastries, and international cuisine like falafel, pasta and crepe among others. The best thing is that it's in a park, so you can just have a picnic as well!
Speaking of the park, it's easy to burn those calories because you can just take a stroll and enjoy the nice view after the lovely food you ate from the food market. The park is well-maintained and not overly crowded, making it a perfect spot for relaxing.
The only thing we're not too fond of is that some ready-to-eat food stalls charge a bit high for let's say a sandwich. Also, we think the organisers of the food market should have better post-cleanup plans so the food market area will be left totally clean.
Variety of food stalls
Herbert Park for a picnic
Lots of organic veggies and fruits
Has stalls that offer flower pots and plants
Lovely scenery
Needs to improve on post-food market cleanup
Some food are overpriced
Customer Reviews
Variety of food perfect for a picnic
Beautiful sunny Sunday spot! Delicious food available. Falafel and kebab tent, Crepe tent are my favourites (Belgium chocolate and marshmallow crepe and Lamb & Falafel wrap/plate. Yummy!) There are also options for organic veggies to take home, burger and steak sandwich, cupcakes, icecream, Korean food, Italian pasta tent, and so on.
Take your book and picnic blanket and head to Herbert Park on "sunny" Sundays.. you will not be disappointed.— 328edag, Trip Advisor
Scenic views with lots of food options
It's available on Sundays. Great to grab a bite when walking along the park. Some crepe places, burger huts, coffee, juice etc. There are also other small businesses that operate there. — Dinusha Saparamadu, Google Reviews
2. Mespil Road Lunchtime Market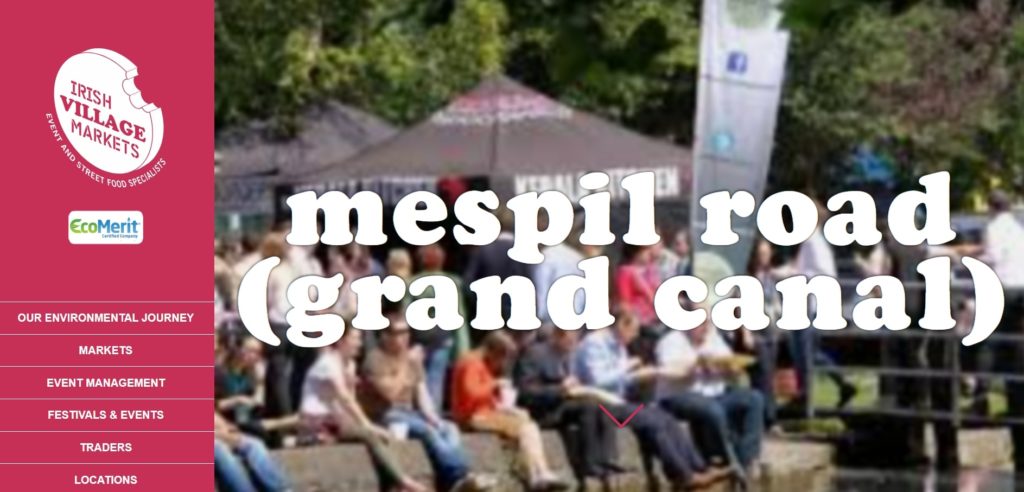 | | |
| --- | --- |
| Variety | ★★★★☆ (4/5) |
| Location | ★★★★☆ (4/5) |
| Accessibility | ★★★★☆ (4/5) |
| Vibe | ★★★★☆ (4/5) |
| Quality | ★★★★☆ (4/5) |
| Reputation | ★★★★☆ (4/5) |
What makes Mespil Road Lunchtime Market different from other food markets is that you can't find local produce here—just delicious cooked food you can eat for lunch. And what we love most about it—there are several options for you to choose from!
According to the locals who are regular customers of the food market, they love the variety the most. So even if it's only open every Tuesday for three hours, they always look forward to trying new food from another stall.
We love that there are different cuisines you can choose—from Irish to international cuisines like Thai and Chinese. You won't easily get tired of the same old taste because you can always try another cuisine the next time you come.
We also love that Mespil Road can easily be accessed, though it can also be quite a long walk for some. The food market has a nice vibe which contributes to the huge crowds even on a weekday.
The atmosphere is friendly and there's good music too, which is why it can get really busy. You'll find yourself falling in line for a long time per food stall, which isn't a very wise use of your lunch break.
We recommend arriving early so you can enjoy your lunch. There are tables and chairs around where you can eat, but they easily get filled—but at least it's a short walk to a nearby park where you can enjoy your lunch without the inconvenience!
Lots of food choices
Reasonable prices
Accessible
Walking distance to a park
Friendly vibe
Street musicians
Long lines for food stalls
Not a lot of places to sit
Customer Reviews
Reasonable prices with lots of food choices
I love this food market! There is a great choice of food options, something for everyone. I went there multiple times and tasted food from different food trucks. You can have a nice lunch break with colleagues (or not) and spend around 10-15 euros. Some options can be more expensive than others, but you can choose wherever you want. Queues can be long enough, but they tend to move quickly. There are tables and seats to eat there, but you can take away the food anyway. — Donatella Malta, Google Reviews
International culinary heaven
There are many varieties of food available and one can get delicious food for 10-12 euros. There is Thai, Asian, Chinese, Irish, Lebanese food available and one must try food at this place 😋— Google Reviews
3. St. Anne's Park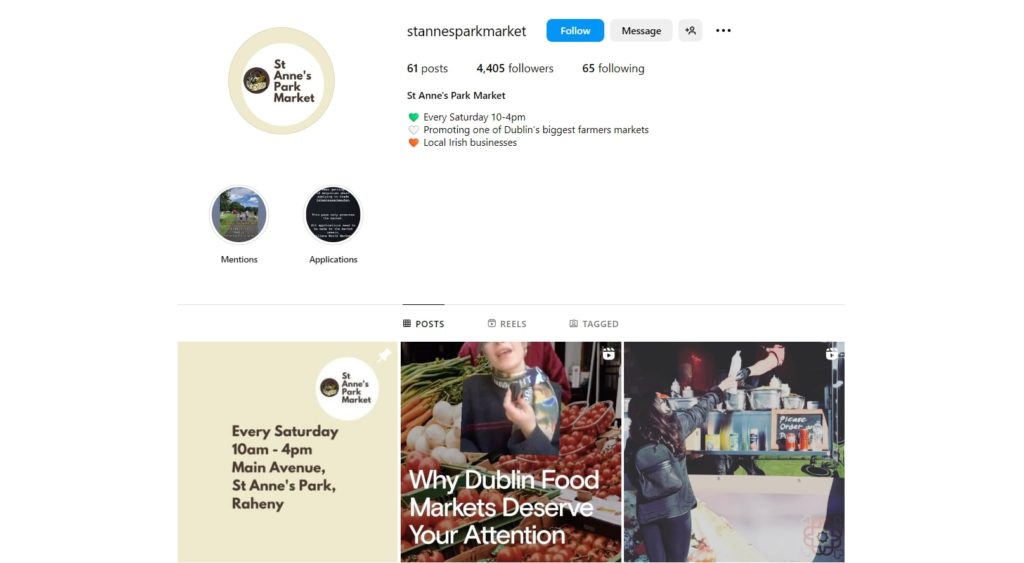 | | |
| --- | --- |
| Variety | ★★★★★ (5/5) |
| Location | ★★★★★ (5/5) |
| Accessibility | ★★★★★ (5/5) |
| Vibe | ★★★★☆ (4/5) |
| Quality | ★★★★☆ (4/5) |
| Reputation | ★★★★★ (5/5) |
St. Anne's Park is probably one of the most known food markets in Dublin. It's a year-round Saturday market that doesn't fail to offer the best food in the city—definitely worthy of its reputation as a food haven!
First thing we love about the market is that it has a lot of stalls that sell organic veggies and fruits. There are probably as many local produce stalls as ready-to-eat food stalls—but don't quote us on that!
Second, we love that St. Anne's market is available all-year round. According to the locals close to the area, it has become a part of most of their weekends because they love enjoying the good food and the somewhat serene atmosphere.
The area is quite spacious and has a lot of green scenery. What's better than taking a long nice stroll after stuffing yourselves with good food, right?
Third, other than good food, there are also stalls that sell handmade products. We love that you can take home not only fresh fruits and veggies, but also paintings, handicrafts, and furniture!
Lastly, we love that St. Anne's food market is in a prime location. Everyone in Dublin can easily go there and enjoy the variety of what it has to offer.
Just a little warning though—if you come a little late in the afternoon, you might not be able to enjoy a single food. Most stalls close around 4 instead of 5—a little disappointing, but you still might need to adjust if you want to experience it!
Available all year
Has a lot of organic produce stalls
Plenty of space for a nice stroll
Has stalls for handmade products as well
Has a wide range of ready-to-eat food
Prime location
Some stalls close early
Can get really busy and crowded
Customer Reviews
Best place for organic produce
Plenty of stalls selling fruit and vegetables, framed art and paintings, pottery, handcrafts, handmade furniture and great food, cold drinks, smoothies and great coffee. A great weekend market for any time of the year…. — Yvonne Purcell, Google Reviews
An all-around food market accessible to everyone
Beautiful market in the heart of St. Anne's Park. You can wander around and buy your vegetables, bread, meat, cheese and flowers. Or get yourself some lunch from any of the stalls, serving vegetarian dishes, Mexican, Indian, Korean, Chinese, Pizza, Falafel, Potatoes and much more. If you need a vitamin booster, Tutti Frutti is there. And a sweet tooth won't be disappointed either. On top of that you can buy oil, vinegar, marmalade, paintings, handcraft dishes etc— Kerstin Abelle, Google Reviews
4. SuperNatural Food Market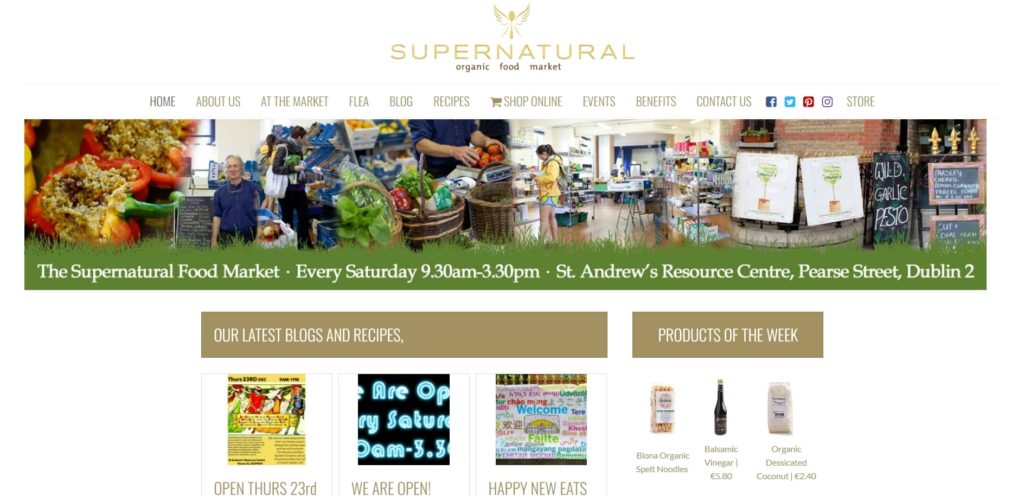 | Test | Info |
| --- | --- |
| WEBSITE | https://www.supernatural.ie/ |
| ADDRESS | 114, 116 Pearse St, Dublin 2, D02 PR44, Ireland |
| TYPE | Indoor Saturday Market |
| CONTACT DETAILS | +353 86 454 3200 |
| OPERATING HOURS | 9:00 AM - 3:00 PM |
| | |
| --- | --- |
| Variety | ★★★★☆ (4/5) |
| Location | ★★★★☆ (4/5) |
| Accessibility | ★★★★☆ (4/5) |
| Vibe | ★★★★★ (5/5) |
| Quality | ★★★★☆ (4/5) |
| Reputation | ★★★★☆ (4/5) |
SuperNatural Food Market is an indoor Saturday market, which probably makes it the perfect go-to food market when the weather isn't very cooperative. It's small, but there are a lot of stalls selling organic produce, meat, fish, and even artisan cheeses!
A lot of people in the area are regulars of SuperNatural Food. They said they loved that they could find almost anything that they needed for cooking—and that everything was always fresh judging from the look and smell of the local products.
We love that you can find everything here including organic basics at home like tissue paper and other handmade products. You can also find herbal tea and other similar products.
The indoor market is clean and well-maintained as well. Despite offering a variety of goods, there's no funny smell lingering in the area or even a dirty spot, which we truly appreciate.
Another thing we love about SuperNatural Food is that it's accessible for people with disabilities. You can also bring your pets if you can't leave them alone for a long time!
Lastly, you can also eat lunch here as there's food available—plus there's a lot of tables and chairs for that purpose as well. Just don't expect extensive options for ready-made food–there's only a handful of cuisines to choose from.
Good value for money
Offers fresh organic fruits and veg
Friendly atmosphere
Variety of products
Clean and well-maintained
Has wheelchair accessibility
Pet-friendly
Has lots of tables and chairs inside
Small
Not a lot of options for ready-to-eat food
Customer Reviews
Reasonably-priced products
The market sells a wide variety of products, ranging from Italian and Greek food to artisan cheeses, and from organic or local fruit and veg to fresh meat and fish. There is even a stall selling herbal teas and another selling hand-made woollen socks and slippers. The best thing about the market, however, is the sense of community which is palpable: everyone is friendly, willing to chat, and never in a rush. The whole community is represented, from babies to the elderly. Definitely more than just a place to buy some food. — Tiziana Soverino, Google Reviews
A small market with plenty of options for organic food
The market is not huge, yet has absolutely everything that you would want for the week, including some organic toiletries. I love the cheese stall – fantastic selection and some unusual kinds too! You can also grab lunch there (there is a guy that sells wonderful curry – vegetarian option too. Somehow, even though it's small, this is like a market where you can spend all morning quite happily— Bernie K, Trip Advisor
5. Howth Market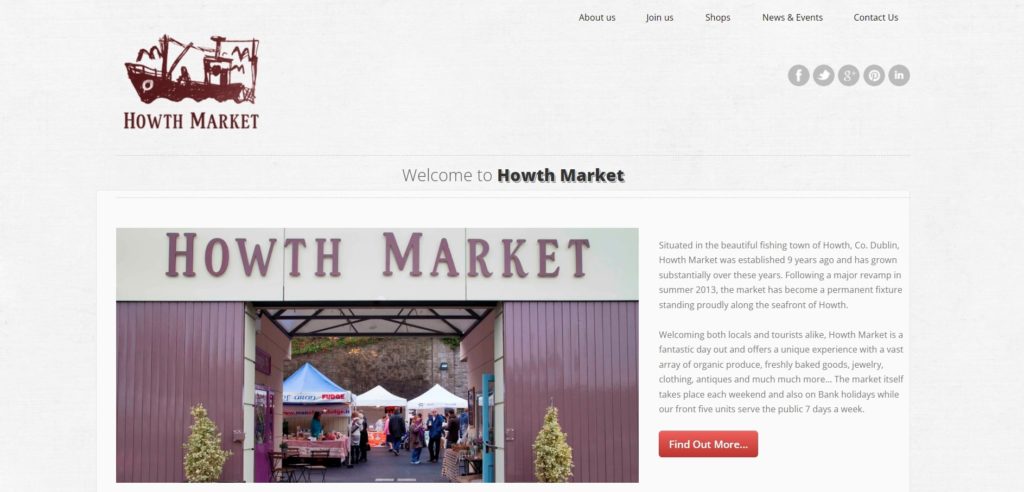 | Test | Info |
| --- | --- |
| WEBSITE | http://howthmarket.ie/ |
| ADDRESS | 3A Harbour Rd, Howth, Dublin, D13 T8Y7, Ireland |
| TYPE | Outdoor Weekend Market |
| CONTACT DETAILS | +353 1 839 4141 |
| OPERATING HOURS | Stalls are open on Saturday, Sunday, and bank holidays: 9:00 AM - 6:00 PM |
| | |
| --- | --- |
| Variety | ★★★★★ (5/5) |
| Location | ★★★★☆ (4/5) |
| Accessibility | ★★★★★ (5/5) |
| Vibe | ★★★☆☆ (3/5) |
| Quality | ★★★★☆ (4/5) |
| Reputation | ★★★★☆ (4/5) |
We know it's a food market with a lot of options for good food, but when we talk about Howth Market, the first thing that we love to gush about is the stunning view. It's located next to a harbour, so you have a view of the sea and the golden hour as well!
Howth Market is located in a picturesque fishing town where you can enjoy several other activities, not just a food trip. The food market in particular is just a small area near the train station, but believe us, you can't miss it!
It's easy to see the stalls lined up and full of several types of food like local and international foods and various fresh foods. And if you come closer, you can even smell the desserts and the coffee.
Another thing we love about Howth Market is that it's very organised and clean. Even if it's a crowded afternoon, it's not too much of an inconvenience to walk around because there's ample space for the crowd.
We think you'll also love that there are a lot of souvenir shops in the area where you can buy gifts. The staff in said stalls and shops are friendly, and they give great recommendations in terms of food and souvenirs.
One thing we're a little disappointed about though is that there are days wherein some food stalls don't open at all, so you'll have little choices for food on those days. Toilets are sometimes closed as well so it can be pretty inconvenient. 
Lovely organised market
Offers good coffee and dessert
Has a nice view of the pier
Good atmosphere
Several souvenir shops
Walking distance from the station
Some food booths don't open at all
Toilets are sometimes closed
Customer Reviews
Close to the train station
While we were on our way to the Howth cliffs for the beautiful cliff walk, we stumbled upon this cute little market that immediately caught our eye. It's very close to the Howth train station so you can't miss it. Despite its modest size, the market has many nice things to offer such as food, pastries, candy, handmade jewellery, jars of honey and jam, and other goodies. However, what stood out for us was the stall tended by this friendly gentleman selling these cute painted Howth rocks. Some of the rocks even come with UV protection so you can place them in the garden without worrying that the colour will be damaged by the sun.— AT, Google Reviews
Lots of food options and souvenir shops
Absolute lovely vibe here. Came after a big stroll from the cliffs and the shops and food lit the atmosphere. Pizzas, Churros, fish chips sausages, cookies, muffins, cakes, chowder bowl and souvenirs everything's there — Aditya Vagave, Google Reviews
FAQs About Food Market in Dublin
---
Walking around a food market in Dublin is an experience you can't miss, especially if you want to experience the best foods the city has to offer. Check out the Best Fishmongers in Dublin if you're looking for various types of fish or seafood.