The 5 Best Jewelry Stores in Dublin
Whether it's an engagement ring, a birthday surprise, or a special treat for yourself, gifting jewelry is an elegant and timeless tradition.
If you need a romantic necklace, a new pair of earrings, or a shimmering ring, we've got you covered. Here are our reviews of the best jewelry stores in Dublin.
Top Jewelry Stores in Dublin
We assessed the following jewelry stores according to these criteria:
1. Djinn Jewellery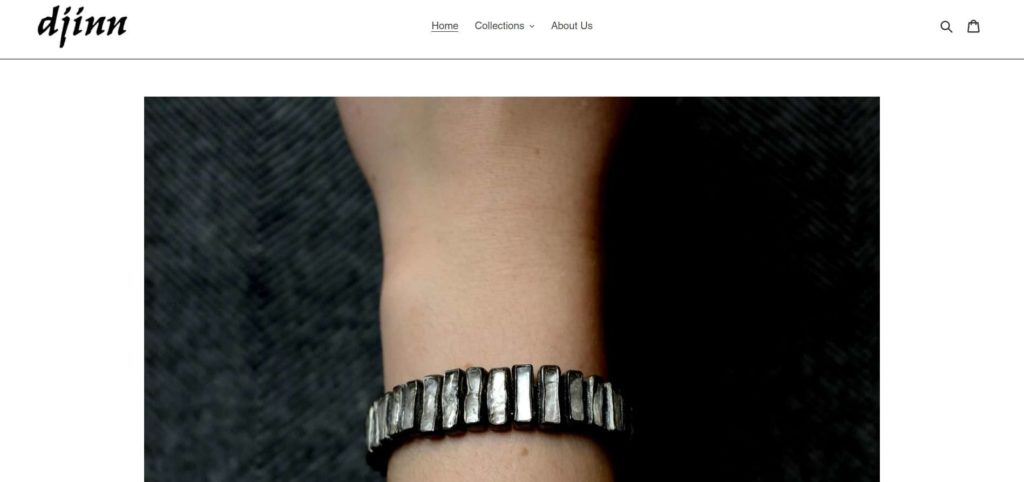 | | |
| --- | --- |
| Price Range | ★★★★★ (5/5) |
| Collections | ★★★★☆ (4/5) |
| Customer Service | ★★★★★ (5/5) |
| Customer Satisfaction | ★★★★★ (5/5) |
| Accessibility | ★★★★★ (5/5) |
Djinn Jewellery belongs to award-winning Simon Phelan, who spent years learning and honing his craft in both Ireland and India. He is a member of the Crafts & Design Council of Ireland, which gives you an idea of his dedication to his trade.
One of the things to note about him is that he works only with recycled metals and ethically sourced gemstones. We believe this is perfect for anyone interested in sustainability.
His curious collections examine 'Trace Patterns' that come to life with time and the elements taking their course. These collections have been exhibited both in Ireland and abroad.
Phelan has also been working in Dublin for over two decades, and is quite known and beloved by the locals for his unique and inspired work. We think his reputation is a good testimony to his skills, as we found only positive comments when surveying clients.
We note that his pieces span a wide range of prices too, including earrings for €95 and large necklaces for around €625. He also accepts commission work for engagement rings and special occasions.
However, if you want a variety of design choices to consider, we would recommend some of the other choices on this list. Djinn Jewellery specializes in a very particular style that, although gorgeous, may not be everyone's cup of tea.
Award-winning designer
Accepts commissions
Sustainable, ethically sourced
Not as much range as other stores
Customer Reviews
I was looking for a gift for my girlfriend's 29th and found the perfect spot here. After spending the day struggling to find something special in expensive but uninspired jewellers, I was allured by the special pieces in the window of Djinn. Inside they had even more unique rings, necklaces, earrings and more.
I'm not an expert but the curation of designers was top-notch, so many fetching pieces of all price ranges. I ended up getting a set of gorgeous earrings made by the owner himself! -Sean Gallen
I have bought jewellery from Simon for 10 years. He has the best jewellery shop in Dublin. No boring sapphires, rubies ( factory-made most of them), no boring diamonds or emeralds, but lots of fantastic raw and rare stones in wonderful mounts of silver and gold. The legendary Carla is gone, but Ro is a fresh and wonderful addition, bubbly and helpful to a fault. Simon is deeply knowledgeable, personable and very creative. His Ernst Haekel collection is a stroke of genius. I have bought apatites, labs, pietersite, aquaprase, lapis, tourmalines and endless other varieties there over the years and all have been received with delight. Avoid the dull diamond snooty boutiques. Simon also sells ethnic garb from Assam and India, to boot. A gem of a shop, and one of the last great indigenous businesses on a road threatened by bland chain stores. Don't miss it. -Jan Golden
2. Kilkenny Shop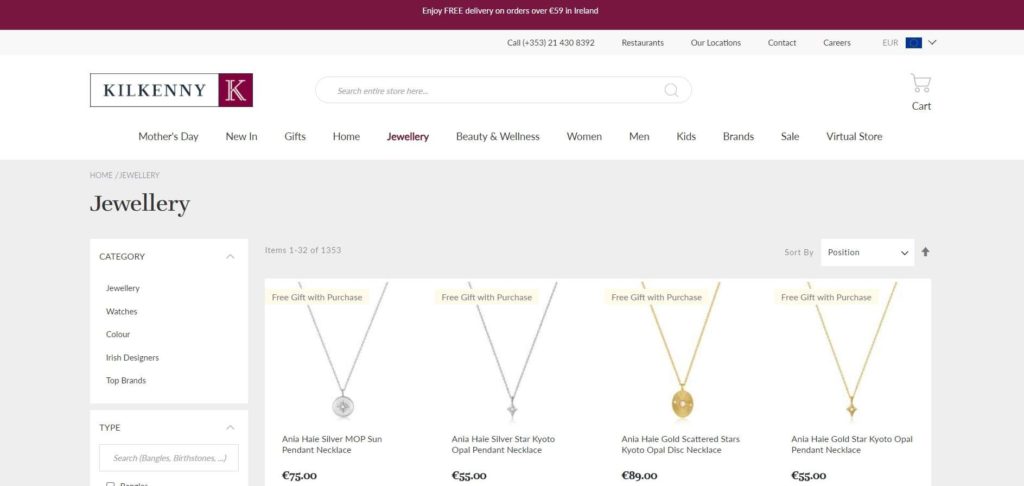 Test
Info
PRODUCTS
Largest collection of Irish designers
WEBSITE
https://www.kilkennyshop.com/jewellery
ADDRESS
City: Dublin 2

Eircode: D02 W865

State: Co. Dublin

Address: 6 Nassau Street

Phone: 01-6777066

CONTACT DETAILS
(+353) 21 430 8392 / https://www.kilkennyshop.com/contact/
OPERATING HOURS
Monday-Wednesday 8:30AM-7PM,

Thu 8:30 AM - 8:30 PM

Fri 8:30 AM - 7:30 PM,

Sat 8:30 AM - 7:00 PM,

Sun 10:00 AM - 6:00 PM
| | |
| --- | --- |
| Price Range | ★★★★★ (5/5) |
| Collections | ★★★★★ (5/5) |
| Customer Service | ★★★☆☆ (3/5) |
| Customer Satisfaction | ★★★☆☆ (3/5) |
| Accessibility | ★★★☆☆ (3/5) |
In April 1963, the Irish Government started Kilkenny Design Workshops to help Irish craft makers hone their art and become entrepreneurs.
These craft makers collaborated, shared their skills, and learned from each other in fields such as ceramics, weaving, and working with Irish-mined metals. They first began selling their work in 1965.
The shops include a massive collection of works from Irish designers, as well as some international brands such as Guess and Fossil. Jewelry is just one of the many categories you can purchase from a selection of Irish designers.
We find the best thing about Kilkenny Shop to be its variety of products. There are so many brands and designers to choose from, and you'll have access to plenty of other stores if jewelry isn't the only thing on your shopping list.
However, since Kilkenny Shop is a large outfit, deliveries and customer service can often be slow and frustrating. We learned that busy sales periods often cause delays.
We should note that a number of clients have also complained about the lack of updates about their online orders, and difficulties ordering online.
For this reason, although the location is quite convenient, we cannot rate their accessibility too high. To avoid delays and other delivery issues, we recommend going in-store for your purchases.
However, the rich historical culture of the Kilkenny Design Workshops may interest you, especially if you're into supporting local traditions in arts and crafts.
Wide variety of items
Great location for shopping
Delivery delays
Issues with faulty deliveries
Customer Reviews
I received a faulty order from Kilkenny Shop. As soon as I contacted customer service in Cork, they said they would arrange for a courier to come and collect my faulty order and they came a few days later. I received a perfect replacement by courier the next day. The lady I spoke to in Cork was very helpful and I am impressed by how they resolved my issue without question. I will be happy to shop with them again as returns are often needed on online orders and it is good to know the return process can operate smoothly. Well done the Kilkenny Shop. -Mairéad
This was the best souvenir shop I've seen in Ireland. If you want to bring home a beautiful item that was designed in Ireland, this is the place! From gorgeous art work for the wall, to pottery, to blankets, to crystal, to jewellery, they had it all. I spent a long time here admiring all that they offered. Great restaurant upstairs too! -Jen B.
3. Conway's Jewellers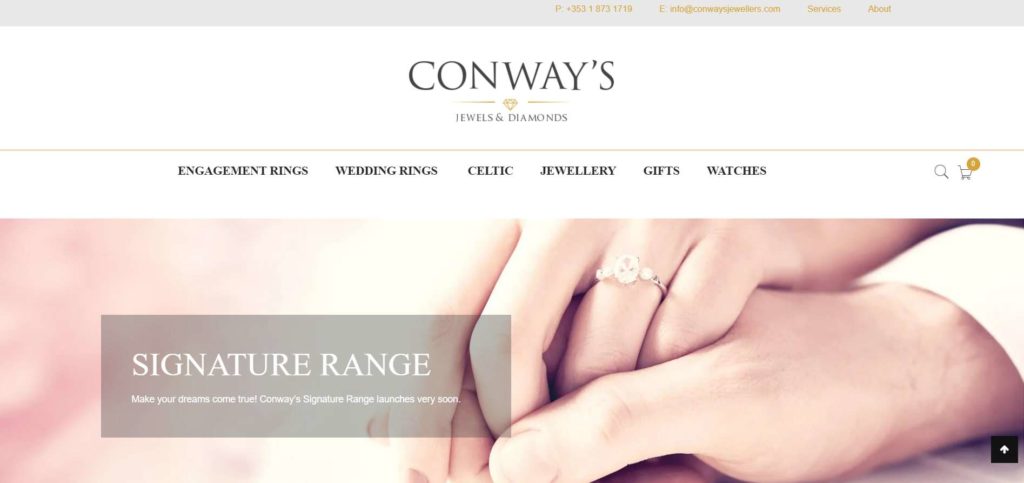 Test
Info
PRODUCTS
Specialty in bespoke jewelry, refurbishment and repair, engraving, and polishing and plating
WEBSITE
https://conwaysjewellers.com/
ADDRESS
Conway's Jewellers, 15 Upper Liffey St, Dublin 1, D01 HW54
CONTACT DETAILS
+353 1 873 1719 /

[email protected]

OPERATING HOURS
Monday-Saturday 9:30AM-5:30PM
| | |
| --- | --- |
| Price Range | ★★★☆☆ (3/5) |
| Collections | ★★★★★ (5/5) |
| Customer Service | ★★★★★ (5/5) |
| Customer Satisfaction | ★★★★★ (5/5) |
| Accessibility | ★★★★☆ (4/5) |

Conway Jewellers is run by a family who have been creating gorgeous jewelry for over four decades. They sell engagement and wedding rings, Celtic jewelry, watches, and a variety of other pieces.
They're pretty solidly equipped and staffed too. They have a team of stone-setters, smiths, and gemologists ready for consultation, and a state-of-the-art workshop for custom pieces.
We find that they deliver on their promise of fast, professional, and secure service. Clients have only good things to say about their stellar customer service.
Conway Jewellery's specialty is in bespoke jewelry design, and they promise you the wedding ring of your dreams. Other services available include refurbishment and repair, engraving, and polishing and plating.
Their wealth of experience in their craft as a family tradition really shines in their professionalism and expertise. However, with prices well into the thousands of Euros, we find their items to be quite expensive.
If you're in Dublin, want premium service and quality, and have the means, Conway's Jewellers is a fantastic option. Just be prepared to pay for it, because they certainly won't be shy about charging top prices.
Range of services available
Professional team of experts
Variety
Expensive pieces and services
Customer Reviews
I visited Conways Jewellers today. The service was very good. Although David was very busy, he went out of his way to deal with me. Rates are very reasonable. All very professional. Thank you to David & the lady who assisted. Will be back! -Catherine McPartland
Ordered a half penny watch, it arrived very quick, pictures don't do it justice, lovely display box, great quality watch, and the customer service was brilliant, absolute first class service from start to finish! Would definitely recommend dealing with Conway jewellers and look forward to dealing with them again in the new year! -Mark Dunne
4. Rhinestones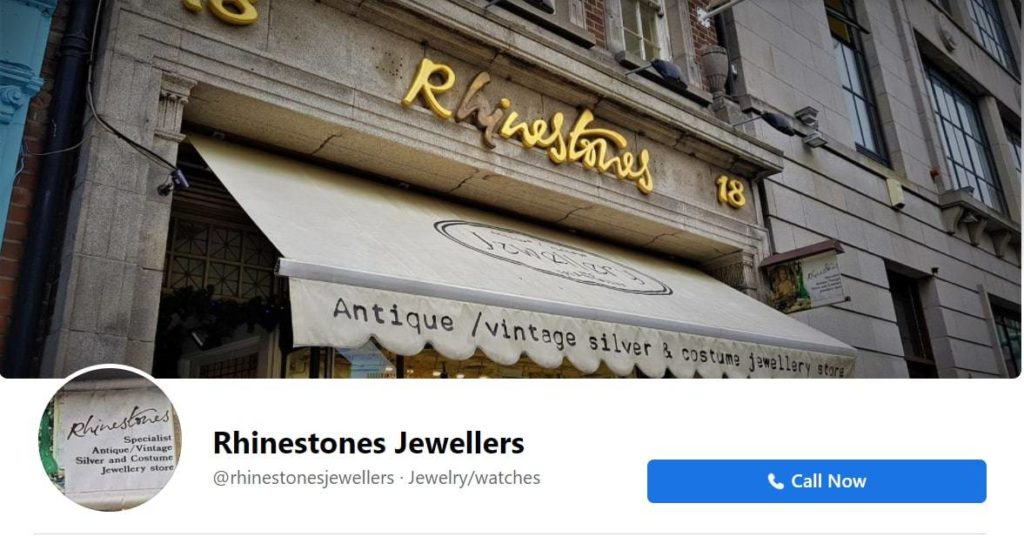 | | |
| --- | --- |
| Price Range | ★★★★☆ (4/5) |
| Collections | ★★★★☆ (4/5) |
| Customer Service | ★★★★★ (5/5) |
| Customer Satisfaction | ★★★★★ (5/5) |
| Accessibility | ★★★★★ (5/5) |
Rhinestones Jewellery is a beloved store selling a range of antique and modern costume jewelry in Dublin. Walking through the door is like being transported into a pocket of history, fashion, and romance.
Gorgeous lockets, brooches, and rings adorn the displays from the Edwardian and Victorian eras, along with more modern pieces. Customers call it a "treasure trove" of vintage accessories with what we find to be a great range of prices and a wonderfully helpful staff.
From our survey, we found that their customer service is generally praised. This is thanks to their meticulous care and attention to clients' queries and needs.
However, if you are not interested in pre-loved and older pieces with signs of wear, this may not be the shop for you. If you'd like more range outside of antiques, you might be more interested in the other stores in our list.
That said, if vintage and antique jewelry interests you and you'd prefer pieces with definite history, there's no place we recommend more than Rhinestones Jewellery. Just be sure to examine the piece you're getting with care – it's better to be safe than sorry.
Wide range of prices
Great customer service
Vintage pieces
Not much variety outside of antique jewelry
Some pieces are in better condition than others
Customer Reviews
This is a fabulous vintage jewellery shop. I was looking for a gold locket and there was a good selection to choose from. The shop assistant was very helpful and I tried many on before deciding which I liked the best. I am very happy with my purchase and will visit again when my budget allows! -Paulette Kilkenny
I came into the shop to look for a birthday present. The staff member we were dealing with was absolutely lovely. She told us all about the history of the shop. I ended up getting a beautiful ring and a pair of earrings. I would definitely return. Such a refreshing experience compared to general jewellers that don't seem to put in the same care. -Ruby Corcoran
5. R&C McCormack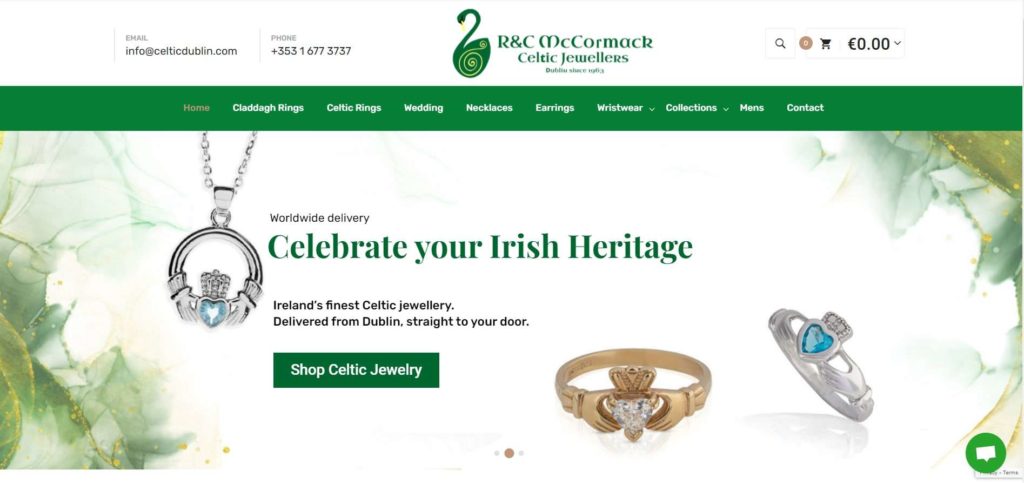 Test
Info
PRODUCTS
Celtic and traditional Irish jewelry
WEBSITE
https://celticdublin.com/
ADDRESS
51 Grafton Street, Dublin 2, Ireland
CONTACT DETAILS
+353 1 677 3737 /

[email protected]

OPERATING HOURS
Monday – Saturday: 10AM – 5PM
| | |
| --- | --- |
| Price Range | ★★★★★ (5/5) |
| Collections | ★★★★☆ (4/5) |
| Customer Service | ★★★★★ (5/5) |
| Customer Satisfaction | ★★★★★ (5/5) |
| Accessibility | ★★★★★ (5/5) |
R&C McCormack is another family-run business with over five decades of experience and expertise. They specialize in silver and gold Celtic jewelry, which is perfect for customers who want something beautiful and traditional.
They have gorgeous cultural designs such as Claddagh rings and Trinity Knots, among other popular Celtic design options. We find the range of their products to be quite reasonably priced too, by the way.
They offer both in-store services and delivery from their website, which we find makes purchasing from them convenient. If you can manage it, though, we do recommend going to their shop instead.
For one thing, an in-store visit lets you see and handle the pieces yourself. This will also let you get recommendations and insight from their staff (whom we found fairly helpful) on what to buy.
For another, the shop is actually easy to find, with its distinctive shopfront. Some even consider it a well-known and beloved Dublin landmark, especially as it's a mere two-minute walk from another landmark, The Little Museum of Dublin.
We should note, however, that outside of the most recognizable Irish symbols, there isn't much variety in their pieces. There have also been a small number of complaints about pieces breaking, but these are few and far between.
Wide price range
Convenient location with easily distinguished shop
Traditional jewelry
Not as much variety outside Celtic jewelry
Slightly inconsistent quality
Customer Reviews
Bought a gold claddagh ring online for a birthday present and it is lovely. Really happy with it. The pictures online don't do it justice. Really good quality and nice packaging. Delivery was really quick too. Will be buying from here again. -Clare McC
We were just there today! We can't say enough about the store, it's inventory, and most importantly their people. Heather thank you so much for digging into your secret treasure chest to find the most amazingly unique ring.
It's perfect 😊
And our experience couldn't have been any more perfect! -Heather Dujsik Meuse
FAQs about Jewelry
---
Need romantic gifts for a loved one besides jewelry? Check out our list of the shops that do the best flower delivery in Dublin.
,