The 8 Best Financial Advisors in Dublin
Having financial goals can help you take charge of your future. If you don't have one yet or you're unsure how to achieve your goals, why not seek professional advice?
Well, today's article is perfect for you as it will feature our top picks for the best financial advisors in Dublin! And because finances are our main subject, our FAQs ahead tackle debt, money-saving tips, and more.
Furthermore, we've also included info on the things you need to consider when choosing a financial advisor.
Financial Advisory Fees in Ireland
Financial advisors may offer fee-based services such as a review and analysis of their client's financial situation.
Another way they earn money is by getting paid through commissions earned when their client purchases a financial product from another provider they partner with.
The table below lists the service fees of our featured financial advisory firms for your reference.
FINANCIAL ADVISOR
SERVICE
COST
Rockwell Financial Management
Personal financial planning

Mortgage advice
Need to contact
Trinity Financial Management
Financial health scan

Education and mentoring
Need to contact
Keenan Financial Planning
Full financial planning review

Focused fact find
€500

€300
Progressive Financial Services
Consultation fee
€150
Highfield Financial Planning
Financial planning
Need to contact
Elevate Financial
Financial planning
€500
Greenway
Financial planning
Free – €390
The Best Financial Advisors in Dublin
Now that you're more aware of financial advisory fees, let's take a look now at our selections for Dublin's best financial advisors!
1. Rockwell Financial Management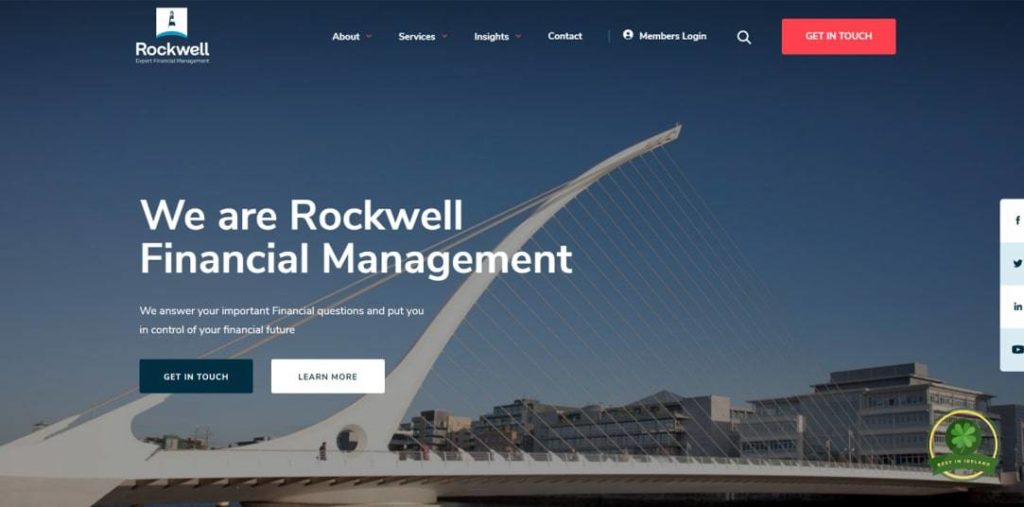 SERVICES
Wealth management, personal financial planning, employee benefits, mortgage advice, and contractors' wealth management
WEBSITE
https://rockwellfinancial.ie/
ADDRESS
The Old Station House, 15a Main St, Blackrock, Co. Dublin, A94 T8P8

Denshaw House,120 Baggot Street Lower, Dublin 2 D02 FD45
CONTACT DETAILS
+35312966120


[email protected]

OPERATING HOURS
9:00 am to 5:00 pm (Monday – Friday)
Rockwell Financial Management has almost 2 decades of experience in the industry. They work with a variety of professionals, including business owners and executives from multinational companies.
One of the things we liked about this firm is their effort in presenting their personal financial planning services.
Rockwell follows a 6-stage process which they outline clearly on their website. Moreover, this comes with a series of podcasts to further elaborate each step.
Hence, clients can already get a good picture of how Rockwell can help them with their finances without meeting their team. In addition, they've also provided case study samples of financial situations many clients might find themselves in.
And similar to other consultancy firms, Rockwell also offers mortgage services. In fact, they were even awarded for their mortgage broker service in 2018.
Meanwhile, it's easy to find this company in Dublin as they've got two branches. Their head office is located in Blackrock while their city-centre office is in Baggot Street Lower.
2 offices in Dublin
Extensive info on financial advisory service
Award-winning mortgage broker service
Large team
Closed on weekends
No mention of online consultations
Customer Reviews
Based on the comments below, Rockwell's clients seemed happy with their services, particularly as regards financial planning:
"Have been very impressed with their services for a few years now. Always straight talking and very transparent." -Andrew Maguire
"Great service from Rockwell Financial – I would highly recommend them for all aspects of financial planning." -Larry Roche
"Great company and great advice from Robert and the team. Would highly recommend for wealth management and financial planning." -ger kiernan
2. Trinity Financial Management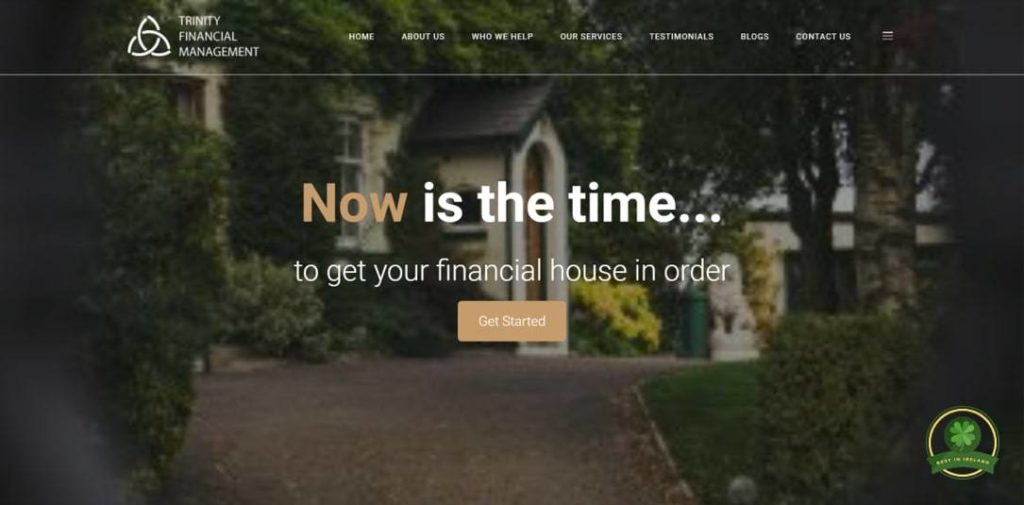 SERVICES
Financial health scan, education and mentoring, investments and pensions, estate planning, one solution, and family office
WEBSITE
https://trinityfinancial.ie/
ADDRESS
Upper Pembroke Street 28-32 Dublin D02 EK84
CONTACT DETAILS
+353 (0)1 908 1236


[email protected]

OPERATING HOURS
9:00 am to 5:30 pm (Monday – Friday)
Trinity Financial Management (TFM) is headed by Frank Mulcahy, a personal financial manager whose qualifications include financial planner certification and diplomas in financial planning, among other credentials.
To boot, TFM's team also includes Dervla Costello, a chartered accountant. Their team might be small, but their qualifications prove that you're not just dealing with people who call themselves financial advisors.
As further proof of the quality of TFM's service, their clients also include accountants, tax advisors, lawyers, insurance brokers, and so on. These other professionals act as referral partners who also tap into TFM's services to help their own clients.
Meanwhile, among their services, we'd like to highlight their education and mentoring service. Aside from people who need help managing their wealth, it can also be for those who simply want to enhance their financial knowledge.
You can also find TFM in Cork. However, note that they only accept clients with prior appointments, so book one first before you pay them a visit.
2 branches
Services expatriates
Offers retirement planning
No mention of mortgage services
Closed on weekends
Customer Reviews
Check out these comments from a couple of Trinity Financial Management's clients:
"Frank helped me immensely with my finances. He gave me honest advice and referred me where appropriate for specific issues. Contacting Frank saved me thousands would highly recommend." -Ben Adams
"Frank has been very helpful, advising my wife and me on how to best set up our financials going forward, against the background of relatively complex circumstances involving two expats and entrepreneurship. I can highly recommend Frank." -David Buser
"I have received excellent advice from Trinity Financial Management over the past two years. There is a depth and professional nature to their service that is rarely found." -Roger Murphy
3. Keenan Financial Planning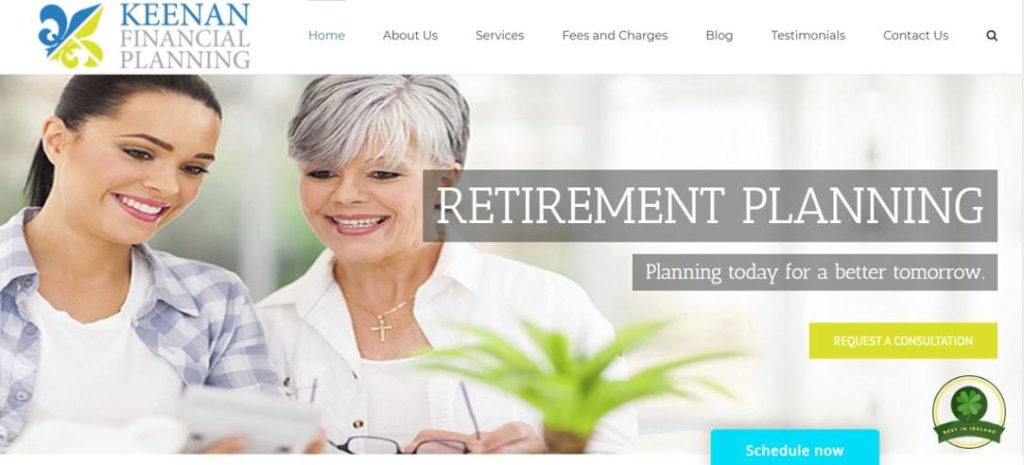 SERVICES
Independent advice, protection, savings and investments, business owners, retirement planning, and mortgages
WEBSITE
https://kfp.ie/
ADDRESS
Vallymount, The Rise, Main Street, Blanchardstown, Dublin 15
CONTACT DETAILS
01 5478706
085 8588626


[email protected]

OPERATING HOURS
9:00 am to 5:30 pm (Monday – Friday)
Keenan Financial Planning was founded in 2011. We think this firm is particularly ideal for those inquiring about mortgages as it offers a free mortgage pre-enquiry.
Under this service, mortgage-seekers will be informed about their lending options such as knowing if lending is possible, the amount they should be able to borrow, the properties they can avail of, and more.
You can avail of this via the firm's Contact Us section on its website.
But if you're more interested in financial planning, Keenan offers financial consultations in the form of a full financial planning review and a focused fact find.
As the pricier option, a full financial planning review involves an analysis of retirement planning, investments, and such, plus a risk analysis and a recommendations report.
Meanwhile, a focused fact find is similar to the first but only focuses on one financial aspect, such as retirement, for instance.
Moreover, Keenan also provides advice and assistance on a variety of insurance policies such as life insurance, mortgage protection, income protection, among others.
In terms of qualifications, this firm is led by Gavin Keenan, a Qualified Financial Advisor and a general insurance certificate holder.
Offers online consultations
Provides free mortgage pre-enquiry
Member of Professional Insurance Brokers Association Network Services
Closed on weekends
No online payment option
Limited info on other team members, if any
Customer Reviews
Plenty of Keenan Financial Planning's clients gave them 5 stars for their services. The three clients below especially noted Gavin Keenan's help concerning pension policies:
"I have always found Gavin extremely helpful and responsive. I would be happy to recommend Gavin to anyone seeking pension advice and options available to them." -Moyagh Murdock
"Gavin helped me go through all my pension options and get setup. He is fantastic to deal with, both professional and personable. He made everything clear and understandable, and had great communication throughout. I would highly recommend Keenan Financial Planning to others." -Frank Egan
"Gavin helped me to simplify my pension policies coming up to my retirement date. He explained all my options, dealt with the pension providers and set everything up for me." -Dominic Hickey
4. Progressive Financial Services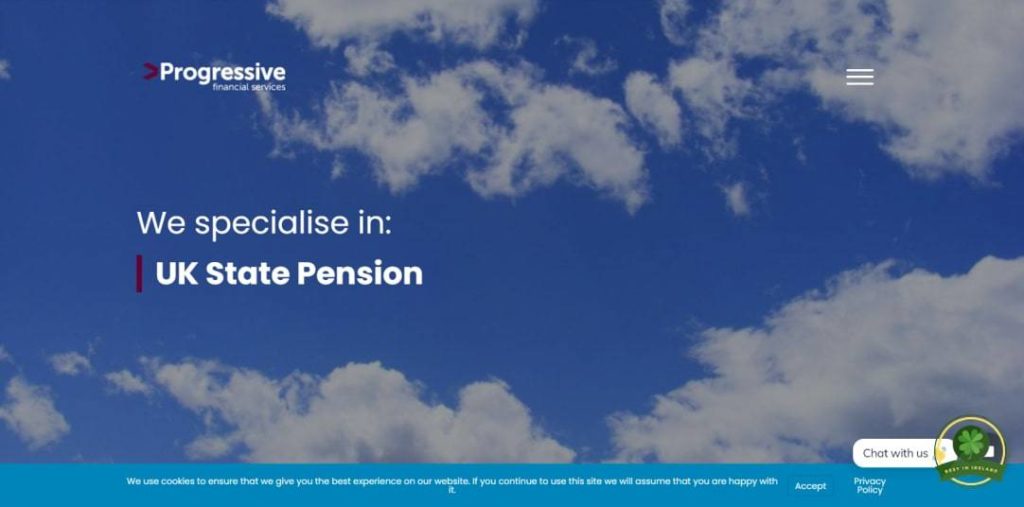 | | |
| --- | --- |
| SERVICES | Auto enrolment group pensions, pensions and retirement planning, executive pensions, UK state pensions, investments, mortgages, protection, and consultation |
| WEBSITE | https://progressivefs.ie/ |
| ADDRESS | Ardee Court, Unit 1, Ardee St, Dublin 8 |
| CONTACT DETAILS | +353 01 416 5598 |
| OPERATING HOURS | 9:00 am to 6:00 pm (Monday – Friday) |
Did you work in the UK before? If so, that might be a good reason to check out Progressive Financial Services.
Pension is their key service. As such, they can help clients who are former UK employees avail of various UK pensions they may be entitled to such as the UK state pension, NHS pension scheme, and so on.
Moreover, the initial consultation for this service is free. What's not free are any further investigations after.
Aside from employees, Progressive also caters to employers in terms of auto-enrolment group pensions as well as executive pensions and self-administered pension schemes.
In terms of how they approach their work, they first conduct an initial meeting with the client. The next steps involve researching and furnishing a financial report.
It's up to you if you want to move on and have Progressive carry out any action needed as well as have them review your financial report after how many months.
Progressive's team is pretty large and includes a total of 4 Qualified Financial Advisors.
Specialises in pensions
UK pension initial consultation is free
Large team
Closed on weekends
No mention of online consultations
Customer Reviews
The clients below particularly gave good feedback on Progressive Financial Services's team:
"We cant say enough about the excellent and professional advise we received from Paul in Progressive Financial Services. Paul is an outstanding financial advisor and we would highly recommend their services to all. Their help has been invaluable." -Alice McDonagh
"I've had the pleasure of working with Leah for a number of years on various financial services including mortgage brokerage services this past year. Leah and the PFS team were very helpful and responsive and made a complicated process as painless as possible for me. I highly recommend them." -Amy Swearingen
5. Highfield Financial Planning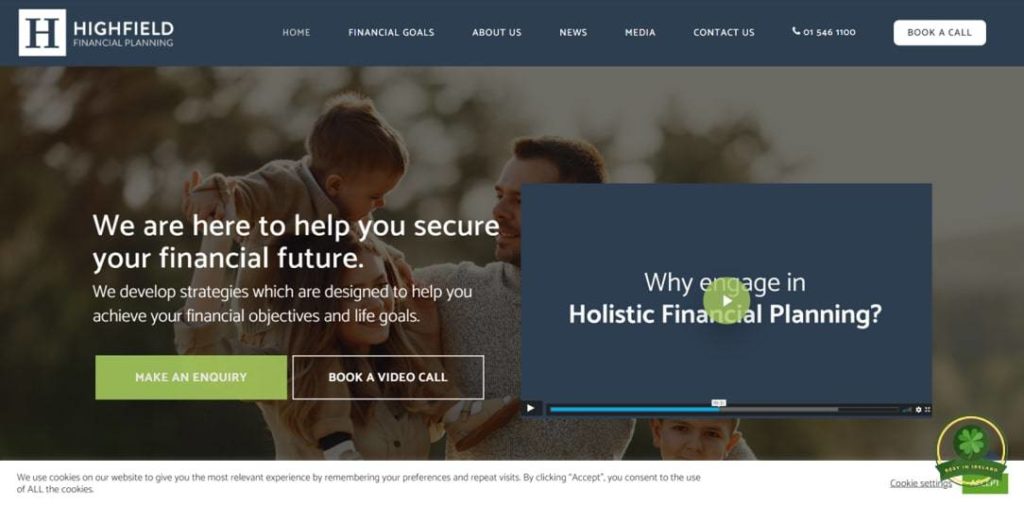 SERVICES
Retirement Planning, College Funding, Investment Advice, Housing, Wedding Planning, Protecting Your Family, Maternity Leave, Funding For Experiences, Tax Planning, Business Protection, Estate Planning, Share Dealing, Management Of Debt, Household Budgeting, Cash Flow Planning, Work-Life Balance
WEBSITE
https://highfieldfinancialplanning.ie/
ADDRESS
6 – 9 Trinity Street, Dublin 2
CONTACT DETAILS
01 546 1100


[email protected]

OPERATING HOURS
9:00 am to 5:30 pm (Monday – Friday)
Highfield Financial Planning was established in 2018 by Eoghan Gavigan, a Qualified Financial Adviser (QFA) and Certified Financial Planner (CFP). He also holds the esteemed Specialist Investment Adviser (SIA) and Certified Financial Planner (CFP) qualifications, thus making this firm one of our top choices in Dublin.
With over 25 years of experience in banking, lending and wealth management, Highfield Financial Planning can steer you in the right direction to take control of your financial security.
However, they also tackle a variety of financial concerns such as wedding planning, household budgeting, maternity leave planning, and share dealing, among others.
Highfield Financial can help you envision the future of your finances through their graphical cash flow planning service. They can also help you increase your financial know-how through the various learning resources they provide, such as their free webinars.
They also have a fully interactive website that offers a self-onboarding section where users can speed up the process of receiving financial advice and planning by preparing all the requirements beforehand.
Potential clients can authorize Highfield Financial to obtain the details of their products, complete a fact find or accomplish a pre-retirement or post-retirement risk profile. These can be accomplished at any time or any day of the week and will help facilitate a smoother onboarding process.
Offering free, no-obligation virtual consultations, Highfield Financial is one of our top choices for financial advisors in planning. They are experienced, have stellar qualifications, and provide a wide array of services for their clients.
Free 15-min online discussion
Offers free webinars
Extensive info on financial advisory service
Online payment available
Closed on weekends
No info on other team members, if any
Customer Reviews
Find out what clients had to say about Highfield Financial Planning's principal, Eoghan Gavigan:
"Eoghan Gavigan is a a great professional, a real experts about pension plans, highly recommended." -Angelo Rosati
"I would highly recommend Eoghan to anyone looking for expert financial advice. From my first meeting with Eoghan, the level of service has been exceptional. He's extremely knowledgeable, very patient and explains things in way that you can easily understand. I'm delighted with the product he found for me and I hope to be a client of his for years to come." -Gareth M
"Thanks a mil Eoghan for getting us a great deal on our mortgage protection policy. I would highly recommend him if you're looking for financial advice." -Juan T
6. Finance One Limited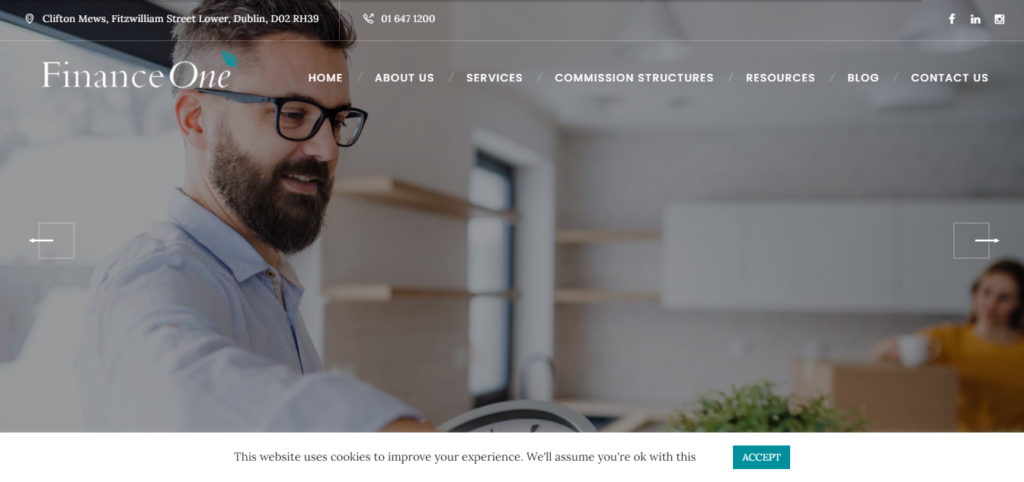 SERVICES
Financial Planning, Mortgages, Commercial & Bridging Finance
WEBSITE
https://www.financeone.ie/
ADDRESS
8 Windsor Place, Lower Pembroke Street, Dublin 2 D02 XE04
CONTACT DETAILS
01-6471200


[email protected]

OPERATING HOURS
Contact for details
Finance One Limited is a longstanding financial services advisor providing advice in relation to clients' personal and business financial needs.
We recommend them because their pieces of advice cover a lot of areas that can help in effective financial planning. They cover pensions, retirement planning, savings, investments, family protection cover, home loan mortgages, buy to let mortgages, commercial property mortgages, debt restructuring, business & shareholder protection, and employer & employee group schemes.
They help clients plan ahead of themselves in order to achieve their financial goals, maximize their income resources, and enjoy stress-free financial management. With their team of experts who have over 200 years of combined experience, they have the skills and knowledge to be able to help you better prepare your finances.
No matter what help you are looking for, whether it is for pensions, investments, or protection, Finance One Limited can help you.
A huge team of experts
Updates clients throughout the process
Simplifies everything in order for their clients to understand better
Operating hours are not stated
Customer Reviews
Here are what their clients say about them:
"Cian and all the team at Finance One were exceptional from start to finish. Somebody was always on hand to answer any questions we had no matter how small. The online portal makes the process so simple by just uploading documents. I would 100% recommend using finance one for your mortgage journey, the service they offer is second to none. Thanks so much to everyone involved who got us into our new home! ☺️" – Michelle Flanagan
"I dealt with Daniel from the start and with the current situation with the housing market, and trying to get a mortgage in the middle of a pandemic can be burdensome. Also, the whole Finance One team is just fantastic and ready to help and answer any questions or would recommend someone else. Thank you as well to Cian, Amanda and Greg who were fantastic to deal with. I couldn't be more grateful to the whole team. Thank you for everything! 🙂" – Jill Tolosa
7. Elevate Financial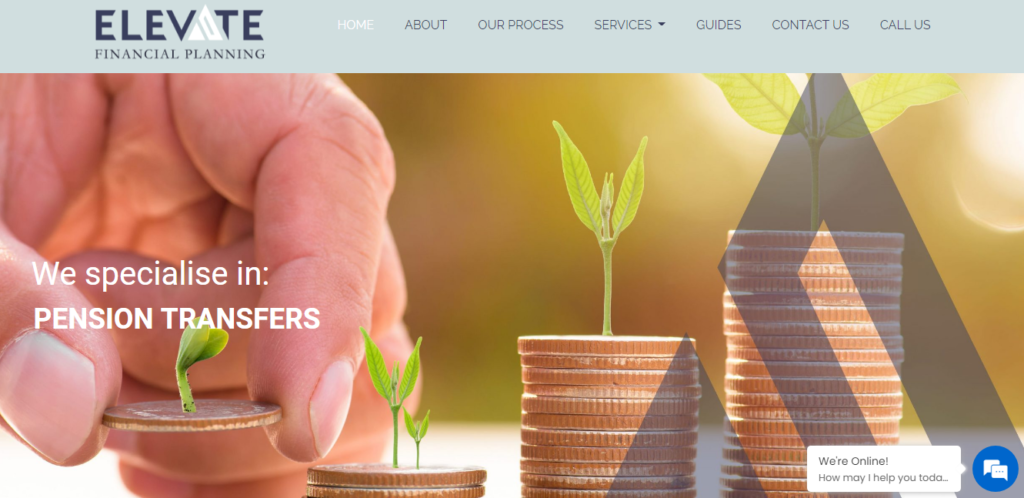 SERVICES
Financial planning, Pension transfers, Starting a Pension, Investment advice, Protection, Post retirement advice
WEBSITE
https://elevatefinancial.ie/
ADDRESS
Wexford Office
Colliga House, Rocklands,
Rosslare Road, Wexford
Y35 A0X4
Dublin Office
Level 1, The Chase, Carmanhall Road,
Sandyford Industrial Estate, Dublin
D18 Y3X2
Cork Office
Kenny Group House, Park Avenue
South Douglas Road, Cork
T12 K2EH
CONTACT DETAILS
053 9013406 / 01 5363071 / 021 4365650 /

[email protected]

OPERATING HOURS
Mon-Fri: 9:00AM – 5:30PM
Elevate Financial is a financial planning firm that provides personalized financial planning solutions tailored to the situation and the need of each client. Committed to looking after the client's financial well-being, the company is driven to create efficient financial plans so that each client can tackle each problem with confidence and peace of mind.
They are motivated and driven to offer each client options that will help in realizing their true financial potential in whatever life situation they are in.
The staff are also accommodating and eager to answer any question that clients may have regarding services as they also offer yearly review meetings apart from the initial consultation.
With over 14 years of experience in the industry and over 400 satisfied clients, Elevate Financial has about €18 Million assets and a wide array of companies that they have worked with such as Microsoft, Kellogg's, and Ulster Bank to name a few.
Experienced and accommodating staff
Informative and transparent financial advice
Free 15 minute consultation
Not available on weekends
Customer Reviews
Here are some reviews from their clients:
"Easy to deal with, accommodating and informative, recommend." – Cian McGovern
"I would highly recommend Conor for anyone looking for financial advice. His service is both personal and efficient. I felt at ease and trusted Conor was giving me the best possible advice and options available. I will definitely use Conor in the future." – Ian Deegan
8.   Greenway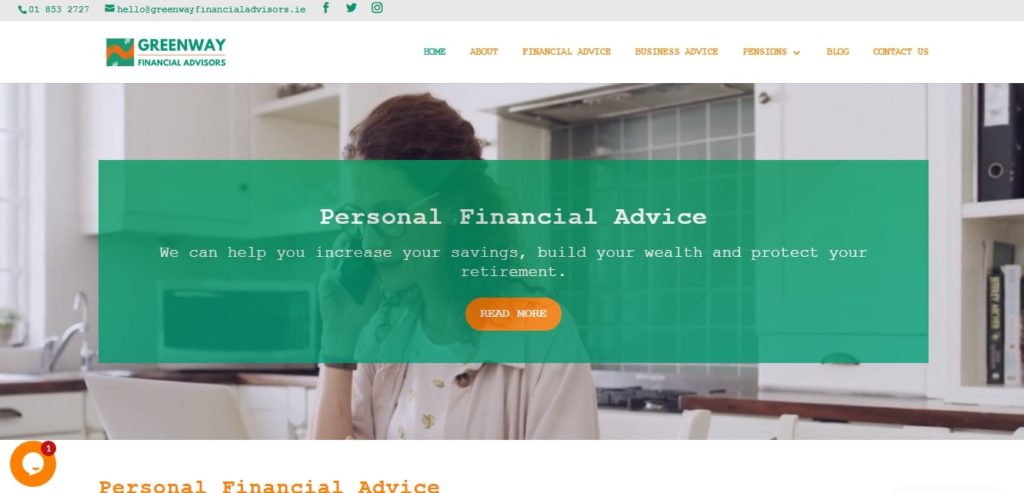 SERVICES
Financial Advice, Business Advice, Pensions
WEBSITE
https://greenwayfinancialadvisors.ie/
ADDRESS
277 Clontarf Road Dublin, Ireland D03 E9A0
CONTACT DETAILS
01 853 2727


[email protected]

OPERATING HOURS
Monday – Thursday: 9:00 AM – 9:00 PM
Friday: 9:00AM – 6:00PM
Saturday: 09:00AM – 1:00PM
Greenway is a company that offers clients fully qualified and reliable financial advisors that has expertise on areas such as pensions, insurance, and mortgages among many others. They are a fairly small company, but they have adequate experience when it comes to handling and managing both personal and commercial finances.
What we find exemplary is their diverse and extensive experience in the industry which ensures that clients can expect both evidence-grounded and reliable strategies employed in their circumstances.
All other systems are also complementary and adequately supportive of the individual needs and situations of the client in order to formulate customized solutions to their financial issues.
Another thing we find commendable is their website which is jam-packed with useful information that can be useful for clients seeking reliable materials and resources regarding financial systems and the services that they offer.
Overall, their past clients have developed a long-term relationship with them and have commonly commended them for their extensive knowledge in the field and equally efficient approach when it comes to implementing it.
Informative resources
Professional and well-informed staff
Complementary packages available
Closed on Sundays
company is fairly small
Customer Reviews
Here are some reviews from their clients:
"I recently changed my mortgage protection insurance with Greenway Financial Advisors. This was the easiest process of getting quoted and putting a policy in place that I have ever experienced. Debbie was available at any time to answer my queries and she has great knowledge and expertise with the insurance products they offer and she didn't blind me with jargon. I'm delighted to have found a financial advisor I can trust." – Enid M
"I had the very good fortune of receiving some advice from Greenway Financial Advisor's, their in-depth and knowledgeable advice was above and beyond what I had hoped for. They were incredibly friendly, professional, efficient, and most importantly helpful. I would highly recommend them to anyone who needs a financial advisor." -Brendan L
How to Choose the Right Financial Advisor
The following are some important things to keep in mind as you search for the right financial advisor:
1. Know what you need
What specific financial aspect do you need help with? Do you need help with retirement, wealth management, mortgage, and so on?
Once you determine this, check if this is something the financial advisor specialises in. Perhaps they've even won awards for this particular service.
Moreover, if you're a special kind of client (e.g. expatriate), see if they offer services suited to your needs.
2. Fee structure
Inquire about how the financial advisor charges his or her services.
Some have a fee-only policy which means they can charge by the hour, by project, or the number of assets under management, and so on.
In contrast, commission-based financial advisors earn money when their clients purchase financial products upon their recommendation.
Note that one disadvantage of commission-based financial advisors is that there is the possibility that their advice to clients is based on their desire to profit from commissions and not on the clients' needs.
3. Ask around
Do you know other people who are in a similar financial situation as you who also sought professional advice? Then ask for their recommendations on financial advisors.
You can also try reading online reviews. Many of these reviews left by clients are detailed and some even mention recommending a financial advisor for a particular service.
FAQs about the Best Financial Advisors in Dublin
---
And that's a wrap for our list of the best financial advisors in Dublin! Hopefully, this article has steered you in the right direction towards achieving your financial goals.
If you know of other financial advisors that provide great services, please contact us. We'll look them up ASAP!
Rich or poor, saving money is essential to financial management. Hence, you might want to go see our top choices for the best savings accounts in Ireland as well!